We often take colors for granted but they're such an integral part of our life and environment. From the calm greenish-blue color scheme of a forest to the slate gray color palette of a busy city, colors always manage to tell a story. This is why designers and photo editors always pay close attention to the color choices they make.
The right color combination can make any image pop. It doesn't even have to include a particularly vibrant neon color! On the contrary, the right color scheme, when chosen thoughtfully, can include any type of color combination. The secret to picking a thoughtful color scheme lies in understanding the theory behind matching different colors together. Don't let the word "theory" scare you! It's all quite simple and once you've learned some simple color theory tricks and tips, it'll make a world of difference in your editing. 
What Is a Color Scheme?
A color scheme or a color palette is a combination of colors intentionally used together in design or photo editing. Professional graphic designers and photo editors use color schemes of colors that go together all the time, but they're actually accessible to everyone – even new photo editors!
Before we dive into the process of making a color palette, we need to first understand the theory behind the color wheel and how to use it. So what is the color wheel? The color wheel is a visual organization of colors based on the relationship between color values. Primary colors are the basis of the color wheel, which then evolve into secondary colors, tertiary colors, and so on. 
The color wheel is also the basis of color theory. You could say that color theory rotates around the color wheel. In the world of art and design, color theory is the main guideline that dictates how to combine colors together for the right aesthetic. According to color theory, there isn't a single method when it comes to picking color combinations, as different color schemes tell different stories. Fall color schemes, for example, speak to the richness of the changing season and invoke memories tied to sound, smell, and sight. 
What Are the Types of Color Schemes?
While there are almost endless color combinations that you can explore, let's first take a look at the six traditional color scheme types. 
Monochromatic Color Scheme
Monochromatic color schemes are one of the easiest color schemes to create, making them a perfect starting point for beginners. A monochromatic color palette consists of a single base hue and its different shades, tones, and tints. Generally speaking, the limited nature of a monochromatic color scheme makes it very easy to create and use. 
Keep in mind is that if used incorrectly, monochromatic color palettes can look a little plain and uninspired. In order to avoid this, try using contrasting shades to help guide the viewer's eyes through your design work or textures to add richness and dimension.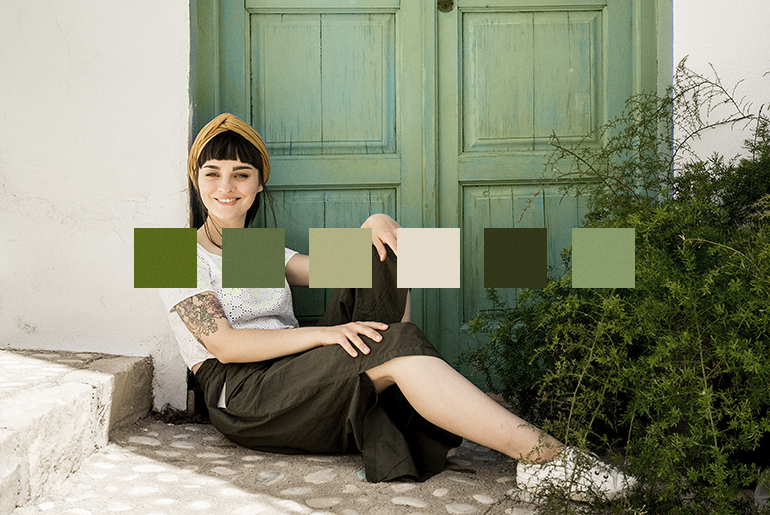 Analogous colors refer to groups of three colors that are located next to one another on the color wheel. You can create analogous color schemes either in the cool or the warm sector of the color wheel. In order to do this, simply divide the color wheel in half where yellow and green meet, and you'll have the warm colors on one side and the cool colors on the other.
You don't have to limit yourself to only three colors in your analogous color scheme as using different tones, shades, and tints can make your palette even more interesting! 
Complementary Color Scheme
In order to create a complementary color scheme, we need to go back to our friend the color wheel. For a simple complementary color palette, you'll need to combine two colors from the opposite sides of the color wheel. For example, red and green are located directly opposite one another on the wheel, so they're complementary colors. Easy as that!
More often than not, you need more than two colors to make a catchy color scheme, so in order to fix that you'll need to add in the different tones, tints, and shades of the two colors you've picked. By combining cool and warm colors you can create an eye-catching complementary color scheme.
Split Complementary Color Scheme
Now that we've walked through some of the more easy color schemes, it's time to take things up a notch and dive into a few of the more technical ones. As we mentioned earlier, in order to create a complementary color scheme, you'll need to pick the two opposing colors on the color wheel. 
So what is a split complementary color scheme? For a split complementary color scheme, you'll need a single base color and two secondary colors. These are colors that are symmetrical in their placement on the wheel in relation to your base color. Keep in mind that the base color should to be the main color in your image while the secondary colors should be leveraged mainly for accents and highlights.
Triadic Complementary Color Scheme
Want to further refine your color theory practice? Play around with a triadic complementary color scheme, which consists of three colors that are evenly spaced out around the color wheel. Beginners may find the triadic complementary color scheme to be a tad difficult to nail down, but with a little bit of practice, you'll find it can be super fun and very eye-catching.
A triadic color scheme often adds depth and visual interest to almost any type of design. This color scheme has an amazing effect on images when done right.
Tetradic Complementary Color Scheme
 If making a color palette was a video game, a tetradic complementary color scheme would be the final level. It follows the same basis as the triadic color scheme, only this time you'll need to find four different colors that are evenly spaced out on the color wheel.
How Many Colors Should Go Into a Color Scheme?
Great news – there isn't a precise number that you should use for your color scheme. It's mostly up to you and what mood you're trying to evoke. The most basic color palettes usually include only two colors, while others can go up to 20 colors or more. It mostly depends on your editing goals. Ask yourself, what am I trying to achieve, and what will make my fans most excited?
If you're just starting out with color theory, then your color palette should consist of somewhere between three to six colors. This is more than enough to create intricate designs. Start with smaller and easy color palettes and slowly move up to more complicated ones.
How Do You Choose a Color Scheme?
Choosing a color scheme mainly depends on the type of message you want to convey with your designs. Remember that your color scheme can either make or break the final image. For example, if you're trying to create a soothing and relaxing vibe, a complementary color scheme could potentially ruin your vibe with directly opposing colors. On the other hand, a monochrome color palette could help create a calmer tone for your design.
You need to ask yourself questions about the message, tone, and feelings that you want your image to convey. If you're trying to pick a color scheme for your brand, consider how other brands pick their color palettes. Find brands that have a similar vibe to the designs you're trying to create and see if you can piece together any color scheme trends in their ads. Don't copy their palette! Just look for color inspiration and create your own color scheme unique to you. 
What Are Some Color Scheme Ideas?
Now that you have learned everything you need to know about color schemes, it's time to get creative! We've broken down a starter set of diverse color palette ideas that you can use for any type of design. Whether you're a beginner or an experienced designer, these color palette ideas will definitely come in handy!
If you're looking for something more sophisticated and reminiscent of bustling city-life, then you should definitely use a monochromatic color scheme with blue or grey tones. This color scheme is perfect for portraying the busy nature of big cities and concrete jungles.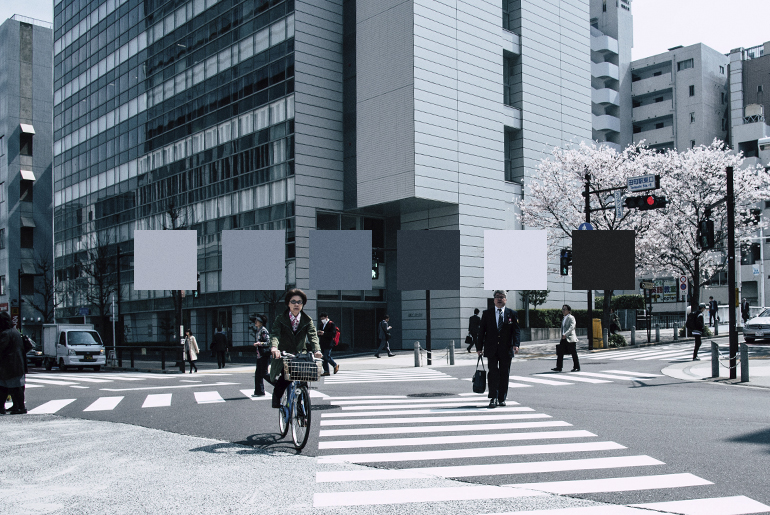 With the use of complementary colors, you can achieve a nice crisp look for your minimalistic designs. Use contrasting warm and cool colors, but don't forget to use some lighter tones as accent colors to make the design pleasant to look at.
Pastel colors can create a fun 80s inspired environment or convey a soft feminine touch, both of which are very trendy at the moment. This color scheme combines both warm and cool colors, but all of them are pastel tones.
How Do You Create a Color Scheme From an Image?
There's nothing more sophisticated than a consistent palette in design work. Whether you're designing a logo, editing photos, or building an entire website, keeping a consistent theme with a fixed color scheme is key.
No matter the nature of the work you're doing, we recommend building a color palette off of a specific hero image. That way it's easy to apply your color scheme to future creative. You can create your own color palette very easily in PicsArt! If you're editing on desktop, here's how:
Step 1) In the PicsArt desktop editor, click Upload at the bottom-right corner of the screen and select the image you'd like to create a color scheme from.
Step 2) From the left toolbar click on Shapes then select the shape you'd like to display your color scheme in. The most commonly used color palette shapes are the square and circle, but feel free to play around with a variety of shapes depending on your brand!
Step 3) Resize and place the shape where you'd like to put your color scheme on your photo.
Step 4) Click on Color from the top toolbar then click on the eyedropper tool. Hover your mouse on your image to select the exact color from the image that will make your color scheme. Repeat steps 2-4 as many times as needed to build out your full color palette.
Step 4) Click Download to save your color scheme to your desktop. 
Pro tip: If you only want to display your color scheme (and not the image that inspired it), then delete the layer containing the original image on the right toolbar.
How easy is that?! Thinking about making a color palette but on the go? Here's how to make your own color scheme in the PicsArt mobile app:
Step 1) Open the PicsArt app and tap the purple "+" button to select the image you'd like to create a color scheme from.
Step 2) Scroll across the editing toolbar at the bottom and select the Draw tool. Tap the overlapping square and circle icon in the bottom left to open the Select Shape tool.
Step 3) Select the shape you'd like to display your color scheme in, make sure Fill is selected below it, and tap the checkmark at the top. Then tap and drag across your screen to apply the shape and resize or move it around. 
Step 4) Tap the color picker in the bottom-left corner. Use the eyedropper tool to select the color from your image that will make your color scheme. Repeat steps 2-4 as many times as needed to build out your full color palette.
Step 5) Tap "Apply" and then "Next" in the top-right corner to complete your project, tapping on Save and Share to export your final color scheme. 
Pro tip: If you only want to display your color scheme, tap the layers button in the bottom-right corner and hide the layer containing the original image.
PicsArt all-in-one Photo and Video Editor, Collage, and Sticker Maker is the world's largest creative platform with over 150 million monthly active creators and influencers. PicsArt has collaborated with major artists and brands like Taylor Swift, The Jonas Brothers, Gwen Stefani, Maroon 5, Lizzo, Meghan Trainor, One Direction, MONSTA X, Warner Bros. Entertainment, iHeartMedia, Condé Nast, and more. Download the app today to level-up your photos and videos with thousands of quick & easy editing tools, trendy filters, fun stickers, and brilliant backgrounds. Unleash your creativity with PicsArt and upgrade to Gold for awesome premium perks!