Across cultures and generations, food plays a central role in many rituals and celebrations, with weddings being no exception. The best way to let your guests know which delicious dishes await them is to choose a beautiful wedding menu template and customize it to your style and liking. Luckily, PicsArt has an array of easy-to-use tools that will help you design a wedding menu your guests will love. Without further ado, let's get started.
Common Wedding Menu Sizes and Structure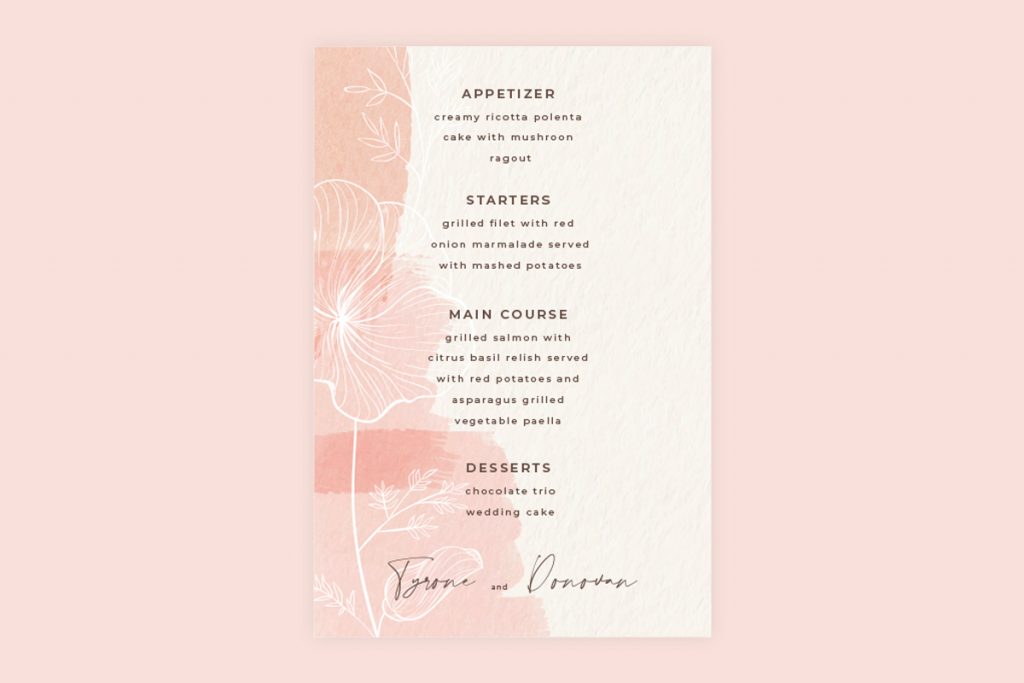 Before we choose the perfect wedding menu template, let's pick a size and structure first. Most wedding menu designs are in the shape of a rectangle, though it isn't unusual to encounter square-shaped or circular wedding menus also. A 4 x 9-inch menu is more than enough if you're serving appetizers, a first course, main course, and dessert, and offering two to three options for each. However, if the wedding menu design has too many elements or if you find that size doesn't offer enough readability, A5 (around 5.8 by 8.3 inches) is also viable. 
The structure of the menu will also depend on what you're planning on serving and including in your design. The typical structure is to have a decorative element and the names of the bride and the groom on top of the menu, to put the title below that, and then list the dishes, from starters to mains and desserts. You may want to also include the date of the wedding and write a warm message, welcoming and thanking your guests. Don't forget to highlight vegetarian or vegan dishes and those that contain possible allergens, such as nuts or gluten, with special icons. Your guests will be grateful, and the evening will be safe.
How to Write a Wedding Menu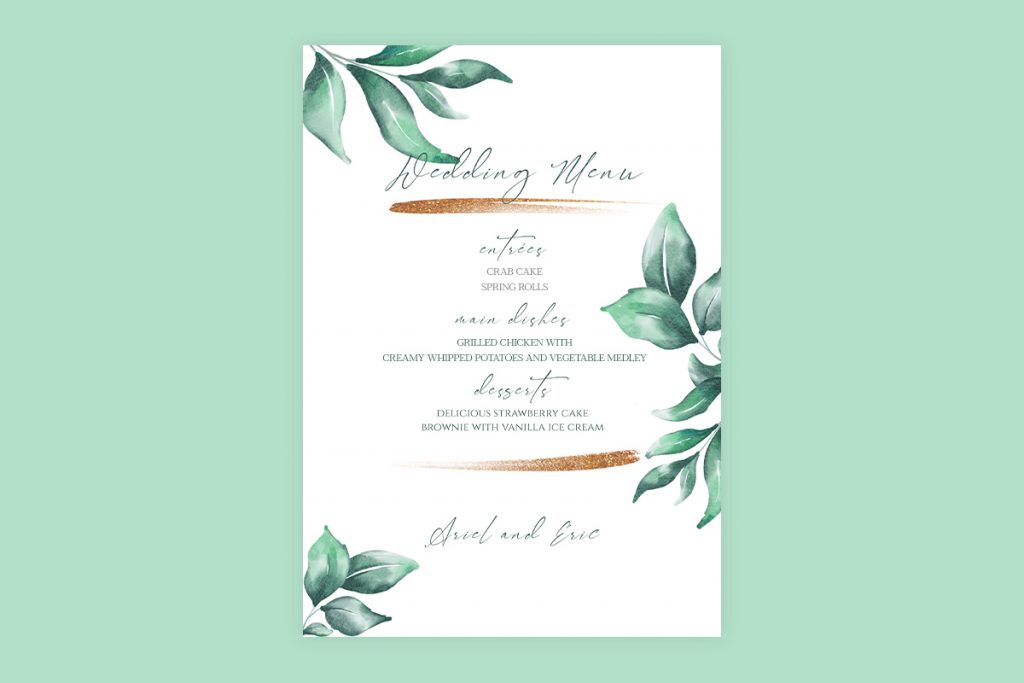 Need some guidance on how to describe the plates? No worries, writing a wedding menu is not that difficult if you know whether you're serving individually plated food, family-style, or a buffet. But what's the difference? 
Individually plated food

is the classic approach, where each guest chooses the dishes they like from 2-4 available options. They select ahead of time and dishes are served in a similar style to how they would be at a sit-down restaurant. 
Family-style

is when the meal options are served to the whole table.
And finally,

a buffet

is when all meal options are listed and presented to choose from on the spot. 
If you're serving plated food, you'll probably want to create an individual menu card for each guest. This is the perfect format if you want to address every guest by name, and turn the card into an added memento of the day. Sample sections of a menu then will be appetizers or starters, first course, main course entrée, desserts, and drinks, although the last one is optional. It's best to include only the main ingredients of each dish and warn of possible food allergies.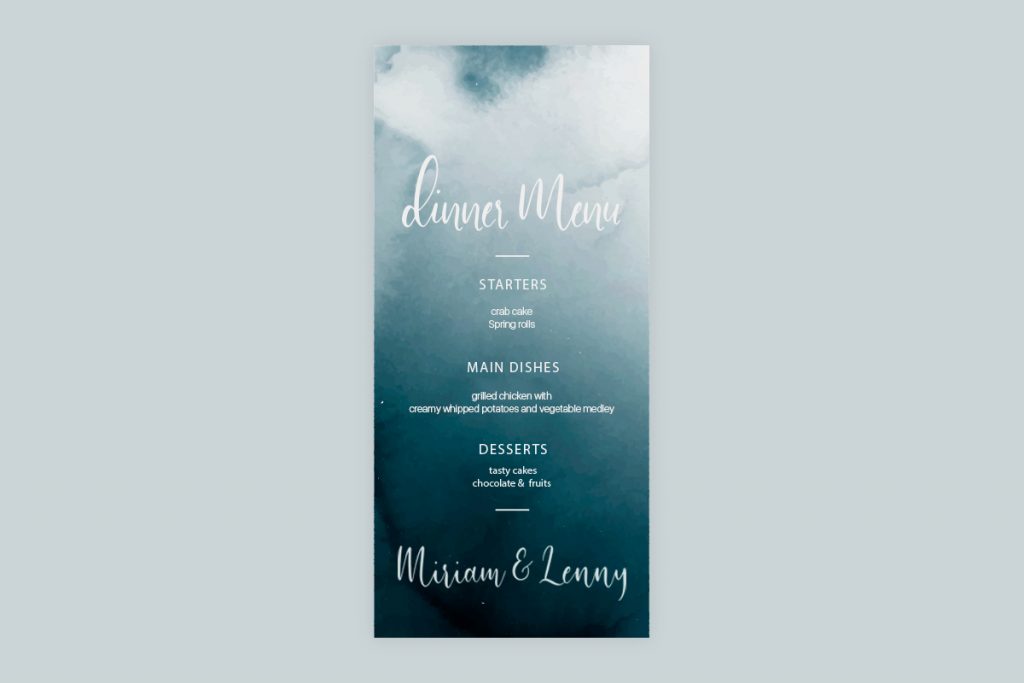 A sample menu section is:
APPETIZER
Beef Biscuit Sliders With Crispy Fried Onions
French Salmon Tartare
MAIN COURSE
Baked Salmon & Jumbo Scallops
Summer Squash and Green Zebra Tomato Lasagna
If you decide to serve food family-style, the menu can list all the available options under titles such as First, Second, and Third. Here, it's better if you print the wedding menu on a larger piece of paper and put it on a menu holder, so everyone at the table will be able to read it from their seats. Adding a short message thanking the guests for being a part of your special day is a fine touch.
And if you go with a buffet, as more and more people are starting to, the menu will list all dishes, sauces, and drinks available. Here, you can just opt for a large display next to the buffet.
7 Best Wedding Menu Templates and Designs 
Need that extra bit of inspiration to start designing? Check out our list of 7 DIY wedding menu templates. 
Apricot and White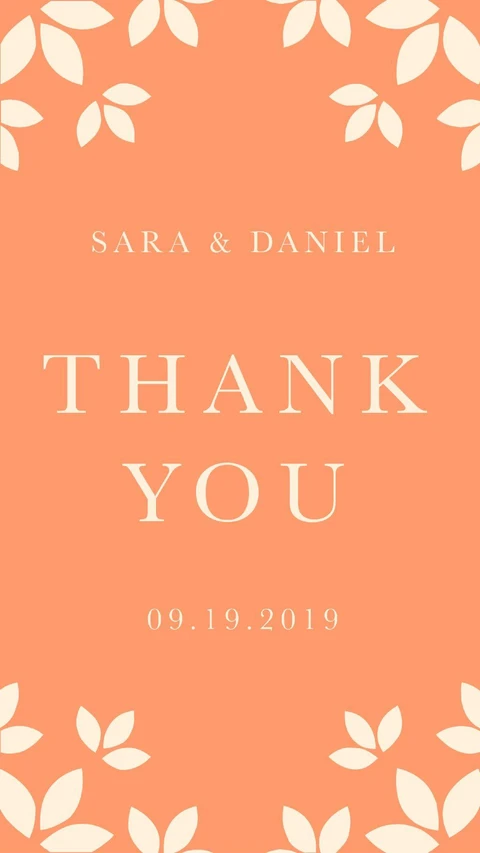 The geometric details of this template make it really easy to work with. Both the background and the leaves can change color with a few clicks. And if you think the typeface isn't quite right, you can always find a fancier, cursive style to replace it with. 
Watercolor Blossoms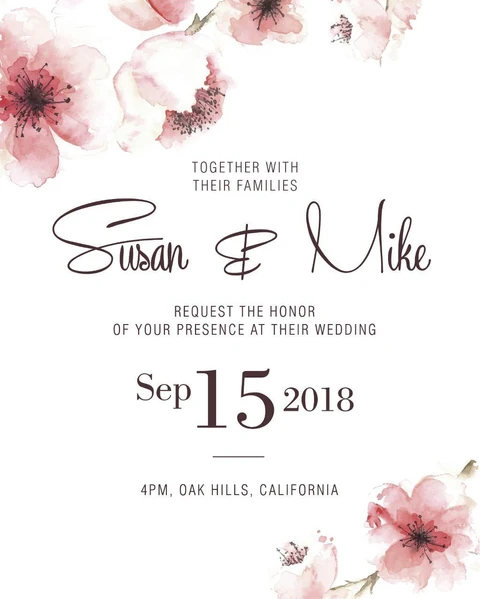 What's a wedding without the lingering aroma of flowers in bloom? Well, this wedding menu template can add an artistic touch to the theme with its watercolor depiction of dark pink flowers. Note how the three fonts complement one another. That may be something to bear in mind when considering whether to replace the text with your wedding menu. 
White and Rosy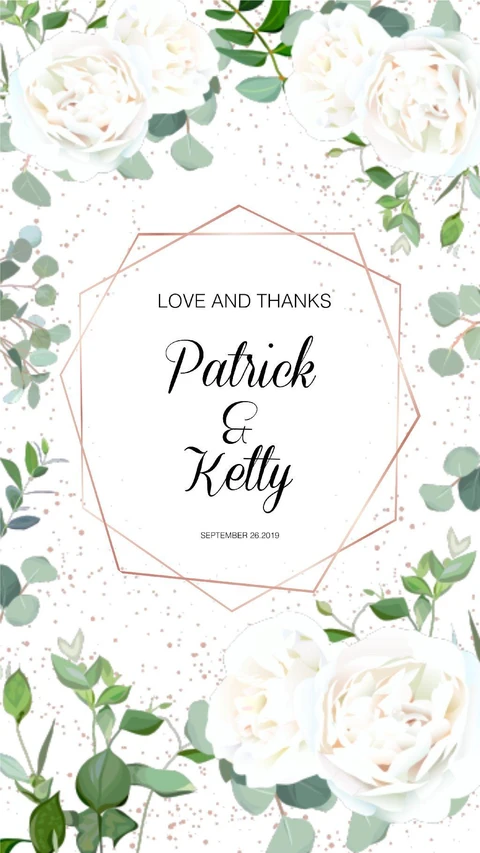 A white rose is said to symbolize purity, youthfulness, and the promise of eternal love – all meanings very fitting for a wedding. You may be wondering if this template offers enough space to list all the dishes, however. Thankfully, Picsart makes the process of resizing the template easy, and adjusting the geometric shape in the center only takes a few minutes. It may also be a good idea to make the font a bit less dramatic, as the flowers are already attention-grabbing.
Illustrated Peonies
This is a versatile template with a classic feel that will work really well for a wedding menu. Firstly, you can always adjust the size of the white rectangle in the middle to accommodate all menu items, and secondly, the outline of lush peonies in the background adds a timeless touch of elegance to the design. 
The Real Green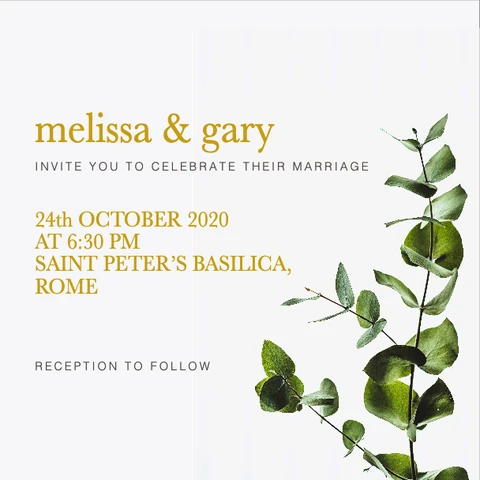 Botanical art is a real trend these days, so why not use it in your wedding menu designs? To make the template above a menu template, all you have to do is move the plant to the lower right corner via drag-and-drop. One more aspect to appreciate is just how well the olive-gold text goes with the photo of the plant. 
Shades of Pink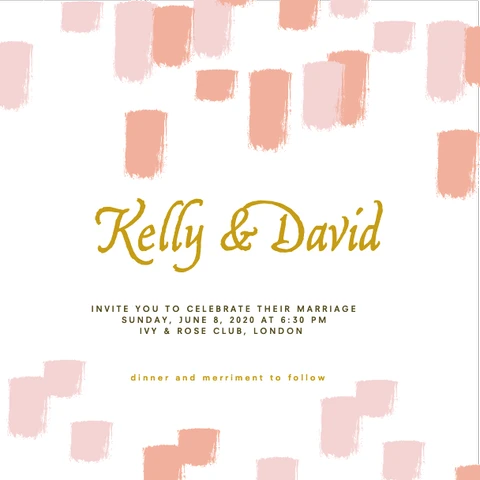 All pastel color schemes are fitting for weddings, but light pinks take the crown. Choose this template with short brush strokes for something more abstract and artsy.
Black and Gold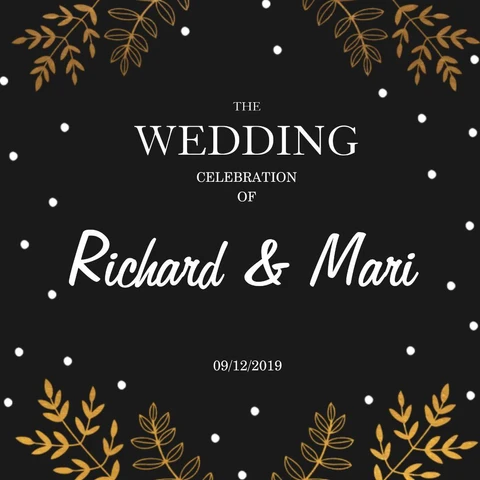 Weddings are associated with spring and renewal as much as with centuries-old traditional ceremonialism – marriage is an institution after all. Choose black and gold to communicate the importance of the occasion on your wedding menu. 
Now brush up on your knowledge of the principles of design, and let's start modifying the templates.
How to Make a DIY Wedding Menu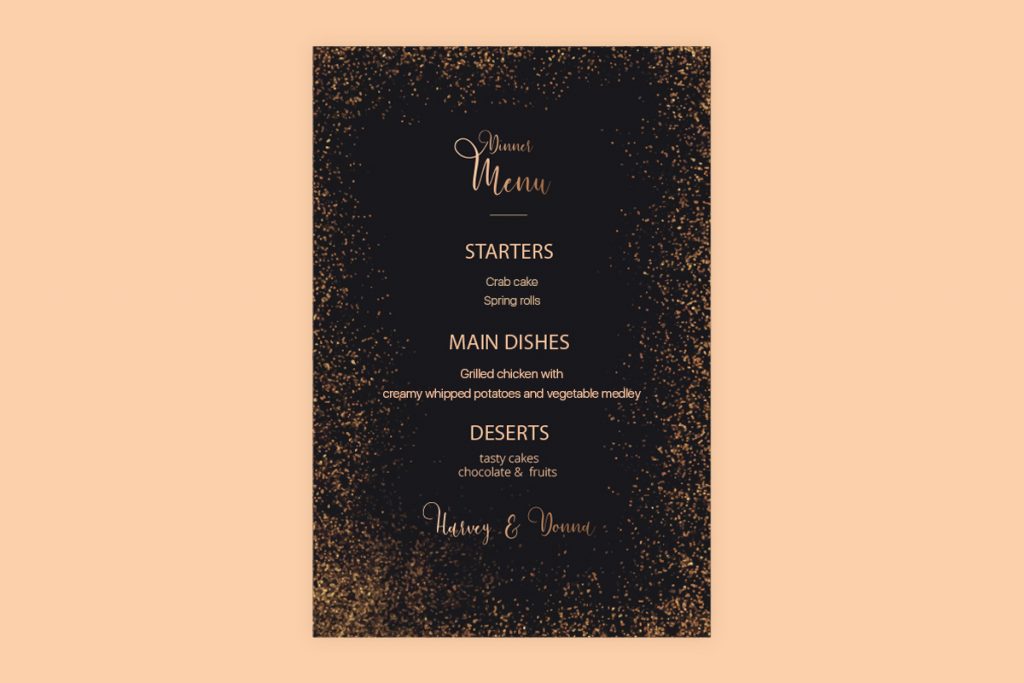 Using Picsart, pick a DIY wedding menu template and customize it. Just follow these step-by-step instructions and you'll be done in no time.  
Here's what you should do if you're looking to design on your PC: 
Open the

Picsart Online Photo Editor

and click

Custom Size

. Type in 4 and 9 inches, or whatever size you have decided on, and click

Create design

. 

Click

Templates

and search for 'wedding' or 'menu'. Scroll down and browse the library of the

wedding menu template

s. Click on the one you like to start customizing it. 

Click on the template's text and edit it to include the menu and info of your wedding. You may also click

Font

or

Color

in the menu that appears above the text when you click on it to change the typeface and color respectively. 

If you want to add an additional element, click

Stickers

and search for 'wedding', 'floral', 'love', or other keywords. Click on the sticker to add it to the

wedding menu template

. 

Experiment with filters available in the

Effects

menu subsection on the left until you're happy with the visuals of the menu. 

You can easily adjust most elements of the template via drag-and-drop, the interface is very intuitive. Click

Download

in the upper right corner when you're done. 
If you are editing on a mobile device, follow these steps instead:
Open the Picsart app on your smartphone and tap on the plus ('+') in the middle to start a new edit. Scroll down and tap on

All Templates

.

Search for 'wedding' or 'menu' to browse the

wedding menu designs

available. Tap on the one you like to start customizing. 

Double tap to edit the text of the

wedding menu template

. You can change the text's font, color, and other parameters by tapping on the respective buttons in the menu down below. 

To add the photo of the happy couple or another thematic image, tap on

Add Photo,

select it, and then tap on

Add.

If you think the design could use additional illustrated elements, tap on

Sticker

and search for 'wedding', 'love', 'floral', or another related keyword. 

Keep adjusting the elements of the template via drag-and-drop until you're happy with the result. Tap on

Next

and then

Save

when you're done. That's it!
Hope you found our sample templates easy to replicate and customize, and will end up with some gorgeous printable wedding menus.  
Picsart all-in-one Photo and Video Editor, Collage, and Sticker Maker is the world's largest creative platform with over 150 million monthly active creators and influencers. Picsart has collaborated with major artists and brands like Taylor Swift, The Jonas Brothers, Gwen Stefani, Maroon 5, Lizzo, Meghan Trainor, One Direction, MONSTA X, Warner Bros. Entertainment, iHeartMedia, Condé Nast, and more. Download the app today to level-up your photos and videos with thousands of quick & easy editing tools, trendy filters, fun stickers, and brilliant backgrounds. Unleash your creativity with Picsart and upgrade to Gold for awesome premium perks!