Good advertising is created with a specific goal in mind. It has the power to make people feel, and more importantly, act, in a certain way. Great advertising goes beyond that, to create something memorable and entertaining. Not only does it drive brand awareness, but it also inspires brand loyalty and turns customers into fans. What turns a good ad into a great one? In this post we'll try to answer that, covering the basics of how to write an advertisement, and offer some winning advertising techniques that you can start using to promote your brand today.
A History of Advertising Techniques
At its core, advertising is the art of creating messages that inspire someone to do something. It could be anything from buying an object to signing up to support a cause or donating money to a politician. If an ad does its job, it can increase brand awareness, drive sales, create relationships with new customers, introduce new products to the market, and help your business stand out from the competition.
Advertising falls under the marketing umbrella, and has existed for almost as long as business itself. The idea of using ads to spread information and elicit a response dates back to the days when people used papyrus instead of paper. In more relatively recent times (the 15th to 17th centuries) print advertisement gained popularity around the same time as the printing press itself. The advertising agency was then born in the 19th century, following a boom of business growth during the industrial revolution. Agencies helped businesses by researching customers and usin that information to decide when and where to place advertisements.
Television and the internet evolved during the 1900s and 2000s, and advertising techniques changed with them. From the beginning, advertisers have had a symbiotic relationship with the media, and today is no different. People want content, and advertisers provide the media – whether it's a television station, YouTube channel, or print magazine – the funds to create it.
Types of Advertising Techniques and Best Practices
To craft a successful advertisement, you need to go beyond the basics of marketing strategy. Great ads embrace the teachings of multiple fields, including copywriting, graphic design, and psychology. Let's take a deeper look into the different advertising techniques you can use to create meaningful messaging that will resonate with your target audience.
Graphic Design
The basic elements of graphic design can help you elevate any ad campaign. For example, the colors that you choose to put in your design can inspire certain emotions. Color theory can help you decide which color schemes can help you achieve the goal of your ad.
You should also pay careful attention to the composition of your design. Composition is the way that you arrange the visual elements in your design, including how you balance positive and negative space. The composition of your ad can influence its visual flow and determine which point first catches the viewer's eye.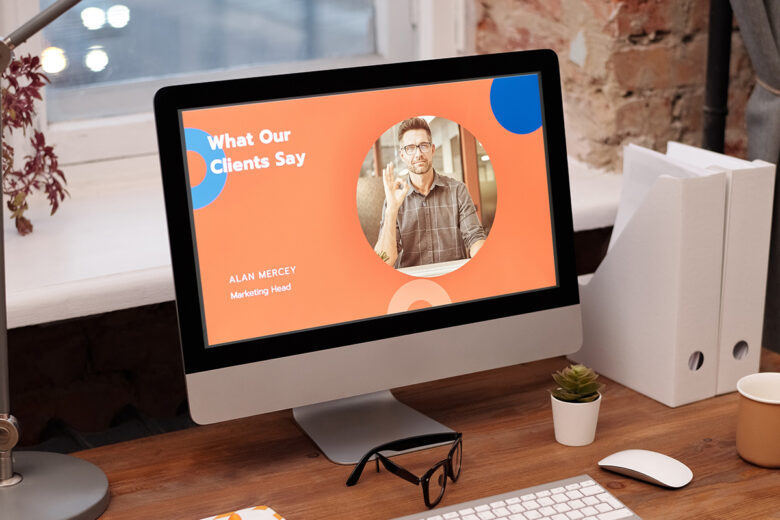 One aspect of graphic design that you shouldn't overlook is the typography that you use in your ad. Different fonts, font combinations, and word placement can affect how easy your ad is to read and understand. The best typography choices match the ad theme and the brand's overall style without sacrificing readability. No matter how great your ad looks, it's not going to achieve its goal if people struggle to read it.
Psychology
The goal of advertising is to influence human behavior. If you want your ad to inspire someone to take action, you'll need to understand some of the driving factors behind why people act the way they do.
One of the main psychological aspects of advertising is the technique of making an emotional appeal to potential customers. A common motto among marketers is, 'You're not selling an object. You're selling a feeling.' It may sound cliche, but it's true.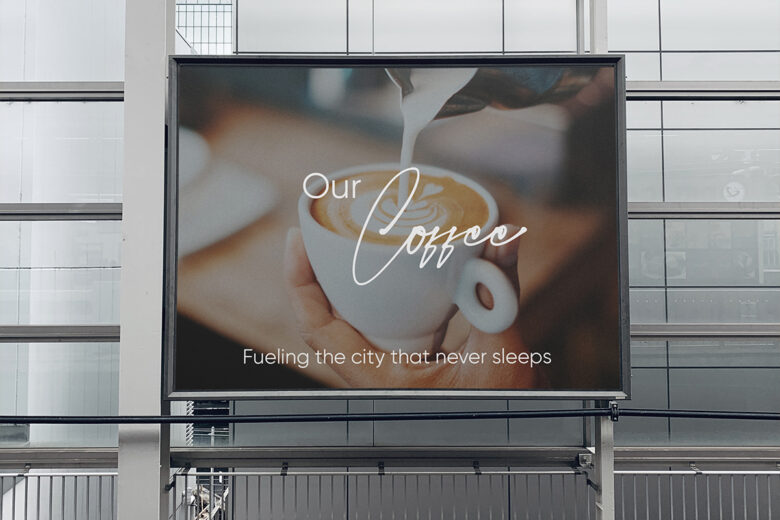 People spend money on things because they want to feel a certain way. They want relief from a nagging problem, or excitement and pride from wearing a new outfit, or a sense of accomplishment from donating to a cause they believe in.
As the advertiser, it's your job to figure out what emotional needs drive your target demographic. Then apply appropriate advertising techniques.
Other physiological aspects that can help you create effective advertisements include:
Repetition: By running your ads on multiple platforms, you can increase awareness of your brand or product. This advertising technique is best for newer companies or offerings because too much repetition can start to have a negative effect.
Association: You can choose to include certain objects or settings in your ads to create positive associations for the viewer. Depending on what you choose, the elements you put in your ad can inspire feelings, such as motivation, nostalgia, inspiration, or luxury (this one is called 'snob appeal').
Humanizing the Brand: We're in an age of increased online transparency and accountability. More than ever, people want to feel like they know the brands behind the products and services they buy. By adding emotions, opinions, and personality to your branding and advertising, you can add that all-important human touch.
Language
Whether you're creating a magazine spread, web page, social media ad, or tv commercial, words are one of the most valuable tools in your belt. The copy that you include in your ad offers you a chance to really drive home a specific message. In advertisements, you don't have a lot of time or space to capture someone's attention before they move on to the next thing. Every word counts.
You can use language techniques, such as storytelling and leading questions to evoke feelings. Storytelling can create interest and add a touch of humanity. Leading questions can be a great way to guide people to a specific conclusion without spelling things out explicitly (consider what someone's needs are, and showing how your brand can fulfill them, rather than telling them that they need your product).
Another good practice is to focus on the benefits of your product or service over its features. If people are interested, they'll look further into the specifics of what you're selling. That's not what's going to catch their initial attention. Your audience is more interested in how you can make their lives better. Get that message across in your ad, and you're on the right track.
Best Advertising Techniques to Try Out Today
Now that you know a little more about the elements that go into good ad design, it's time to get down to some specifics. The following advertising methods can help you appeal to potential customers and get the word out about your brand.
Behind-The-Scenes: Giving people a peek behind the scenes can help inspire trust in your brand. You can do this by taking photos of employees at work, letting an employee do a social media takeover on company accounts, and making an effort to show the hard work (and occasional messiness) that goes into providing your products or services. It can be tempting to over-curate the brand image that you create with your ads and social media. However, choosing honesty and transparency can make a huge positive impact on how people view your brand.
Bandwagon Advertising: The idea behind this technique is to convince people that everyone is already using your product or service. It's time they jump on the bandwagon too. You can use generalities to help get the message across that real people are already in love with your brand. These types of ads can create a fear of missing out and inspire people to make a purchase now rather than later.
Endorsements and Social Media Influencers: Endorsements by celebrities and social media influencers can be a great way to introduce your brand to a larger, or different, audience. Public figures already have a following that trusts them. When they promote your brand, it offers social proof that backs up the claims you make about your product or service. This social proof makes new purchases feel like less of a risk.
Promotions and Rewards: Few things that can grab people's attention like a good coupon code or free offer. These kinds of ads come with a built-in call to action. You don't want to do these too often because promotions can eat at profits, and they lose some of their effect if people realize the offer will come around again soon. However, offering discounts every now and then can help sway undecided customers.
Case Studies: Case studies are stories of customers that have tried and loved your product or service. They go beyond a typical testimonial to dive into the pain points that caused the customer to decide to give your brand a chance in the first place. Case studies are another form of social proof. A good one will help someone visualize themself as one of your customers and inspire them to put trust in your brand.
Characters: An advertising technique that's been popular for years is using the same character(s) across multiple ads. Examples of this include the Coca-Cola polar bears, Jake from State Farm, and the anthropomorphic M&M's that get into new hijinx with each tv commercial. It may take some trial and error to craft a character that people will remember. However, the effort may be worth it for the sense of recognition people will feel then they see your ads.
How to Design Ads With Picsart
Now that you have a better grasp of advertising techniques, you can start digital advertising by creating designs using Picsart:
In-App
1) Open the Picsart app on your phone. Tap the + at the bottom of the screen to start a new project.
2) Choose your core image, either from your own photo gallery or from one of the stock image libraries.
3) Tap on the Text tool to add your advertising copy.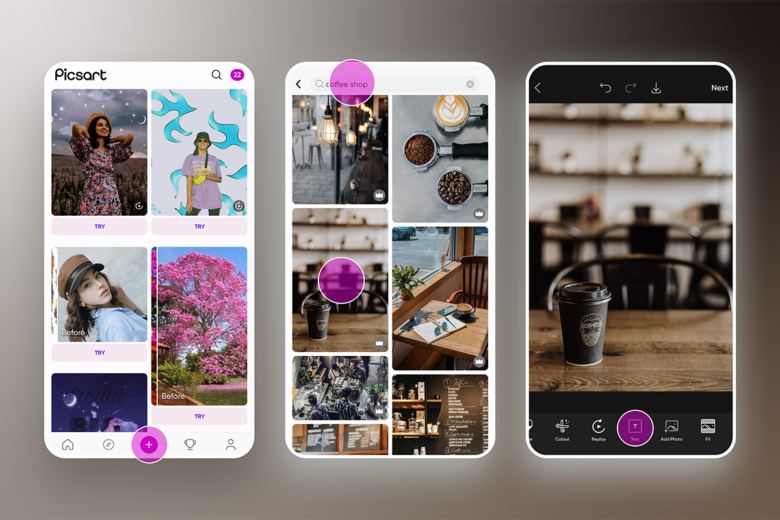 4) Use the options on your bottom toolbar to customize your text, choosing from a range of fonts, styles, colors, and various finishing touches.
5) Experiment with effects and filters by tapping on fx and browsing through the options.
6) Adjust the levels of the effect and tap on Apply when you're happy with the aesthetic.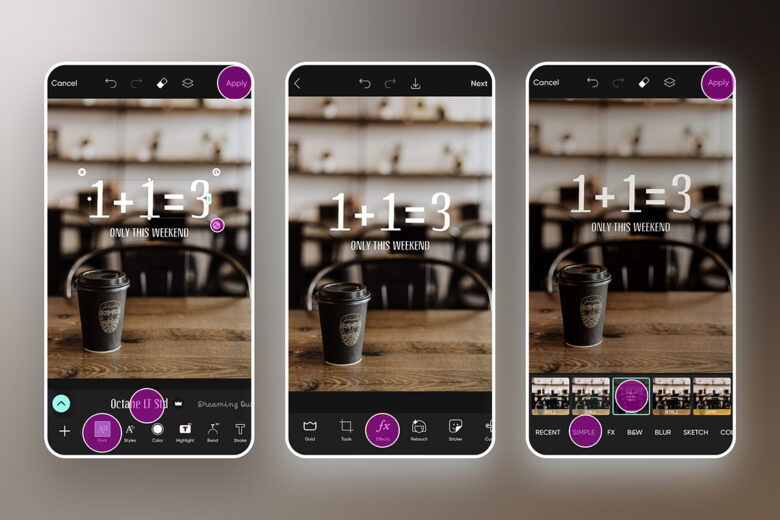 7) When you're done editing your ad, tap Apply on the top right of the screen to save and share your ad.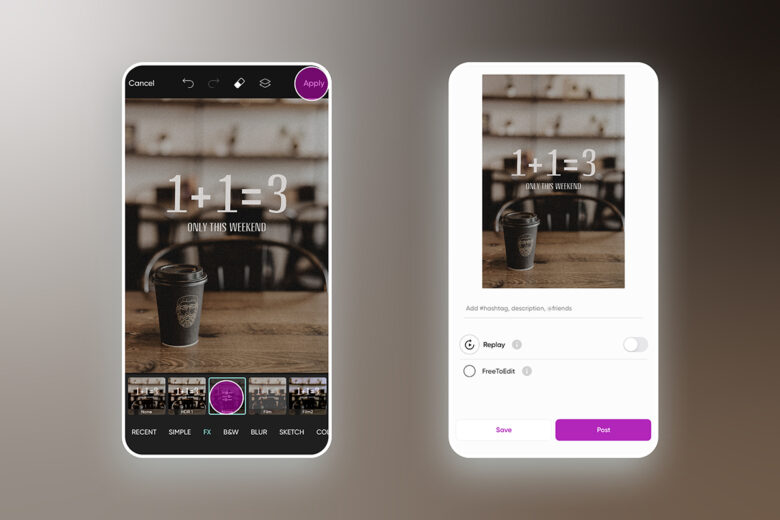 Web
1) Open the Picsart web editor on your browser to start creating an ad from scratch. Select a size for your ad based on where you are planning on sharing it. You can also look through the Templates and choose a social media ad template to edit.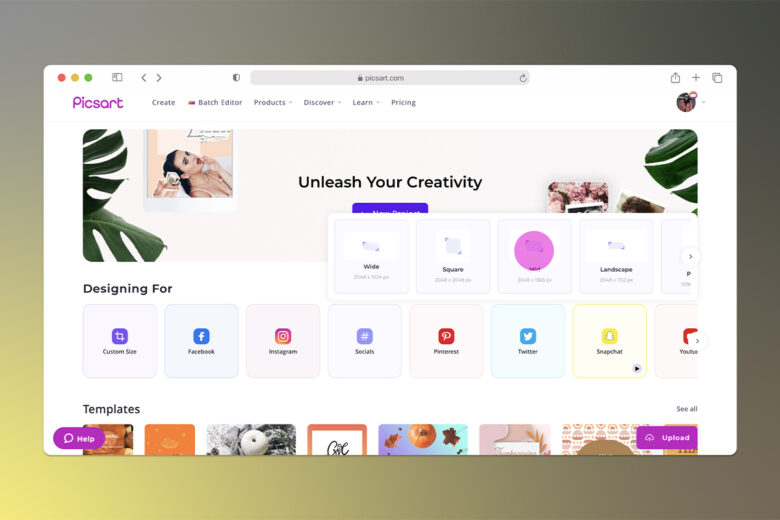 2) Use the toolbar on the left side of the screen to customize your ad. From there, you can add photos, backgrounds, typography, photos, stickers, shapes, and effects to your design. If you want to create a cohesive ad campaign, try creating unique ad designs from the same template.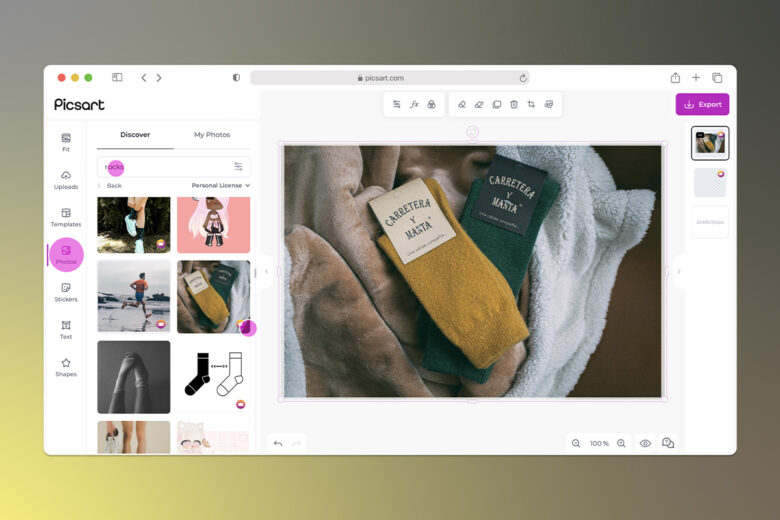 3) Add elements such as Shapes or Stickers, to elevate your image.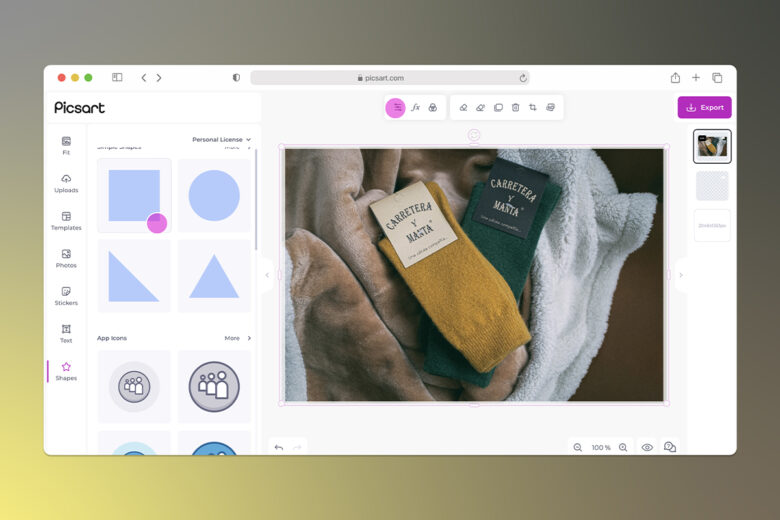 4) Adjust the colors of your design to match your unique brand palette.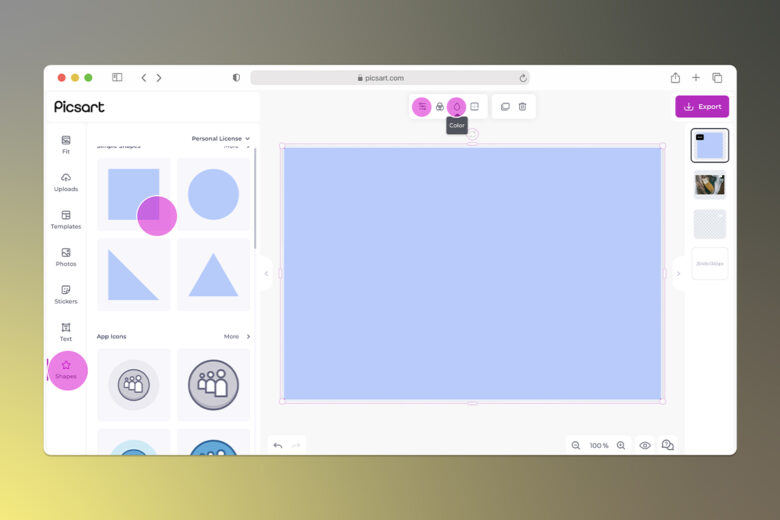 5) If needed, you can further adjust elements such as the image opacity, saturation and brightness.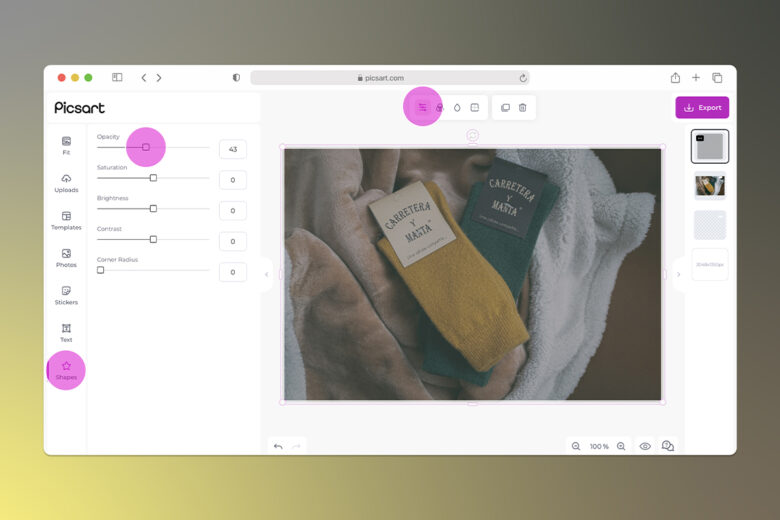 6) When you're happy with your ad, click the Export button on the top right of the screen. Choose which file format you prefer (jpg, jng, or pdf) and select Download.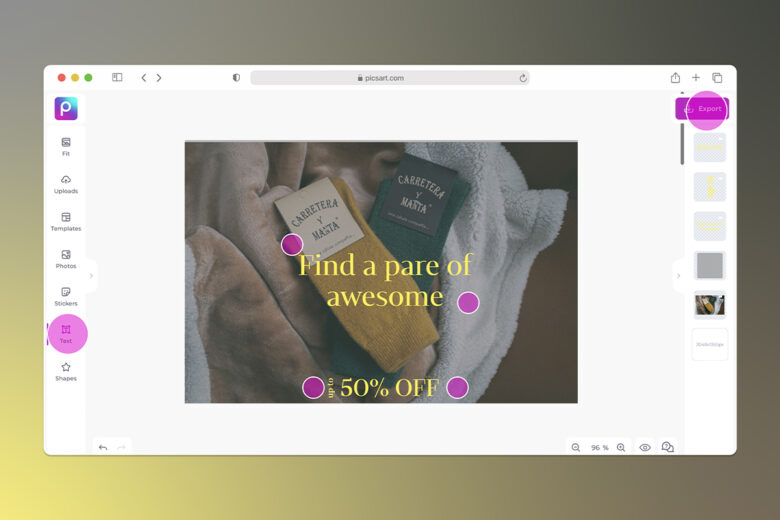 Picsart is a full ecosystem of free-to-use content, powerful tools, and creator inspiration. With a billion downloads and more than 150 million monthly active creators, Picsart is the world's largest creative platform. Picsart has collaborated with major artists and brands like BLACKPINK, the Jonas Brothers, Lizzo, Sanrio: Hello Kitty, I am a Voter, Bebe Rexha, Maroon 5, One Direction, Warner Bros. Entertainment, iHeartMedia, Condé Nast, and more. Download the app or start editing on web today to enhance your photos and videos with thousands of quick and easy editing tools, trendy filters, fun stickers, and brilliant backgrounds. Unleash your creativity and upgrade to Gold for premium perks!