Red, green, a splash of silver or gold — are you starting to envision your perfect Christmas cover photo? No matter how people celebrate, one thing is almost always the same: the color palette and decorative elements of this holiday.
Wherever deeply-rooted trends like these exist, there's always an opportunity to go against the flow, too. Let's look at how a classic Christmas design comes together and, then, how to put your spin on age-old traditions. 
Reverse-engineering is a great hands-on way to learn creative processes. We've selected two holiday designs to take apart so that you can learn how to put your own together. 
This brings us to our most important tool of the day: layering. Well-balanced compositions have a foreground, middleground, and background. Often, the foreground contains text, stickers, and smaller graphics, while the background contains larger objects or solid colors. Photos tend to live in the middleground and are usually framed or "held down" by other objects like the aforementioned stickers and text. 
Graphic Wonderland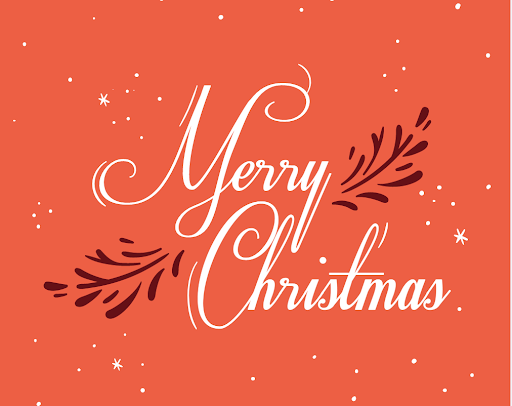 This eye-catching image may look complex, but it only contains a handful of elements. In the foreground, there's a lively script in stark white, which creates strong contrast with the background and ties in well with the snowflakes in the middleground. Script is the perfect font choice for that classic Christmas look: it brings to mind traditional cards, gift packaging, and the luxurious feel of celebration. 
In the foreground, we also have holly boughs in rich burgundy, reminiscent of mulled wine and winter jams. The hue sticks to the color scheme but also contrasts nicely with the background. When you create your Christmas cover image, choose graphics that represent the season: ornaments, pine needles, strings of lights, and bows. Find the perfect sticker in the left-hand menu of the Picsart editor.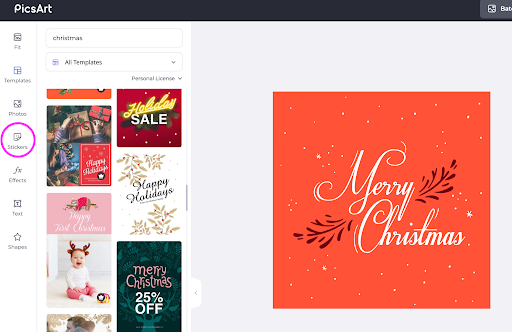 Let's take away those foreground elements and see what we're left with in the middleground: a smattering of snow. While it may look like someone took the time to carefully place each flake, this is actually an optical illusion. Just a few ready-made stickers create this effect, giving an instant touch of elegance to the design. If you want to bring your own flair to a sticker, click on the graphic you wish to edit and use the editing toolbar to shift hue, opacity, and more.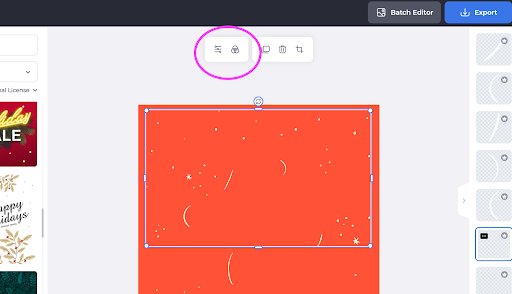 Now, we're down to the background. This design goes with solid color, but graphics and patterns work well, too. The key is maintaining good balance. If you have a lot going on in the foreground and middleground, stick to solid colors or big graphic elements in the back. If you're keeping things simple in the foreground, try a detailed graphic or image fill from the Picsart photo bank (circled in the image below). Plaid and wrapping paper prints are great seasonal options.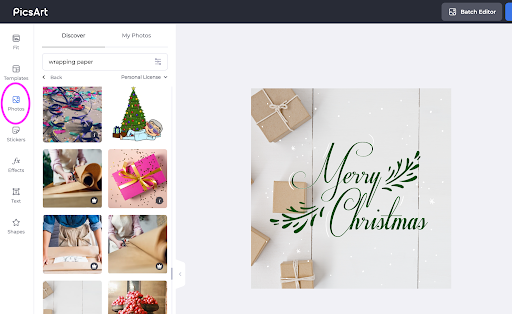 And just like that, we've switched out the background and re-built the design from the ground up, and the effect is drastic. By simply changing the background for one with a more rustic feel and shifting the hue of the holly and lettering, we've created an image with the same message but an entirely different tone. 
Holiday Photo Opp 
Nothing says Christmas quite like annual holiday photos, whether with family, friends, or your camera-ready pet. Include a photo, or a collage of several, in your Christmas cover image to give it a more personal touch. 
Again, layering is key to making that perfect multi-dimensional image. That said, keep in mind that photos are detailed and grab a viewer's attention. This makes it hard for text, stickers, and other graphics to compete. To achieve the right balance, go easy on intricate patterns and fonts and opt for simpler ones. 
You'll also want to frame your photo. "Tape" your photo down with stickers at the corners or use a high-contrast background.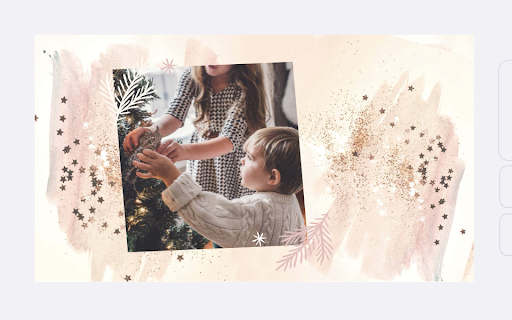 The pine bough and asterisk stickers are the only elements in the foreground of this image. These stickers hold down the edges of the photo, and the contrasting pastel tones of the background help the image stand out. The stickers fit right into the color scheme by picking up on two different hues from the composition.
With whimsical brushstrokes and detailed stars in the background, the rest of this design does exactly what it should: it keeps things simple, letting the viewer appreciate the photo. Notice how staying in a coherent color scheme allows the photo to really shine–even up against the twinkle of the foil-effect stars. The muted mauves and brassy gold tones in the background work well with the reserved greens and neutrals of the photo, especially with the filter that gives it a more vintage feel.
Make Your Own Holiday Magic 
Design rules are made to be broken, and the image above is a start. It's not your traditional red-and-green Christmas look, but it transmits that holiday spirit, doesn't it? 
One way to make a statement is by using unexpected fonts. As we saw earlier, Christmas designs tend to use heavy scripts, so try a more laid-back approach. Dreaming of a sleek Christmas? Experiment with bold modern fonts: no-frills letters with spacing between them. You can shift the spacing on letters by clicking on your text box and using the slider in the panel to the left of your image.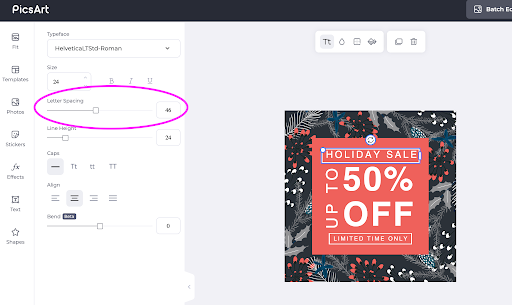 You can also mix things up by straying from the traditional color palette. Play with jewel tones like deep blues, purples, and yellows. These hues will still feel wintery and representative of Christmas aesthetics. Avoid summery neons and warm pastels, especially those that are already associated with other holidays like Easter. Don't forget, you're the creative director, and a thoughtful, well-balanced design is always a success. 
Finally, infuse your design with your own Christmas traditions. Yes, certain elements might be universally representative of the season, but there is no doubt something special about the way you celebrate. Bring that out. From the bright foil piñatas of Mexico to England's paper Christmas crowns, elements from cultural traditions make for great graphics. Make your own using geometric elements, or choose one from the Picsart image bank.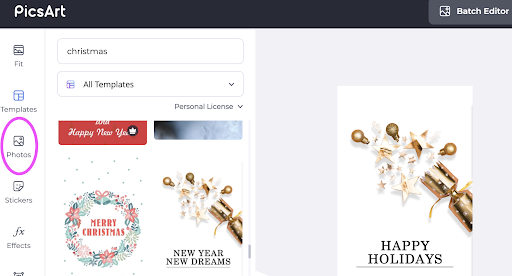 Picsart is a full ecosystem of free-to-use content, powerful tools, and creator inspiration. With a billion downloads and more than 150 million monthly active creators, Picsart is the world's largest creative platform. Picsart has collaborated with major artists and brands like BLACKPINK, the Jonas Brothers, Lizzo, Sanrio: Hello Kitty, I am a Voter, Bebe Rexha, Maroon 5, One Direction, Warner Bros. Entertainment, iHeartMedia, Condé Nast, and more. Download the app or start editing on web today to enhance your photos and videos with thousands of quick and easy editing tools, trendy filters, fun stickers, and brilliant backgrounds. Unleash your creativity and upgrade to Gold for premium perks!