Using a grunge effect in photo editing has been trendy for years. There's a reason creators continue applying variations on grunge photo effects and why Picsart GRNG filters are so popular. It's a combination of versatility and nostalgia. This throwback to the early 1990s is one of the most versatile vintage filters in the entire creative library.
If you're looking for a grunge photo effect tutorial then you've come to the right place. We've pulled together all you need to know to create your own vintage aesthetic with grunge photo effects, including how to use cool texture layers and more.
What Is the Grunge Effect?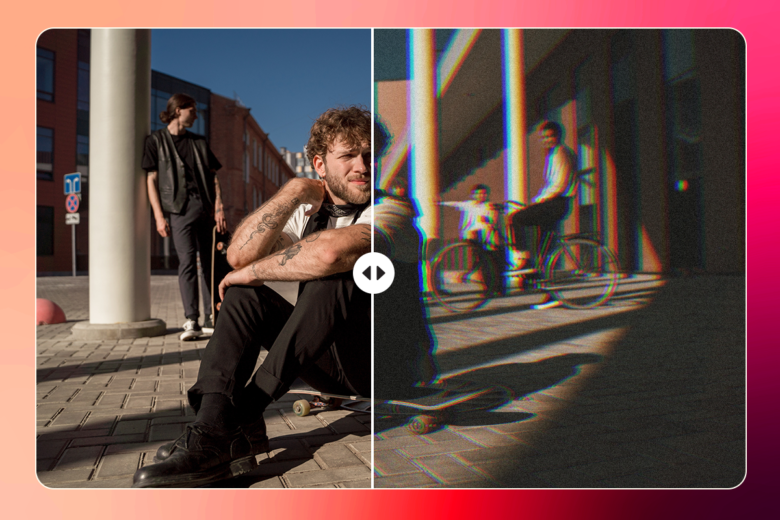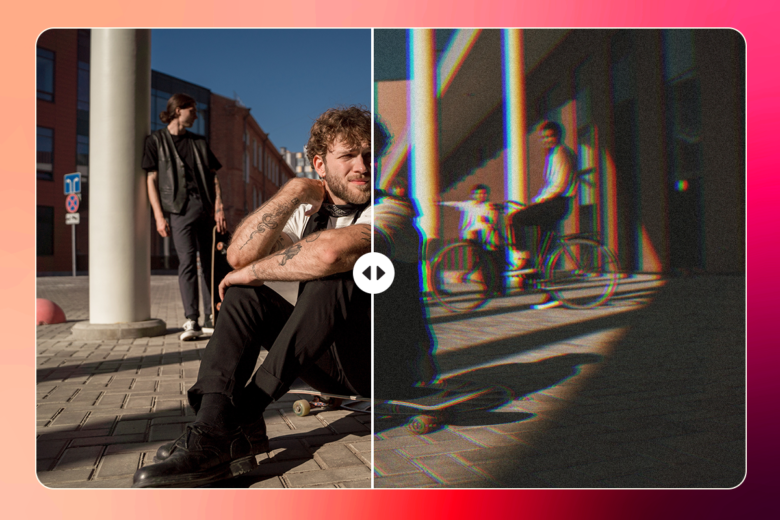 Grunge is a subculture that took off in the late-1980s in Seattle, Washington. It started as a musical subgenre that had elements of punk, metal, and hard rock, and was pioneered by bands such as Nirvana, Soundgarden, and Pearl Jam. It quickly grew beyond its musical origins, however, to encompass many more aspects of life. In fact, grunge became more of a lifestyle.
Art, as ever, imitates life, and so the grunge photo effect was eventually born. Inspired by the underground garage locales where grunge originated from, the grunge effect in photo editing resembles the gritty, dirty, and scratchy aesthetic of the lifestyle it takes its name from. Depending on which grunge filter you use, you'll see that they add a slight blur to your photo. This might make your photo feel a little out of focus, but that's all part of the effect. The grunge filters also add a certain level of grain and noise to your photo, to perfectly represent the true grit of grunge culture. If you're looking for a softer, nostalgic touch, consider adding a more crisp film grain effect to your photos.
Grunge effects will quickly transform your design into the vintage early 1990s aesthetic that the sub-genre is known for. The grunge lifestyle is an underground phenomenon. It's unapologetic, and never clean, polite, or tidy. Simply open the Editor in Picsart, tap on Fx, and scroll across to find the GRNG filters, to see a quick and easy representation of the variety of grunge photo effects. The effects can also be used to perfectly encapsulate the vintage feel of early 1990s photography, and when used thoughtfully, can produce a trendy aesthetic that's very much in vogue nowadays too.
Grunge Photo Effect vs. Other Effects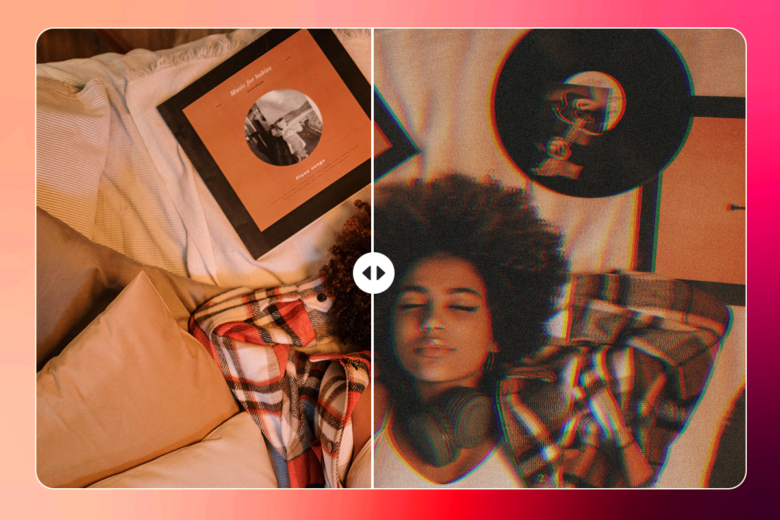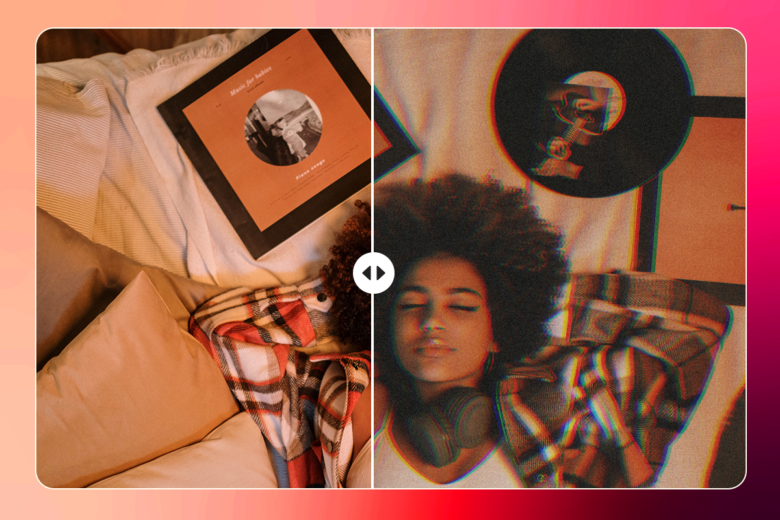 With so many filters and custom presets available for photo editing, it may be surprising how popular the grunge effect is. So why are so many people using grunge photo effects?
It's not that the grunge effect is better than any other filters, but it has certain characteristics that make it stand out in a crowd of others. Here's why:
The grunge photo effect goes beyond basic photo editing; it has a rich history behind it, as a subculture that has blossomed since the late-1980s. Grunge is an alternative subculture with a strong following spanning the arts, music and fashion. It's impossible to view grunge as just another photo effect. Some people  apply the grunge texture to their photos as an homage to the wider lifestyle and cultural movement.
The grunge effect also has its own distinct mood. The grunge movement is underground at its heart. Unlike vintage filters from past decades which carry a funky retro vibe (like this 1970s aesthetic), the grunge effect is more gritty and moody. It adds a low saturation to photos, which helps to create a melancholic vibe, free of refined polish or shiny flair.
While the grunge movement has a very specific aesthetic, that doesn't stop grunge designs from being extremely versatile. The grunge effect can be easily applied to a variety of images and retain its edge. The texture of the effect mostly consists of scratches and splatters which helps to spice up even the simplest of photos, while the moodiness of the color palette allows for more serious photo editing.
When to Use the Grunge Effect for Your Photos
There are no specific rules when it comes to applying the grunge effect to photos. Some designers prefer to use it only when it thematically fits, while others apply it to almost every photo given how trendy and moody it is – especially if they're trying to achieve a consistent aesthetic for an Instagram feed.
There is no right or wrong way to apply the grunge effect. However, there are some common use cases where it can really take your graphic designs up a notch. If you're new to the grunge photo effect, we have compiled seven great examples of how to use it in your photo editing.
1. Indie Edit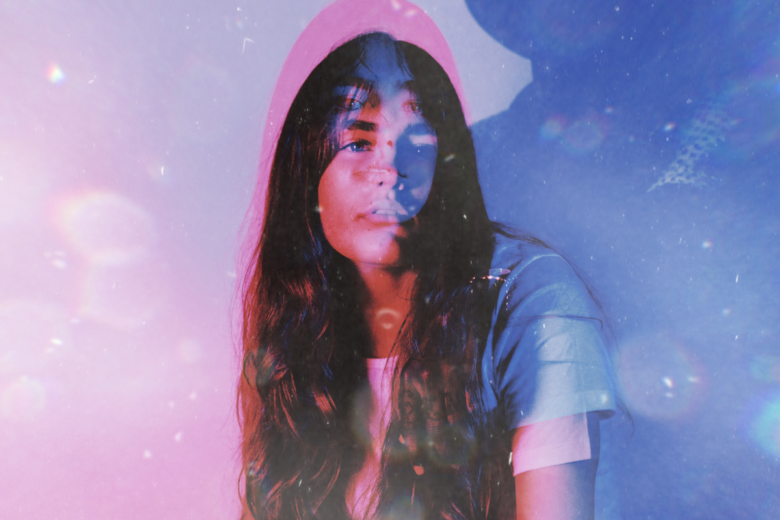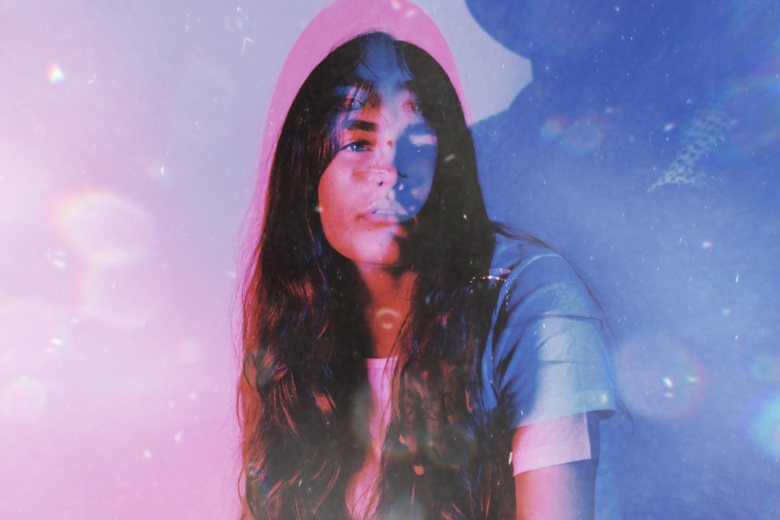 If there's one aesthetic that the grunge effect fits right into, it's definitely the indie aesthetic. A lot of indie visuals are inspired by the early 2000s: bright colors, alternative outfits, and hazy photos. Indie photo edits often have interesting color palettes and a noisy overlay. The best kind of indie photos often feel like they come from the past, so applying a grunge effect helps them feel even more vintage.
2. Y2K Vibes

Y2K edits are oh so trendy at the moment and the grunge effect helps elevate them to another level. You've probably already seen some great Y2K edits in your feed by famous alt influencers. So why not make one of your own? While the old-school TV screen in the photo gives it strong Y2K vibes, the grunge effect is what ties the whole edit together.
3. Portraits/Selfies

Not all grunge photo edits need to be complicated. The grunge effect is quite universal, elevating complicated photo edits and casual selfies alike. You don't need to add anything other than a simple grunge filter, but your selfie will boldly stand out in people's feeds. The dark color scheme along with the noisiness of the effect adds an extra flair to even the simplest photo.
4. Aesthetic

Achieve a specific aesthetic by playing with a wide variety of design elements like texture layers, fonts, stickers, and more. You can spend a lot of time searching for photos that match in tone, aesthetic, and color palette, but they still end up looking out of place in the final image. The trick is to apply a filter to the final photo to make everything look cohesive. The grunge effect is perfect for this.
5. Cyberpunk/Fantasy

While the cyberpunk fantasy is set in the future and the grunge aesthetic is set in the past, the two surprisingly pair well together. Grunge visuals often have a dark and moody tone, which couples well with the dystopian futuristic setting that the cyberpunk aesthetic tries to portray. Consider using a variety of clever overlays and the grunge effect to achieve this cyber grunge aesthetic.
6. Super Vintage

You can easily capture a vintage aesthetic with clever edits, stickers, frames, and vintage filters. The grunge effect helps to tie all of these elements together, making your photo look like a page straight out of your creative scrapbook.
7. Film Photography Effect

With the newfound popularity of film photography, many have invested thousands of dollars into buying new photography equipment. However, photo effects and filters don't only make photos more aesthetically pleasing, they can also help give them new context. With the use of the grunge effect, you can add a classic film photography look to your modern photos.
How to Apply the Grunge Effect in Picsart
Whether you're looking to use the grunge effect to create photo edits that are perfect representations of grunge subculture, or you're looking to design some trendy vintage looks to bring the early 1990s to present day, we've got you covered with the Picsart GRNG effects.
You can easily apply a variety of GRNG filters in Picsart. Don't forget that you can manually adjust each of the effects by long pressing on the filter to tweak its settings manually. This means the GRNG effects are perfect whether you're a beginner looking for a quick and moody solution for your selfies, or a photo editing veteran looking to create a vintage look that's completely unique to you.
On the Web
To apply the grunge effect to your photo using web tools:
1. Open the Picsart web editor and click on New Project to start.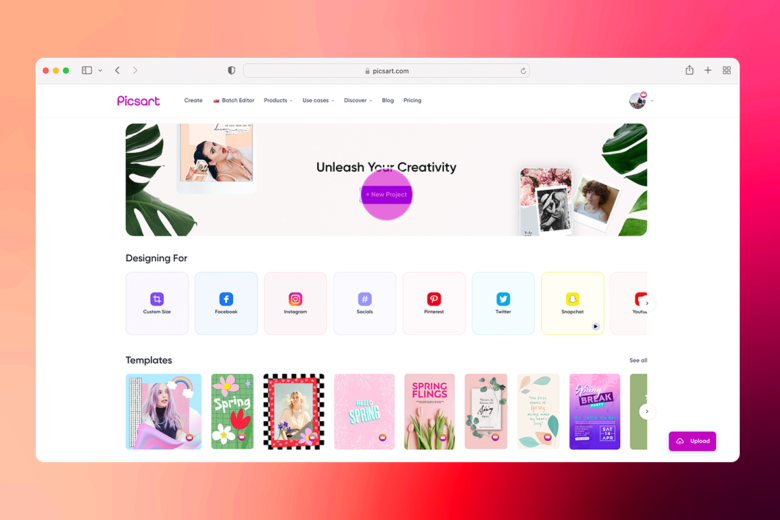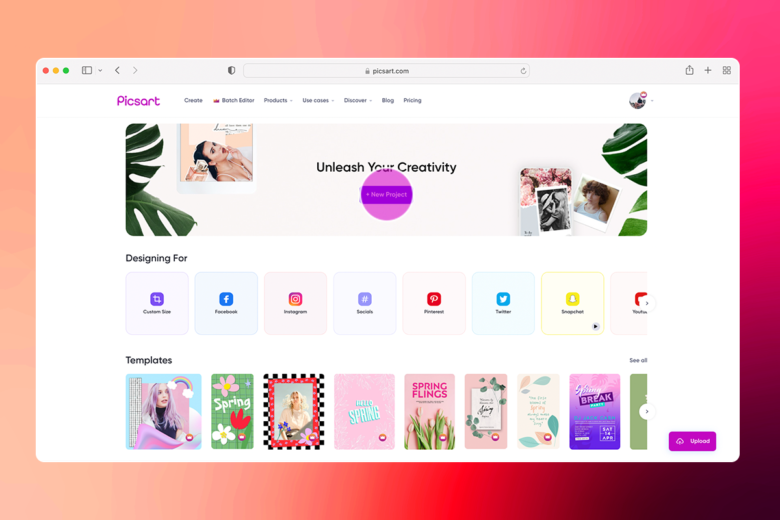 2. From the left-hand panel, select Layout and choose your canvas.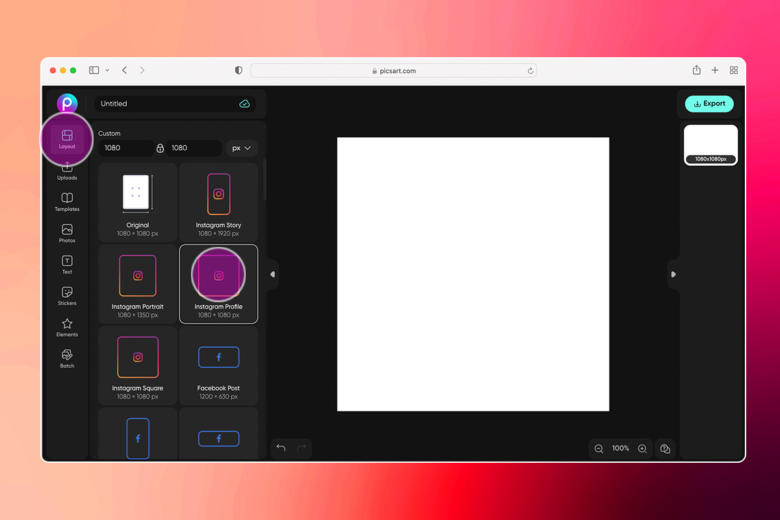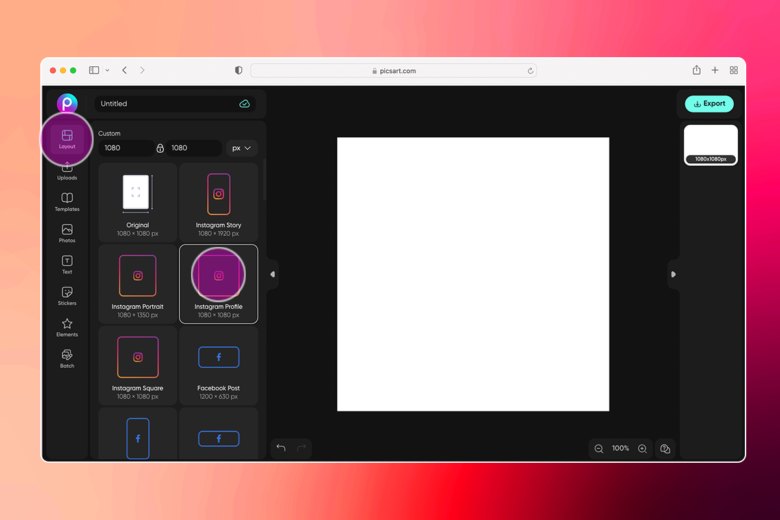 3. Now choose the image you want to edit. Click on the Uploads button and confirm your selection.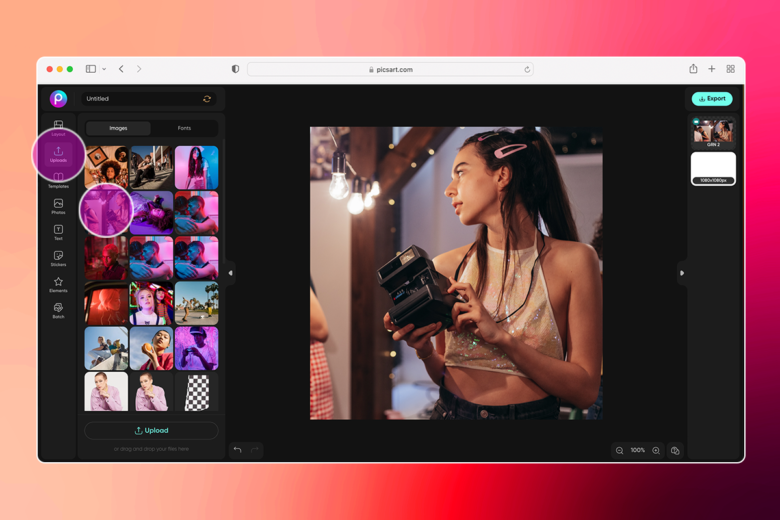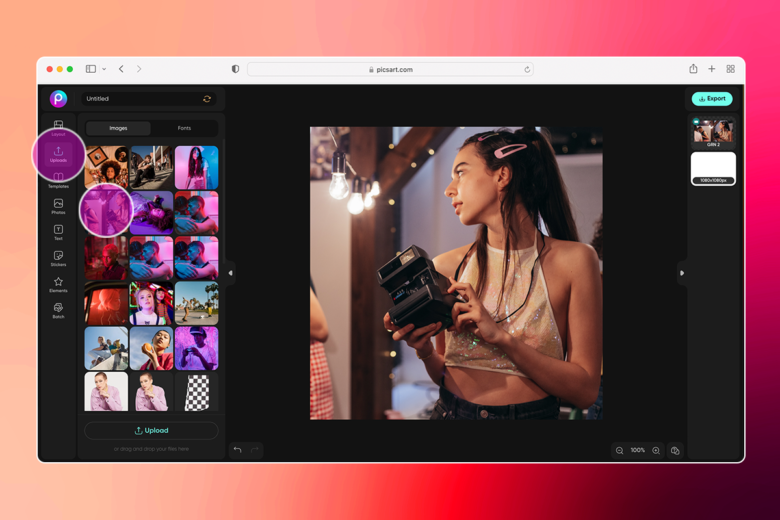 4. Select Effects from the toolbar above the canvas and scroll through the options on the left until you find the GRNG effects.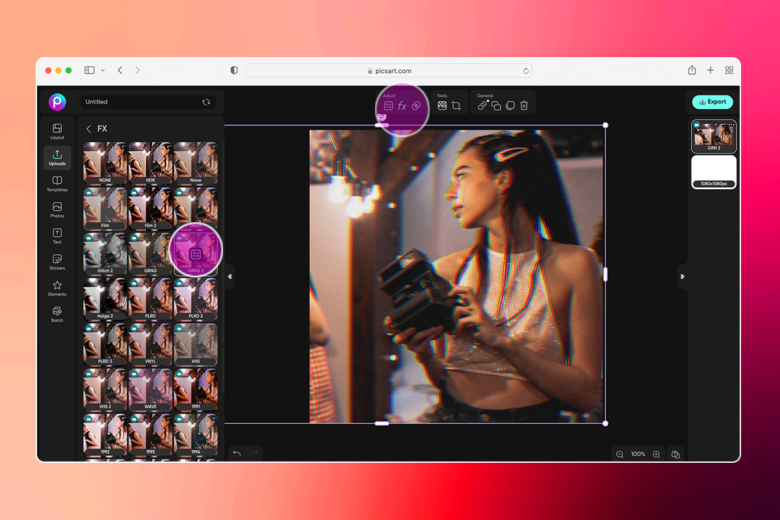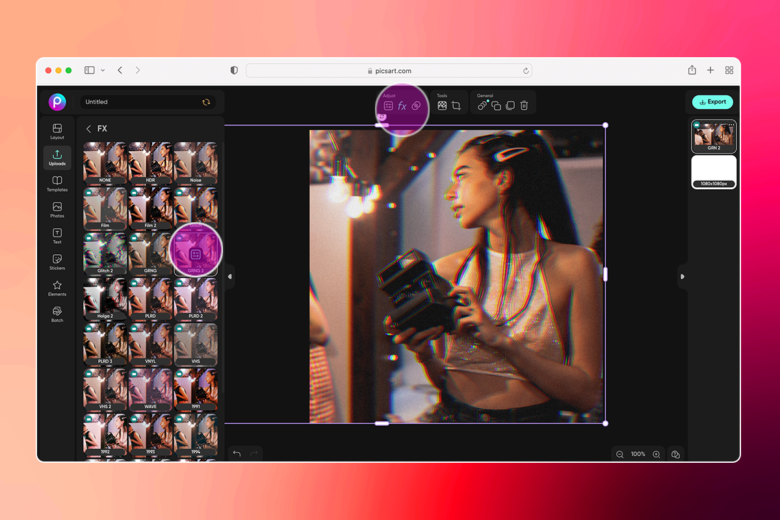 5. Fine-tune the effect by clicking the Adjust button at the top and playing with the sliders on the left.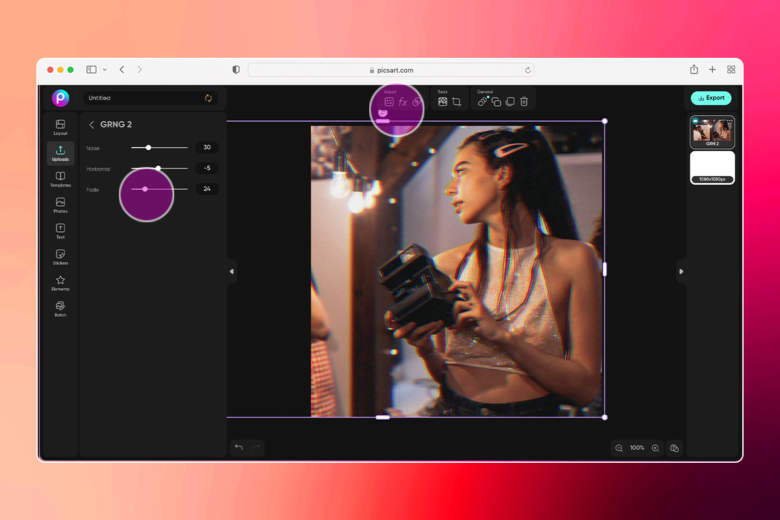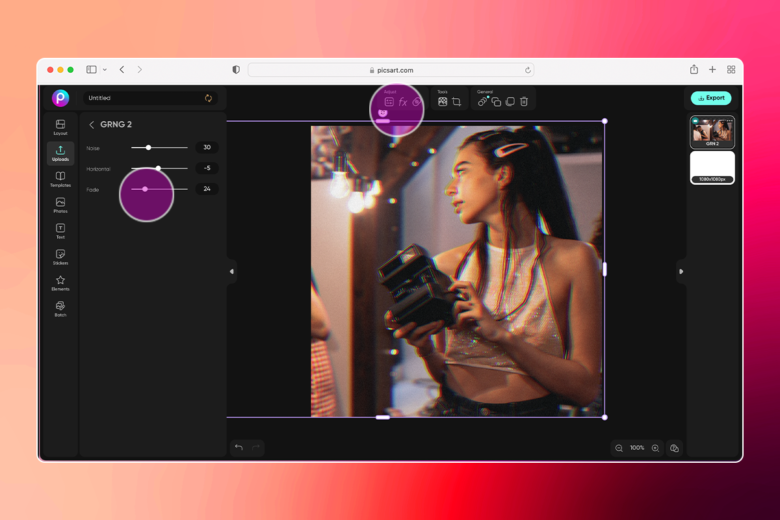 6. Click Export to download your design.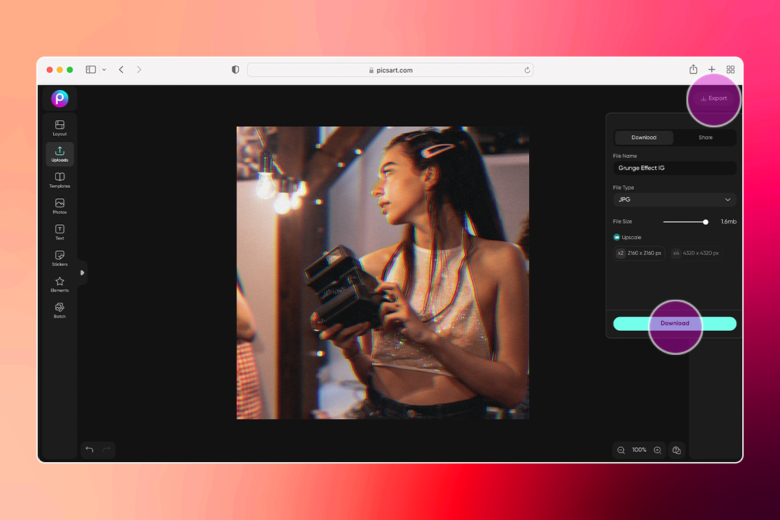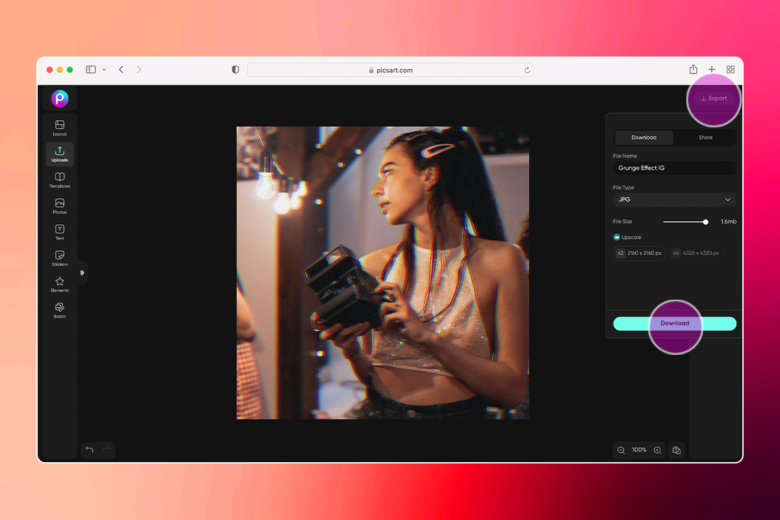 On the App
1. Open the Picsart app and tap the purple plus symbol to start.
2. Upload the image you want to edit.
3. Select FX from the toolbar at the bottom.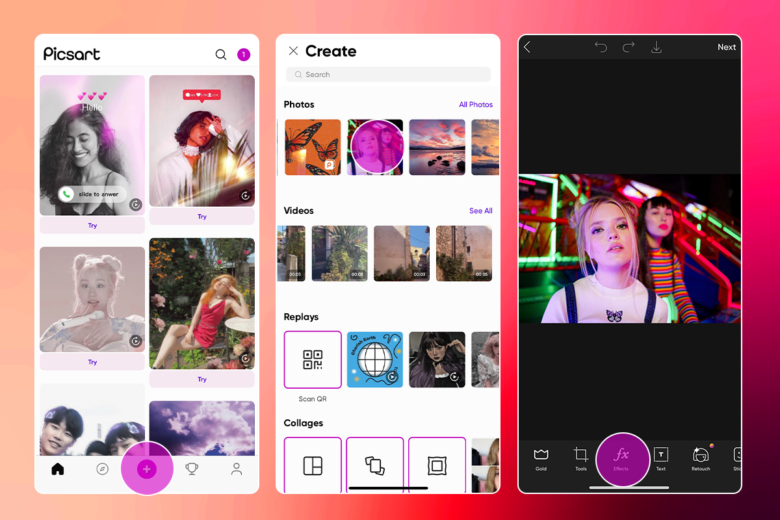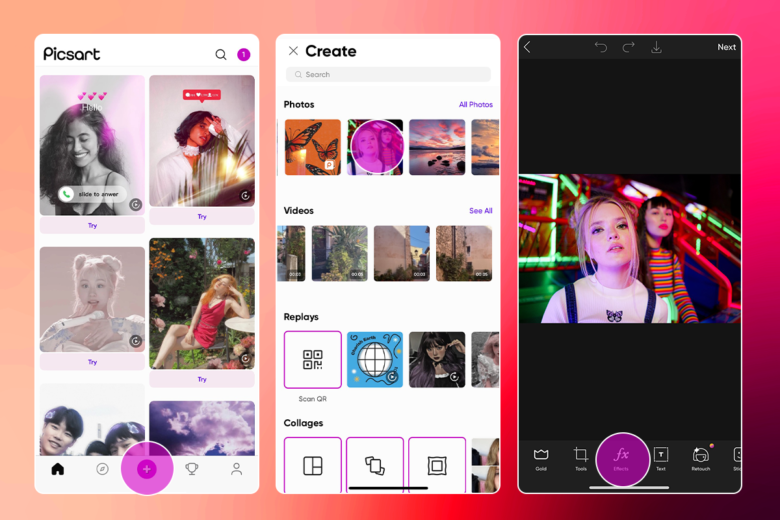 4. Scroll until you find the GRNG effects.
5. Adjust the levels of the effect you wish to apply and tap on Apply to confirm.
6. Want to go even more grunge? Tap on the Stickers tool.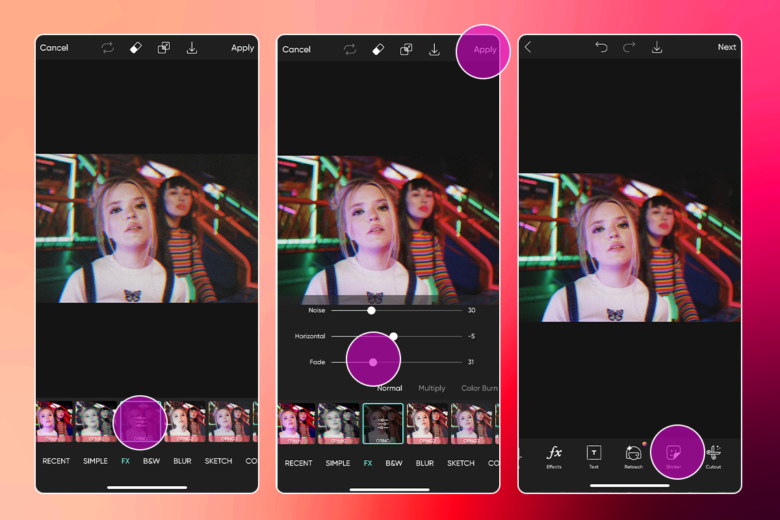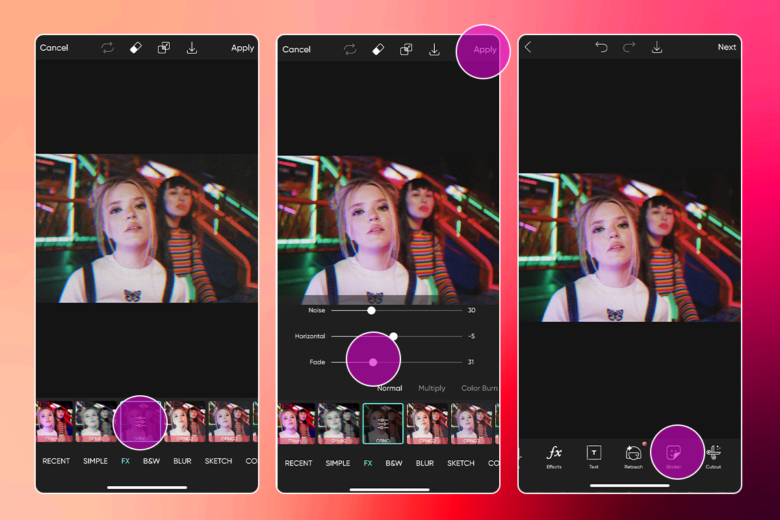 7. Search for 'dust overlay' and find a suitable sticker for your aesthetic.
8. Play around with the opacity to decide how visible you want the sticker to appear, tapping on Apply to confirm your edits.
9. Save to your device or post your creation to the Picsart community.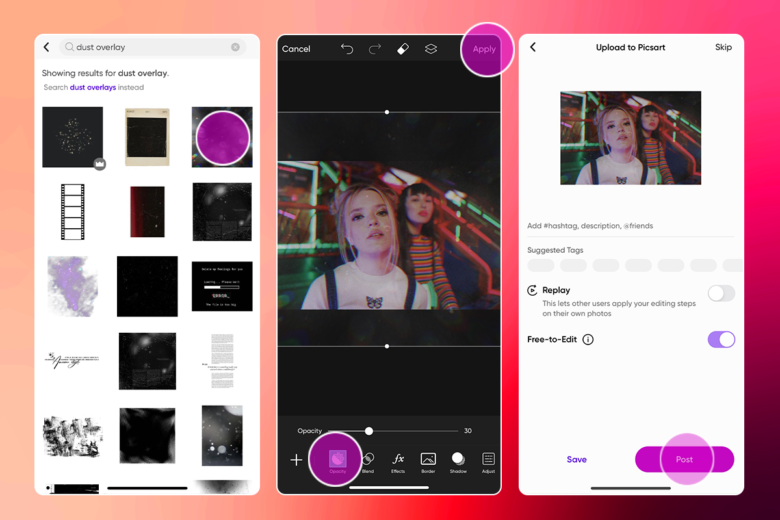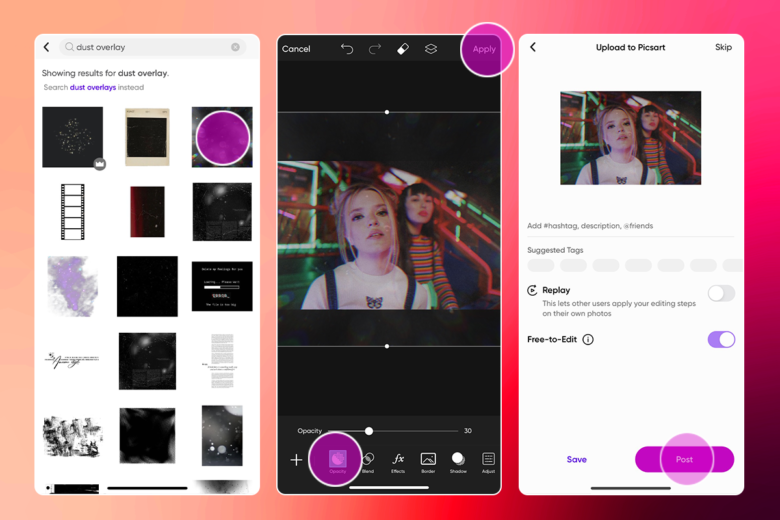 Picsart is a full ecosystem of free-to-use content, powerful tools, and creator inspiration. With a billion downloads and more than 150 million monthly active creators, Picsart is the world's largest creative platform. Picsart has collaborated with major artists and brands like BLACKPINK, Taylor Swift, the Jonas Brothers, Lizzo, Ariana Grande, Jennifer Lopez, One Direction, Sanrio: Hello Kitty, Warner Bros. Entertainment, iHeartMedia, Condé Nast, and more. Download the app or start editing on web today to enhance your photos and videos with thousands of quick and easy editing tools, trendy filters, fun stickers, and brilliant backgrounds. Unleash your creativity and upgrade to Gold for premium perks!