Flowers are beautiful subjects to shoot. And photographers of all skill levels are welcome in the world of flower photography. But if you're unsure about where to start, you've come to the right place. Here, we'll cover some of the biggest challenges people experience while taking photos of flowers, share great tips and flower photography ideas, then show you how to edit your flower photos for a professional finish.

What Are the Biggest Challenges of Flower Photography?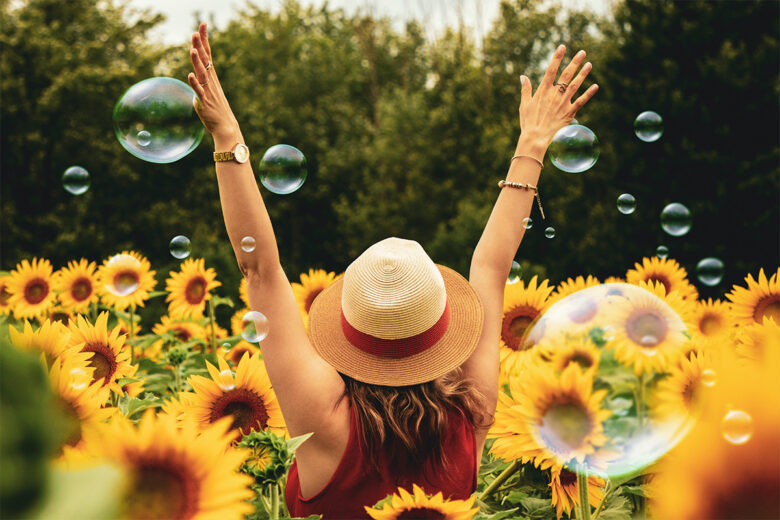 Photographing flowers can be fun, but like anything else worthwhile, the process doesn't come without its unique challenges. 
Environmental Changes:
As with any outdoor photography, you may want to plan ahead to avoid things like rain, wind, or lighting challenges. Weather can drastically affect your lighting and windy days with a macro lens can cause camera shake. That akes it harder to keep your focal point looking sharp if either you or the flowers are moving.
Perfecting Depth of Field (DoF):
It can feel challenging to find the right camera settings for the job when you're first starting out shooting macro photos. Flowers are almost always moving to some degree. So, macro lenses can struggle to stay focused. It might feel a little frustrating at first, but taking the time to experiment with different aperture settings and learning techniques like focus stacking can really pay off. 
Busy Backgrounds:
Finding the perfect frame to avoid a cluttered background can be challenging at first. But don't worry. You can use flower isolation techniques and tools (such as plant clamp) to help separate your chosen focal point from the rest of the plants. We'll also cover aperture settings to create the perfect depth of field for your goals.
Standing Out:
When you're first learning how to photograph flowers, you may find it hard to make your images unique. To be different, you'll have to think differently. But don't fret, creative flower photography opens the doors to a whole new world of endless possibilities. Once you learn some photography basics and test the following tips and ideas, you'll be on your way.
11 Flower Photography Tips
That's the challenges that come with flower photography covered. Now let's talk about how to handle them like a pro. Ready to make your photos stand out using some technical and creative photography tips? Don't have a DSLR camera? No problem. Most smartphone cameras are fine if you're just starting out.
1. Master Depth of Field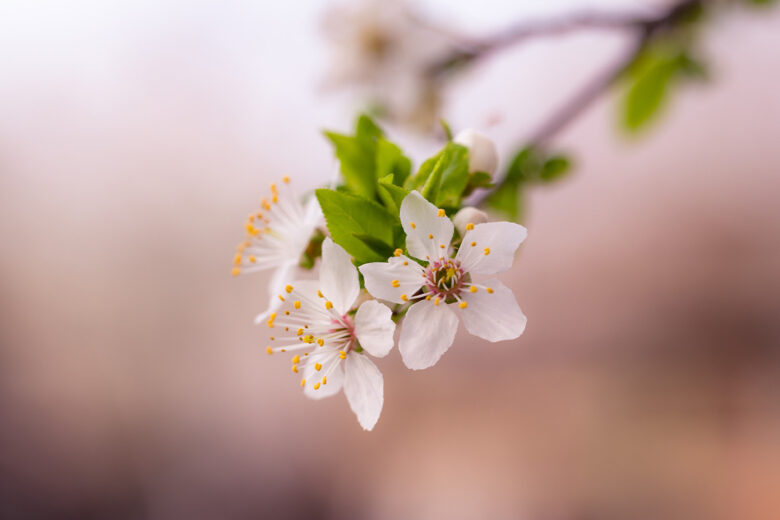 Ever wondered how photographers can make flower petals or stamen of a single flower to focus while the rest of the image is blurred? A wide aperture setting is your friend when it comes to this style of macro flower photography. Aperture is the main element of the exposure triangle. That's made up of aperture, shutter speed, and ISO. It works like the pupil of an eye to control how much light hits the sensor. Knowing how to work with aperture is key to creative flower photography.
A wide aperture has a large f-number or f-stop (f/1.4, f/2.8, etc.) which creates a narrow or shallow depth of field. This creates mostly blurred macro shots with one sharp focal point. Conversely, a narrow aperture has a small f-number (f/16, f/22, etc). That creates a wide depth of focus. In this case, most of your image will be in focus, which is more useful in landscape photography or for photographing a field of flowers. A medium aperture (f/5.6, f/8, f/11) can help you achieve a more balanced depth of focus so that most or all of the flower will be in focus while still keeping the background blurred. 
2. Don't Have a Macro Lens? Try These Hacks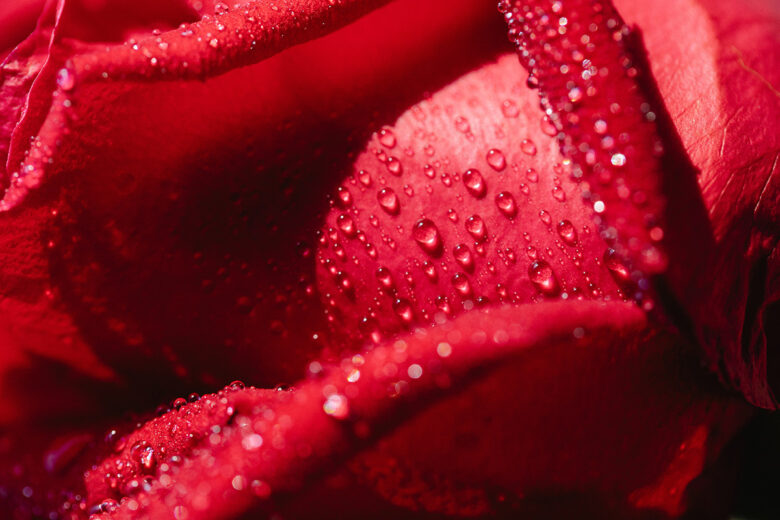 Macro lenses are ideal for taking photos of flowers close-up. But if you don't have a macro lens, both Nikon and Canon DSLR cameras offer a built-in macro mode (aptly indicated by the flower icon on the mode dial). That can be the perfect way to get started learning how to take photos of flowers. 
You can also try low-cost lens attachments, such as extension tubes or reversing rings, to focus and magnify your images. Extension tubes work by creating a light-proof tunnel between the camera's lens and body. Reversing rings work by attaching onto a DSLR camera lens' filter thread to allow an inverted lens to attach to a forward-facing lens.
If you're on a tight budget, smartphone cameras such as the latest iPhones will also do a great job. Already have a smartphone? Then you're all set.
3. Shake Off Camera Shake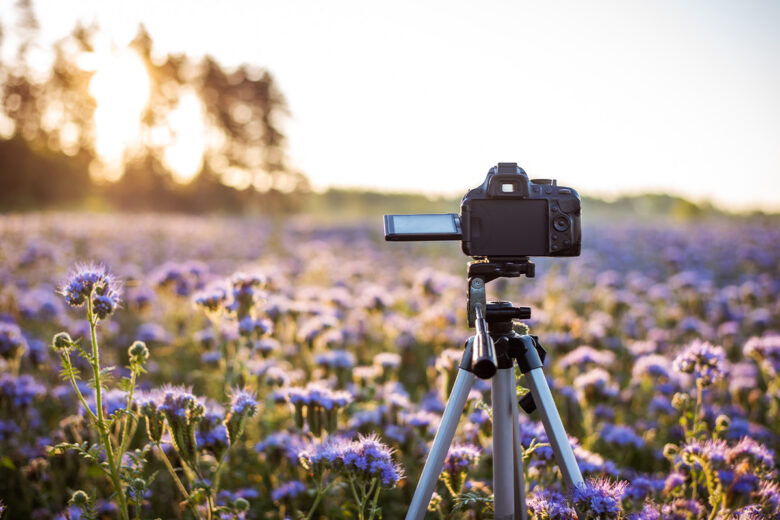 Camera shake comes with the territory of outdoor photography. A tripod or monopod can help reduce camera shake. Especially when paired with a remote or cable release to control shutter speed without touching the camera and risking a shaky image. 
On a sunny and still day, you can use a higher shutter speed (1/2000 to 1/125s) without a tripod (even if some parts of the flower are moving a little bit). That'll still produce a sharp image. You can also block the wind around your main subject using a reflector, diffuser, umbrella, or cardboard. A white or reflective surface is ideal as a barricade as it can double as an extra lighting source. 
Pro tip: Always press your shutter button halfway down first to focus before pressing it all the way.

4. 'Lights, Camera, Action!'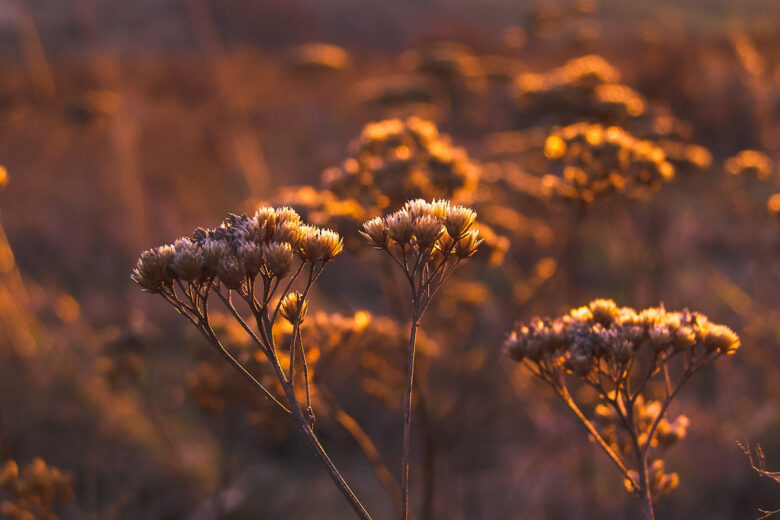 Light is a key element of photography. You can't do much without it. The best times for flower photography tend to be early morning (before and after sunrise) and late evening (before and after sunset). 
Sunny day outside? Backlighting creates a natural glow effect. Create a backlight effect by positioning yourself so that the flower is between you and the sun. Because flower petals are translucent, light can filter through them from behind to varying degrees, depending on the type of flower. For really bright days or mid-day shoots that create harsh contrast, a fill-in flash can help lighten up the shadowy areas, balancing the foreground and background.

Overcast days are wonderful for flower or landscape photography because the clouds act as a natural soft light or diffuser. Widen your aperture, lower your shutter speed slightly, and set your ISO to 400 or 800 to capture more light (use ISO as a last resort as it may add grain). A reflector or umbrella can also help bounce light onto more parts of the flower. 
Pro tip: Use a white or silver reflective surface for cooler light tones. Use gold foil or a gold reflector to create extra warmth.

5. Use The Rule of Thirds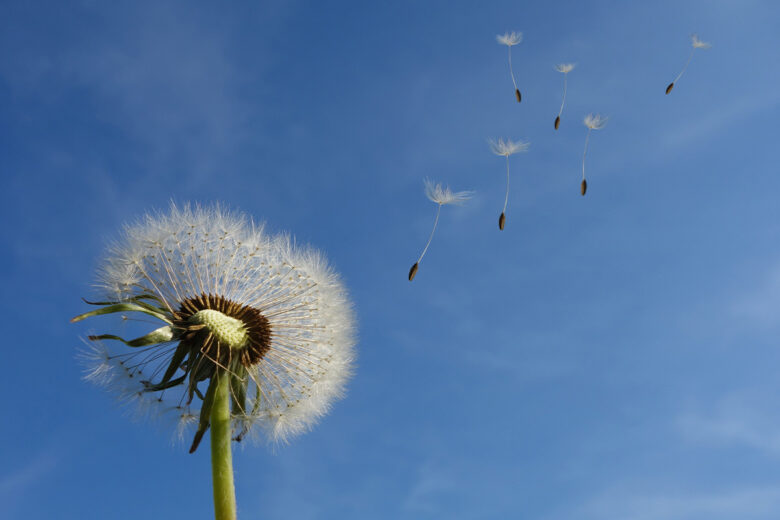 Not sure how to best compose your image? Follow the rule of thirds and you can't go wrong. To use the rule of thirds, first divide your frame into nine equal rectangles. Then, find different angles and compositions where the most interesting points in the image fall along one or more of the lines. If you're photographing a single flower, try lining the stem along a grid line and the stamen at an intersection.

Pro tip: Think of each flower as a person, with the flower as the head and the stem as the body. Where would you position them if they were people?
6. Shift Your Perspective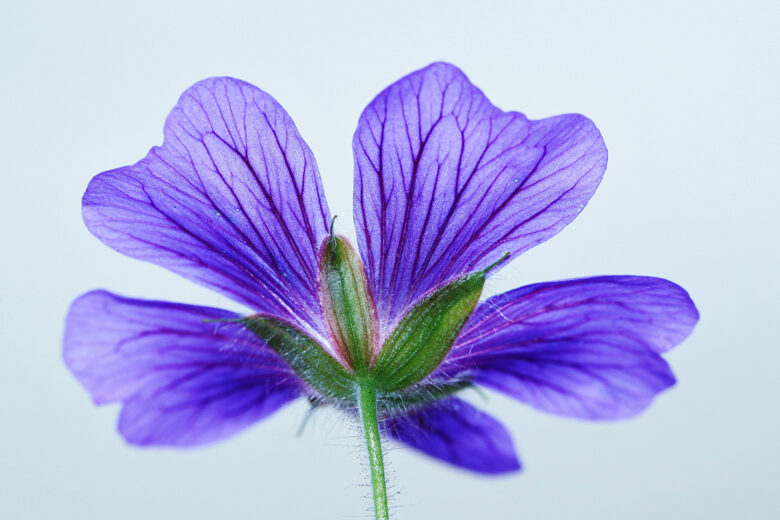 Flowers are always beautiful on their own, but playing with perspective can tell a story and take your photography to the next level. 
What does life look like from the perspective of an ant making its way through the stems? Or a snail, making its vertical journey up? How about a bee or a butterfly landing on a beautiful flower?
Pro tip: Have fun discovering different angles and fully embrace the dirt.

7. Find or Create an Interesting Background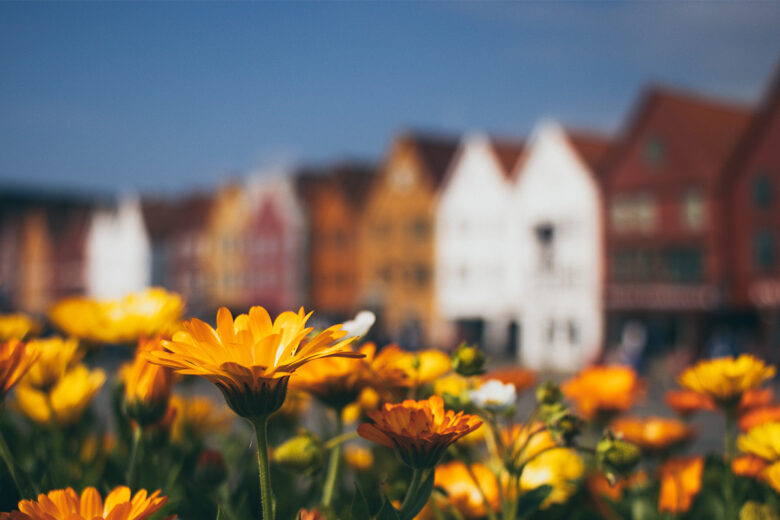 One of the coolest things about macro flower photography is how much fun you can have with backgrounds without worrying about it taking away from the focus on your main subject. This is where understanding depth of field comes in handy. Simply choose an interesting background and blur it to by adjusting your aperture setting or edit in a bokeh effect. Bokeh refers to the quality (rather than the width, depth, or amount) of the blur. 
What's the secret formula to creating a beautiful bokeh? 
Use a lens with an aperture of at least f/2.8

Use a longer focal length or telephoto lens for a more extreme bokeh

Create distance between the foreground and background 

Move closer to your subject

Shine or pass light across a reflective surface, such as glitter, or through water droplets or mist
Unfortunately, many entry-level cameras can only go as low as f/4.5 or f/3.5, but if you're committed to creating bokeh, a 50mm macro lens is a perfect entry point. It's affordable and opens up to f/1.8 or f/1.4 for extra shallow depth of field. On a budget? Create an instant bokeh effect in post-processing using Picsart.

Pro tip: Want a break from the typical floral or wooden fence background? Create your own background by placing a glittery paper, cardboard, or fabric behind a flower. Set a narrow depth of field and position the background so that light hits it at just the right angle.
8. Don't Let Nature Rain on Your Parade
–

Use It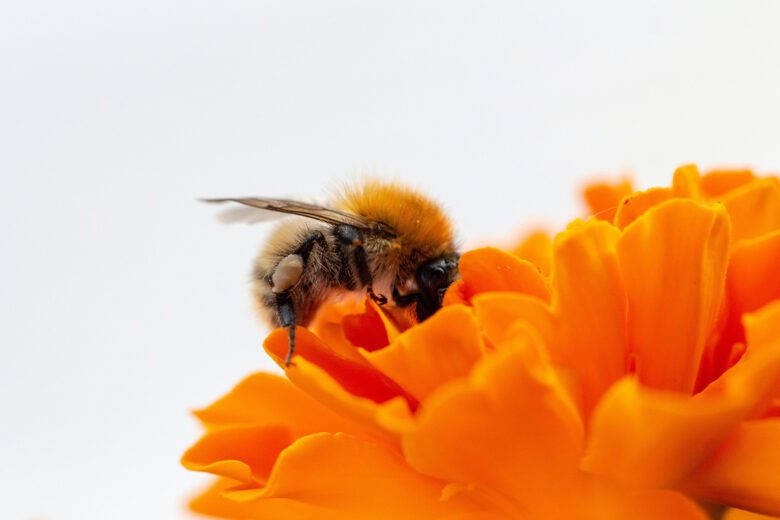 One of the most magical things about macro flower photography is how up close and personal you can get to interesting little critters.

Just rained? Grab your camera and capture the gorgeous rain droplets as they rest upon colorful, freshly cleaned flower petals. The opportunities in nature are endless, so cash in that rain check and get outside. The wild awaits your creativity.
9. Need a Hand? Grab a Plamp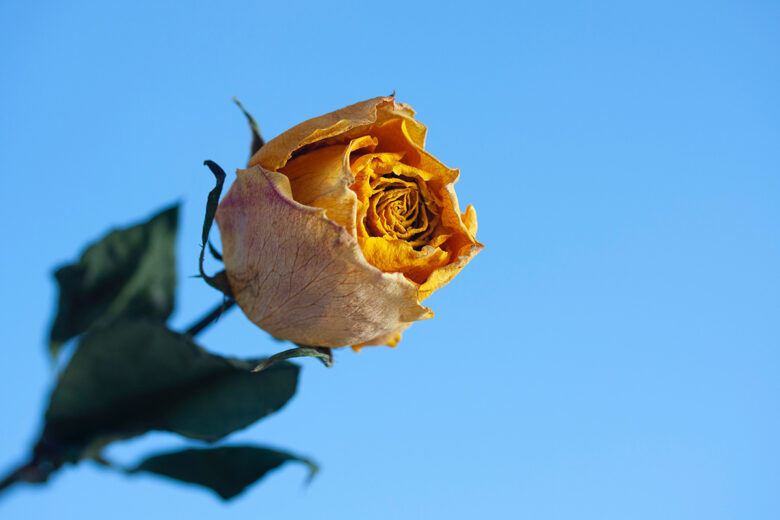 Your best friend in creative flower photography? The plamp. Think of a plamp (also called a plant clamp), as your very own personal assistant. It has bendable arms and acts as an extra set of mini hands that can hold flowers or reflectors in position. 
Need to isolate a single flower from the rest? Drape a paper towel over a stem and use the helping hands to pinch the edges of the paper towel down or away to move the main stem away from the others.

Pro tip: Want to make the most of a windy day? Use a plamp to hold your main subject steady while allowing the surrounding flowers to blow in the wind.
10. Create a Mini Indoor Studio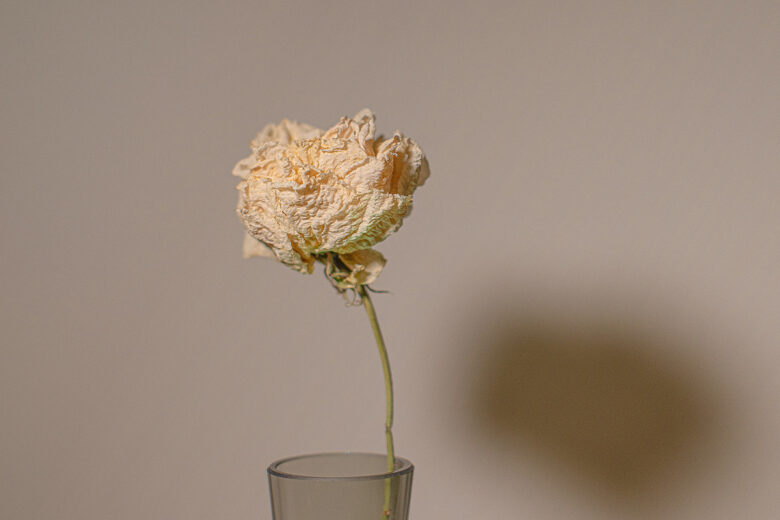 Outdoor macro photography takes a little bit of practice, but don't let that stop you. Creating a mini indoor studio is a fun and easy way to practice without having to worry about outdoor challenges. Use indoor house plants or invite a wildflower inside for the day. You can even buy artificial flowers and spray them with water or glitter spray to make them extra special. Many artificial flowers are coated in a shiny wax layer that can look realistic in macro shots, especially when you add water droplets.
Use glitter paper, fabric, or any type of wall or surface (wood, tile, brick) as backdrops. Explore lighting effects by combining lamps, natural light, or string lights to get your unique look just right.
11. Get Creative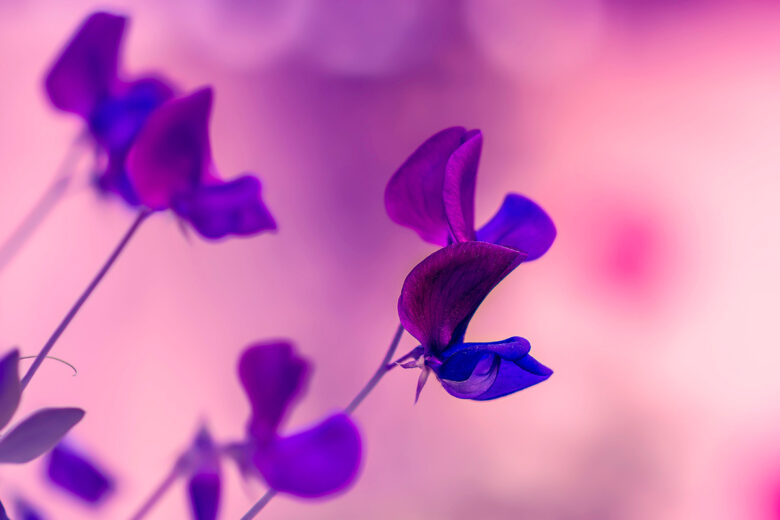 How do you stand out from the crowd? 
You get resourceful. Check out sites like Pinterest or the Picsart Explore page for inspiration, then experiment with different props and techniques. Add your own unique twist. Photo editing tools make it easy to transform your image in minutes. You can use Effects to apply filters that instantly transform the style and texture of an image. Stickers add visual elements and props. The Bokeh or Solar Flare features will help you look like a pro instantly. 
For more ideas, check out these floral ideas for spring.
More Flower Photography Ideas
Need a few more quick flower photography ideas to get inspired? 
You've heard of trumpet flowers, but have you ever seen a colorful bouquet of spring flowers popping out of the brassy horn of a trumpet? Create a jazzy feel with this look and use Picsart

Sticker

tool to make music notes stream out of the bouquet.

Love

sunflower photography

? Dress your puppy, baby, or favorite stuffed animal in a sunflower costume.

Sunflower photography

is an instant pick me up.



Is

black and white flower photography

more your thing? Make powerful images by shooting in black and white. Use

Picsart

to edit your shots to perfection afterwards.


Including unique and intriguing props into your photo is a great way to spark a viewer's attention and curiosity. Don't be afraid to dare a little and let go of the pressure to be perfect. Even broken pots can serve as interesting subjects.

How to Edit Flower Photography Using Picsart
Ready to sharpen your flower photography editing chops? Let's go.

On Desktop
1. Open the Picsart web editor, click on New Project to get started.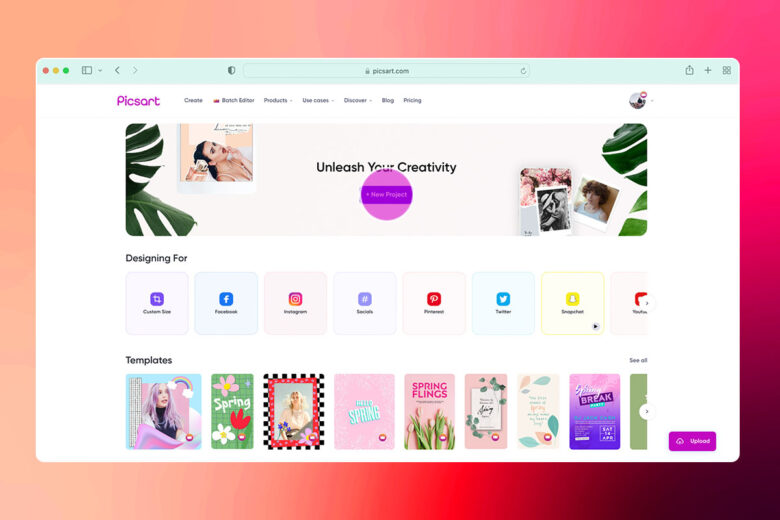 2. Click on the Layout icon and select your preferred canvas size.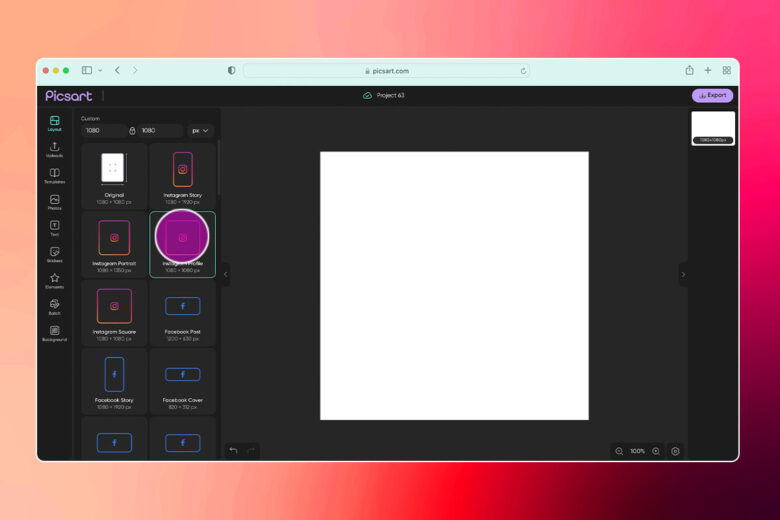 3. Now it's time to add your image. Click Uploads and select the image you'd like to edit.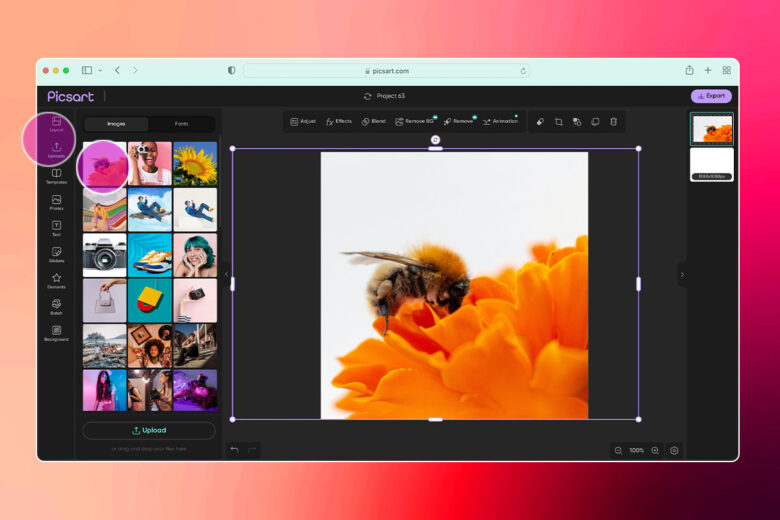 4. Want to add a filter or effect? Click on the FX tool and browse the options available before making your selection.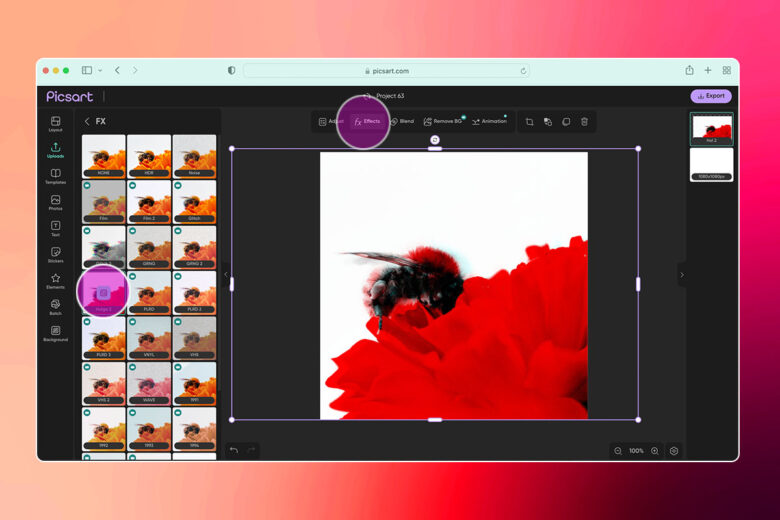 5. There are a range of further edits available and tools to explore. Feel free to experiment with each to see how they affect your image, but when you're finished, click Export to download your work.
On Mobile
1. Open the Picsart app and tap on the plus sign (+) to start a new project.
2. Tap Photos and choose the image you'd like to edit.
3. To add fun filters and special effects to your photo tap on the FX tool.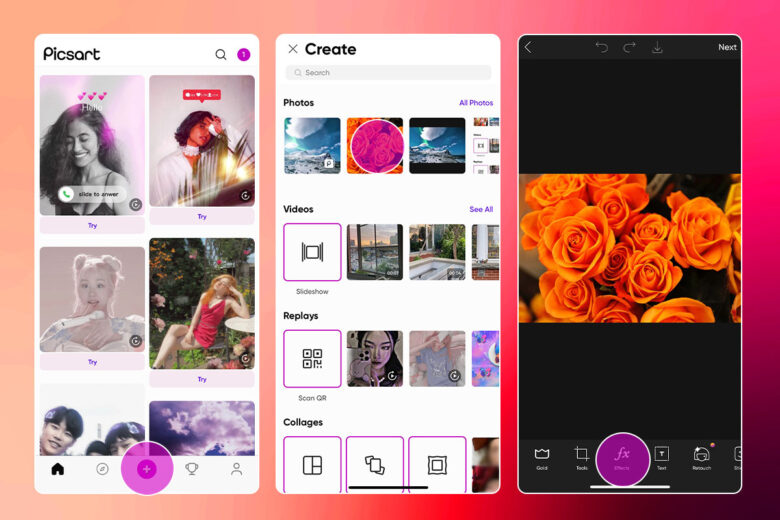 4. Browse the options available and preview them on your image.
5. You can add further edits and tweaks here, such as adding a Mask.
6. Again, browse the Mask options available and preview them on your image.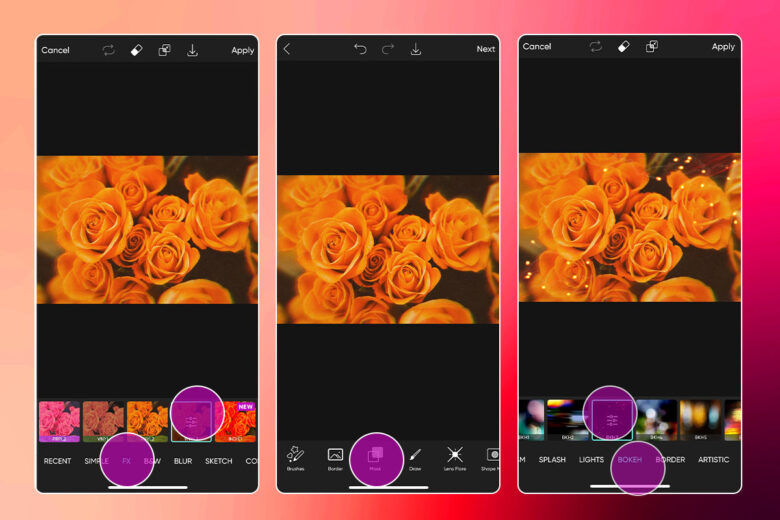 7. Long-press to decide how much or how little you'd like the Mask to be applied.
8. Tap on Next to confirm all edits.
9. Save your work to your phone or post it to the Picsart creative community.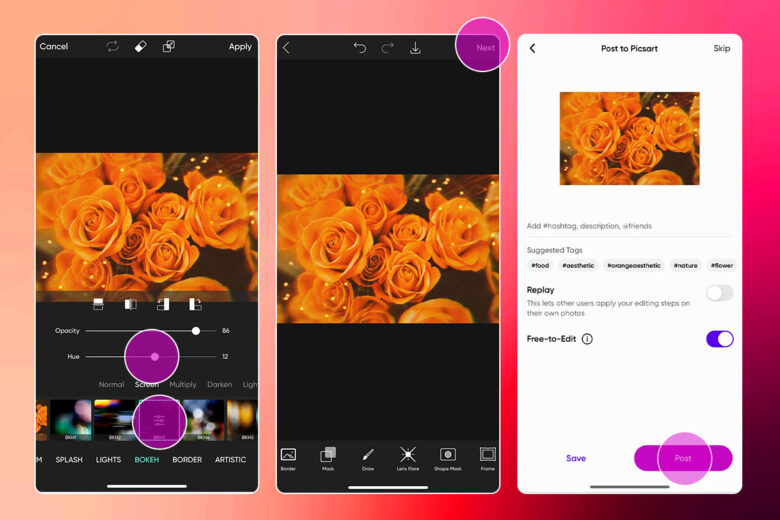 Picsart is a full ecosystem of free-to-use content, powerful tools, and creator inspiration. With a billion downloads and more than 150 million monthly active creators, Picsart is the world's largest creative platform. Picsart has collaborated with major artists and brands like BLACKPINK, Taylor Swift, the Jonas Brothers, Lizzo, Ariana Grande, Jennifer Lopez, One Direction, Sanrio: Hello Kitty, Warner Bros. Entertainment, iHeartMedia, Condé Nast, and more. Download the app or start editing on web today to enhance your photos and videos with thousands of quick and easy editing tools, trendy filters, fun stickers, and brilliant backgrounds. Unleash your creativity and upgrade to Gold for premium perks!