If you're trying to learn how to make stickers on Picsart, you've come to the right place. Whether you're using the Cutout Tool to make Stickers for WhatsApp or iMessage, or just want to create custom stickers to add to your photos, we'll cover everything you need to know to make your own Sticker in this tutorial. We'll also show you how to find the best free and premium Stickers in Picsart.
Let's dive in, it's time to learn how to make a Sticker on Picsart.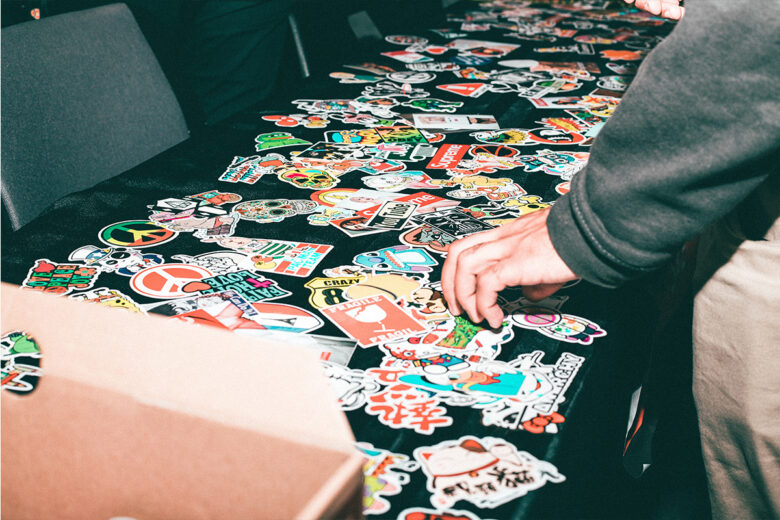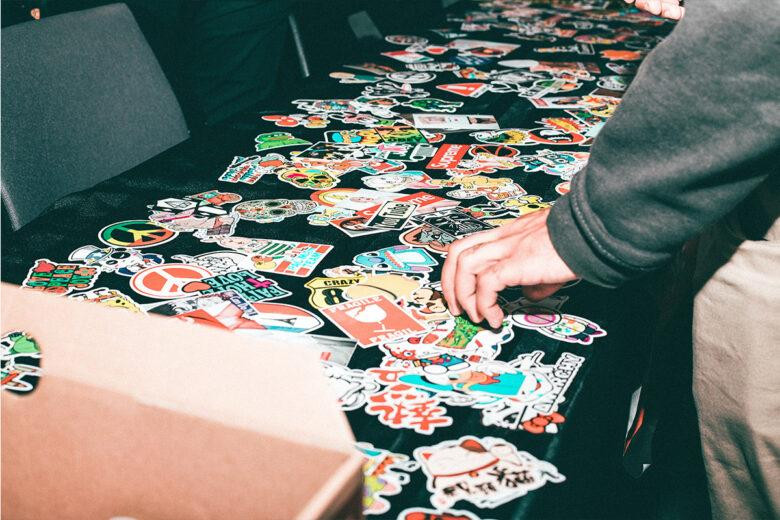 What are custom stickers?
In graphic design, stickers are design elements that you can create by cutting or editing other images. It's basically taking a cutout of one image that you can apply to another design, very much like how you'd add a sticker to a piece of paper in school.
Within Picsart, there are two types of Stickers: free and premium. Free Stickers are often community-created, meaning that other users have created these Stickers and chosen to share them with the Picsart community to also use in their edits. The Picsart design team also releases free Sticker packs too, so there's never a lack of Stickers to add to your edits. Premium Stickers are created by our in-house team of designers and are available for Picsart Gold users only.
After learning how to make Stickers on Picsart, you'll find that it's one of the easiest ways to make your graphic designs stand out.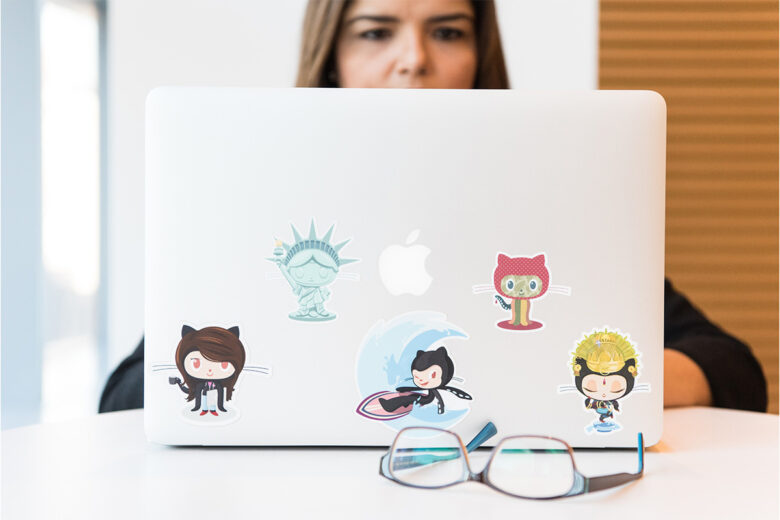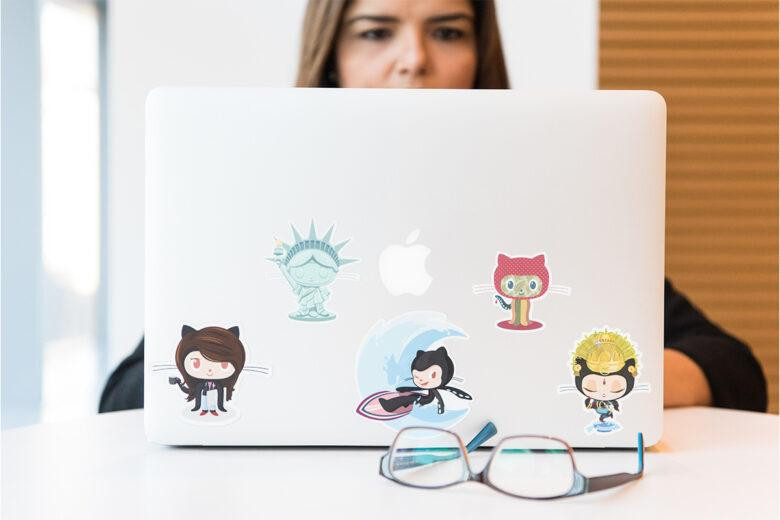 Where can you use custom stickers?
Once you learn how to make Stickers on Picsart, you'll likey find yourself creating a lot of them. And for good reason – you can use custom Stickers everywhere. Whether you're reacting to messages, creating branding materials, or editing pictures for social media, odds are you'll need a sticker.
Need some inspiration? Here are some ideas to make your designs stand out with custom stickers.
Skip the bullet points in your next presentation. Instead, use stickers to keep your audience engaged with eye-catching visuals. Better yet, create infographics with stickers to visualize key data and tell a story.
Upgrade event flyers with action-packed stickers. You might use stickers to highlight where the event will be, who's going to be there, or what to bring.
Print physical copies of your stickers to create buzz about your brand. Try handing them out in your store, attaching them to product packages, sending them to loyal followers, or selling them as brand merchandise. Depending on your business, you might turn your company logo into a sticker, create stickers of your mascot, or create an iconic custom design for branded stickers that you can sell.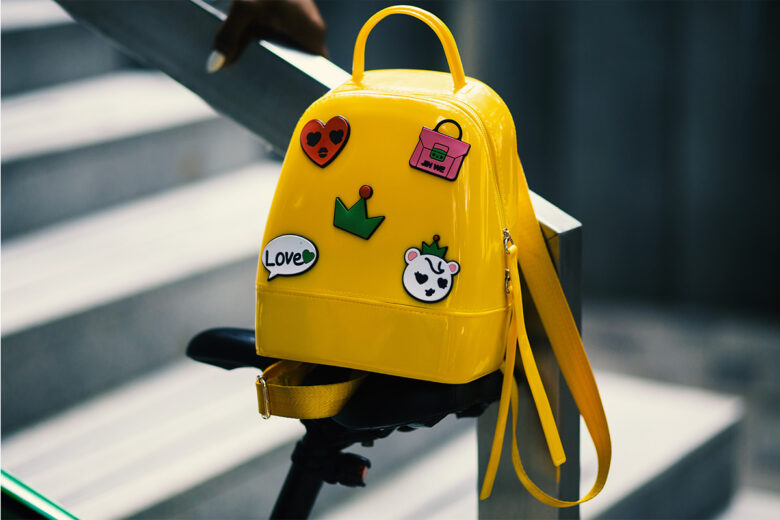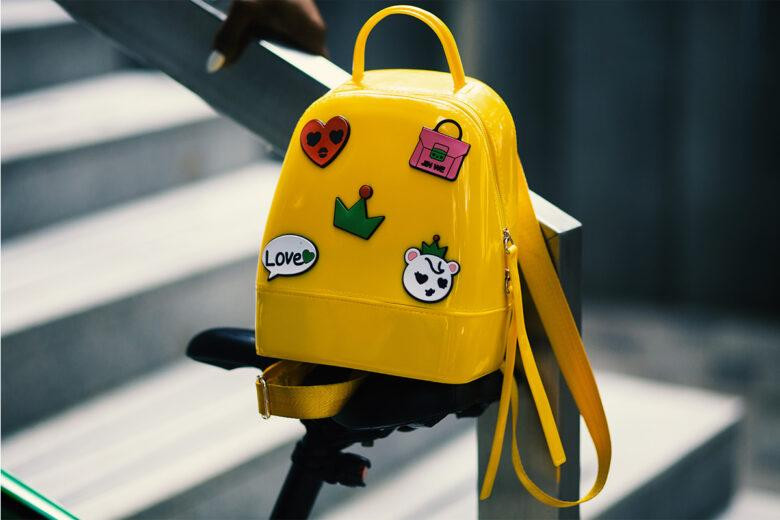 The best part? You can make stickers out of almost every image, so you can let your creativity run wild. Stickers are incredibly versatile—and you can use them to grow your brand, add flair to your marketing promos, or spread the word about an upcoming event.
How to make custom stickers on mobile
Whether you're looking to create custom stickers of your pets, bestie, or your favorite meme, making personalized stickers from your own pictures has never been so easy. Here's how to make a Sticker on Picsart so you can stand out from the crowd with eye-catching designs.
1) Open the Picsart app and tap on the plus sign (+) to start a new project.
2) Under Photos, tap All Photos. Then, upload the image you'd like to create a custom Sticker from.
3) Scroll to the right and tap Remove BG on the bottom toolbar to remove the background from your picture. After you've removed the background, tap Apply to save the changes.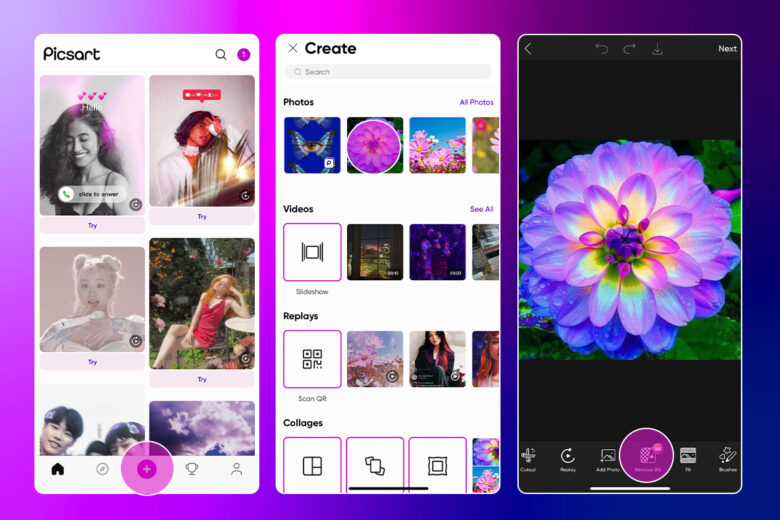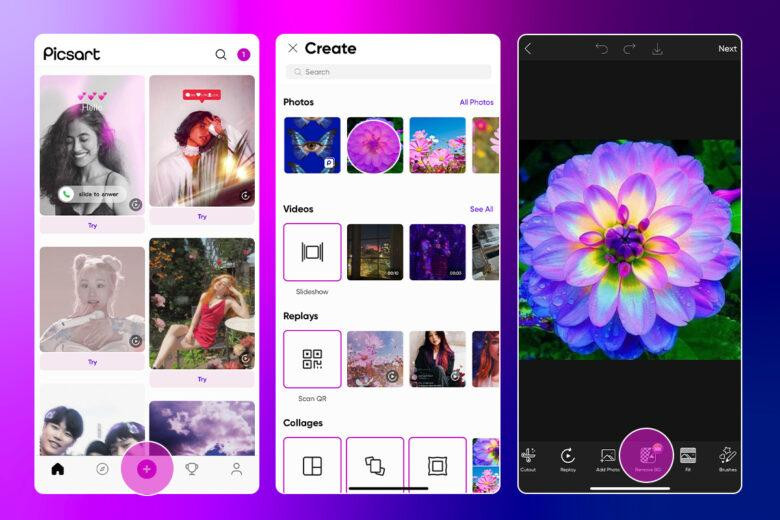 4) Under Tools, use the Adjust tool to manually fine-tune your Sticker. Here, you can change the saturation, brightness, hue, and other effects to create the perfect Sticker. Or, let our filters do the work for you and tap on Fx to search for and apply a filter.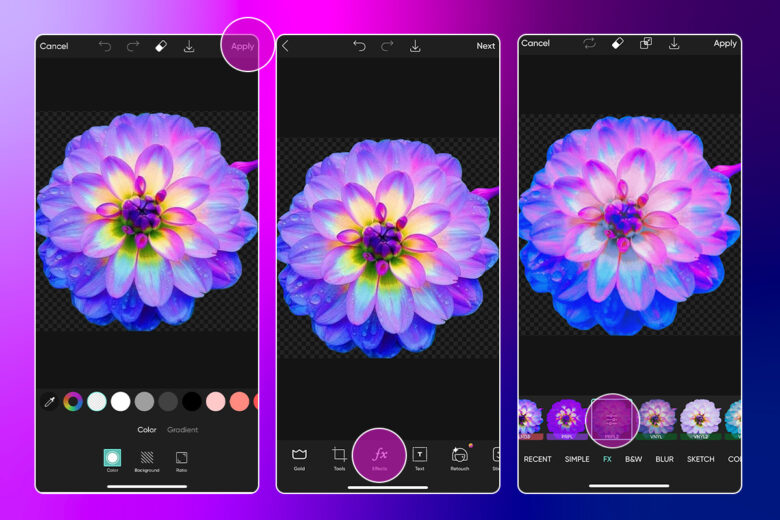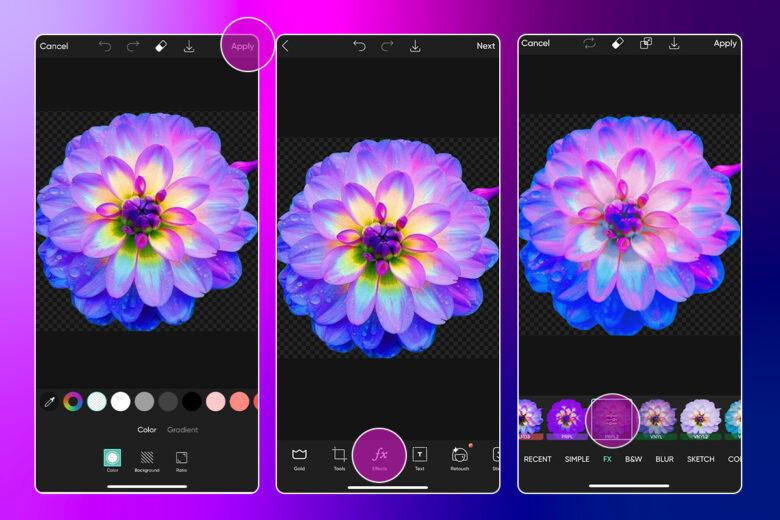 5) When you're satisfied with the Sticker design, tap Next. To save your Sticker to your personal Sticker library for future use, tap the Sticker toggle on. If you want to add your Sticker to the Picsart #FreeToEdit library, adjust Free-to-Edit toggle. Then, select Post to add the Sticker to your Picsart profile, or choose Save to download your design.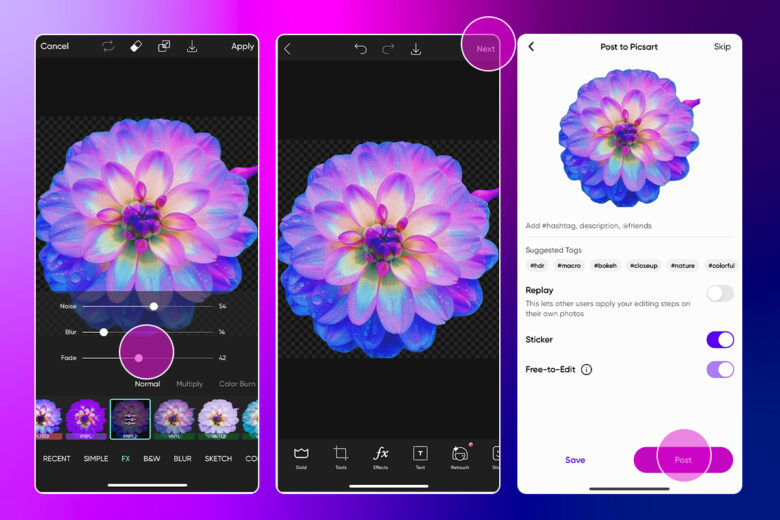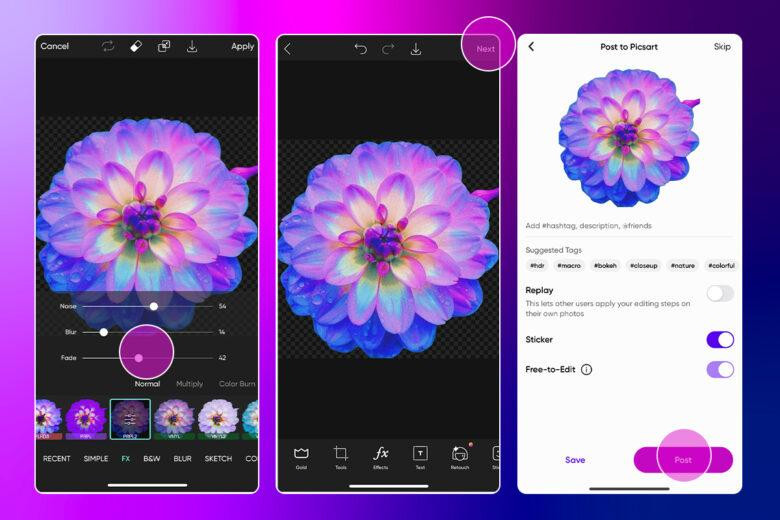 How to make custom stickers on the web
Good news: you don't have to be a seasoned graphic designer to upgrade your designs with custom Stickers. If you prefer to create on desktop, here's how to make a Sticker on Picsart Web.
1) Open the Picsart Sticker Maker on web. Click the Upload button and select the image you'd like to create a custom Sticker from.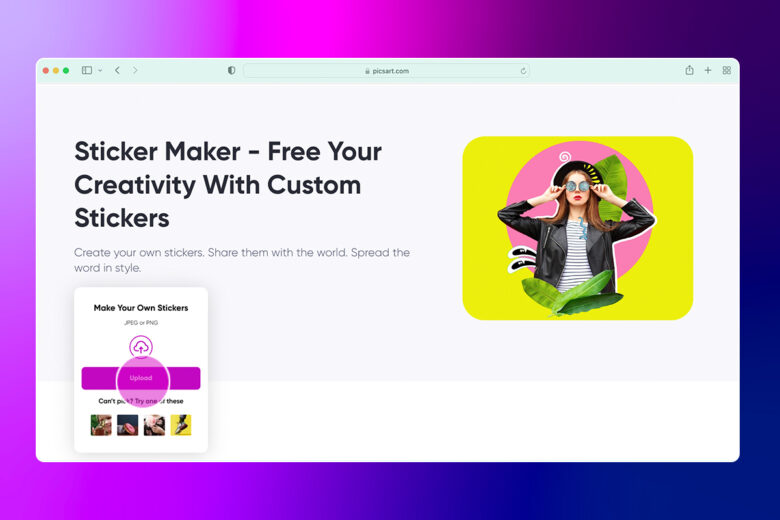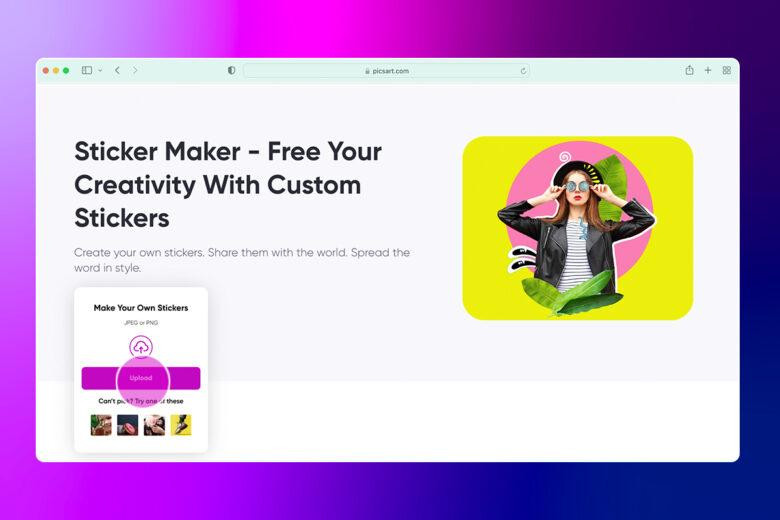 2) After you've picked the perfect picture, use the Remove Background tool to remove the background from your image.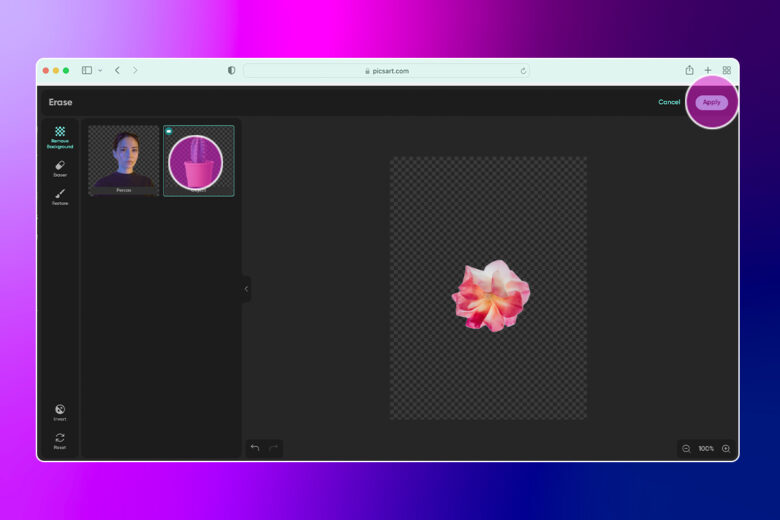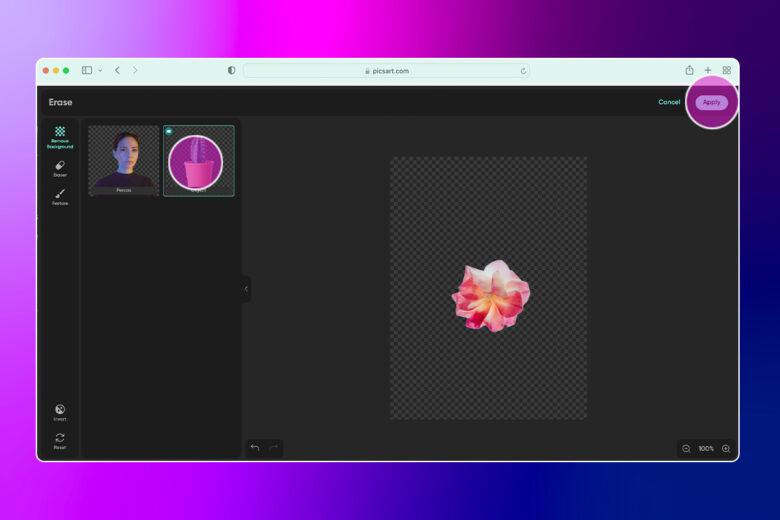 3) Use the Adjust tool on the upper toolbar to fine-tune your new Sticker as needed. Here, you can adjust the lighting, saturation levels, colors, and other qualities to bring your Sticker to life.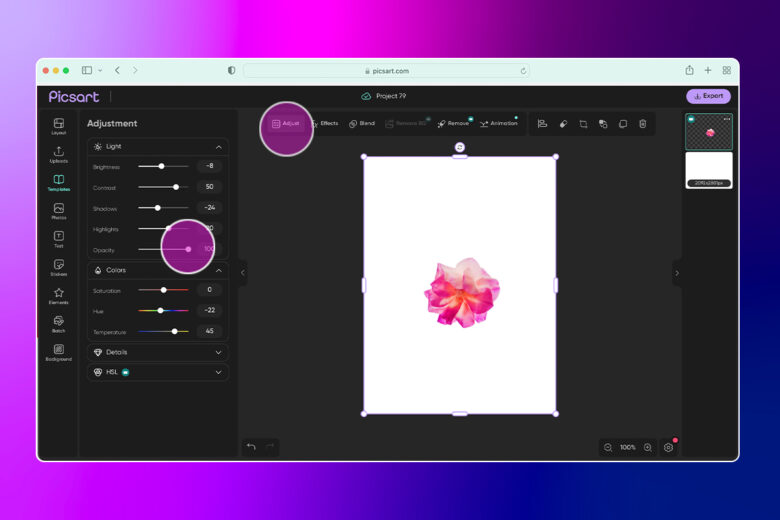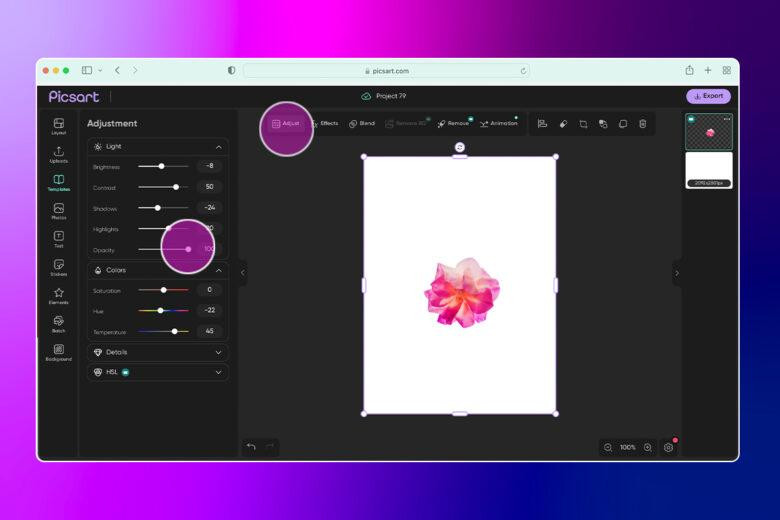 4) Channel your inner artist to customize your Sticker with bold colors, text, unique shapes, photo filters, and other fun photo editing effects. Here, we added a filter to really bring out the colors on the flower.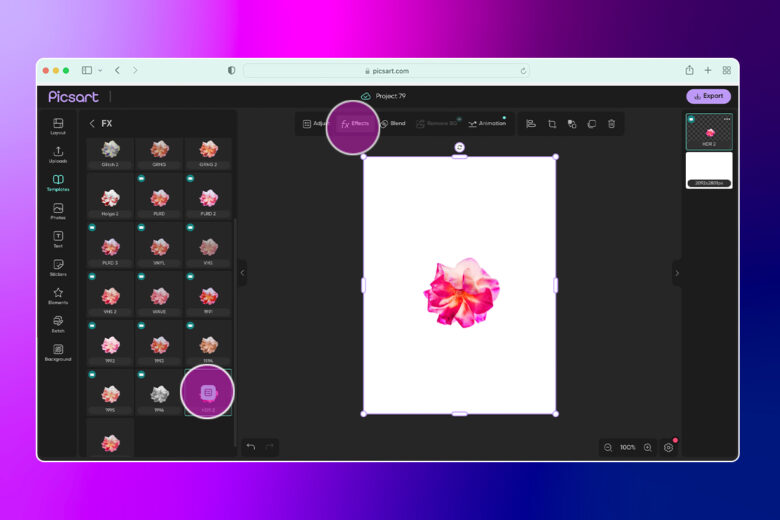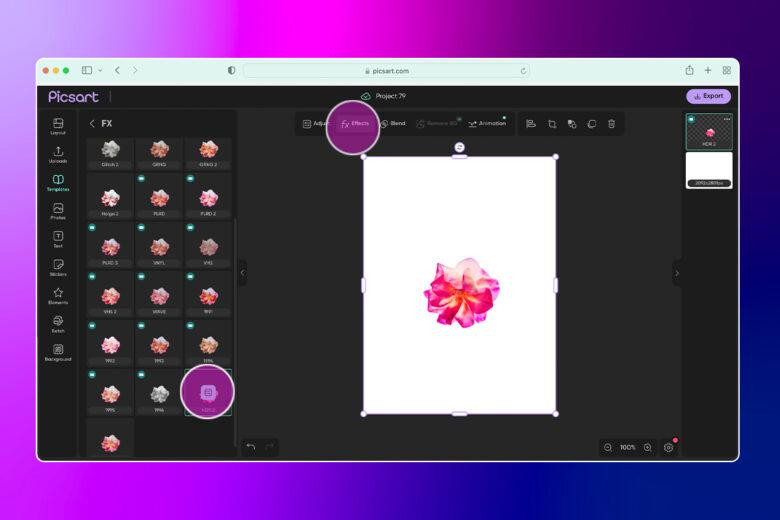 5) When you're satisfied with your design, click the Export button in the top right corner to save your Sticker as an image. Or, click the Share tab and select Sticker to save the Sticker in your Picsart profile for later use.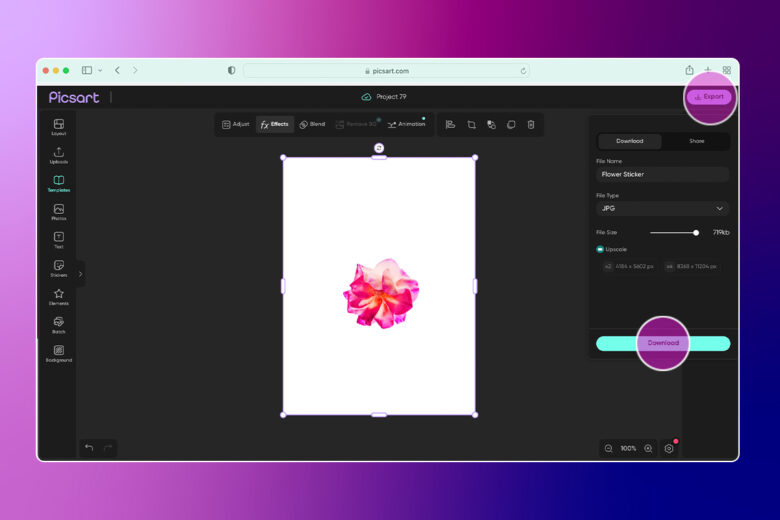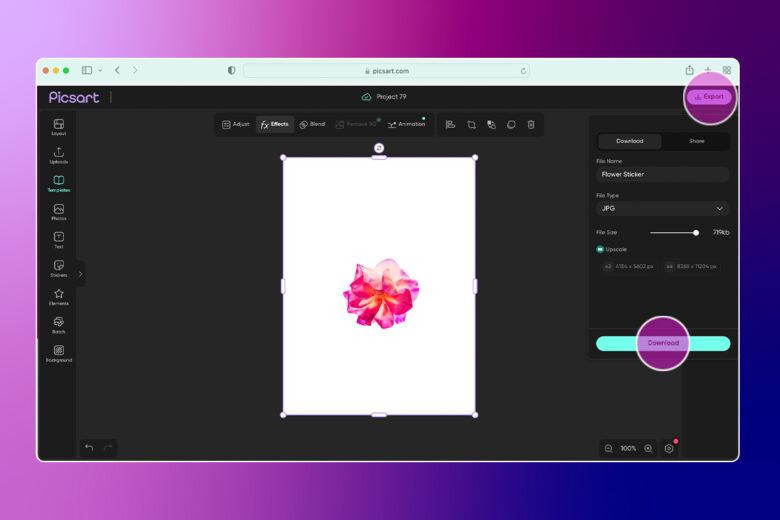 How to find the best free stickers on mobile
Messaging your friends? Designing social media posts for your business? Want to add Stickers to your favorite photos? No matter what your creative vision looks like, we're here to help you turn it into a reality. And maybe you don't have the right images on your phone, so it's time to look for free Stickers on Picsart.
Here's how to find the best free Stickers on the Picsart app.
1) Open the Picsart app and tap on the the Search tool in the top right corner to search for Stickers. Here, you can search for specific Stickers, whether you're looking for cute heart designs, paint splashes, clouds, or something else.
2) Tap on the Sticker that you'd like to use and select Apply.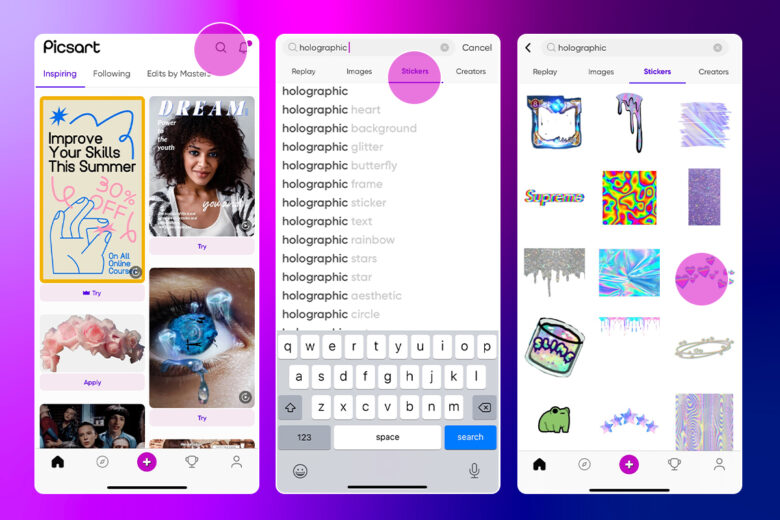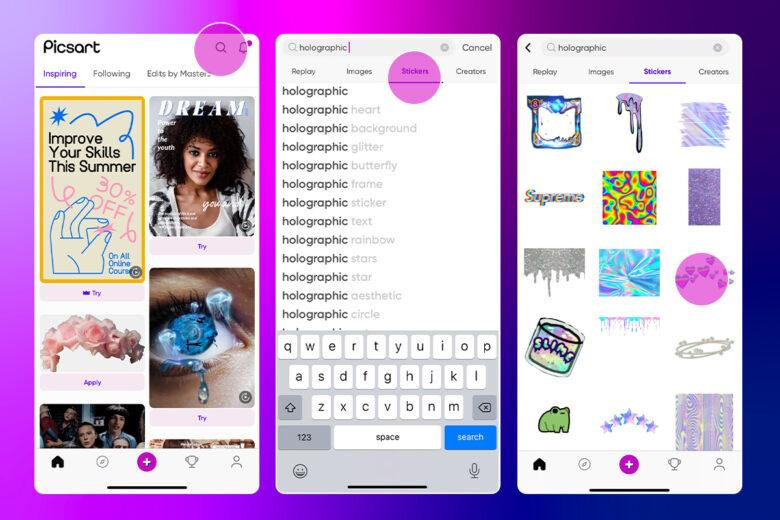 3) Here you can either choose to apply the Sticker to a photo on your camera roll or a cool background in Picsart. Or, you can select grey and white checked image as a blank background if you want to further edit the Sticker before applying it to your images.
4) Customize the free Sticker as needed. When you're done, save it to your mobile device by selecting the downward arrow or tap Next and use the toggles to save the edited Sticker as a new Sticker in your Picsart library.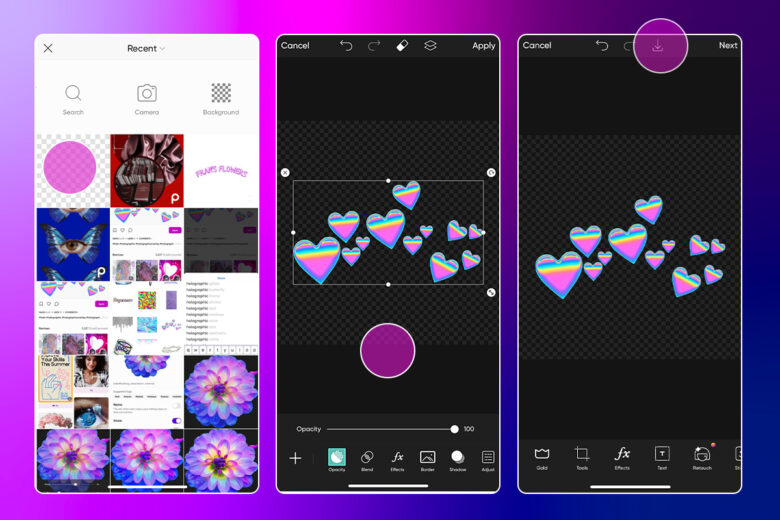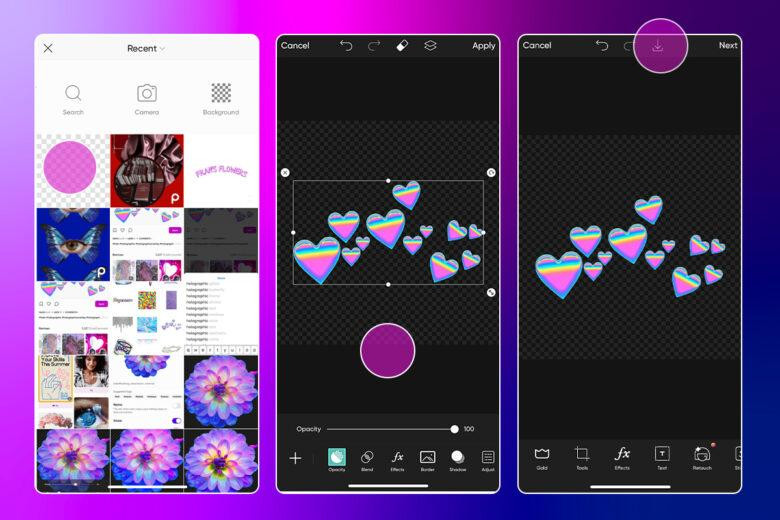 How to find the best free stickers on the web
There are also plenty of #FreeToEdit stickers to inspire your next design if you're designing on desktop. If you're just searching for Sticker or general design inspiration, you can edit our existing Stickers to match your creative vision with #FreeToEdit Stickers from the Picsart Sticker page. When you find the right Sticker, hover your mouse over it. Here, you can choose from a few options: click the arrow to share the Sticker on social media, click the heart to "like" the Sticker, or click the banner to save the Sticker for future use in your own designs.
If you're mid-design and want to search for free Stickers on desktop, here's how:
1) Start a New Project in the Picsart Web Editor. Now, select Sticker in the left toolbar and scroll through the different categories or type in the search box to find the perfect Sticker for your design. Here we searched for holographic Stickers.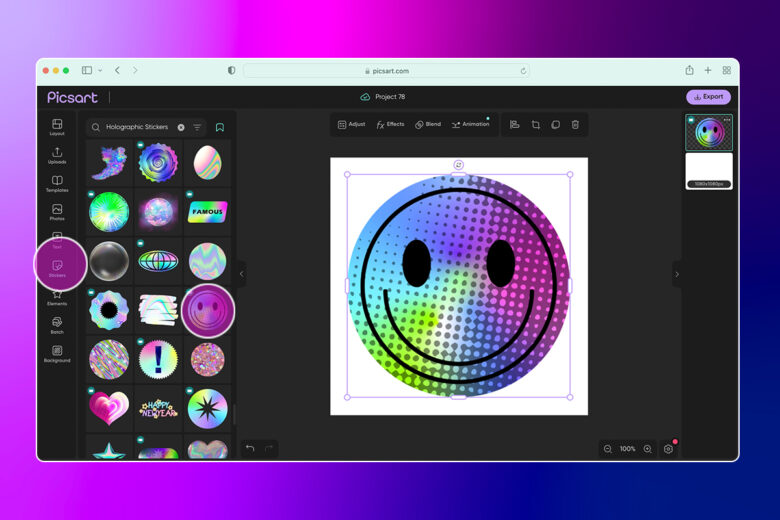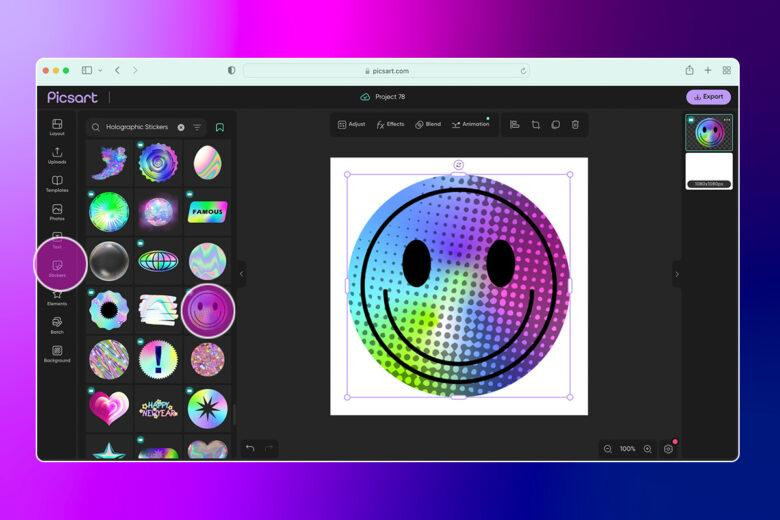 2) Just like with custom Stickers, you can also edit #FreeToEdit Stickers in Picsart. Use the Adjust tool to edit the Sticker to your liking.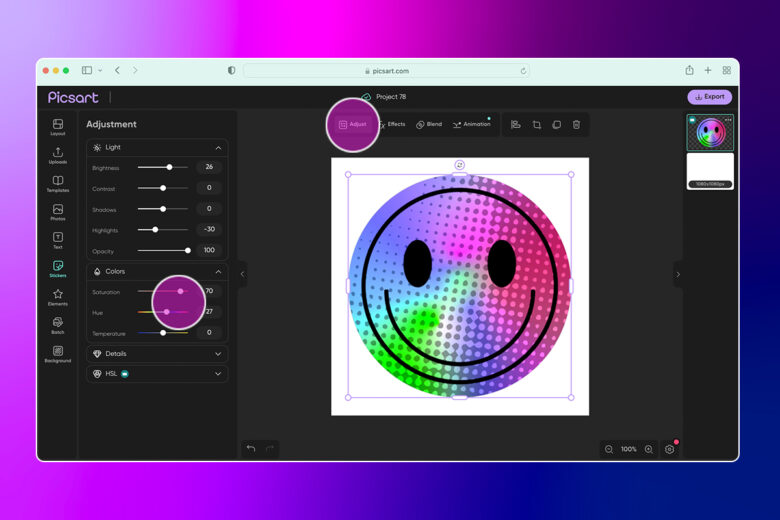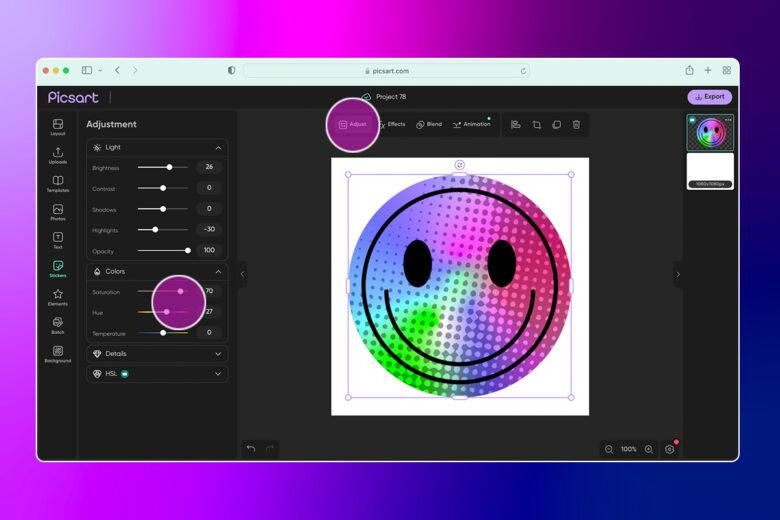 3) When done, click on Export to download and save the new Sticker. Or, click Share and change the File Type to Sticker to share the new Sticker with the Picsart community. Toggle off of Public to make it available just in your Stickers library.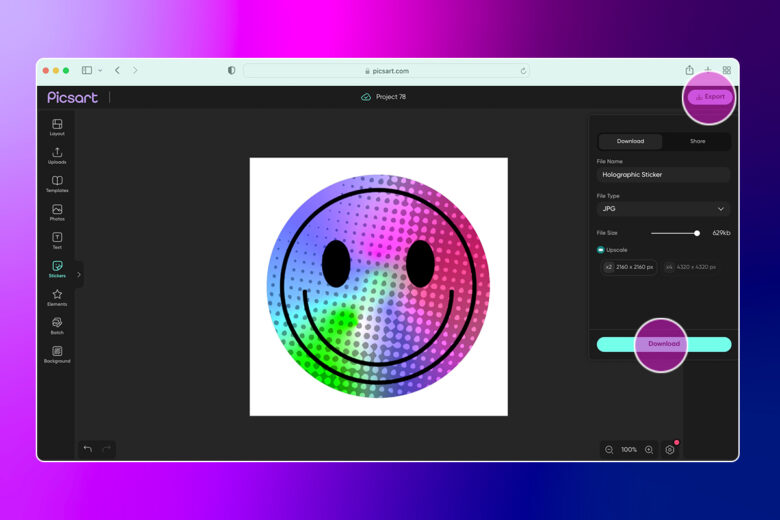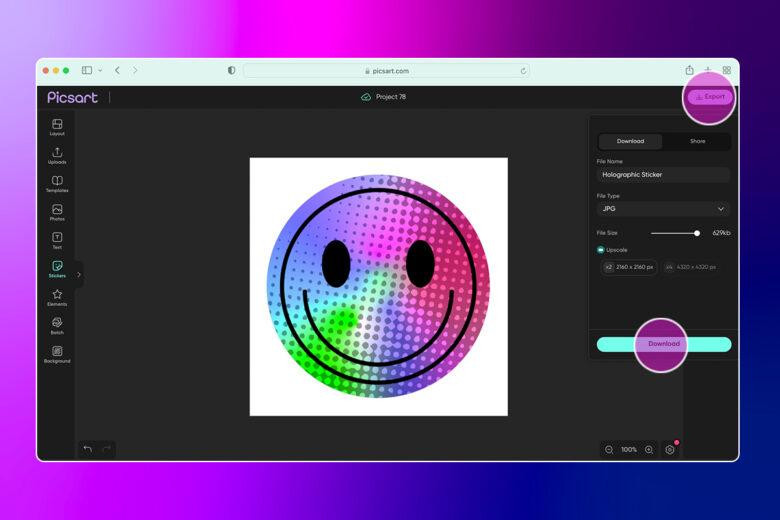 Picsart is a full ecosystem of free-to-use content, powerful tools, and creator inspiration. With a billion downloads and more than 150 million monthly active creators, Picsart is the world's largest creative platform. Picsart has collaborated with major artists and brands like BLACKPINK, Taylor Swift, the Jonas Brothers, Lizzo, Ariana Grande, Jennifer Lopez, One Direction, Sanrio: Hello Kitty, Warner Bros. Entertainment, iHeartMedia, Condé Nast, and more. Download the app or start editing on web today to enhance your photos and videos with thousands of quick and easy editing tools, trendy filters, fun stickers, and brilliant backgrounds. Unleash your creativity and upgrade to Gold for premium perks!