Turn the volume up and dive into the world of lime green color. If you've ever wondered what colors make lime green, you've come to the right place. We will examine everything you need to know about this most eye-popping of shades, from its color codes and uses right down to its meaning.
What Color Is Lime Green?

Before you can get going with your new creative projects using lime green color, you'll need to understand what the color is first. Lime green's hex code is #32CD32. It is composed of 19.6% red, 80.4% green, and 19.6% blue. The closest HTML websafe color is #33CC33.
What Colors Make Lime Green?

On the color wheel, lime green sits smack dab in the middle of yellow-green and yellow. It's a mixture of two distinct hues. Lime green has a hue angle of 120 degrees, a saturation of 60.8%, and a lightness of 50%, giving it a bright appearance. In the RBG color space, it's 19.6% red, 80.4% green, and 19.6% blue. In a CMYK color space, lime green is made up of 76% cyan, 0% magenta, 76% yellow, and 20% black.
What Does It Represent?

Lime green is a bright, electric color full of vibrancy and energy. It is the color of citrus fruit skin, giving it a freshness that you don't find in other shades of green. It's also closely related to nature, representing growth, happiness, new beginnings, health, renewal, harmony, hope, and peace. When used in design, lime green brings a lively feeling without losing the calming qualities of the piece. It is perfectly balanced.
On the flip side, lime green can also reflect evil and jealousy. It depends on how the color is used and what it's paired with. Lime green can feel menacing on black backgrounds, for example, but there are many other color combos that bring out its positive and upbeat traits.
What Colors Go With It?
When designing with lime green, knowing what colors go with it is essential. Designing a color palette around it will help. Lime green is a diverse color making it the star of your design, or the supporting pop of vibrancy in another. It goes well with both warm and cool tones, it's just a matter of matching it up with the right ones.
If you want to create a strong contrast in your design, pair lime green with complementary colors using the Color Wheel tool. Complementary colors are pairs of colors that almost cancel each other out by producing a grayscale color like white or black once they are combined. They lie opposite of each other on the color wheel.
Complementary Colors

Pink (#CD32CD)
Hot pink (#FF69B4)
If lime green isn't quite what you are looking for, but is heading in the right direction, check out some of the similar colors. You can use these as an alternative, but they also make a great color palette alongside it.
Similar Colors

Green (#00FF00)
Seafoam green (#93E9BE)
Kelly green (#4CBB17)
Neon green (#39FF14)
Teal green (#006D5B)
Analogous colors are groups of three colors that are next to eachother on the color wheel. For lime green, it's analogous colors are shamrock green and strong green. If you're going for a monochromatic look, this color palette is perfect.
Analogous Colors

Shamrock green (#009E60)
Strong green (#00A800)
If you really want your lime green designs and photos to pop, pair it with an accent color. Accent colors emphasize a color scheme and are often used sparingly to create a bold statement. Since it's such a diverse, electric color, lime green has quite a few accent colors that help bring out all of its best characteristics.
Accent Colors

Purple (#8032CD)
Blue (#3232CD
Grey (#808080)
Pink (#CD3280)
Peach (#FFE5B4)
Are Lime Green and Neon Green the Same?
Lime green and neon green are similar, but they are not the same. They are neighbors on the color wheel, but neon green is much much brighter. The main difference is how the two colors are built. Lime green has far more red in it than neon green does. Neon green also has a touch of blue to bring balance and a different mood to the color.
Create Designs Using This Color
You can create fantastic lime green designs and edits in Picsart. Let's show you how, starting in-app.
1) Tap on the purple plus side to start your design.
2) Look for the color backgrounds category and scroll to the end, selecting the color picker option.
3) Set the RBG sliders (19.6% red, 80.4% green, and 19.6% blue) to lime green.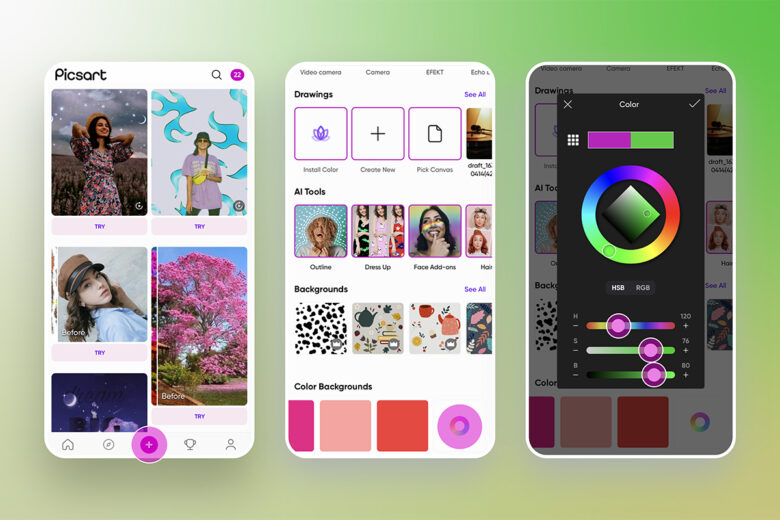 4) Tap on Add Photo and confirm with the Next button.
5) Select an image from your mobile gallery or choose one from the free library options available.
6) Tap on Tool and select Remove Background, tapping Apply when you're happy with the results.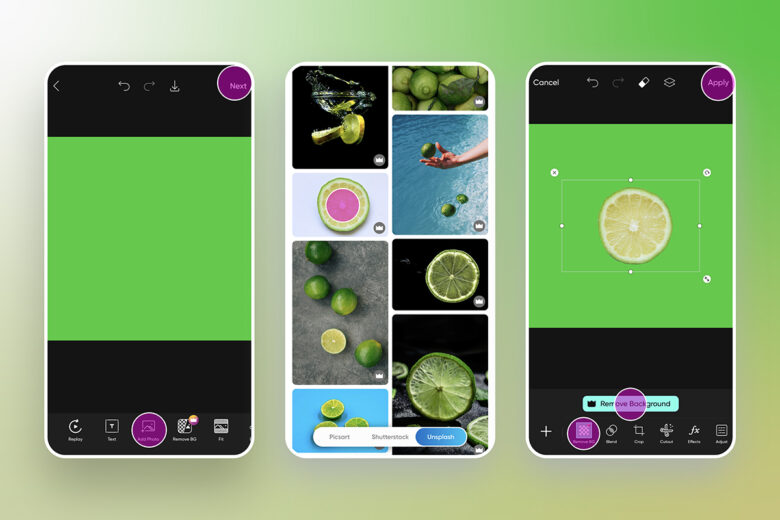 7) Now let's add some messaging. Tap on the Text tool and type in your copy.
8) Edit the text in whatever way you wish, depending on what aesthetic you need, adjusting font, sizing, opacity, and more.
9) When you're happy with the edit, tap on Apply to save or post your results.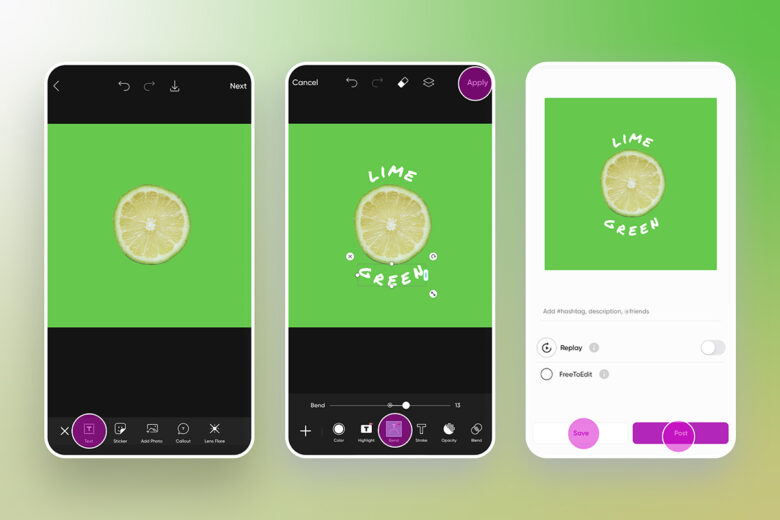 Let's walk you through how it works using the web browser.
1) Start your design by selecting a suitable canvas from the Designing For section.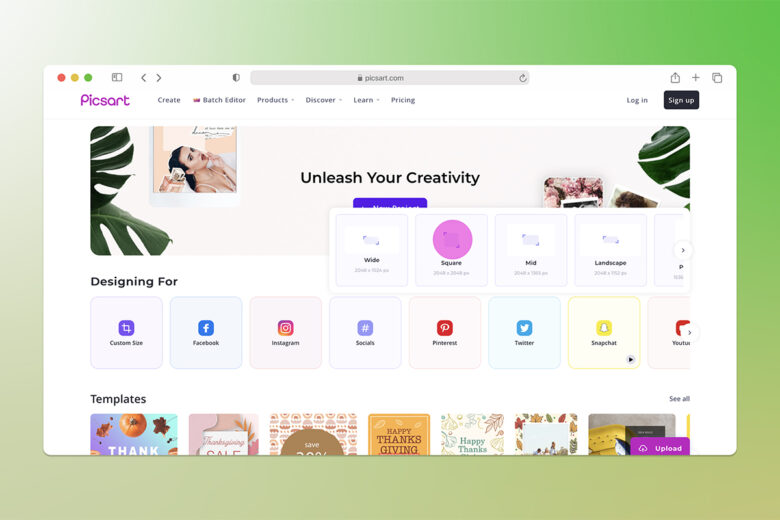 2) In the editing panel above the canvas, click on Color and set yours to lime green (hex code #32CD32).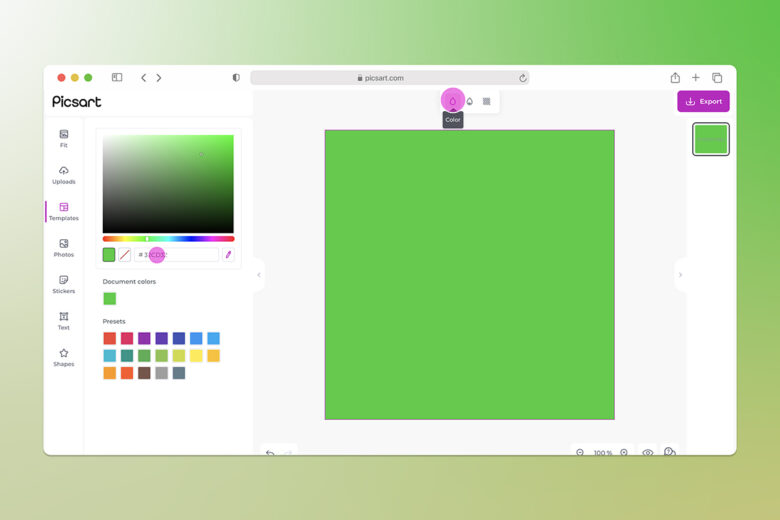 3) Click on Shapes and browse the options available, selecting the one that best serves your design.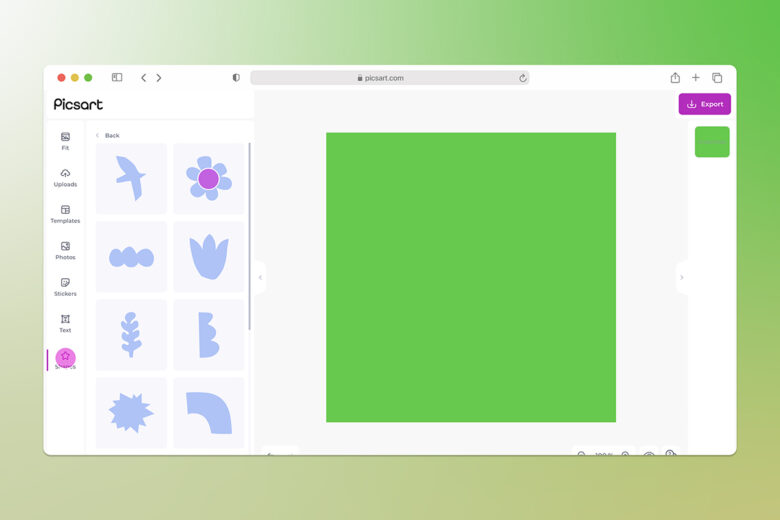 4) Set its color to something suitable, using the editing panel above.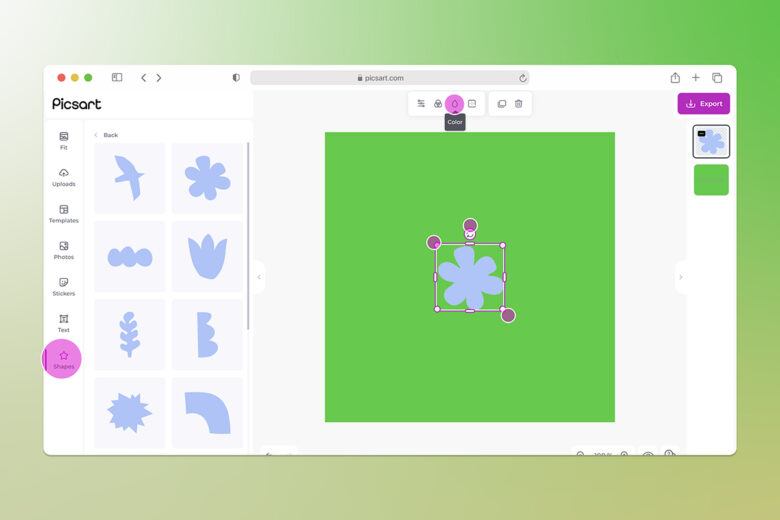 5) From the same panel, Duplicate the shape in various sizes to create an eye-catching pattern.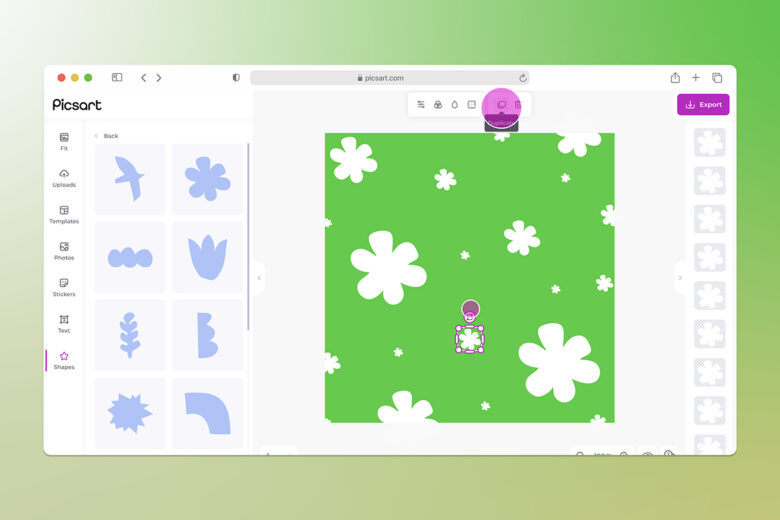 6) When you're happy with the results, click on Export to save or post your design.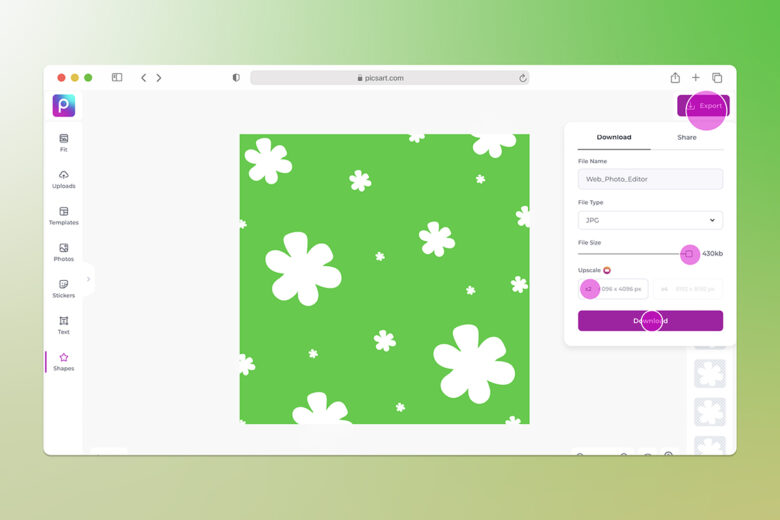 Picsart is a full ecosystem of free-to-use content, powerful tools, and creator inspiration. With a billion downloads and more than 150 million monthly active creators, Picsart is the world's largest creative platform. Picsart has collaborated with major artists and brands like BLACKPINK, Taylor Swift, the Jonas Brothers, Lizzo, Ariana Grande, Jennifer Lopez, One Direction, Sanrio: Hello Kitty, Warner Bros. Entertainment, iHeartMedia, Condé Nast, and more. Download the app or start editing on web today to enhance your photos and videos with thousands of quick and easy editing tools, trendy filters, fun stickers, and brilliant backgrounds. Unleash your creativity and upgrade to Gold for premium perks!