Adding music to any video is an easy way to up your production value. Lay your favorite track or one chosen by our AI feature, and use simple tools to make any final adjustments. Give your project a professional finish in just a couple of seconds.
With Picsart, there are two ways to add music to a video: on our web application and our mobile one.

The web application is great if you want to drop a song from our library or yours onto your video but you're not interested in doing further sound editing. The mobile application is best if you want more editing options or are interested in using our AI feature, which gives you a one-of-a-kind selection of unique tracks that vibe with the mood of your video.

Select your starting place, and jump in. In creative projects, there are no mistakes, just opportunities. 
Web
If you decide to work with the Picsart web application, it's likely because you want to add a track to your video but don't need to do further work to get it right. This is a great option when making ephemeral content like Instagram stories because the creation process is relaxed. That is, you won't spend hours fiddling around with audio that your followers will hear for just a few seconds — if they even happen to have their sound on. 
First, open the Picsart application online, and select the "Video" filter to see the canvas sizes we have available for video content. Once you've selected the right size, you'll move on to the editing screen.

2. On your canvas, you'll see the option to upload one of your own videos or select one from our library. We've gone with one from the library, and if you choose to do the same, just remember to search for one that's the same size as your canvas. Here, we've chosen one of the most popular video formats: the Instagram story.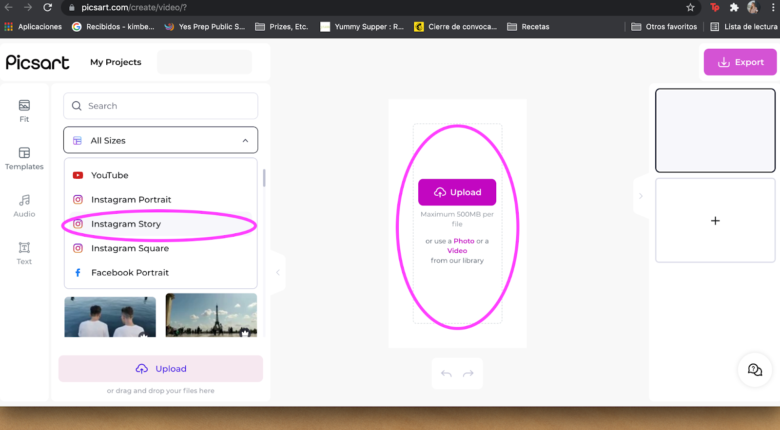 3. If your video already has sound, turn it off so that it doesn't interfere with the music (unless, of course, that's the effect you're going for). You can do this by clicking the audio on/off button on the miniature of your video clip.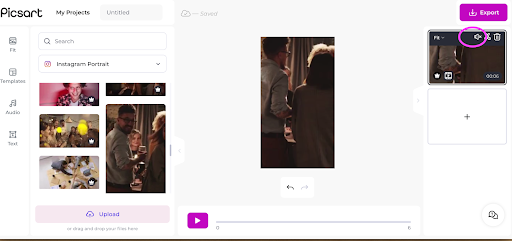 4. Now, it's time to add music. Select "Audio" from the menu on the left-hand side of the screen.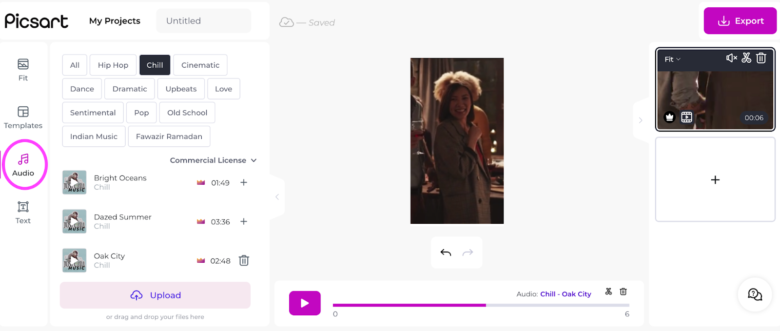 5. Now, you'll see options from our music library, categorized by genre. You can add your own track by clicking "Upload" at the bottom of the screen. If you choose to use our library, click on different genres to populate the list below with tracks in that mood. To add music to your video click on the plus sign next to the track you want to try out. You can sample it first by clicking the play button on the album cover. If you don't like the music you've selected, that's OK. Since the web application only lets you add one track at a time, any new one you select will automatically replace the previous one.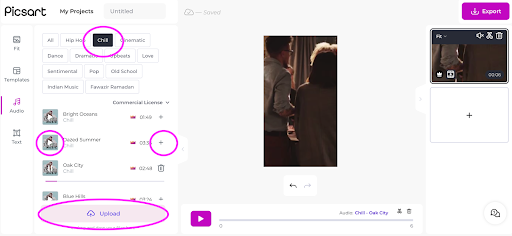 6. To finish, download your file by clicking "Export" in the upper right-hand corner of the screen, and your video is ready to go viral.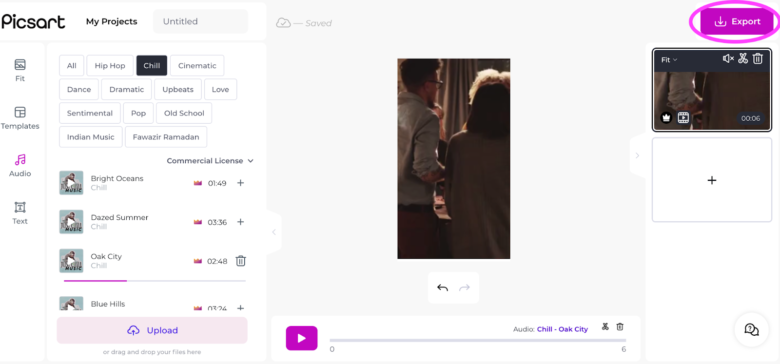 Mobile 
If you opt to use our mobile application, it's probably because you want a bit more editing flexibility or you're interested in exploring our AI tool. The mobile app is a good place to start if you want to make a unique video. Since our AI tool makes one-of-a-kind sounds, no one else will ever have them. So, if you're making a video for your brand and you want it to be wholly yours, you've come to the right place. 
Open the mobile app and select the purple plus sign at the bottom of the screen to start a new project.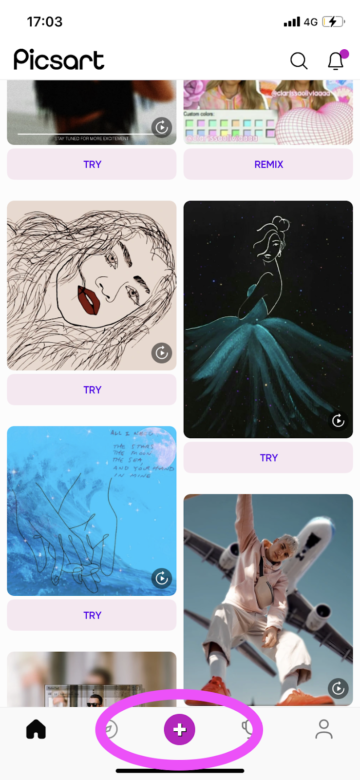 2. Under the "Videos" heading, select the clip you wish to edit. Push "See All" to access your entire personal library. Then, click on "Add" in the upper right-hand corner. You can splice multiple videos together by checking off several before pushing "Add." You'll be able to see how many clips you're adding in parentheses there.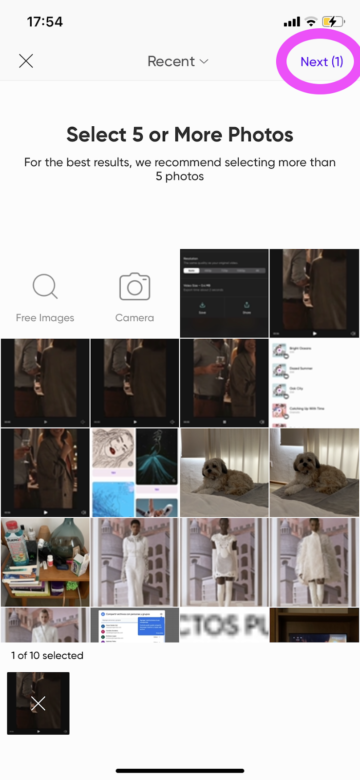 3. On the next screen, you'll see the video you selected. From the bar of options at the bottom of the screen, choose "Audio."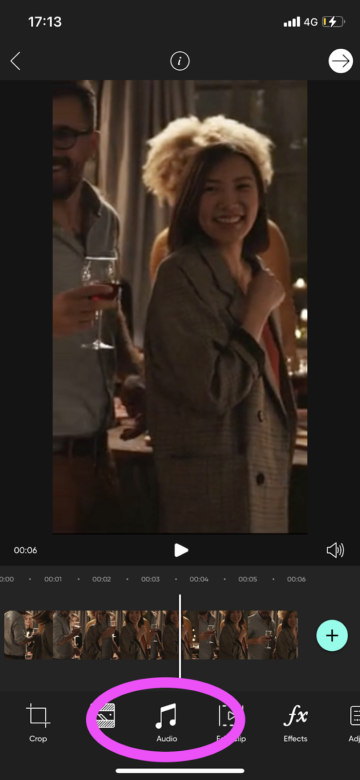 4. After clicking "Audio," a new bar of options will appear. Let's run through this one by one: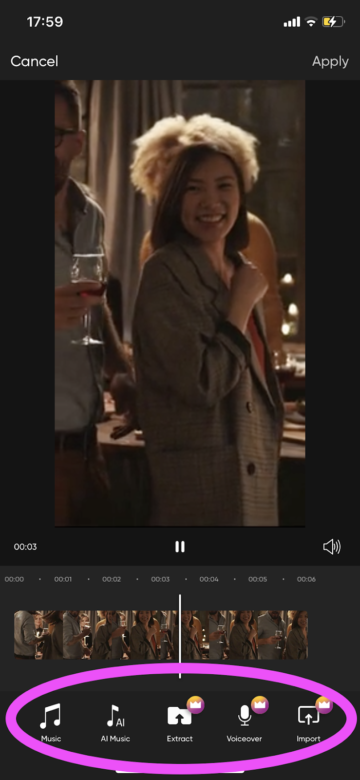 Music: This is the option to add a track from our library. At the top of the screen, under the search bar, there are buttons that let you filter by genre.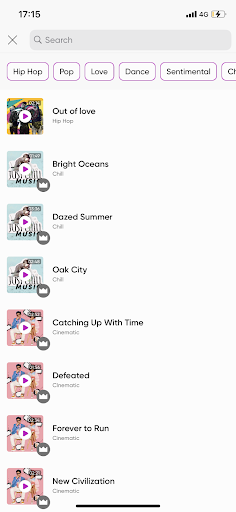 AI: Our AI feature generates a tune for your video. Choose from the moods at the bottom of the screen, and then click "Generate" to hear what the app comes up with. If you don't like it, you can click "Regenerate" as many times as you wish to get different, unique results. Neither you nor anyone else will get that same track twice.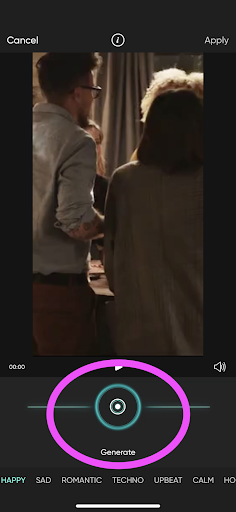 Pro Tip: If you start with a video that already has music, the AI feature will mix in the new beat on top of the existing one. For best results, start with a video that has no music in the background so your audio doesn't sound muddled.
Extract: This tool allows you to take the audio out of another video of yours and lay it on top of the one you're working on. First, click on "Extract" to open your video library. Once you've chosen the video that has the audio you wish you use, you'll be taken back to the editing screen, where you'll see some new options like "Volume" and "Fade" will have appeared. Use these sliders to increase or decrease the volume of the second track you added in or fade it in and out.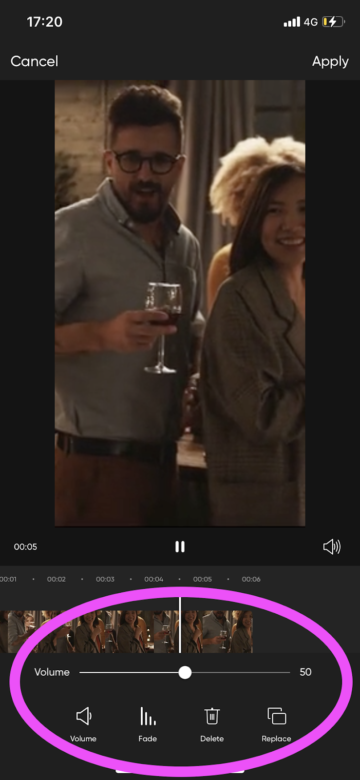 Voiceover: This option lets you record your voice over your video. When you click on the icon, a red "Tap to Record" button will appear. It's as simple as doing just that.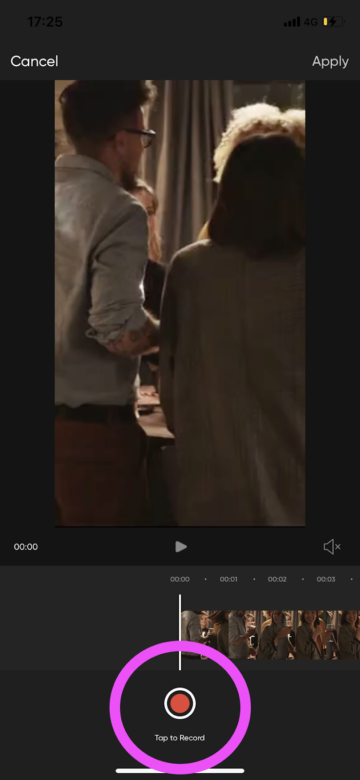 Import: Use your own music, whether from your iTunes Media Library or the documents stored on your phone.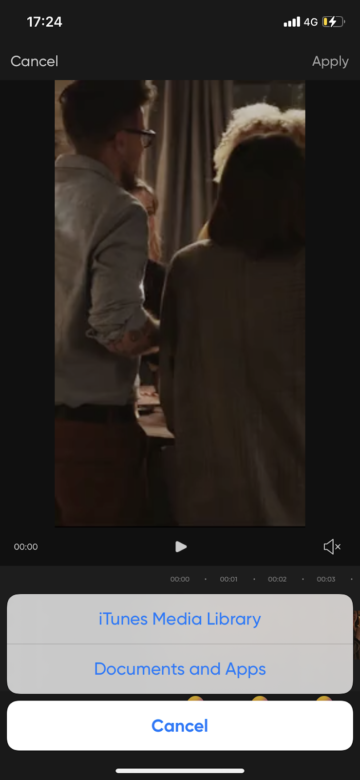 Final tip: Remember to click "Apply" in the upper right-hand corner of the screen after you've used any of these effects. That said, if you didn't like the effect, you can always select "Cancel."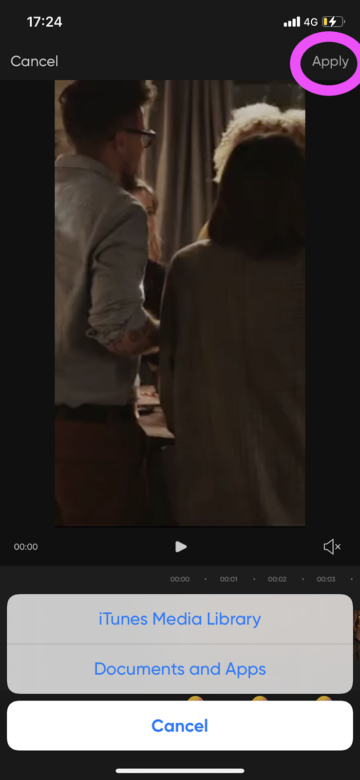 5. Once you've finished adding music to your video, complete any other edits and click on the arrow in the upper right-hand corner of the screen to choose your export settings. Then, it's up to you whether to save your masterpiece for yourself or share it with the world.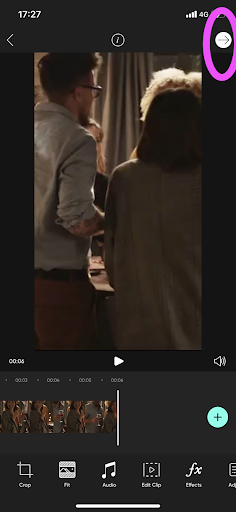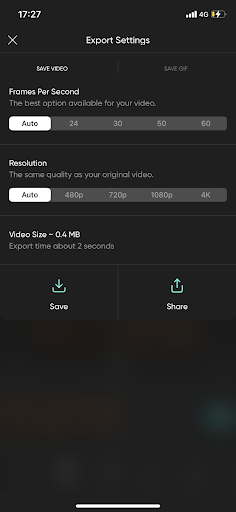 Picsart is a full ecosystem of free-to-use content, powerful tools, and creator inspiration. With a billion downloads and more than 150 million monthly active creators, Picsart isn't just the world's largest creative platform; we're also the fastest growing. Picsart has collaborated with major artists and brands like BLACKPINK, the Jonas Brothers, Lizzo, Sanrio: Hello Kitty, I am a Voter, Bebe Rexha, Maroon 5, One Direction, Warner Bros. Entertainment, iHeartMedia, Condé Nast, and more. Download the app or start editing on web today to enhance your photos and videos with thousands of quick and easy editing tools, trendy filters, fun stickers, and brilliant backgrounds. Unleash your creativity and upgrade to Gold for premium perks!