We all have something to say to the world. If you're a kitchen expert, that might mean sharing your homespun delicacies with followers. If you're a start-up business, it's all about sharing exciting updates and growth metrics with your investors. A newsletter is the perfect way to keep people in the know. It's a form of communication that goes out to those who genuinely want to see what you're up to. To keep your audience informed and engaged with content that shines, you'll need high-quality images, just enough text, and a keen grasp of newsletter design principles.
What is An Email Newsletter?
A newsletter, as the name implies, gives your followers the news, personal or professional. Newsletters drive clicks to other content like your website or social media pages, so these notes are best kept brief, highly-visual, and to-the-point. Good newsletter design gives people the headlines on your biggest updates or your latest content. Everyone gets a ton of emails these days, and you want your letter to stand out.
Since people normally have to subscribe to receive a newsletter, it's the kind of content they actually want. Your challenge is keeping it that way.
Why is it Important to Have a Good Newsletter?
Engagement is everything. Yes, even in a world in which we are constantly viewing content, people still want to hear about the brands and issues they care about. Since newsletters require an opt in, this means that you have to give people what they want. If you do that, your readers will click through to your site or social media platforms, continuing the virtual conversation. If you're trying to build a following, business, or organization, this is how you expand reach and gather a dedicated audience.
What are the Elements of a Good Newsletter?
A catchy subject line
A header (a consistent visual element that helps recipients quickly identify the sender of the content)
Calls to action (interactive elements like CTA buttons that allow users to click through to more content, donate, or participate in other ways)
Stunning visuals (images, stickers, graphics)
Social media icons
Contact information
Easy-to-read written content divided up by subheaders
White space (avoid busy designs)
A coherent color scheme
A theme that renders well on web and mobile devices (be sure to check preview mode)
Different Types of Newsletters:
Promotional (email marketing)

E-commerce (let your fans know what's new in store)

Monthly

Seasonal

Curation (a.k.a. 'a cut' that presents top news or best selling products)

Summaries (end-of-year data or a highlight reel)
Tips for Creating a Good Newsletter:
Stick to the point: You've a lot going on. But, your content will be most effective if you only share what you need to. Ask yourself what the motive of your email is. If it's to launch a new recipe or product, do just that, and avoid the temptation to talk about other exciting changes at your company. You can send other information in a future newsletter.
Be visual: We're all guilty of skim-reading emails, and who can blame us? Nowadays, our inboxes fill exponentially by the second. When creating a newsletter, use not only eye-catching graphics and pictures, but also make your text stand out so that a reader's eye is guided around the page by succinct headers.
How to Make a Newsletter Online
When you're ready to explore newsletter design, open the Picsart web application, and scroll down to the Templates section. Select See All on the right-hand side of the screen.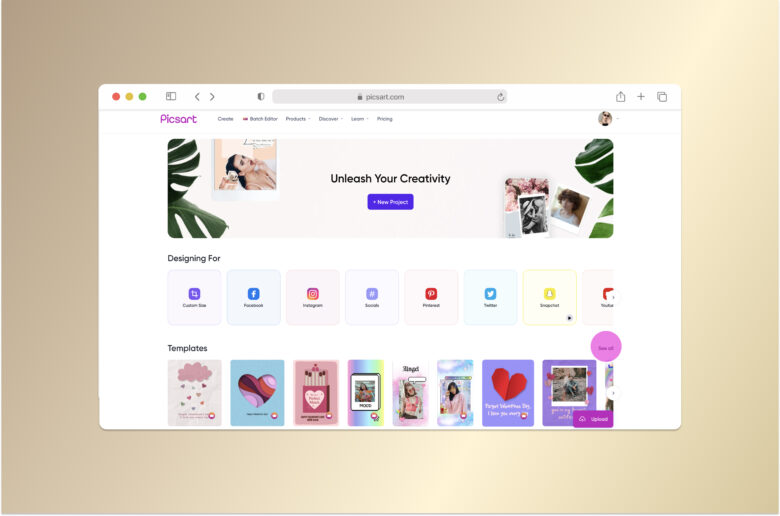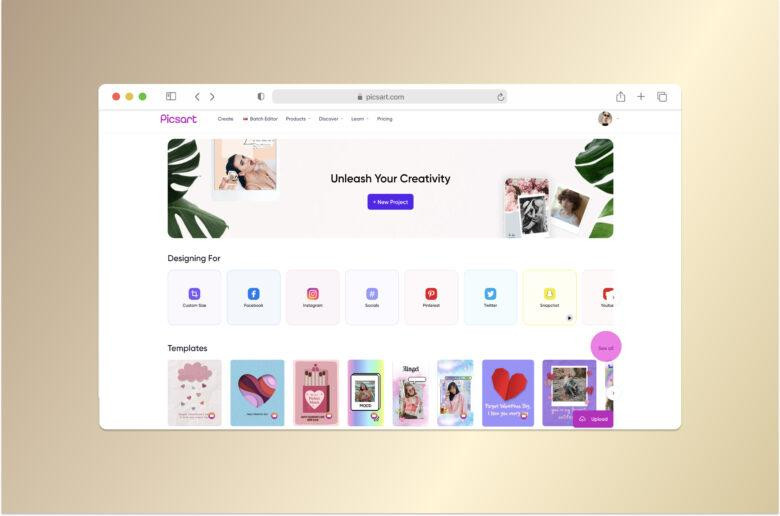 2. From the All Templates drop-down menu on the left-hand side of the screen, select Email Header which is our most convenient template for email newsletter intros.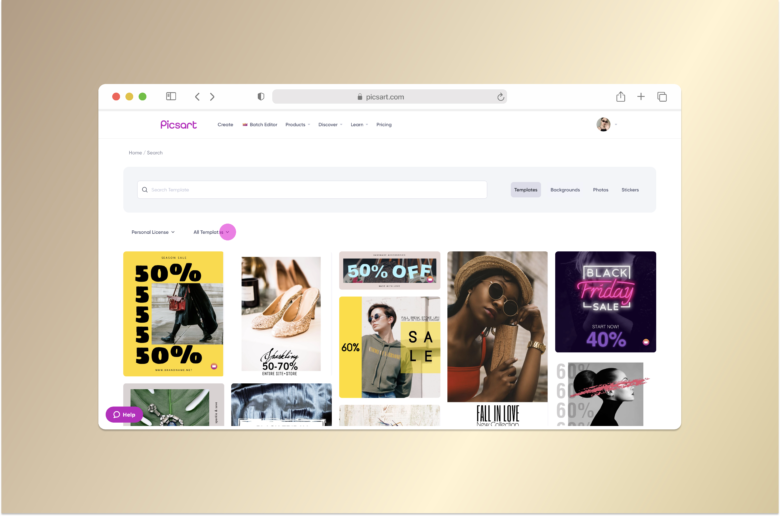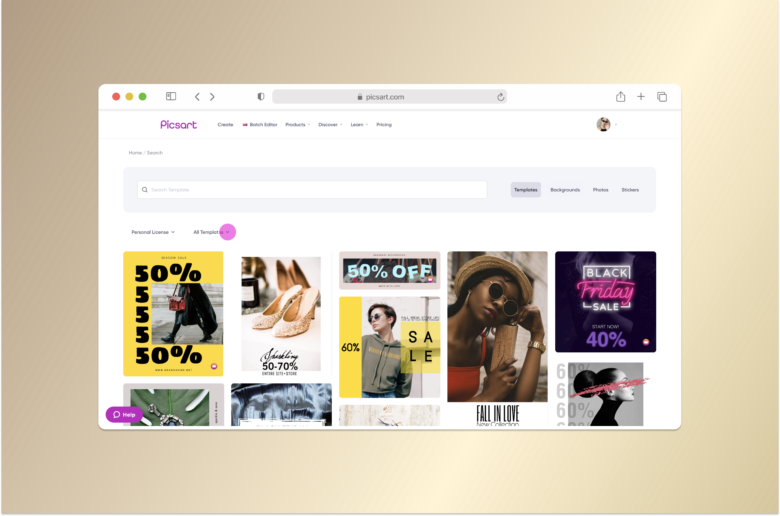 3. Select the template with which you'd like to work. Keep in mind that you can change all of the elements of this design in the next steps, so don't worry if what you see isn't exactly to your liking. At the very least, the template should serve as design inspiration.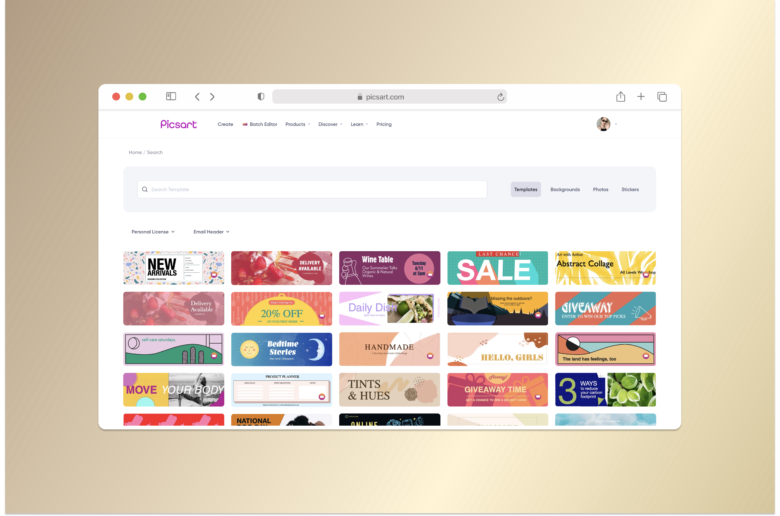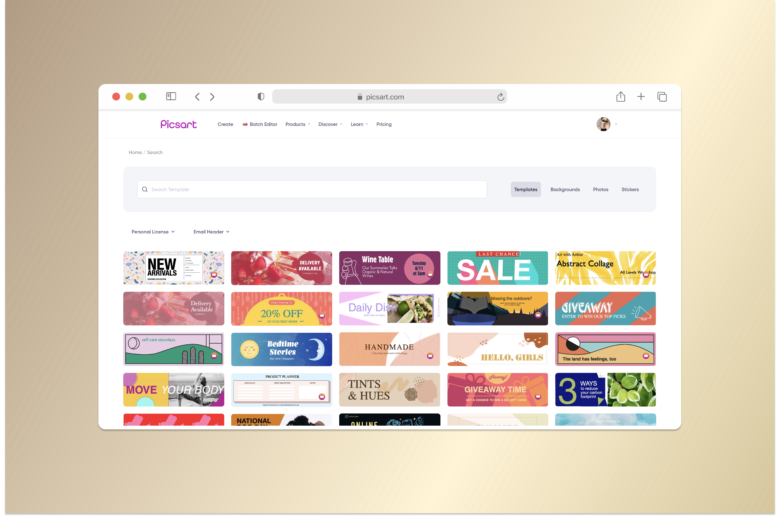 4. In the right-hand panel on your screen, you will be able to see all of the elements currently in the design. Elements like text are editable, but images need to be entirely replaced. To remove any item, click on the three dots in the miniature of the element and select Delete from the menu that pops up. Click the Photos button to upload your own images, or add any from the available stock libraries.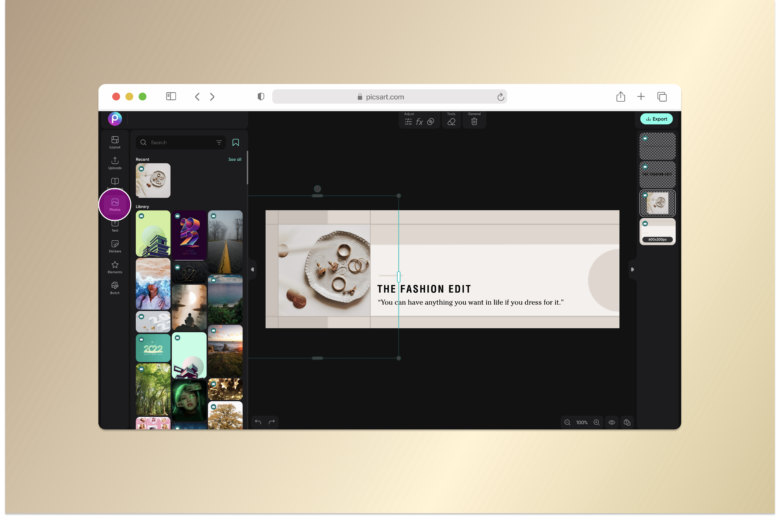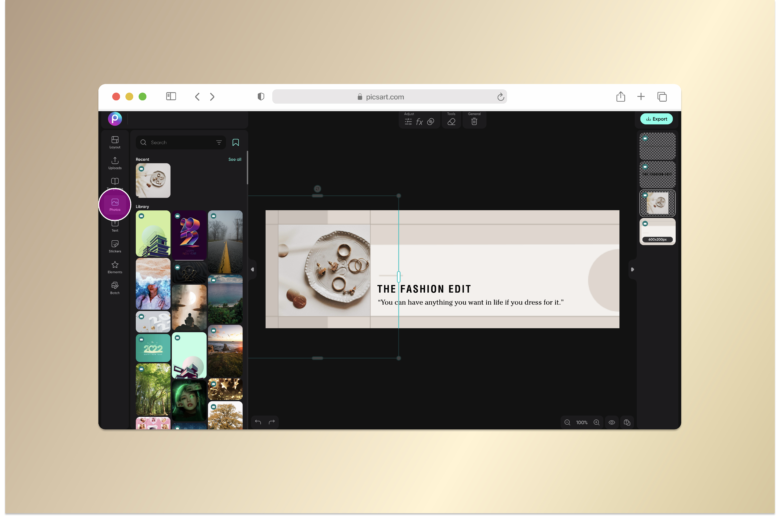 5. Text and Shapes can be changed using the toolbox on the left of your canvas. To change the color of one of these elements, highlight the droplet icon and then use the color picker or our ready-made hues to tweak the tone. Text can be changed by selecting the font icon from that same toolbar and then selecting a new typhograhy or letter size from the menu that appears on the left-hand side of the page.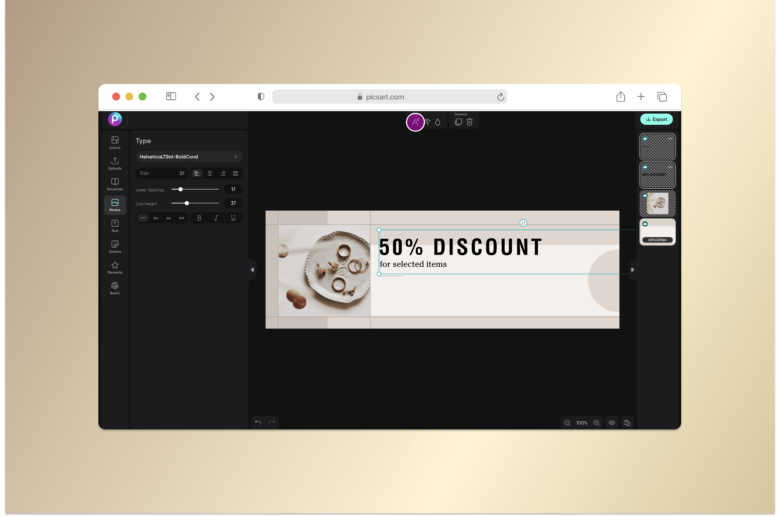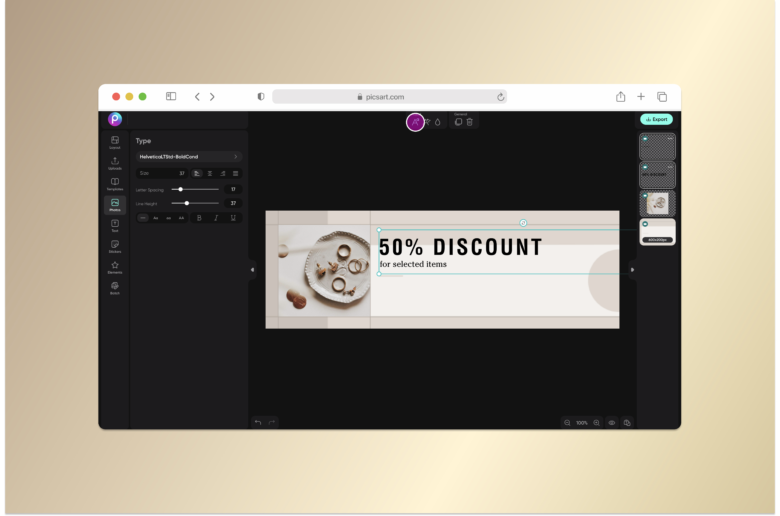 6. If you want to add graphics to the design, click on the Stickers tool, search the Picsart library or upload your own. Remember that if you want to switch out anything in a template, you will first have to delete the element already in the design.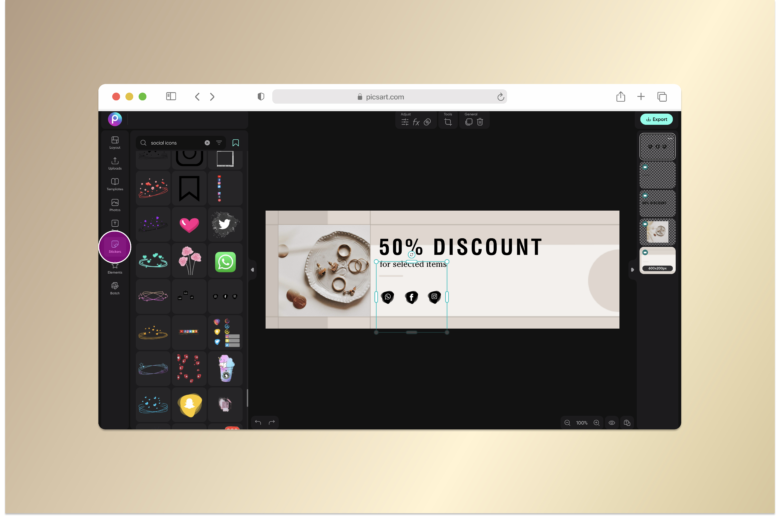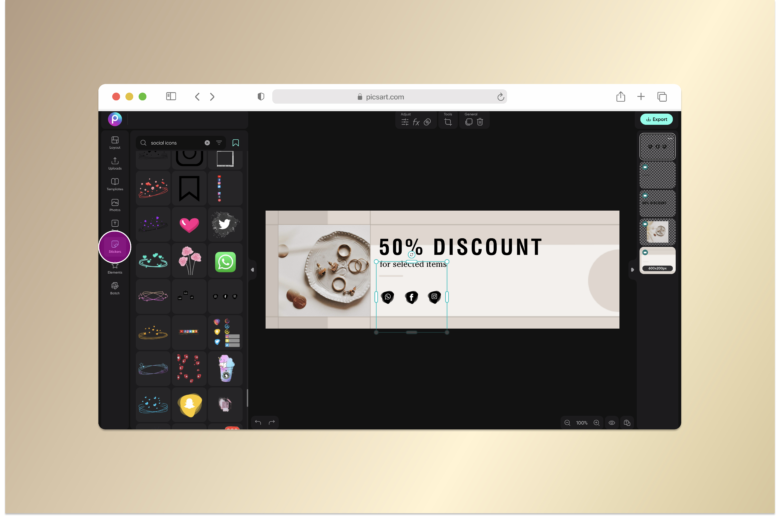 7. When you're satisfied with your design, download it for use in all of your future newsletters by clicking the Export button in the upper right-hand corner of the screen.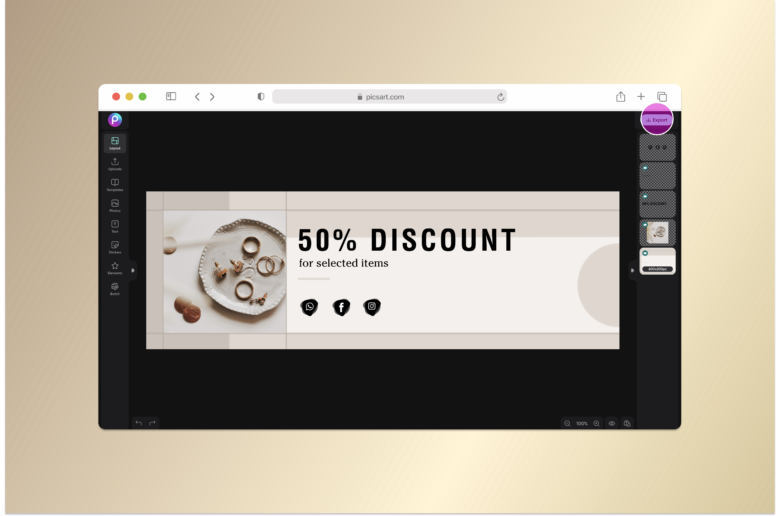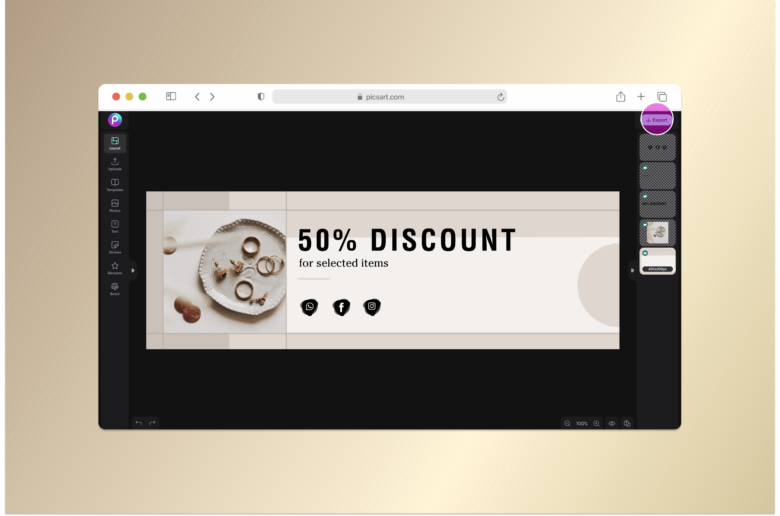 How to Make a Newsletter on Mobile
Designing on mobile? The process is just as simple.
1. Open the Picsart mobile app and tap on the purple plus sign to get started.
2. Scroll down to the Templates category and tap on All Templates.
3. Search for 'email' and browse the available options until you find a template for your newsletter design.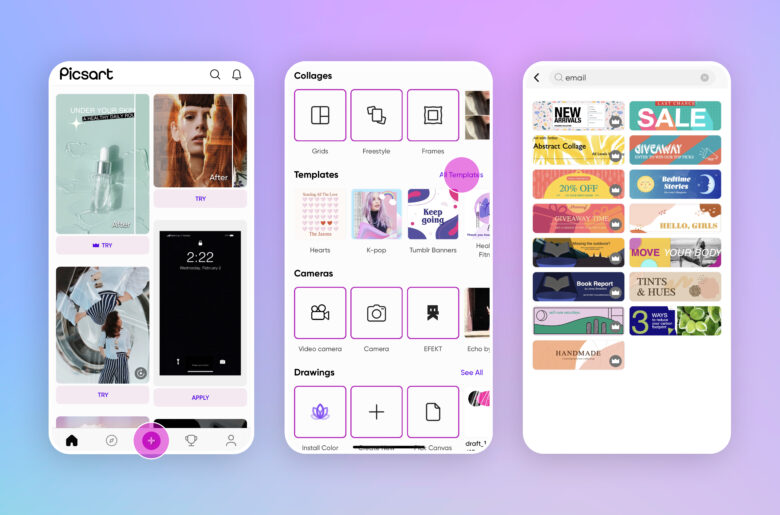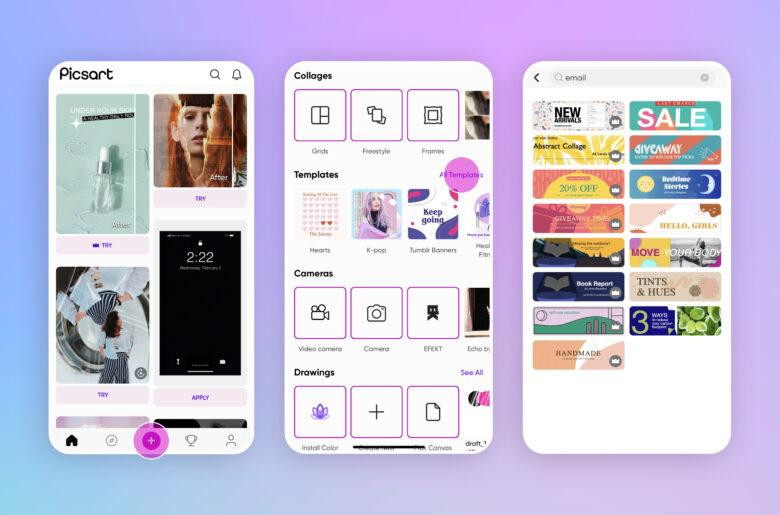 4. Now let's customize the newsletter design. Tap on the Background tool and edit the image, color, or texture of your chosen template.
5. Tap the Text tool and type in any copy you want to add to the design, choosing custom font options, Text Styles, colors, and many more. When you're happy with the text, confirm the edits by tapping on Next.
6. Finish off your design with any last minute Effects, Stickers, or anything else required before tapping on Next to save your work.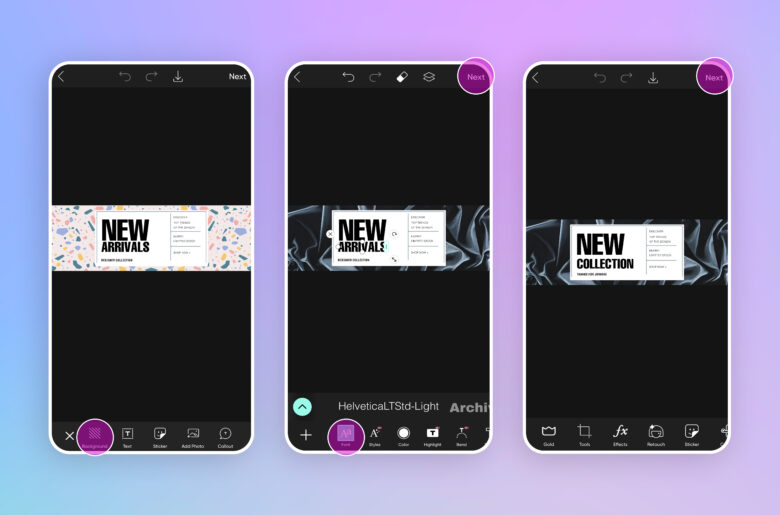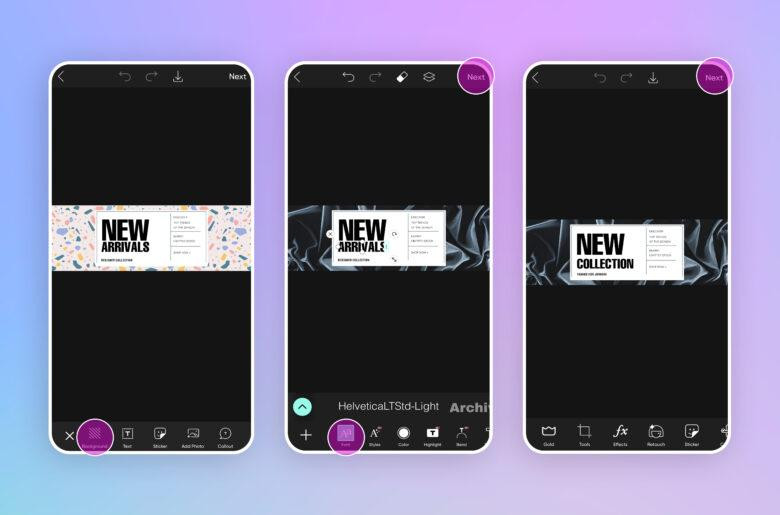 Picsart is a full ecosystem of free-to-use content, powerful tools, and creator inspiration. With a billion downloads and more than 150 million monthly active creators, Picsart is the world's largest creative platform. Picsart has collaborated with major artists and brands like BLACKPINK, Taylor Swift, the Jonas Brothers, Lizzo, Ariana Grande, Jennifer Lopez, One Direction, Sanrio: Hello Kitty, Warner Bros. Entertainment, iHeartMedia, Condé Nast, and more. Download the app or start editing on web today to enhance your photos and videos with thousands of quick and easy editing tools, trendy filters, fun stickers, and brilliant backgrounds. Unleash your creativity and upgrade to Gold for premium perks!