Generative AI has unleashed a new era for creativity. Whether it be images, text, music, or video, the space is advancing quickly. At Picsart, we view this as an exciting opportunity for creatives everywhere.
We're embedding the best of these technologies into our platform to further our mission to empower the creator in everyone. Whether its using text to generate images, replacing the background or swapping in different parts of an image in seconds, or making avatars from selfies – we see every day how our AI-powered tools are making creativity more accessible to more people and helping our users express their creative vision better, faster and with more fun.
But what do creatives really think of generative AI?
We conducted research with more than 1000 creatives across the U.S. and found that those in creative fields are overwhelmingly embracing generative AI tools in their work, or will in the near future.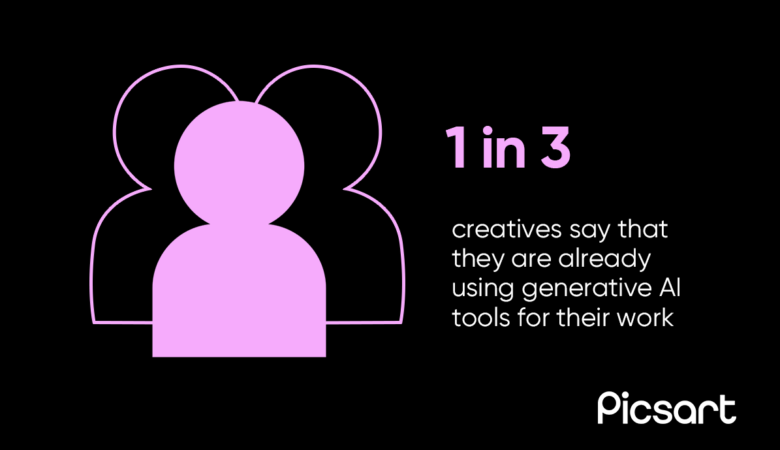 More than 1 in 3 (36%) of survey respondents say that they are already using generative AI tools for their work. And nearly 3 out of 4 agree that generative AI will be very important to how they do work in the future. More than 76% say that they are interested in using generative AI in their creative process. 
Additionally, the vast majority of creatives agree that generative AI speeds up the creative workflow, provides a useful source of inspiration and say that generative AI will be an addition to the creative process, rather than a replacement.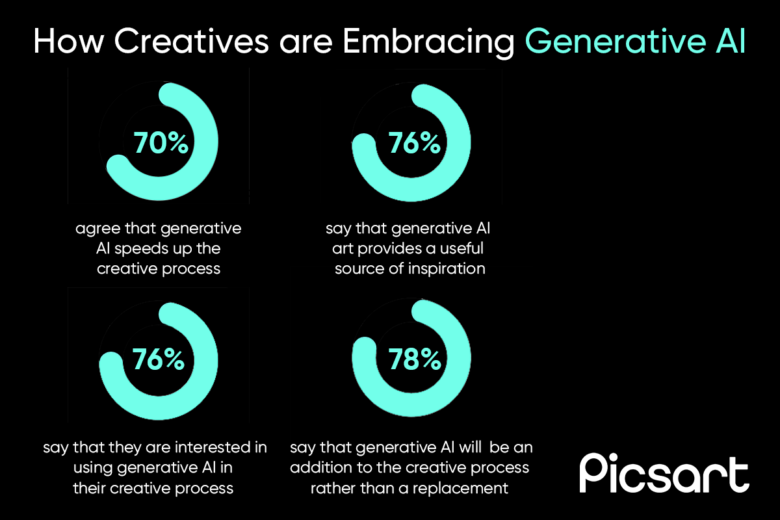 How are creatives using Generative AI?
For those who specifically create digital advertisements as part of their job, we've uncovered which types of generative AI tools they're using to make them.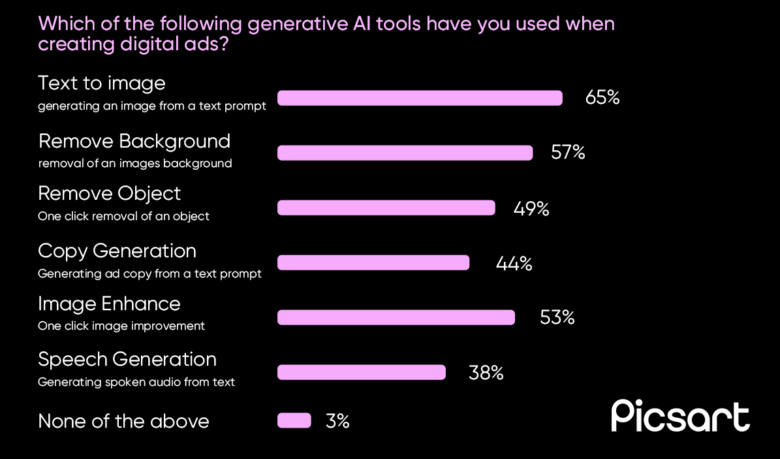 "One of the assumptions today is that creatives are afraid of generative AI, however our research reveals the opposite," said Dr. Oli Mival, Global Head of Research and Insight at Picsart. "Creatives and marketers are largely embracing these technologies. Now that these tools are becoming more accessible, people are seeing how generative AI can serve as a powerful creative partner. It's about increasing efficiency and empowerment versus replacement."
Empowering the Creator in Everyone
Picsart is the world's largest digital creation platform, offering AI-powered tools to creators of all levels to design, edit, draw and share photo and video content anywhere. It is used by consumers, marketers and content creators for both personal and professional design, and is available to businesses via API partnerships and integrations. With 150 million monthly active creators, Picsart has collaborated with major artists and brands like Discord, PopSockets, Shopify, BLACKPINK, Taylor Swift and more. Available on mobile and web, download the app or visit picsart.com and picsart.io for more information.