With Black Friday and Cyber Monday around the corner, the promotion of your sales is key. It's also super important that you use engaging visuals for the marketing of these events. It was reported that last year, the total revenue from the holiday season was $1.27 trillion! This figure includes the $283 billion spent in online stores on Black Friday, as well as the $281 billion in e-commerce sales during Cyber Monday sales week. 
The point is, having eye-catching visuals to aid the promotion of these super sales can be make or break. With practically every business under the sun promoting this at the same time, it can be easy to get lost in the crowd. Picsart can offer a wide range of simple-to-use editing tools that can make your pictures stand out! From background generators to caption creators, join us in exploring the numerous tools available to help you stand out on Black Friday.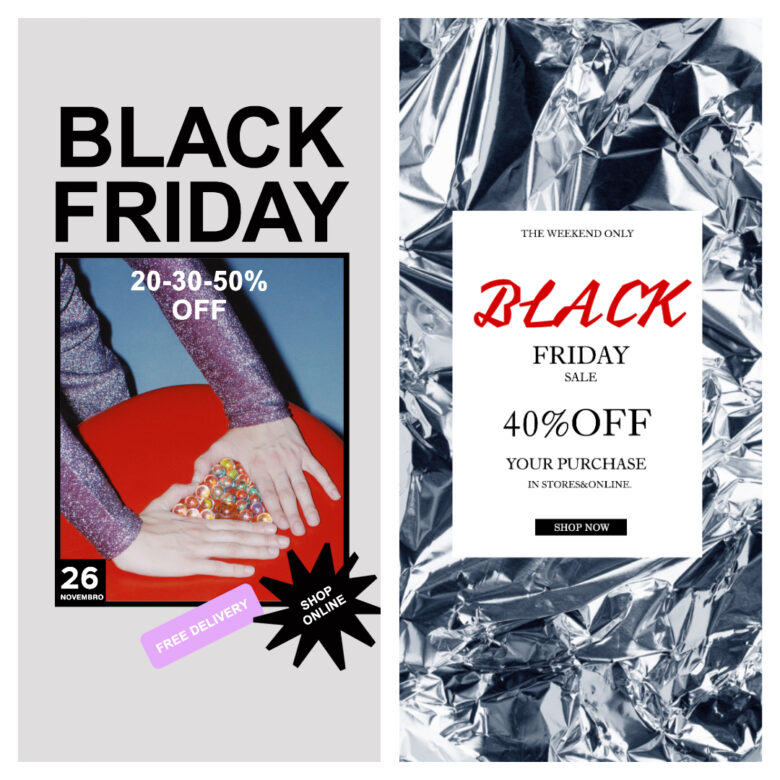 Use templates or start from scratch
Now if you don't feel like creating your own ad or post from scratch, you're in luck! PIcsart offers a number of templates readily available for use. Simply search "Black Friday" or "Sale" in our Templates section and take your pick! Prefer to start from scratch? A great place to start is by using our AI background Generator. Just give a description of what kind of background you would like. Then choose a main color and art style from preselected options and Voila! From there you can use many other great tools to create the perfect promotions. We have a wide range of text tools and fonts that you can add to any image. Stickers are definitely one of our specialties, and there are countless available that would be perfect for your ads! A quick search in this section will allow you to find the right ones for you. Placing them strategically can help to make your images more visually appealing. They can also be a fun way to highlight offers, discounts, or any promotional message that you have to share.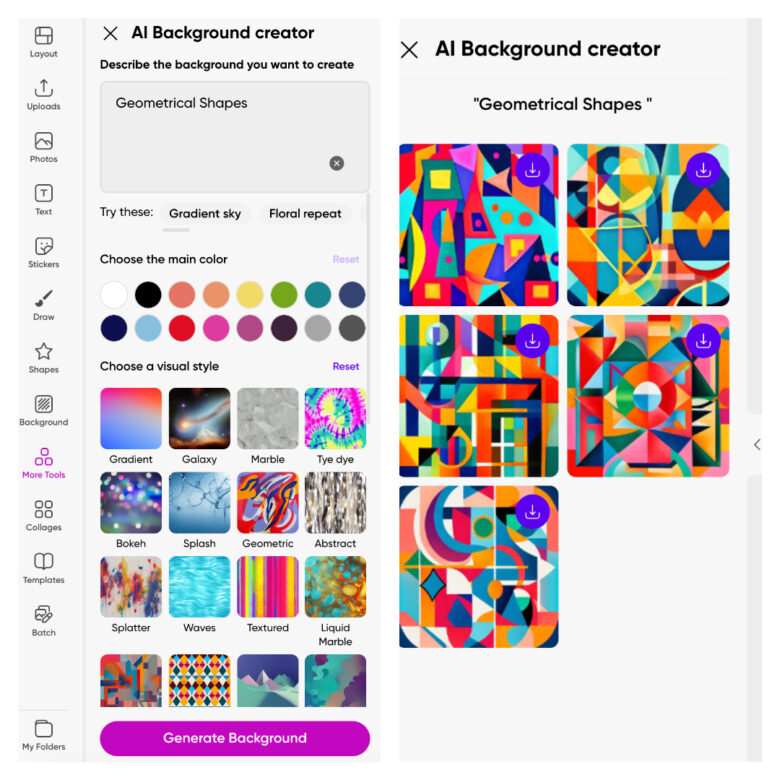 Easily Remove Backgrounds with Remove BG Tool
Adding a funky background to an otherwise simple image can be a great way to promote a sales product. When it comes to doing this, our Remove Background tool can be a real lifesaver. If you want to get rid of literally any image's background this is the simplest way to do so. If you upload any image to Picsart, simply tap the Remove BG icon on the menu bar. With just one tap, watch before your eyes as your image's background being removed! 
How to use our Remove BG tool :
 1 – Open up Picsart and add the image you want to edit
 2 – Select the Remove BG icon in the menu bar
 3 – Now your image background is gone, select the new images that you want to replace it. You can find great options in the Background Section. 
 4 – Once you find the perfect replacement, simply select it.
 5 – Enjoy your revamped image!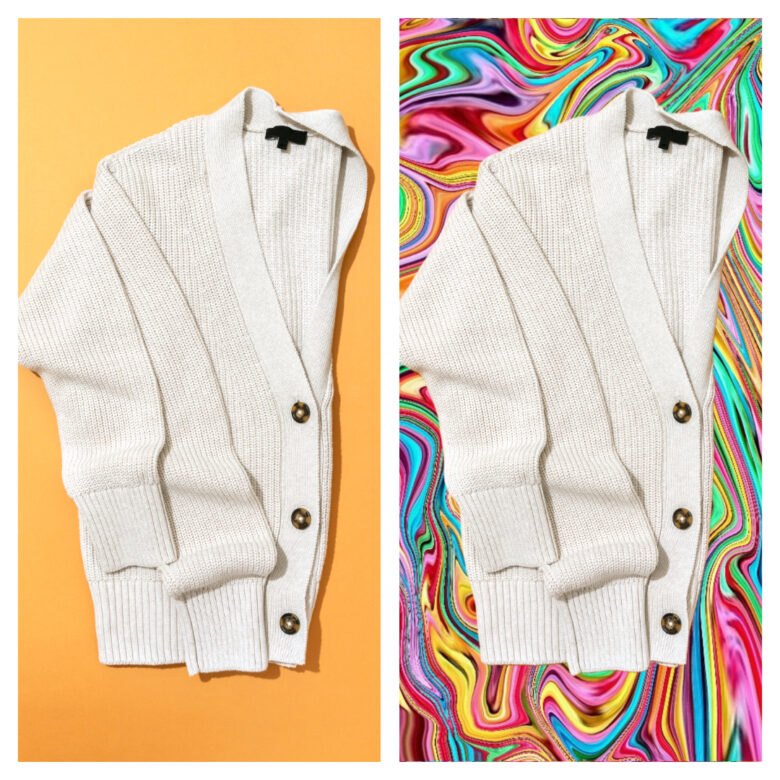 Generate Funny Text and Captions with AI Writer
If you are struggling to think of the right captions for your sales social posts, we have the perfect tool for you! Our AI Writer feature is perfect for when you just can't find the right words. This fabulous tool can generate funny and witty text that can be used for a range of content. Say you are trying to think of what to write to add to your sales advert. Simply ask the writing tool to think of a witty caption and then post away! 
How to use our AI Writer – Captions Generator:
1 – Open up our Quicktools site. 
2 – Describe what is in the image that you want the caption for – the more specific the better.
3 –  Say what this is being used for – e.g a post about an item being on sale.
4 – If you want to, you can add a call to action – like "click the link in the bio". 
 5 – Select the number of characters that you ideally want the caption to be. 
 6 – Choose what tone you would like the caption to be from our preselected options.
 7 – Enjoy your fun and exciting image caption!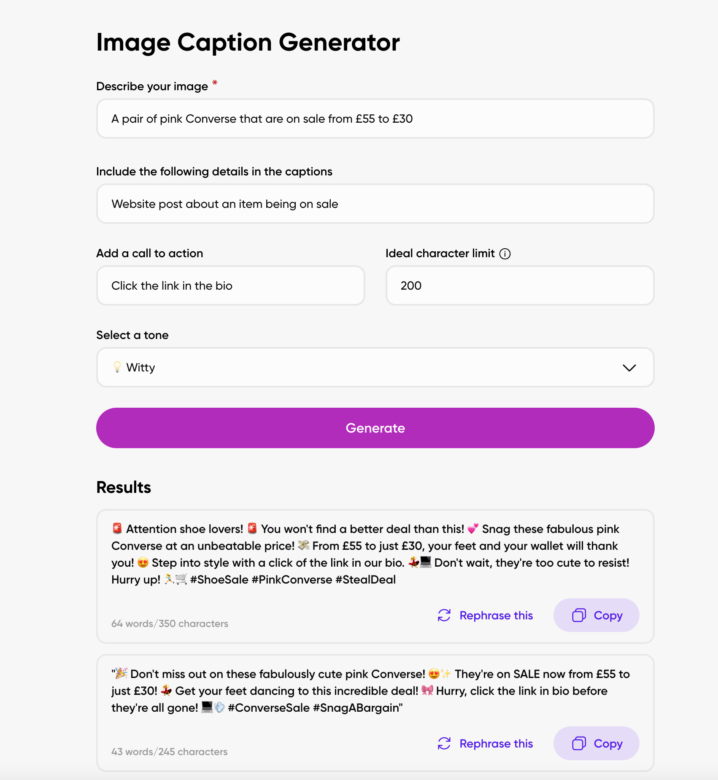 With so many options out there, why not choose Picsart to elevate your marketing? Creating striking visuals for Black Friday & Cyber Monday is always important as it draws people in while positively promoting your brand. The more engaging the outcome – the better! It's also always fun to experiment with our endless supply of tools. When it comes to Picsart, the creativity opportunities are endless.
---
Picsart is the world's largest digital creation platform. Its AI-powered tools give creators of all levels the ability to design, edit, draw and share photo and video content anywhere. It's used by consumers, marketers and content creators for both personal and professional design, and is available to businesses via API partnerships and integrations. Picsart has collaborated with major artists and brands like Discord, PopSockets, Shopify, Taylor Swift and more. Download the app or visit picsart.com.