Vibrant and attention-grabbing, red orange color will make a great addition to your designs. Read on to find out more about its codes, meanings, and color wheel combinations and start experimenting․
What Color is Red Orange?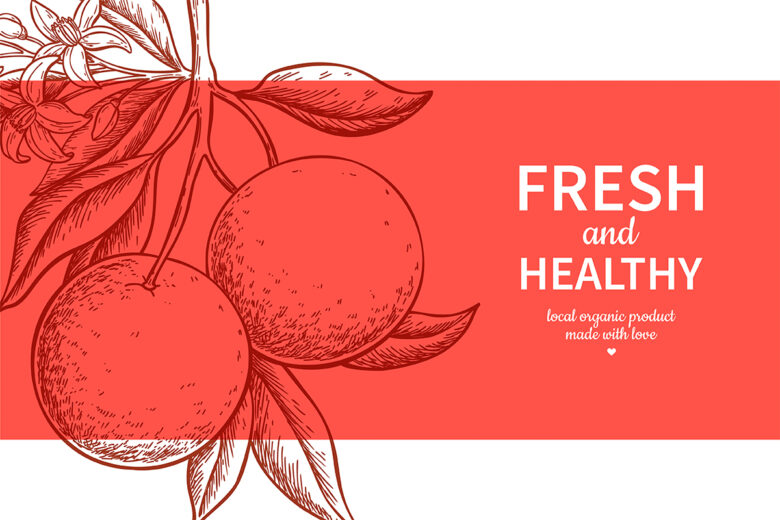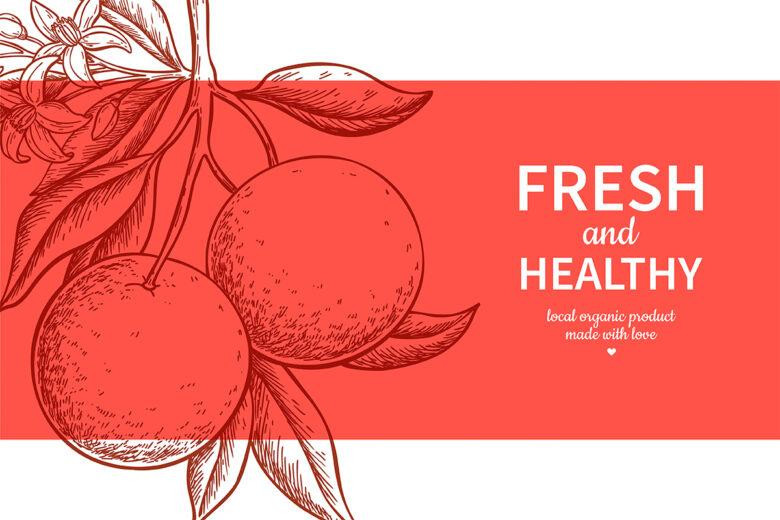 Red orange color, as its name suggests, is a mix of red and orange. Visually, it's definitely closer to red. The color had its moment on the reality show Project Runway, where one of the contestants said the color she picked was blood orange, and another called her pretentious for it, saying, "Shut up, it's red". The rest is memology and internet history, though blood orange or red orange is, of course, not just red. Bold, youthful, and reminiscent of sunsets, cocktails, and trendy cocktail dresses, red orange color is the perfect shade for a warm summery edit.
Is There a Difference Between Red Orange and Orange-Red?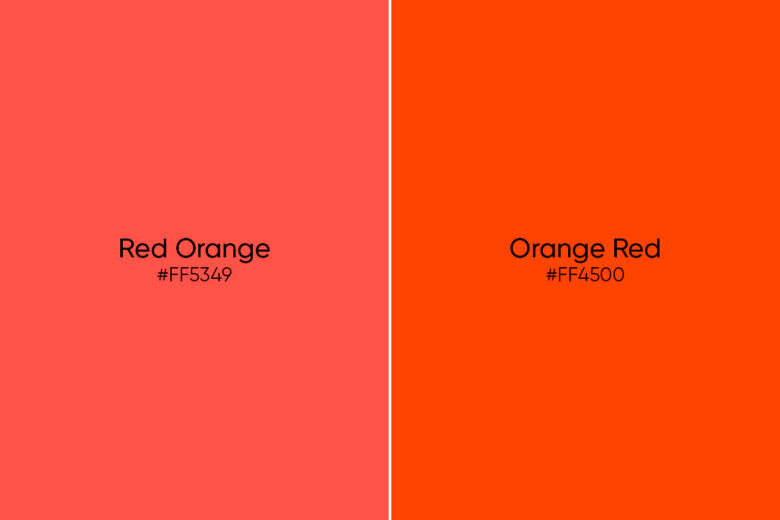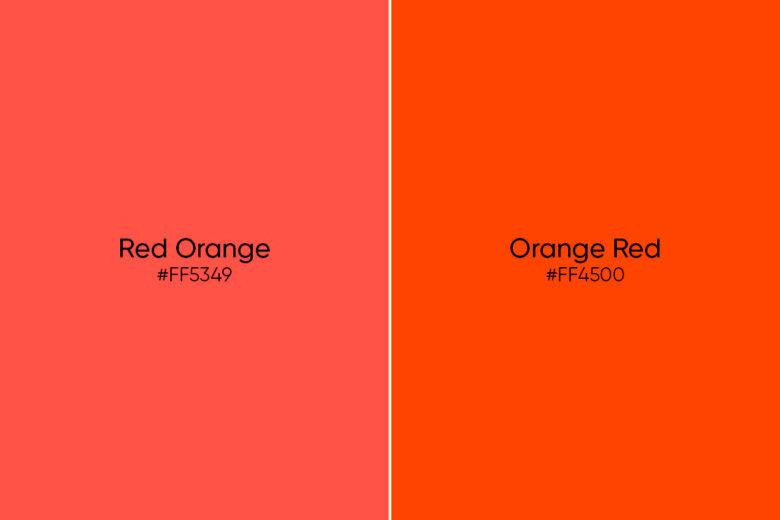 Although visually there isn't much difference between red orange and orange-red and the two color names sound similar, they are indeed different hex colors: Red orange has a hex code of #FF5349, while the orange-red hex code is #FF4500. In the RGB color space, orange red is made up of 100% red, 27.1% green, and 0% blue, which means it contains less green and blue than red orange. That makes orange red warmer and closer to orange. In essence, they are different shades of the same hue.
Red Orange Color Codes
The hex code of red orange is #FF5349, and in the RGB color space it is made up of 100% red, 32.5% green and 28.6% blue. In the CMYK system, the color consists of 0% cyan, 67.5% magenta, 71.4% yellow, and 0% black. The closest web safe color of red orange is the HTML color code #FF6633. You can create this color by mixing #FFA692 with #FF0000. Take a look at the table below for more info about red orange color codes.
RGB 255  83 73
HSL 3.3° 100 64.3
HSV 3.3°  71.4 100
CMYK 0 67 71  0
XYZ 45.538 27.933 9.297
Yxy 27.9276 0.5502 0.3375
Hunter Lab 52.853 65.155 24.603
CIE-Lab 59.829 64.403 42.674
What is the Meaning of Red Orange Color?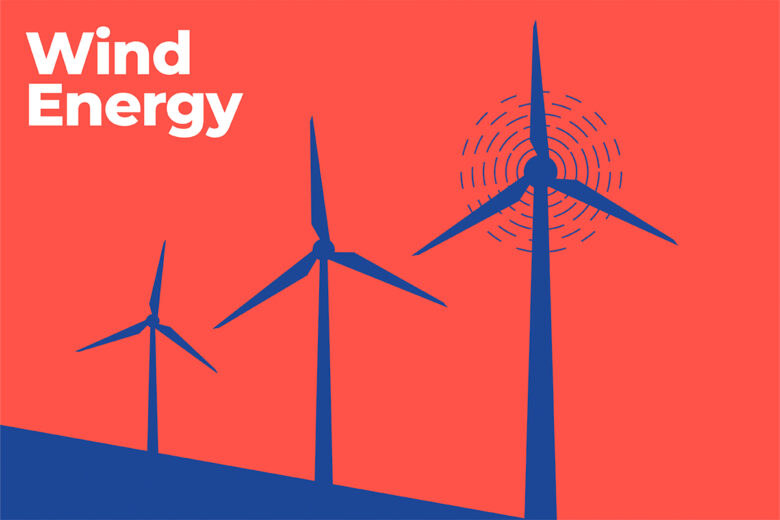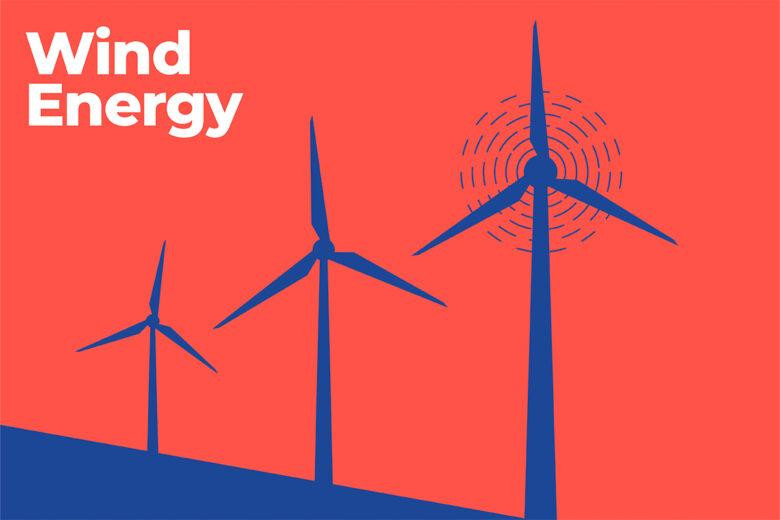 Red orange color meanings are numerous, and for the most part, remarkably optimistic. The color symbolizes health, energy, vitality, and strength. Like most reds, it leaves a lasting impression and signifies passion. In modern times, red orange color is associated with fun. It can often be found on beach party invitations and ads about living carefree. When combined with blues, red orange cools down a touch, and gains an air of sophistication. When paired with browns, red orange looks significantly more mature and elegant. Popular among fashion designers and it girls, red orange sets a youthful light-hearted mood. It also is more sensual than other hues, evocative of quite a few pleasant aromas, feelings, and textures: Squeezing orange juice into your glass, enjoying the sound of the waves crashing against the shore during the sunset, or maybe just a general sense of freedom washing over you.
Some similar shades of orange include Atomic Tangerine (#FF9966) and Burnt Orange (#BF5700).
Red Orange Color Palette Ideas
As every designer knows, to make colors really sing, you need to put them in the right context. In other words, choose color schemes that work. Don't worry if your intuition about color combinations isn't the best, that's what the color wheel is for. Sometimes you may draw inspiration for a color combo from an image, but often it's the opposite. A color scheme lays the foundation for your design. Here are some red orange color palette ideas:
Complementary Colors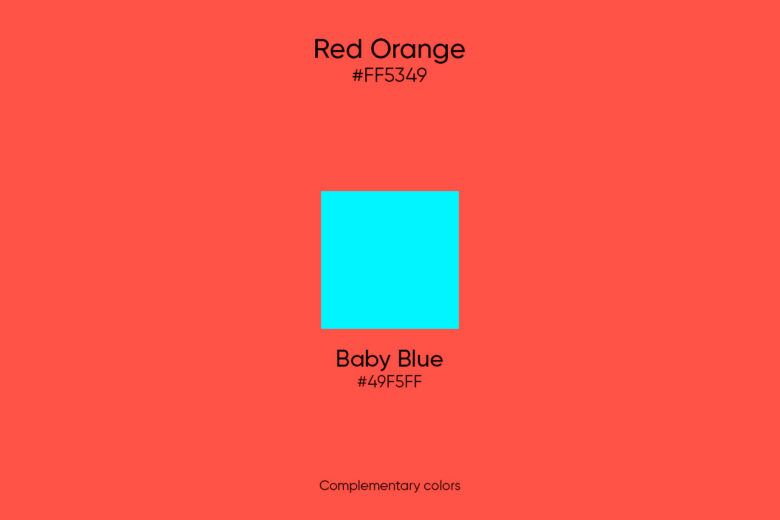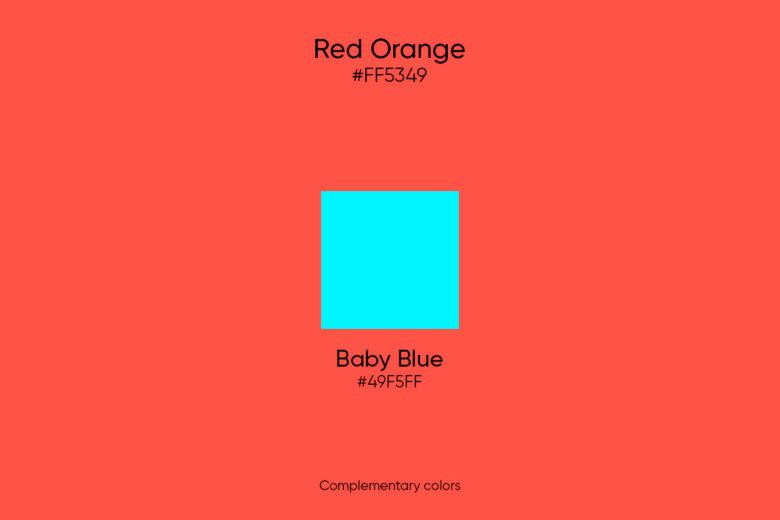 To create a complementary color scheme, you should combine red orange with the opposite shade on the color scheme, Baby Blue, with the hex code #49F5FF (not to be confused with Sky Blue). These two tints clash and cancel each other out, which makes for a real feast for the eyes.
Analogous Colors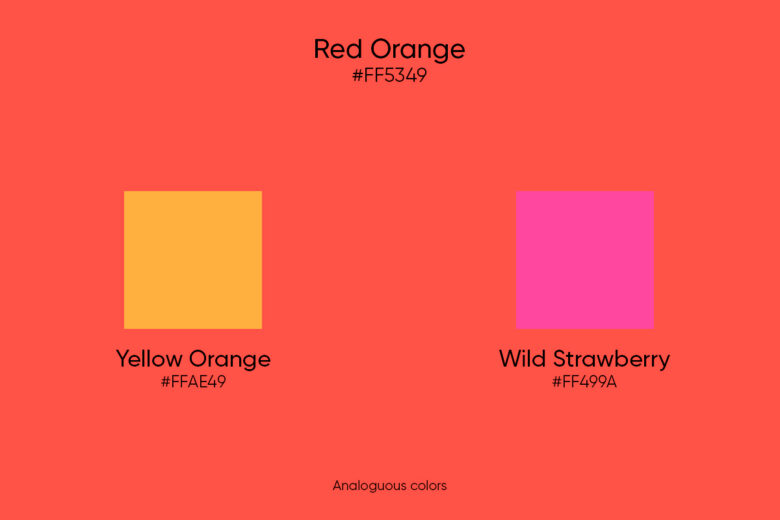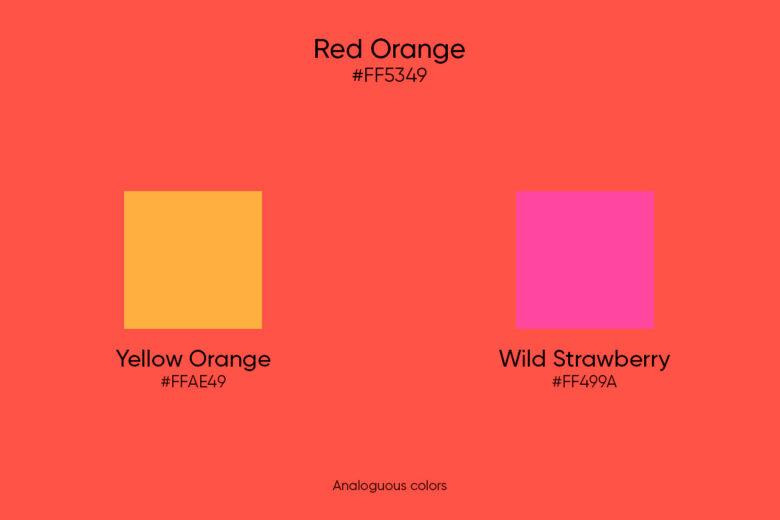 Analogous color palettes are made up of three colors next to each other on the color wheel. In the case of red orange, those tints are Yellow Orange (#FFAE49) and Wild Strawberry (#FF499A). This color scheme is great for a feminine design.
Triadic Colors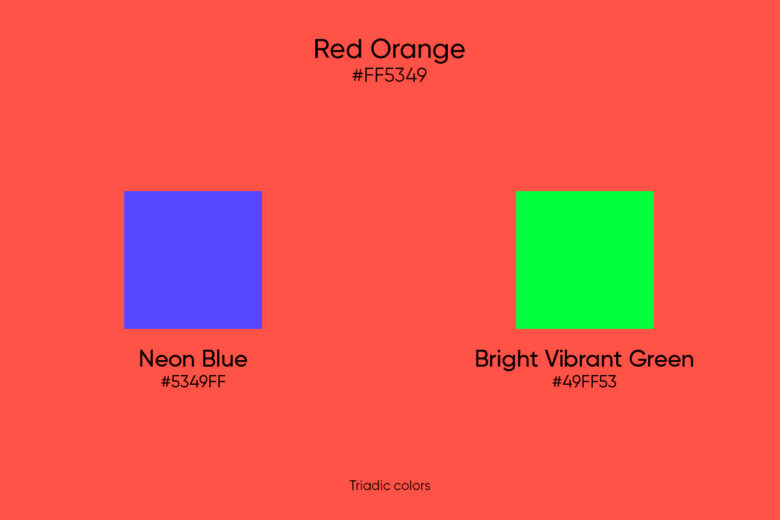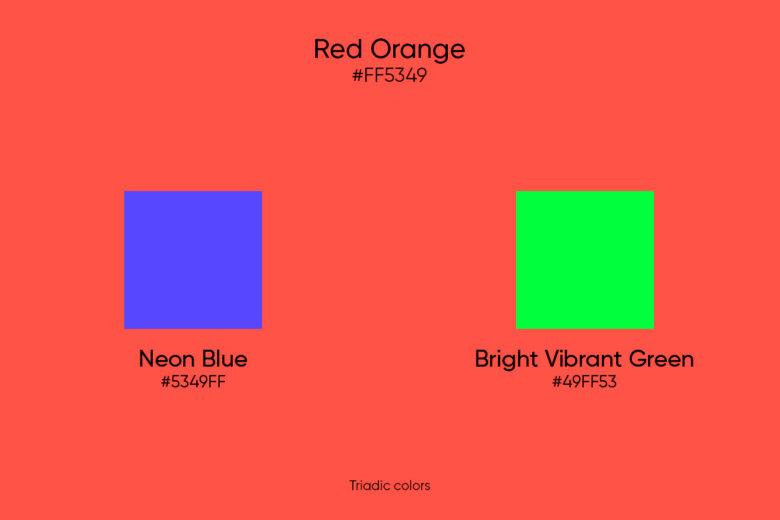 A triadic color scheme consists of three colors evenly spaced on the color wheel. Harmonious and easy to work with, triadic color palettes are extremely popular in design. Combine red orange with Neon Blue (#5349FF) and Bright Vibrant Green (#49FF53). Note that triadic schemes work best if two of the colors are used sparingly.
Tetradic Colors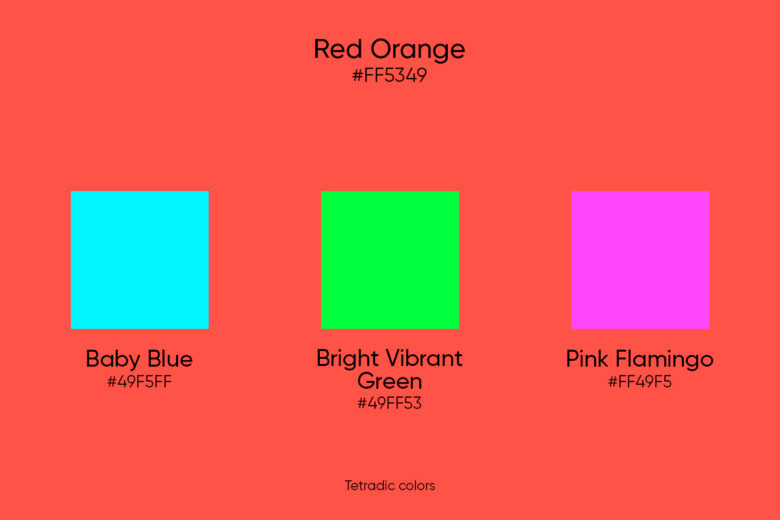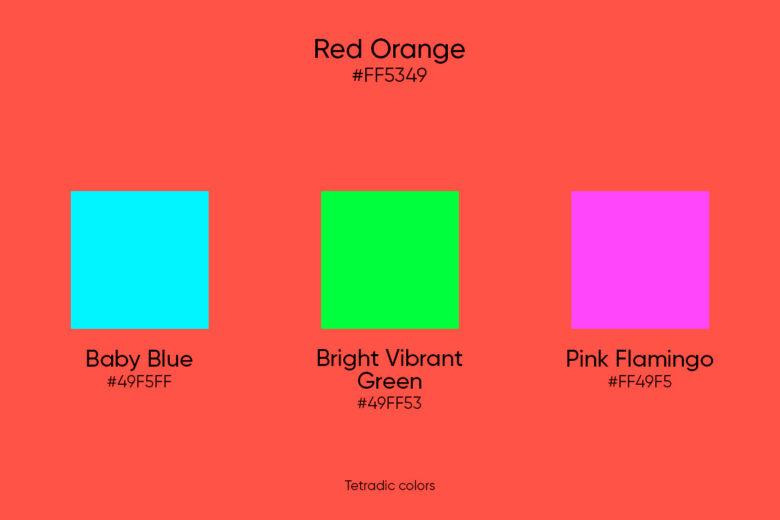 A tetradic color scheme is made up of two complements crossing the color wheel. In the case of red orange and its complement Baby Blue (#49F5FF), the other complementary pair is Bright Vibrant Green (#49FF53) and Pink Flamingo (#FF49F5; visually close to magenta).
Monochromatic Colors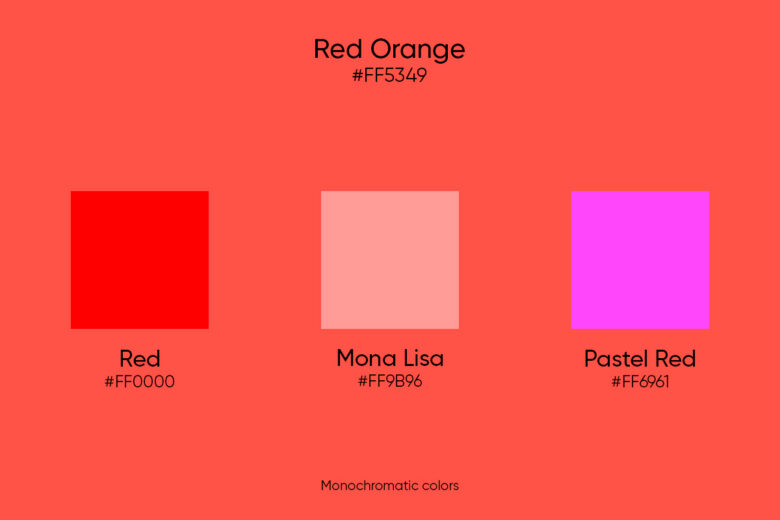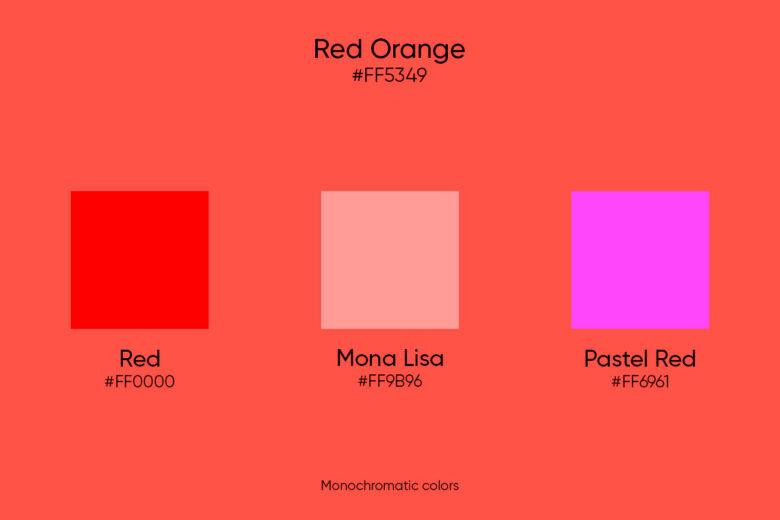 Monochromatic color palettes are a favorite among designers because they're so easy to work with. But it's not just about ease. Monochrome is very much in vogue, a single look at the runways will prove that. Try combining red orange with red (#FF0000), Mona Lisa (#FF9b96; light red/pink), Pastel Red (#FF6961), and any tints in between these three for a monochromatic color scheme.
Split Complements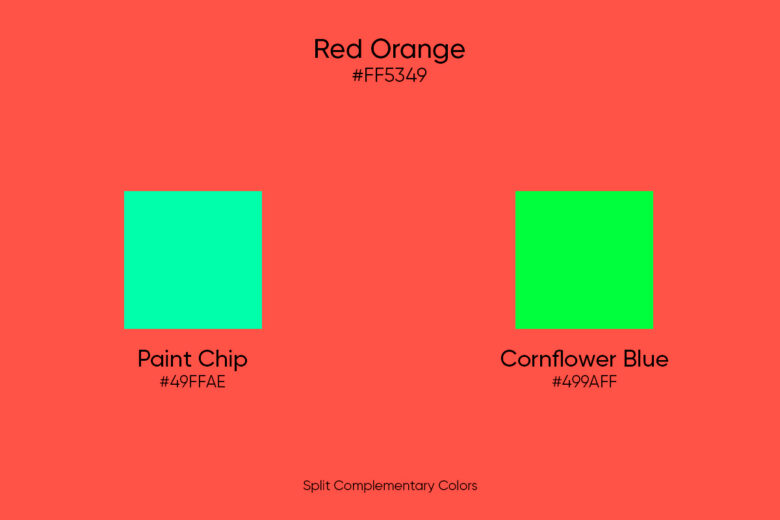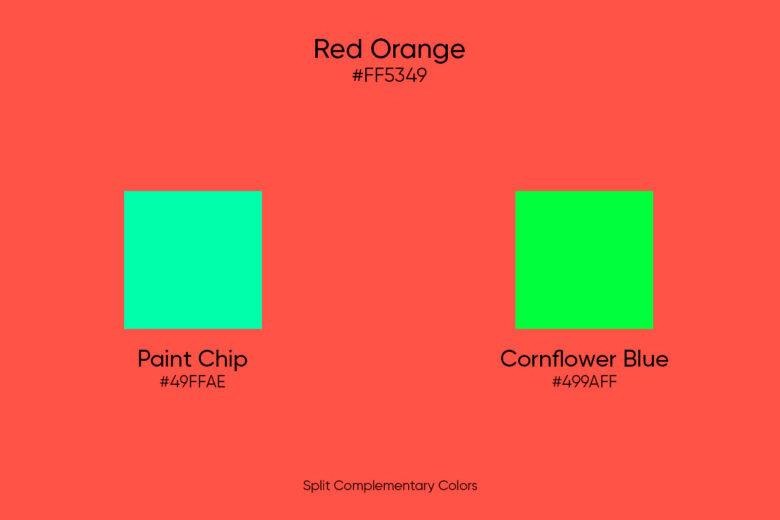 At times complementary color schemes seem too loud, so a designer, looking for something more balanced, may turn to split complementary palettes. A split complement is when instead of the color directly in front of red orange on the color wheel, we take the colors right next to the complement, in this case Paint Chip (#49FFAE) and Cornflower Blue (#499AFF).
For any further help with all things color wheel-related, check out the Picsart generator.
Create Fantastic Photos Using This Color
Red orange color is one of the best shades on the color chart if you're looking to add enliven your design and make it really pop. Picsart makes it easy to experiment with any color.
On the Web
Just follow these instructions if you want to edit online:
1) Open the Picsart Online Editor and pick a size best suited for the social media platform of your choice.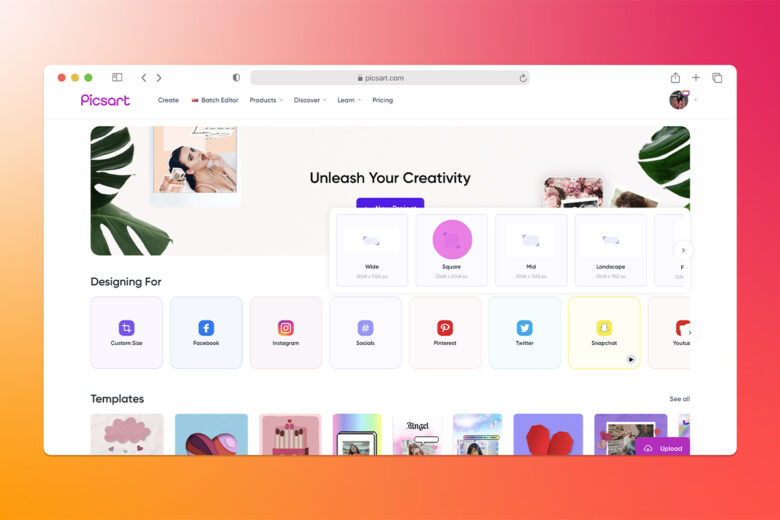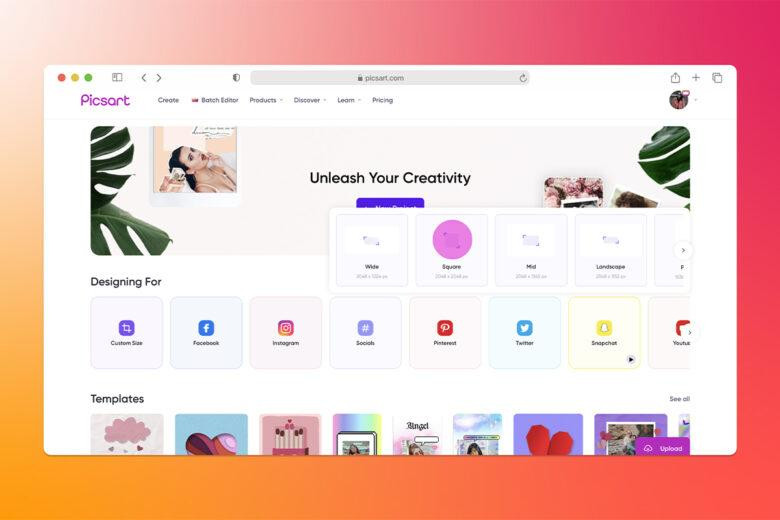 2) To start working with red orange color, you can:
Use a red orange template
Click Templates and then type in 'red orange' in the search bar. Scroll down to browse a collection of templates, pick one that features red orange, and click on it to begin adjusting it.
Set a red orange background
Red orange is a great background color choice when you're looking for something eye-catching. Click Color from the menu above your blank page, write in the hex code #FF5349, and click Enter. Voila, the background is red orange, and you may continue working on your design.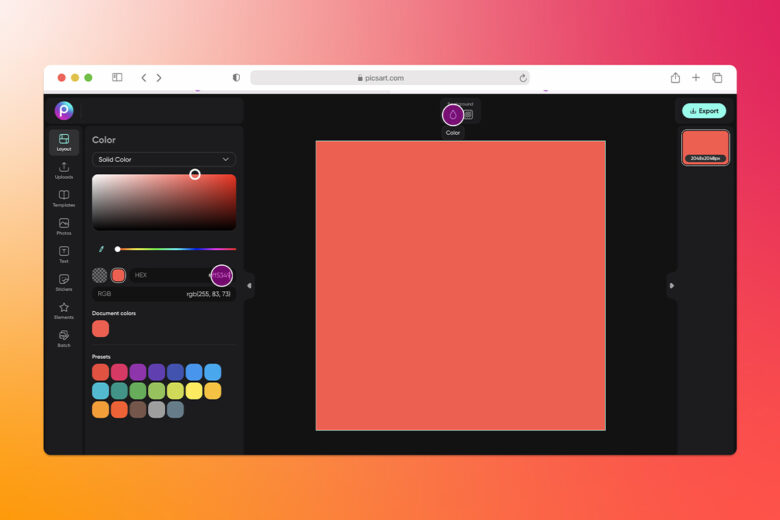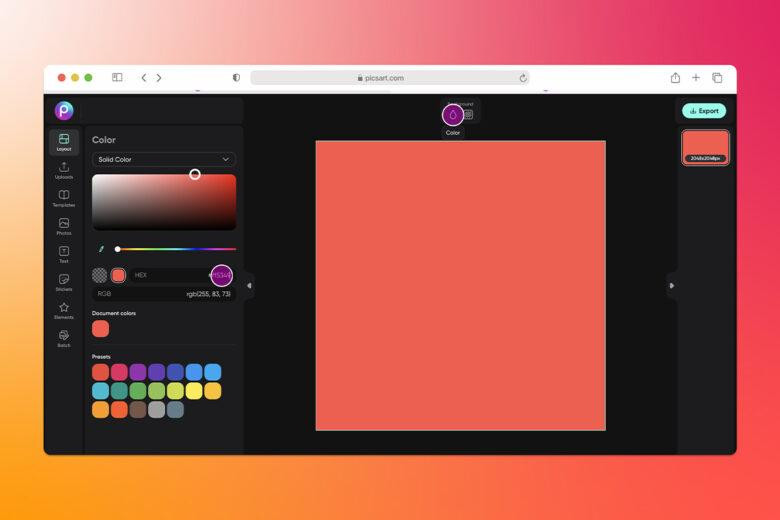 Red orange text
If you want to add red orange text, click Text in the left-side menu and then Add a body text, and type in the text you want. Then click Color from the menu that appears above, enter the red orange hex code, and click Enter. You can then adjust the font and various other font settings.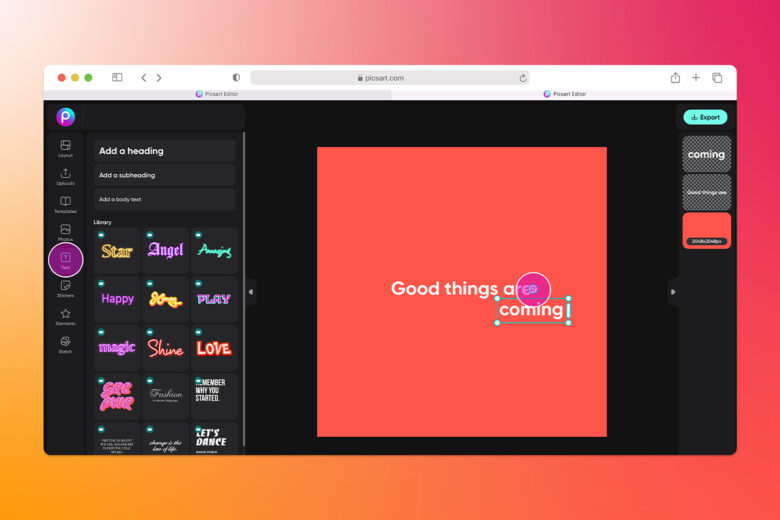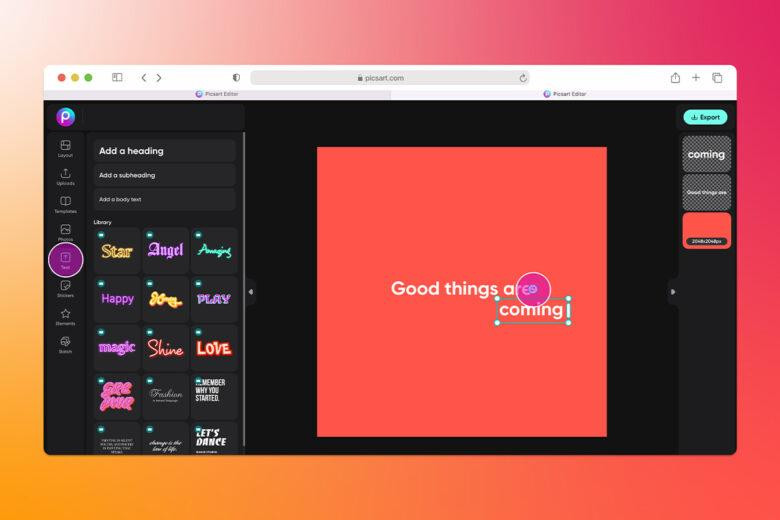 Red orange stickers
If you're looking to add a red orange icon or decorative item to your design, click Stickers in the left-side menu and search for 'red orange' to browse the stickers options. Click on one to add to your edit and start customizing it.
Red orange Elements
Sometimes you need to add a geometric or decorative shape to your design in the red orange color. Just click Shapes, scroll through the available options, click on the one you pick, and then input the red orange hex code in the Color menu section. That's it.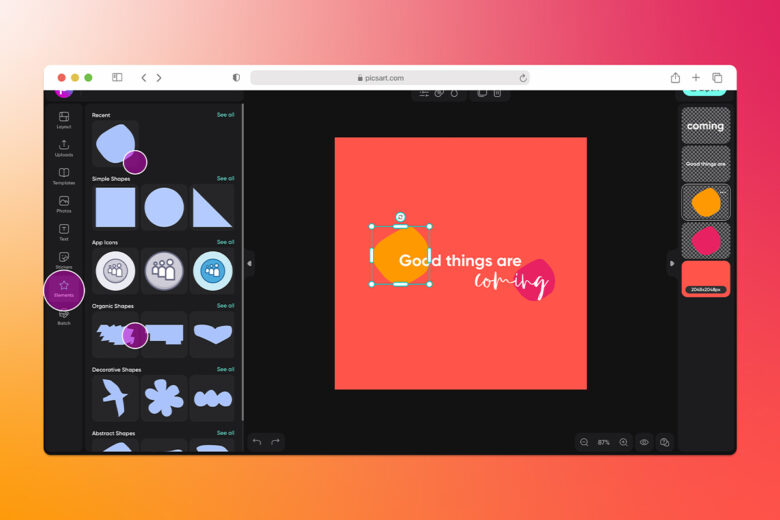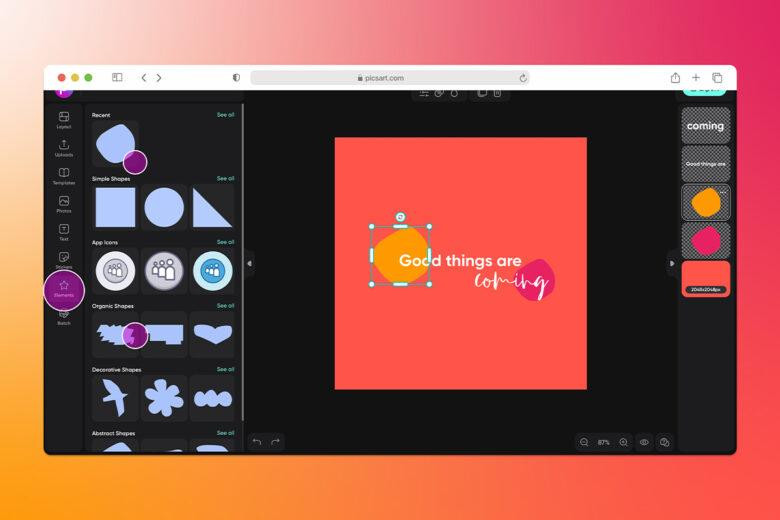 3) When you're done making adjustments to your design, click Export in the upper right corner to download your work or share it online.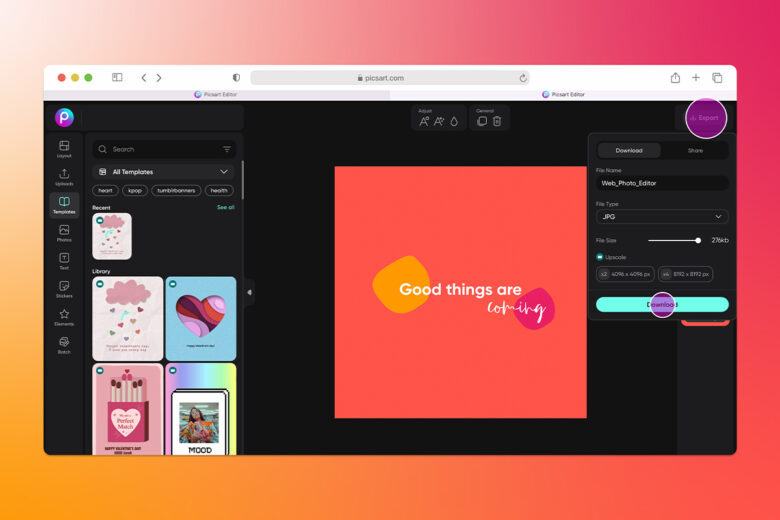 On the App
And here's what you should do if you want to add a dash of red orange when editing on your smartphone:
1) Open the Picsart app and tap on the '+' below to start a new design.
2) If you're looking to set a red orange background, scroll down and tap on See All to the right of the Backgrounds menu section. Tap on the color wheel and input the RGB code of red orange (255, 83, 73). Tap on the checkmark and you'll see your design's brand new red orange background. Alternatively, you can upload an image from your gallery and add red orange elements to it down the line.
3) If you want to add vibrant red orange text or stickers or even draw something red orange yourself, you can tap on the Text, Stickers, and Brushes buttons respectively.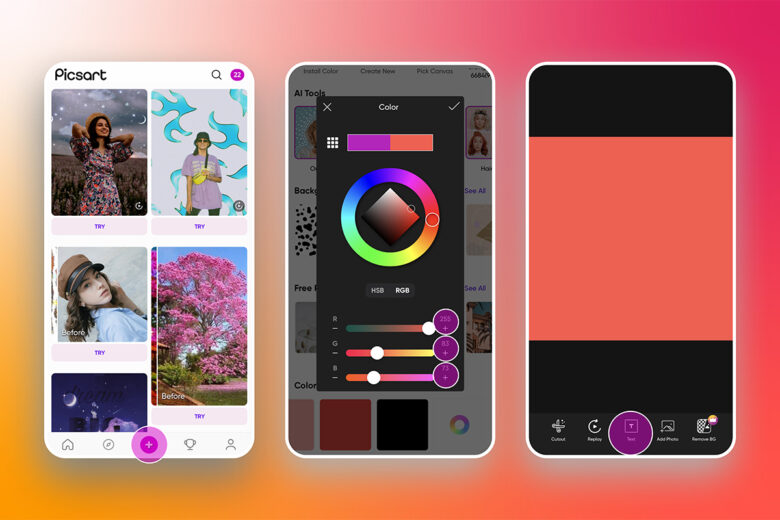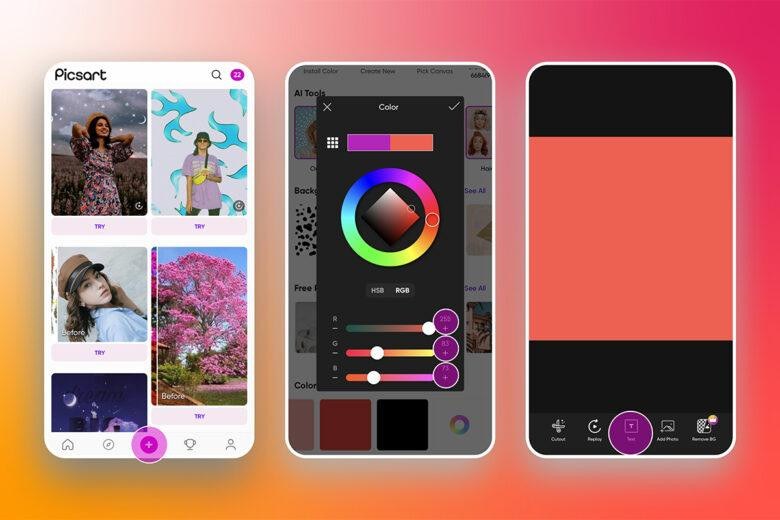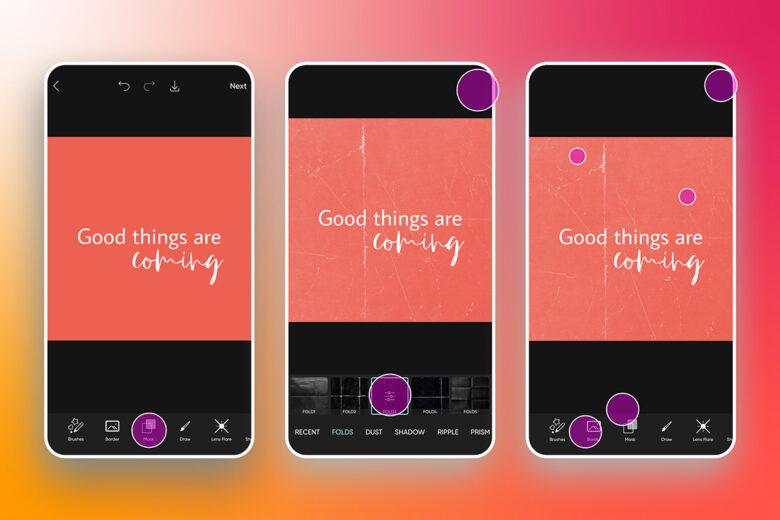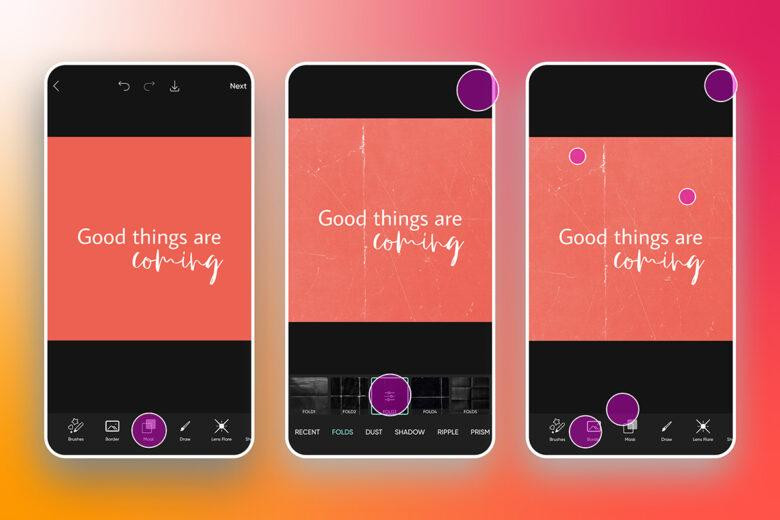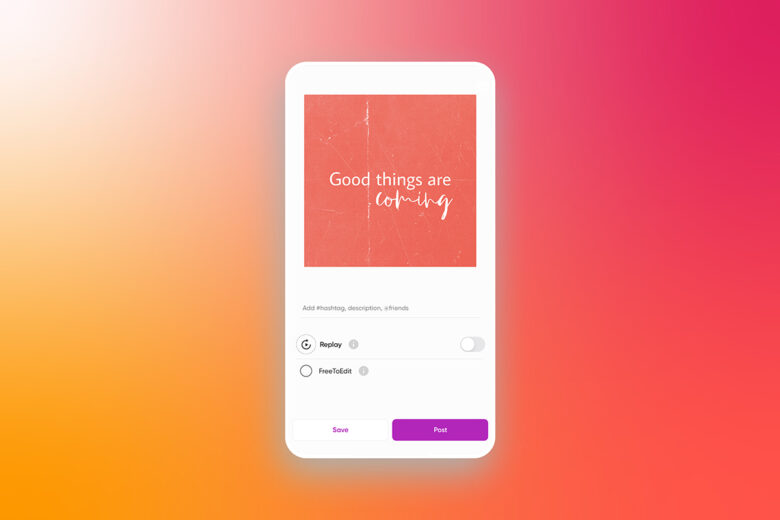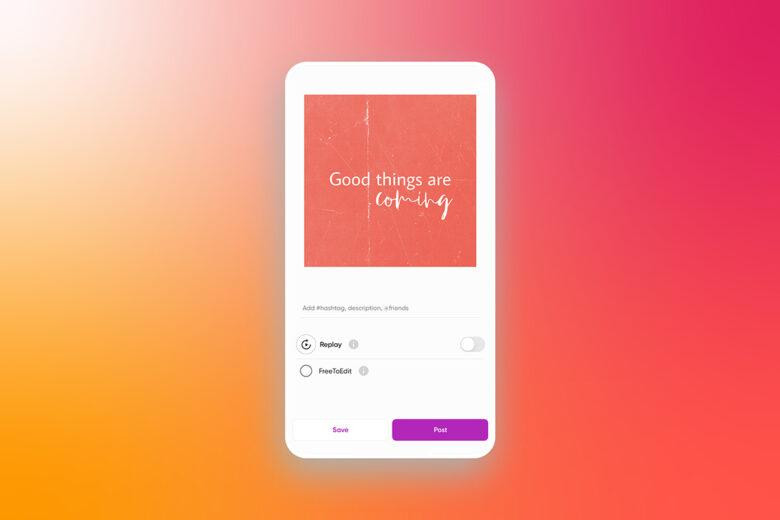 4) When you're done designing, tap on Next and then Save or Post your new red orange masterpiece.
Ready to start creating or in need some of more sources of inspiration? The Picsart color palette tool can help.
Picsart is a full ecosystem of free-to-use content, powerful tools, and creator inspiration. With a billion downloads and more than 150 million monthly active creators, Picsart is the world's largest creative platform. Picsart has collaborated with major artists and brands like BLACKPINK, Taylor Swift, the Jonas Brothers, Lizzo, Ariana Grande, Jennifer Lopez, One Direction, Sanrio: Hello Kitty, Warner Bros. Entertainment, iHeartMedia, Condé Nast, and more. Download the app or start editing on web today to enhance your photos and videos with thousands of quick and easy editing tools, trendy filters, fun stickers, and brilliant backgrounds. Unleash your creativity and upgrade to Gold for premium perks!