You've probably seen the drip effect all over social media, from Instagram stories to Discord profile pictures—but it didn't start with drip art selfies. You can find drip effect graphics pretty much anywhere: on movie posters and record sleeves, in editorial design, and across branding and digital marketing materials.
Whether you're looking to flex your artistic genius or grow your brand, drip effect images can be your MVP. Want to jump in on the drip effect craze? Here's how to channel your inner creator with extraordinary dripping effect pictures.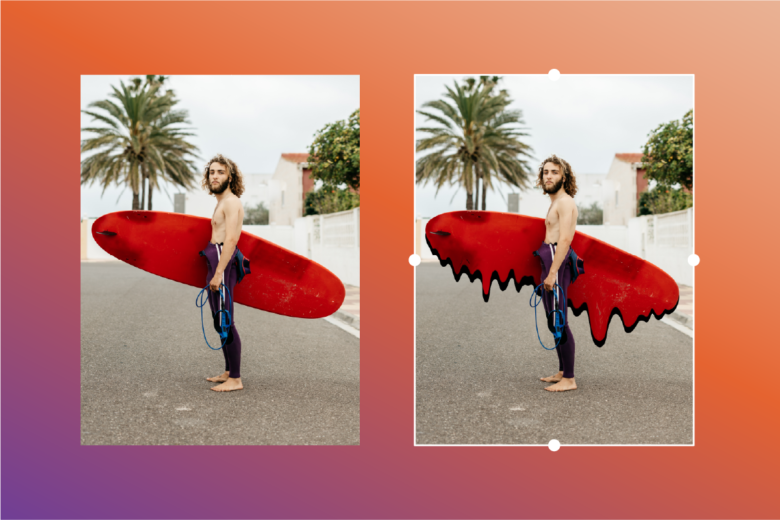 What Is the Dripping Effect?
The dripping effect adds a hyper-realistic paint drip effect to your image. Across social media, countless creators and influencers have designed their own dripping selfies by cropping their selfie and adding drips to the bottom of their portrait.
Even though drip selfies exploded on social media in recent years, the concept of drip art is nothing new. In fact, drip painting started with mid-twentieth-century artists like Janet Sobel and Jackson Pollock. 
Jackson Pollock is most famous for his drip paintings, where he dripped, flung, and swirled paint onto canvases fixed to the floor. Pollock used unconventional tools, like sticks and hardened paint brushes, to transform his abstract works with energetic drips. Using the drip effect, he created a unified pattern, drawing the eye to different parts of the painting to create a one-of-a-kind work of art. 
Today, artists, graphic designers, and content creators use the drip effect to add personal style to their creations. The good news? Even if you're not a seasoned graphic designer, it's easy to upgrade your favorite shots with the Picsart dripping effect.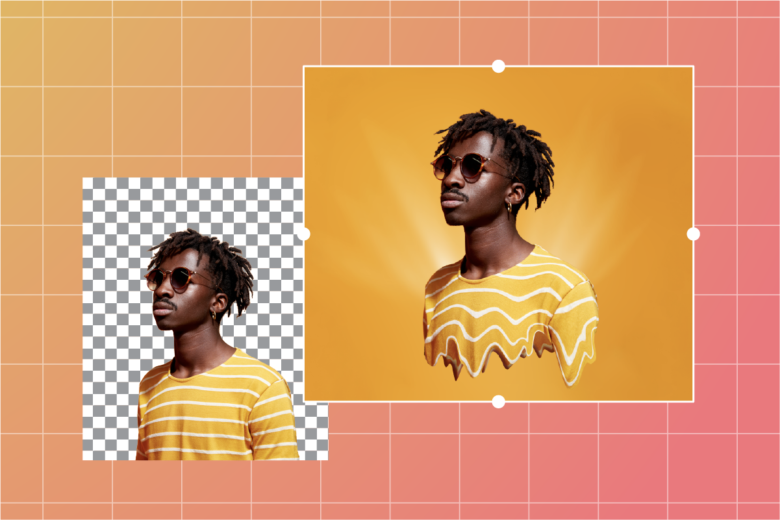 How to Use the Paint Dripping Effect on Social Media
Back in 2020, the drip art selfie exploded on social media feeds all over the world. From influencers to small business owners, drip effect images are an amazing tool to stand out from the crowd and capture the attention of your audience.
So, how can you use the paint drip effect on social media? Believe it or not, the drip effect doesn't end with selfies. Here's how to amplify your social media feeds with just a few taps.
Upgrade your selfies with a hyper-realistic dripping effect
Drip art selfies are taking over! You could say they're officially oozing into every nook, crack, and cranny of our lives. It all began when our feeds started filling up with an insane number of melting digital art masterpieces (but we're not complaining). Our Creators— and the Magic effects—have never looked better.
Drip effect selfies can be your secret weapon. They can help you set yourself apart in a sea of influencers, small businesses, and content creators. The best part? You don't have to pour hours into graphic design to add fun photo effects to your selfies.
Ready to level up your selfie game? We went ahead and created several drip art selfie Picsart Replays so the entire editing process can be 100% foolproof. All you have to do is tap "try it" and hit apply for each of the steps. With these Replays, any photo in your camera roll can go from basic to ~terrifically trippy~ in seconds.
Create unique posts with dripping effect backgrounds
When you're finished playing around with our Replays, it's time to take matters into your own hands. If you're more of a DIY, start-from-scratch, risk-it-all type, try spicing up your next Facebook or Instagram post with an artsy dripping effect background.
Whether you're running a professional or personal page, drip backgrounds are truly one-of-a-kind. They're one of the best ways to show off your unique style, stand apart from the crowd, and add some extra flair to your pictures. 
Need some inspiration? Use drip backgrounds to highlight your latest product drop, or use them as a background for your design template.
Unleash your inner artist with drip effect drawings
You've probably seen drip paintings, but have you ever tried making your own? When you're uploading drawings, sketches, or paintings to social media, you need to show off your personal style to make your audience stop scrolling.
That's where the drip effect comes in. Drip effect drawings are a simple way to make any picture pop. Think about it: paint drips instantly add depth and texture to any drawing, transforming an ordinary sketch into a museum-worthy masterpiece.
Whether you're drawing typography art, people, or animals, adding a drip effect can infuse your work with style. And if you're going for a specific look, you can use the drip effect to look like dripping slime, blood, or paint. The creative possibilities are endless, but remember that drips should always fall downward so they look as realistic as possible.
How to Create the Paint Dripping Effect with Picsart
Maybe you've already mastered the art of selfie-taking, but you're looking to take your Insta feed to the next level. Or, you're trying to create eye-catching social media content to grow your brand and drive new followers. Either way, it's easy to add the paint dripping effect to any picture, even if you're not a pro designer.
Ready to amplify your favorite selfies with trippy photo effects? Here's how to take your favorite selfies to the next level with the Picsart dripping effect.
On the web:
Open the Picsart Photo Editor

and start a new project.

Click

Uploads

to upload your selfie.

Click on the

Remove Background

tool to remove the background from your selfie. Then, position your selfie in the middle of the canvas.

Choose

Effects

in the top panel toolbar. Then, select an effect from the "Magic" category. You can double tap on the effect to lower the opacity until you're happy with the level.

Click

Stickers

in the left panel toolbar and search for "drip." Choose a sticker with a solid white background (this is important later).
Position the sticker over the lower half of your edit. Then, apply the "lighten" blend mode. This is where your edit really starts coming together!

Upgrade your selfie with stickers until you're satisfied with the end result.

When you're done, click

Export

in the top right corner to save your selfie and share it on social media.
On mobile:
Open the Picsart app

and tap on the plus sign (+) to start a new project.

Under

Photos

, tap

All Photos

. Then, upload a selfie from your photo library.

Tap on the

Cutout

tool and use the auto-detect portrait feature to select your portrait. When you're finished cropping your portrait, tap

Save

to apply the cutout.

Tap on

Effects

and choose one from the "Magic" category. You can double tap on your favorite effect to lower the opacity level until you're happy with the result.

Tap on the

Fit

tool and place your portrait in the center of the canvas.

Tap on

Stickers

and search for "drip." Make sure to pick a sticker with a solid white background (this is important later).

Position the sticker over the lower half of your edit. Then, apply the "lighten" blend mode. This is where the edit starts coming together!

Customize your drip art selfie with halo crowns, paint slitters, and star stickers.

When you're satisfied with your edit, tap

Next

. Then, choose

Save

and

Share

your selfie on social media.
Empowering the Creator in Everyone
Picsart is the world's largest digital creation platform, offering AI-powered tools to creators of all levels to design, edit, draw and share photo and video content anywhere. It is used by consumers, marketers and content creators for both personal and professional design, and is available to businesses via API partnerships and integrations. With 150 million monthly active creators, Picsart has collaborated with major artists and brands like Discord, PopSockets, Shopify, BLACKPINK, Taylor Swift and more. Available on mobile and web, download the app or visit picsart.com and picsart.io for more information.