Looking to weave in some mystic, galactic touches to your design work? You've come to the right place. Violet color can do just that and you'll find everything you need to know about it right here. How you make it, color codes, palette ideas, the difference between purple, ultraviolet, and more, and we'll even dive into what it represents. So, let's get to it.
What is Violet Color?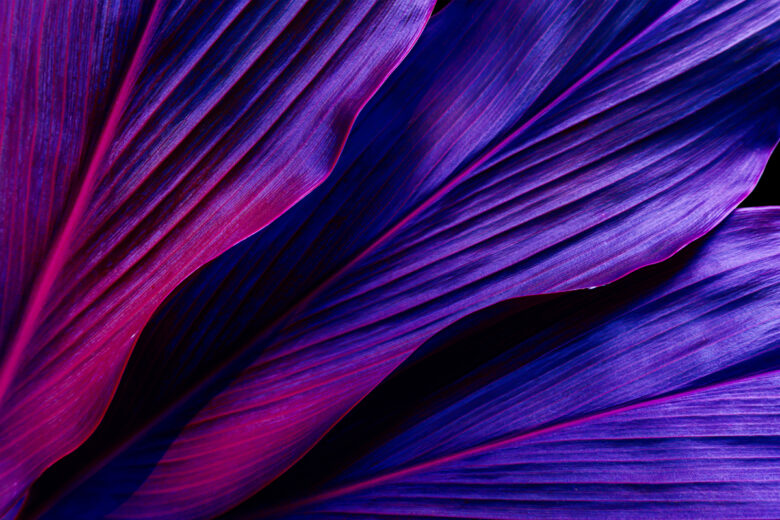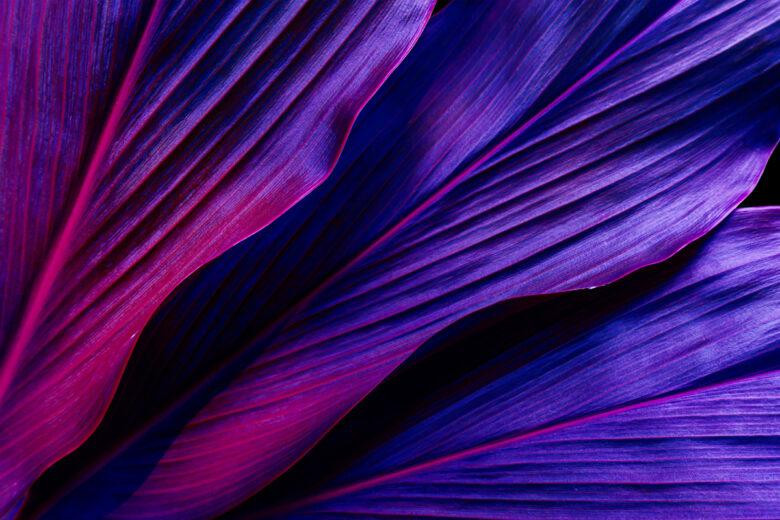 Violet is named after the flower of the same name. It's one of the seven colors found in rainbows, rounding out the visible light spectrum at the end. It's everywhere in nature, but online? Well, it's not so much a color as a wavelength between ultraviolet light and blue light. When you're using violet color in designs, the hex code is #8F00FF.
Ultraviolet Color: Color of the Year 2018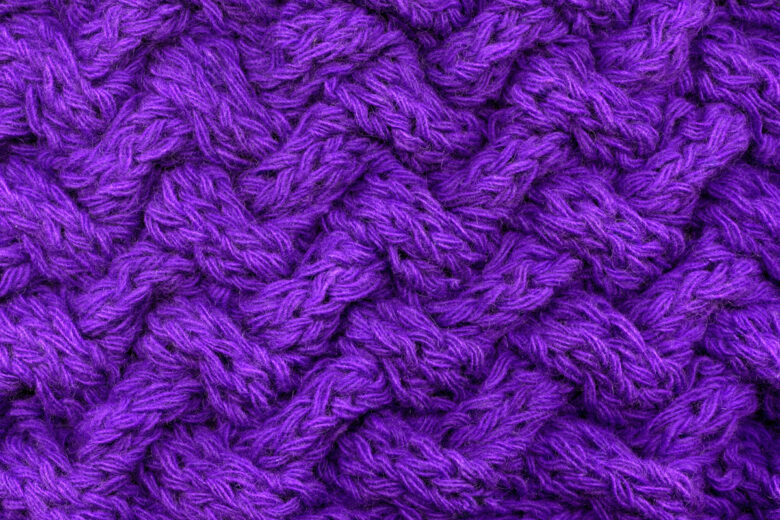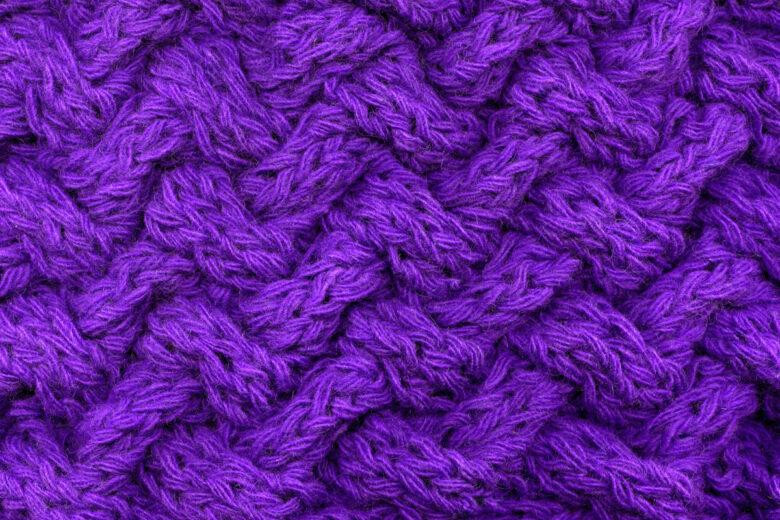 Back in 2018, Ultraviolet was named Pantone's color of the year. The famous color company dubbed the color as "a dramatically provocative and thoughtful purple shade". It's a color that opens up the mind to inventiveness and imagination. There's a touch of whimsy to ultraviolet that works without losing the bold impact of violet.
How To Make Violet Color
In the RGB color space, you combine red and blue light. To achieve violet, you'll want there to be more blue than red (56.1% red, 0% green, and 100% blue, to be exact). This is how you create the color for digital purposes. When violet is used in real life, for projects like interior design or painting, blue and red pigments are mixed together. In a CMYK color space, which is used in colored printing, violet is made of 44% cyan, 100% magenta, 0% yellow, and 0% black. Violet has a hue angle of 273.6 degrees, a saturation of 100%, and a lightness of 50%.
On the color wheel, violet lies in between blue and purple. Violet and purple are similar, but they are in fact two different colors. For more resources on the color wheel, palettes, and much more, be sure to check out Picsart Quick Tools.
Violet Color vs Purple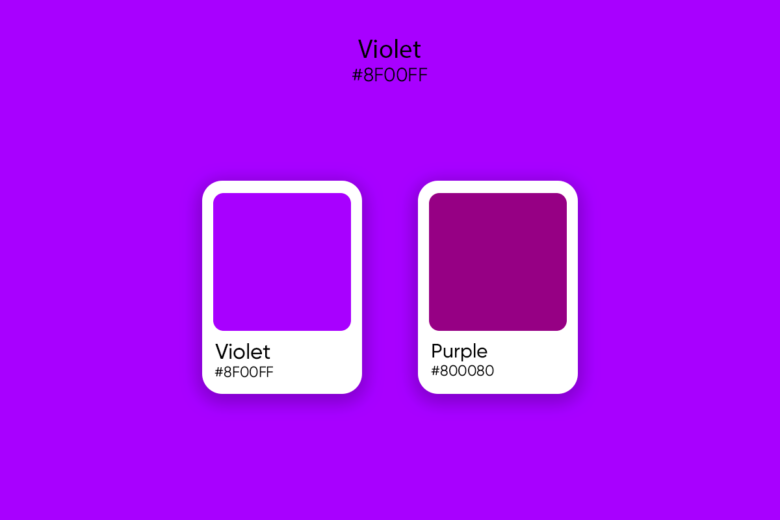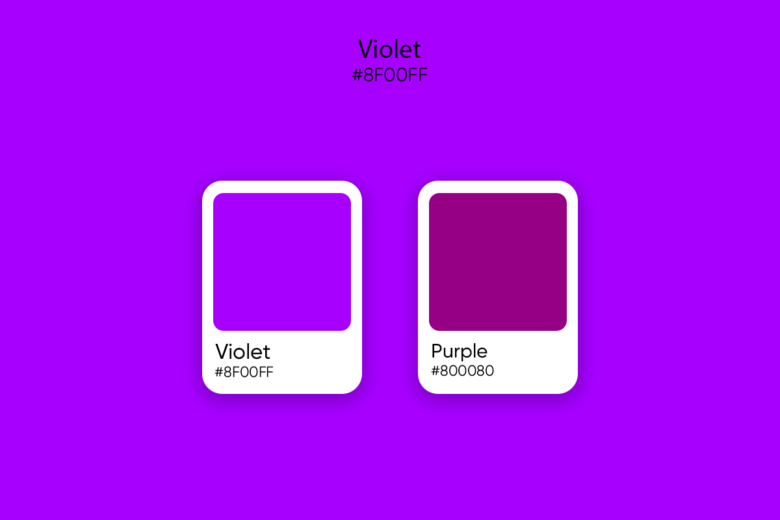 While they might seem like they're the same color, violet and purple are quite distinct. At-a-glance, it would appear that purple has more red in it while violet has more blue in it. While that's true, it's not as simple as that.
Purple (#800080) is often closely associated with violet because it's applied to any of a variety of colors with hues between red and blue. Violet, unlike purple, is a spectral color. This means that violet is a single wavelength of light in the visible spectrum (again, think of the rainbow). Purple is a composite color, meaning that it doesn't stand alone on the color spectrum. It's instead made up of red and blue light.
The colors that purple and violet go with are slightly different, too, but overall, they can work with the same color palettes. Violet's complementary color is yellow (#FFFF00).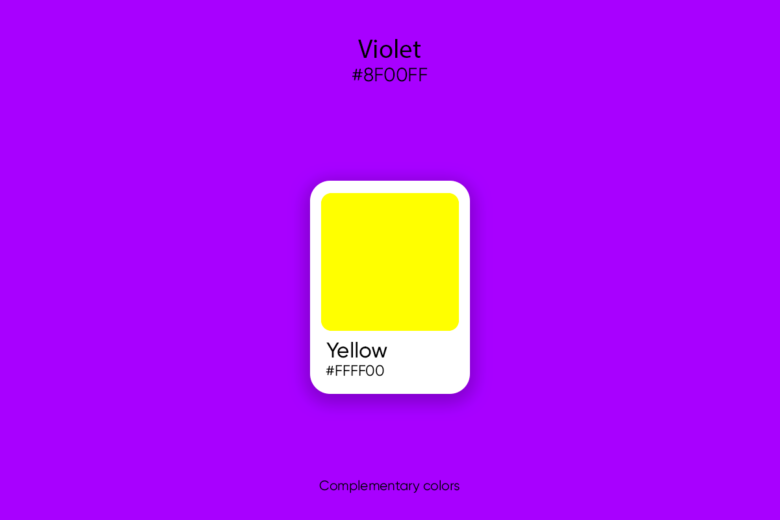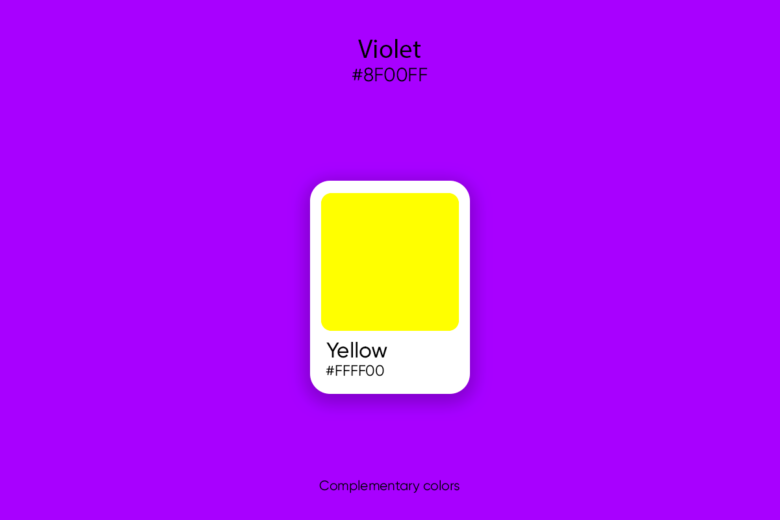 It also goes great with orange (#FFA500) and green (#00FF00) if you're trying to make a bold impact. If you're looking for a color combination that's more creative than the go-to complementary color palette, try going with colors that are closer to violet on the color wheel like pinks, blues, and other shades of purples.
Other colors to pair with violet are slate (#708090),  teal green (#006D5B), and tiffany blue (#0ABAB5). These combos create an interesting contrast against the rich and vibrant violet. If you're looking for a color that isn't quite violet but would look good with it, try pairing it with purple haze (#7D7098).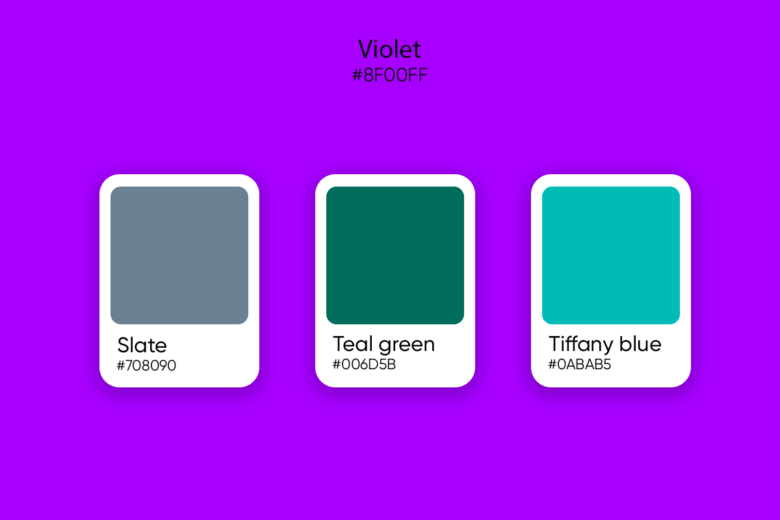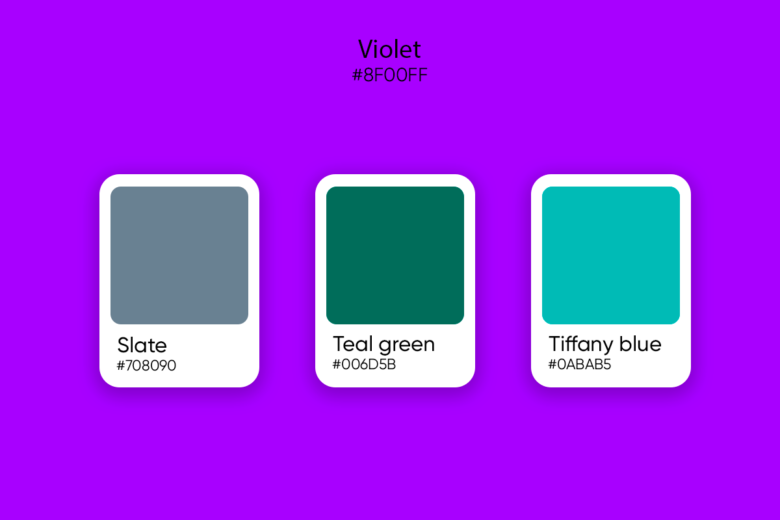 Violet Color Meaning
There is a mystical or spiritual quality emitted by violet. It's often associated with energies and mindfulness. From a spiritual perspective violet is considered the highest vibration in the visible spectrum.
Violet also represents the future, imagination, and dreams. It's a creative color, symbolic of counterculture and artistic daring. If you like to push boundaries, violet might just be the color for you.
Create Fantastic Edits Using This Color
Ready to start creating using violet color? You can easily add this mystical color to your designs on Picsart by using the Color Chooser tool in the editor both on the app and on the web editor. Just simply search for the violet color code #8F00FF, and you'll be set to go. Here's a few pointers on how to get started.
Editing On The Web
1. Open the Picsart desktop editor and click on New Project.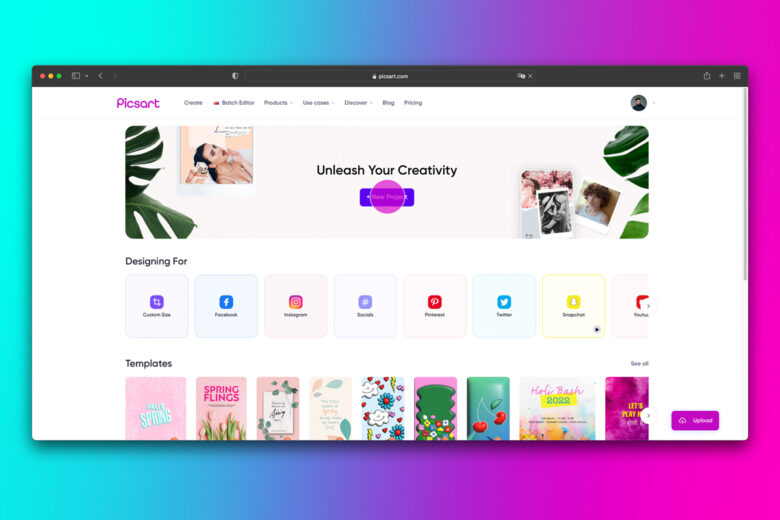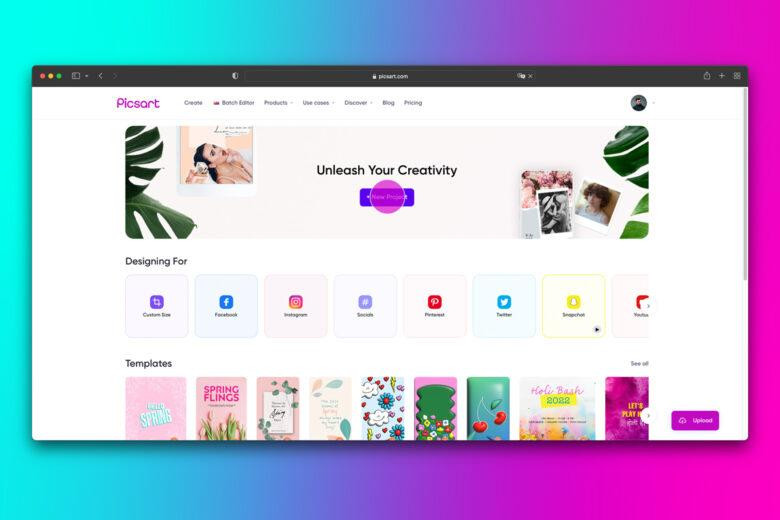 2. Fill your canvas with violet, using the hex code #8F00FF.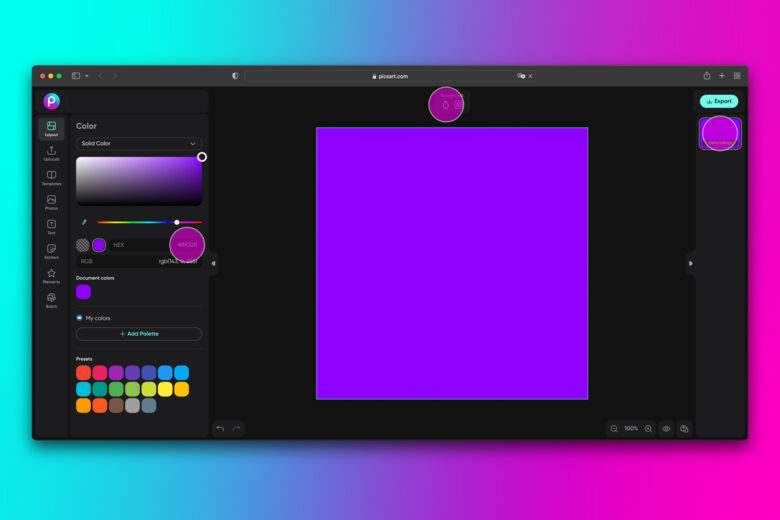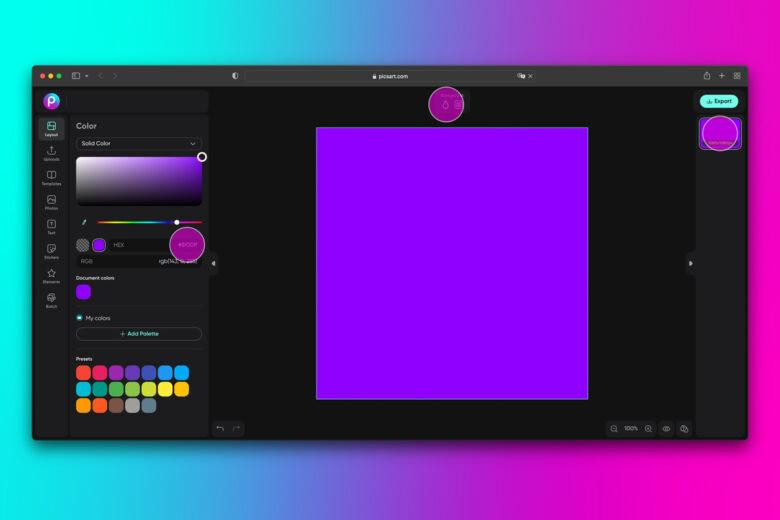 3. Click on Stickers to add some visual flair to your canvas. Choose as many as you like.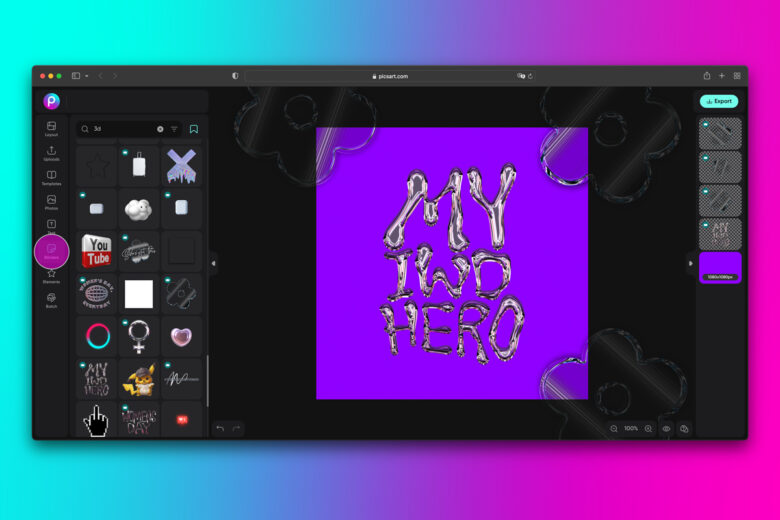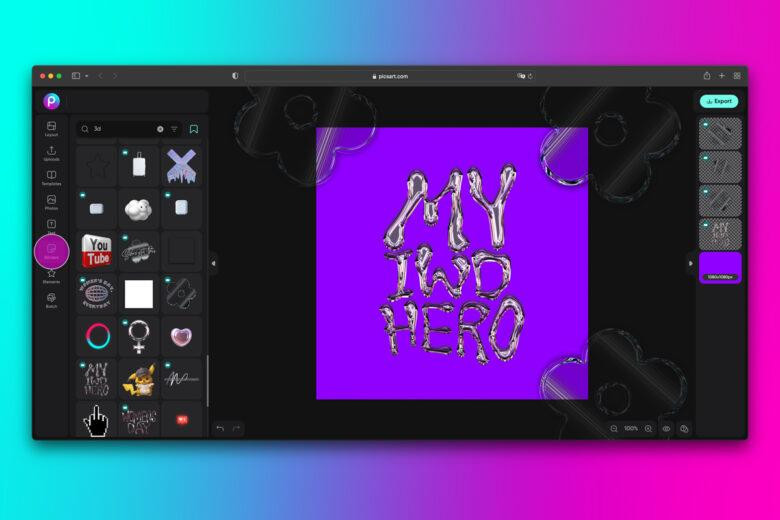 4. You can also add some Text to your design too, editing how it looks in different fonts, colors, sizes and styles.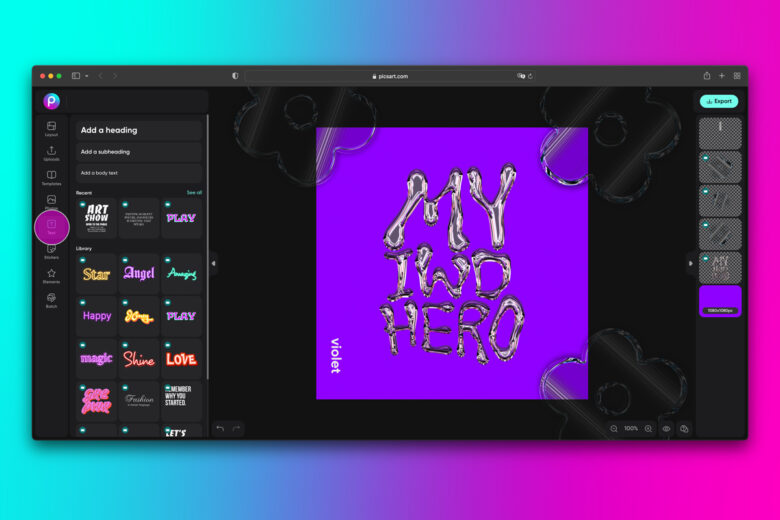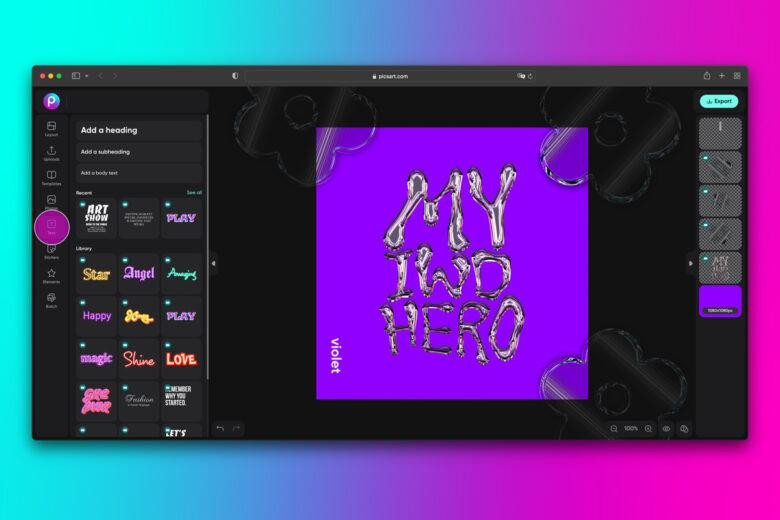 5. When you've made your final edits, be sure to click on Export to Download your work.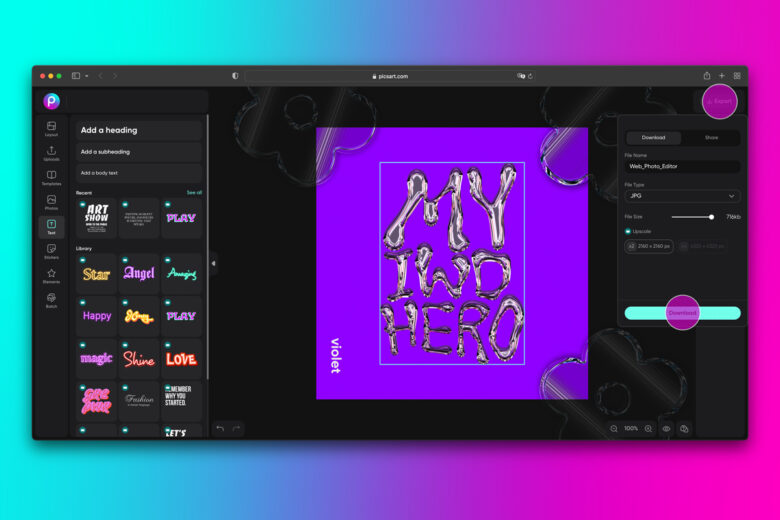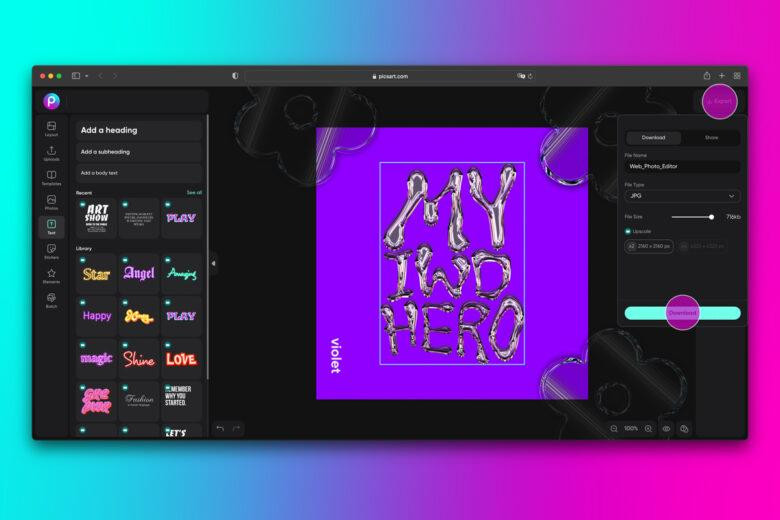 Editing In-App
1. Open the Picsart mobile app and tap on the purple plus sign to start.
2. Scroll down to Color Backgrounds and select a violet canvas (or create from a blank canvas if you prefer).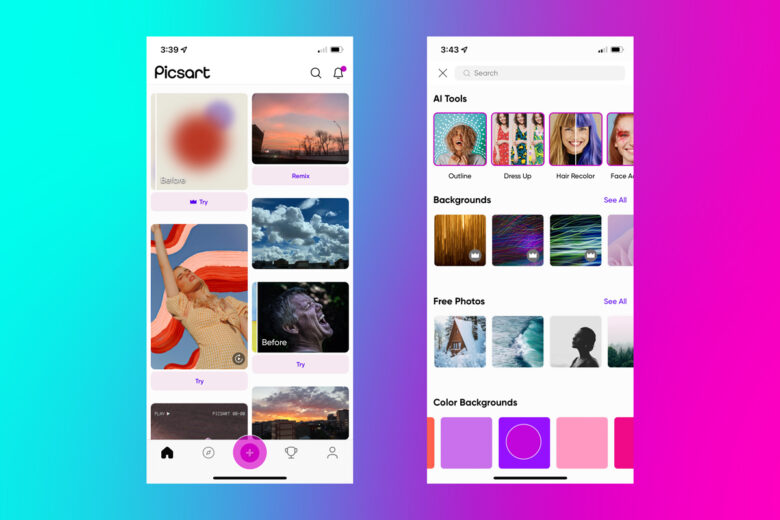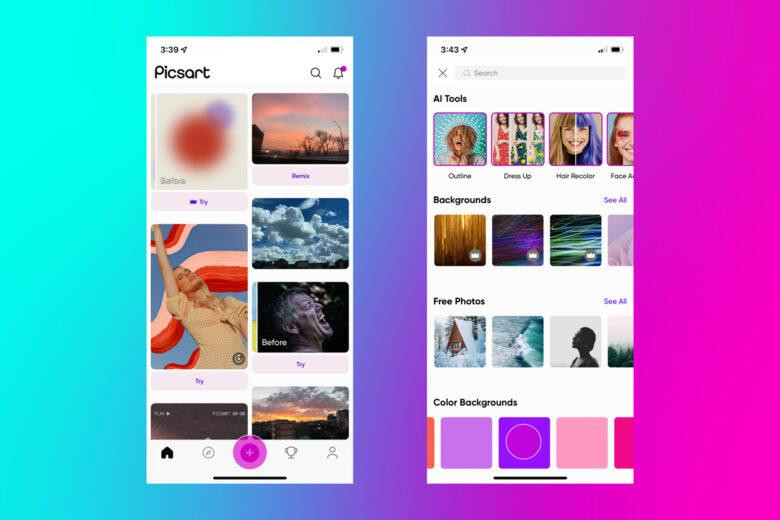 3. Remember the steps above in the desktop editor? They apply here too. Add Text, Stickers, and more to your design to make it pop.
4. When you've put your finishing touches to the design, tap on Apply and and then save or post it.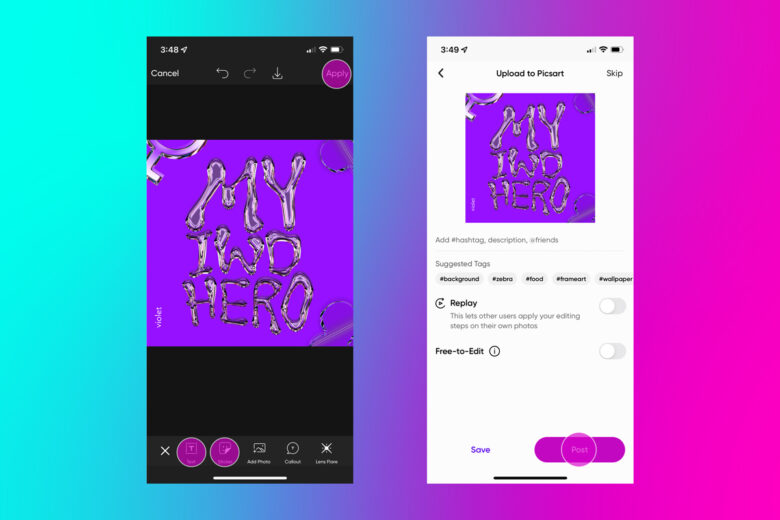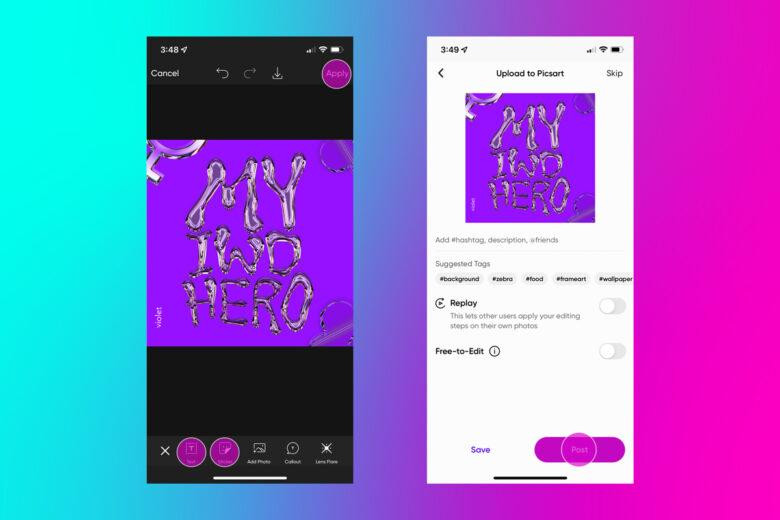 Picsart is a full ecosystem of free-to-use content, powerful tools, and creator inspiration. With a billion downloads and more than 150 million monthly active creators, Picsart is the world's largest creative platform. Picsart has collaborated with major artists and brands like BLACKPINK, Taylor Swift, the Jonas Brothers, Lizzo, Ariana Grande, Jennifer Lopez, One Direction, Sanrio: Hello Kitty, Warner Bros. Entertainment, iHeartMedia, Condé Nast, and more. Download the app or start editing on web today to enhance your photos and videos with thousands of quick and easy editing tools, trendy filters, fun stickers, and brilliant backgrounds. Unleash your creativity and upgrade to Gold for premium perks!