Burgundy is an intense reddish-purple hue with a royal, chic look and rich, wine color-like shades. The burgundy color, along with dusty pink and Teal Green, is strongly associated with the '80s, but it has been experiencing a bit of a renaissance. You are sure to find this deep Merlot-color in design, fashion, home décor, lipstick and even hair dye. The enigma of the berry-hued burgundy color is perhaps wrapped in the elegant, aromatic, and complex character of Bourgogne Rouge, one of the most expensive and tasty wines in the world.
The burgundy hex code is #800020. In a RGB color space, burgundy is composed of 50.2% red, 0% green and 12.5% blue. Whereas in a CMYK color space, it is composed of 0% cyan, 100% magenta, 75% yellow and 49.8% black. It has a hue angle of 345 degrees, a saturation of 100% and a lightness of 25.1%. #800020 color hex could be obtained by blending #ff0040 with #010000. The closest websafe color is: #990033.
The hexadecimal color #800020 has RGB values of R:128, G:0, B:32 and CMYK values of C:0, M:1, Y:0.75, K:0.5. Its decimal value is 8388640.
Burgundy Color Meaning
It symbolizes individuality, intensity, ambition, power, and sophistication. Color psychology describes burgundy as unaccepting of the status quo. This trait gives burgundy its unique edge.
The intensity of burgundy has a strong impact on people, increasing energy levels and promoting productivity without being overbearing. Psychologists advise surrounding yourself with burgundy color if you ever feel down or in need of rejuvenation. Burgundy is also the jewel-toned color of compassion, understanding, and empathy.
Burgundy, as part of the spectrum for magenta that goes from pink, to rose, and to burgundy, is also said to enhance the ability to forgive and stimulate a feeling of unconditional love.
How Do You Work with Burgundy?
With Picsart photo & video editing software it's easy to incorporate this sophisticated color into designs. Combine the burgundy color with Millennial pink or create your unique color scheme; use burgundy as an energizing background for your vibrant collages; design burgundy color textures; pick burgundy as your statement color; or use our various brushes to make burgundy color accents.
What Colors Go with Burgundy?
You can always count on black, white, gray, tan, and brown to bring out the deep red tone of burgundy. Here are some other colors that go well with burgundy:
Similar colors: Pair burgundy, Millenial pink, rose quartz, blush, and crimson for a feminine yet bold palette.
Complementary colors: Opposites on the color wheel, such as greens and blues, add a pop of intensity to burgundy. Turquoise adds a bright shade to burgundy, while hunter green offers an understated look. Pair burgundy with Kelly green, gold (matte or glittery gold), and fuchsia for a modern take on things. Combine it with blues – navy blue, dusty blue, serenity blue, and off-white for a beautiful and striking contrast. Yellow is another great color to match with; along with peach, muted orange, apricot, taupe, persimmon, marigold, and pumpkin, it will make a beautiful, earthy palette with a bohemian feel.
You can also experiment with various colors, shades, and tones to have fun creating your favorite burgundy palettes. If you're just getting started with color theory, then this Color Wheel Tool is going to be your best friend.
Burgundy Compared to Other Colors
Burgundy color is often compared to other shades of dark red. Let's see how they stack up:
1. Maroon2. Wine3. Cordovan4. Oxblood5. Marsala6. Purple
With its red undertones and purple tint, burgundy is perceived as an intense hue and is different than Maroon, Wine, and Marsala.
One of the ways to get burgundy color is by mixing four or five parts cadmium red, one or one and a quarter parts ultramarine blue, and a quarter true black paint. While to get maroon, you need a mix of red, blue, and yellow, for the brownish undertones. Instead, wine color is made of cadmium red, thalo blue, burnt umber, cadmium yellow light, and white paint.
Create Fantastic Photos Using Burgundy Color
Ready to dive in and design some visual treats with burgundy? Let's walk you through it.
1) Open the Picsart app and tap on the plus sign (+) at the bottom of the screen.
2) Tap on Color Backgrounds, add a blank white backdrop and tap on Add Photo.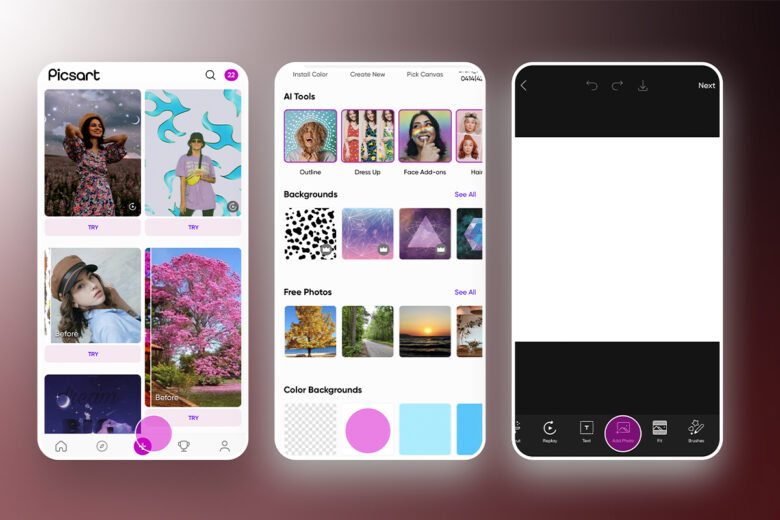 3) Upload your image(s) and add burgundy Stickers and Text. Tap on Next when you're finished tweaking the design.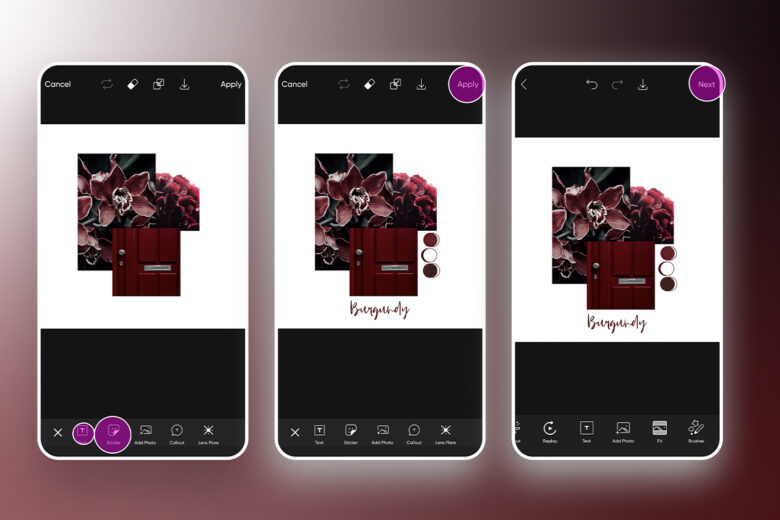 4) Tap on Save to download the design to your device, or Post to share it in Picsart.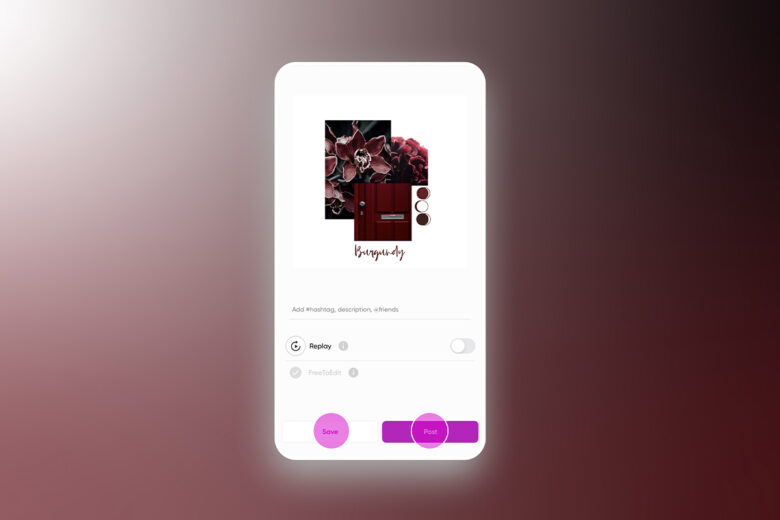 If you'd prefer to design on the Picsart desktop editor, that's just as simple. Here's how:
1) Open the Picsart web editor and click on Socials, then Square (for example).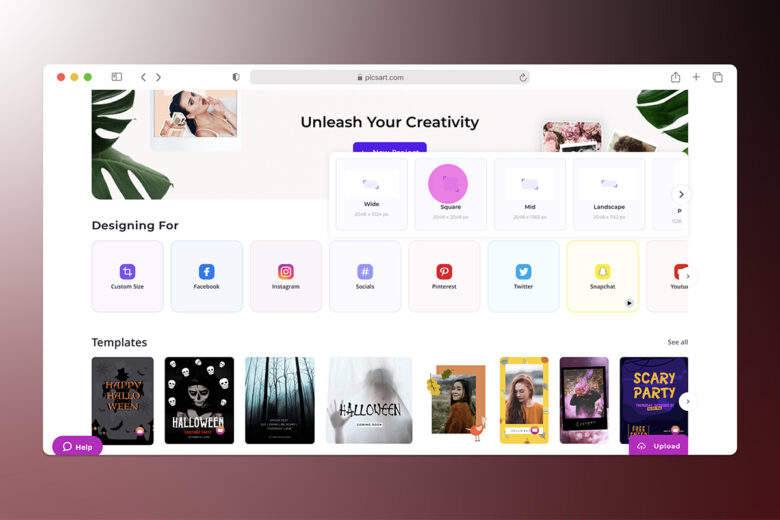 2) In the search panel while in Photos, type in 'burgundy' and select the images you want to use.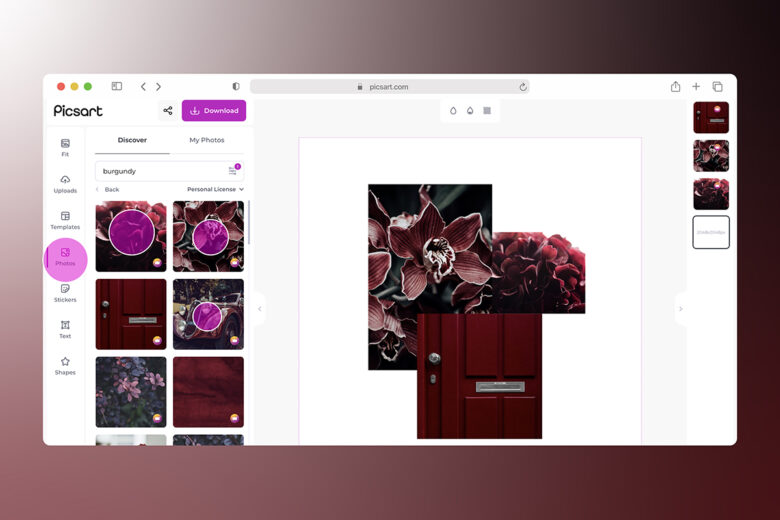 3) Click on Stickers and search for complementary colored options.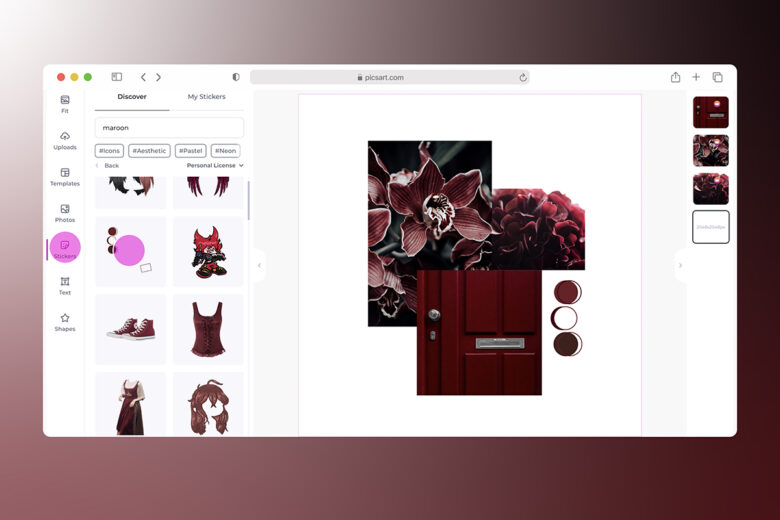 4) Now let's add some text. Click on Text and Add A Heading.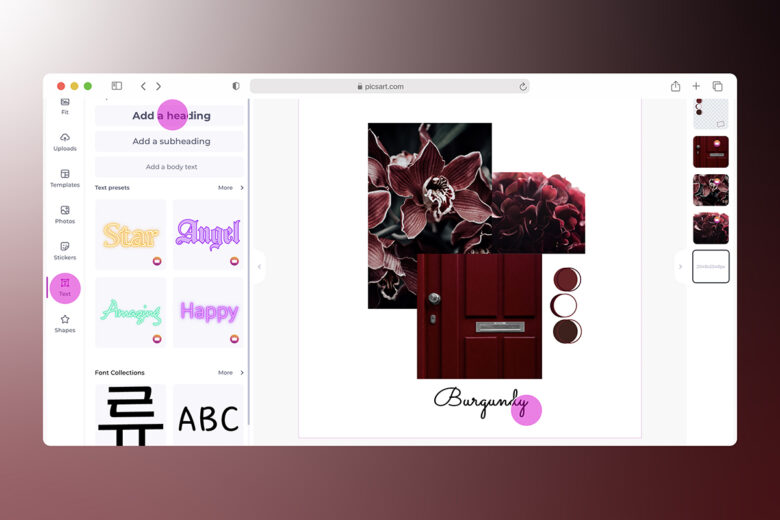 5) When you're finished, click on Export to Share or Download your work.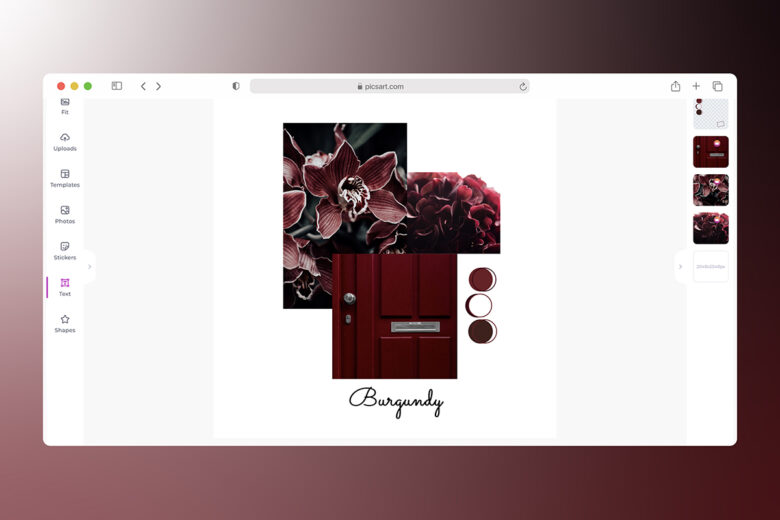 Picsart is a full ecosystem of free-to-use content, powerful tools, and creator inspiration. With a billion downloads and more than 150 million monthly active creators, Picsart is the world's largest creative platform. Picsart has collaborated with major artists and brands like BLACKPINK, the Jonas Brothers, Lizzo, Sanrio: Hello Kitty, I am a Voter, Bebe Rexha, Maroon 5, One Direction, Warner Bros. Entertainment, iHeartMedia, Condé Nast, and more. Download the app or start editing on web today to enhance your photos and videos with thousands of quick and easy editing tools, trendy filters, fun stickers, and brilliant backgrounds. Unleash your creativity and upgrade to Gold for premium perks!