Since day one, we've looked to AI to deliver on a simple yet ambitious mission — to empower the creator in everyone, everywhere. And today, we're proud to see our AI-powered design tools enable 150 million of you to create without limitations. 
For us, AI has never been a trend. It's what powers the Picsart platform, allowing us to offer simple yet powerful tools. In the last few months, we've doubled down on our AI with new generative AI features that make design even easier – and we're not stopping anytime soon. 
This week at Web Summit Rio, our Chief Product Officer Mikayel Vardanyan unveiled our latest AI product, Adpilot. He also spoke about what else we've been up to these last few months. 
Here's a look at our most recent products – for fun and business.
Adpilot 
Ad creation and distribution is a time-consuming and costly process, and not everyone has that kind of investment. Especially if you're a small-medium business or solo creator. This got us thinking: what if you could create an ad in seconds? That would be a massive productivity and money saver. So, that's what we did. 
Fresh off the stage at Web Summit Rio, meet Adpilot – Picsart's first ever B2B SaaS (software-as-a-service) product that allows anyone to create on-brand ads in seconds. 
When using the tool, either upload product imagery or start from a blank canvas, and follow a simple series of text prompts to describe your brand, content, and the end goal of the ad. Then sit back and watch AI build your Facebook, Instagram, and Pinterest ads.
We like to think of Adpilot like a creative companion that simplifies your workflow. It does the heavy lifting, but you're still guiding the creative process. Check out our full guide on the new product for more information.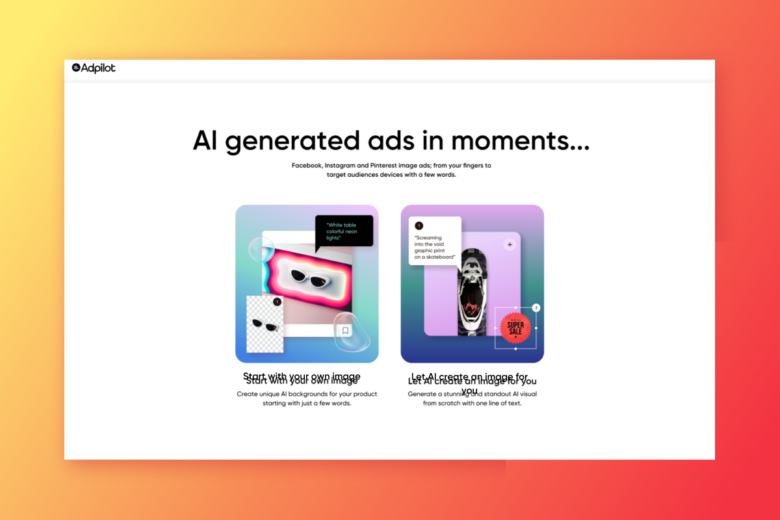 AI Avatar Pets 
You asked and we answered. Soon after becoming the first major photo editing platform to generate two avatars in one image, we saw an influx of requests for Pet Avatars. We knew this would be a popular feature, especially if you're anything like us and have a camera roll full of pet photos. 
Head to the "AI Tools" section in the Picsart app to find all our AI Avatar options. For Avatar Pets, upload 10-20 images of your cat or dog, and within ~30 minutes you'll receive a set of 50, 100, or 200 avatars. Watch your furry friends become astronauts, royalty, and more.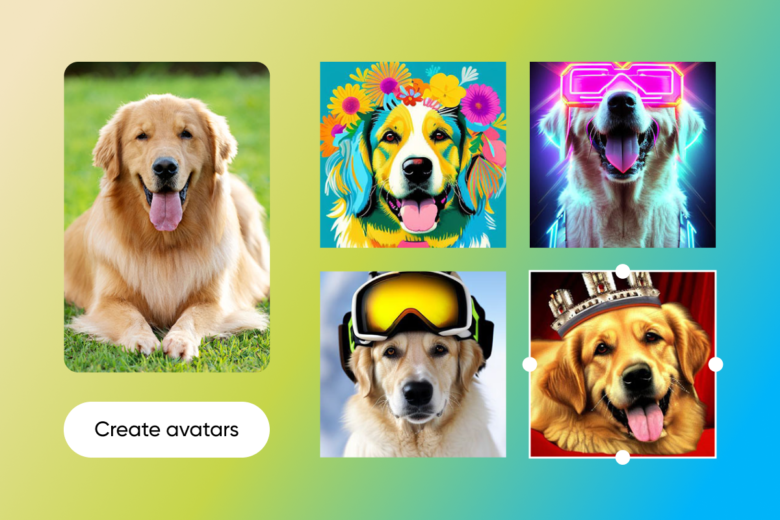 AI Replace and AI Background 
Not to brag, but we kind of broke the internet with our AI Replace tool – a new feature that lets you select an object or part of your image and turn it into something brand new. For example, taking a photo with your ex and replacing them with a snake or red flag. 
Located in the "Draw" section of the editing toolbar, all you need to do is brush over the area of an image you'd like to replace and then describe what you'd like to insert. Like a magic wand, watch AI work its magic.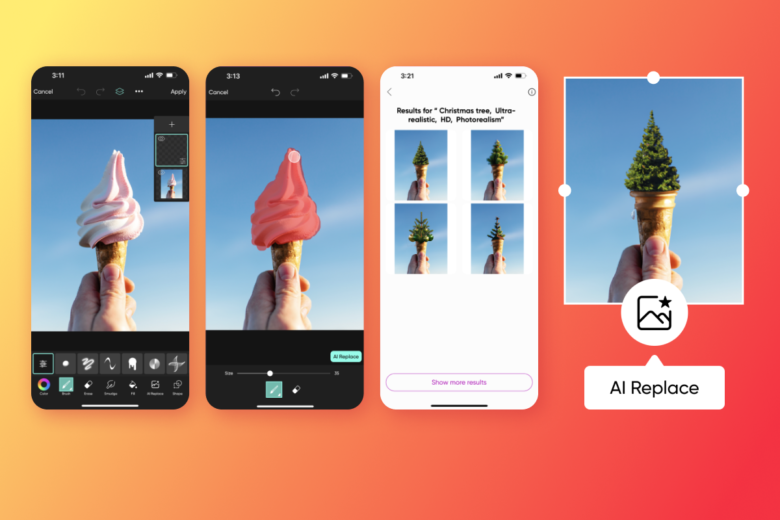 We also introduced an AI Background tool, which uses AI to place the subject of an image in a newly generated scene – shadows, scaling, and all. You'll find this one when using our popular one-tap Remove BG. Once the background of your image disappears, select "AI Background", then enter a word, phrase, or sentence about the backdrop you want. It's as easy as that and the possibilities are endless.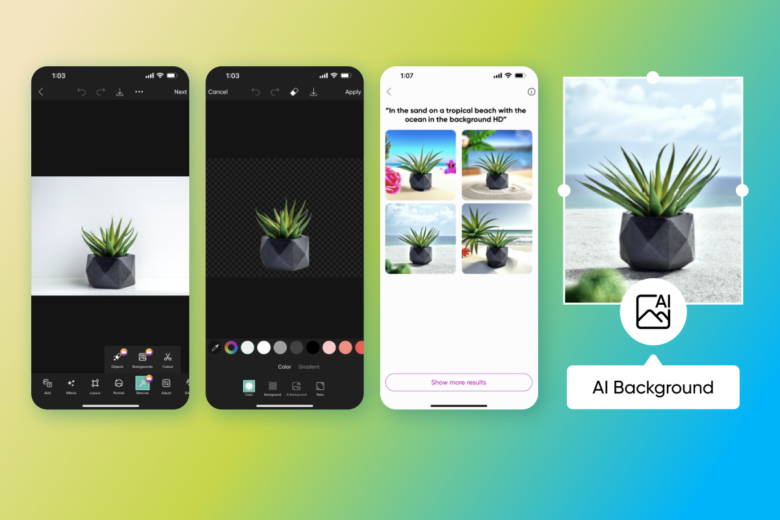 Making friends and finding love  
While not exactly products, our two latest partnerships were just too good not to share. 
We're sure the saying "a picture is worth a thousand words" wasn't intended for dating apps, but it's true. The photos you choose say a lot about you, and while we're a huge advocate for presenting your most authentic self, there's definitely ways you can show off your personality and make sure you're in focus (both figuratively and literally). 
We recently partnered with Bumble for this, sharing our tips and tricks for the best photos, and offering a set of Bumble x Picsart stickers to edit with.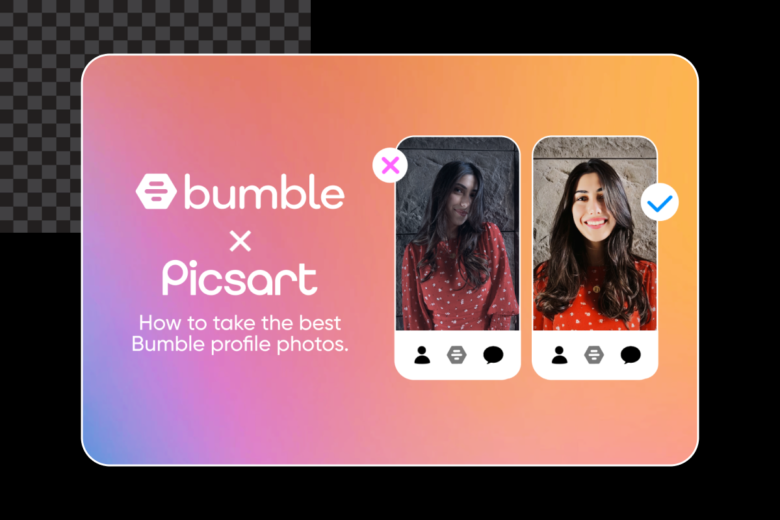 For those after friendship and something more platonic, we unveiled our Picsart server on Discord. This is a new way for you to chat and hang out with fellow creatives, gain access to our design tools, participate in challenges, access exclusive perks, and so much more.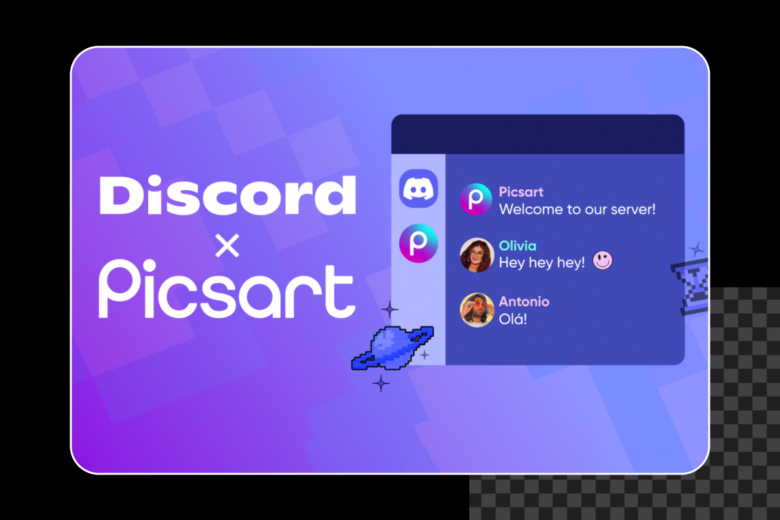 Lots more coming
We have a lot of exciting things brewing. One teaser we can share is that we recently released new text-to-video technology, which made Picsart one of the first open-source efforts in the industry. We plan to integrate this into the platform soon, so watch this space!
Picsart is the world's largest digital creation platform. Its AI-powered tools give creators of all levels the ability to design, edit, draw and share photo and video content anywhere. It's used by consumers, marketers and content creators for both personal and professional design, and is available to businesses via API partnerships and integrations. Picsart has collaborated with major artists and brands like Discord, PopSockets, Shopify, Taylor Swift and more. Download the app or visit picsart.com.