Picture this: You've dedicated your time and creative energy to creating an amazing YouTube video. After adding the finishing touches to your video and watching it again, it's finally time to upload it on your channel, right? Not exactly.
Before you click the Publish button, it's essential to choose the perfect YouTube thumbnail for your video. Even if you've already spent hours filming your video and adding all the bells and whistles, you're going to have a hard time driving traffic if you don't have a quality thumbnail to draw in viewers.
The good news? Even if you're not a seasoned designer, it only takes a few minutes to create an eye-catching thumbnail for your next YouTube video—but you'll need to choose the best thumbnail size for the best results. According to YouTube, the ideal thumbnail size is 1280 by 720 pixels or an aspect ratio of 16:9.
From choosing the best YouTube thumbnail size to perfecting your thumbnail design, here's everything you need to know to grow your YouTube channel with click-worthy thumbnails.
What is a YouTube thumbnail?
Before we dive into thumbnail design tips and YouTube thumbnail size recommendations, let's start out with a simple definition. A YouTube thumbnail gives your audience a sneak peek of your video. Just like a book cover, your video thumbnail should draw potential viewers in and convince them to click through to watch your video.
According to Statistica, the average person watches 46 minutes of YouTube videos daily. And since you're competing against thousands of other channels for views, you need to differentiate your brand and cut through the digital noise with great thumbnails.
In other words, YouTube thumbnails are your tool to captivate your audience's interest, show them what your video is all about, and drive clicks and views. You can choose from the options YouTube automatically generates, which are usually stills of your video, or upload your own YouTube thumbnail (if your account is verified).
Why do you need an eye-catching thumbnail?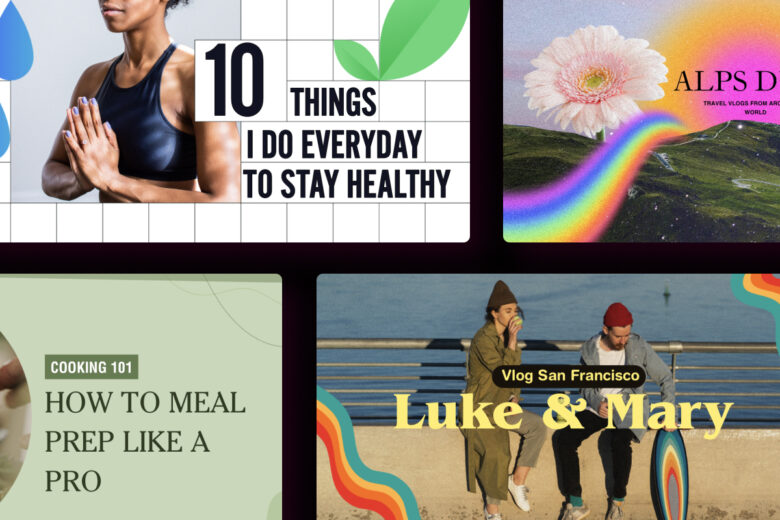 So, why are YouTube thumbnails so important? Here are a few reasons why you'll want to upgrade your videos with scroll-stopping thumbnails before publishing them on your channel.
Good thumbnails drive traffic.
An amazing thumbnail can make the difference between thousands of views and just a handful. If you've spent any time scrolling through YouTube, you've likely seen hundreds of beautiful thumbnail designs. Between trendy photo effects, smiling people, and picture-perfect graphics, simple design elements draw viewers and keep them coming back for more.
On the other hand, you've probably also seen tons of YouTube thumbnails that lack any kind of thought. According to The Orchard's YouTube Channel Practices for 2023, thumbnails are more important than you might think. You need distinct thumbnails for each video to improve user experience—and thumbnails can be even more of an advert than your video's title.
In most cases, YouTubers just choose a random still image from their video and hope for the best. By default, if you don't choose and upload your own thumbnail design for your video, YouTube (and most other video hosts) will automatically pick a snapshot from your video. 
Most of the time, that snapshot isn't going to entice viewers enough to click through to your video. Think about it: You might be halfway through applying mascara, talking to your audience, or making an awkward facial expression. Either way, most default thumbnail options aren't going to highlight what your video is about.
Thumbnails showcase your brand.
In addition to driving more clicks and views, a high-quality thumbnail is an easy way to give your videos a more professional look. Whether you're a makeup artist, influencer, or vlogger, you can create stunning YouTube thumbnails that reflect your brand—complete with bold typography, eye-catching colors, and fun backgrounds to strike a connection with potential viewers.
If you're looking to build brand awareness, you can even include a brand logo on your YouTube thumbnail design to leave a memorable first impression. From there, you can enhance your thumbnails with an attention-grabbing color palette, font, and other design elements to match your unique brand image. According to YouTube statistics, thumbnails with brand logos or branding generate 1.2 million more views than those without.
Great thumbnail designs boost visibility.
Want to spread the word about your brand? Whether you're trying to grow your YouTube channel or find new brand partnerships, YouTube thumbnails can help you stand out in a sea of vlogs, makeup tutorials, podcasts, and more.
Even if you're in a hurry to upload your weekly vlog on time, it's still worth taking a few minutes to create a great thumbnail. YouTube thumbnails can amplify your click-through rate, boost your visibility on YouTube, and even help you build a loyal base of subscribers. When a YouTube thumbnail gives an accurate glimpse into your video content, it generates more clicks. In turn, your video is more likely to be recommended for related searches, which further increases your visibility on the platform.
If you've already uploaded a few videos with low-quality thumbnails, you can also update the thumbnails on your older videos to increase your online visibility. According to a recent study, when a low click-through rate thumbnail is replaced with a high click-through rate thumbnail, an increase in views follows.
Youtube thumbnail size
2023:
What is the size of a thumbnail
?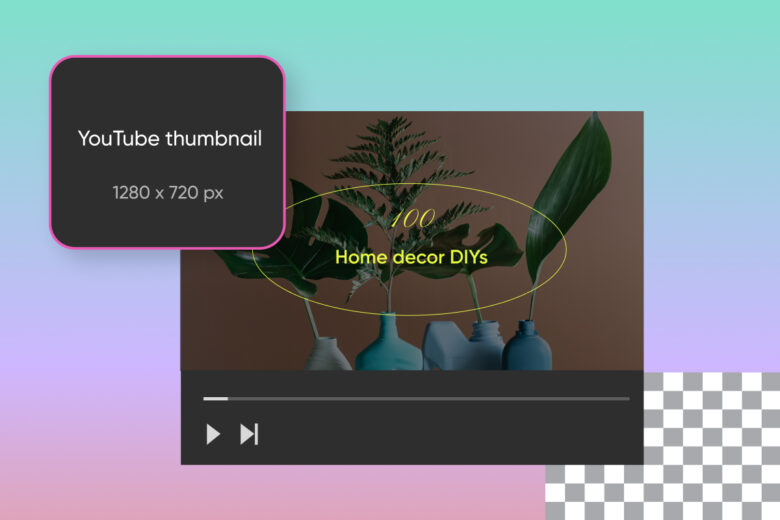 To make an attention-grabbing thumbnail for your next video, you'll need to choose the right YouTube thumbnail dimensions. According to YouTube's guidelines, the ideal thumbnail size is 1280 by 720 pixels (which is an aspect ratio of 16:9). At the very least, you'll want to make sure your thumbnail has a minimum width of 640 pixels.
In addition to choosing the right thumbnail dimensions, make sure to upload your thumbnail design in one of YouTube's recommended image formats, such as JPG, GIF, or PNG. For the best results, your thumbnails should be under 2MB for videos or 10MB for podcasts.
Why do YouTube thumbnails need to be so big? It's simple: Thumbnails are smaller when they show up in YouTube search results, but they're expanded to the full size of your video when they show up as a suggestion for the next watch. As a result, you'll want a larger image that can be scaled down instead of a smaller image that can be scaled up.
Choosing the right YouTube thumbnail size is essential for driving visibility and engagement. Humans are visual creatures—and YouTube is a visual medium. Although optimizing your headlines with the right keywords can make a difference, you'll still need to grab your viewers' attention with an amazing thumbnail to grow your channel. And if you're not taking the time to optimize your YouTube thumbnail size, there's a good chance that low-quality thumbnails are the reason why your videos are only getting a handful of views.
How to create a good YouTube thumbnail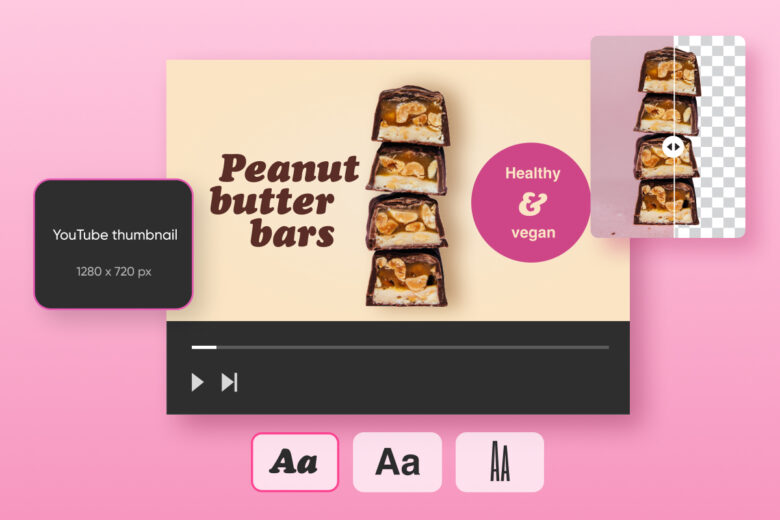 Now that we've addressed the technical details, it's time to start brainstorming your YouTube thumbnail design. 
As you've probably already guessed, optimization and visibility matter just as much with YouTube content as with other types of content like blogs and articles—and that's where your thumbnail can change the game. According to 2022 statistics, the average click-through rate on YouTube ranges from four to five percent. But when you create a scroll-stopping thumbnail, you'll set your brand apart from the competition and take one step closer to becoming a viral success.
So, what's the best way to elevate your brand with a great thumbnail design? From YouTube best practices to graphic design basics, here's how to create a good YouTube thumbnail for your next video.
Take advantage of negative space.
When it comes to graphic design, negative space is important. It helps keep your thumbnail looking clean and organized, so you won't overwhelm your audience with visual noise. At the same time, negative space can help add a more professional look to your thumbnail design.
Not sure where to start? Explore our extensive library of pre-made YouTube thumbnail templates to get the creative juices flowing. All of our professionally designed thumbnail templates are 100 percent customizable, so you can change the text, background, and other design elements to meet your creative vision—even if you're a graphic design newbie.
In general, designs with negative space tend to leverage two or three colors, but don't be afraid to experiment with unique combinations! Remember: Your main goal is to draw the viewer's eye to what you want them to see so they can instantly recognize what your video is about.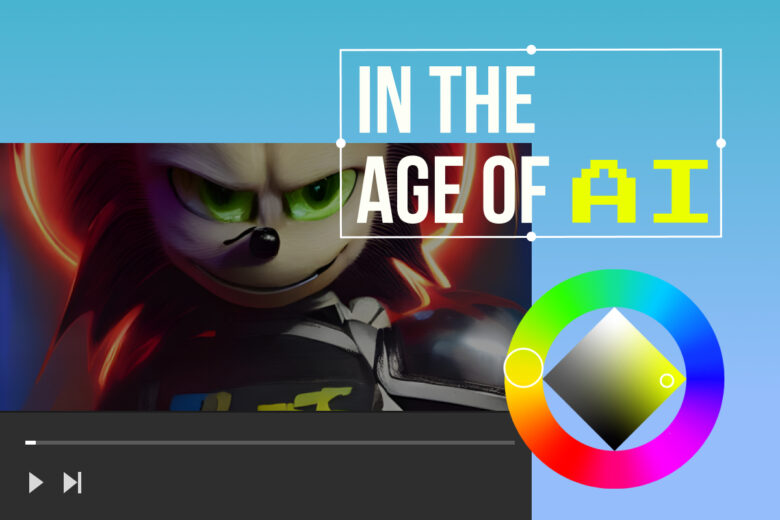 It might seem like a simple tip, but using the right colors will go a long way in driving clicks and views to your videos. When it comes to typography on YouTube thumbnails, contrasting colors can immediately captivate your viewers' attention and draw them in. And when you're competing with thousands of other search results, contrasting colors can make all the difference.
If you need some inspiration, try choosing a few colors from your brand's color palette to inspire your thumbnail design. Your thumbnails and YouTube channel should follow the same general theme, so you won't want to stray too far from your go-to colors. Once you've picked one or two colors to start with, try combining them with colors from opposite sides of the color wheel to make your design pop.
Make sure your text is legible.
One of the biggest mistakes that come with designing YouTube thumbnails? Choosing a font size that's too small—or a font that's too difficult to read. You might try to make the text on your image smaller so it doesn't detract attention from the rest of your design, but it's important to remember that your image will be scaled down for search results and video recommendations.
While your text shouldn't overwhelm the rest of your design, it's worth taking the time to find a happy medium. Ultimately, small text can confuse potential viewers and drive clicks away from your video. If you're trying to scale your text down, try cutting out any excess information. When you're fine-tuning your thumbnail design, you only need enough text to get your point across.
Choose a relevant thumbnail image.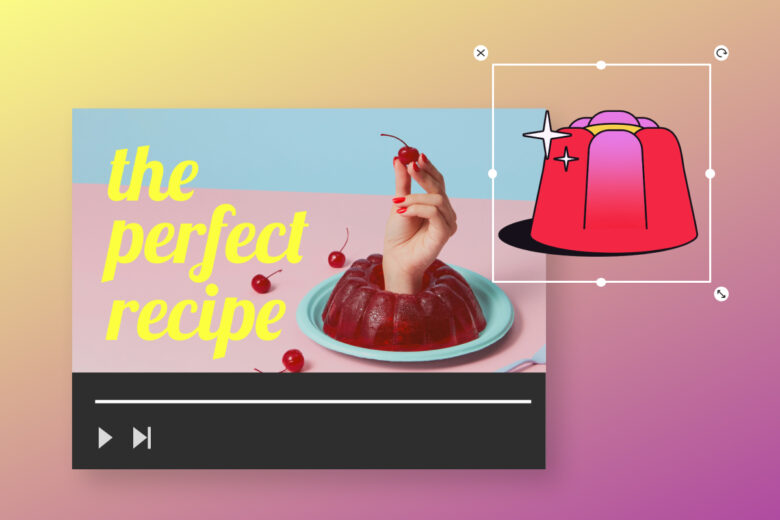 Above all else, your thumbnail should give viewers a glimpse into your video. From "day at the office" vlogs to product reviews, your viewers should know exactly what to expect when they click on your video. That means you'll need to skip any stock photos and irrelevant pictures that don't have anything to do with your video content.
If you're planning to use an actual picture as part of your thumbnail, make sure to take an actual picture for the best quality. If you pause your video hoping for the right snapshot, you're going to have a hard time capturing the perfect image.
When you're trying to grow a YouTube channel and establish your digital presence, consistency is key. You need to use consistent colors and themes so your viewers will always know which videos are yours—no matter how many other videos show up in the search results. 
To get started with a consistent brand identity, check out our guide to brand visual identity. Once you've gained credibility as a YouTuber, your followers will want to come back to watch more of your videos. You want to make it as easy as possible for people to watch your videos, and a recognizable brand image can make all the difference in your YouTube success.
How to upload thumbnails to YouTube videos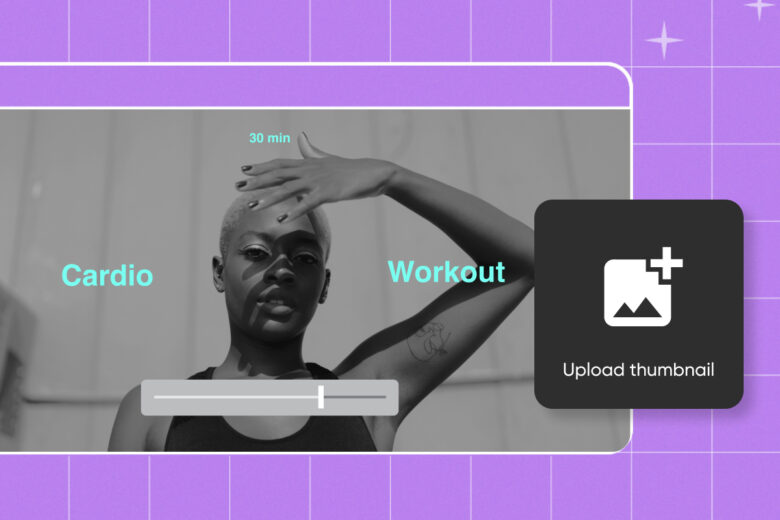 Ready to enhance your YouTube videos with one-of-a-kind thumbnail designs? Setting a featured image only takes a few clicks, so you can prep your videos for publishing in seconds. Here's how to get started.
Upload your video file to YouTube.

After the pop-up window in YouTube Studio appears, click

Upload Thumbnail

.

Upload your thumbnail design from your photo library.
After you've uploaded your new thumbnail, you'll be able to preview it on the top right side of the screen. Since you can change your video's thumbnail anytime (even after your video has been published), you can easily replace video snapshots with high-quality thumbnail designs to grow your brand and generate more views.
Optimizing YouTube videos for different devices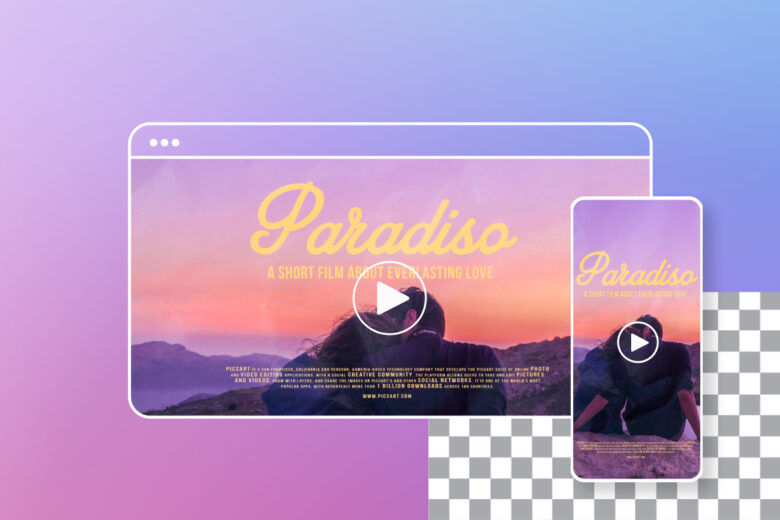 Congratulations! You've worked hard to create a beautiful thumbnail design—but your hard work isn't over just yet. If you want to maximize views on your YouTube channel, you'll need to optimize your videos for different devices. 
By creating personalized thumbnails for mobile, tablet, and desktop users, you'll be able to tap into viewers' curiosity no matter what device they're using. Here are some simple tips to help you capture more clicks and views.
Keep your images sharp and crisp.
The thumbnails you use for videos will look relatively smaller on mobile devices compared to tablets, desktops, and TVs. As a result, you'll need to make sure your images are sharp and crisp, even when they're viewed on smartphones—especially if you're using text and brand logos in your thumbnail design.
Use mobile-friendly video titles.
You need the perfect combination—a winning thumbnail design and a compelling video title—to hook your audience and convince them to watch your video. And just like your thumbnail, the title of your video needs to be optimized. Since titles can get truncated when viewed on smaller devices, you should always keep your titles concise with the most important keywords in the beginning.
Use the Featured Content feature.
How can you overcome the lack of annotations on mobile videos? Use the Featured Content option to optimize your videos. With this feature, you can embed a video or playlist across every video on your channel. This way, you can easily incorporate suggested videos that will display across different devices.
Grow your YouTube channel with custom thumbnails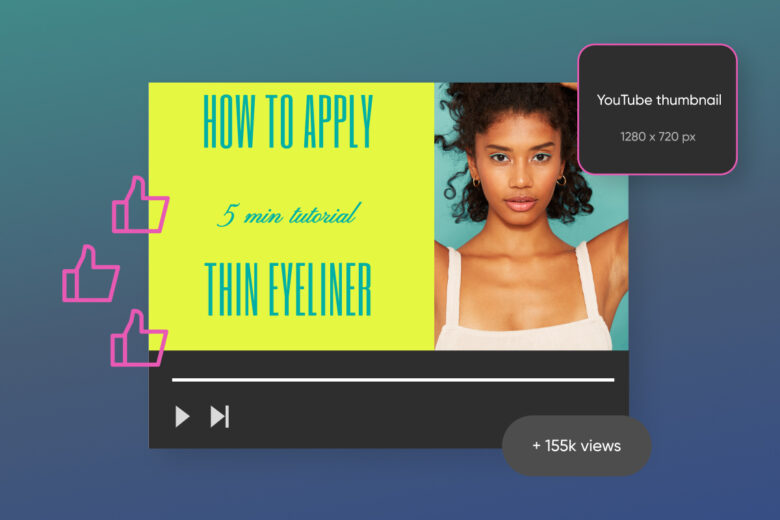 Even if you're already creating amazing YouTube videos, high-quality thumbnails can help you stand out from the crowd. With so many YouTubers competing for viewers, you need to leverage every tool at your disposal to generate clicks—and that starts with choosing the right YouTube thumbnail dimensions to capture your viewers' attention.
When you're ready to take your thumbnails to the next level, get creative with the Picsart YouTube Thumbnail Maker. With our beginner-friendly YouTube Thumbnail Maker, it only takes a few clicks to create a personalized thumbnail design for your next video. From uploading your images to downloading your final creation, editing is AI-assisted so you can enjoy high-quality thumbnails every time.