YouTube isn't just for vlogs, music videos, and dance trends anymore. It's a social media platform that can support content from brands and help increase a company's reach. Strong social media marketing plans include a cross-channel approach. Apps like Facebook, Twitter, and Instagram may be the easiest places for brands to start as these spaces rely on only written and photographic content, much of which a brand has likely already thought through when making its website or print marketing materials. But, don't let a fear of video creation prevent you from using YouTube. This platform is a valuable resource for brands, and making eye-catching videos is easier than you think. Read on for YouTube tips and tricks that can help take a first-timer to a professional YouTube content creator overnight.
It's time to learn how to grow your YouTube channel and take your brand's reach to the next level. The products or services you offer deserve to be seen, and we're here to help you make sure that your content looks good when it goes out into the world.
Why Use YouTube as Part of Your Social Media Strategy?
YouTube is the second most visited site on the web, so if you aren't taking advantage of this social network, you're missing out on a prime opportunity to connect with a larger audience. It doesn't matter what industry you're in, there are all different types of videos – from product demos to tutorials to compilations on important information related to your field – that you can make.
A presence on YouTube can also enrich your SEO potential and the general reach of your brand. Any time you're able to put more SEO-rich text on the web, you have a better chance of people finding you naturally as they browse.
How to Grow and Promote your YouTube Channel
Growing a social media following is hard work, no matter how valuable the information you're sharing is. But the following YouTube tips should help. Organic follows roll in over time, and if you want to expedite the process, you'll need to expand your reach past the audience that already knows about your brand. Here are 7 secrets for growing your YouTube channel.
Develop a Clear Vision:
As with any kind of marketing, you don't want your message to confuse viewers. Start with a plan of what kind of content you plan to post and when. Make a calendar (both for production and posting), and deliver content in a way that your viewers can come to expect. Stick to content that adds value and leave the fluff out.
Use a Professional Account:
Get a business YouTube account and brand it accordingly. You can read more about how to make the perfect banner to represent your company here, and check out the following step for tips on keeping your brand image coherent in this new space.
Stay on Brand:
Take care to keep your visuals and texts within the voice and feel of the brand. This means creating a custom banner image and custom thumbnails, using your logo as your profile picture, and sticking to the colors, fonts, and visual elements you've already established for your company. When you go to write your page description, pull from your mission statement or other texts you've already composed that explain your brand clearly.
Get Verified:
There are no two ways about it: Verification makes an account look legit. You can increase a viewer's trust in your business by completing YouTube's easy verification process. This is one of the key YouTube tips for brands who want to be taken seriously.
Curate:
You don't have to post all the time, and if you follow our advice from the first point and make a calendar, you'll have a perfectly-timed marketing strategy to follow. If you bombard your target audience with content, your YouTube videos may start to appear repetitive and dull, and viewership can drop off.
Pack Your Text With SEO (Search Engine Optimization):
Use relevant keywords and hashtags in your page and video description so that viewers stumble upon your page through browser searches. These target keywords help expand your reach, bring in organic followers, and attract potential customers or viewers who might not have otherwise found your page.
Cross Promote:
At the top of the article, we said that a strong marketing plan relies on a cross-channel approach. But, what exactly does that mean, and how can you promote your YouTube channel in this way? Whenever you post a new video to YouTube, let your Instagram and Facebook followers know about it. This is like generating a lead from leads you already have as it builds your following on YouTube without your having to look for new viewers. It will boost your follower count and keep these loyal members of your brand's target audience even more engaged. Time to put these YouTube tips to work.
How Can You Use Picsart to Grow and Promote Your YouTube Channel?
Remember when we said you could become a professional-level video content creator overnight? Here's how to perform some YouTube tricks using easy Picsart design tools. Remember to keep the YouTube tips above in mind at all times.
On the Web
1. Open the web video editor and click on the Video Trimmer tool.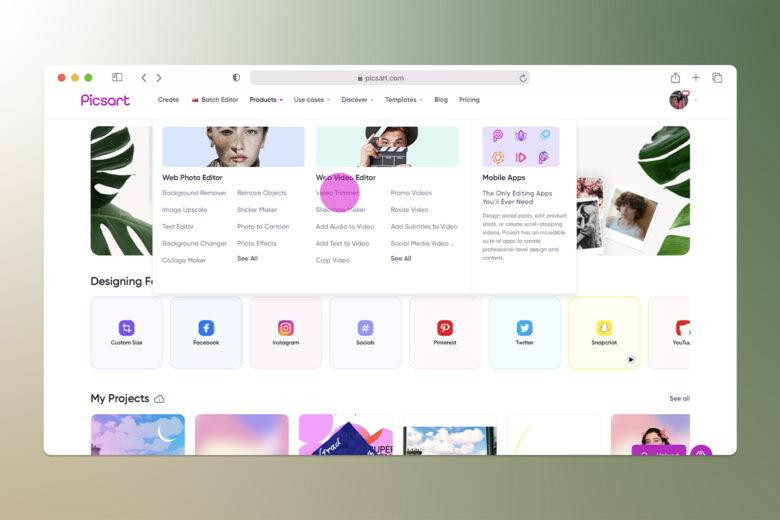 2. Click on the Trim Your Video button.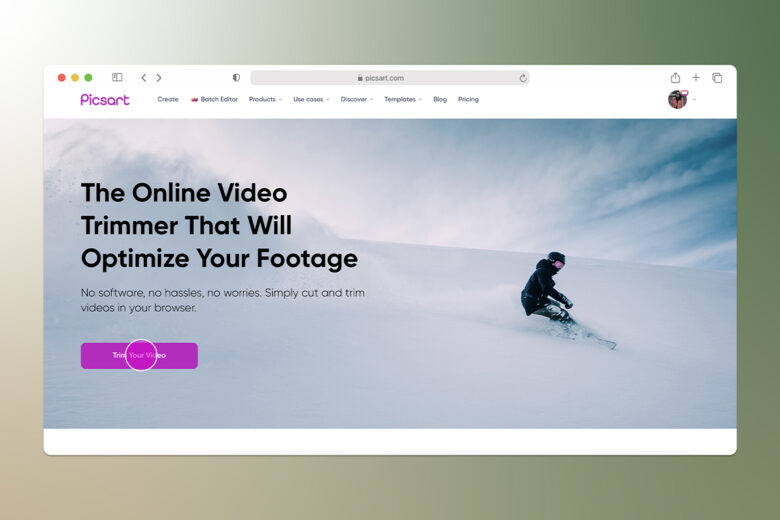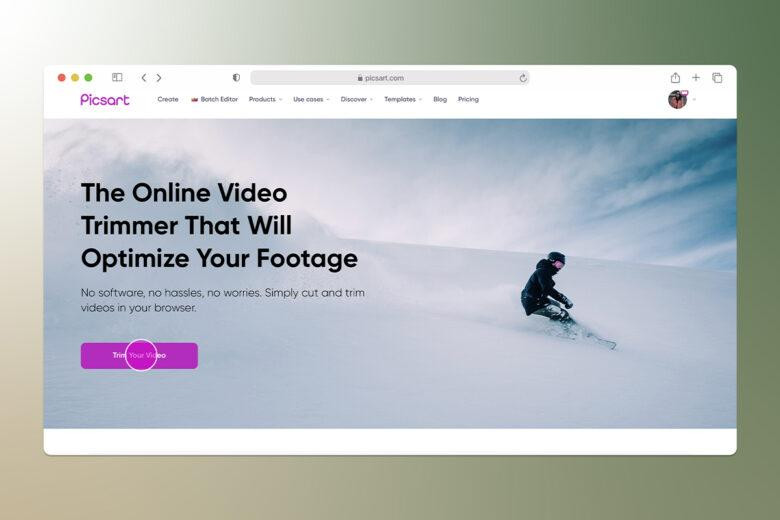 3. Upload your video.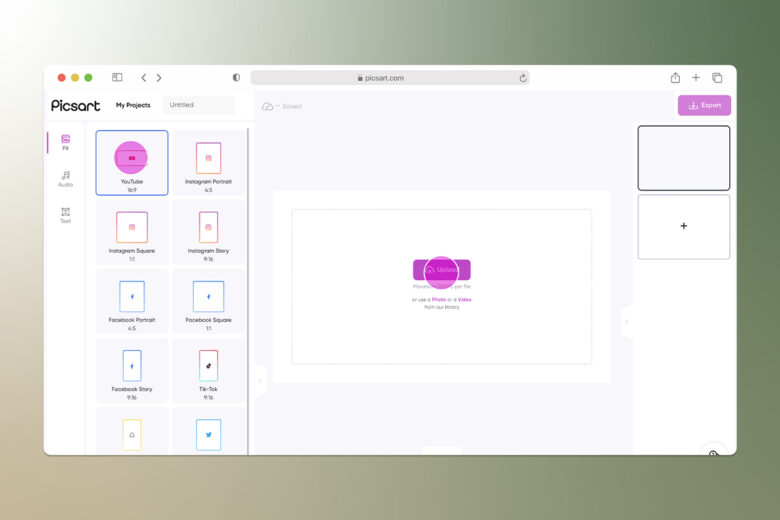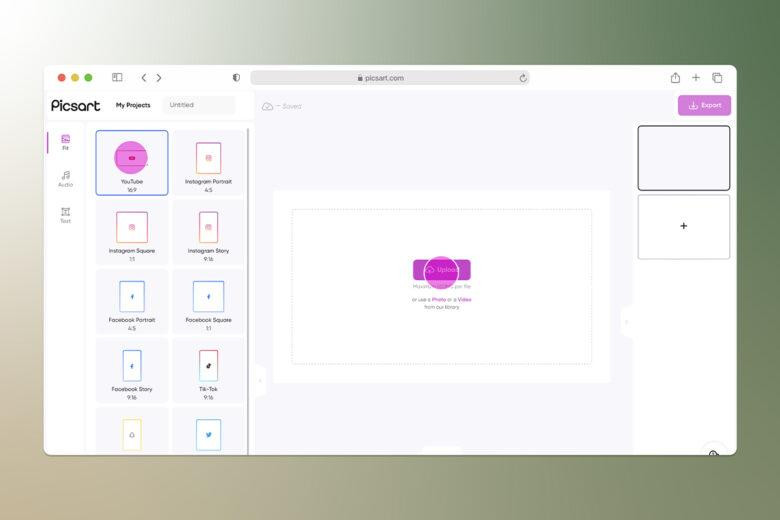 4. From the Fit section, select YouTube.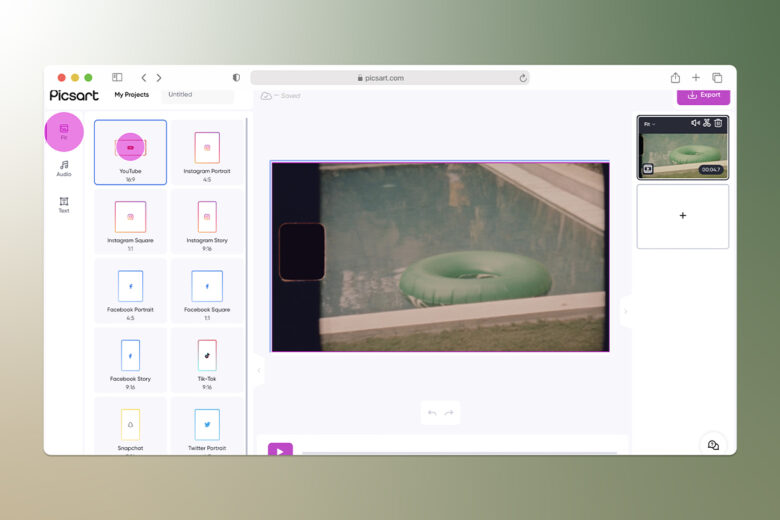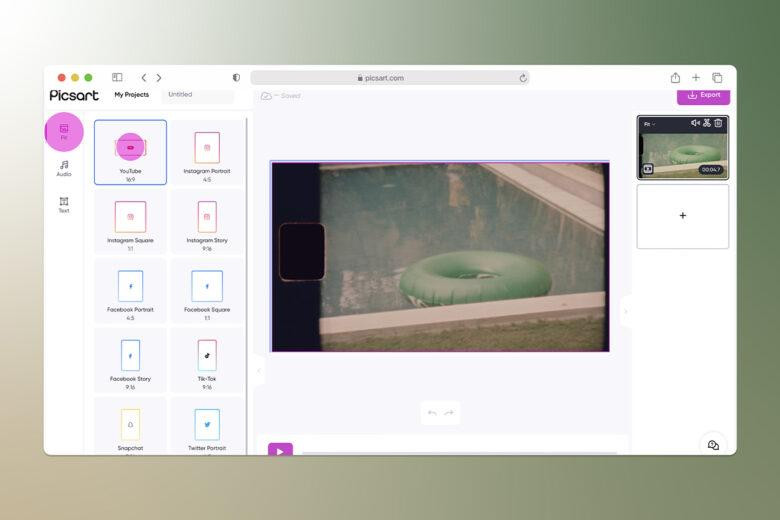 5. Click on the Text tool and browse the font collections.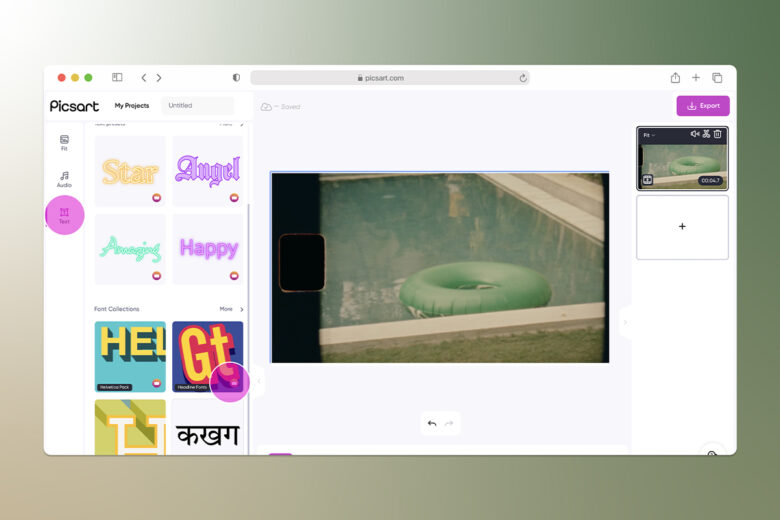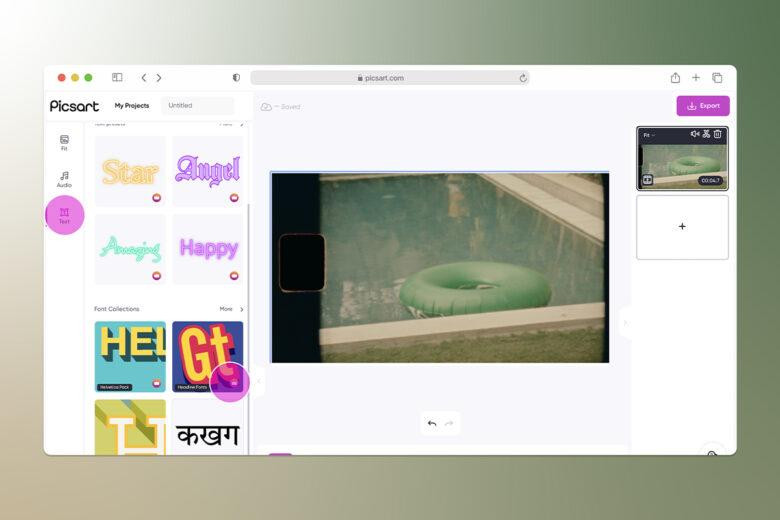 6. Type in your text and confirm your font selection.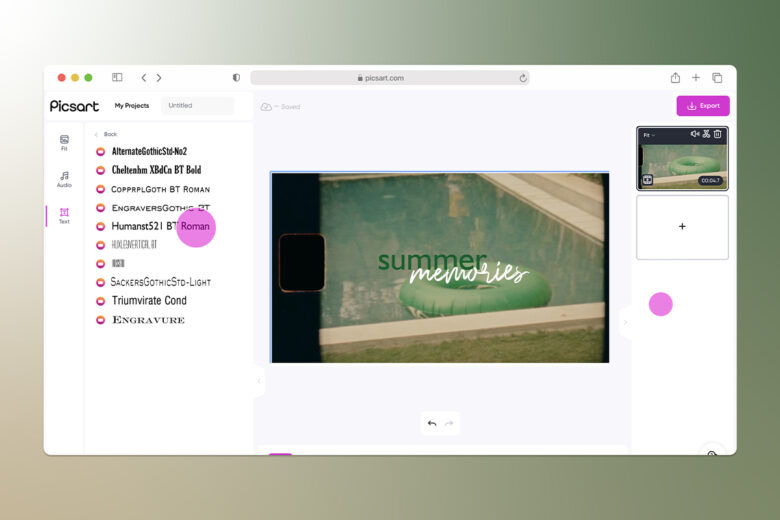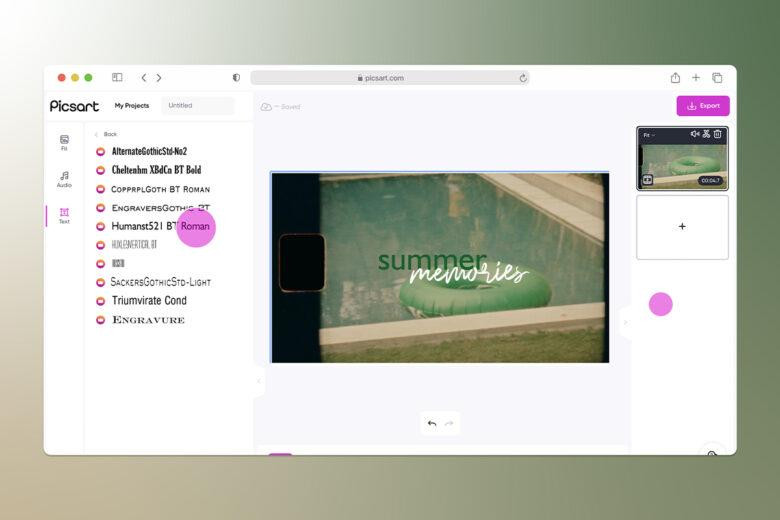 7. Make any final edits and confirm with the Export button to download your video, choosing the quality and file type.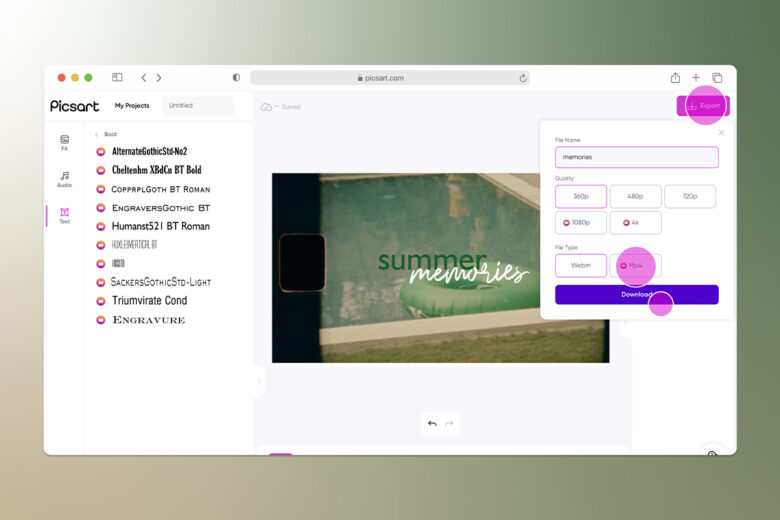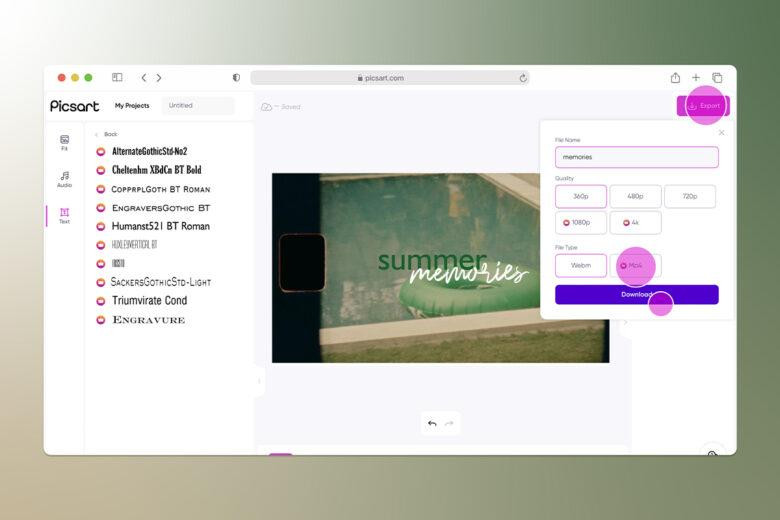 On Mobile
1. Open the Picsart app, and click on the purple plus sign at the bottom of the screen to start a new project.
2. Choose the video with which you'd like to work.
3. Once on the editing screen, use the tools in the menu below your video. You can change the fit, add audio, crop the clip, and apply filters with the FX tool. When you're finished editing, click Apply in the upper right-hand corner of the screen to get your changes to stick.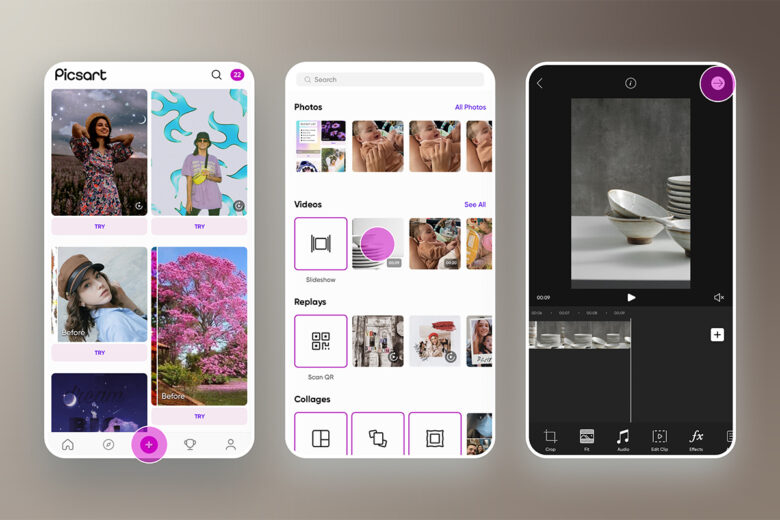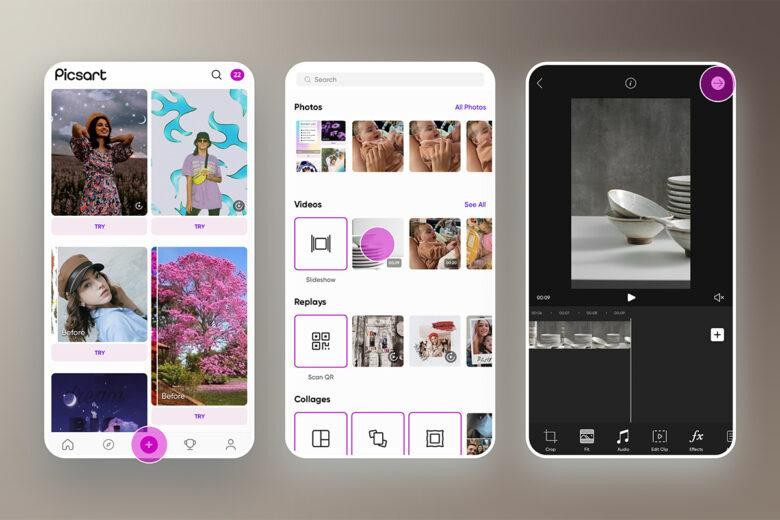 4. You can resize the frame selection, for instance.
5. Choose effects to add to your video.
6. Apply the effects and confirm your edits.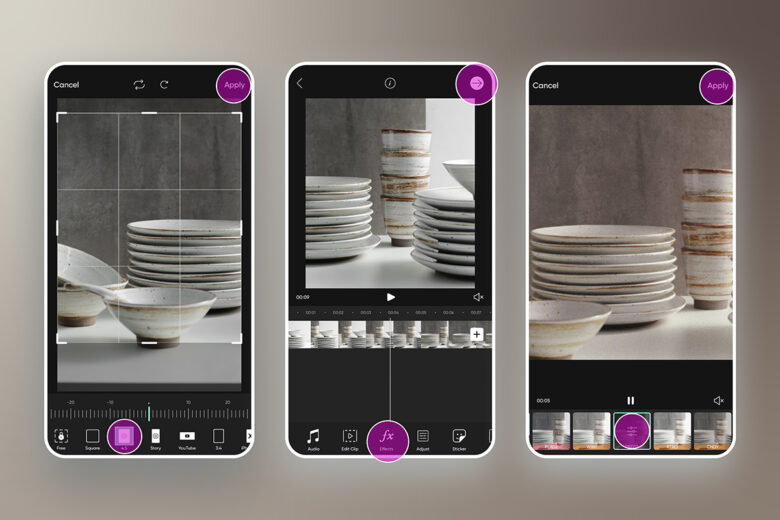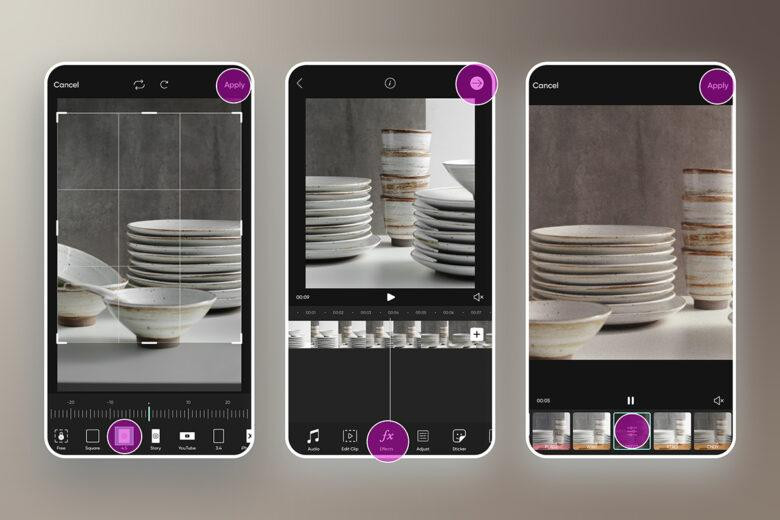 7. You can add an onscreen message by tapping on the Text tool.
8. Confirm your edits with the checkmark in the top right-hand corner.
9. Select the frames per second and resolution settings required and save your video.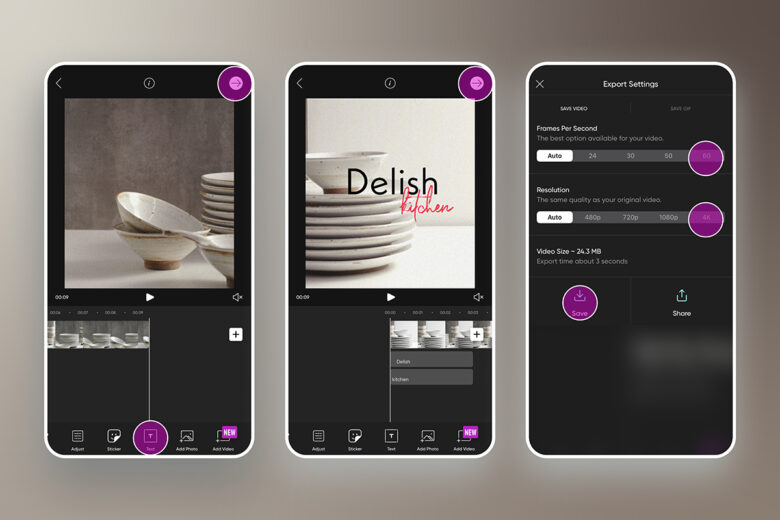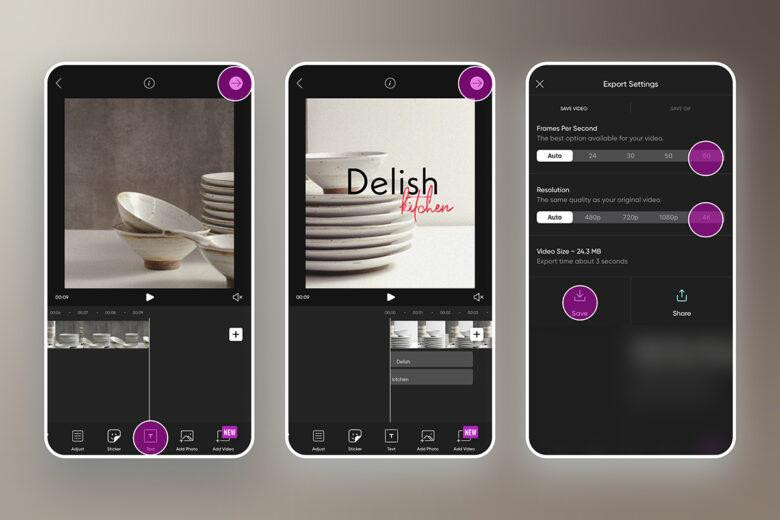 Picsart is a full ecosystem of free-to-use content, powerful tools, and creator inspiration. With a billion downloads and more than 150 million monthly active creators, Picsart is the world's largest creative platform. Picsart has collaborated with major artists and brands like BLACKPINK, Taylor Swift, the Jonas Brothers, Lizzo, Ariana Grande, Jennifer Lopez, One Direction, Sanrio: Hello Kitty, Warner Bros. Entertainment, iHeartMedia, Condé Nast, and more. Download the app or start editing on web today to enhance your photos and videos with thousands of quick and easy editing tools, trendy filters, fun stickers, and brilliant backgrounds. Unleash your creativity and upgrade to Gold for premium perks!