Twitch, much like other video streaming and social media platforms, has a variety of customizable features on your profile. To have a compelling, eye-catching Twitch banner, you'll want to make sure there is consistency in the style and theme of all of your profile elements.
Twitch Profile Elements
First, let's break down what all of the elements to a Twitch profile include:
A Banner

A Logo

An Avatar

An Offline Image

Panels:

Used to display extended information about your channel

Overlays:

A unique design for the screen the user watches your videos on

Visual and Audio Alerts

Extensions
At 1200px x 380px, Twitch banners — just like YouTube banners and Etsy banners — are the largest and the first thing visitors to your profile will see. It is the element to your profile that you can use to tie in all of the rest of the individual elements. You can incorporate your logos and avatars, and you can connect in the color schemes and style themes of your overlays and offline images. Keep in mind that your profile is what will draw viewers to your videos. Make sure your Twitch profile is branded well and is visually appealing if you want viewers to stick around!
Pro tip: If you don't have the right image size, it's easy to resize an image for Twitch.
Are you feeling like you aren't sure what to include on your Twitch banner? We've got you! We're going to walk you through ideas, tips, and inspiration so that you have a killer design for your profile. Get ready to watch your view counts and subscribers grow!
What Should I Put On My Twitch Banner?
Overall, you want to design a Twitch banner that is branded and positioned to tell the story of what your channel is all about. It should reflect the mood and theme of your videos while still achieving the personality of your channel. The content of your banner should not only encompass the theme of your Twitch channel, but it should also give away key information to your subscribers and visitors. For example, you can include a tagline, a note on when new videos drop, or your social media handles. 
Keep It Consistent
When thinking through the actual look of your Twitch banner, you will want to use consistent colors, photos, and icons. Using design elements carried throughout all of your channel elements will help to establish your Twitch profile as a recognizable account. You want people to see your banner and right away know what Twitch channel they are on.
Keep It Simple
While it is essential to put essential information on your Twitch banner, you want to make sure you aren't using too much text. When it comes time to designing, readability is key. Writing a novel out on such a small space can turn off your subscribers. Remember that attention spans on the internet can be short, so get the critical details there and keep going. In fact, data shows that the average Twitch user will spend less than 15 seconds scanning your page to see if they are interested in sticking around. All the more reason to have a cool Twitch banner!
Keep It Balanced
You can be sure that you are using the design space on your Twitch banner template effectively by using the rule of thirds. Break up your design into a grid of horizontal and vertical lines of three. Use this grid as a guide for placing your elements. Using the rule of thirds will help you lay out all of your different design elements in a visually pleasing, balanced way. 
As mentioned before, consistency is going to be key when it comes to designing your banner. It should tie into your other profile elements, whether it's your logo or your offline image. Keep the designs recognizable and on theme with each other. Establish consistency by having a defined color palette, graphic style, and fonts.
Aside from determining the content you want to include on your Twitch banner, there are also some best practices for designing it that you should keep in mind. This is all part of appealing to your audience and letting them know what it is they can expect from your Twitch channel. Identify who your target audience is, and make deliberate design choices based on what would appeal to them the most.
Benefits of Having a Cool Twitch Banner
The main benefit of having a cool Twitch banner is that it will attract new subscribers. Your banner is the first impression your profile will make, and you want that impression to be a good one. That's why it is so important to really pinpoint who your audience is, what your channel is all about, and what the key information you need to communicate is.
A cool Twitch banner is also what will make you stick out among all of the other Twitch channels and profiles that are out there. The more unique and well-designed your banner is, the more memorable it will be. Think of it as building your Twitch brand. You want the look of your brand to stick out in people's minds so that they are curious to explore your content. Speaking of memorability, your Twitch banner is the perfect opportunity to get your logo out there, so, if you can, include that on your Twitch banner template design, too.
Another benefit of having a cool Twitch banner is that it will stop Twitch users from clicking away. You can build your fanbase with a cool Twitch banner. Having elements that are attention-grabbing is everything online! You want potential subscribers to stop on your content, and this is how you will get them to. Once you have your attention, this is when you will provide them with the key takeaways you want them to leave your page with. For example, include your social handles and video drop dates so that they stay engaged and coming back for new videos. 
Cool Twitch Banner Templates and Ideas 
Knowing what to include on your Twitch banner and the benefits of having a cool Twitch banner are the first steps to creating your own awesome banner design. But now, it's time to start gathering inspiration. What better way to do that than to look at cool Twitch banner templates and ideas? Here are some of our favorites to help get the creative juices flowing!
Take Your Twitch Banner to Space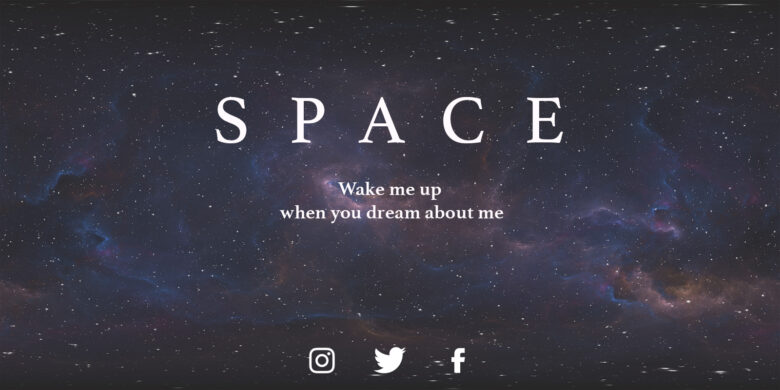 Galaxy themes are always in, and if it makes sense for your channel and content, it can make for an attention-grabbing design. Since the background isn't very minimalist, the font is kept simple and the text is minimal.
Use a Photo on Your Twitch Banner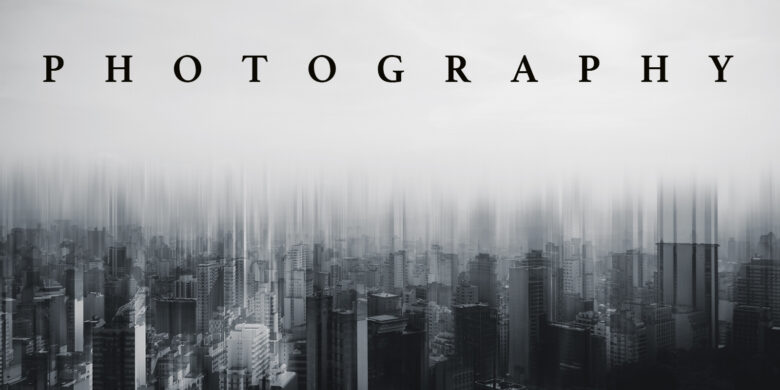 What's neat about this design is that there is a beautiful black-and-white photo, but the designer faded it out creating a fair amount of empty space. This technique allows you to still add the text you need without losing any of the readability.
Keep It Simple Sometimes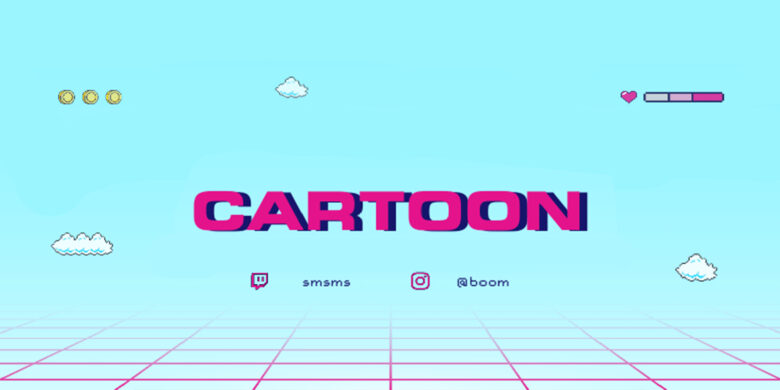 This Twitch banner keeps things super simple by only including a logo on the design. There is a sense of mystery to this design that will leave users wondering what your videos are all about. Use this technique carefully though! There is a fine balance between giving away too much information and not enough in your designs.
Try Out a Feminine Vibe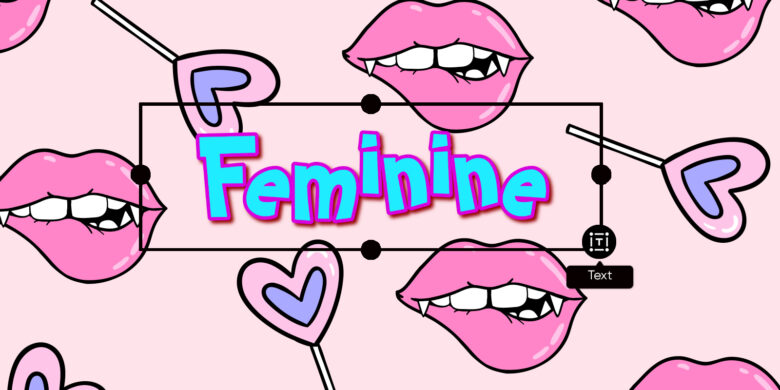 Consider creating a hyper-feminine Twitch banner for beauty or fashion pages. The look here is undeniably alluring and makes you wonder what more beautiful designs you'll see. When it comes to creating a cool Twitch banner, don't shy away from applying trending designs. 
Play with Bold Colors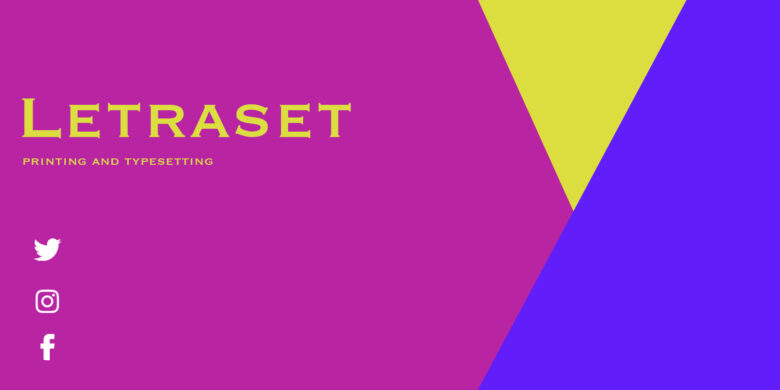 Bold, eye-catching colors are what could keep someone from clicking away from your page. We love how this one uses pops of colors in abstract shapes. It's a fun and subtle way of signaling what your channel will be about. 
Try Geometric Shapes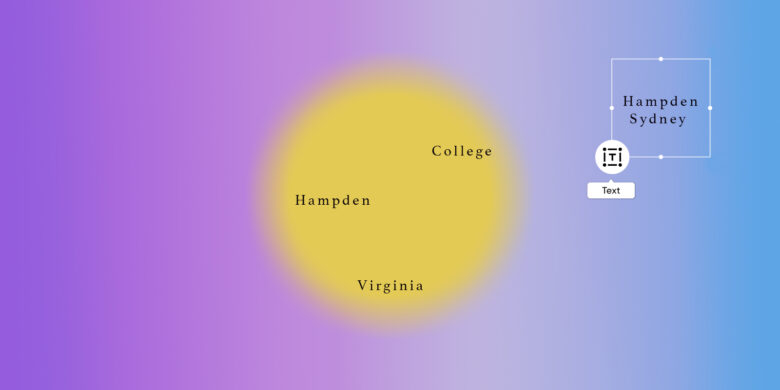 Another awesome design trend that makes for a cool Twitch banner is geometric shapes. They help you achieve a minimalist look in an interesting way. We like the way it adds texture to a design without making the final product look too busy. It's eye-catching and simple and allows for you to get your key info across with text.
Play Around with Stickers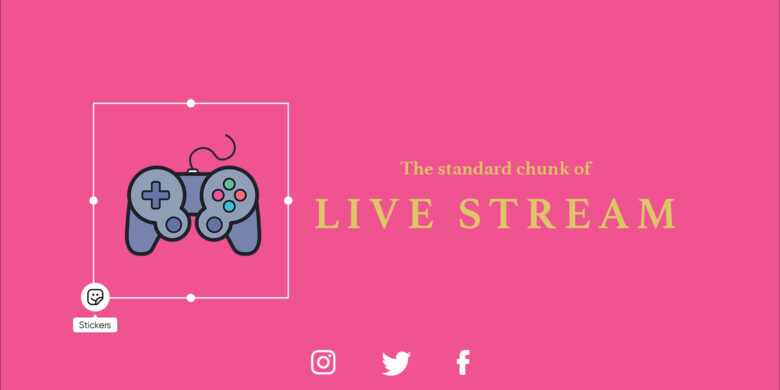 Stickers are definitely a cool element to incorporate into your Twitch banner. With the Picsart Sticker Maker, you can create realistic stickers or illustrated stickers like the one above.
Get Your Name and Message Out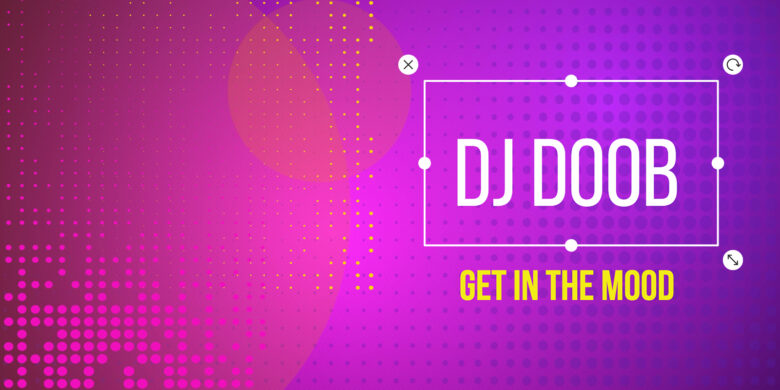 This bold, simple font is great for getting the key message of the channel across without the user having to do any digging. The simple design with bold pops of color makes for a memorable Twitch banner. We like this no-nonsense approach to getting the channel's content theme across. 
Make It Memorable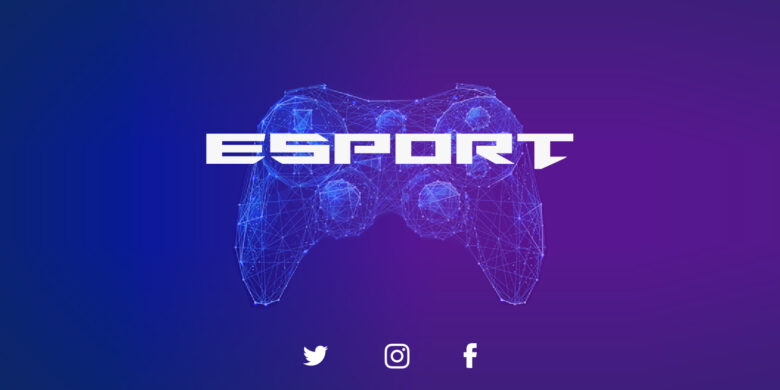 We talk a lot about minimalism here, but that doesn't mean you shouldn't have fun experimenting with illustrations and cool designs. The key is to make sure your banner is still balanced and eye-catching. If you are opting for a more intricate background, be sure to keep any written elements minimal and to the point.
Go for Black and White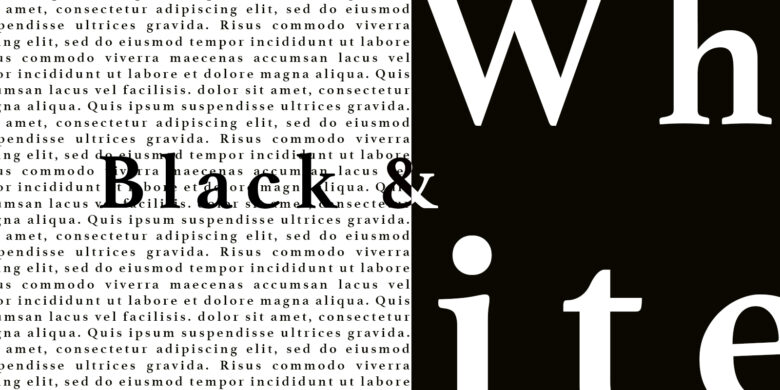 Black and white is an undeniably sophisticated color match-up. And in a sea of bright colors and wild prints, a black and white Twitch banner can really pop out and make a lasting impression.
How to Make a Twitch Banner
Now that you have your inspiration for your cool Twitch banner, it's time to get creating! The Picsart web editor has everything you need to create a Twitch banner template that you can continually update as needed. Here's how to make a Twitch banner using Picsart:
Step 1)  Open the Picsart Web Editor. Click New Project.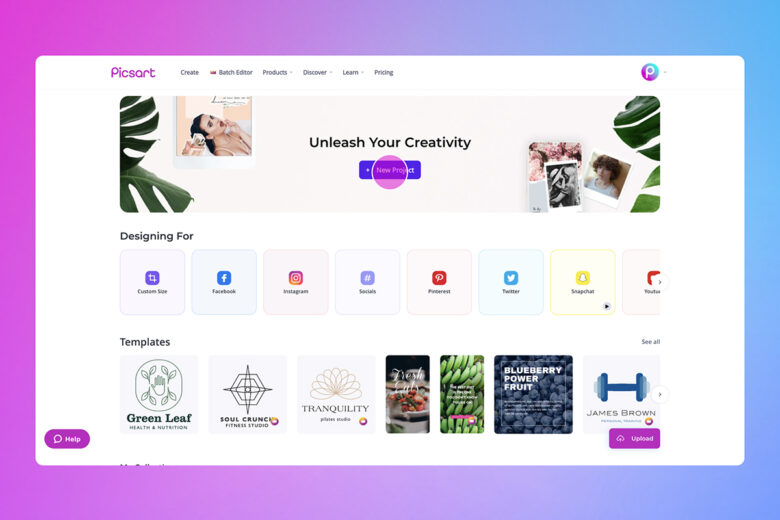 Step 2) Set your project dimensions to 1200px x 380px, the ideal size for a Twitch banner.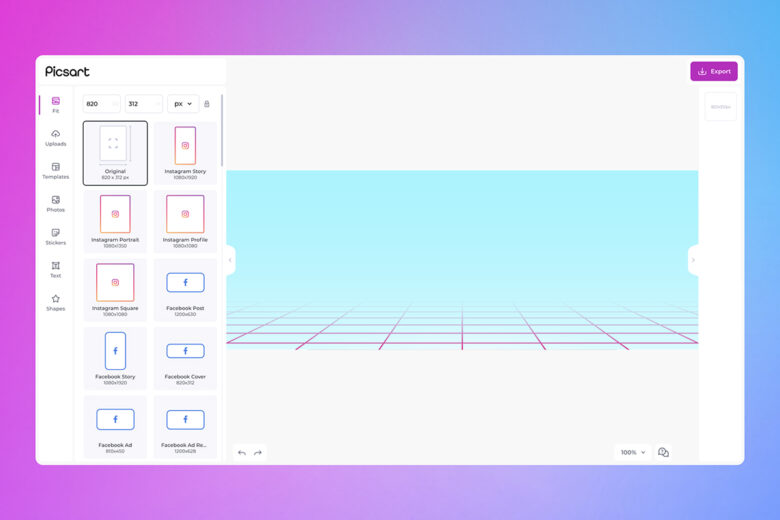 Step 3) Click the Texture button at the top to add a background.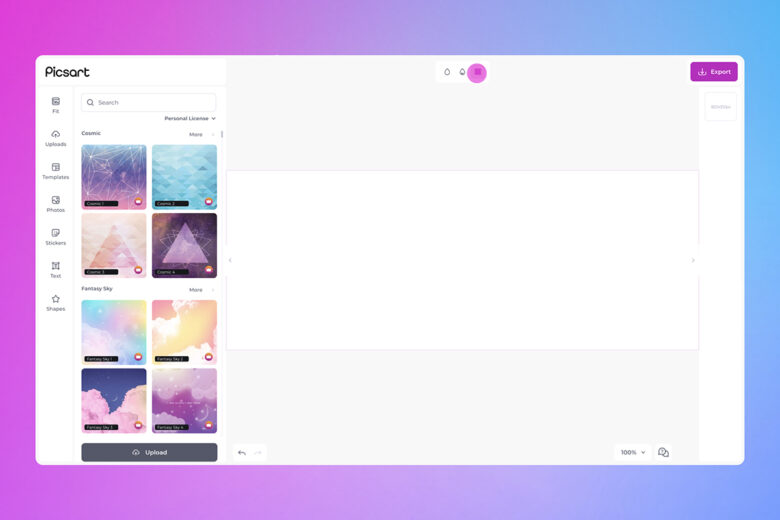 Step 4) In the left panel menu, play around with template themes, stickers, fonts, effects, and shapes. You can adjust the colors and opacity of the background by selecting between the editing layers on the right panel. If you are using a preset banner for inspiration, note that you can add the template to your project and reset the dimensions using the Fit tool. Here, you can return your design to 1200px x 380px. Just be sure to adjust all of the elements as needed.
Pro tip: to customize your Twitch banner even further,  you can add an image! Click Photos from the menu on the far left. Choose from a free-to-use image from the Picsart library, or upload your own. If you already have a banner and you just need to resize it for Twitch, this is the place to do it!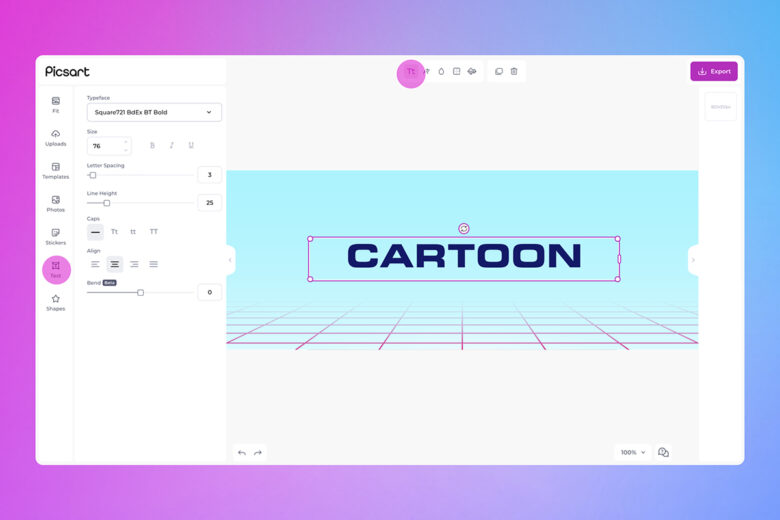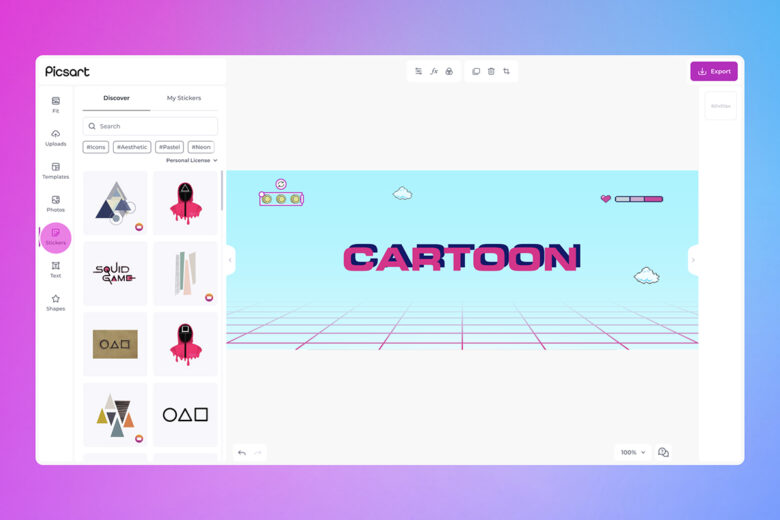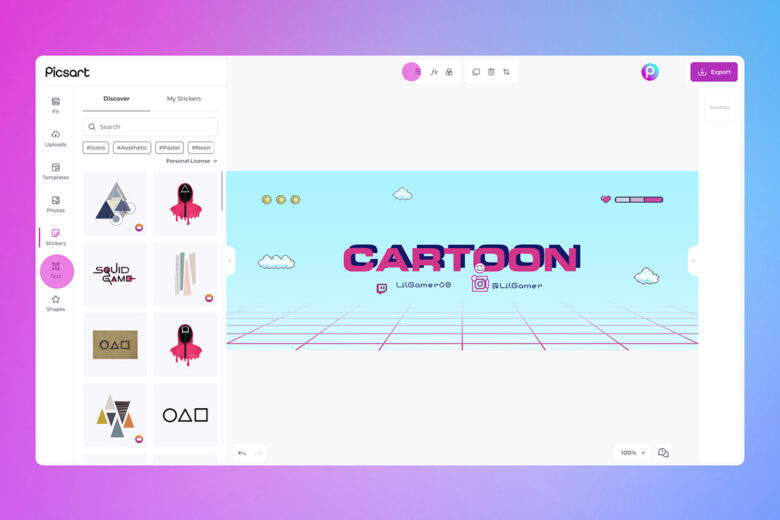 Step 5) When you are happy with the look and feel of your Twitch banner, click Download in the upper right corner to save to your desktop and upload to your Twitch channel. You can also click Share to share it with the Picsart community and inspire other Creators!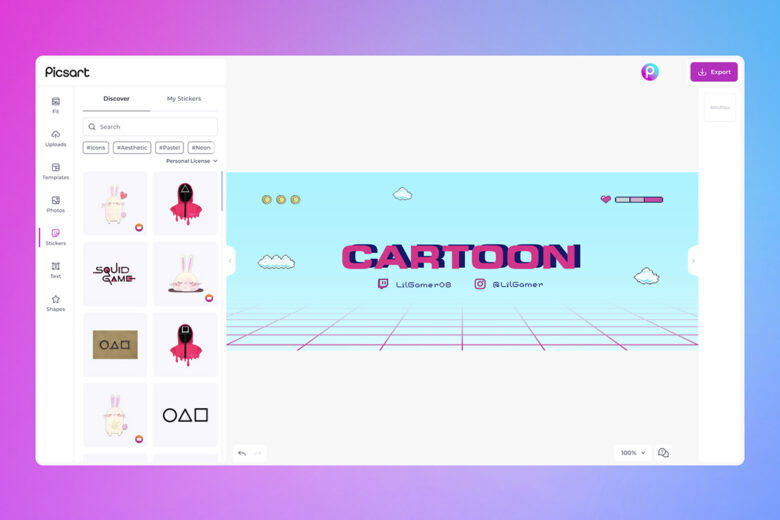 To create a Twitch banner on the Picsart app, follow these steps:
Step 1) Open the Picsart app. Tap the + sign and scroll down to Color Backgrounds.
Step 2) Tap Tools and then Crop to set your project dimensions to 1200px x 380px, the ideal size for a Twitch banner. Tap Apply.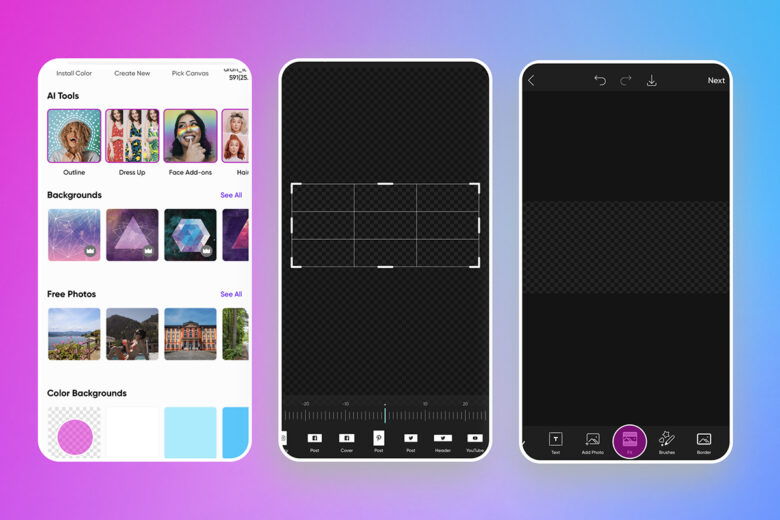 Step 3) To add a background for your Twitch banner, go to Add Photo to upload your own image or to discover the Picsart free-to-edit collection. Once you're done, tap Apply.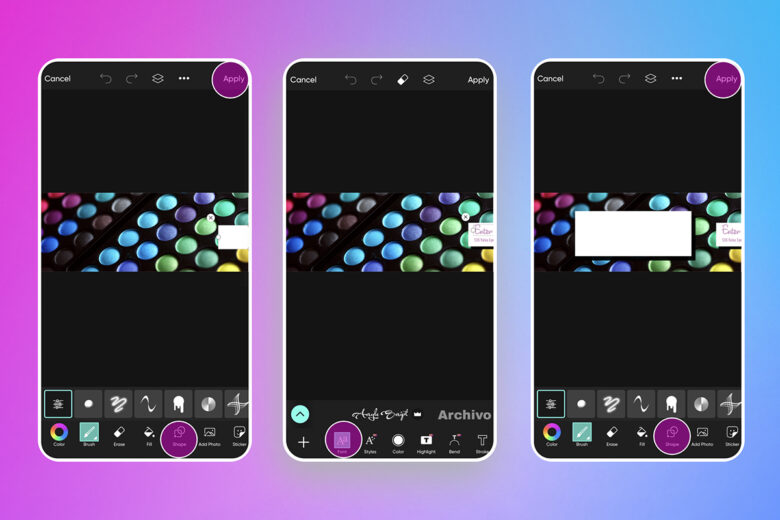 Step 4) Play around with Draw, Text, Brushes, and more tools to personalize your design.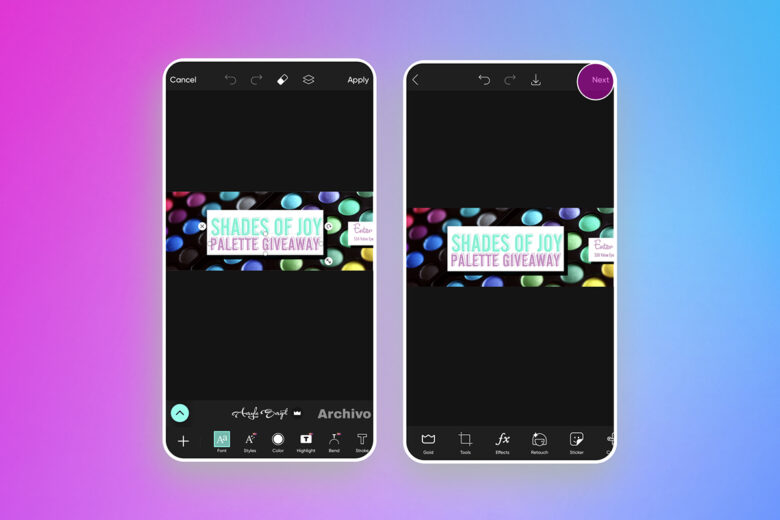 Step 5) Once you're done with your Twitch banner, tap Next to save it.
There you go! You're ready to take your cool new Twitch banner online. Now sit back, and watch the subscribers roll in. 
Picsart is a full ecosystem of free-to-use content, powerful tools, and creator inspiration. With a billion downloads and more than 150 million monthly active creators, Picsart is the world's largest creative platform. Picsart has collaborated with major artists and brands like BLACKPINK, the Jonas Brothers, Lizzo, Sanrio: Hello Kitty, I am a Voter, Bebe Rexha, Maroon 5, One Direction, Warner Bros. Entertainment, iHeartMedia, Condé Nast, and more. Download the app or start editing on web today to enhance your photos and videos with thousands of quick and easy editing tools, trendy filters, fun stickers, and brilliant backgrounds. Unleash your creativity and upgrade to Gold for premium perks!