Documentary photography is arguably one of the most essential genres of photography. It captures the truth found in everyday people, places, objects, and events. This type of photography walks a fine line between fine art and photojournalism by telling a story about real life and ultimately historical events. 
What is Documentary Photography?
So, what is documentary photography anyways? Documentary photography records the world as it exists, without stage managing, directing, or editing the scene. Whether you're using a wide-angle lens to capture chaotic moments of war or you're snapping close-ups of people playing soccer in the street, these images tell the viewer a story. 
Separate from abstract or street photography, documentary photography styles offer a unique perspective on world events in the form of real-life, on the ground reportage. They capture all the realness and rawness that exists in everyday life and ultimately become a part of the historical record for future generations.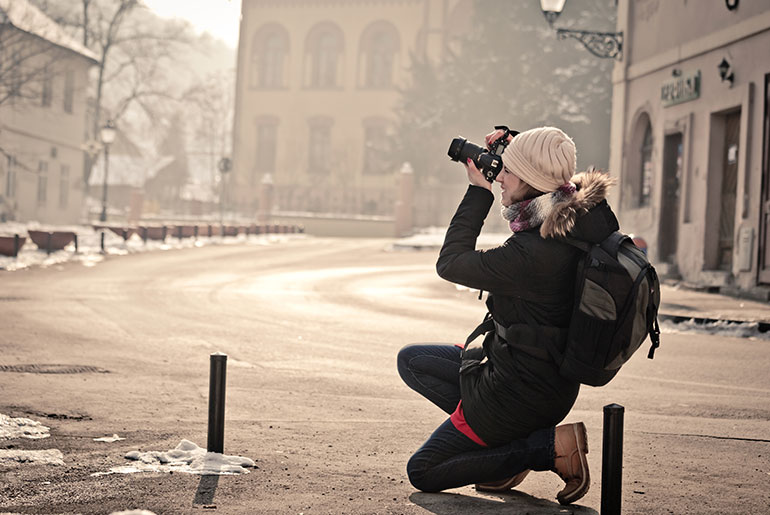 Who Are Some Famous Documentary Photographers?
Some early examples of documentary photography include the work of Joseph Riis at the turn of the 20th century, where he used photographs to inspire change in New York slums. Dorthea Lange, another documentary photographer from the 1930s, captures photos depicting the Great Depression in the United States. Henri Cartier-Bresson, a French photographer, inspired the start of candid photography with his book The Decisive Moment. 
Let's examine what makes a good documentary photographer, how you can become one, and some helpful documentary photography tips to get you started. But first, let's review the different types of documentary photography styles.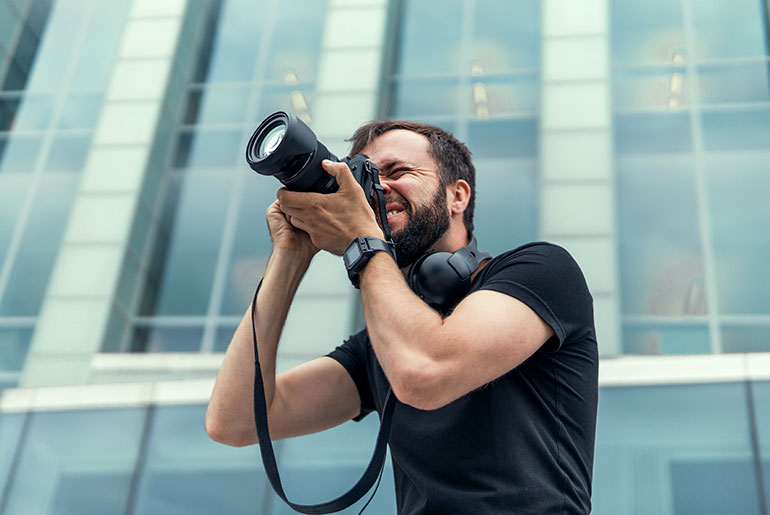 Types of Documentary Photography 
Social Documentary 
This powerful documentary photography style emerged as artists began to view their cameras as tools for social change. Not all photographers in this category aspire to create social change with their photos. However, many shed light on injustice and inequality in communities, striving to use their images for the betterment of society.
War Documentary

In the early 1800s, when cameras were still a new technology, photographers documented events such as the Crimean War and the US Civil War. Photographers today continue to document wars all over the world, capturing conflict and chaos on the frontlines as well as the aftermath of post-war. 
Conservation Photography

This documentary photography style uses photographs to capture nature and landscapes with the goal of supporting conservation work. This genre emerged in the 1860s following the US Civil War when government-sponsored geological surveys documented the remote landscapes of the West. 
Fun fact: conservation photos taken in 1864 for the California State Geological Survey played a primary role in establishing Yosemite National Park.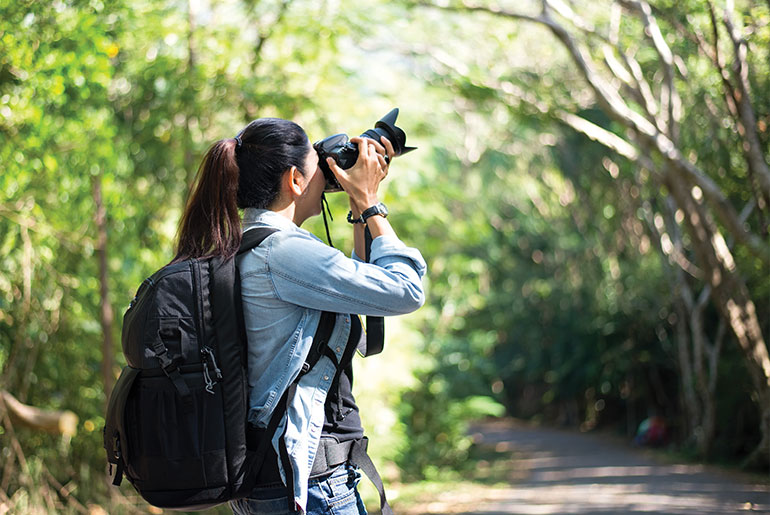 Ethnographic Photography
This style stems from ethnography, or the scientific research of a particular society. Starting around the 19th century, European photographers started traveling the world, bringing back photos of other cultures to their home countries. In 1888, the National Geographic Society launched National Geographic Magazine, which featured photographic content of different regions, cultures, tribal peoples, and civilizations all over the world. 
What Makes a Good Documentary Photographer?
As with any craft, practice makes perfect. If you're new to photography, it's important to master the fundamentals of photography to set yourself up for success. Once you grasp the basics of photography such as lighting and composition, get to know your equipment and how to take the best photographs in a variety of environments. Get comfortable shooting in different environments such as indoor, outdoor, sunny, foggy, light, dim, close-ups, and wide-angles. And be prepared to adjust your camera settings depending on the situation. 
Some documentary photographers use simple photo enhancement methods in post-production to help draw the viewer's eye into a specific part of the photo. You'll find what's right for you and define your own documentary photography style with practice. And the end of the day, when it comes to good documentary photography, you need strong photography skills, a critical eye, and the ability to tell a story through your work.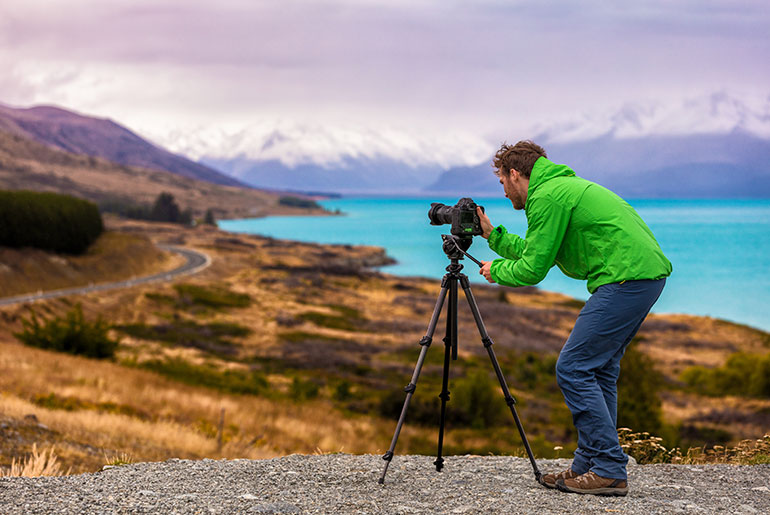 How to Become a Documentary Photographer?
There isn't a simple answer on how to become a documentary photographer, but it certainly requires both skill and passion. Each project presents a different challenge that demands patience, creativity, and courage. 
Whether your path to becoming a documentary photographer begins in school or from passion projects in your free time, the important thing is to follow your curiosity. As documentary photographer Alexander Cohn says, "If there's something you have questions about, other people probably have questions about it. Pursue that, and you might be onto something."
Documentary Photography Tips
Good documentary photography tells us the true story in a way no other photography genre can. Consider using these 10 documentary photography tips on your next shoot:
1. Be a Photographer, Not a Director
One of the most critical documentary photography tips is to capture the world as it is. That means, no directing people on how to dress, how to pose, what activity to do, what objects to hold, etc. You want to capture the truth behind what you see and seize the moment as it is. Once you start actively directing any part of the scene, you lose the authenticity, and it no longer is documentary photography. 
2. Be Open and Be Ready
Be open to what life presents to you. You may have a creative vision in your head, but fixating on that will prevent you from capturing spontaneous moments that could potentially create some amazing work. The other side of that coin is the art of anticipating the moment. Sometimes you have to slow down, observe the scene, take note of the subjects and their movement, and wait for the exact moment you want to capture. 
3. Back Against the Wall
When shooting indoors, you'll want to capture the space and allow as much of the setting to show as possible to give the photo better context. This means you'll often have to back up against a wall or stand on a chair to capture as much of a room as possible. Pro tip: use a wider lens to capture more of the setting in your shot.
4. Don't Cut Off Edges
When taking a photograph, the center of the frame is important, but don't neglect the edges. Take note of what objects are along the edges and decide whether you want them in your photograph. If possible, don't cut off objects along the edge of your frame so that your composition looks nice and polished. Pro tip: use the golden ratio to your advantage here. 
5. Always Have Your Camera on Hand
Sometimes the best photos are captured in spontaneous moments, so you'll want your camera at the ready. Make sure your camera is always prepared with a memory card and fully charged battery. That way, it's ready to grab and go. We also recommend carrying a good handbag that you can throw your camera into on your way out. Real life is filled with photo opportunities and you don't want to miss them.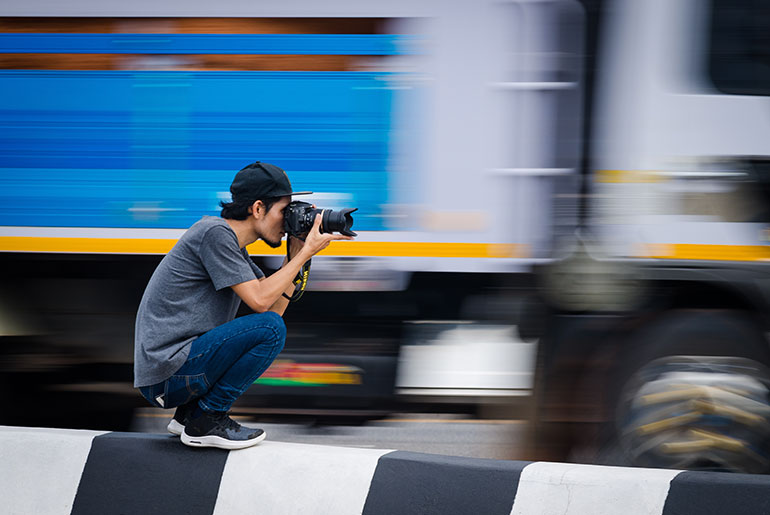 6. Practice Your People Skills and Get Personal
Photojournalist Ron Haviv explains how the technical aspects of photography are only part of the making of documentary photographs. "These are just straight people skills that have nothing to do with the camera. So much of the work that we have to do [we do while] the camera is in the bag. It's conversations. It's learning. It's research. It's understanding what is happening around you." Understanding your subjects by getting to know them will help you capture the special moments.
7. Make a Commitment
Some documentary photography projects can span the course of weeks, months, or even years. It's important to commit to spending time with your subjects, getting to know them and their surroundings. The rapport created between you and your subject will show through your work. 
8. Organize and Protect Your Work
Your documentary photography project may be a long commitment with a lot of content to sort through in the end. Create a system that works best for you to organize and manage your work. 
Pro tip: upload your work immediately and add metadata on a daily basis. Backing up your work is crucial to preventing the loss of your work from damaged drives or other incidents. Save yourself the pain and trouble and protect your work from the start. 
9. Work With Locals
If you're working in an unfamiliar environment, you might encounter some cultural barriers that you'll need to break through before you start shooting. Try connecting with local translators to break that barrier and communicate with your subjects. You can also try recruiting students from photo departments at nearby universities to work with you. This evolves your project into a collaborative effort, granting you an insider perspective that will help you open doors and understand the community better. 
10. Follow Your Curiosity
You have a passion to explore the world around you. And, chances are your passion is shared by at least one other person in the world. So follow your curiosity to find the right documentary photography styles for you. This will make your photography work more enjoyable. 
How to Edit Documentary Photos
Now that you know what is documentary photography, you're ready to start shooting, right? Consider using a creative platform like Picsart to enhance your photos before publishing them. Follow these easy instructions on how to edit photos using Picsart. 
If editing on desktop:
1. Open the Picsart Desktop Editor and start a new project.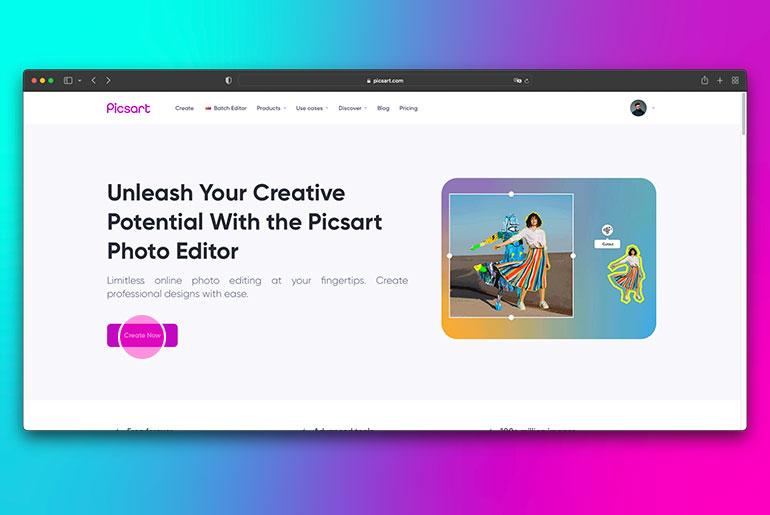 2. Click Upload on the bottom right and upload your image.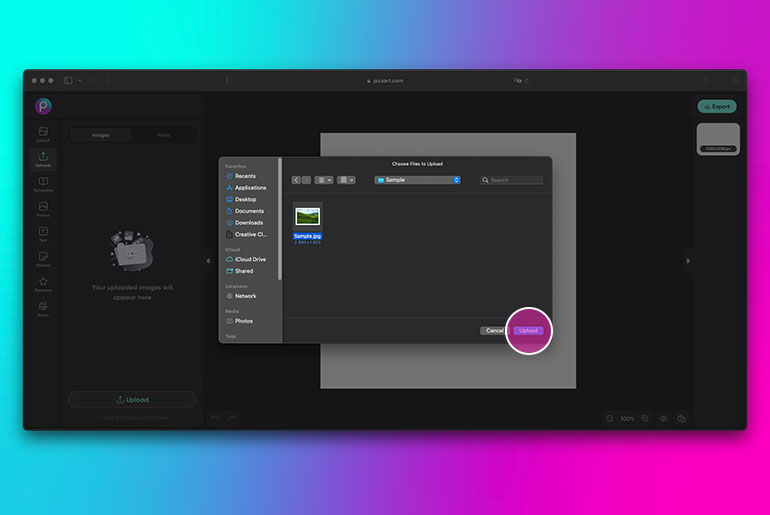 3. Now, click on Photos in the left toolbar and a new toolbar will open above your canvas. Select Effects and choose from dozens of filter categories, each with unique filters and effects to try out.
Pro tip: Black and White filters add a dramatic effect when applied to documentary photos.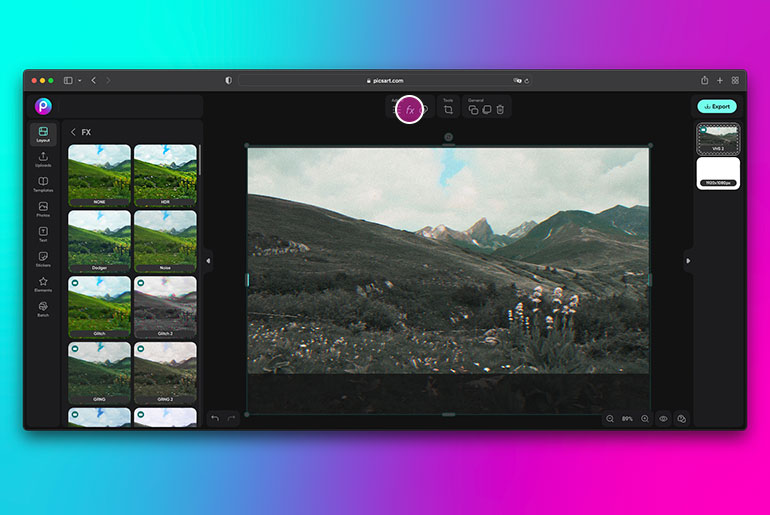 4. To further enhance your photos, click the Adjust and Blend options above your image. Here you can enhance the image's Opacity, Fade, Hue, Brightness, Saturation, and Contrast.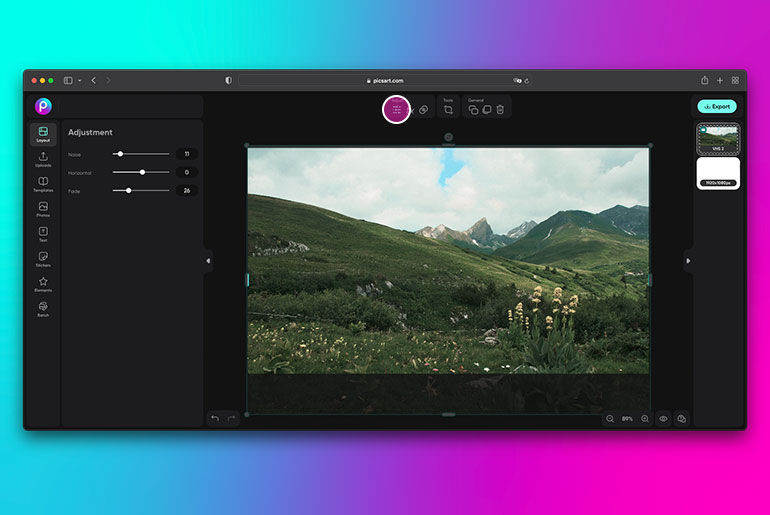 5. Need to resize your image from a poster to a social media size? Click the Layout tool on the left-hand side and select the appropriate social media dimensions for your image.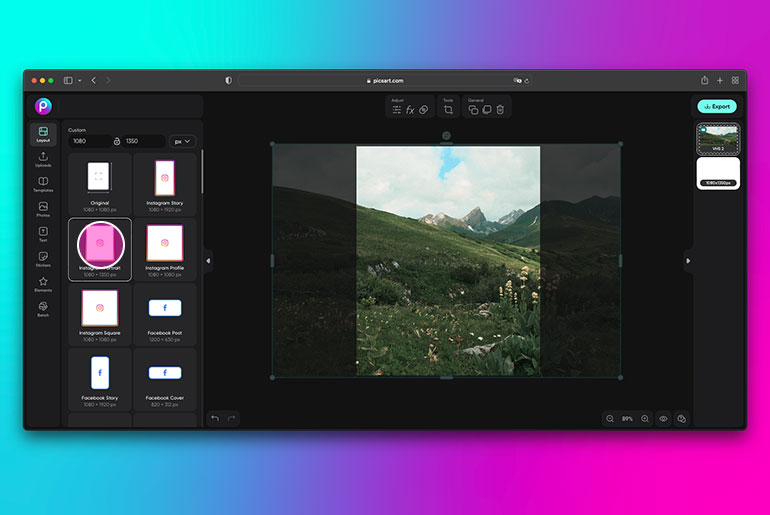 6. Done editing your image to perfection? Click on Export at the top right of your screen to name your file, pick the image size, upscale, and download your image to your laptop.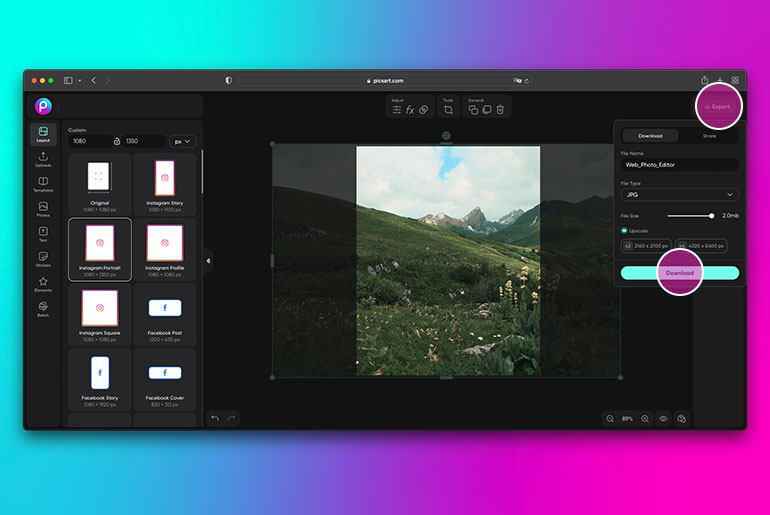 Editing on a mobile device instead? Follow these easy steps. 
1. Open the Picsart mobile app and tap on the plus sign at the bottom of your screen to start a new edit. Upload the image you'd like to edit from your camera roll.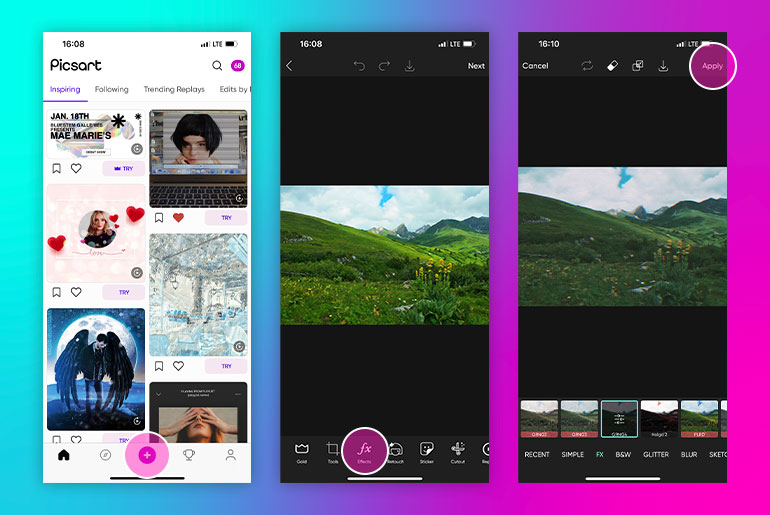 2. In the Editor toolbar on the bottom, tap Effects and select from an impressive collection of photo filters. Tap Apply on the top right to save your edit. You can layer on multiple filters by repeating the above instructions. 
Pro tip: Filters like HDR, Film, Cozy, Icy, Drama, Warm Color, and Crisp work well with documentary photography. 
3. For portrait editing, tap Retouch to make additional edits to your facial features. Use the Face, Wrinkle, Blemish, Eye Bag, and other tools as needed. Tap Apply when done.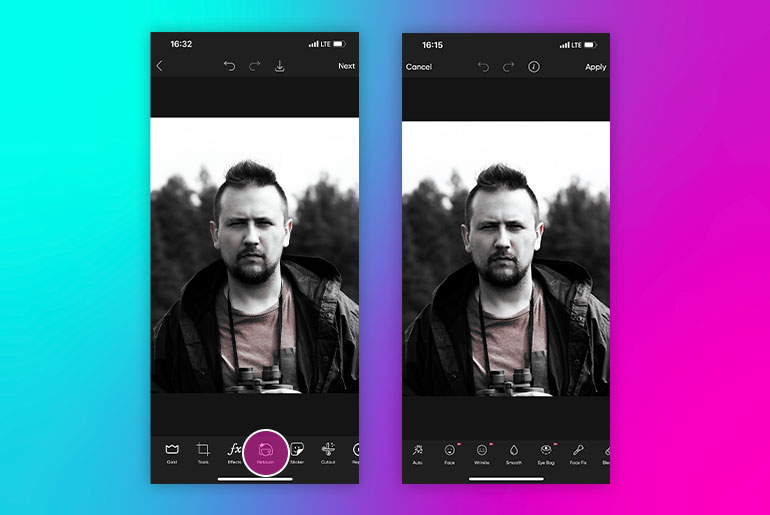 Need to crop your image? Click on Tools, then Crop and select the appropriate dimensions or tap the top ratio to enter a custom crop ratio. Adjust your image accordingly and tap Apply. 
4. Hit Next to Save or Post your final edit.
Picsart is a full ecosystem of free-to-use content, powerful tools, and creator inspiration. With a billion downloads and more than 150 million monthly active creators, Picsart is the world's largest creative platform. Picsart has collaborated with major artists and brands like BLACKPINK, Taylor Swift, the Jonas Brothers, Lizzo, Ariana Grande, Jennifer Lopez, One Direction, Sanrio: Hello Kitty, Warner Bros. Entertainment, iHeartMedia, Condé Nast, and more. Download the app or start editing on web today to enhance your photos and videos with thousands of quick and easy editing tools, trendy filters, fun stickers, and brilliant backgrounds. Unleash your creativity and upgrade to Gold for premium perks!