Sometimes a photo doesn't quite capture the moment exactly how you want it to. The colors may not look as vibrant as you remember. Or bad lighting cast a shadow over half of the picture. Maybe your under-eye bags look a lot more exaggerated than they do in person, leaving you looking tired (we've all been there). Either way, there's good news! With photo editing becoming the new norm, there are many quick fixes for these little imperfections.
When it comes to the complexities of your face, you want the best face editor app that's easy to use and accurate. The PicsArt app provides precise photo touch up tools to help tackle any photo blemish you encounter. Perhaps all you need is a quick touch-up and a pop of color to liven your face and your photo. We'll cover every aspect of face editing and the exact tools you need to get started.
How to Touch up Your Face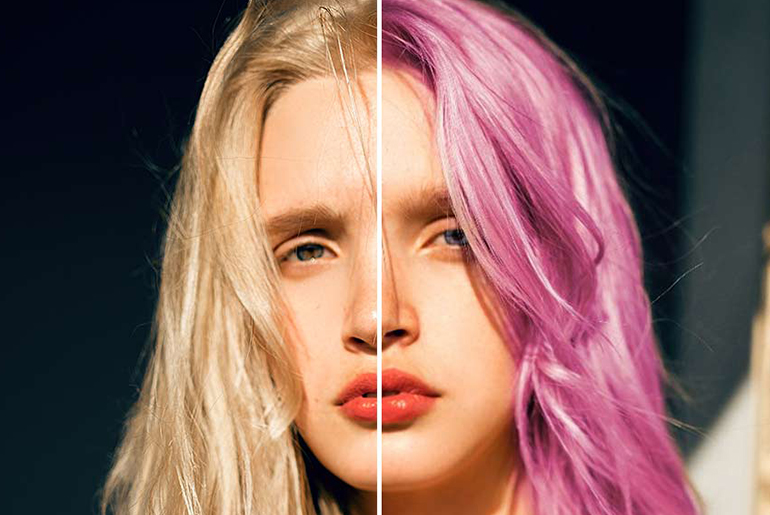 Touching up your face has never been easier and less time-consuming. From smoothing over your blemishes and removing wrinkles to enhancing your eye makeup and slimming down your face, PicsArt has the best touch-up toolkit, Beautify, to give your photo that polished look. 
If you're new to face editing, it can be overwhelming knowing where to start the process. We'll break down the basics of how to touch up your entire face.
Open the PicsArt app and tap on the plus sign at the bottom of your screen.

Upload the portrait or selfie you'd like to edit.

Click the Beautify icon underneath your image.
Now that you have your photo ready to go, let's start editing! 
Face

Click on the Face icon and you'll be prompted with four options to adjust your face shape and size: 
Head:

The first option allows you to adjust the overall size of your face. If you want a slimmer look, we suggest moving the Amount scale toward the left.

Jaw:

This second option allows you to adjust your jaw size. Scale back and forth until you feel you have the right jaw size.

Chin:

If you're self-conscious about the size of your chin, go back and forth depending on how big or small you want your chin to look.

Forehead:

This last tool can either enlarge your forehead or shrink it. You'll notice how it drops your hairline down if you scale smaller.
Nose

The first option under the Nose tool allows you to enlarge or shrink the bottom half of your nose. The second option can completely lift or elongate your entire nose. If you're looking to make your nose wider or more narrow, play around with the third option. The last two tools allow additional versatility with the tip of your nose. The fourth option specifically enlarges or shrinks the tip, where the fifth and final tool allows you to stretch out or shrink your nostril area.
Lips
Moving on to your lips, you have four different options here to adjust the size and shape of your mouth and lips. The first option can evenly shrink or enlarge your entire mouth/lips. The second option (our favorite!) is the lip plumper. Play around with the scale to give yourself some juicy, plump lips that can still look totally natural. Similar to the first option, the third gives you the ability to horizontally shrink or enlarge your mouth. This is a good option if you feel your mouth might look too big in your photo and you want to shrink it down just a tiny bit. The last option can actually move your entire mouth either up or down on your face. This tool is most helpful if you feel your mouth is not positioned directly in between your nose and chin. Use the scale accordingly and position your mouth exactly where you want it.
Eyes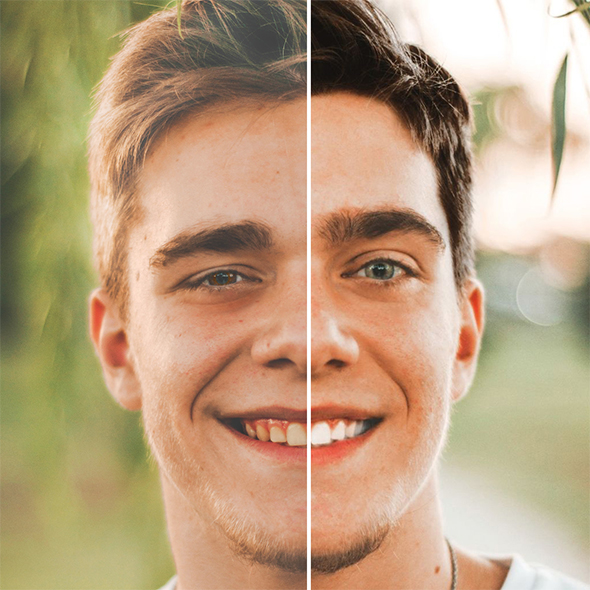 The eyes are arguably the most important feature of your face. Luckily, the app has six different retouch tools specifically for your eyes.
Overall Size:

The first option can evenly enlarge or shrink your eye size. If you've always wanted bigger eyes, this is your go-to tool.

Direction:

If you feel your eyes are too close together or too far apart, play around with this tool to make your eyes look evenly distributed across your face.

Vertical Size:

This third option only shrinks or enlarges your eyes vertically. A great use case for this tool is for making your eyes look not-so-wide-open. You can still keep the horizontal size of your eye shape, but adjust for vertical wideness. 

Position:

This option will allow you to move your set of eyes up or down on your face. This is a good tool to use if you want more or less real estate underneath your eyebrows. 

Horizontal Size:

Opposite of the vertical size tool, the horizontal option can literally stretch out your eyes to give them a super elongated, almond shape. Or scale toward the left to shorten your eye shape horizontally.

Shape:

This unique tool is great for lifting your overall eyes, adding a cool cat-like effect. Or if you are looking for a more downturned look, scale toward the left. 
Eyebrows

Although a more overlooked face feature, eyebrows can still impact your overall look and act complementary to the rest of your face edits. So don't neglect to edit your eyebrows as a part of your touch up routine! The app has five different options to beautify your brows to your liking. 
Vertical Position:

The first option moves the position of your eyebrows up or down on your face. This can either shrink or enlarge your forehead size depending on how you adjust. The lower the eyebrows are placed on your face, the larger your forehead will look.

Thickness:

This tool can make your eyebrows look naturally thicker or thinner, depending on the look you're going for. The current trend shows, the fuller, the better!

Symmetry:

It's almost impossible to have naturally symmetrical eyebrows, which is why this tool comes in handy if one of your eyebrows decides to look higher or lower than the other. Or, perhaps you want that raised eyebrow look to express emotions like skepticism or disbelief. 

Horizontal Position:

  This tool can either push your eyebrows further apart or compress them closer together. Remember, the further you push your eyebrows apart, the bigger the gap in between them. The ideal position is just in the middle, giving you that balanced, symmetrical look.

Shape and Expression:

Last, but definitely not least, this tool can literally change the expression and emotion on your face by reorienting the shape of your eyebrows. Give that scale a spin and see for yourself. Sliding toward the left gives you a more soft, puppy-dog-eye look. Scaling toward the right gives you a more serious, fierce look by raising the peak of your eyebrows. Have fun with this one!
Let's jump into the rest of PicsArt's makeup tools that you definitely want to keep in your photo touch-up toolkit. 
Automagic
The easiest and quickest editing tool in your back pocket is the Auto tool. This gives your photo an overall enhanced look based on what the app thinks is best. It can adjust lighting, saturation, and many other components of your photo at the touch of a button. You can then adjust the Fade scale according to how enhanced you want your photo to look. You'll also find an Auto option within almost every single editing tool on the app. Again, this adds convenience and precision for users on the go. 
Finishing Touches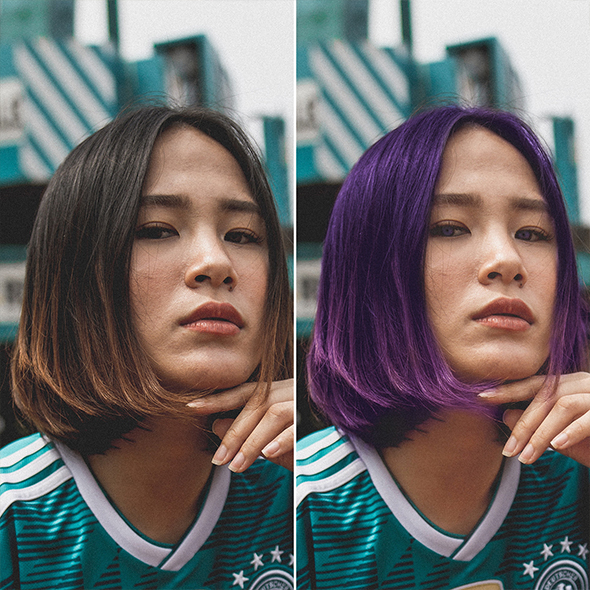 Yellow teeth, eye bags, and blemishes are among the many minor details that can have a big impact on your photos. These little imperfections are inevitable, but not without a solution. You'll find a handy touchup tool for each of these categories, plus many more. 
Blemish Fix
You don't need to download a separate blemish remover app. PicsArt's Blemish Fix is your go-to retouching tool for any pimples you want to blur out. We suggest zooming in on the area with the blemish first. Then, simply tap on the blemish and you'll immediately see results. You can adjust the size of the tool accordingly based on the size of the blemish.
Teeth Whiten
Yellow teeth can be distracting. Luckily, PicsArt's teeth whitening photo editor has made it super simple to whiten and brighten your teeth in just a few easy steps.
Under the Beautify icon, scroll to the right and tap the Teeth Whiten tool.

The app may automatically detect your teeth and whiten them, but you can adjust the whiteness using the scale.

If your teeth were not detected, you can manually whiten them using the Manual tool. Double-tap the Manual tool and adjust for Whiten, Size, Opacity, and Hardness until you're completely satisfied with your smile!
Reshape
While the Face tools we covered can reshape and slim specific features on your face, PicsArt also has a cool Reshape tool that can slim down other body parts. Click the Beautify icon, then scroll all the way right and tap on Reshape. You'll see four different tools: Refine, Reduce, Enlarge, and Restore. For a slimming effect, select the Reduce tool and brush over the area you want to be slimmed down. We suggest you first double tap Reduce and adjust the Size and Power for better control of the tool. Bonus tool: Click the paintbrush icon up top and brush over the area you wish to preserve. You don't accidentally want to slim down an unwanted part of your photo.   
Other Touch-up Essentials
Some other Beautify tools to check out on the PicsArt app are Wrinkle, Smooth, Eye Bag, Face Fix, Detail, and Skin Tone. Whether it's removing eye bags or smoothing over wrinkles, or even to giving your photo a polished glam look, play around with these tools to give your photo those perfect final edits.
Stunning Filters
If you're on the go or not really in the mood to put in the time to glam up your photo, there's always PicsArt's photo filters to fall back on. We highly recommend checking out the Effects and Masks tools on the PicsArt app. There are so many options to choose from, and you can't go wrong with any of them! Some of our favorite categories are Shadow filters under the Masks tool and the FX filters under the Effects tool. Explore these filters and layer them on!
Virtual Makeup
Imagine being able to create cool makeup looks without having to apply any makeup in real life! PicsArt has made that possible through its innovative Stickers tool. Under Stickers, search for a specific makeup term or just "makeup" for an extensive collection of stickers you can stick directly on your photo. 
Fake Lashes Look
Upload your image.

Under Stickers, search "eyelashes."

Select the lashes you like.

We suggest zooming in on your face and adjusting the size of your lashes to fit your eye line. 

Add any additional effects you like!
Check out this glam tutorial for a gorgeous look using eyelash stickers. We love the fabulous pink theme!
PicsArt Face Filters 
Level-up your selfies with some innovative face filters to really make your image stand out. Check out PicsArt's mystical face filter collection on Instagram.
Open Instagram stories and scroll all the way to the right and click Browse Effects.

Type "PicsArt" in the search bar and select PicsArt's official Instagram page under Creators.

Try them all out!
Check out our favorites: Floating Clouds and Earth Face. Floating Clouds will leave you feeling heavenly and serene, while Earth Face gives you a bold, Earth Day vibe with a sense of global connectedness. Make sure to hit the download icon (downward arrow) to save these face filters to your library!
Whether it's the intricate details of your face or the overall tone and effects of your image, PicsArt's cutting edge editing tools meet any and every retouching need to give you a more flawless photo. You have all the beauty tools you need to get started, and we know your final product will be a show stopper!
PicsArt all-in-one Photo and Video Editor, Collage, and Sticker Maker is the world's largest creative platform with over 150 million monthly active creators and influencers. PicsArt has collaborated with major artists and brands like Taylor Swift, The Jonas Brothers, Gwen Stefani, Maroon 5, Lizzo, Meghan Trainor, One Direction, MONSTA X, Warner Bros. Entertainment, iHeartMedia, Condé Nast, and more. Download the app today to level-up your photos and videos with thousands of quick & easy editing tools, trendy filters, fun stickers, and brilliant backgrounds. Unleash your creativity with PicsArt and upgrade to Gold for awesome premium perks!