Pop art, short for popular art, is one of the largest art movements known in history. The famous movement emerged in the 1950s and boomed in the 1960s in America and Britain as artists drew inspiration from commercial and pop culture and created bold pieces that reflected the realities of everyday life. American pop art was highly influenced by American consumer culture, fame and celebrity culture, and postwar culture. The movement began as a revolt against elitism and traditional artistic norms and was a response to the capitalist and consumerism culture in postwar America. It was essentially a cultural revolution aimed to break down social norms and free people from conformity. 
Artists turned to Hollywood movies, pop music, comic books, and advertising as a more relatable and influential source for creating pop art. Major contributors to the movement include Andy Warhol, Richard Hamilton, and Roy Lichtenstein, who've created iconic pop art designs deeply embedded into our culture. Many believe Hamilton's collage "Just What Is It That Makes Today's Homes So Different, So Appealing?" may have sparked the beginning of the movement in 1956 in London. He described the movement's characteristics as such: "Pop art is: Popular, Transient, Expendable, Low cost, Mass produced, Young, Witty, Sexy, Gimmicky, Glamorous, Big business."
So, is pop art still relevant today? More than ever. From art exhibitions to merchandise sales, you'll see pop art thriving all over the world. Artists today continue to incorporate pop art techniques into their designs, including signature graphic effects like saturated colors, strong outlines, dots, and bold cultural statements using everyday objects. Street artists like Banksy have shown pop art influence in their work using similar stencil and graphic design aesthetics. Pop art is still considered highly valuable in today's market. Andy Warhol's Silver Car Crash (Double Disaster) sold for a whopping $104.5 million in 2013!
What Is Pop Art?
Pop art took everyday life and everyday objects and made them saturated with colors, bold outlines, and creative overlays. The style's vibrancy is uniquely incorporated into everyday objects like soup cans, fruits, a pack of gum, and tools, or in media like newspapers, magazines, and comic strips. Pop art made mundane and commonplace objects into extraordinary ones, completely breaking the artistic norms and cultural hierarchy that was in place at the time. 
Pop art is instantly recognizable and can be spotted from miles away due to its zest and energetic colors and patterns, infamous imagery from popular media and products, and the innovative artistic techniques that characterized the pop art style. It often used repetition, symbols, overlays, and dots with primary color pallets of bright reds, blues, and yellows. Pop art also incorporated humor and irony which made the pieces so relatable to the masses. Artists used satire to poke fun at trends and fads, and bring light to current events and challenge the current way of life.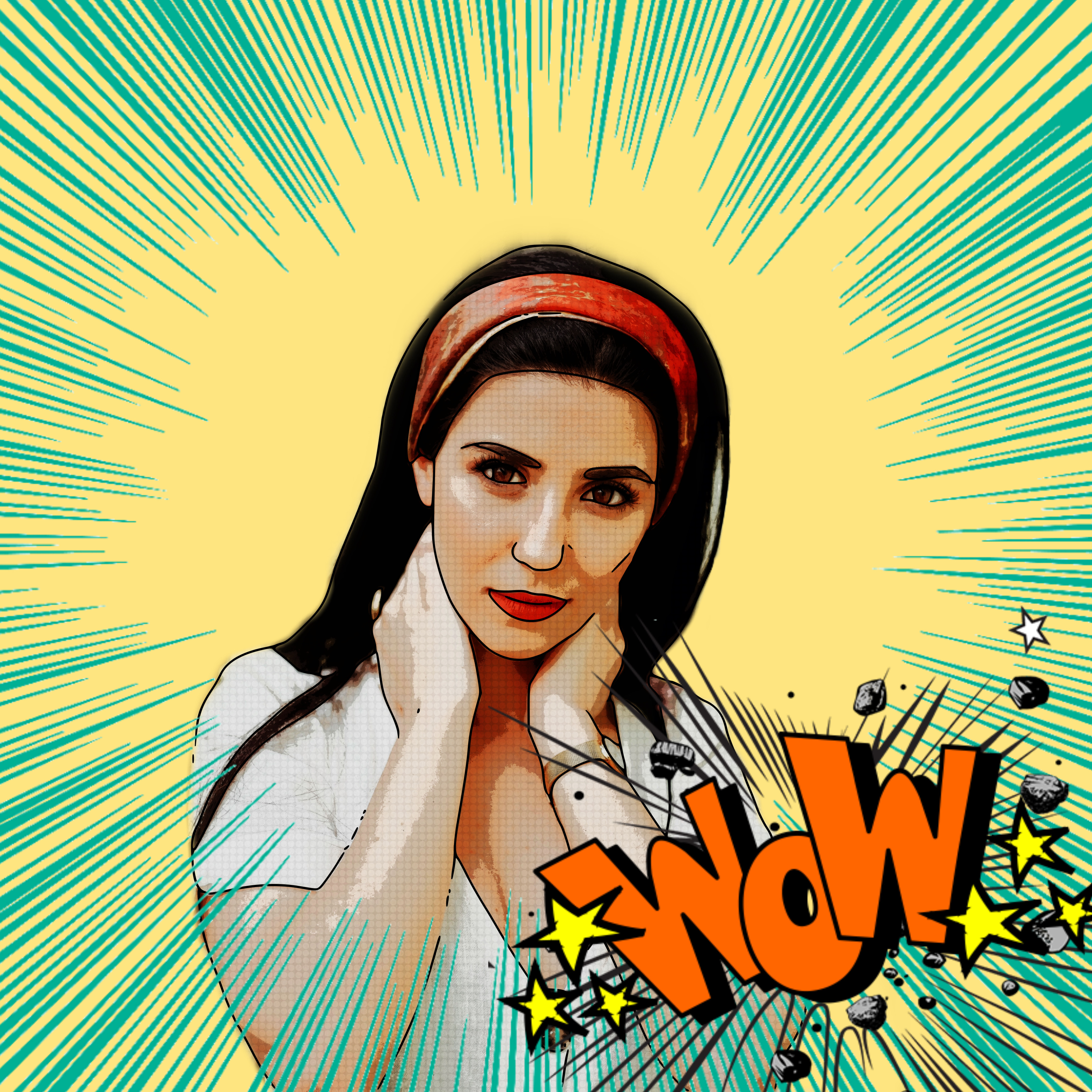 via PicsArt
American Pop Versus British Pop Culture
Pop art first appeared in England in the mid-'50s and spread to the United States towards the end of the decade. But because there was a heavy American influence in Great Britain at the time, and a lot of the biggest names of the movement were American, there is a strong connection between the movement as it evolved in the US and in England. There are some differences, however.
In the US, pop art uses mundane reality, pop culture, irony, and sarcasm. American pop art was a result of the notion of the American dream. Roy Lichtenstein and Andy Warhol were the most famous American pop artists.
On the other hand, in England, the movement started out with a more academic spin. English pop art was fed by American culture but through a different, more distant lens. The Brits used parody and self-deprecation to denounce the western system of manipulation, which simultaneously affected societal behavior and ushered in great material prosperity. Famous artists in the British pop art movement include Richard Hamilton, Nigel Henderson, and Eduardo Paolozzi.
Pop Art Techniques and Characteristics
Let's take a look at the defining characteristics of pop art that made it such a powerful movement. 
Consumerism Theme: Capitalism, consumption, and materialism are central themes of pop art. Campbell soup cans, Coca-Cola, and cereal boxes are among the many imageries used to depict well-known brand names and famous product packaging. Pop art emphasized materialism by showing off the affluence of postwar society through these products.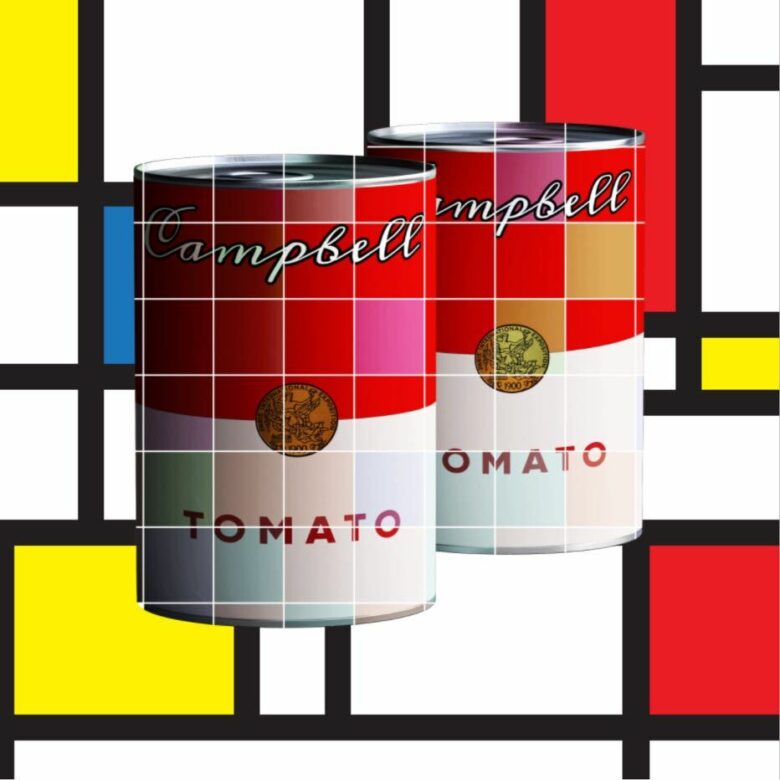 Fame and Celebrity Culture: The obsession with fame and celebrity culture is another main theme of pop art. As people consumed Hollywood, movies, magazines, and television, as did artists to create celebrity-inspired creations. Fun fact: The famous expression "Fifteen minutes of fame" came from Andy Warhol's famous quote, "In the future, everybody will be world-famous for fifteen minutes." Marilyn Monroe and Elvis Presley were among the many celebrities used in pop art designs.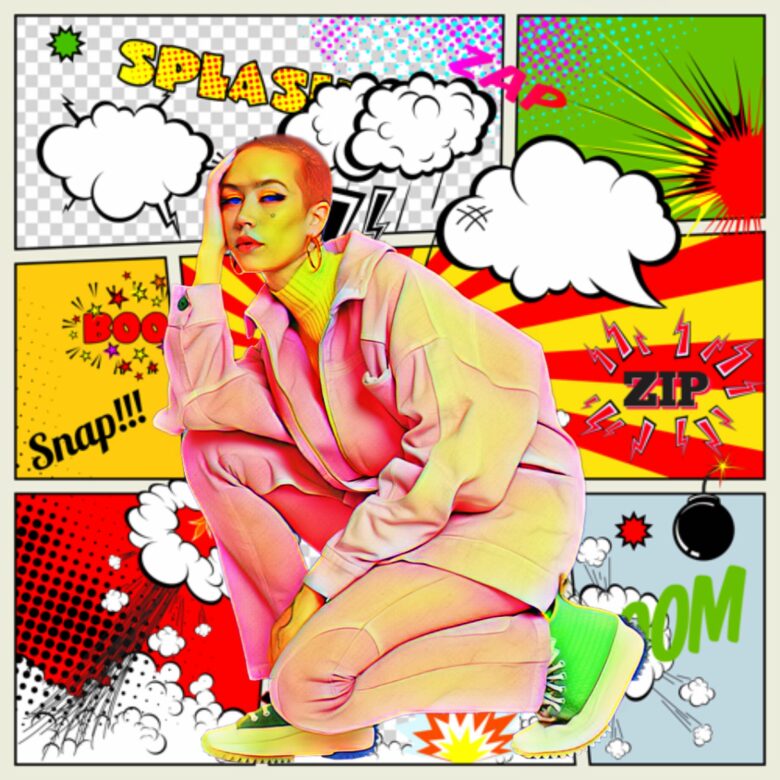 Mass Media: Pop art creators emulated mass media sources such as television, magazines, and comic strips. They often incorporated magazine cutouts, mimicked comic strips, and featured famous people and products, sometimes combining different mass media elements into one design.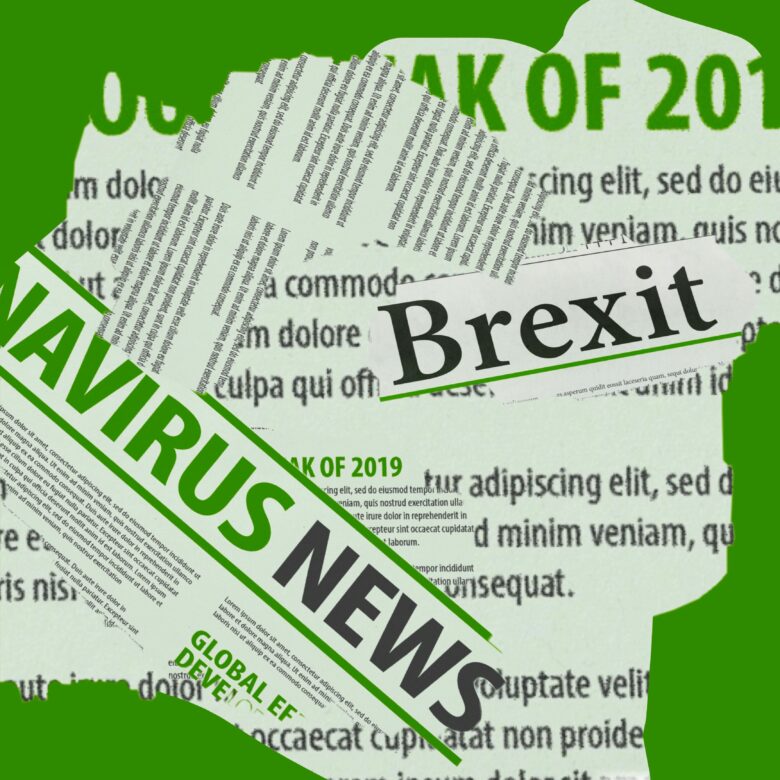 Everyday Objects: Ordinary objects found in everyday life found their way into famous pop art designs, often with a contemporary, satirical twist. From road signs and hamburgers to lightbulbs and bananas, pop art designers were able to elevate everyday objects to high art status while drawing on popular cultural references.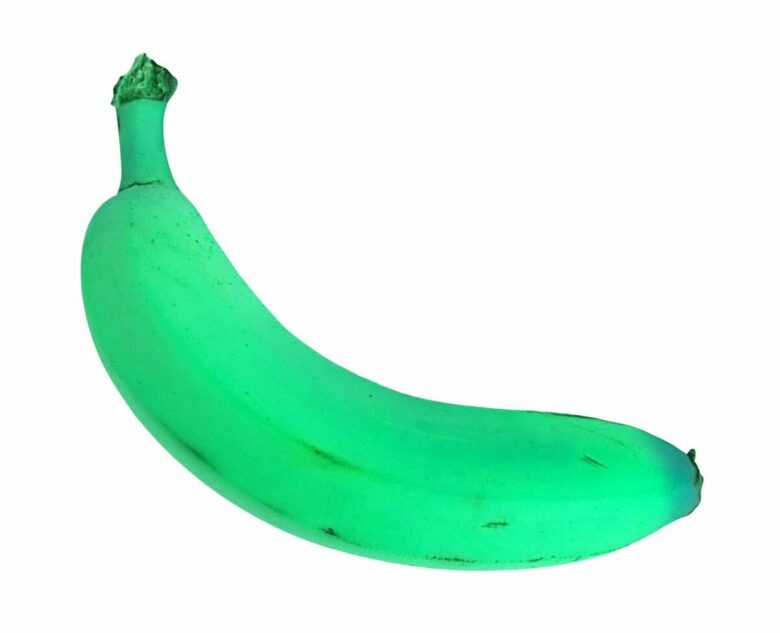 Enlarge and Repeat: One technique artists used emphasized everyday objects was enlarging the images to huge scales and repeating the images for rows on end. This created a dramatic effect and a bold statement to drive home the theme of consumption. Imagine an eight-by-four grid canvas of big Campbell's soup cans. This was one of Andy Warhol's signature pop art styles.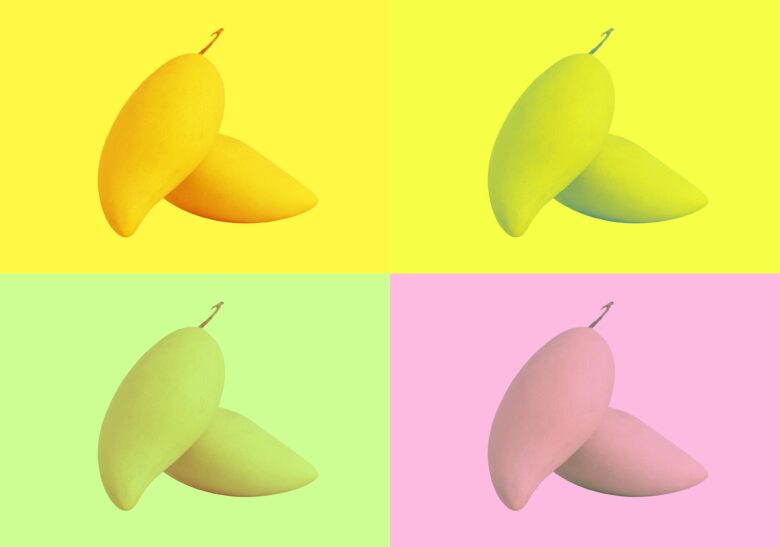 Use Material Out of Context: Another pop art technique was to remove an object from its context as a standalone piece or combine it with other objects or images in line with the themes of capitalism, materialism, and fame. Another one of Andy Warhol's famous pieces includes a giant Banana on the cover of The Velvet Underground's debut album.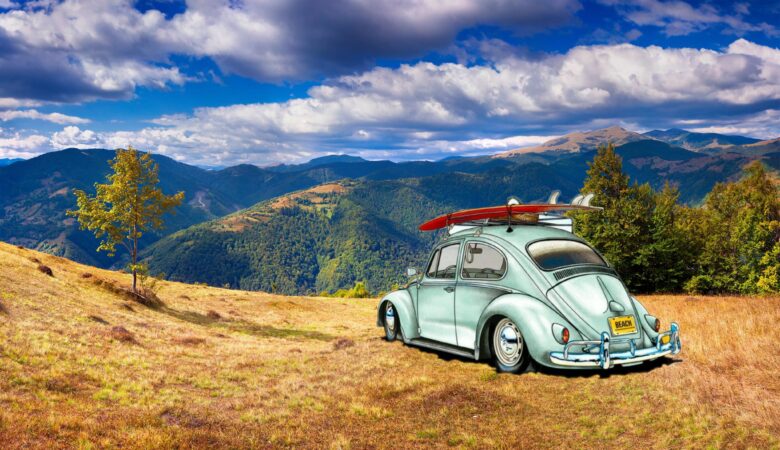 Collage Images: Collages are a popular pop art technique used to combine graphic elements including photos, text, textures, advertising, magazine pages, and comic book cutouts. Pop art artists used collages to make cultural and artistic statements by combining a variety of different elements to play on the main consumerism themes. Hamilton's first collage that sparked the pop art movement includes a multitude of famous products and people.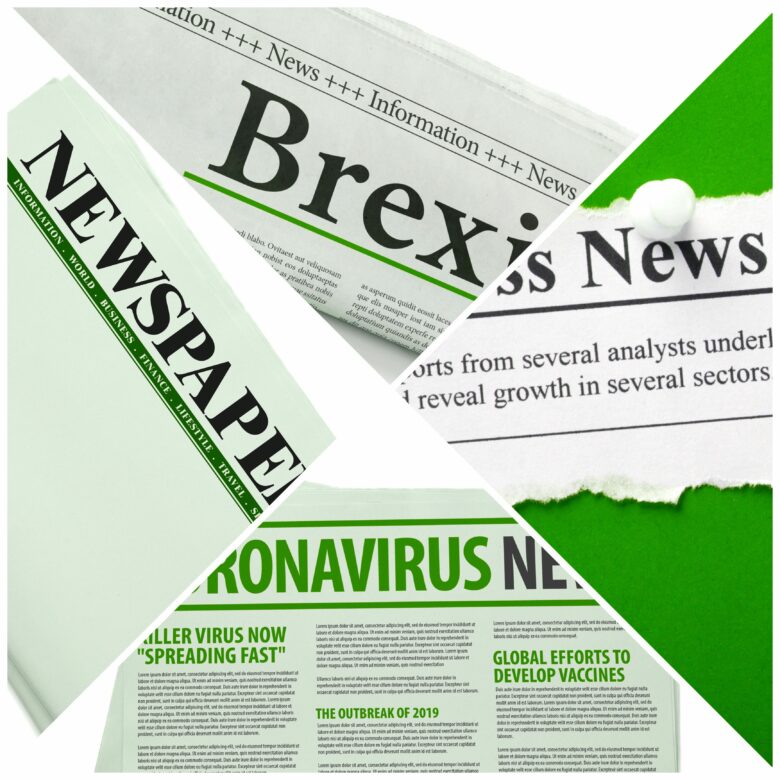 Innovative Screen Print Techniques: Screenprint techniques such as silkscreen printing and lithography were used by famous artists like Andy Warhol and Roy Lichtenstein to achieve signature pop art looks. Bold outlines, clear lines, sharp colors, and techniques of mass media imagery were also visual styles adopted by pop art creators.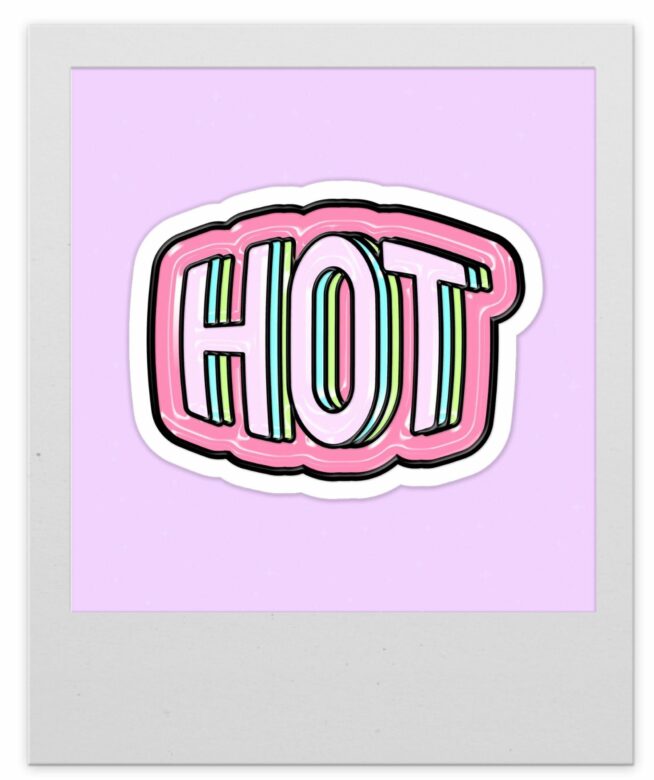 Reproduce, Overlay, and Duplicate: Whether it's a collage or repetition, pop art's graphic effects are created through techniques of reproduction, overlay, and duplication of different images. Some creative collages often included repeated imagery and other overlaid graphics that reflected everyday life and objects, famous people, and recognizable brand names.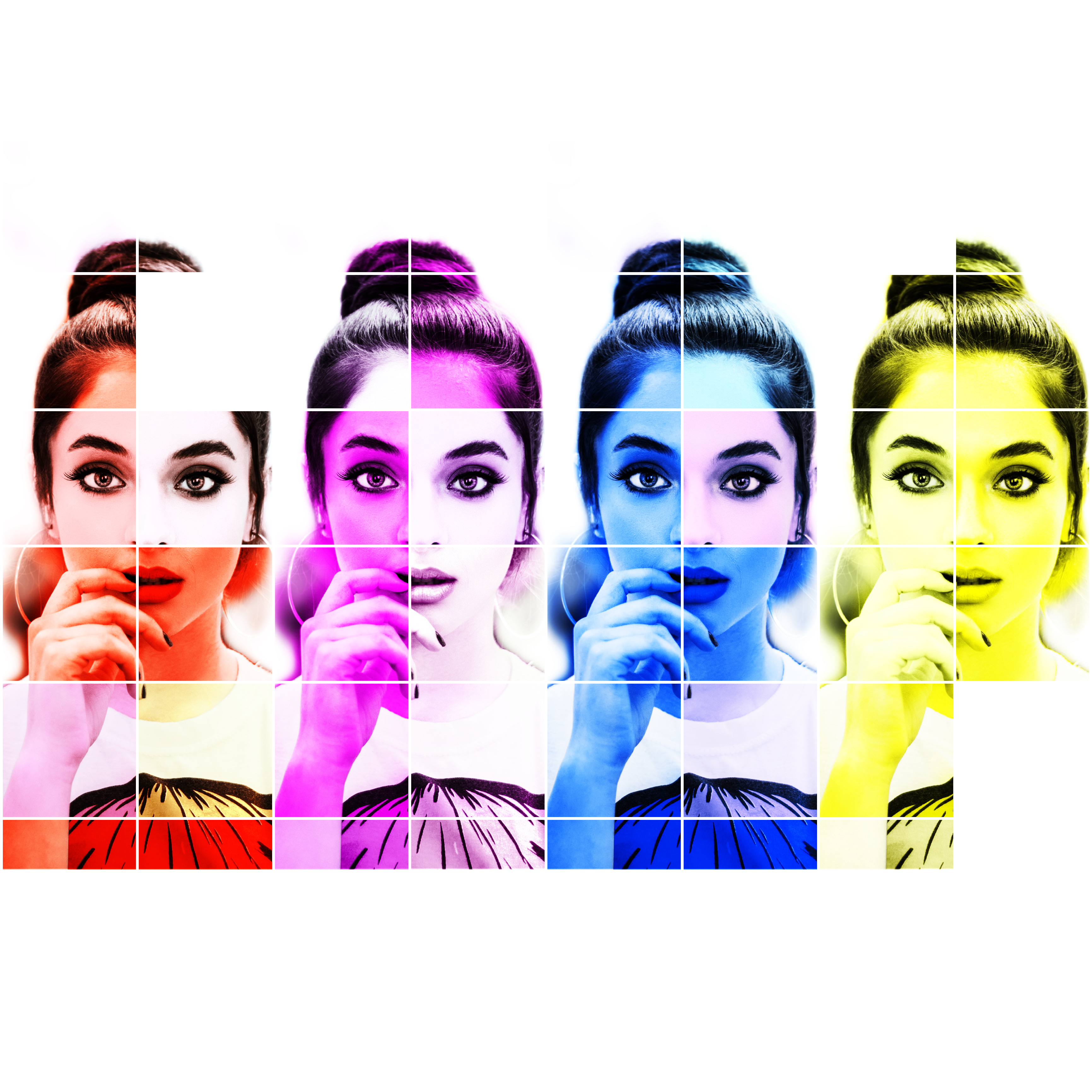 via PicsArt
Saturated Colors: Bright colors like red, blue, yellow, and green flooded pop art designs. Artists specifically used primary colors and saturated neon colors to convey optimism and affluence. Its vibrant and saturated colors transcended traditional artistic norms and amplified the pop art movement. 
Turn Your Photo Into Pop Art
Pop Art is unapologetically loud and bright and ignites a certain level of energy from within. What's better than bringing that burst of energy to your own photos? Let's take a look at how to make Pop Art with your photo using the Picsart app!
1. Open the Picsart app and tap on the plus sign at the bottom of your screen.
2. Upload the image to which you'd like to add pop art photo effects.
3. Click on the Effects tool at the bottom of your screen.
4. Scroll all the way right until you see the Pop Art category. That's right, Picsart has an entire category dedicated to pop art! Now you have your very own Pop Art generator at your fingertips. 
5. Select a Pop Art filter and watch your image transform. Check out some of our favorite Pop Art effects: Glitch2, Spotted, Off Grid, and Pop Art Colors. 
6. If you'd like to make additional adjustments to the filter, double tap on the filter of your choice and adjust the scales accordingly. 
7. Tap Apply on the top right to save your edit.
8. Want to add more filters? Go back to Effects, click Pop Art, or click FX to select other trendy filters, like the popular Grunge Effect. You can layer on as many filters as you'd like. Remember to tap Apply after each edit.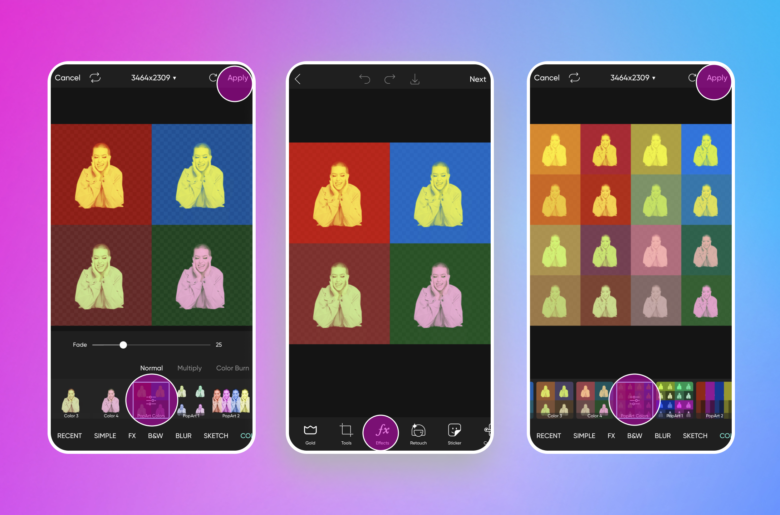 9. Pro tip: Add fun stickers to your image for that pop art collage look. To add a sticker to your image, click Sticker, type in "Pop art" or any other search in the search box, and select a sticker. You can resize the sticker and make additional enhancements with the tools at the bottom of your screen. Tap Apply to save. Don't be afraid to add multiple stickers!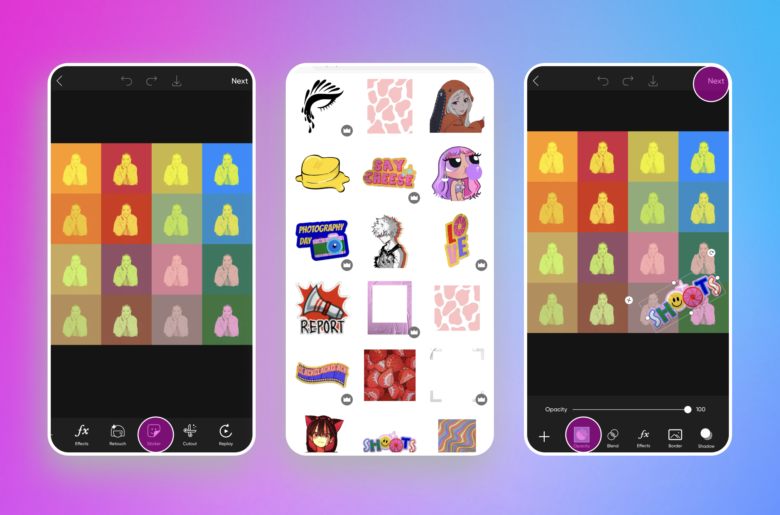 10. To add text, click on the Text tool, type in your desired text, and select the orientation. You can change the font, color, opacity, and other features using the tools at the bottom of your screen. 
11. Add other enhancements using the Mask, Lens Flare, Shape Mask, and Frames tools. We suggest trying out Shape Masks for an extra dramatic pop art effect.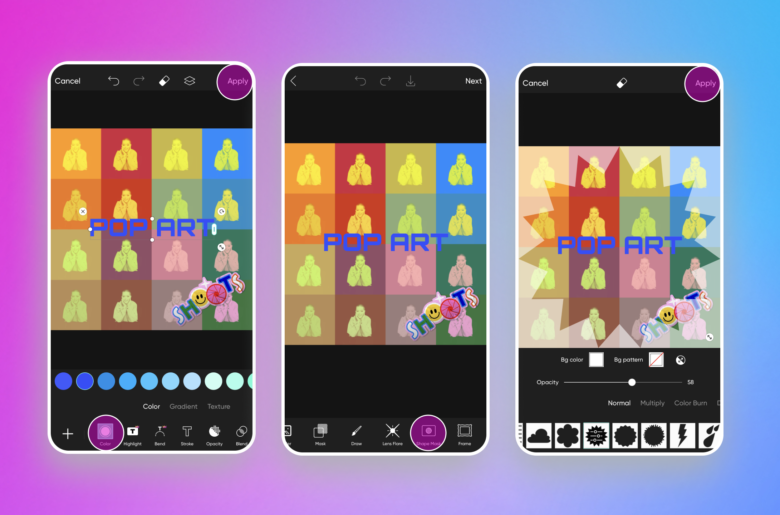 12. Finished with your Pop Art photo? Click Next at the top right and Save or Post!
If you're looking for a free photo editor online, check out Picsart Desktop Editing Tools instead. Explore Sketch Effects, Photo Overlays, Color Exposure, and Duotone Effects for some amazing photo editing tools guaranteed to make your design pop.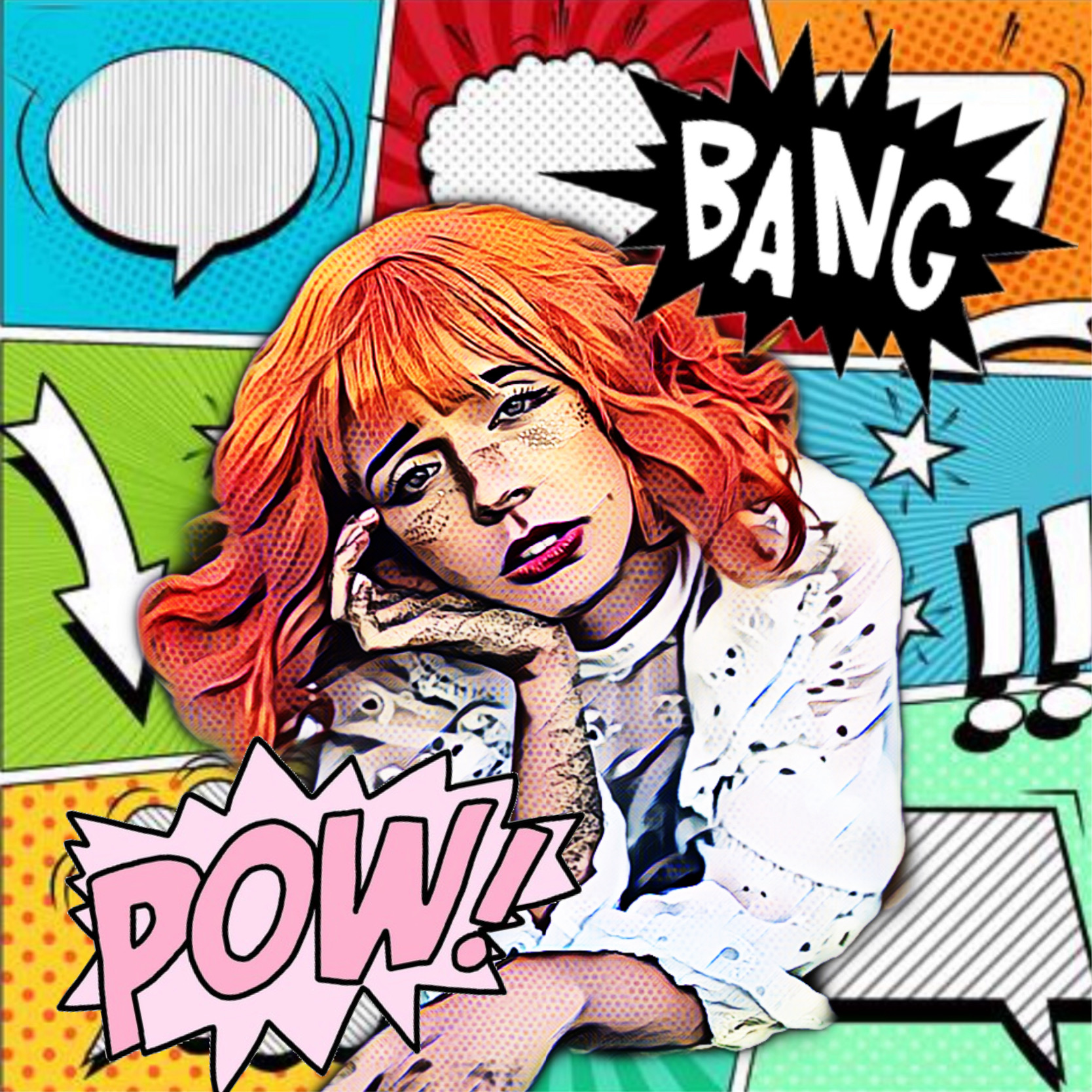 via PicsArt
Picsart is a full ecosystem of free-to-use content, powerful tools, and creator inspiration. With a billion downloads and more than 150 million monthly active creators, Picsart is the world's largest creative platform. Picsart has collaborated with major artists and brands like BLACKPINK, the Jonas Brothers, Lizzo, Sanrio: Hello Kitty, I am a Voter, Bebe Rexha, Maroon 5, One Direction, Warner Bros. Entertainment, iHeartMedia, Condé Nast, and more. Download the app or start editing on web today to enhance your photos and videos with thousands of quick and easy editing tools, trendy filters, fun stickers, and brilliant backgrounds. Unleash your creativity and upgrade to Gold for premium perks!