Law firm logos aren't exactly thought of in the design community as being innovative, creative, or particularly interesting. If you're stuck with a stuffy legal logo that feels uninspired and dated, you've come to the right place! So, what does a cool lawyer like you do when you're trying to come up with a fresh, exciting, and memorable law firm logo design that reaches both traditional and modern clients? Read on for a rundown of everything you need to know to create or spruce up the logo design of your private practice or major law firm.
What Are the Common Symbols of the Law?
Most law firm logos and legal logo designs, in general, have stuck to the tried-and-true symbols you see when you pass by a billboard on a busy road or receive documents with legal letterhead from your attorney. They may be a tad boring and may not catch your eye right away, but you'll never be confused about what kind of business they're advertising. Many legal logos and symbols are overused and don't say much about the firm they are representing. It's easy for a law firm to get lost in the mix of forgettable lawyer logos. Good branding is everything, so when designing the best law firm logo design for your business, you have to make sure to incorporate icons that are recognizable but also representative of the values your legal practice is known for.  Good legal logos do have a few things in common, though. They are meant to inspire trust in clients and speak to the values of justice, advocacy, and authority. So, what are some of the most common symbols of the law?
Gavel
Order in the court! Perhaps the most obvious legal symbol to incorporate in your legal logo design, the gavel is reminiscent of legal proceedings and a judge's call to contain and manage unruly court attendees. 
Columns
Stylized Roman columns call to mind the grand architecture of courthouses. But they also communicate strength, fortitude, and stability — three characteristics of great lawyers and law firms. 
Scales of Justice
No other symbol is more synonymous with legal practice than the traditional scales of justice. The scales of justice date back to the Egyptian Goddess of Justice, Maat, who stood for balance and justice. In modern times, using a logo design featuring scales of justice on your letterhead, business cards, or social media accounts compel your clients to see your legal practice as trustworthy and fair. 
Courthouse
It's common for legal logos to include courthouse symbolism and even the entire courthouse facade. It is the place justice is served, after all. A courthouse symbol adds a stately and powerful presence to your law firm logo design. 
Handshakes
When the deal is done, this common symbol represents partnership, congratulations, and gratitude. A handshake symbol communicates collaboration and satisfaction.
Fountain Pen
The fountain pen is formal and a bit fanciful. Most attorneys use beautiful fountain pens to demonstrate their attention to detail and add flair to their professional look.  
Lions/Ferocious Creatures
Many attorneys are known for being unstoppable in the courtroom. Lions and other powerful creatures make sure colleagues and clients know they will stop at nothing to deliver justice when it's due. 
What To Consider When Making a Legal Logo 
Your law firm logo is one of the many ways to show off the visual identity of your legal practice. Choosing a logo for your law office or brand requires some inspiration and brainstorming, but creating a recognizable logo that not only communicates your firm's ideals and makes an impact on attracting potential clients is key to attracting the right clientele to your law group.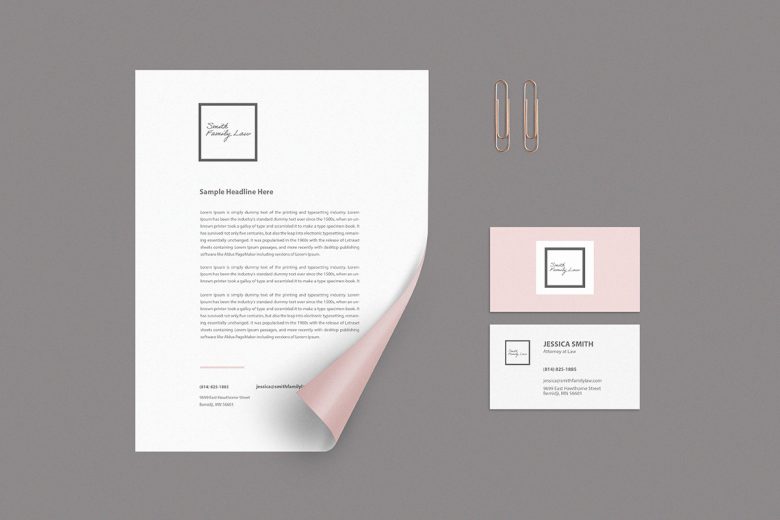 Color
Choosing a winning color scheme for your legal logo design can be challenging. Lucky for you, there are a few established color palettes that have been used for decades to distinguish legal practices. Choosing the right color for your law office or law group depends on the type of law you practice and the types of services your firm provides. For example, choosing softer, more friendly hues such as pale blue, yellow, or sage green can work well for a family law firm while darker, more conservative colors such as navy, burgundy, and olive green may work best for personal injury or more corporate law firms.  
Typeface
There are a few general logo design rules, especially when it comes to choosing the best font for your company's branding. It's always best to stick to a font that's easy to read and also representative of your brand identity. Serif fonts are generally known to be more traditional and formal, while sans serif fonts can add a contemporary edge to your firm's logo. You can also mix styles for a more high-design look while keeping it professional.
Message
An essential question to ask yourself: what are you trying to communicate with your law firm logo design? Make sure your logo and message align as much as possible. For example, if your logo includes a lion, your messaging should also reflect a stoic and tough feel versus light and soft wording. 
Layout
Logo design is more than just a pretty collection of text and images. Even more important than aesthetics is how your logo is arranged on letterhead, business cards, or your law firm's website. Opt for a clean, minimal layout to keep the attention on your primary symbol or company name for the best results. 
How and When To Trademark a Logo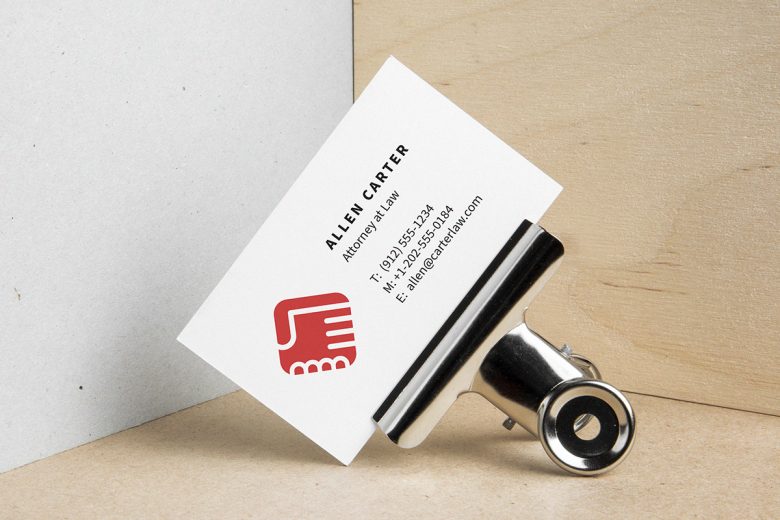 As a legal professional, you may be wondering if you should trademark your logo and how and when to do so. According to common law, a logo is trademarked as soon as it's used in commerce.
A law firm, attorney, or any legal or business professional should begin the process of trademarking their logo as soon as they nail down a design. This usually begins with submitting an intent-to-use application before the launch of your business or brand. Once the patent office reviews and approves your application, then your trademark will be officially registered and you can rest assured your logo and brand are protected by law. 
Legal Logo Ideas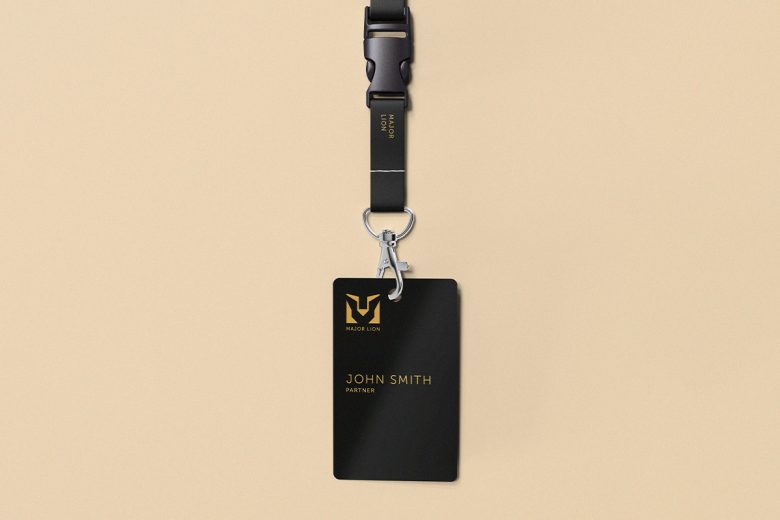 Modernized Symbols
Don't be afraid to use common, recognizable symbols that have appeared in legal logos for decades. We suggest updating symbols such as columns, scales of justice, or handshakes for a more modern audience. Get creative with negative space and bold, graphic designs to make a big impact. 
Laurel or Natural Element
Adding natural elements like laurels, leaves, or even an understated floral motif can add softness and a sense of harmony to your law firm logo. Experiment with natural wonders to express your commitment to sustainability, and desire for unity. 
Architectural Details
Architectural elements go far in setting a serious tone with your legal logo. Make your business cards and letterhead stand out with edgy architectural details to make a firm yet friendly statement. 
Abstract Flourish
If your law firm is not defined by a particular symbol, try an abstract or artistic flourish to add whimsy to your legal brand. This also works well for a law firm logo for an art law firm.
Mascot
Is your law group partial to a mystical mascot or a majestic creature that holds the powers that your legal practice stands for? A mascot is a great way to communicate a lot with one strong symbol.
Monogram
A monogram logo may be expected, but if done right, it can set your law office apart and establish it as the firm to work with. This is where creativity with typefaces comes in handy. Keep it simple and sophisticated or enter a new realm of creativity with text with an unexpected font for your monogram logo. 
Law Specialization
With so much diversity in the legal field, your logo can carry more weight if it's defined by a symbol that's specific to your legal specialization. Incorporate friendly features in your family law logo, a defiant fist if your firm specializes in social advocacy, or a protective symbol if you represent individuals affected by medical malpractice or have been injured while on the job. 
Crest
For centuries, crests have been created to capture a family or dynasty's core values and the things they hold dear. By its very nature, a crest can include multiple symbols and can be decorated with different design elements that make your law practice's priorities known and give any legal logo a stately look.
Shield
Historically, shields have been known to offer protection from risk and communicate strength and power. Why not incorporate a symbol of defense into your law firm logo that will make your clients feel like you have their back no matter what?
Torch
Torches typically symbolize everlasting energy, enlightenment, hope, and peace. Why wouldn't you want these epic values to represent your law firm's commitment to its clients and to justice? Get creative with colors and shapes on the flame's design for an updated look. 
How Do You Create a Logo? 
By now you must be bursting with all of the great inspiration you need to create the best law firm logo. You know what your law office stands for and how you want both clients and colleagues to perceive you and your business. Look no further than PicsArt! PicsArt's Web Editor is the ultimate resource to help you design the custom law firm logo of your dreams. 
After doing your research and nailing down your dream

logo design

idea, take it one step further by

creating a mood board

using the

PicsArt Collage Maker

to lay out your inspiration. Click through

PicsArt's Explore page

to find trendy design inspiration that's popular with PicsArt's creative community! 

Sketch your design on your phone, tablet, or desktop computer with the

PicsArt Drawing Tool

. Draw with your finger or a stylus for extra precision. Use the Layers feature in the Drawing Tool to add or remove different visual elements like text or images one by one to keep your process clean and simple. If you'd like to use an image as a logo instead, upload your photo to the

Remove Background tool

to get rid of the background and save it. You can also use the

Text Editor

if you want to use your initials as the logo. 

Add text or image elements and experiment with PicsArt's many design tools to customize your

legal logo design

! 
PicsArt all-in-one Photo and Video Editor, Collage, and Sticker Maker is the world's largest creative platform with over 150 million monthly active creators and influencers. PicsArt has collaborated with major artists and brands like Taylor Swift, The Jonas Brothers, Gwen Stefani, Maroon 5, Lizzo, Meghan Trainor, One Direction, MONSTA X, Warner Bros. Entertainment, iHeartMedia, Condé Nast, and more. Download the app today to level-up your photos and videos with thousands of quick & easy editing tools, trendy filters, fun stickers, and brilliant backgrounds. Unleash your creativity with PicsArt and upgrade to Gold for awesome premium perks!