If you don't promote yourself, no one else will do it for you. This is true across almost all industries. And, that's not necessarily a bad thing. You know your work and your brand best after all. That's why you should create a marketing portfolio to present yourself to the world in the way you want to be seen.
If you're starting a service-based business, a portfolio can seem like just one more piece of marketing material you have to make, but focus on the value of this resource. A portfolio contains clear information about your best work and stunning visuals of how you do it. Plus, you can sneak in all of your accolades. 
If you're ready to jump in and want to learn how to how to create a portfolio, then stick with us. Below, we'll run through common formats for portfolios that you can use as a departure point when creating your own. Plus, we'll leave you with some portfolio samples to get those creative juices flowing. 
What is a Digital Marketing Portfolio?
In the digital age, a marketing portfolio is often a website. This easy-to-navigate, aesthetically-pleasing space includes key information about you or your company and highlights your most important projects and accomplishments. 
Marketing portfolios typically are heavy on visuals. The idea is to catch the viewer's eye without overwhelming them with text. This virtual "calling card" for your personal brand is a clear example of showing, not telling. Think of it as content marketing in its purest form.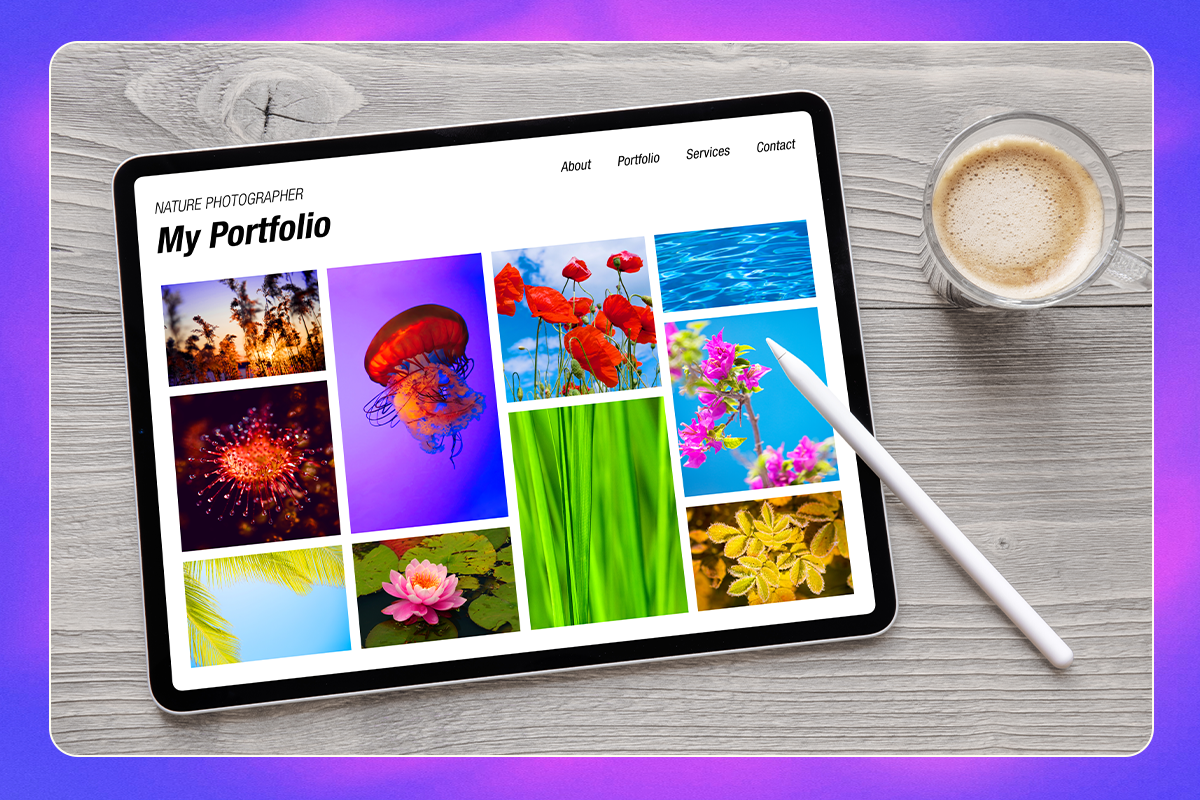 Why is it Important to Have a Marketing Portfolio?
You want to stand out, and you deserve to. But, in a 11-pt black font on a white background resume, many of us look the same—no matter how unique we are. So, when presenting yourself to potential employers or clients, lead with a portfolio. You can show them your work instead of leaving them to visualize a written description.
Even if your industry isn't a creative one, you can still have a great portfolio. If you code, for example, you can talk about your most important projects and use eye-catching graphics or stock photos to keep the reader's eye moving around the page. 
And, if you are in a creative industry, a portfolio is the perfect place to show off your paintings, photos, or interior designs. Just check out these examples of graphic design portfolios if you're curious. 
Who Needs a Marketing Portfolio and Why?
Most of us could benefit from a sharp-looking portfolio – especially if we have services to offer or are searching for the right job. By housing all of your key professional information in one ownable place, you help potential employers and clients to learn a lot about you quickly. In a competitive market, time is of the essence. And by creating your own website, you're able to control the layout, graphics, and overall portfolio format, unlike on LinkedIn where it's a standardized template.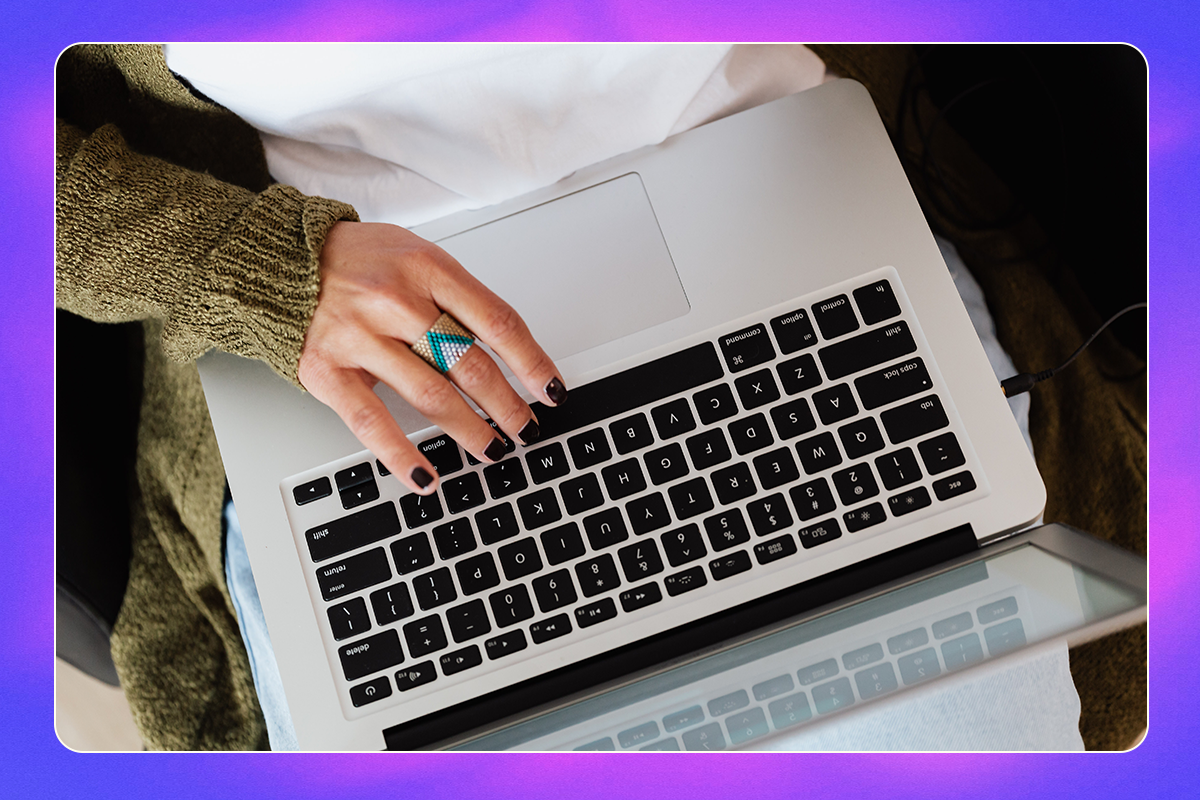 What to Include in Your Portfolio
Below are some common things to include in a portfolio. Consider including a mix of the below when picking your portfolio format. 
Bio or brief company "about" description 

Contact information 

Links to important work or case studies

Resume

Testimonials 

Links to relevant social media accounts (especially LinkedIn)

Logo or headshot 
Pro tip: consider making a logo for your personal brand. It'll add an extra layer of authenticity and help establish credibility among potential clients.
Qualities of Good Portfolios 
The great part about portfolios is that they're unique to each person. However, there are some unifying factors among portfolios that really stand out. Consider these:
Brief written information that pops and gets to the point 

Good design

aesthetics

that represent your personal brand 

Easy-to-navigate text and visuals 

A space that flows well visually 

Good curation (show your best work and your range, but doesn't show everything you've ever done)
4 Great Examples of Online Portfolios
1) Marketing portfolio example: If you have a brand, then show off your products in a straightforward, visual way. This is the best introduction you can make to other businesses and potential clients or customers.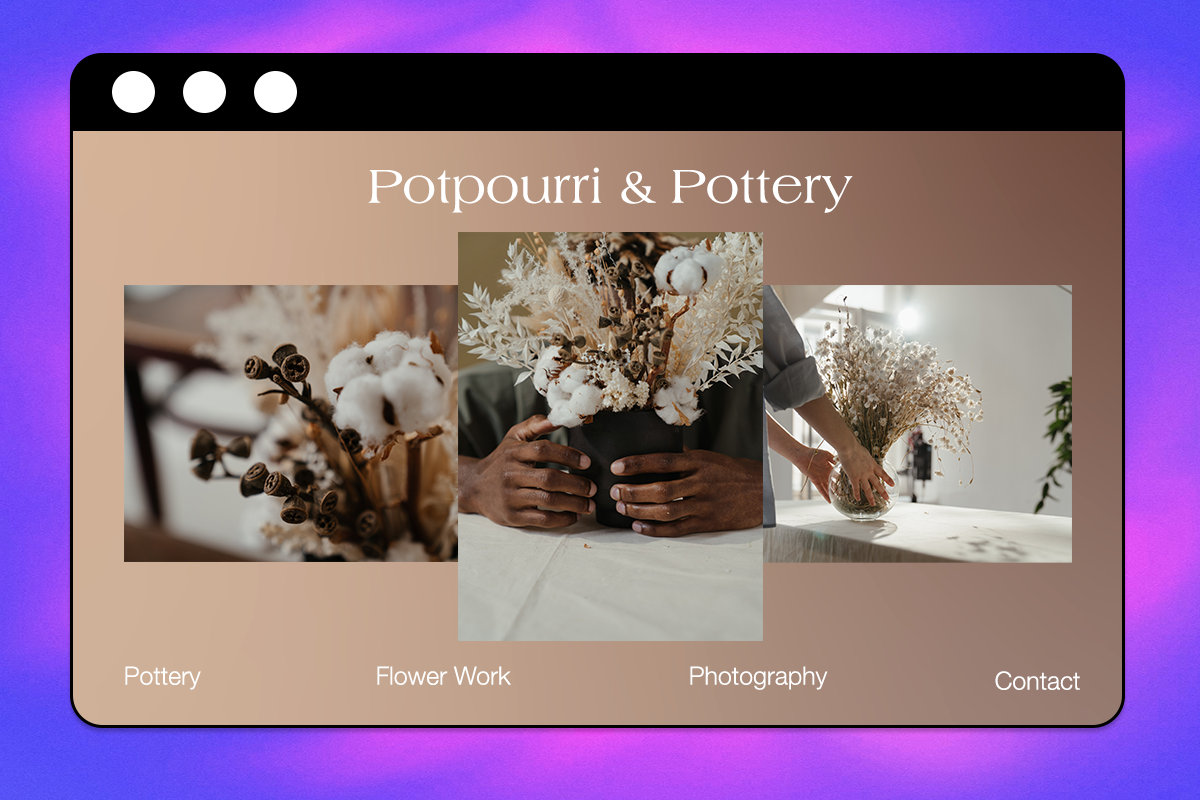 2) Social media portfolio example: Trying to get a gig as a social media manager with a portfolio that shines? Show the world your top posts and talk about the kind of audience engagement only you know how to build. If you're just getting started, here's how to make businesses shine on social media.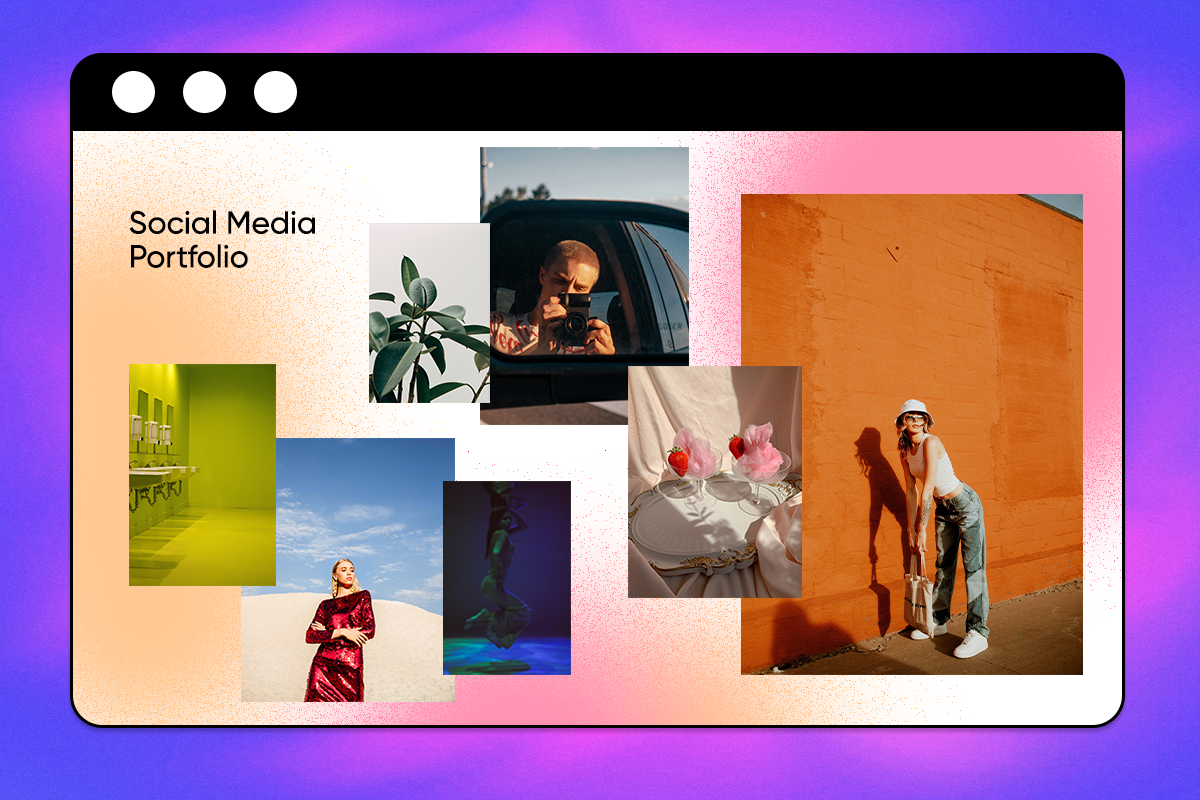 3) Business portfolio example: Whether florals or food, consulting or construction, show the world what your business is all about with an image-heavy portfolio that uses photos to tell a story about the quality of your work.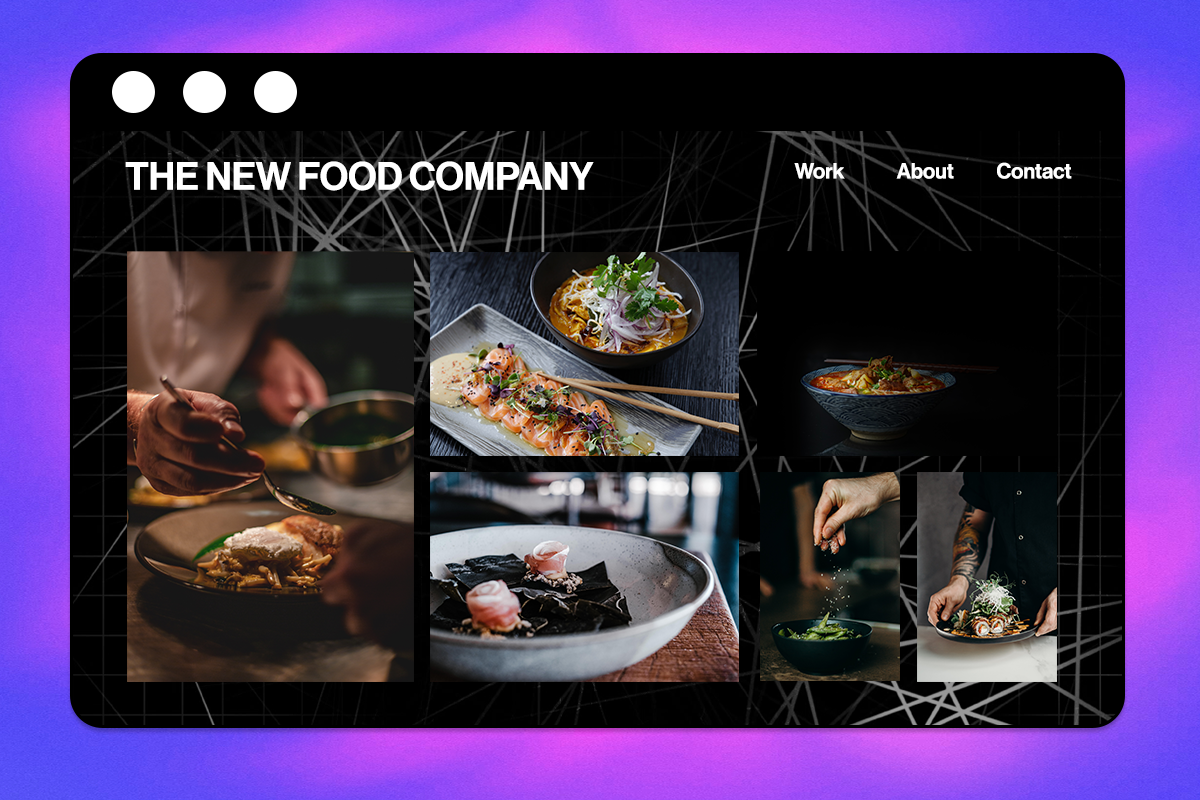 4) Professional portfolio template: Even if your work doesn't come with visuals, you can still have a stunning professional portfolio. Take this sample design for reference. This visually-appealing space draws the viewer in with simple text and bold, contrasting colors.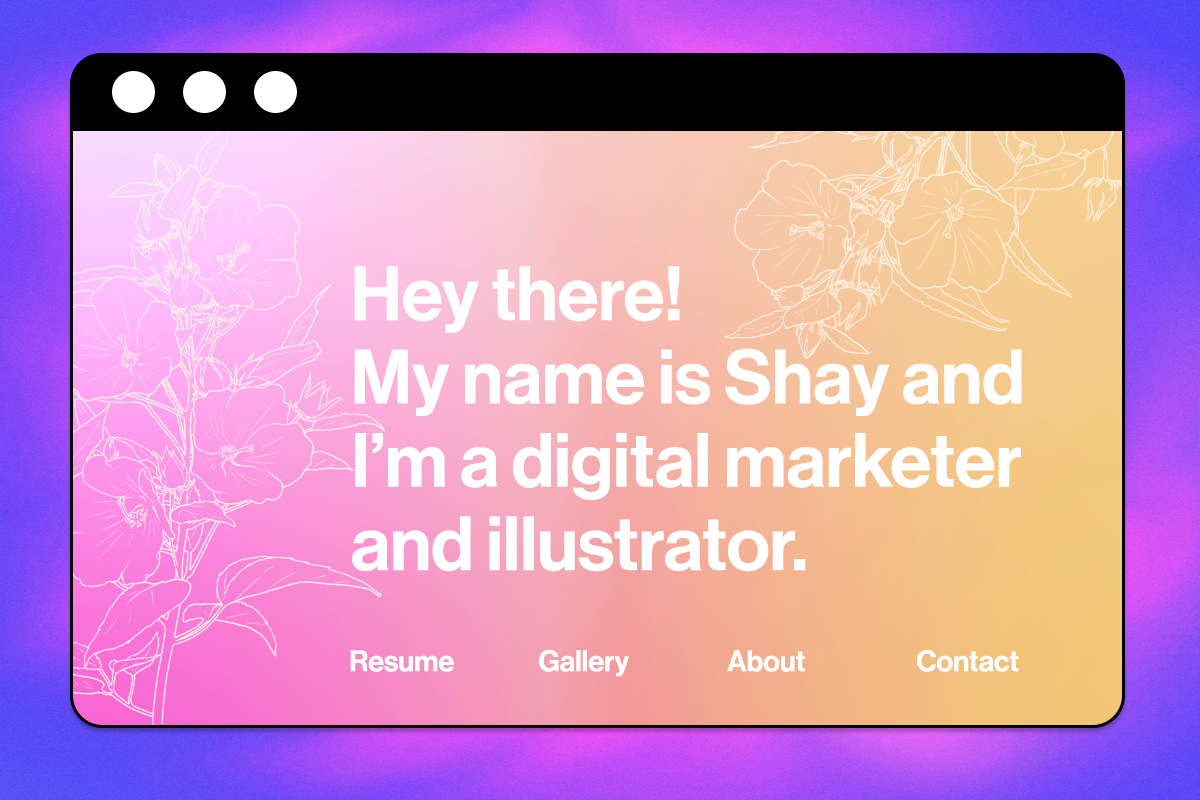 How to Create a Digital Resume for Your Portfolio with Picsart
Before we get started, remember that if you plan to host your portfolio online, you'll likely need to team up with a third-party hosting site or portfolio website builder. These sites will walk you through uploading photos and text. 
One of the most important parts of any online portfolio, however, is a resume or CV, and these are usually hosted elsewhere, accessible to viewers at the click of a button (often located with the contact information). In this brief tutorial, we'll show you how to make an on-brand resume with Picsart that you can add to your marketing portfolio template when you're ready to go live. If you want even more helpful resources that'll help you build yours, check out Picsart Quick Tools.

If designing on web:
1) Open Picsart Web Editor and start a new project.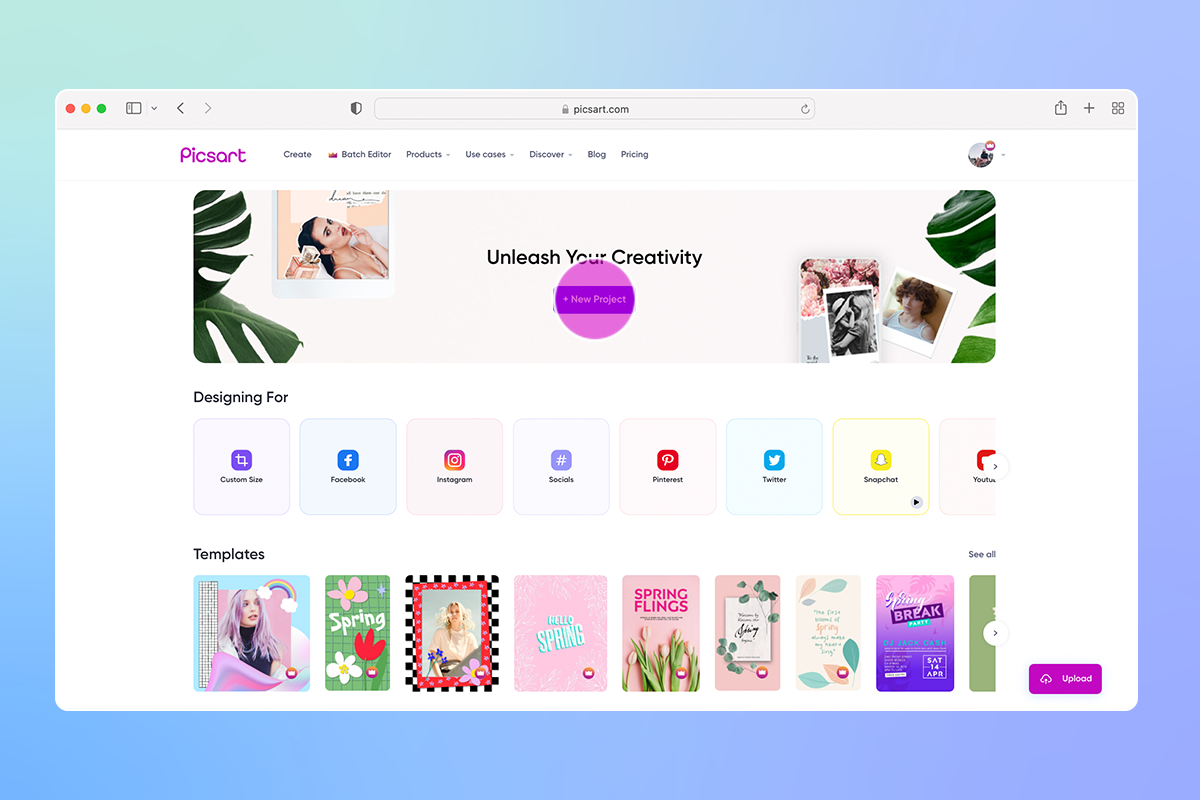 2) Select Templates in the Left toolbar. Under the All Templates drop-down select Letterhead or simply type in the search box above. Select a letterhead template that you like best. You can change virtually all aspects of the template in the next steps.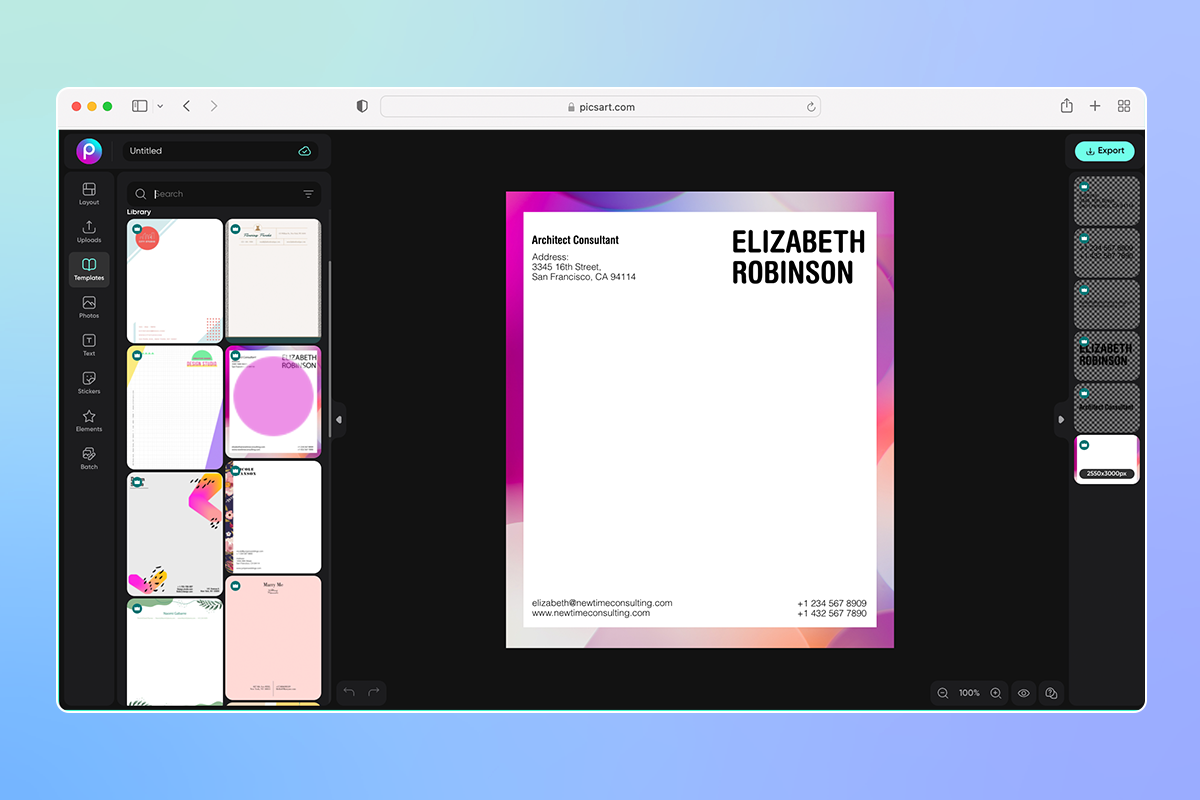 3) First, omit any elements that you don't like in the design by heading over to the right side of the screen and clicking on the three tiny dots in the corner of the element you wish to eliminate. From the pop-up menu, select Delete.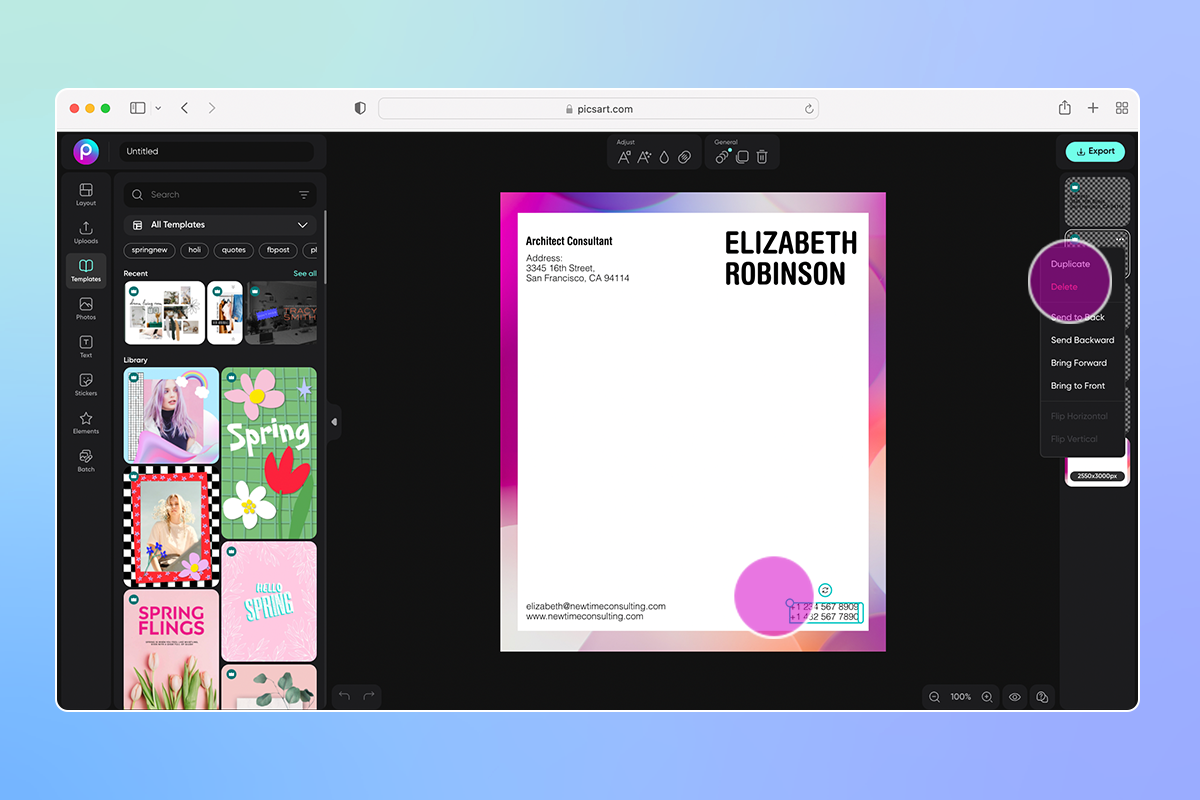 4) Now, it's time to start adding in elements to customize the letterhead into a digital resume for your site. We recommend clicking on Photos on the left-hand side of the page and, then, going to My Photos and selecting your company logo or headshot. This will make the perfect header for your resume.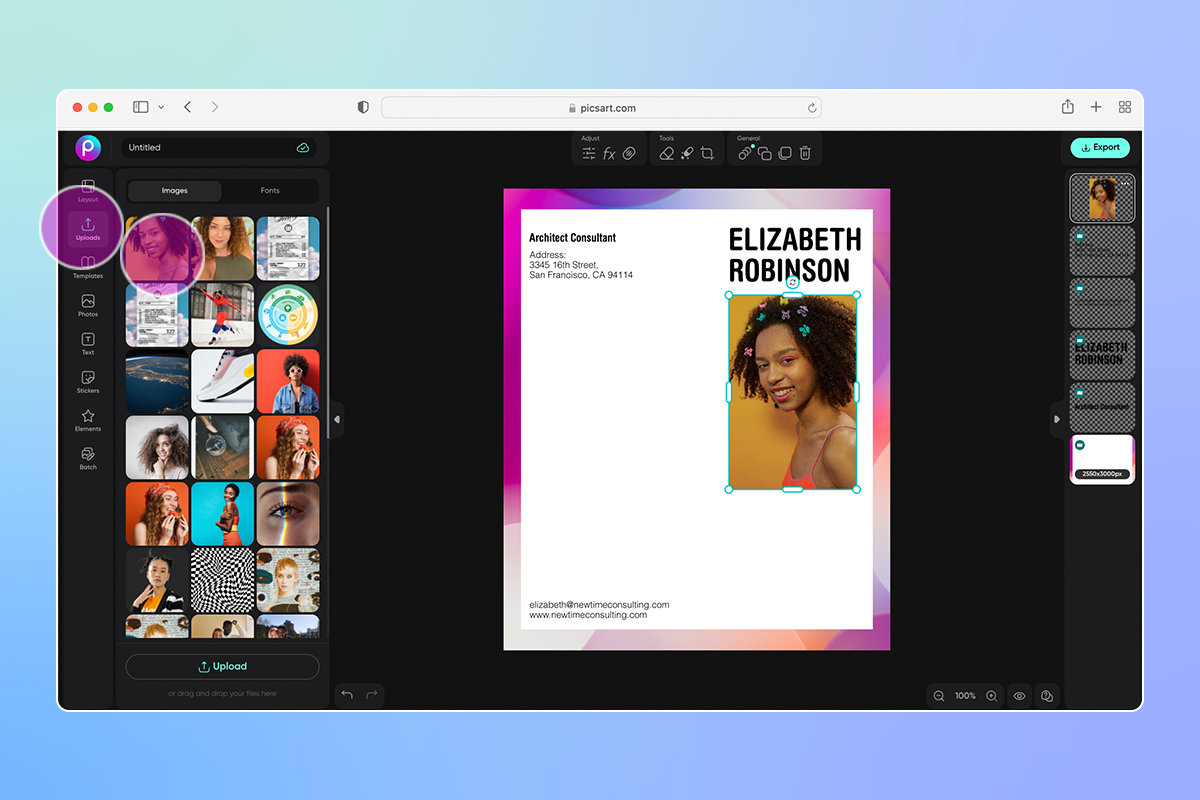 5) Next, add text boxes by clicking on the corresponding icon in the menu on the left-hand side of the page. You will need to add a lot of body text to a digital resume, and perhaps a subheading under your logo with contact information, so consider your spacing and layout.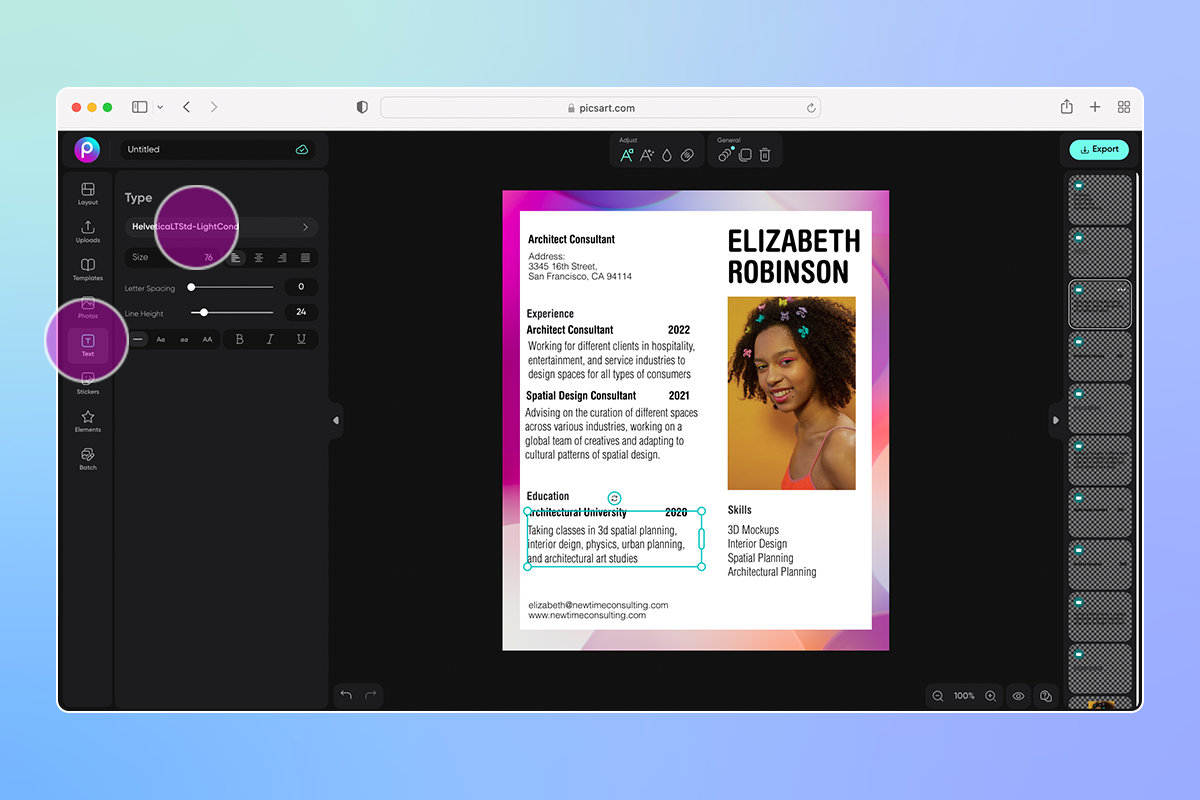 If you need to change the size or style of a font, click on the text icon above your canvas to bring up our font tools. Here, we used the color dropper to change the headings to a shade of purple.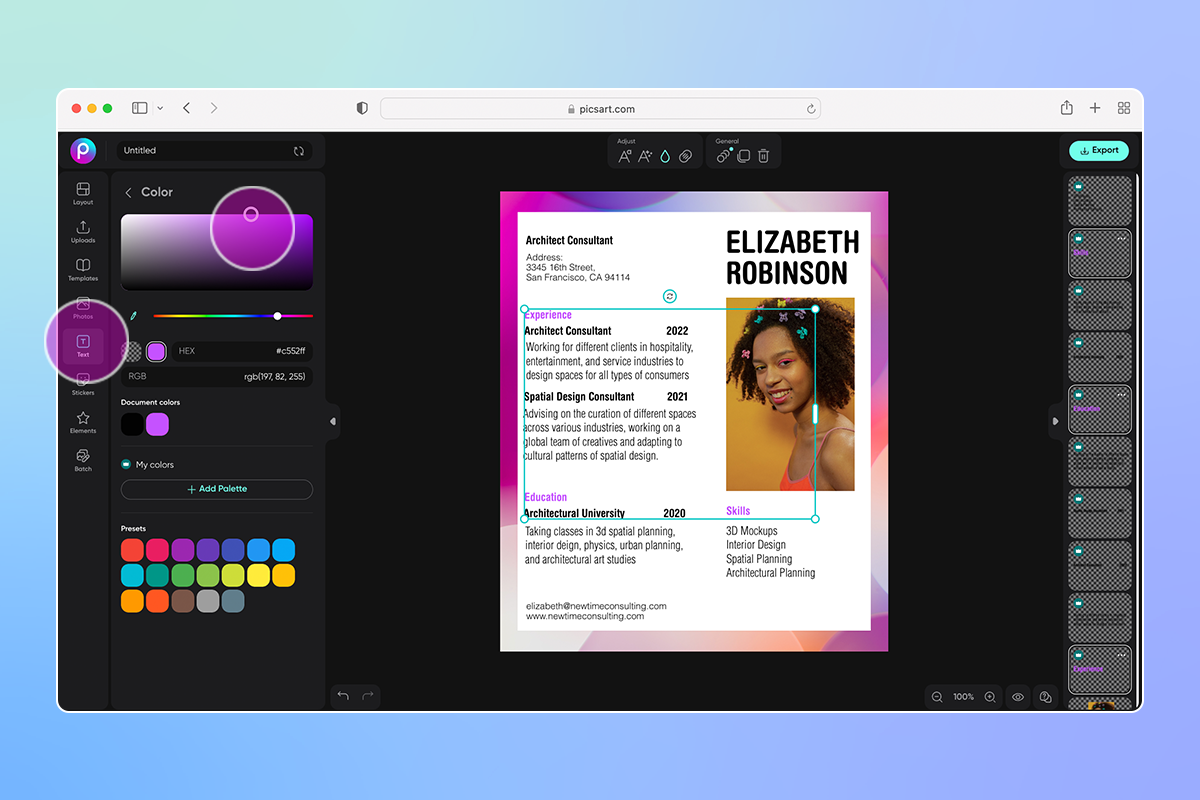 6) When you're satisfied with your design, click Export in the upper right-hand corner of the screen. We recommend downloading to PDF so that your resume is easy to upload to your portfolio site later on.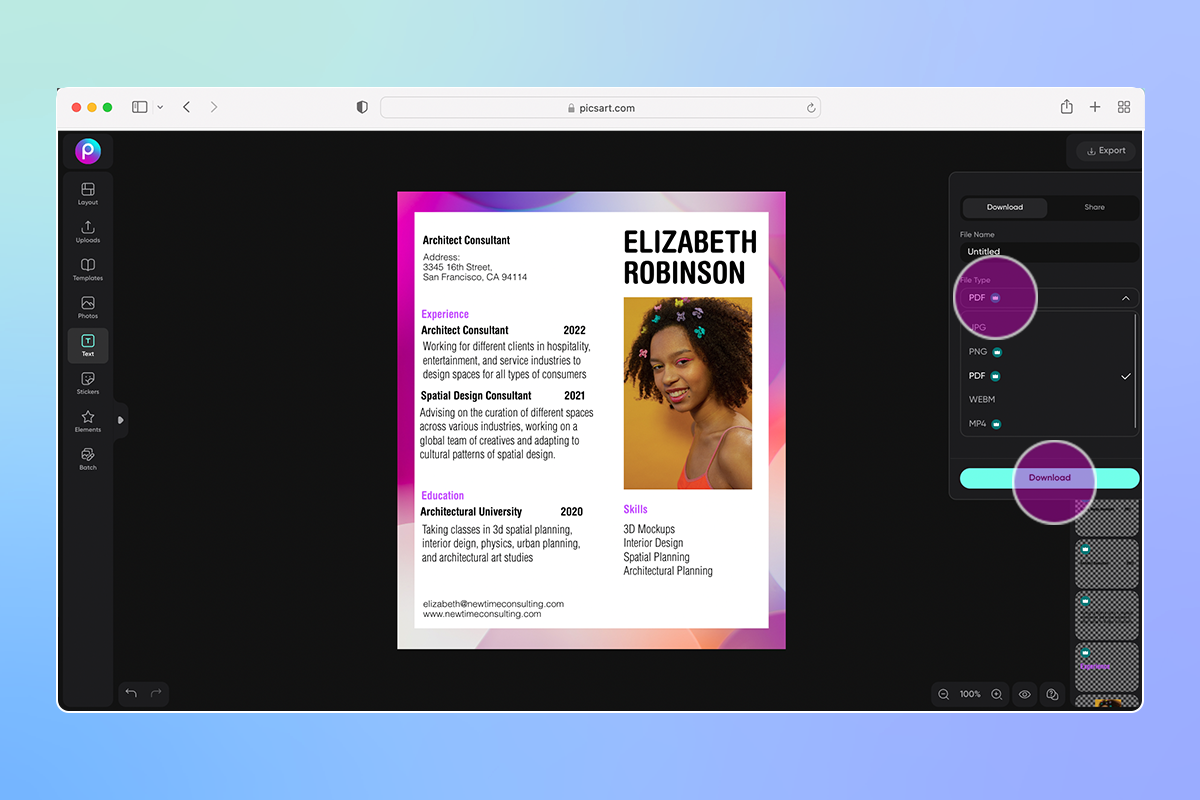 If designing on mobile:
1) Open the Picsart mobile app and press the plus button (+) at the bottom of your screen to start a new edit. Scroll down to Templates and tap on All Templates. Search for a letterhead and pick your favorite.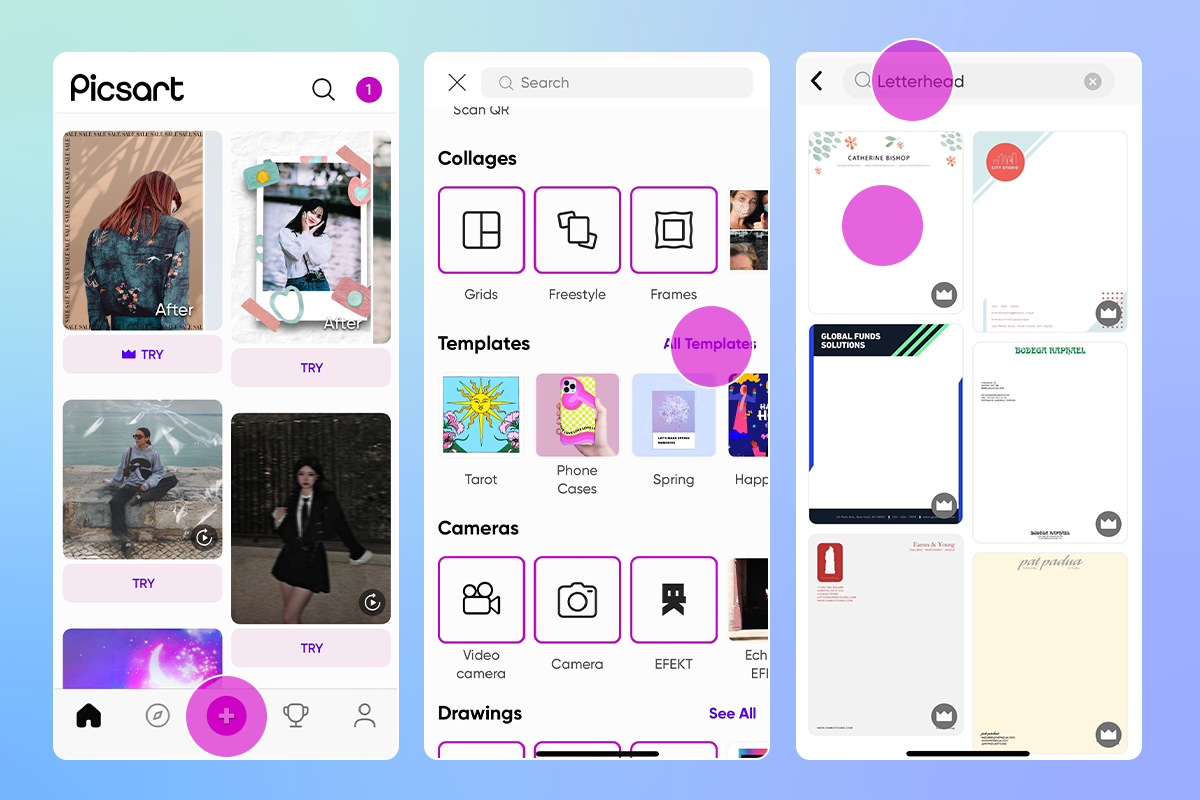 2) Let's add your headshot or brand logo in. Tapp on Add Photo and select one from your camera roll. Then, select the Text icon to add your name and contact information.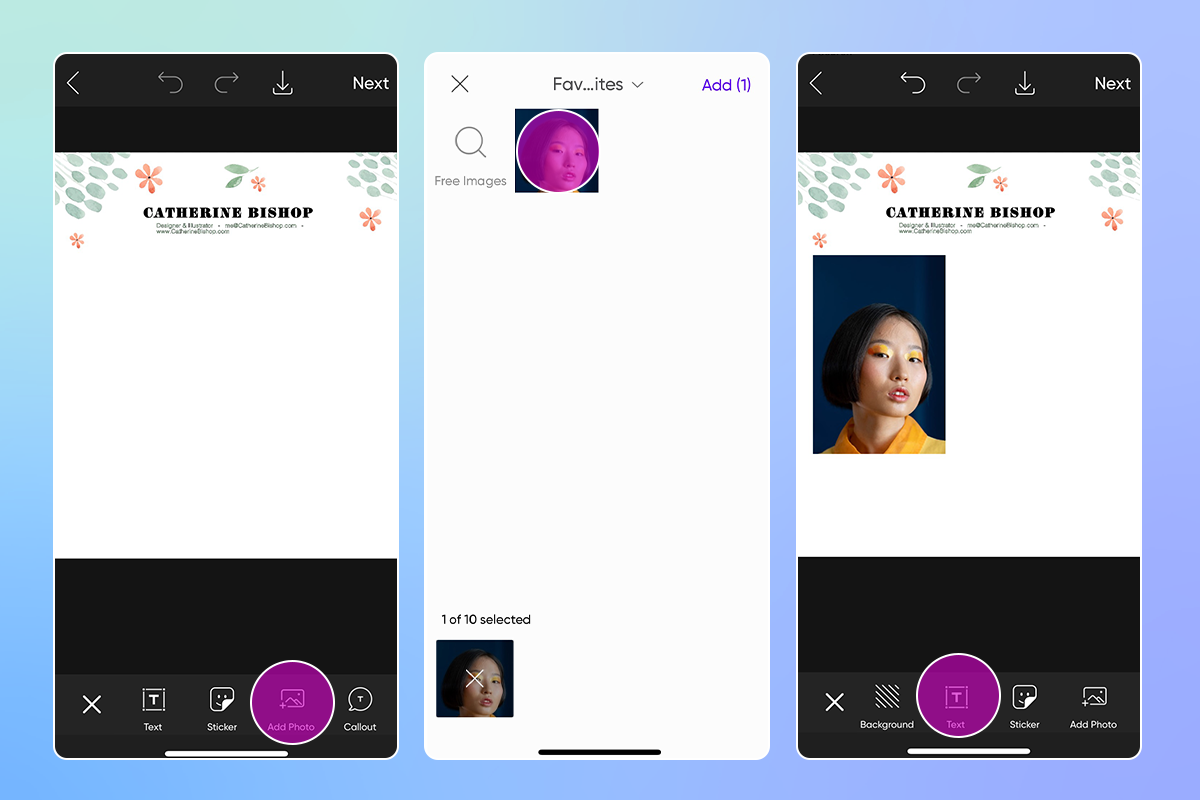 3) Type in your header copy and press the check mark in the upper corner to move on to the text editing tools. Select the font color and font face, then duplicate it to maintain an aesthetic consistency across your headers.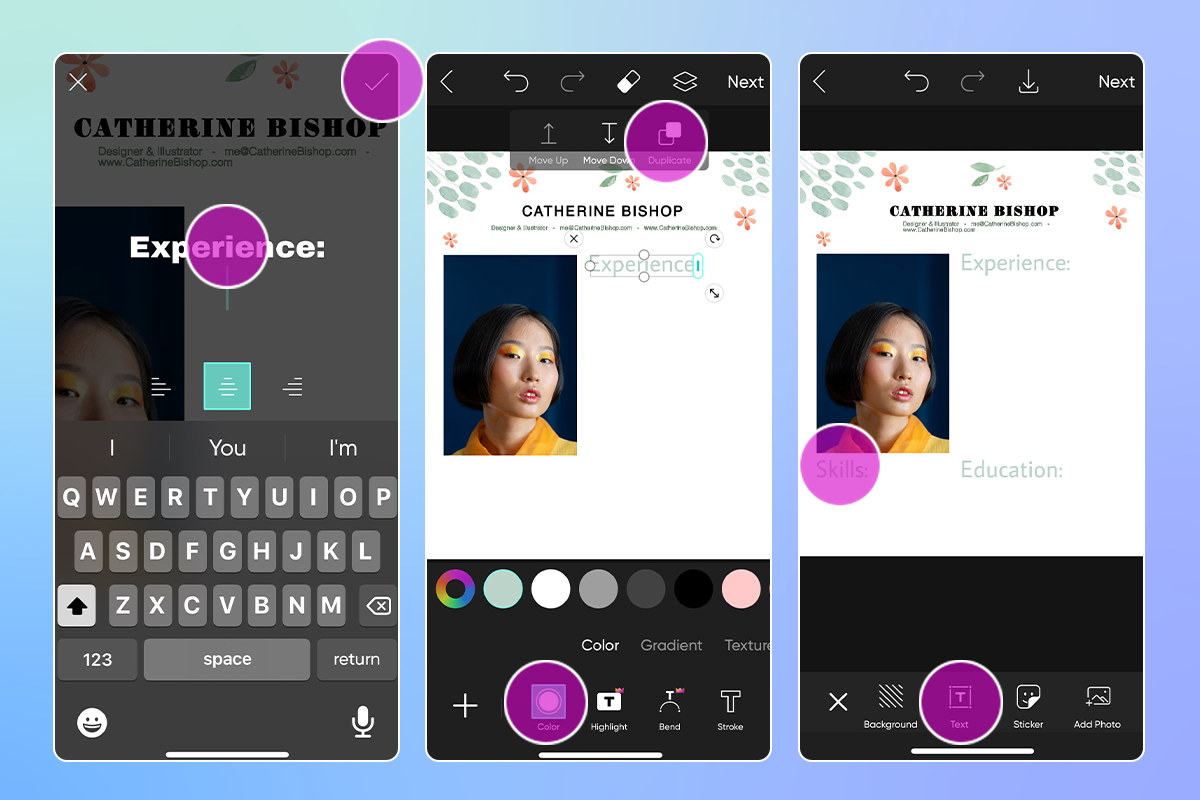 4) Now that you have your headers, it's time to write the body copy by replicating the directions in step 3 above. Adjust the text spacing as needed.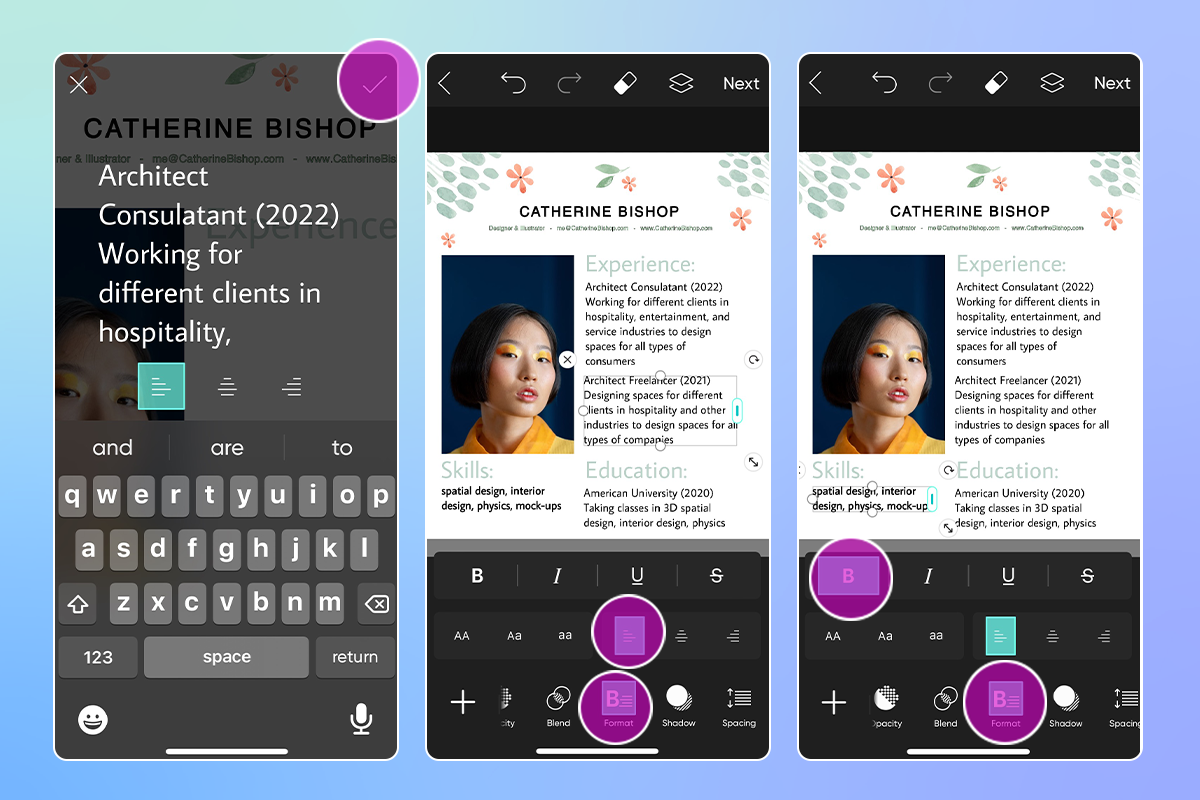 5) When you're done with your final edit, save it to your mobile device by tapping the downwards arrow. Tap Next to select the file type and save in that format.
Picsart is a full ecosystem of free-to-use content, powerful tools, and creator inspiration. With a billion downloads and more than 150 million monthly active creators, Picsart is the world's largest creative platform. Picsart has collaborated with major artists and brands like BLACKPINK, Taylor Swift, the Jonas Brothers, Lizzo, Ariana Grande, Jennifer Lopez, One Direction, Sanrio: Hello Kitty, Warner Bros. Entertainment, iHeartMedia, Condé Nast, and more. Download the app or start editing on web today to enhance your photos and videos with thousands of quick and easy editing tools, trendy filters, fun stickers, and brilliant backgrounds. Unleash your creativity and upgrade to Gold for premium perks!