Building an online portfolio is one of the most popular ways to showcase your graphic design skills. After all, graphic design websites allow you to easily share your best work with potential customers, get discovered for new opportunities, and share the stories behind you and your art. All it takes is a bit of effort to set up and maintain. 
But where do you start? Let's take a journey through the picturesque world of website graphic design, check out the five best examples of online portfolios, and learn more about what it takes to create your own web design portfolio. 
What is Website Graphic Design? 
Website graphic design falls under the larger umbrella of graphic design – an array of tools used to visually communicate an idea. Website graphic design tends to be more dynamic, customer-oriented, and pragmatic than typical graphic design. 
What do we mean by that? First, web design trends evolve quicker and require more flexibility. A website is never final; it is always a work in progress. Second, caring about providing an optimized user experience is a part of the package, and that includes trying to reduce load time by optimizing visual elements, worrying about file size and resolution, and being ready to tweak ideas according to the customers' needs. And finally, web design requires excellent communication skills and attention to detail so your developers can translate visuals into code that'll look good on all devices.  
That being said, graphic design and web design are quite similar. In essence, both types of design are about shaping the best possible look and feel for a brand or idea. This is achieved by experimenting with various colors, styles, animation, and typography.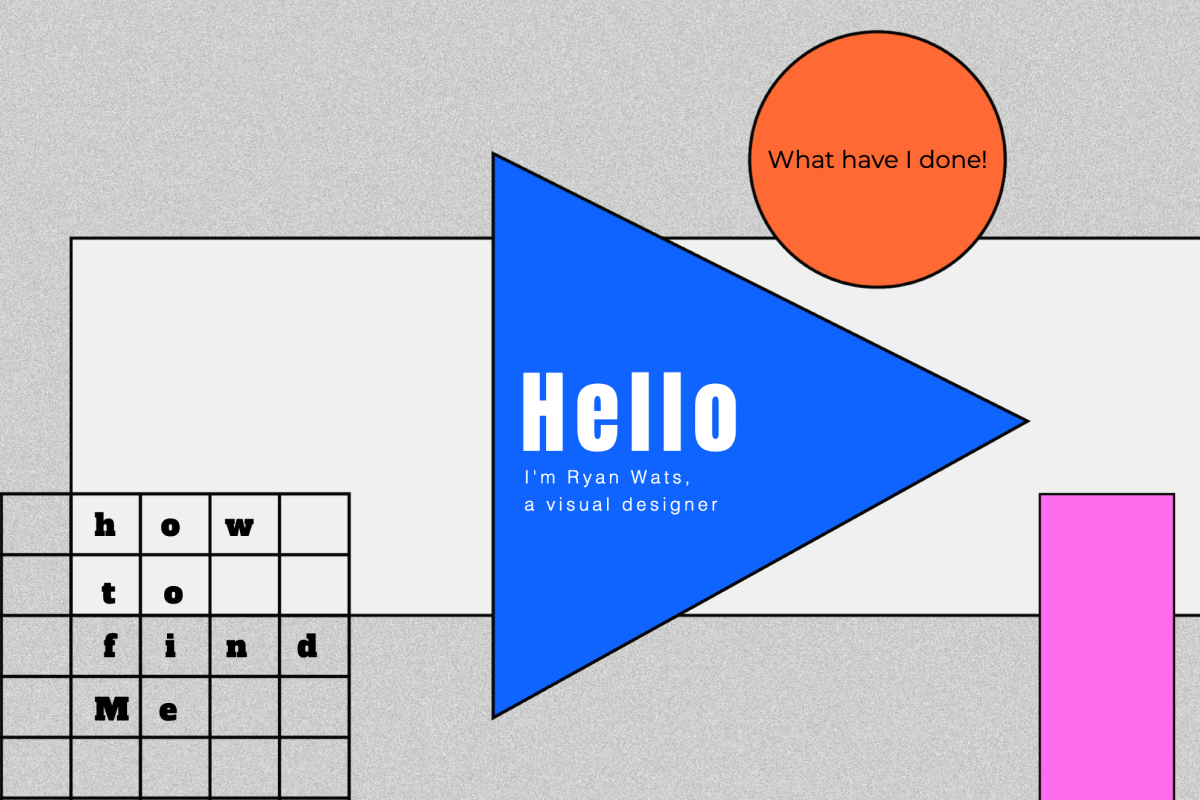 If you pay attention to websites you visit often, you'll likely find a correlation between popular web design styles and website topics. For example, children's websites are typically bursting with colors and animation, while official governmental organizations tend to use easy to read shades of blue and dark red and stick to classic fonts.  
Before sitting down to design your own graphic design portfolio, it's best to pretend that you are your own client. Ask yourself all the questions you would typically ask a client: Who am I as a graphic designer? Who do I want to be? What do I want others to think, feel, say, or do after seeing my web design portfolio? What are my best skills? Who is my target audience? What is my best work so far? 
Best Graphic Design Website Examples
Now that you've put yourself in the client's seat, check out these graphic design website examples for some design portfolio inspiration: 
A major reason why this online design portfolio works so well is that the homepage layout gets straight to the point by showcasing the design agency's past work front and center. Text is used sparingly, which is what makes the images more compelling. The user immediately wants to find out what idea or concept the eclectic visual solutions serve. 
The minimalism of the web design portfolio helps increase the page's load time too, which makes browsing much more pleasurable. 
Another helpful aspect for any potential client checking out the website is that the agency shares case studies, demonstrating exactly why they achieved for featured clients.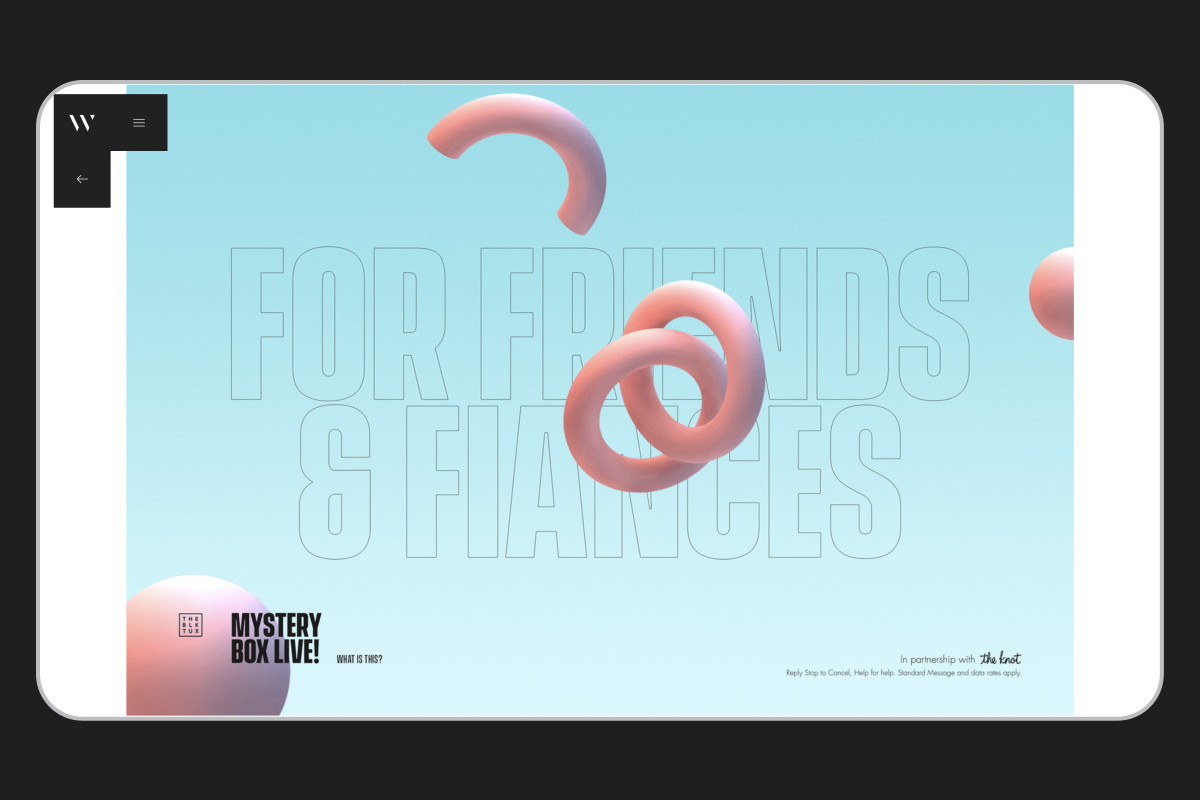 The coolest thing about this website is the homepage. The user is greeted with sleek red and black illustrations from the famous painting "The Creation of Adam" and asked to "connect art and technology." As soon as the two figures are connected, there's a pixel big bang. 
If you're good at motion graphics or illustration, then this type of website allows you to immediately surprise visitors with an interactive illustration. Viewers enjoy scrolling and clicking around to see what happens next. The website overall communicates eye catching design with an ironic twist.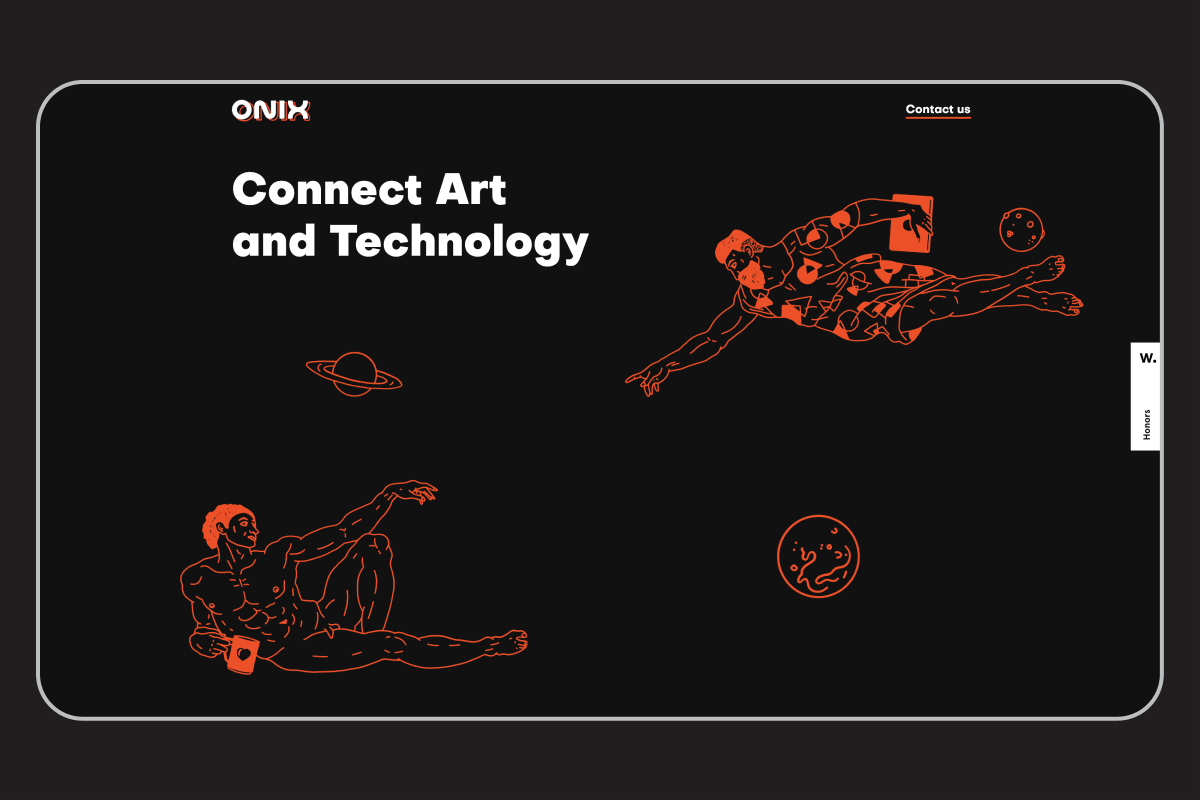 Vintage is in vogue, and web design is no exception. In this website, the designer leverages the design style of video games from the 1990s to introduce himself and his work. Scroll through this web design portfolio and you get a good impression of who the designer is and what they specialize in. When thinking about building your own graphic design website, don't forget to think through the traits that you want to convey to future clients.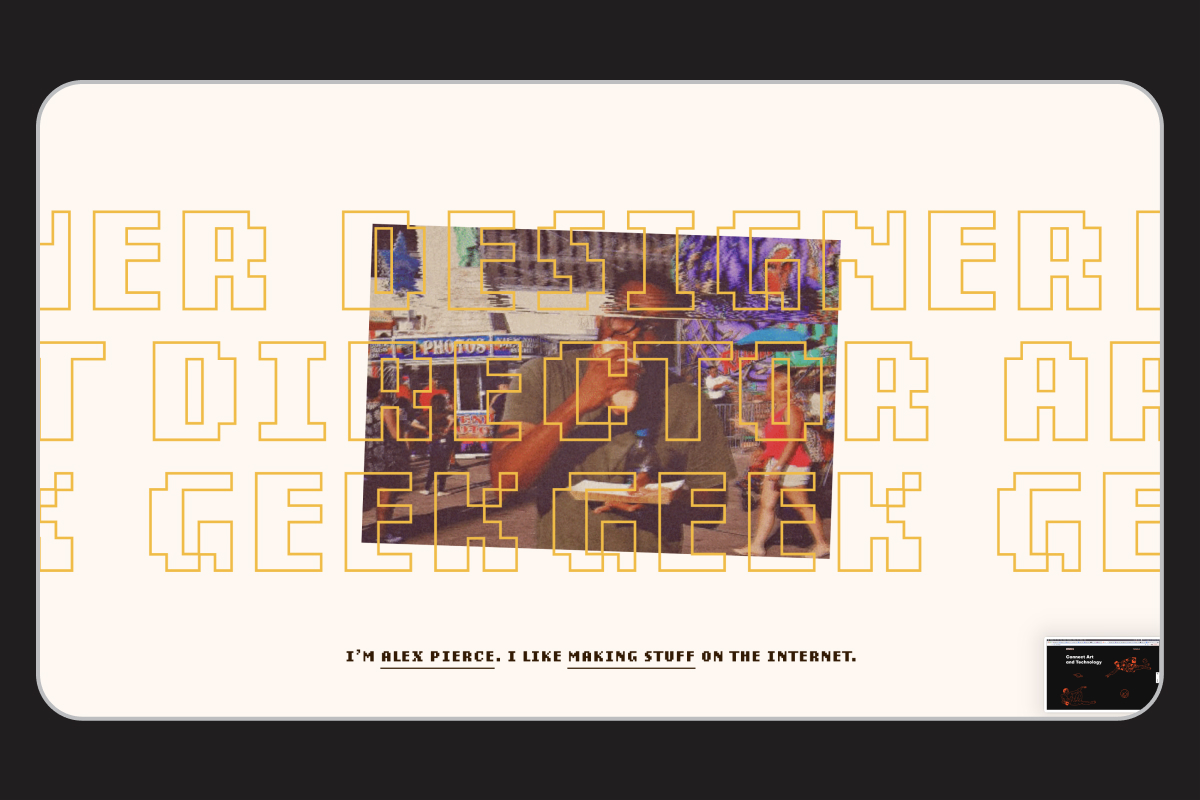 Your online portfolio is where you can get creative with your presentation. It doesn't have to be a simple "About Me," "Work," and "Contacts" site. In fact, some of the best portfolio websites include other related topics like thought leadership. 
In the case of Red Collar, they make predictions about web design trends. Not only do people love reading trend predictions, they'll also see just how proficient you are at all those treandbreaking design styles. 
Consider making your design portfolio engaging for multiple senses by coordinating sounds and visuals. You may be surprised at how enjoyable clicking through a well-designed website can be.
What better place to tell the world about your personal design ethos than on your web design portfolio? The duo behind this website has decided to turn their homepage into a manifesto. As a potential client, reading through it helps you get an idea of what it would be like to work with them. 
Make sure your web design portfolio touches on what matters most to you in your professional life. What are the traits you can advertise and what do you expect in return? Potential clients will appreciate the transparency.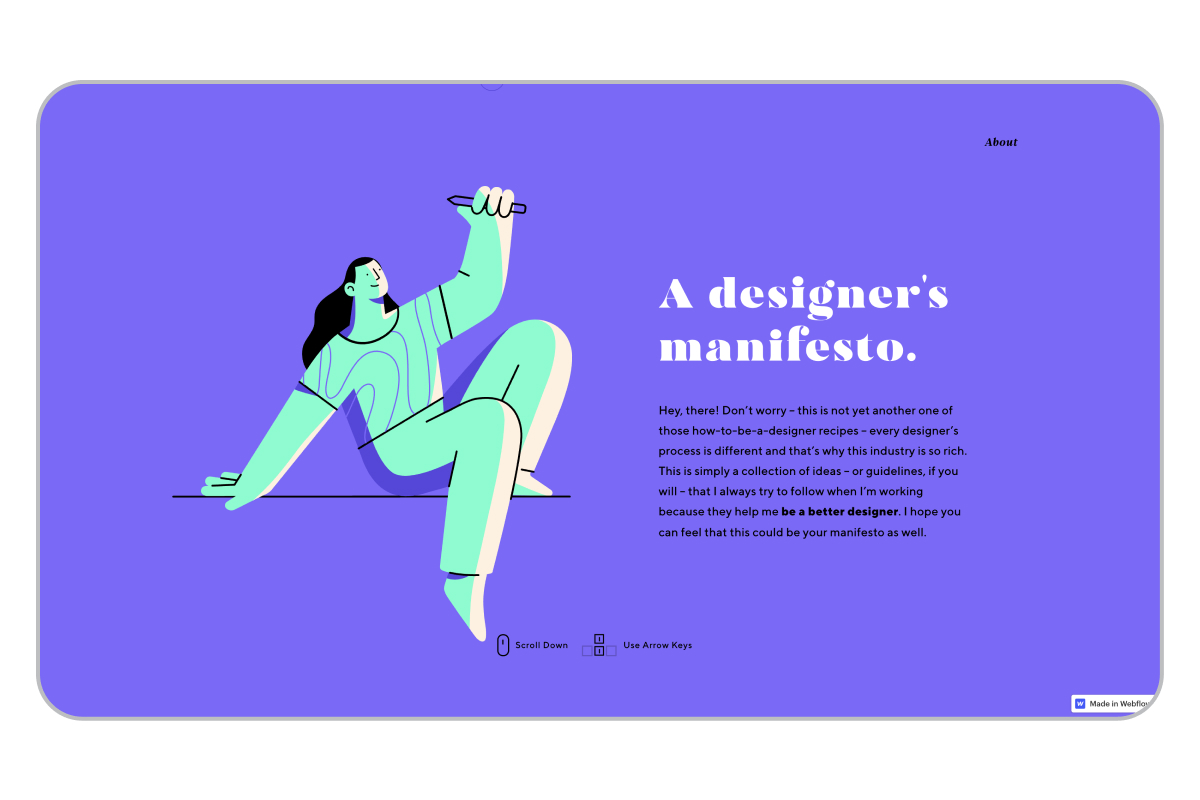 Best Tips to Make a Portfolio
Now that we've analyzed elements that make up some of the best portfolio websites, let's discuss the five best tips for making your graphic design website shine. 
Figure Your Brand Out 
Have you answered all of those important questions we mentioned earlier? Answering questions like these will help you shape your brand as a designer. Who's your ideal client? In what way do you want to be challenged in your work? What's your business model? What do you value most as a designer? 
It is only after you've figured your brand out that you can decide how you want to represent it. Pro tip: People love stories, so lean in to sharing the stories behind your work and yourself. 
Choose a Diverse and Original Set of Work
Make sure the work you choose to display reflects your full skill set and range of talent. There's no need to include everything you've ever done. Rather, choose a handful of your most original work and order them in a way that flows naturally from one to the next. It's important to keep it diverse, showing the breadth of your work across everything from packaging to industrial design.  
Design and Optimize for the Best User Experience 
Keep the website's design and navigation simple and sleek to let your portfolio stand out. Optimize your image sizes for the best load time and keeping your site map simple. This will keep your visitors engaged on your site.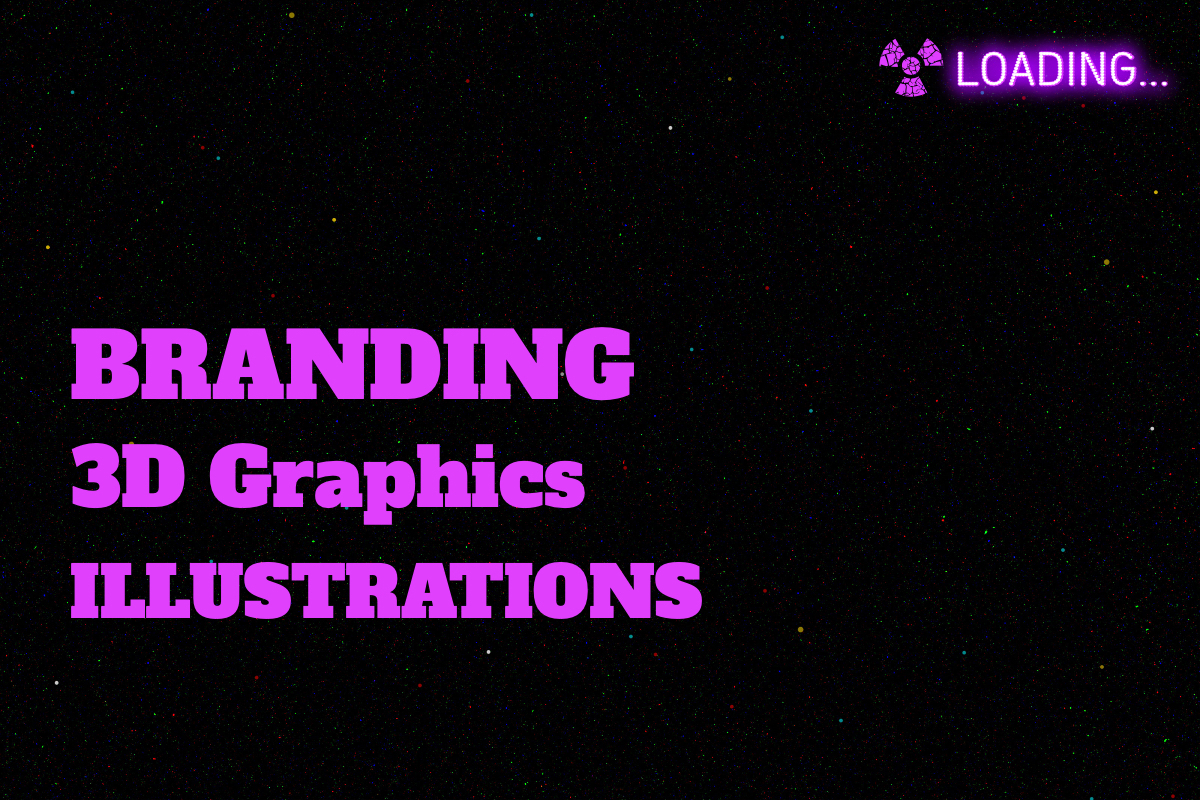 Track Data and Adapt Accordingly 
Your graphic design portfolio should be ever-evolving, so keep your website up to date. Before making major changes, be sure to check out your website performance data. Keeping track of your online portfolio's stats, such as page traffic, bounce rate, conversions, and more will help you know where to focus your efforts on.
Include Contact Info
The whole point of building a graphic design website is networking and access to new opportunities, so you'll want to be as easy to reach as possible. Whether you include a form fill to contact you or your direct information, like email and social profiles, let your page viewers know how to reach out.
Benefits of Having Your Own Portfolio
There are so many reasons to have your own online design portfolio. At the highest level, it allows you to:
Take control of your brand and narrative, telling the story behind successful projects. 

Attract the client base you want. 

Easily share your work with other artists and designers.

Putt yourself out there and get helpful feedback. 
How to Create a Portfolio in Picsart
Now that you're ready to create your own graphic design portfolio, it's time to start designing. You can use Picsart to easily edit images, create collages, add typography, colors and effects to generate the graphics for your website. You can also share your designs on Picsart for the user community to see. 
Here's how to start designing for your portfolio in Picsart on desktop:
1) Start a new project in Picsart Web. We're going to design an image for inclusion in a website, so we selected a pre-set canvas size.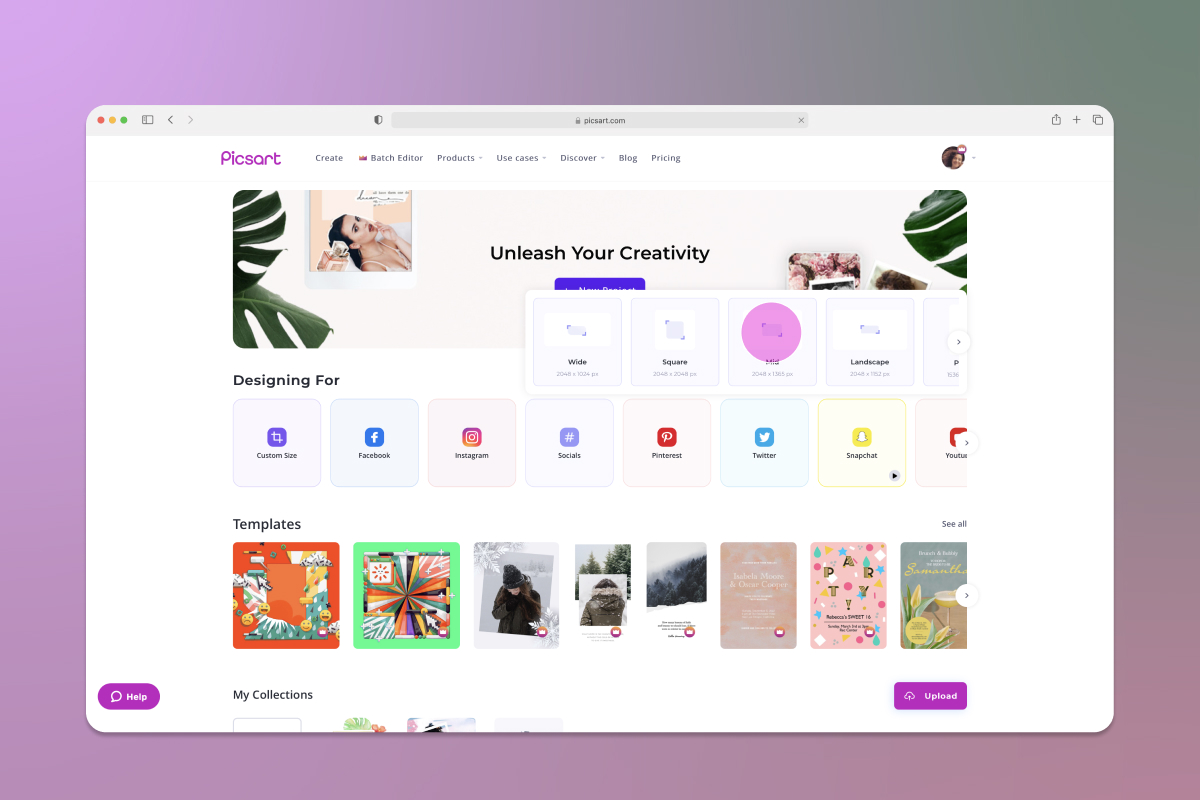 2) Click on Templates in the left toolbar and select Texture.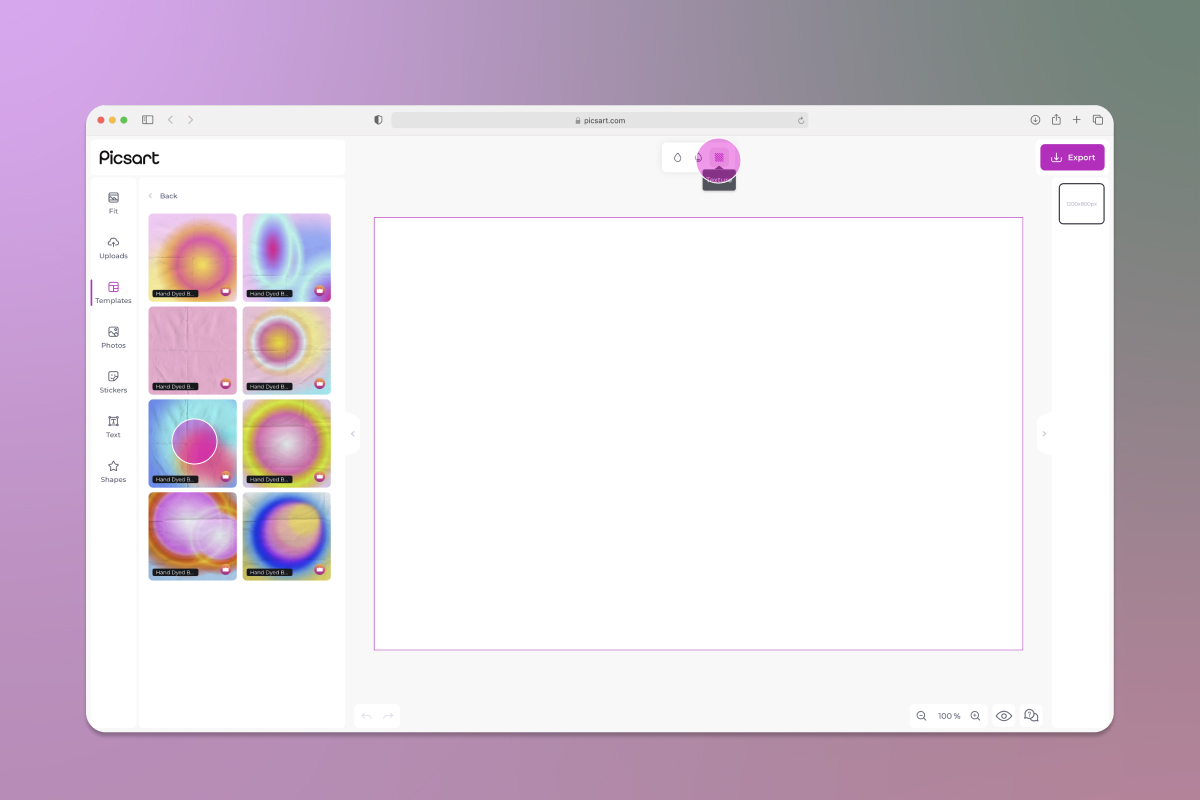 3) It's time to add some interesting design elements that are unique to your brand. Here, we're adding a rectangular box that can be used to attract the viewer's eye. Click on Shape in the toolbar and select a rectangle. You can reposition it wherever you like on the canvas.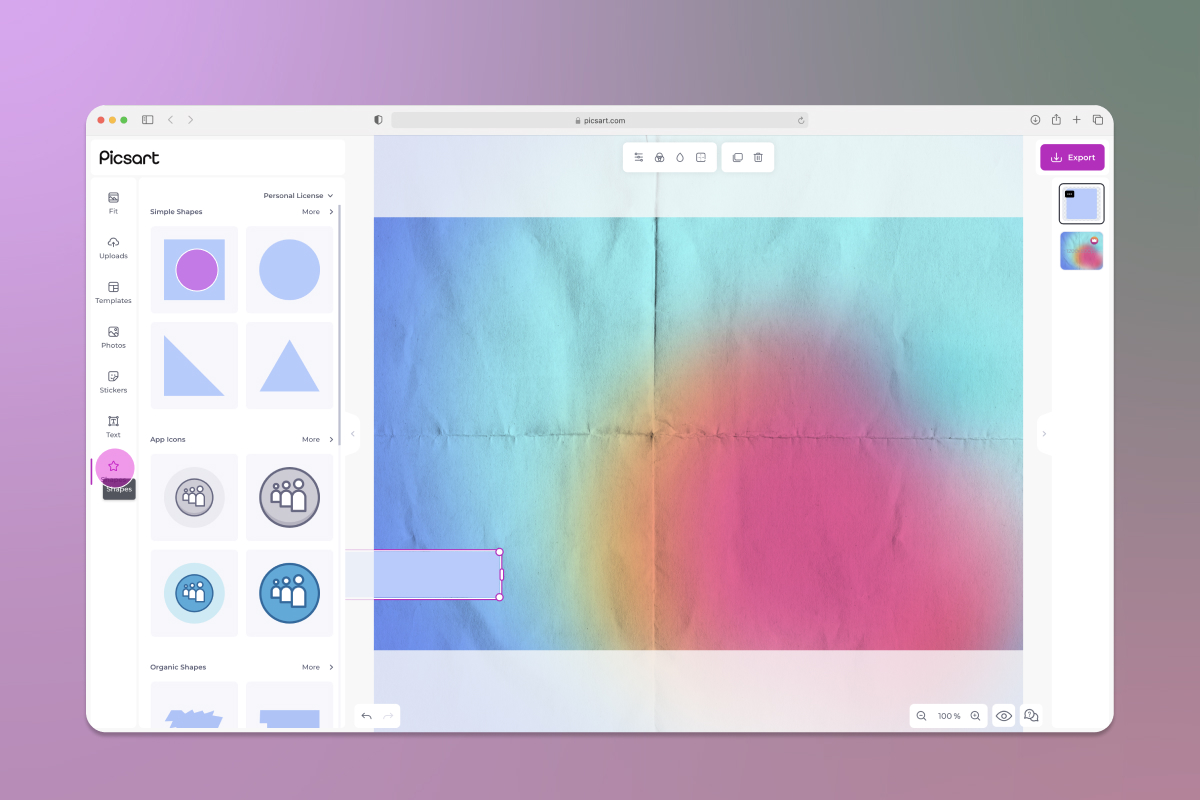 4) Use the color picker to adjust the shade of the rectangle shape. Add any other shapes and colors you'd like, keeping in mind the complimentary colors on your template. 
5) It's time to add text. Click on the Text tool, type your text, and select a font that works for your brand.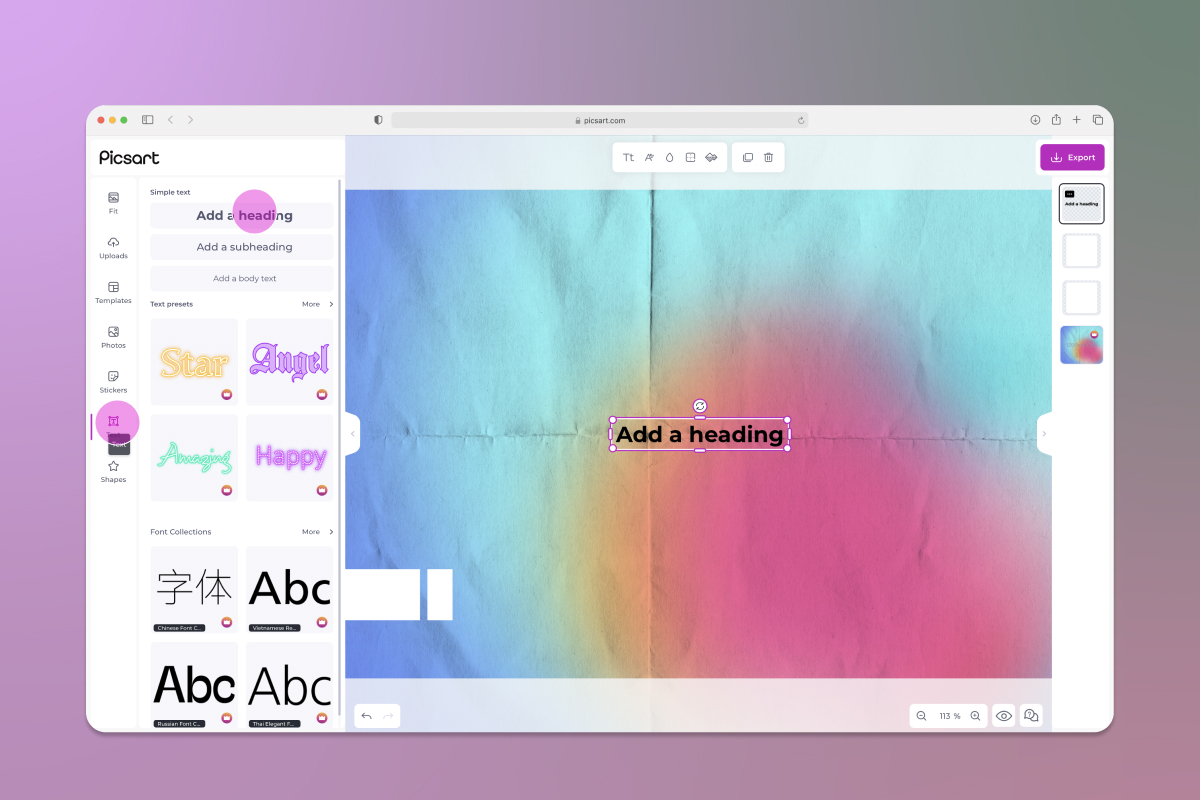 6) Reposition your text near the shape we added earlier. Now the shape helps draw attention to the text on your web screen. Change the size of the font, color, opacity, and more using the Text tools in the upper and left toolbar. 
7) Now it's time to get creative! Click on Sticker and search for sticker that best aligns with your own graphic design aesthetic. Reposition it if needed.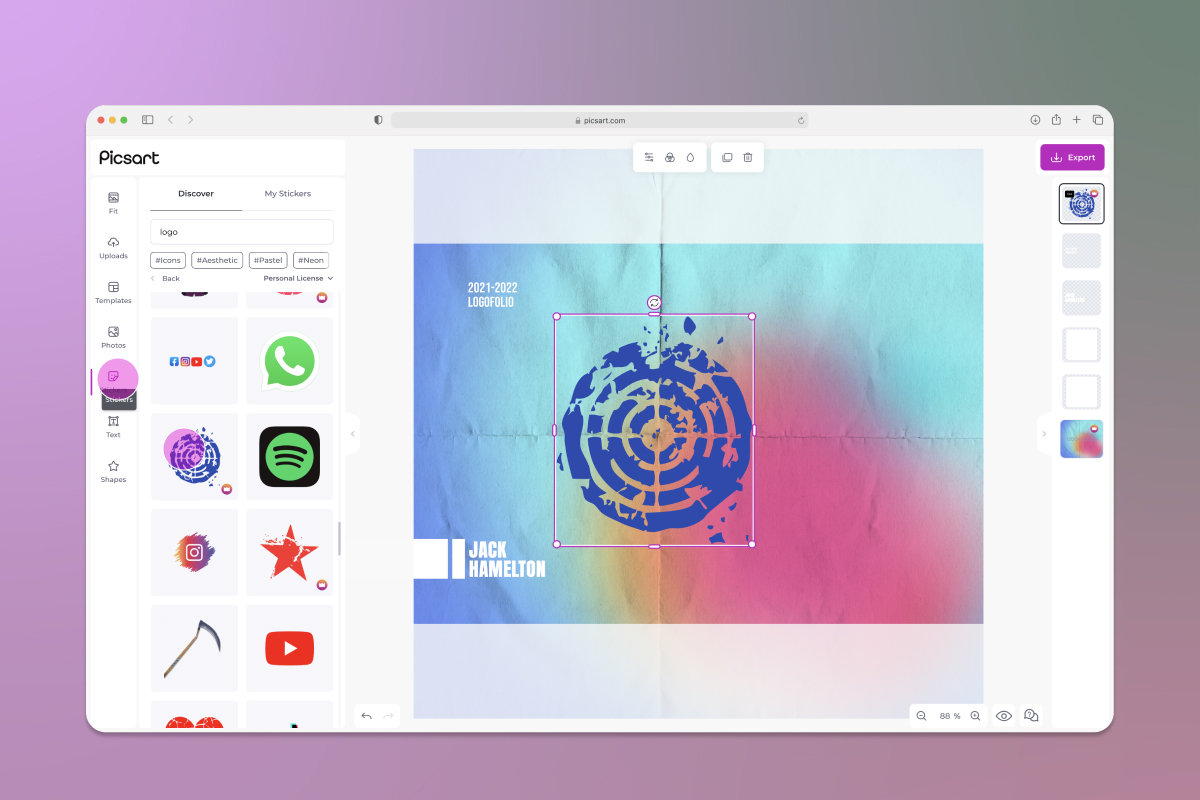 8) While clicked on the sticker element you have access to additional tools to adjust the sticker opacity, saturation, brightness, and contrast. Adjust as needed.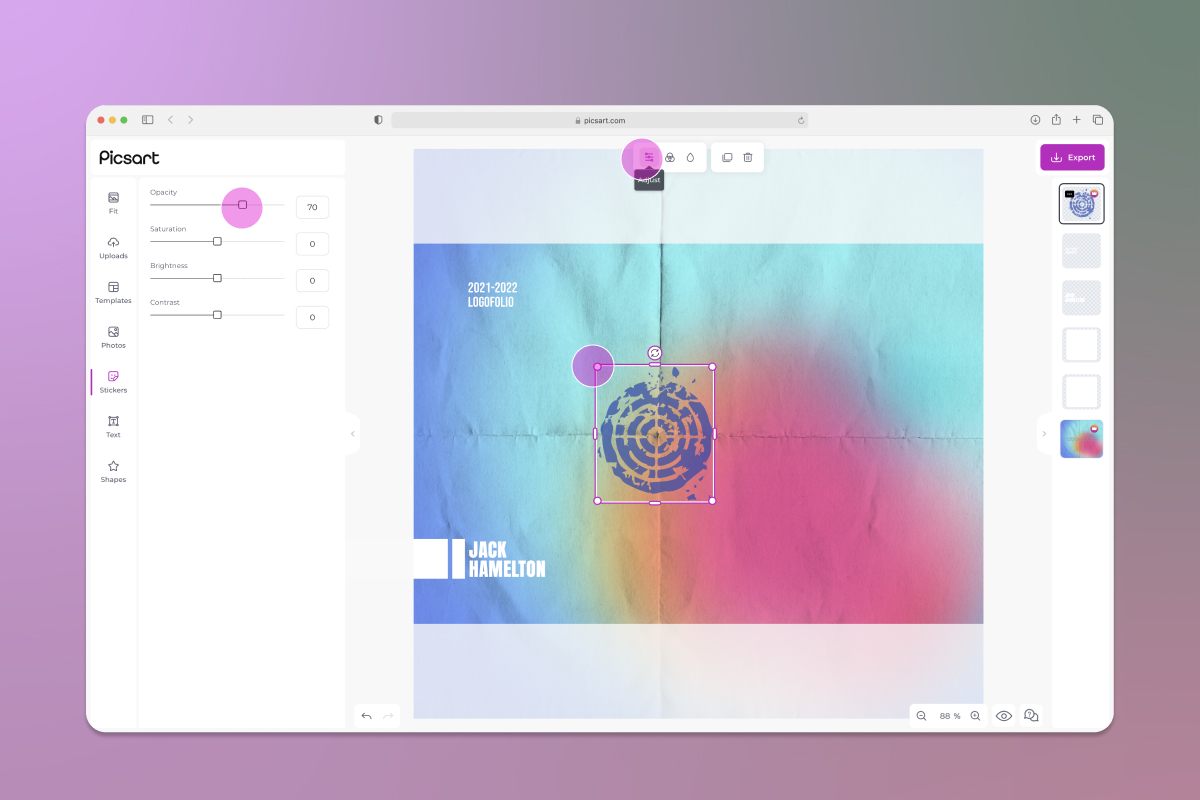 9) Make any other adjustment as needed. Once you're happy with your finished graphic design website image, click on Export to save the image to your desktop. Then, simply upload your finished image to the website hosting tool of your choice.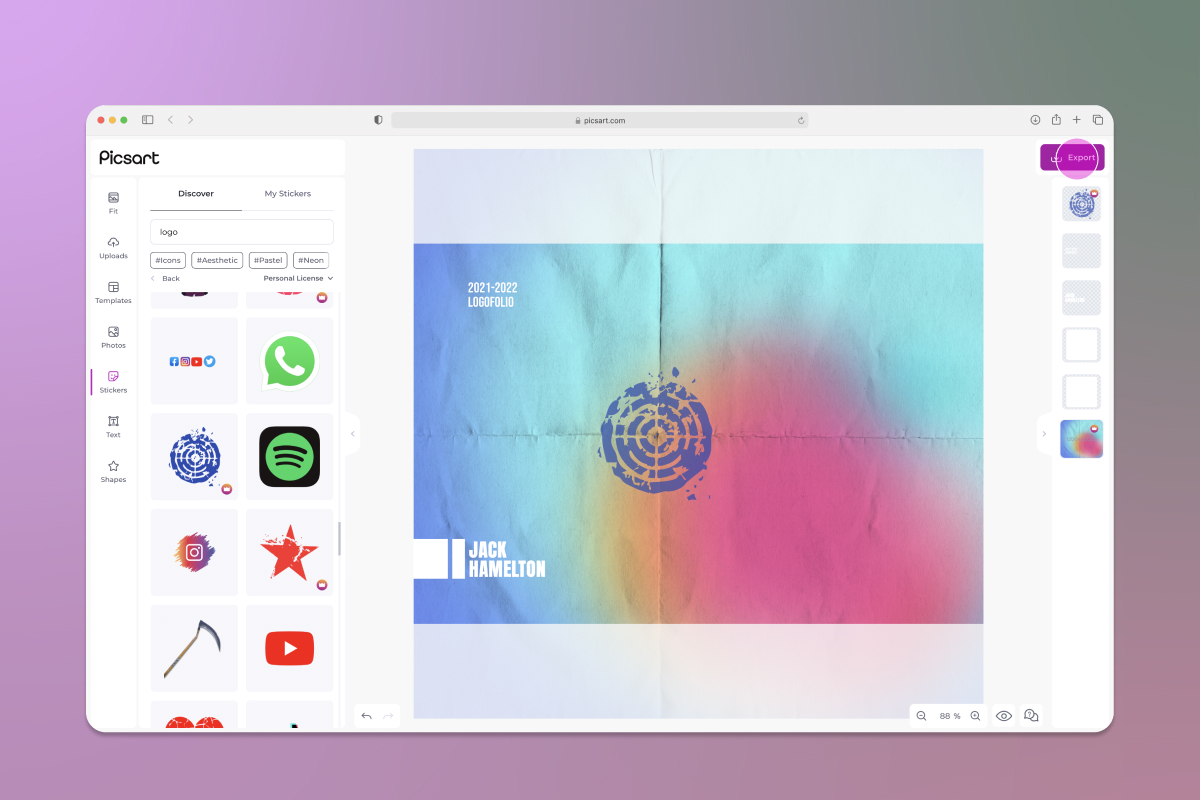 If you prefer to design on mobile, here's how to edit in the Picsart app:
1) In this example, we're going to walk through how to make a collage of your favorite work. Open the Picsart mobile app and tap the plus button to start a new project. Select Collage and then pick your favorite images. You can upload your own or use the library of Free To Edit images and stock photography in Picsart.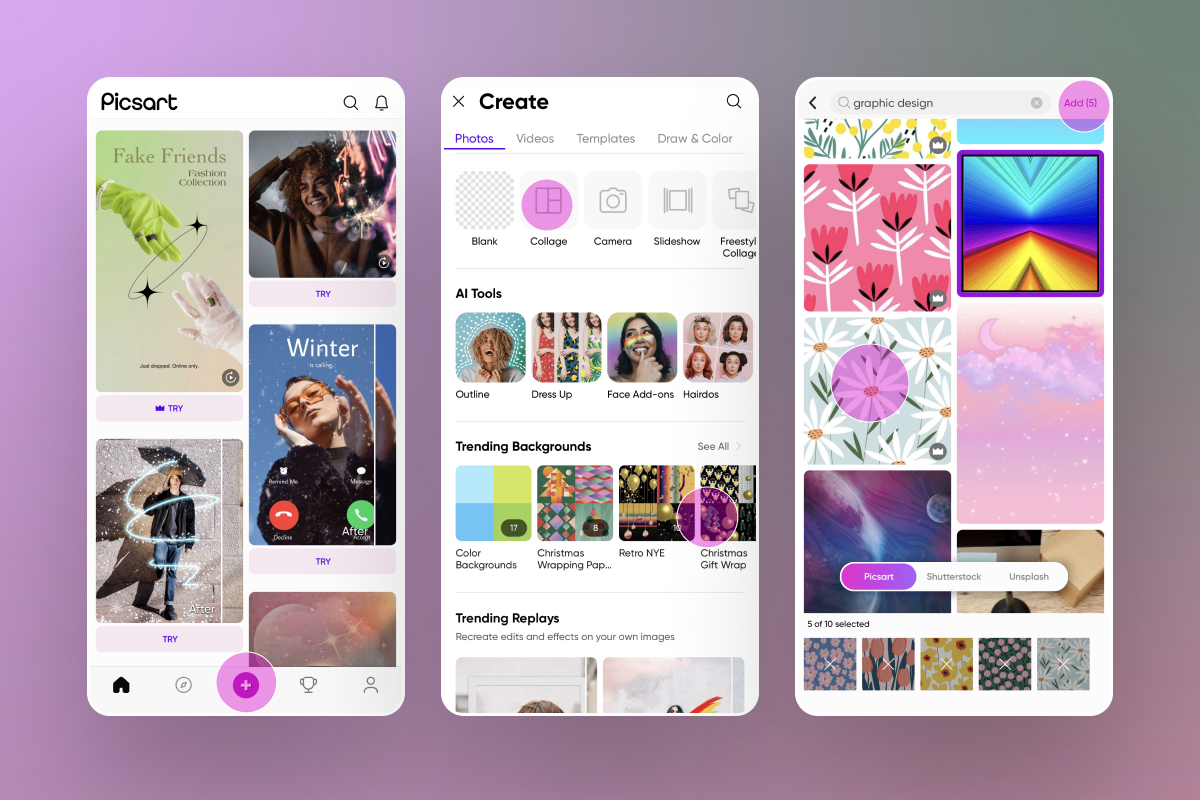 2) Tap on Ratio to resize your image for the correct platform. Here we went with a preset image size for a web banner.
3) Tap on Layout to select your collage layout and play around with the positioning of the images. You can adjust the width of various images in your collage.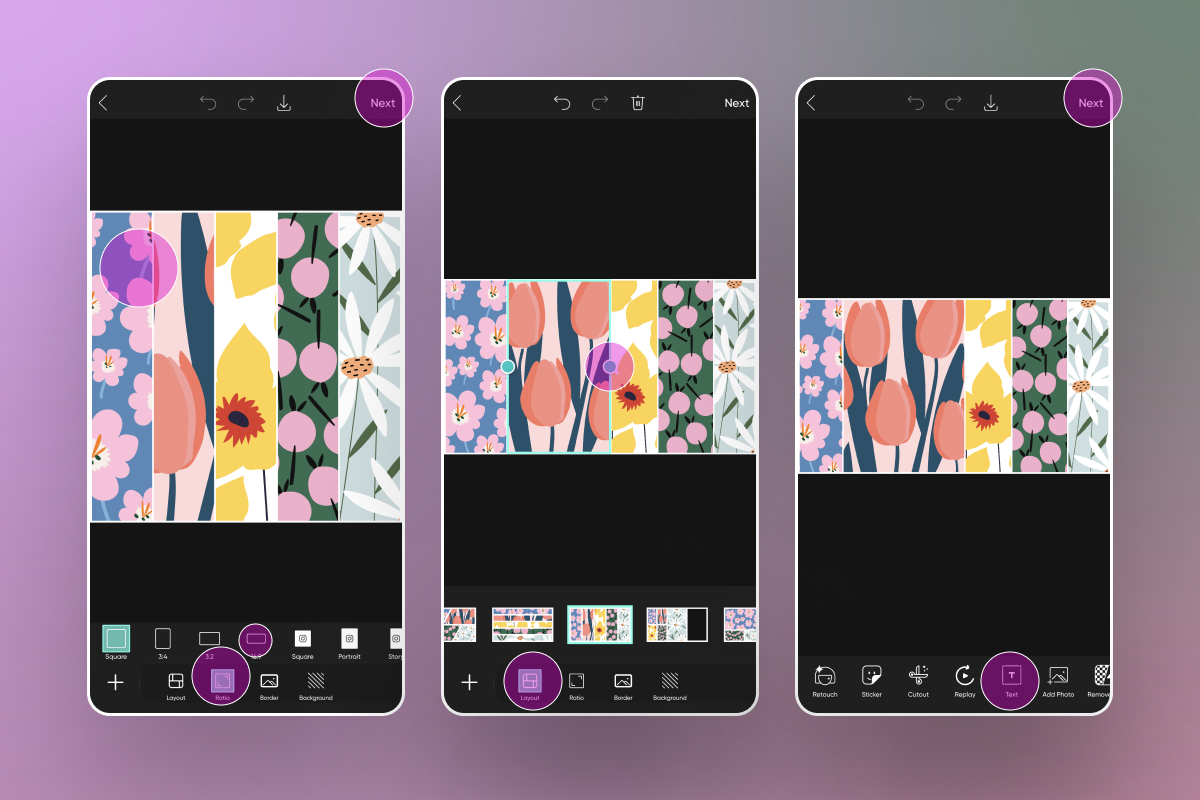 4) Tap on the Text tool, type in your text, and reposition it on your collage. Here you can adjust text color, font, opacity, text styles, and more.
5) Tap Next, then Save and Share your work.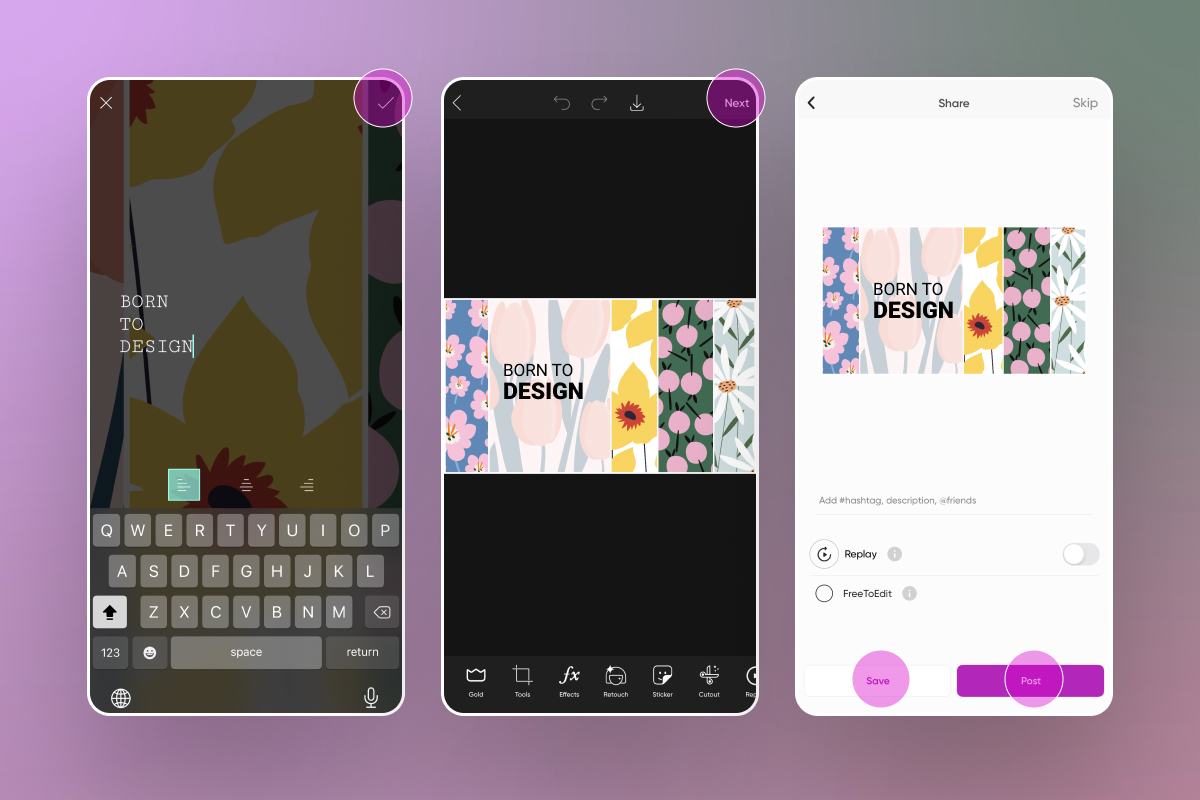 Picsart is a full ecosystem of free-to-use content, powerful tools, and creator inspiration. With a billion downloads and more than 150 million monthly active creators, Picsart is the world's largest creative platform. Picsart has collaborated with major artists and brands like BLACKPINK, Taylor Swift, the Jonas Brothers, Lizzo, Ariana Grande, Jennifer Lopez, One Direction, Sanrio: Hello Kitty, Warner Bros. Entertainment, iHeartMedia, Condé Nast, and more. Download the app or start editing on web today to enhance your photos and videos with thousands of quick and easy editing tools, trendy filters, fun stickers, and brilliant backgrounds. Unleash your creativity and upgrade to Gold for premium perks!