Whether you have a new bundle of joy at home or are just looking for newborn photography tips, you'll want to stick around. We're sharing a complete guide on how to prepare for a newborn photoshoot, including adorable newborn baby photo ideas and DIY newborn photography props for an at-home shoot. 
When to take newborn photos
Generally speaking, you have a tight window of just two weeks after the baby arrives to capture newborn photography. After the first two weeks, your little one grows and gets more active, making it challenging to capture those wholesome moments. So, use the time ahead of your child's arrival to plan out a baby photography session. 
How to prepare for a newborn photoshoot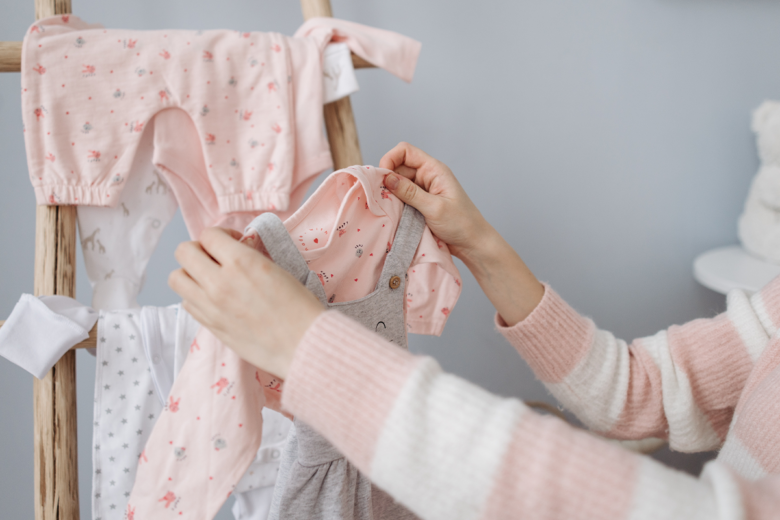 Keep the below things in mind when preparing for a newborn photo session. Whether you're a newborn photographer or new parents, this will help you feel less stressed on shoot day.  
Clothes: When it comes to clothing for a newborn photoshoot, sometimes less is more. No need to overthink the outfit and dress your baby in fancy clothing. In fact, many parents opt to take pictures of their baby sans clothing. You can always add props and accessories like a bow or knit hat to add a soft touch. If you do want your baby clothed, keep it simple with neutral-colors. You want to make sure the emphasis remains on the baby and not the outfit.
Background: Textured blankets are an effective background for a newborn photoshoot. Neutral colors tend to work better and don't distract from the baby. Colors like white, beige, gray, and brown work perfectly for background colors.  
Props: Common props for newborn shoots include pillows, baskets, blankets, flowers, headbands, leaves, and wooden toys. You can arrange any of these items next to or around the baby. Many professional photographers like to swaddle a new baby and place them in a small basket. Again, the idea here is to keep it simple. The less clutter, the better.
14 newborn baby photo ideas
Capturing any photo of your newborn is priceless. That's why we've curated some of the most creative newborn baby photo ideas to capture in your own newborn session. 
1) Baby's first day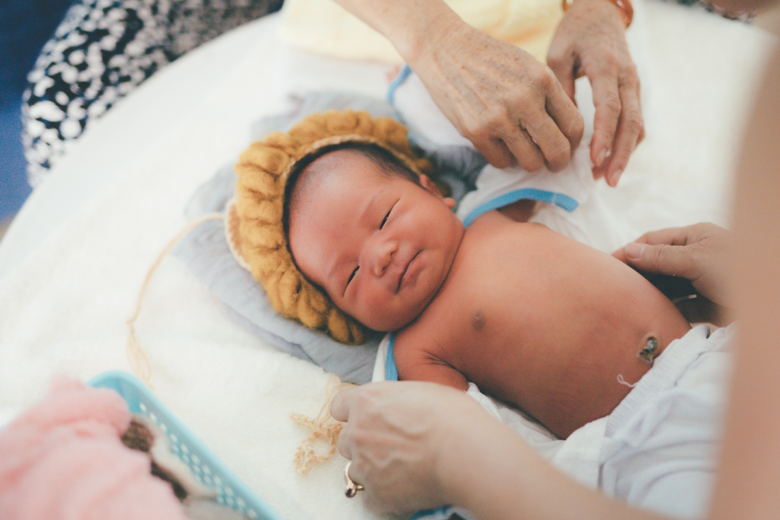 You'll want to capture the most miraculous day of your baby's life — the very first day! These first shots are extra special, especially the first moments captured with mom, dad, and other family members around. These are often shot in the moment on a mobile device like an iPhone or Android, so be sure to keep your phone charged. Variations on this include early "first moments," such as when you bring the baby home.
2) Bonding moments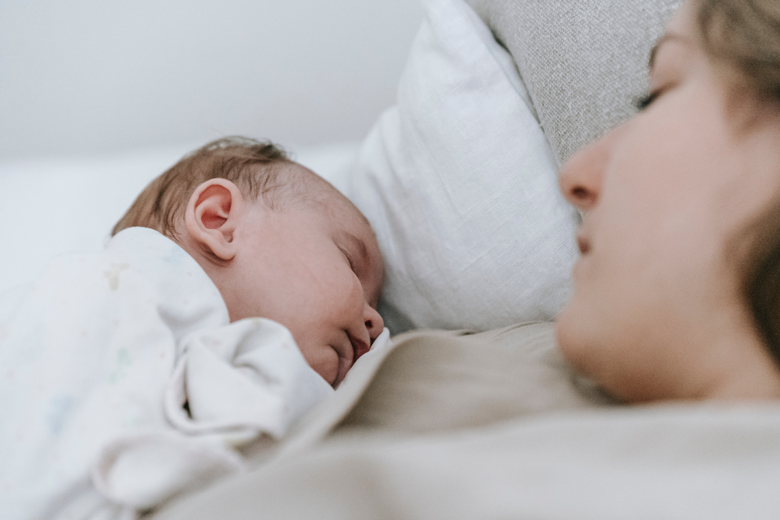 Parent or sibling baby bonding moments are beautiful to look back on later, so be sure to capture them in the first two weeks. These bonding activities include breastfeeding, bottle feeding, and rocking. The beauty of these photos lies in the fact that they're raw, in-the-moment shots, so no need to over-prepare for this type of newborn picture idea.
3) Parent and baby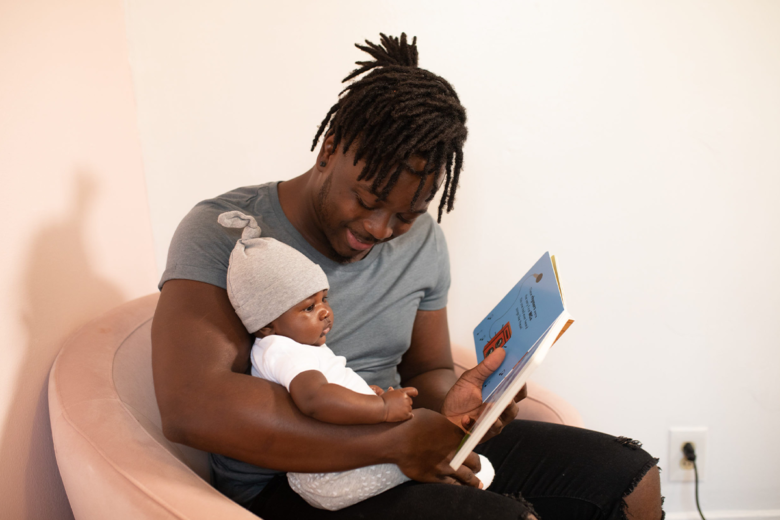 Some newborn baby photo ideas include feeding, rocking, skin-to-skin contact, or just laying side by side as the baby sleeps.
4) Sibling time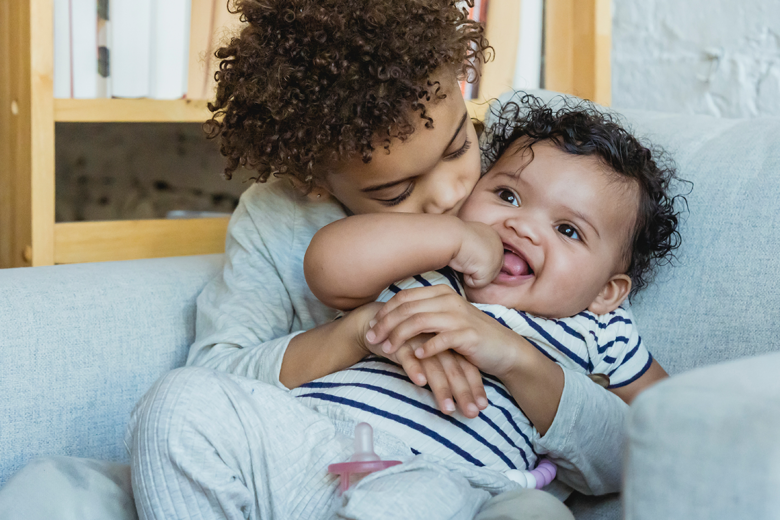 Big brother or sister shots make for lasting memories, so have the older sibling(s) hold the baby and capture that magic on camera. The first introduction of the newest sibling is also a great photo opportunity. 
5) Hands and feet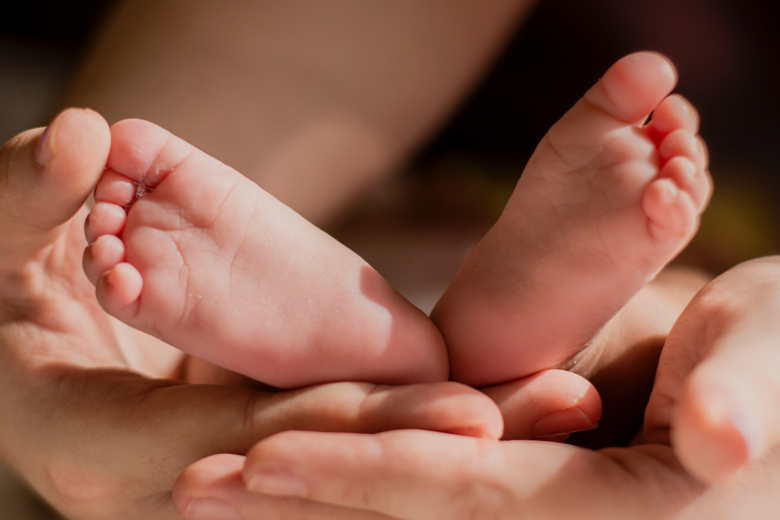 Tiny hands and feet definitely deserve their own category for newborn photoshoot ideas. Since those tiny hands and feet will grow so fast, you'll want to photograph them as soon as possible. Popular poses include the baby's feet held in a parent's hands or of the baby's hand wrapped around a parent's finger. 
6) In the palms of your hands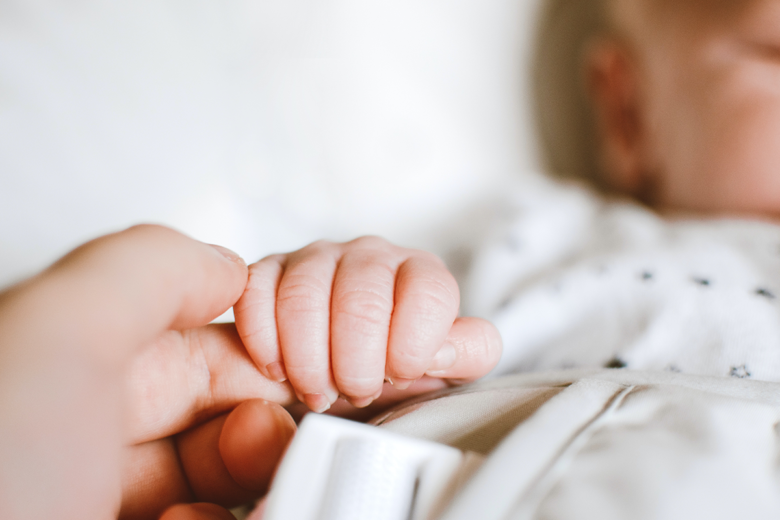 This is a cute way to highlight how tiny a baby really is in the first couple of weeks. You can hold the baby or just the baby's feet in the palms of your hands as the shot's focus. Play around with different angles to get the perfect shot. 
7) Sleeping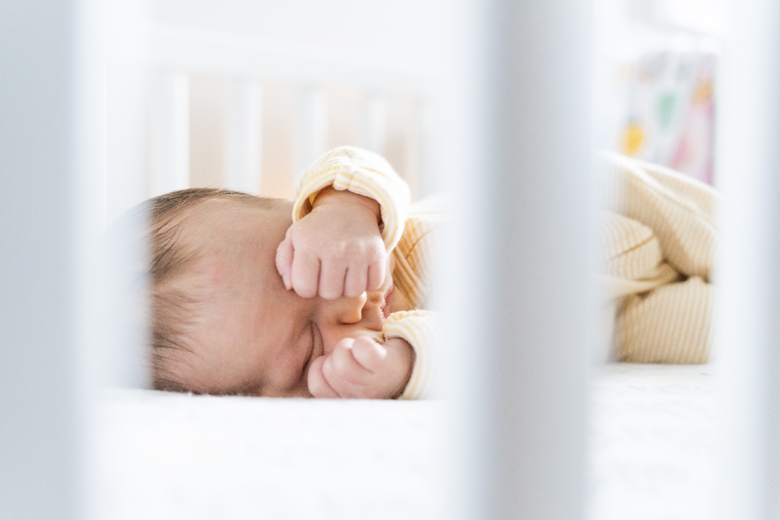 This is such a peaceful and serene shot that can be easily captured since newborns spend most of their time in a quiet slumber. 
8) Yawning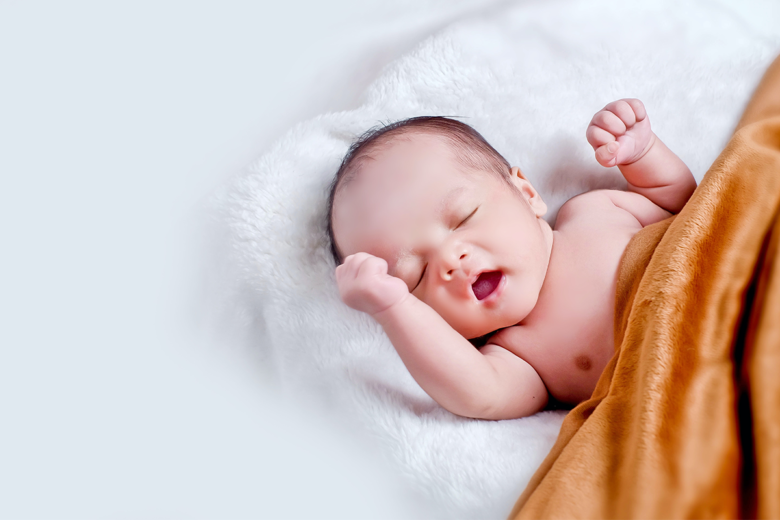 A mid-yawn photo is absolutely darling. You'll have to be camera ready for this newborn baby photo idea, as the yawn can be unpredictable!
9) Baby in a basket

A baby in a basket is a common newborn picture idea. This is because the use of props helps provide scale to show just how small they are. Arrange blankets and pillows to create a comfortable little nest and place the baby inside. This creates a picturesque scene like a stork has gently dropped off a cozy bundle.
10) Swaddled baby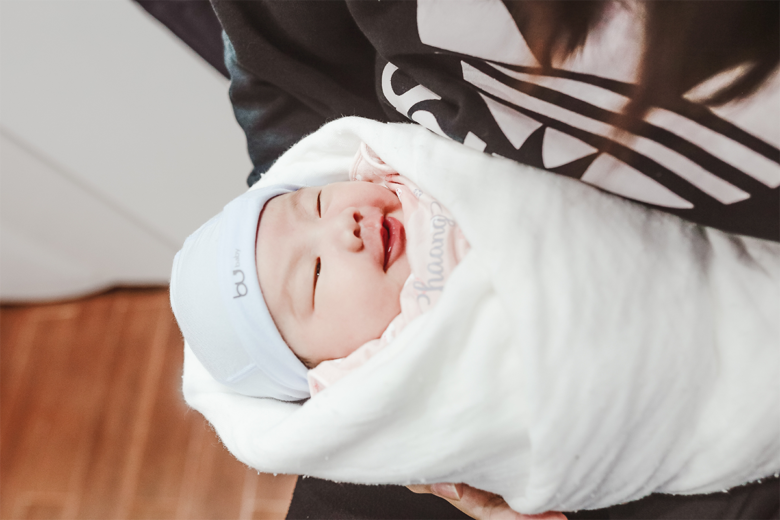 Either bundle them up in a knit or textured blanket or swaddle them up tightly. Softer, muted colors are a good choice for blankets and swaddles. If you want a bold look, you can go for bright pinks and purples or dark greens and blues to create some contrast. Just make sure your background remains neutral so as to not clash with bold colors or prints.
11) Curled up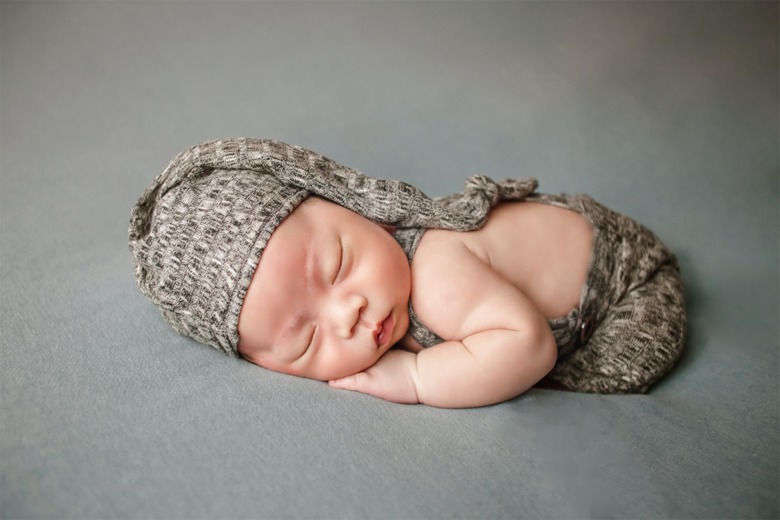 One of the cutest newborn baby poses is where the baby is curled up on its stomach with legs tucked up underneath, hands folded beneath the chin. You can support the baby with blankets or pillows to quickly capture the ultimate newborn pose from different angles.
12) Personalized props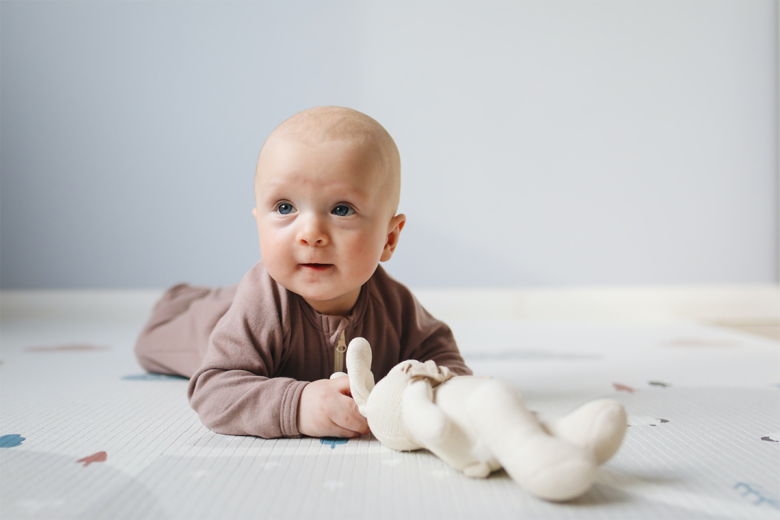 Personalized gifts from family and friends make great additions to your inventory of DIY newborn photography props. They are especially meaningful when made by hand by family members. Imagine a plush baby blanket knitted by grandma. Those are memories you'll definitely want to capture!
13) First bath
It's sweet to see the baby's reaction to their first warm and soothing bath. Although the first bath might not happen in the first two weeks of the baby's life, it is still worthy of a photoshoot when the time does come. It is also a special bonding moment between the baby and the parent. 
14) Tree of life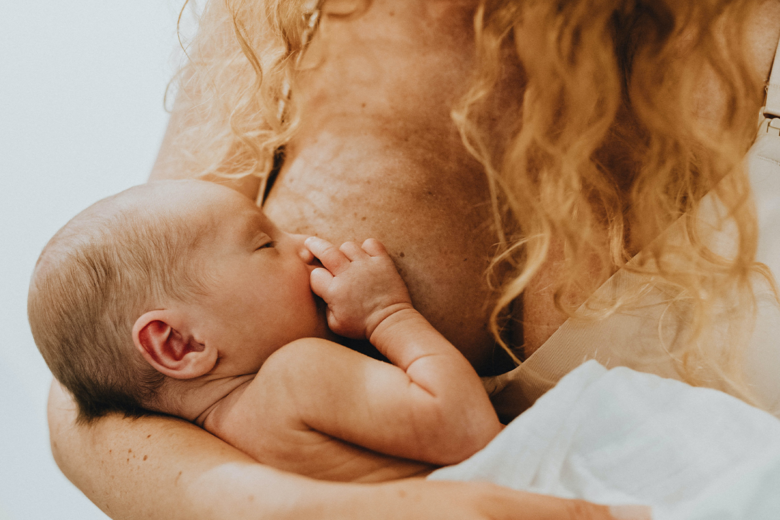 A tree of life picture truly elevates your newborn photo to another level. It highlights the special bond between mother and child while normalizing and honoring breastfeeding. A tree of life edit beautifully connects mother and child through artistic graphics of trees with deep roots. 
How do you do a newborn photoshoot at home?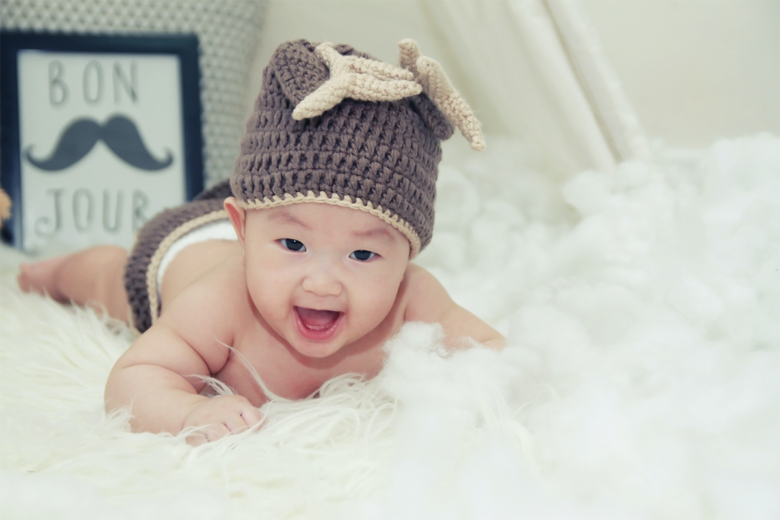 Because newborn photoshoots ideally take place within 2 weeks after the baby is born, most families opt to take these photos at home. Whether you're working with a professional photographer or want to DIY your own newborn pics, you can easily set up an at-home shoot with these simple steps. 
Lighting is key.

Choose a room with lots of big windows and plenty of natural light coming through. If you plan to take pictures on the floor, make sure there's sunlight hitting the floor as well.

Find the right time.

Nap time is usually the best time for a newborn photoshoot. A well-fed, sleepy baby is optimal and makes your job as the photographer easier. To ensure they stay asleep during the photoshoot, try keeping the room warm and playing soothing lullabies. 

Pick the right props.

Your baby is the main star of the shoot. Choose clothing and props that complement the baby without distracting from the scene. You can use textured blankets, pillows, or accessories to create just enough contrast. It's also good to have backup outfits and props ready in case the baby has an accident or you decide to do an outfit change.

Be prepared.

Make sure the background, lighting, and camera are all set up and ready to go before placing the baby in the shot. If doing a DIY shoot and photographing on an iPhone, consider using portrait mode to

blur the background

and create a focused effect on the baby. If you're using a DSLR, opening your aperture all the way will create the same effect. 

Make sure the set is comfortable.

The baby needs to be supported in a safe way with appropriate chairs and pillows. Pro tip: you can even have someone hold the baby while under a big blanket. This especially helps if the baby is being fussy and wants to be held.

Take pictures from a top view.

A top angle tends to look best on everyone – young or old. If the baby is on an elevated surface, you can get some flattering eye-level shots.
How to edit newborn photos
The final step in your photoshoot, and one you should not neglect, is editing your photos and giving them that perfectly polished finish. Here's how you can edit your own photos using Picsart. 
On the web:
1) Open the Picsart web editor and upload a photo from your photoshoot.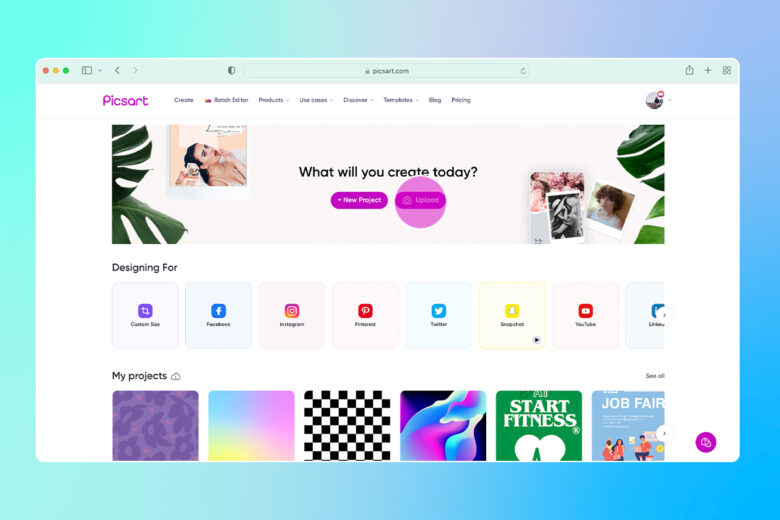 You'll see your selection now appear in the web editor.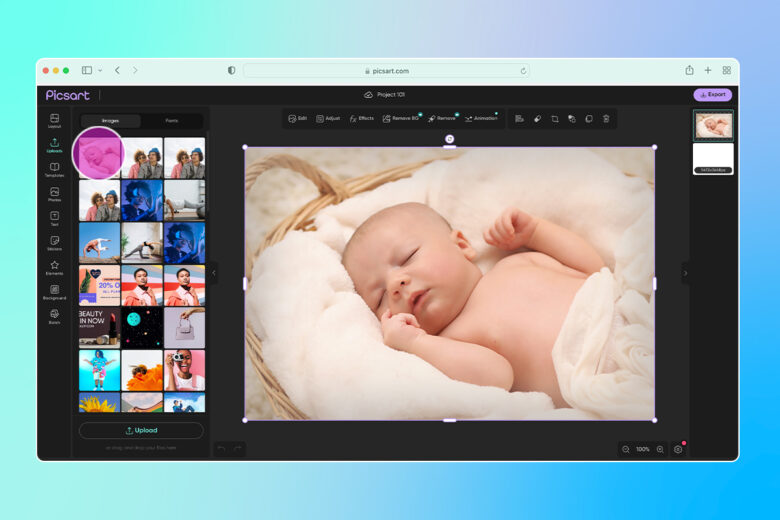 2) Click on Effects in the editing toolbar above and select a soft, natural filter that compliments your image best.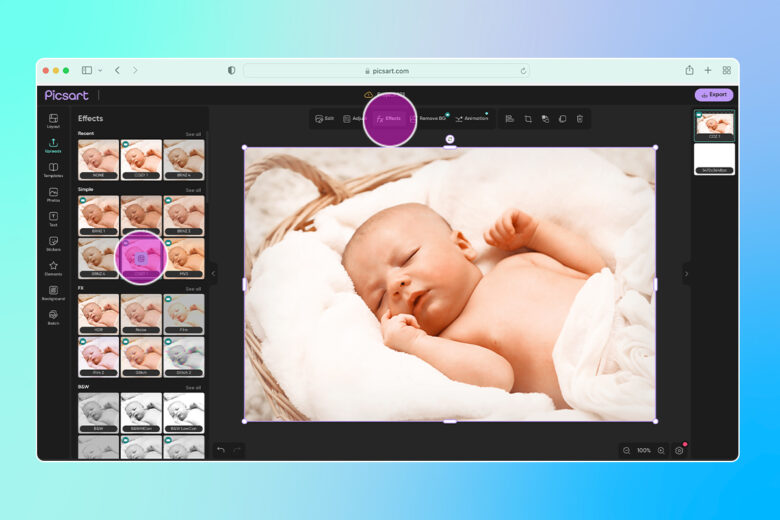 3) Further customize your image by adding Text, Stickers, a Watermark, and more. Here, we searched for "baby" related Stickers and added a cute footprint one. Adjust your sticker as needed using the toolbar above your canvas.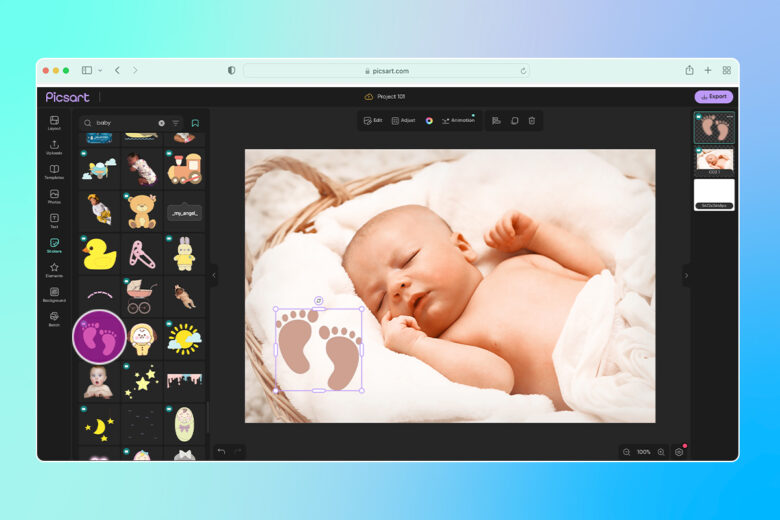 4) When you're done editing, select Export to download and save your final edit. Here you can also name your file, select the file format, and upscale as needed.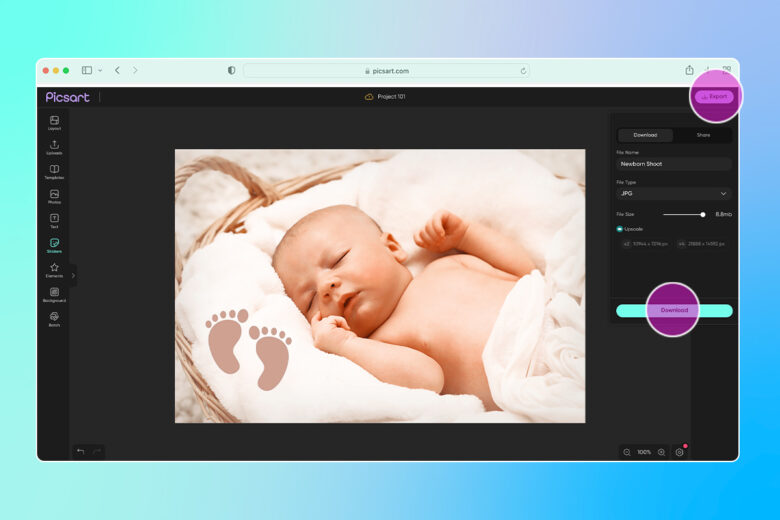 On mobile:
1) Open the Picsart app and tap on the plus sign at the bottom of your screen to start a new project. Then, upload the newborn baby photo that you'd like to edit.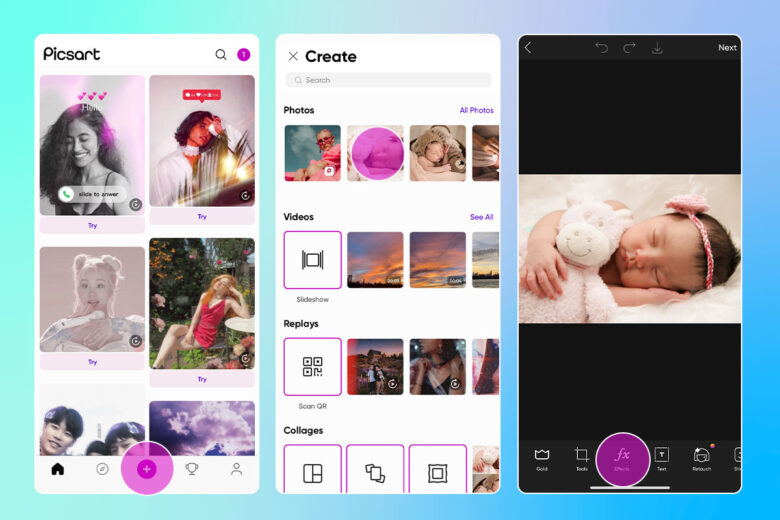 2) Add a soft or natural filter by tapping on Effects (fx) in the Editor toolbar. Here we selected a warm filters (SPC1) under the Simple category.
Pro tip: long press the filter to open the adjust toolbar, which enables you to adjust the level of filtering.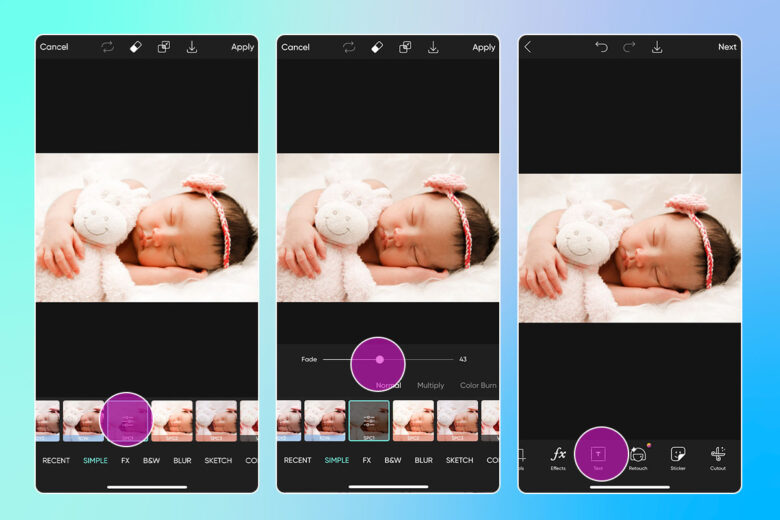 3) Further customize your edit by adding Text. Tap on the Text tool in the Editor toolbar, then type in your copy. Then, you can select the font, font size, font color, and reposition it to the appropriate part of your photo. Tap Apply to save your work.
4) When you're done editing, tap Next in the upper right hand corner and Save to save to your phone or Post to share with the Picsart community.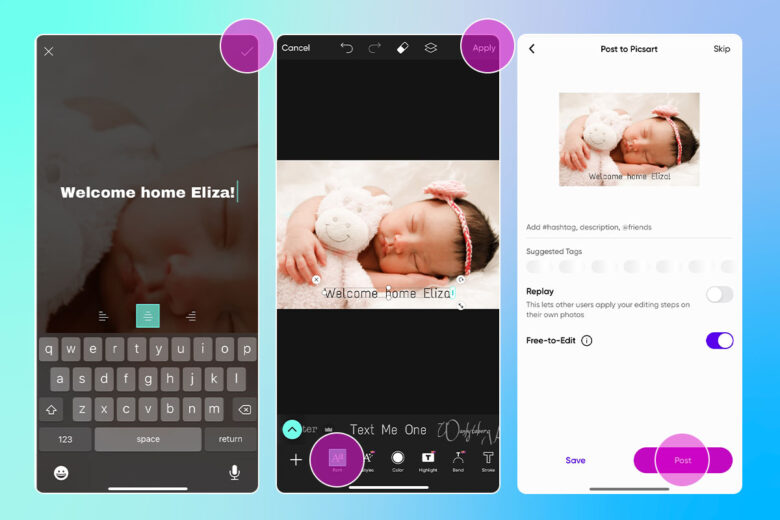 Picsart is a full ecosystem of free-to-use content, powerful tools, and creator inspiration. With a billion downloads and more than 150 million monthly active creators, Picsart is the world's largest creative platform. Picsart has collaborated with major artists and brands like BLACKPINK, Taylor Swift, the Jonas Brothers, Lizzo, Ariana Grande, Jennifer Lopez, One Direction, Sanrio: Hello Kitty, Warner Bros. Entertainment, iHeartMedia, Condé Nast, and more. Download the app or start editing on web today to enhance your photos and videos with thousands of quick and easy editing tools, trendy filters, fun stickers, and brilliant backgrounds. Unleash your creativity and upgrade to Gold for premium perks!