Royal blue color, also known as queen blue or imperial blue, has stood the test of time. It's famously featured in the national flag of the United Kingdom. It even had a legendary passenger train running between Washington D.C. and New York City at the turn of the 19th century named after it.
In this article, we'll dive into the royal blue hex code, its meaning, colors that compliment it, and alternatives. Then you can dive into Picsart creative tools to create edits using royal blue as your inspiration.

What Is the Royal Blue Color Code?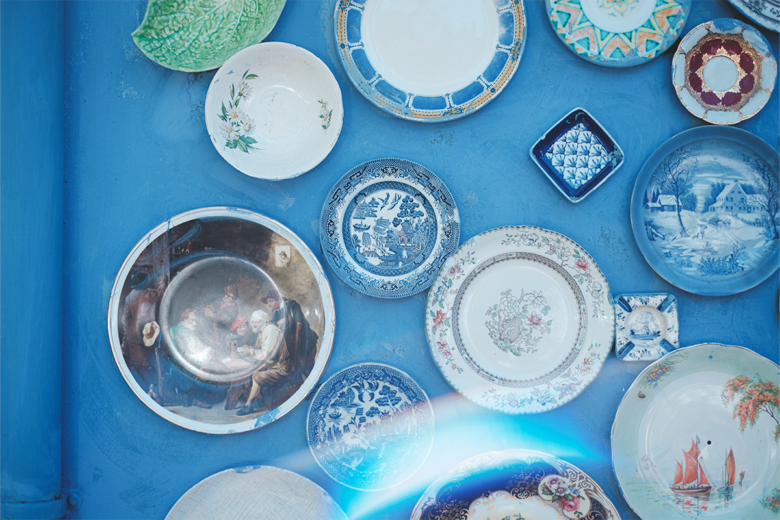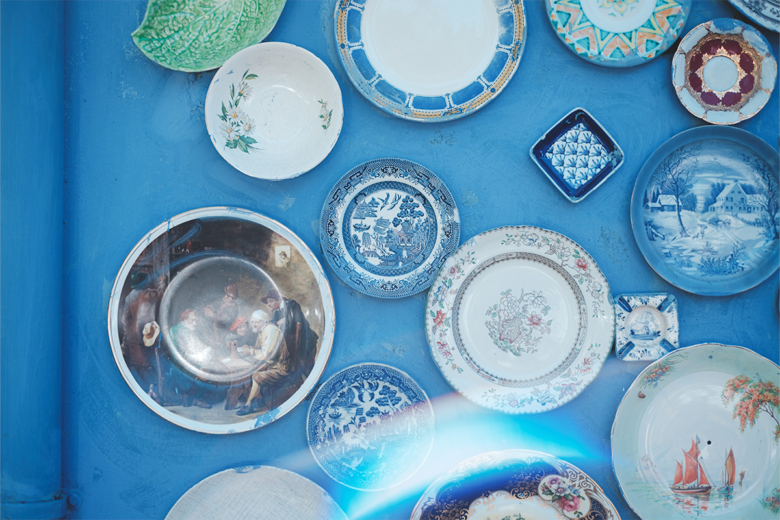 There are almost 17 million possible color combinations. Luckily, every single color has its own digital code to help you find the exact color in seconds. Color codes are essential for keeping design and brand colors consistent across platforms and mediums. 
The royal blue hex code is #4169e1. In an RGB color space (made from red, green, and blue), the exact breakdown of hex #4169e1 is 25.5% red, 41.2% green, and 88.2% blue. These exact percentages show you that royal blue is actually closer to green than it is to red despite what your eyes may tell you. In the CMYK color space (used in color printing), hex #4169e1 is made of 71.1% cyan, 53.3% magenta, 0% yellow, and 11.8% black.
What Is the Royal Blue Color Meaning?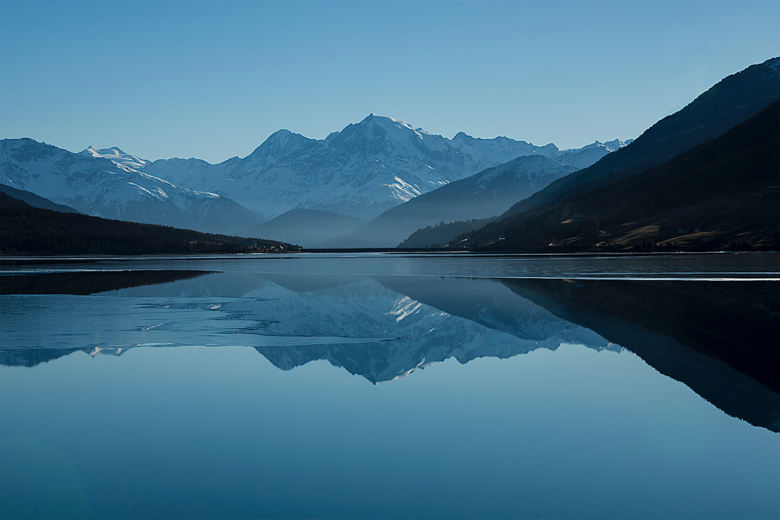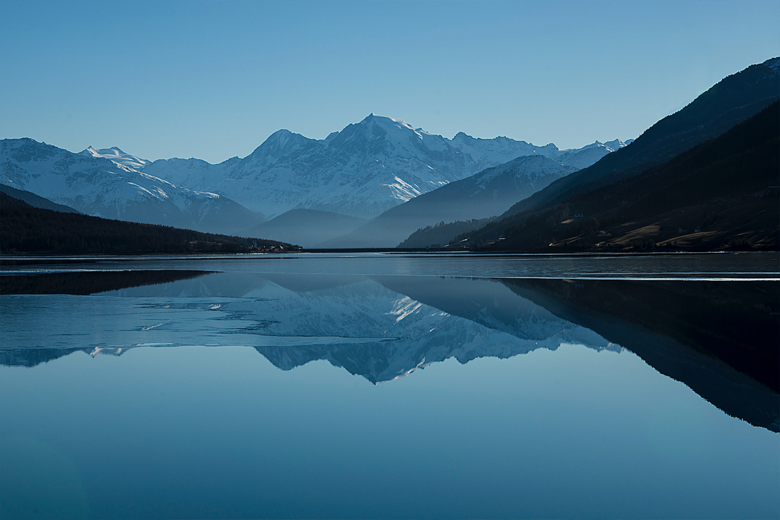 As its name suggests, the royal blue color does actually come from royalty. The color was first created in the early 1800s in England while making a custom dress for Queen Charlotte (1744-1818). Accordingly, it's associated with the United Kingdom as it's a staple of the national flag, the Union Jack. The color also remains a popular choice for dresses and suits for formal events, such as weddings and political office.
In color psychology, generic blue color conveys reliability, trust, or peace. Excessive use of blue, however, can create feelings of sadness, hence the musical genre, the blues, or the phrase 'feeling blue'. The royal blue color meaning is not typically associated with sadness, especially when used in reasonable quantities.
How Do You Work With Royal Blue Color?
Royal blue is versatile. It can either serve as an accent or featured color in a dampened color scheme to make an image pop, or it can be paired with other vivid colors to amplify an image. It also works well with its own shades in a monochromatic color scheme.
It's a color that's a popular choice for business logos, formal attire, and interior design color schemes. It can also be found in a lot of abstract and pop art. You may want to use the 60-30-10 Rule when pairing royal blue with other bright colors or competing blues, such as Tiffany Blue or teal green (unless you're going for the bright pop art look, of course). For example, when designing an interior space, you might want to try 60% neutral (ivory, gray, etc.), 30% royal blue, 10% yellow, or another bright color. In this case, royal blue serves as the main accent color and yellow serves as the little pop of color to pull the look together. To create the royal blue color, you can mix a dash of red or purple with pure blue.
What Colors Compliment Royal Blue?
Let's break down the different types of complements or color combinations:
Complementary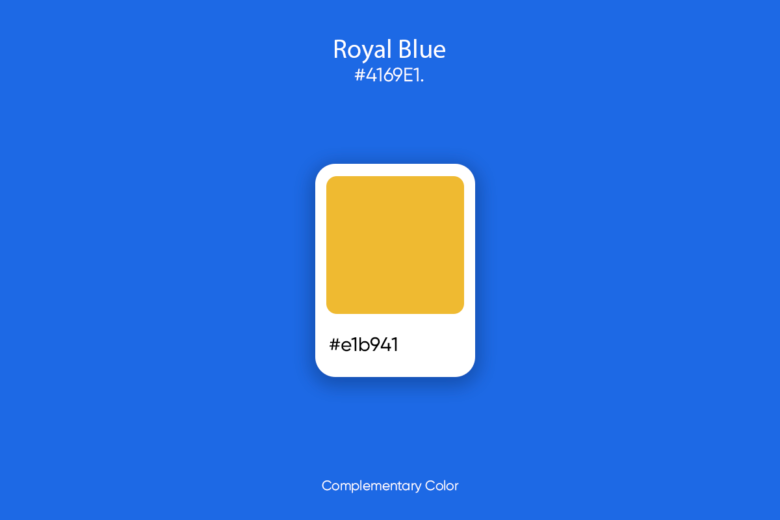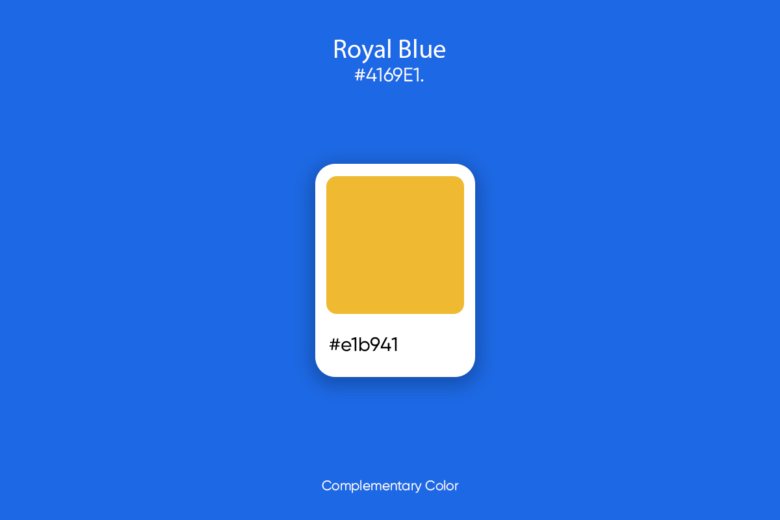 Sitting directly across royal blue on the 12-spoke color wheel is its most basic complement, yellow-orange. 
Analogous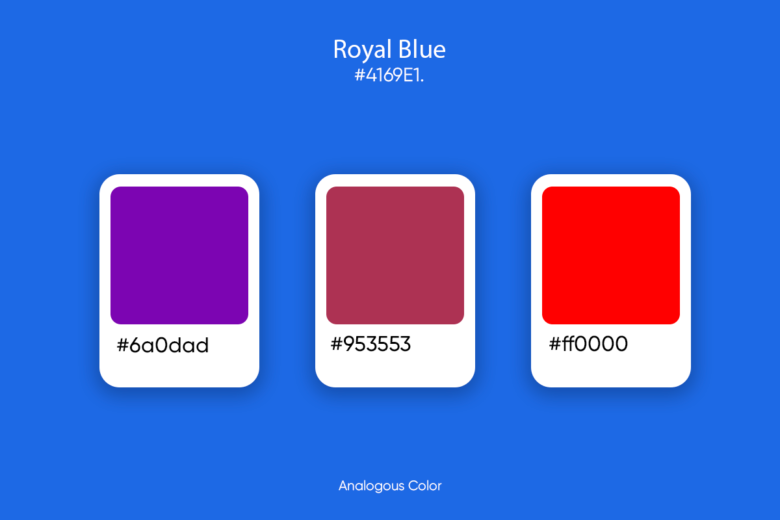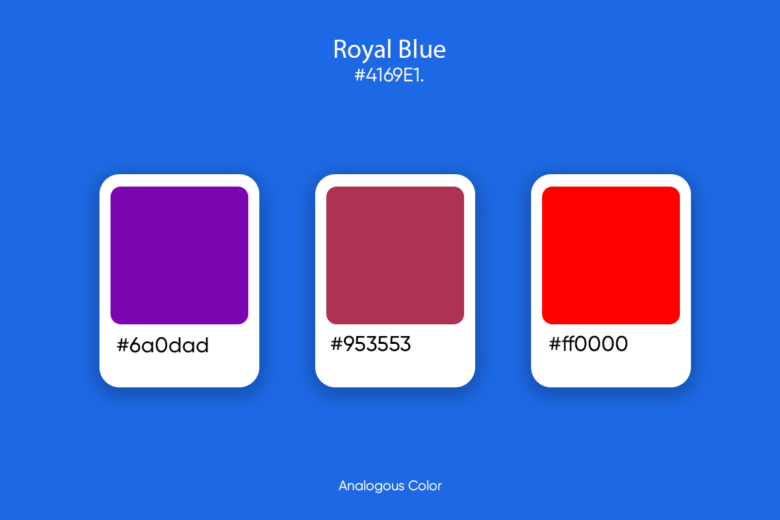 The three colors sitting closest to royal blue on the color wheel are purple, red-purple, and red. These are known as analogous colors and pair well with the base color to complete a color scheme.
Triadic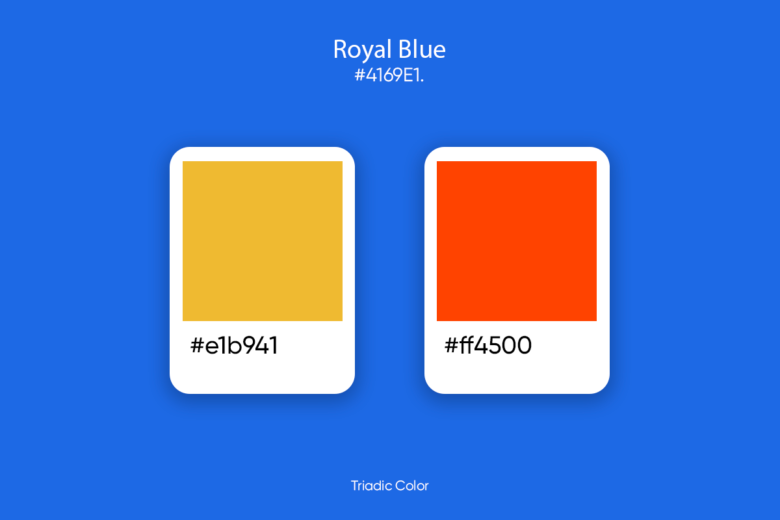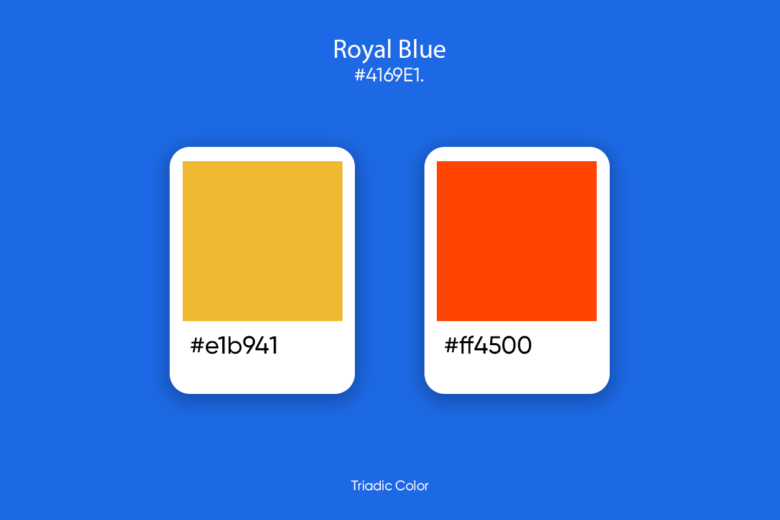 A color's triad complements are the colors equidistant from it that form a triangle to include the base color. Royal blue teams up with yellow-green and orange-red to form a triad.
Here are some quick tips to keep in mind when working with colors that compliment royal blue:
When using royal blue in mature or formal spaces (such as weddings, offices, or formal interiors), you can pair it with neutral colors, such as white, gray, ivory, light or blush pink, black, tan, dark brown, or gold. This is a good time to apply the 60-30-10 Rule unless you're going for an abstract or eclectic look.

In more playful environments, the

colors that compliment royal blue

include orange, bright yellow, lime green, hot pink, bright blue, or other bright colors.

Royal blue and green are analogous colors. Because royal blue is quite vivid, you may want to try pairing it with more soothing or woodsy greens, such as olive or sage.

When pairing royal blue with red, be sure to include a neutral color, such as white in the flag of the United Kingdom. Red and blue are both primary colors and tend to compete for attention. 
What Color Is Closest to Royal Blue?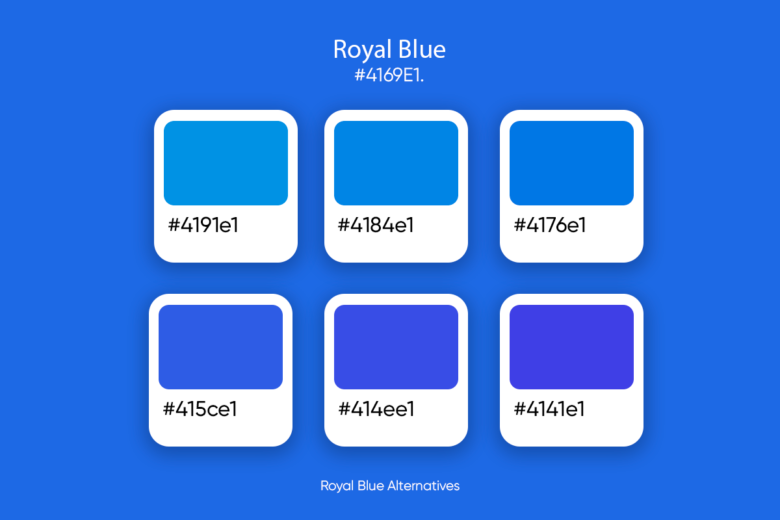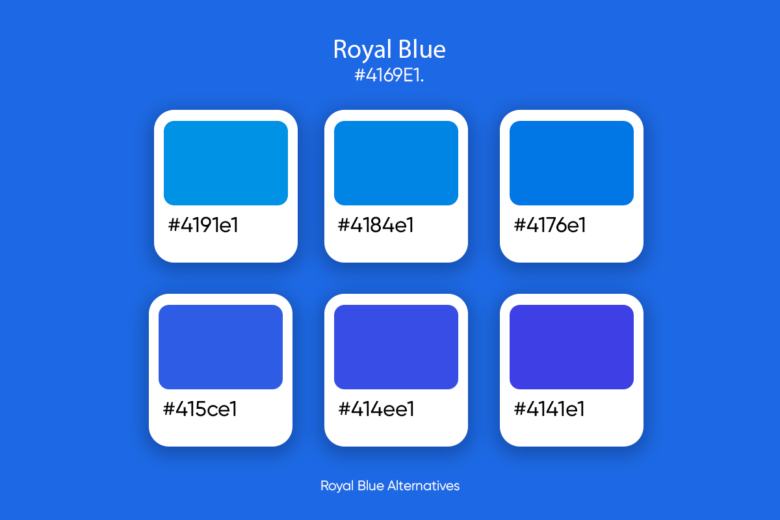 So is royal blue the same as dark blue? What about navy blue? The answer is: not quite. Royal blue is actually lighter and more intense than both. Some well-known colors that are often confused with royal blue include dark blue, indigo, navy blue, and blue-gray.
According to hex code, the official alternatives to royal blue are (in order of blue-ish green to blue-ish purple):
#4191e1 (blue-ish green)

#4184e1

#4176e1

#4169e1 (royal blue)

#415ce1

#414ee1

#4141e1 (blue-ish purple)
What Are the Different Shades and Tints of Royal Blue?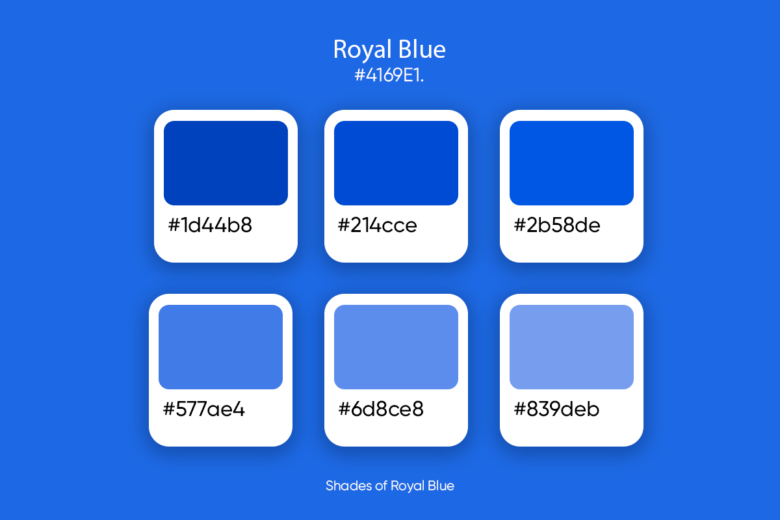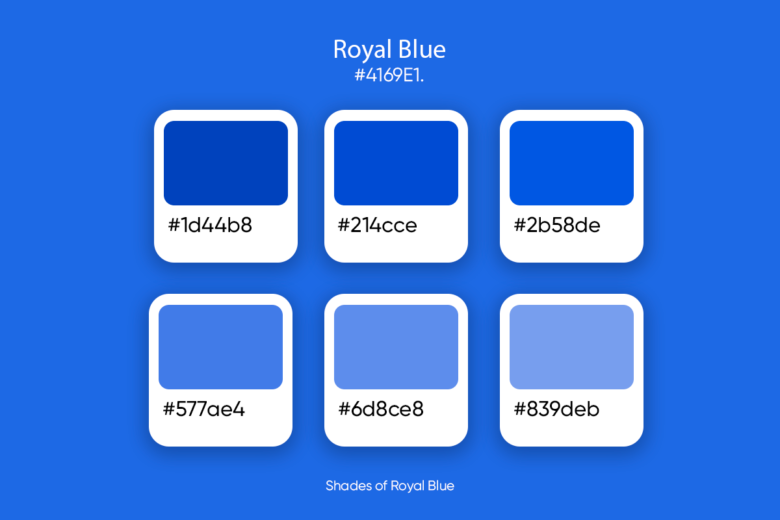 Shades are created by adding black to a pure color. Tints are created by adding white to a pure color. 
The hex codes of the various shades and tints within the royal blue monochromatic color scheme are (in order of darkest to lightest):
#1d44b8 (darkest)

#214cce

#2b58de

#4169e1 (royal blue)

#577ae4

#6d8ce8

#839deb (lightest)
Create Fantastic Photos Using Royal Blue
Now that you know more about royal blue, it's time to get inspired. Try out Picsart photo and video editing software to work your magic.
On the Web
1. Open the Picsart web editor and click on New Project to get started.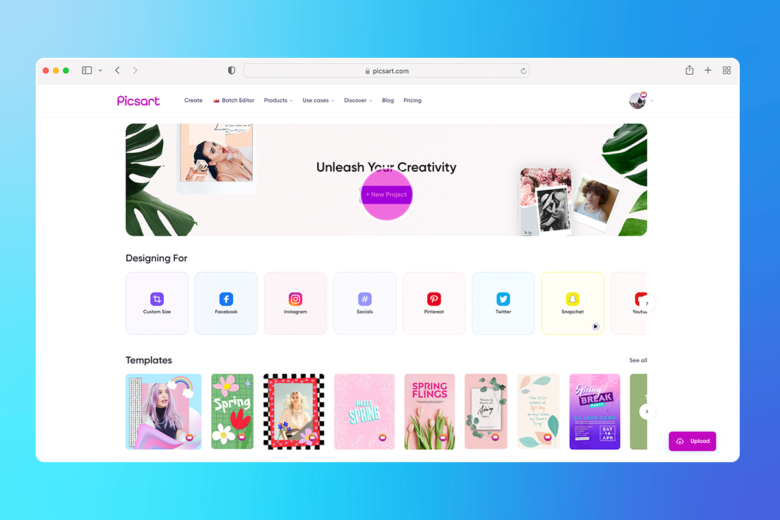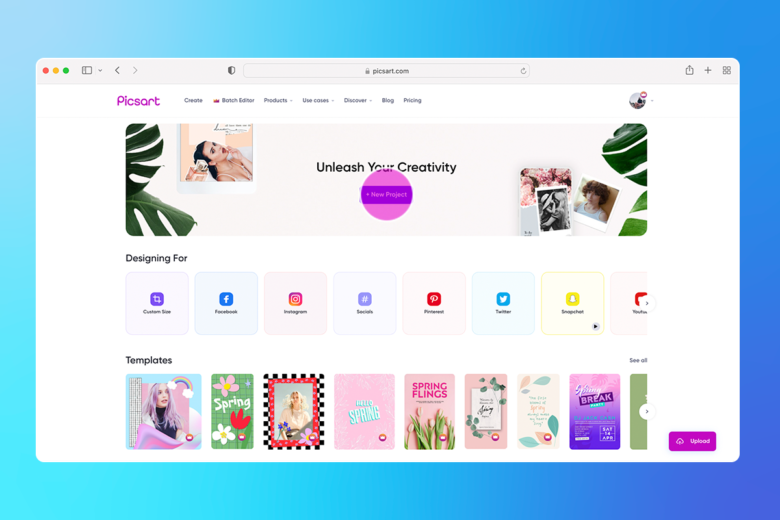 2. From the left-hand panel, choose the Layout tool and click on the Instagram Profile option. Don't worry if you're designing for another platform or purpose, this is just for reference by example.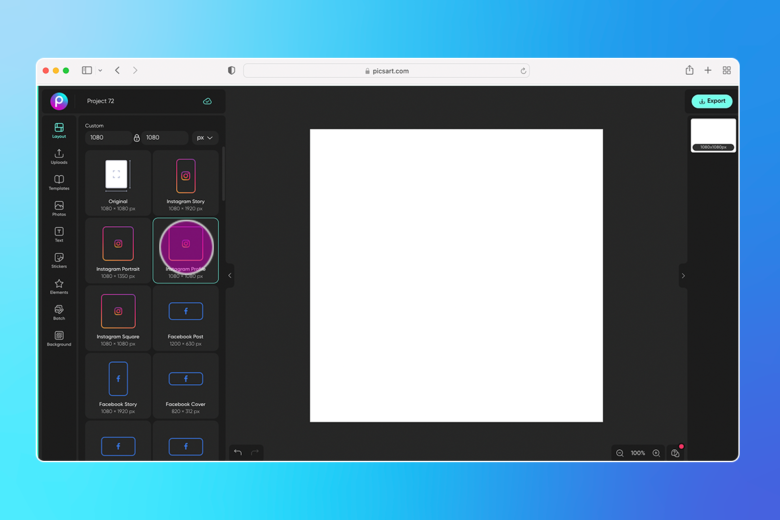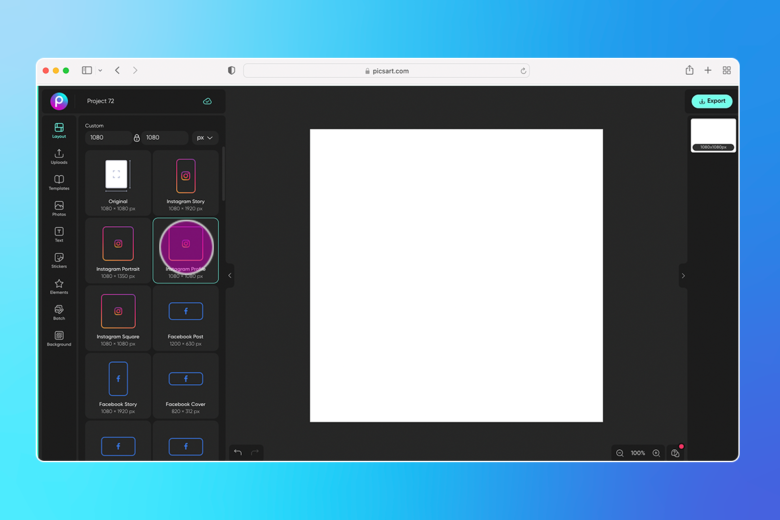 3. Now it's time to fill your canvas. Click on Background section above and in the left-hand panel input the HEX code for royal blue.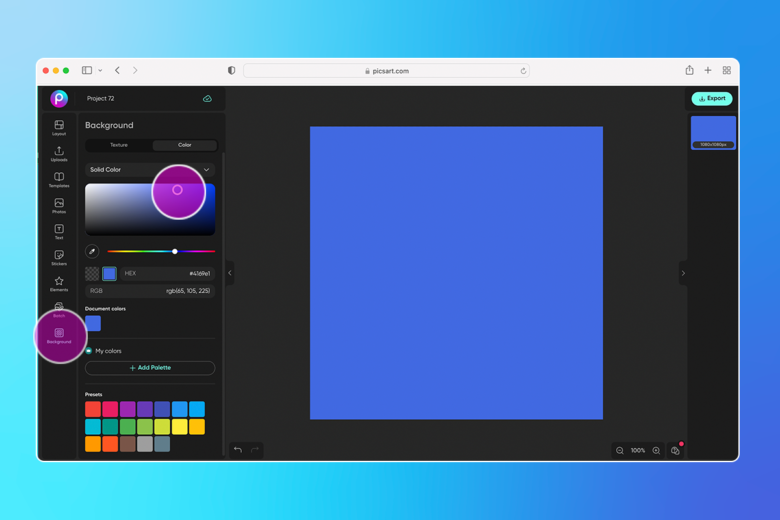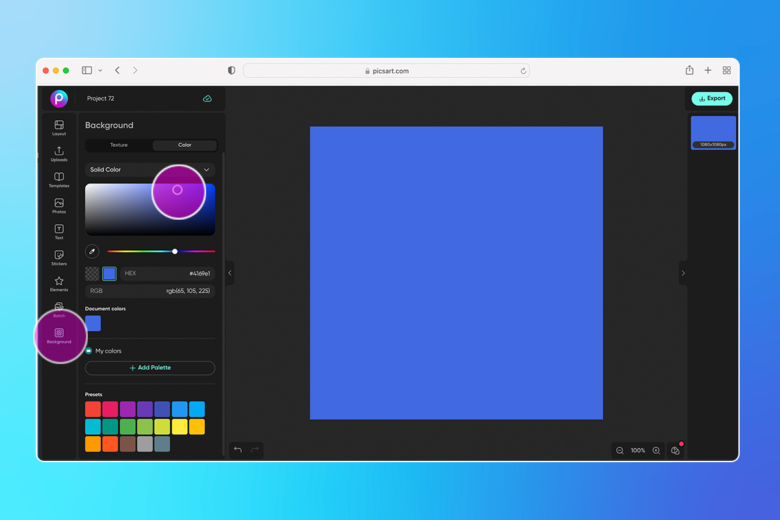 4. Upload an image to your canvas.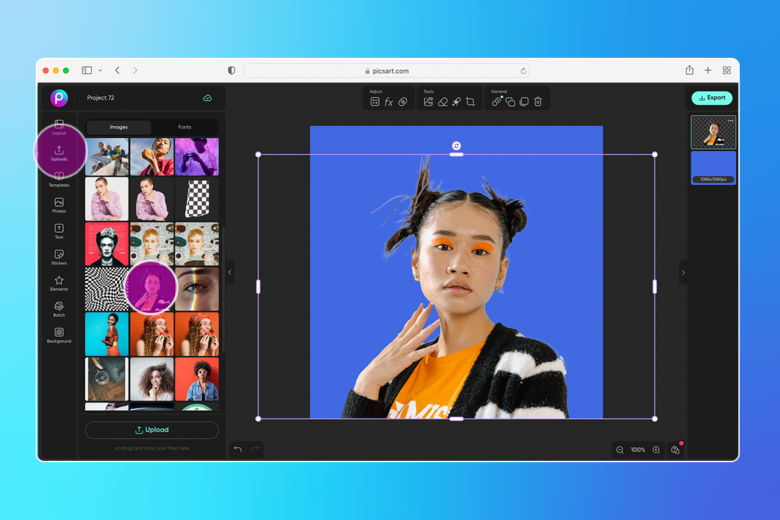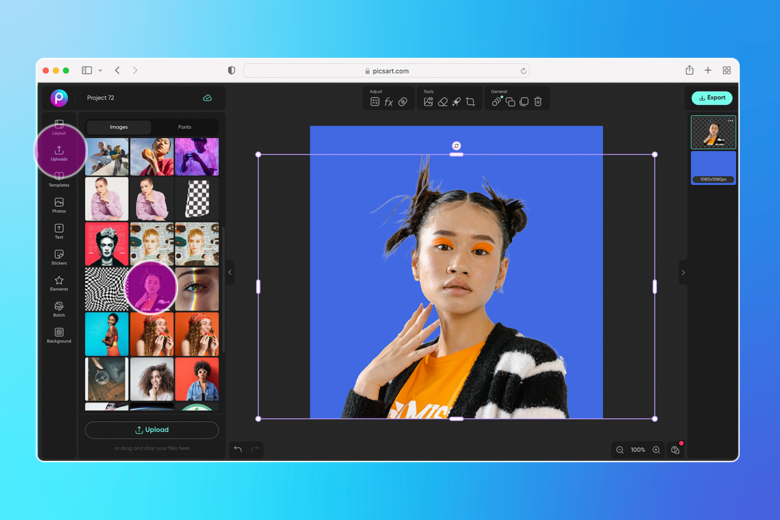 5. Add a sticker to your canvas by clicking on the Stickers tool, inputting your search and selecting the one you like best.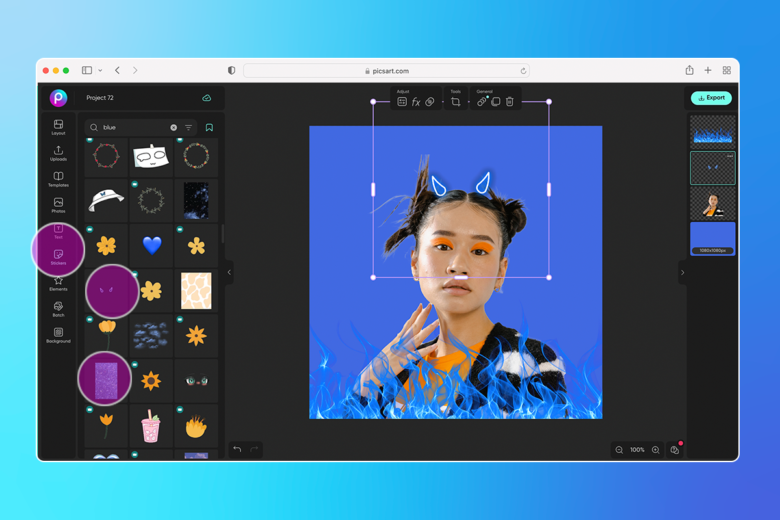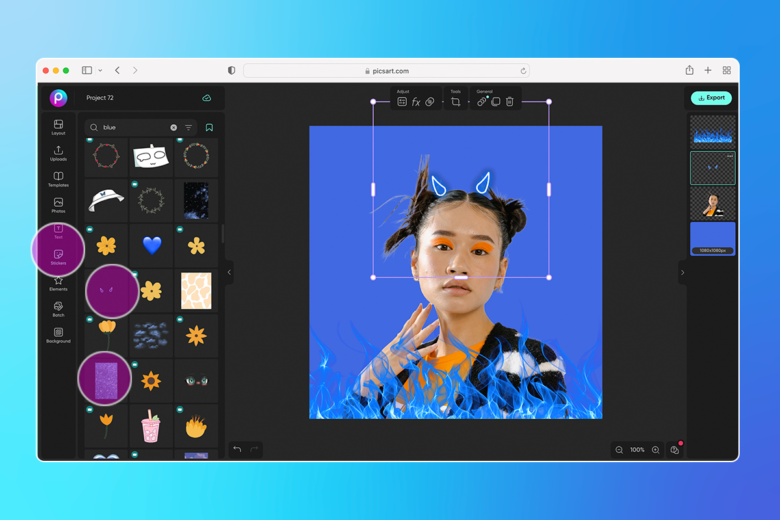 6. You can make all kinds of extra edits and tweak the design as much or as little as you like.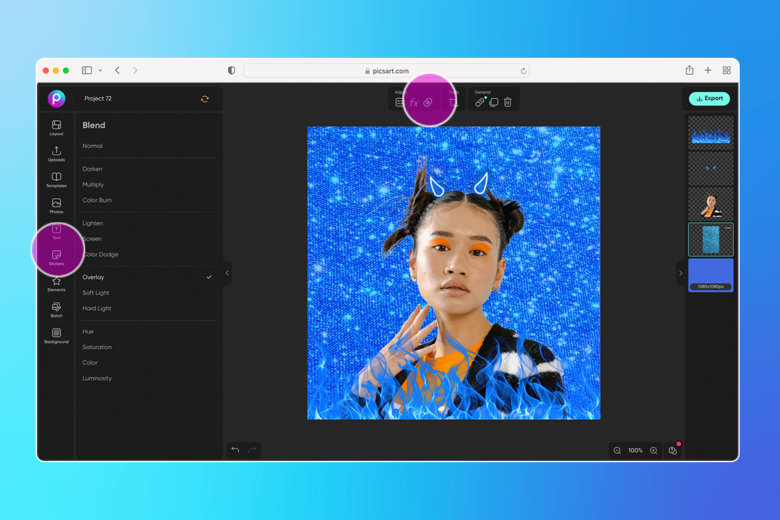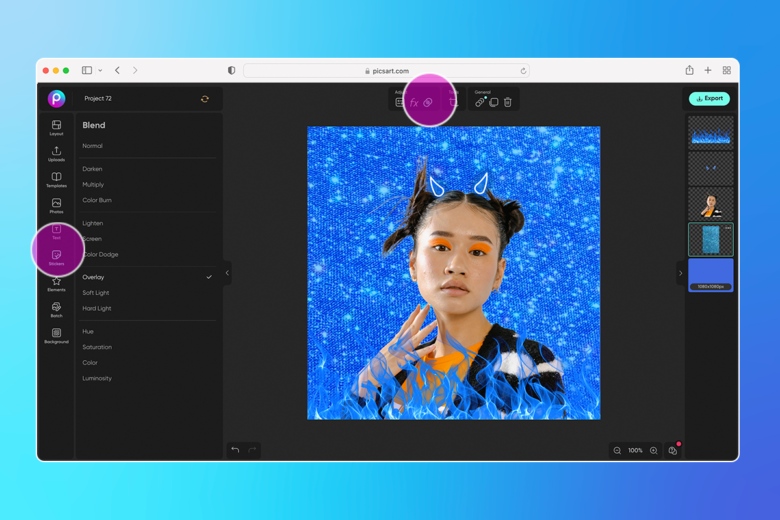 7. Once you're happy with your work click on the Export button and download the finished file.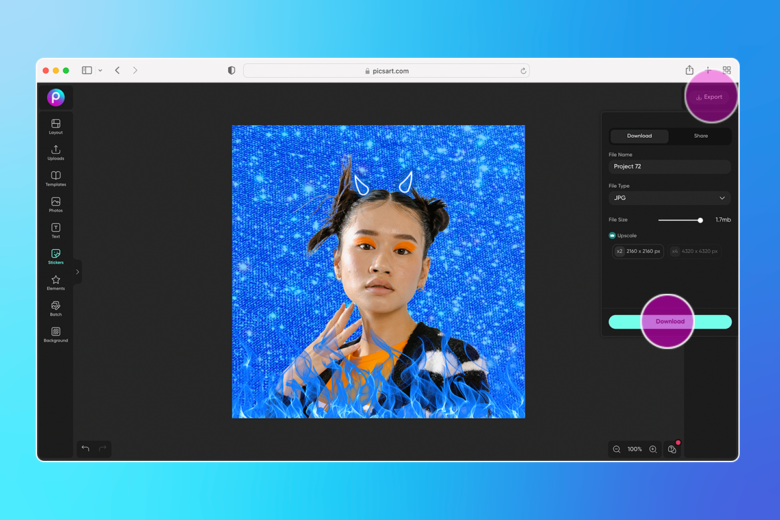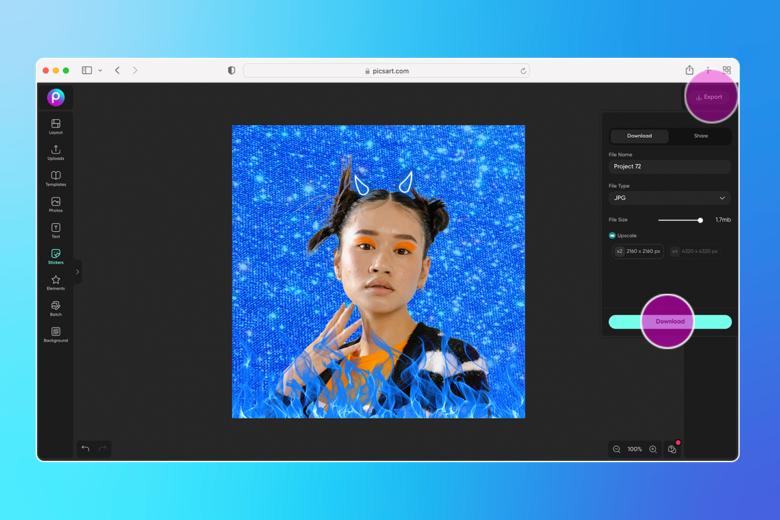 On Mobile
1. Open the Picsart app and tap on the plus sign (+) at the bottom of the screen to start your design.
2. Tap on Drawings, and then Create New.
3. With a blank canvas set up and ready to go, tap on the Color tool.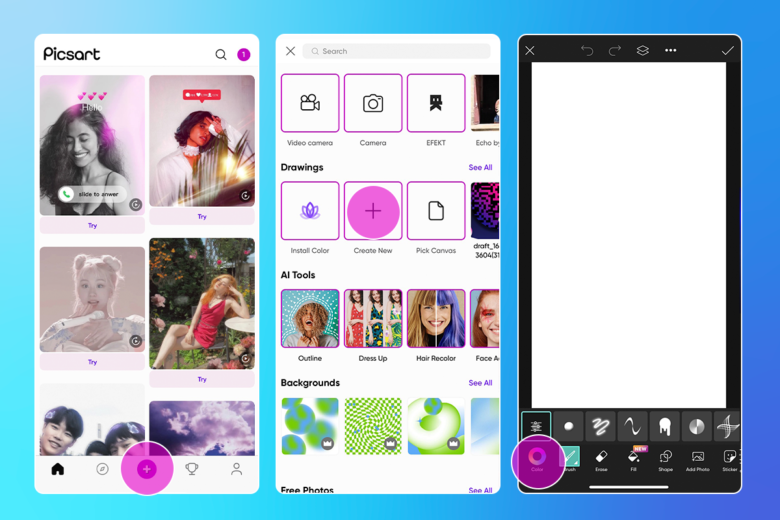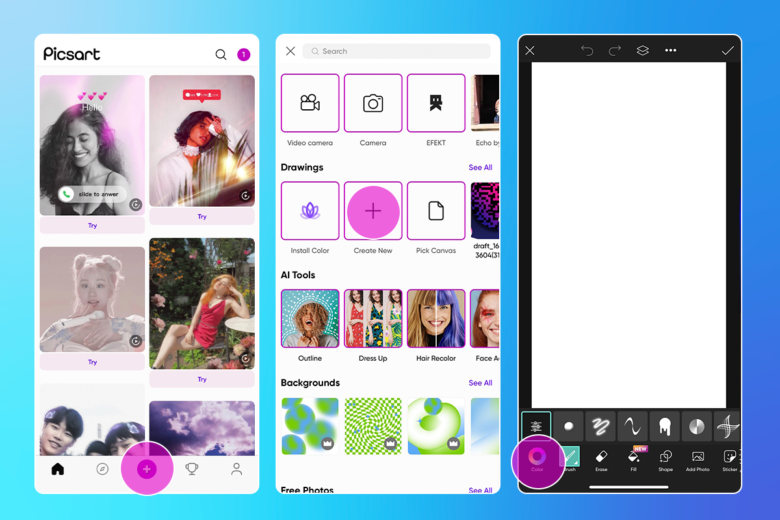 4. Set your background as royal blue using the color wheel and tap on the checkmark in the top right-hand corner.
5. On the bottom of your screen tap on Sticker.
6. Search for your theme (in this case 'blue aesthetic') and browse the collection of stickers.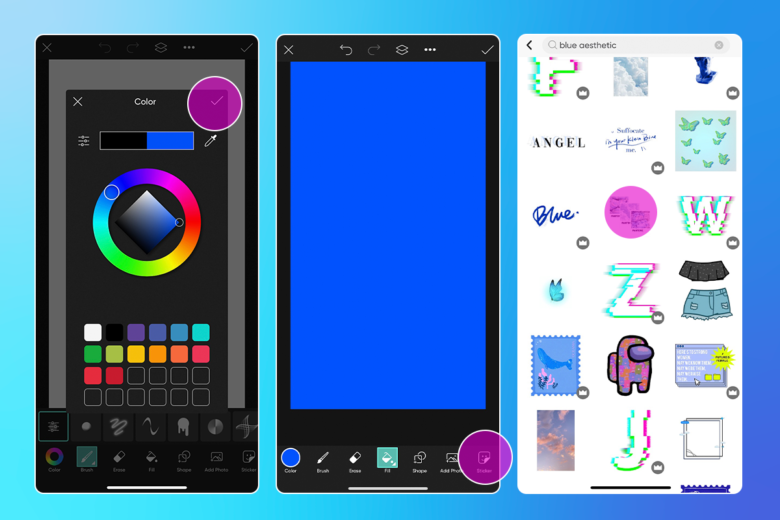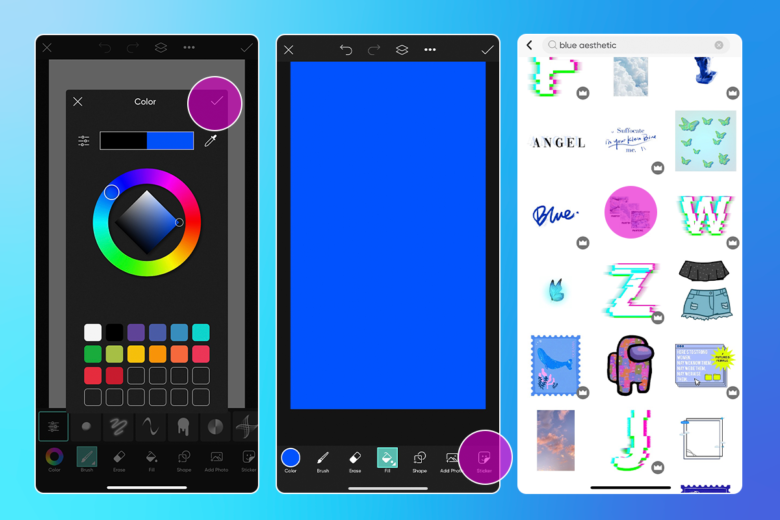 7. Upload an image.
8. You can add more stickers and effects here if needed.
9. Make any adjustments required.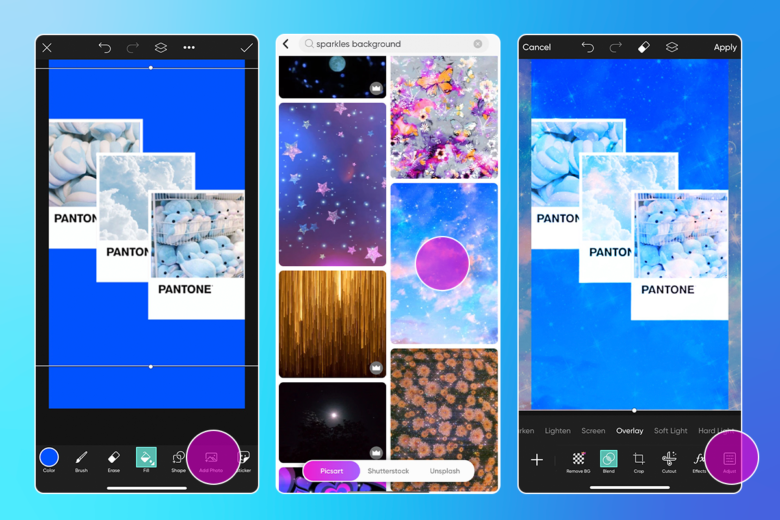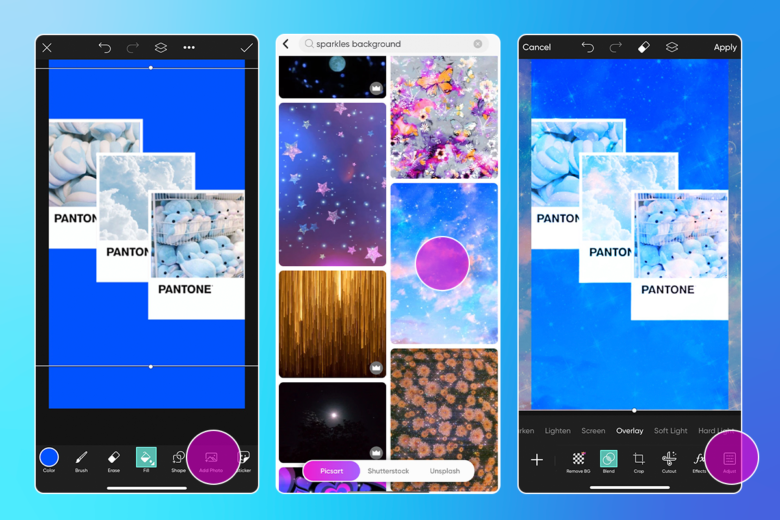 10. When you're finished editing, confirm your selections by tapping on the Next button to save or post your work to the wider Picsart creative community.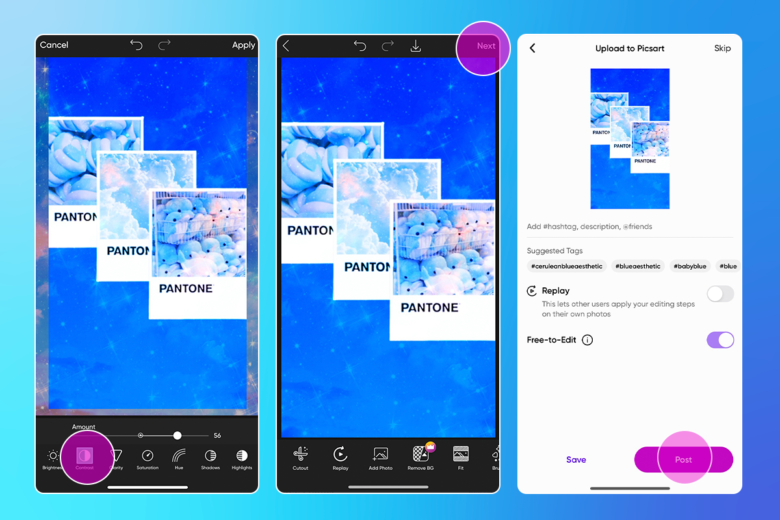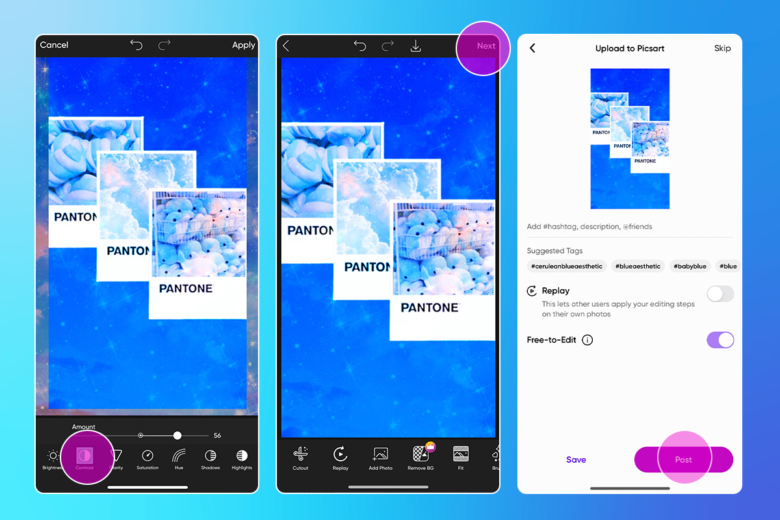 Picsart is a full ecosystem of free-to-use content, powerful tools, and creator inspiration. With a billion downloads and more than 150 million monthly active creators, Picsart is the world's largest creative platform. Picsart has collaborated with major artists and brands like BLACKPINK, Taylor Swift, the Jonas Brothers, Lizzo, Ariana Grande, Jennifer Lopez, One Direction, Sanrio: Hello Kitty, Warner Bros. Entertainment, iHeartMedia, Condé Nast, and more. Download the app or start editing on web today to enhance your photos and videos with thousands of quick and easy editing tools, trendy filters, fun stickers, and brilliant backgrounds. Unleash your creativity and upgrade to Gold for premium perks!