There isn't a more iconic color than Tiffany Blue. Just a quick glance at a Tiffany Blue image instantly evokes a feeling of glamour, luxury, and excitement. Seriously, what other aqua or teal boxes can make you feel that way? The legendary light blue color known as Tiffany Blue, founded by Charles Lewis Tiffany, made its debut in 1845 on the cover of Tiffany's "Blue Book." Since then, Tiffany Blue has become an international symbol of class, elegance, and sophistication. 
The New York City jewelry company certainly made a name for itself in the designer jewelry industry with its unique craftsmanship and high-end products delivered in a signature blue package. For over a century, Tiffany's loyal clientele has consistently seen flawless jewels and began associating the luxurious gemstone blue box with the highest quality standards.
The Tiffany Blue color has become deeply embedded in mainstream culture, while remaining traditional and exclusive to its origins. However, it's not uncommon to find everyday objects, like the below front door, in the Tiffany Blue color. That's because colors carry meanings and symbolism. In this case, it tees up that an elegant home awaits you behind this light blue front door.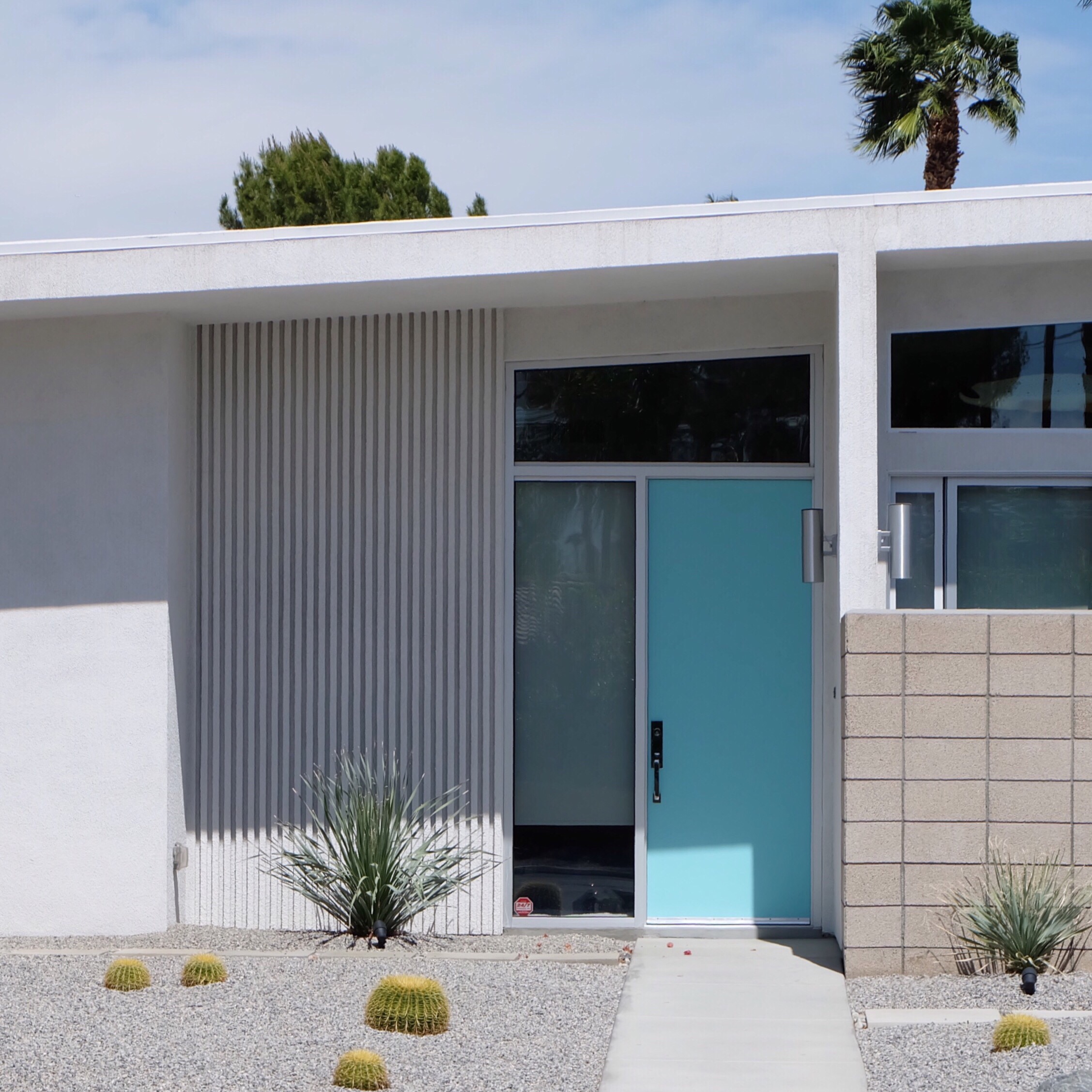 via PicsArt
The Color Tiffany Blue
So, exactly what color is Tiffany Blue? Is it really blue? Or is it green? The answer is, it's actually a perfectly subtle mixture of both. The Tiffany color originated from the light-medium version of the robin's-egg blue color, also called forget-me-not blue. The company trademarked the color Tiffany Blue in 1998 and was standardized by PMS (Pantone Matching System). The custom color PMS created for the company is called "1837 Blue" which was the year Tiffany & Co. was founded. 
Tiffany Blue Color Palettes 
The closest other colors to Tiffany Blue are turquoise, blue-green, mint blue, and dark cyan, all of which also have a subtle mix of blue and green. If you're looking for colors similar to Tiffany Blue, you can't go wrong with any of those. The colors that complement Tiffany Blue best are white, black, and sterling silver, especially when it comes to adding an overlay text. Combining any of these colors into a unique color scheme with Tiffany Blue can produce exquisite designs while maintaining focus on the prized color. The Tiffany Blue box itself only has "Tiffany & Co" written on the box lid in a clean, black color Serif font.
Color theory dictates that complementary colors include corals, yellows, and deep blues. Any tones from these color groups would mesh well with Tiffany Blue's bright piercing hue.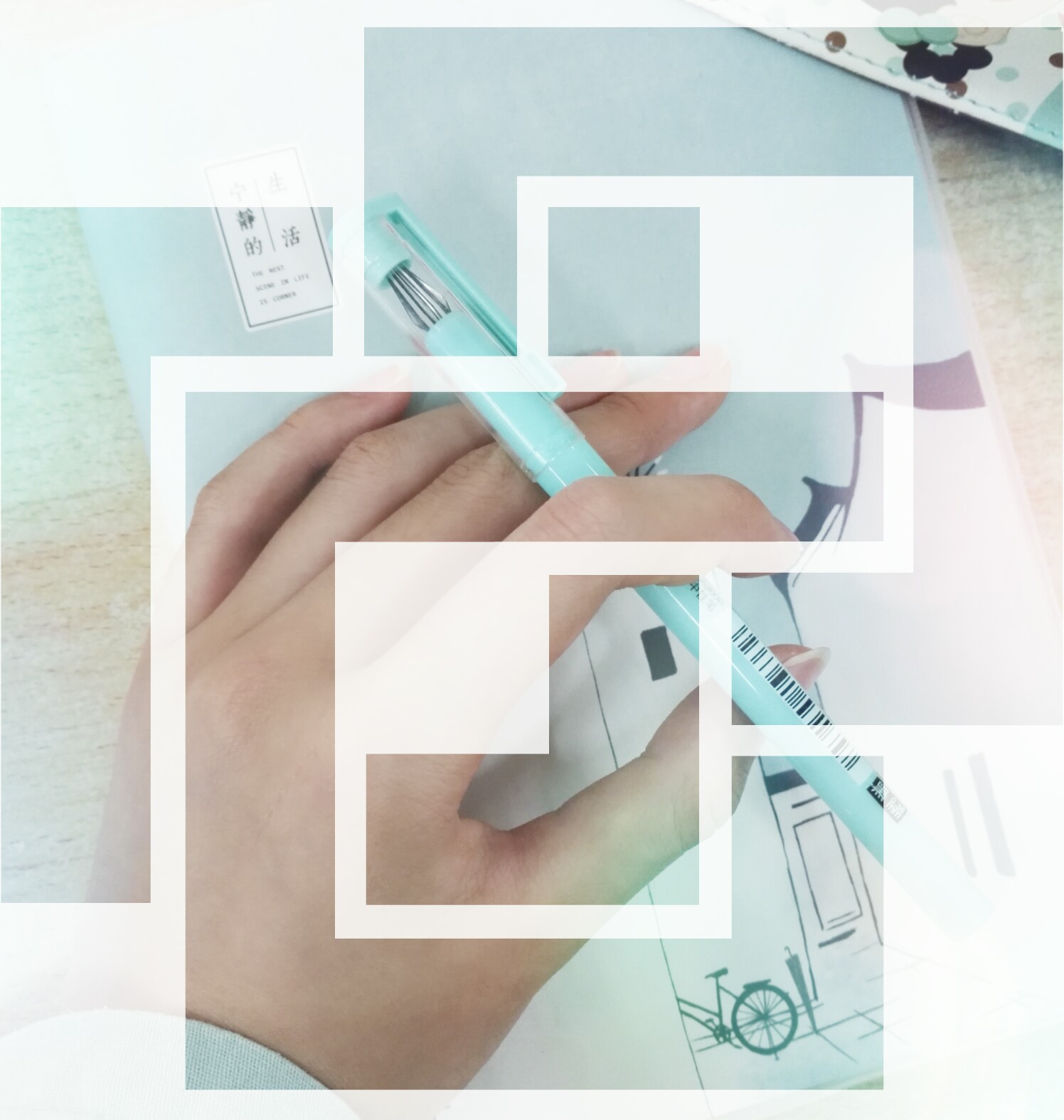 via PicsArt
Tiffany Blue Color Code
In the digital world, you can pinpoint the exact digital code for each color. This makes it easy for designers to implement colors in code or through apps. The Tiffany Blue hex code is #0ABAB5. You can search for this code in most photo editing apps or creative platforms to select the precise color for Tiffany Blue.
In an RGB color space (made from red, green, and blue), the exact breakdown of hex #0ABAB5 is 3.9% red, 72.9% green, and 71% blue. These exact percentages show you just how close the mixtures of blue and green are. In the CMYK color space (used in color printing), hex #0ABAB5 is made of 95% cyan, 0% magenta, 3% yellow, and 27% black.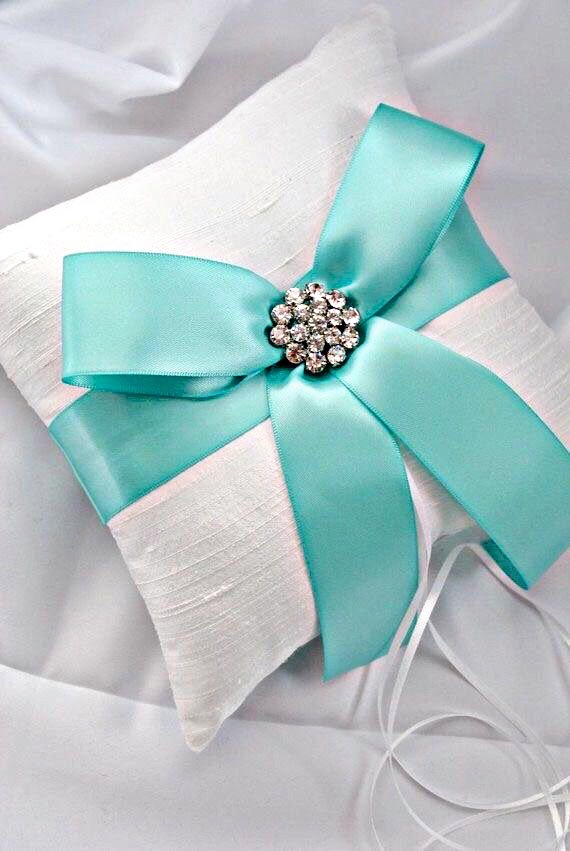 via PicsArt
Create Designs Using the Color Tiffany Blue 
Now that you've learned the rich history of how the color Tiffany Blue came about, it's time to get creative and use it in your designs. For mobile projects, check out these step-by-step instructions to create your very own Tiffany Blue design. 
Step 1) Open the Picsart app and tap on the plus sign at the bottom of your screen.
Step 2) Select the foundation of your design. You can either start out with a Tiffany Blue background color or a different foundation and add Tiffany Blue elements later. 
Step 3) If you're selecting Tiffany Blue as your background color, scroll down to Color Backgrounds and select the Tiffany Blue color.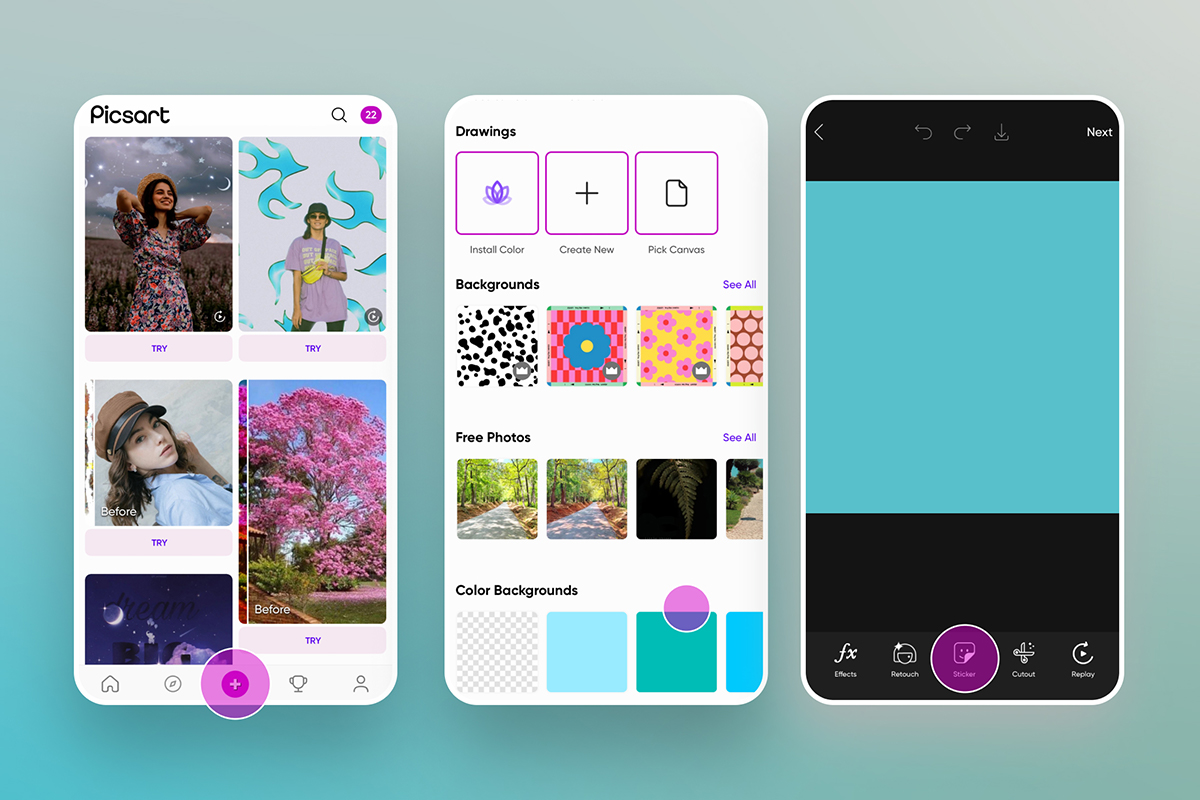 Step 4) For all other Tiffany Blue related backgrounds, simply type in Tiffany Blue in the search box at the top of your screen and make a selection.
Step 5) Start adding elements to your design via the Stickers, Photos, and Text tools at the bottom of your screen. Rearrange and resize your elements accordingly. Remember to tap Apply on the top right to save and layer each edit. 
Step 6) Under the Stickers tool, type in "Tiffany" in the search box for some stunning Tiffany blue style stickers. There are some truly unique stickers that will surely make your design pop.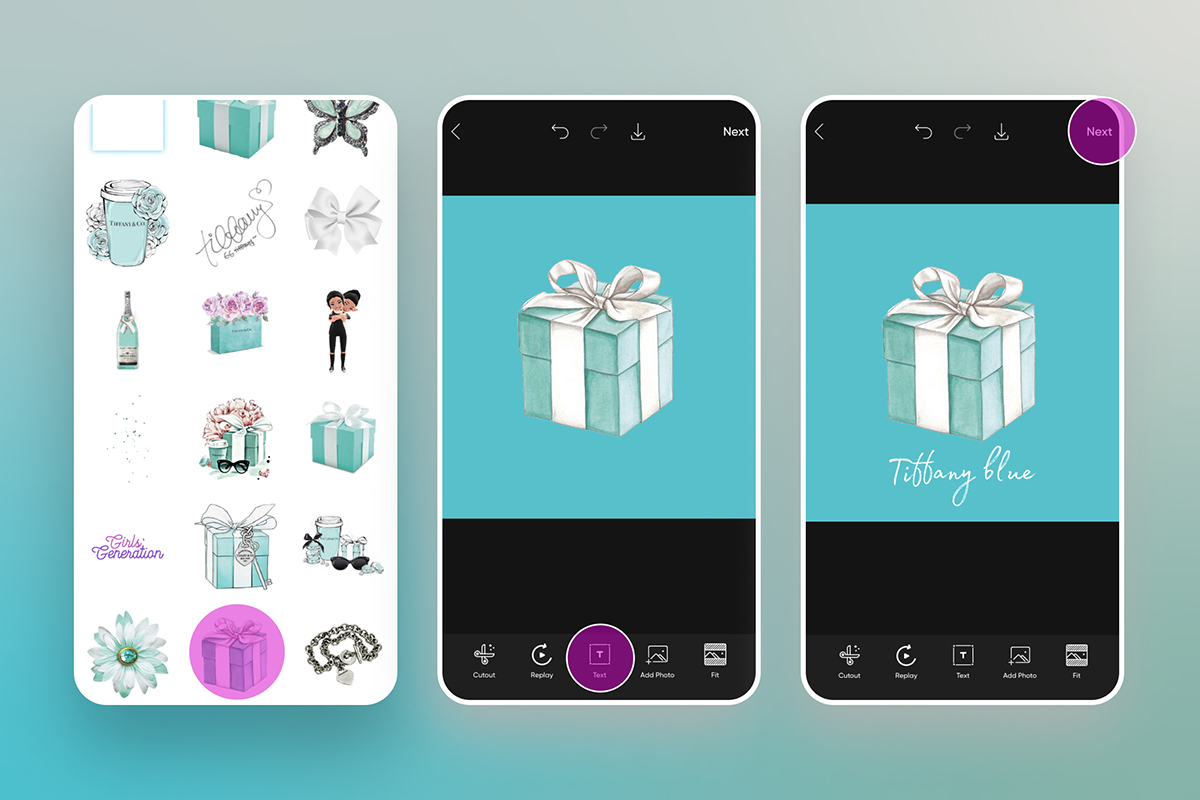 Step 7) Once you're done with your Tiffany masterpiece, tap the Download icon or hit Post.
Not using the Picsart mobile app? No problem. Take a look at these super easy instructions on how to create Tiffany Blue-themed designs on the web. 
Step 1) Start your project on the Picsart web interface.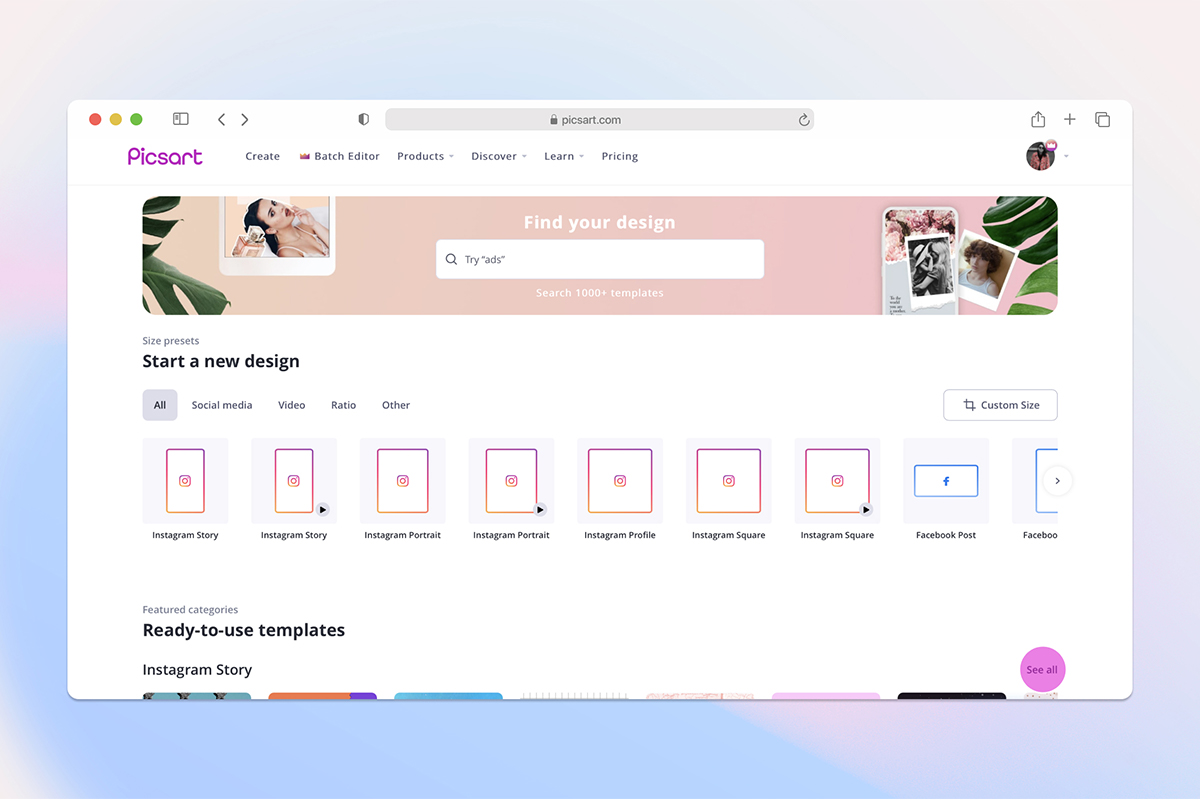 Step 2) Click Template Editor. Upload your image or select any image available in the library to establish your Tiffany Blue design background.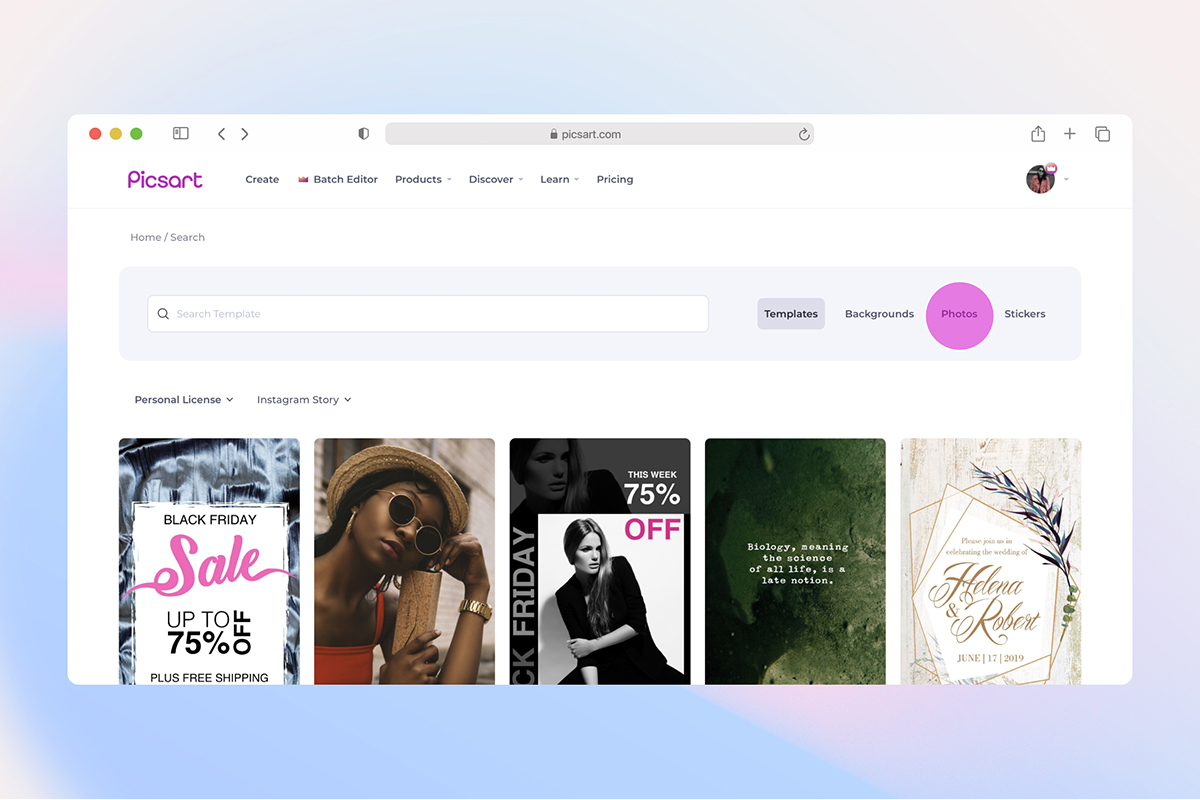 Step 3) Click on the Stickers tool in the left-hand bar. Type in Tiffany Blue in the search bar. Click on your desired sticker once and it will appear on your image. Don't be afraid to add multiple stickers. Consider using color blocking techniques to really make the Tiffany Blue color pop.
Step 4) Edit each sticker with the Adjust and Blend tool just above your image. You can also resize the sticker by clicking on it once and dragging and dropping along the borders using the white dots or dashes.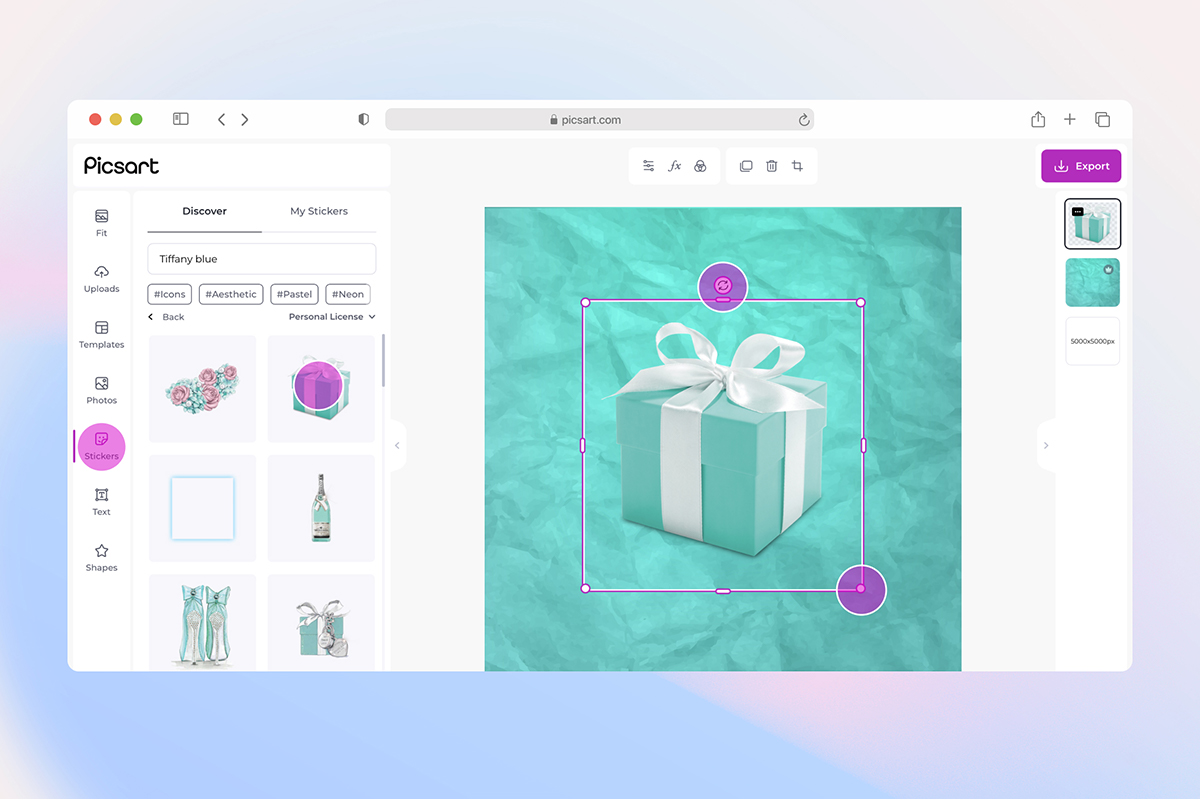 Step 5) To add text to your Tiffany design, simply click Text on the left-hand toolbar, add the appropriate text, and adjust font and color accordingly.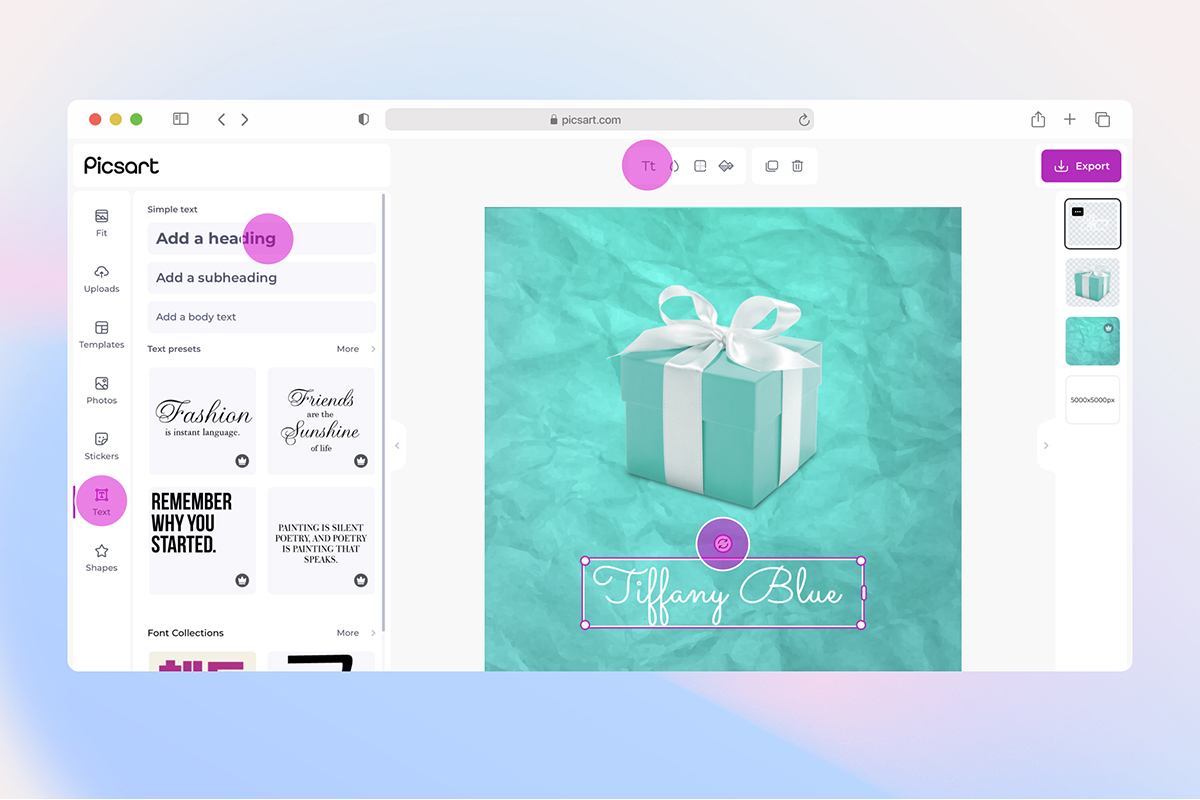 Step 6) To add photo effects to your project, click Effects on the left-hand side, and select your desired effect. Pro tip: You can add photo effects to each individual sticker. Simply click on any Effects category, then click on the sticker. Explore the stunning variations of your sticker through each filter and select one.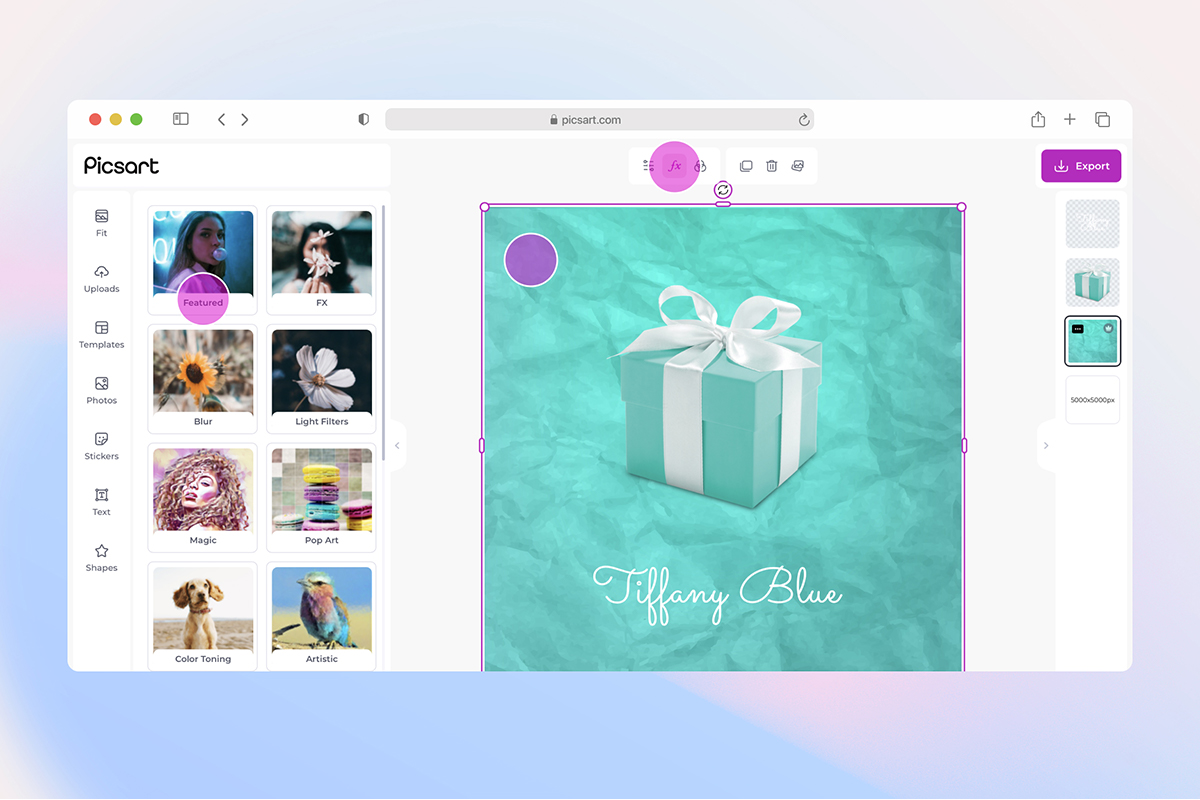 Step 7) Once you're done with all of your finishing touches, click Share or Download on the top right of the page.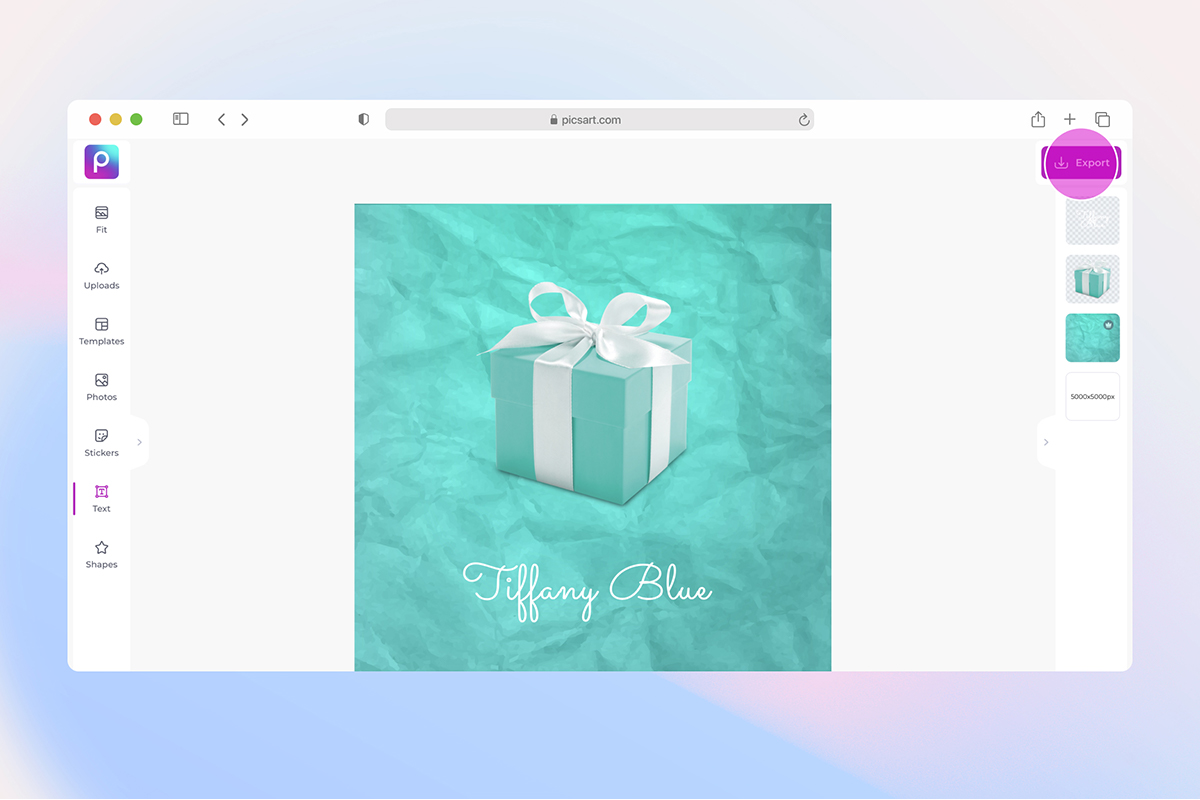 Picsart is a full ecosystem of free-to-use content, powerful tools, and creator inspiration. With a billion downloads and more than 150 million monthly active creators, Picsart isn't just the world's largest creative platform; we're also the fastest growing. Picsart has collaborated with major artists and brands like BLACKPINK, the Jonas Brothers, Lizzo, Sanrio: Hello Kitty, I am a Voter, Bebe Rexha, Maroon 5, One Direction, Warner Bros. Entertainment, iHeartMedia, Condé Nast, and more. Download the app or start editing on web today to enhance your photos and videos with thousands of quick and easy editing tools, trendy filters, fun stickers, and brilliant backgrounds. Unleash your creativity and upgrade to Gold for premium perks!