There is something magical about old photographs and the feelings of nostalgia they inspire. Beyond seeing how people lived used to live and how fashions have changed, old photos stir our emotions. Chances are the reason why photos feel so old and vintage is because of their sepia tint. What is sepia? Read on to learn more, what the word itself means, and how to use sepia tones to improve your photos.
What Does Sepia Mean?
Sepia is historically associated with vintage photographs and more recently used to describe the various filters content creators and photographers use during the photo editing process. But did you know that it's a pigment secreted from the ink sacs of cuttlefish? In fact, the origins of the word sepia are Greek (sēpía) and translate directly to 'cuttlefish'.
In nature, these squid release the inky secretion when they feel threatened. But for use with photographic prints, the ink sacs are removed from the cuttlefish and dried before being dissolved in a diluted alkali which is then filtered, rehydrated with diluted hydrochloric acid, and processed further to create the pigment we know as the brown tone sepia ink.
What is a Sepia Photograph?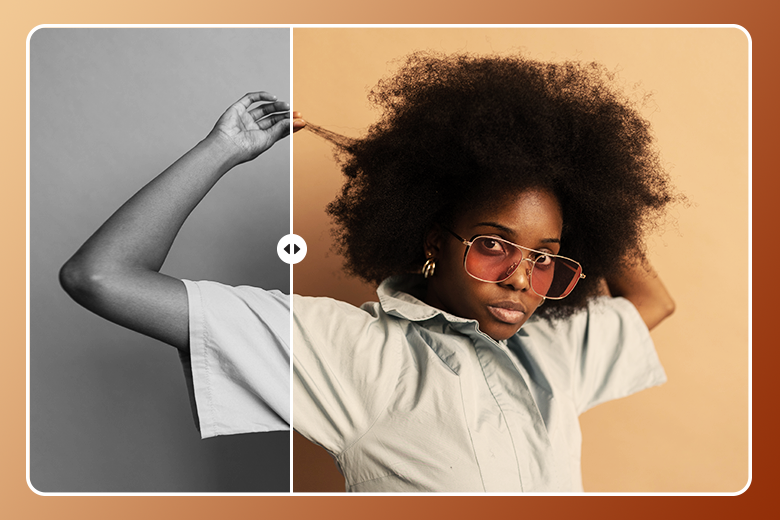 A sepia photo is essentially a black-and-white photograph that has been tinted with the rich brown pigment of a sepia toner by a photographer in a darkroom to create a warm effect and to give photos an archival quality.
Sepia is a brownish color that was commonly seen in monochrome photographs starting in the late 19th century when black and white photography was phasing out of style. Photographers essentially added a sepia toner to black and white photos to add warmth and depth to the monochromatic photos of yesteryear.
Sepia toner is made up of chemicals that preserve photos by replacing the metallic silver in the photo processing phase with a sulfide compound. In the case of sepia toning, a silver sulfide is used to warm up the monochrome print. As more silver sulfide is added to the solution, the sepia tones in the photograph intensify or become warmer. While metallic silver, which is a chemical process used in the processing of black and white photography, was used regularly, the emergence of the sulfide-based compound that creates the color sepia also has properties that preserve photos and prevent it from damage from environmental factors such as pollutants.
How to Use the Sepia Tone to Improve Your Photos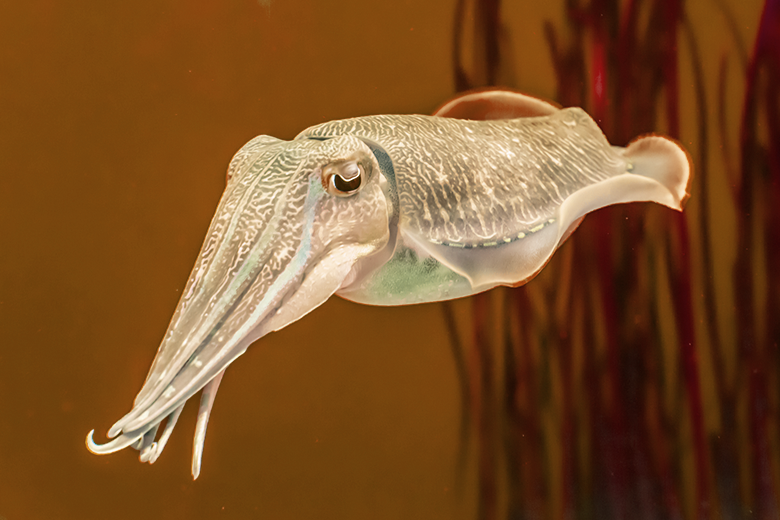 Knowing the history and the use of sepia is the first step in knowing when and how to incorporate the reddish-brown color in your photo projects. Read on to discover how to use the sepia tone to create one-of-a-kind, vintage-look photos.
Create a Vintage Look

The most common use case for adding or amplifying a sepia tone in your photos is to add an old-timey look to a modern photo. There is no better way to create an archival look than by giving it an antique wash of warmth.

Add Intensity

In certain combinations, a sepia tone can add dramatic intensity to photographs by giving them a timeless and sentimental quality.

Tone it Down
Change the Mood

Do you want to take your photo from light and bright to moody and mysterious? Adjusting the sepia tones of your photo can help you do just that! You may also add a subtle grunge effect to elevate the edge.
How to Edit a Photo with Sepia Filter Using Picsart
While a sepia filter often desaturates photos in modern times and replaces vibrant colors with warmer, golden tones, it can also add a lot of depth, character, and old-world charm to your favorite snaps. It could also be just the right touch your creative project needs for a vintage look. Read on to learn how to use sepia in the Picsart app.
1. Open the Picsart app on your mobile device and tap on the purple + sign at the bottom of the screen.
2. Scroll through the Photos section to select the media you want to apply a sepia filter to. To view your photo library, tap on All Photos
3. Once you've selected your photo, tap on Effects at the bottom of the screen.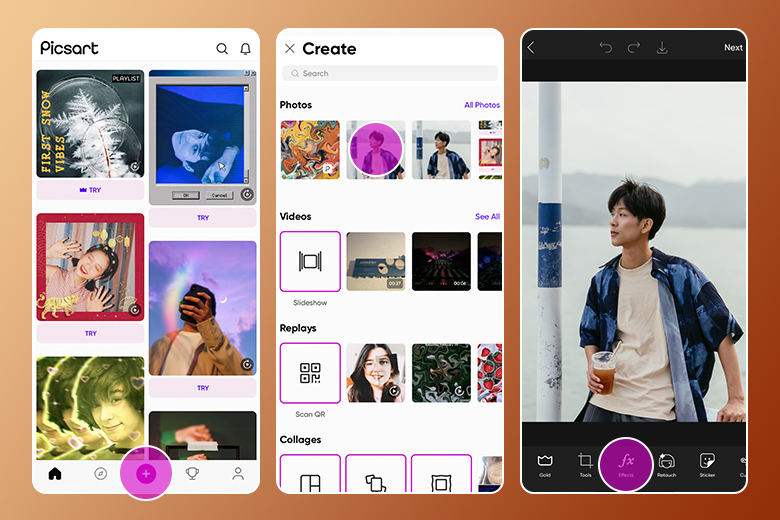 4. You will find dozens of creative filters to help elevate your photo. There are many sepia filters to choose from. Scroll through the Effects to experiment with the following filters:
Sepia
This filter gives your photos a classic sepia look with a dramatic washed-out look and an adjustable tint that you can modify by tapping on the filter name again to reveal the adjustment bars.
Warm Amber
Capture the yellow tones of sepia with this filter that creates a bright, almost overexposed effect.
Twilight
The Twilight filter significantly warms up your photos with a golden glow that gives a subtle nod to the classic sepia filter but with a more approachable and natural effect.
Cinerama
A bit cooler than the traditional warm sepia tones, the Cinerama filter gives you a high-contrast effect that feels like an updated, modern version of the typical hue.
Warm Color
For a filter that leans more toward golden orange than a reddish-brown color, try the Warm Color option for a seriously sunkissed look.
SUN2
While sepia leans darker and more overexposed in traditional applications, the SUN2 filter gives photos a sunny brightness while emphasizing brown and bronze undertones.
SUN3
If you want a high-contrast warm look, the SUN3 filter will give you the dramatic impact you're going for. You can, of course, adjust the settings of this filter to create a custom filtered look for your photo.
5. Once you have decided which filter to use, tap on the download icon at the top of your screen to immediately save your edited photo to your device or tap on Apply to incorporate your changes and continue editing.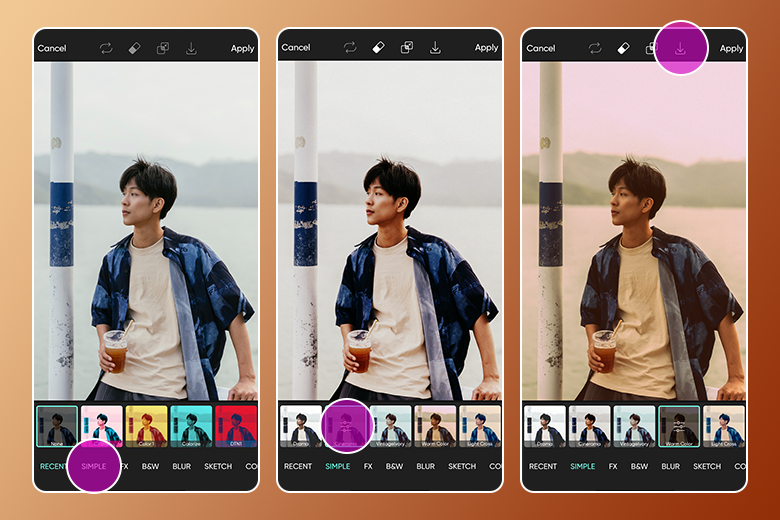 How to Create a Sepia-Toned Edit on Picsart Desktop
1. The process is much the same as above, but to get started, click on the New Project icon and Upload the image you want to edit.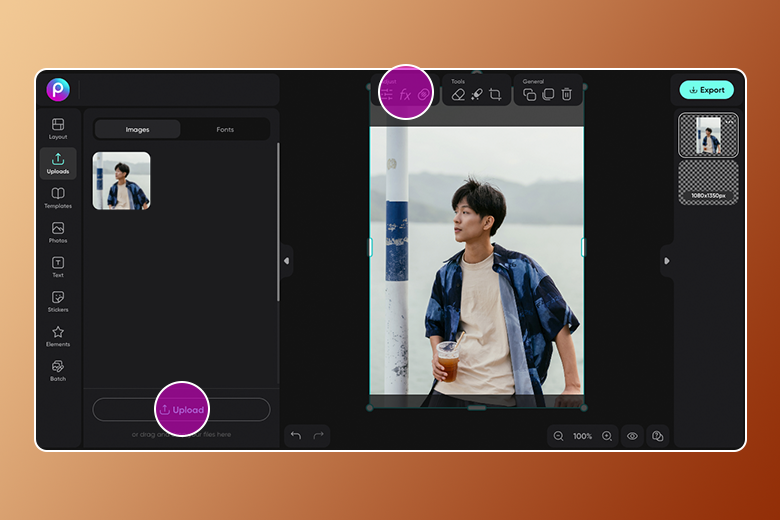 2. In the panel above the image, click on fX.
3. Now choose the FX option from the panel to the left of the image. Scroll down until you find the sepia toned filters and select the one you want to apply.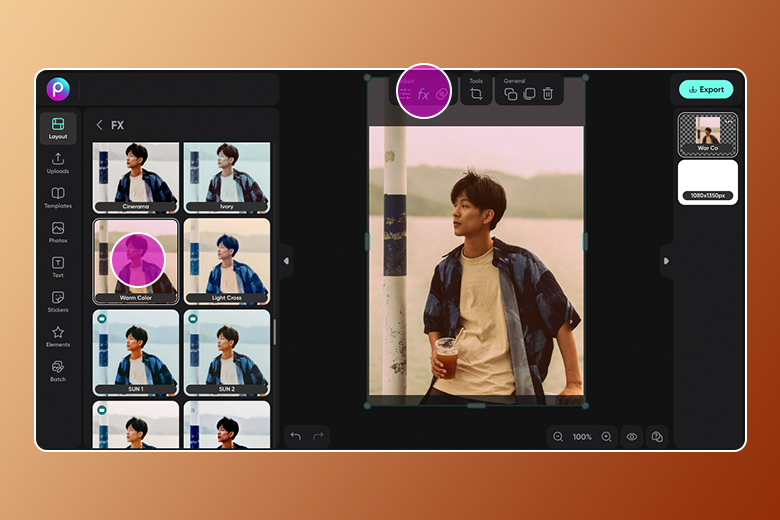 4. You can also decide on how much (or little) you want you want to apply the filter by clicking on Adjust moving the slider left or right.
5. When you're happy with the filter and edit, click on Export to save, download or post it.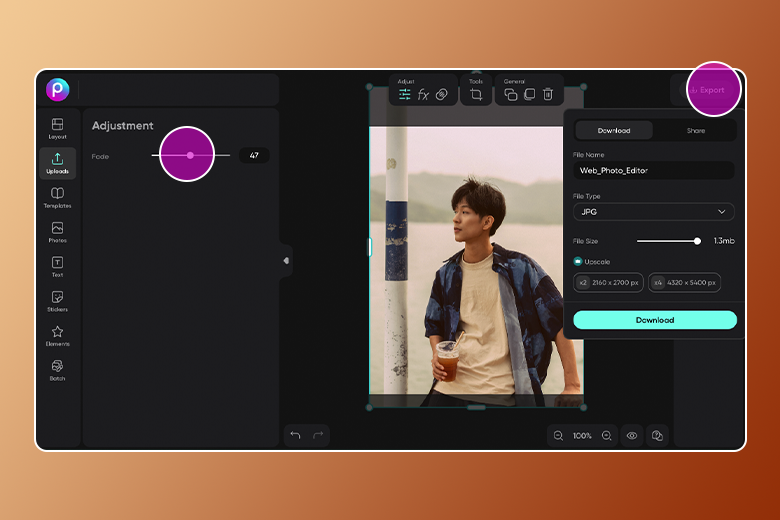 Picsart is a full ecosystem of free-to-use content, powerful tools, and creator inspiration. With a billion downloads and more than 150 million monthly active creators, Picsart is the world's largest creative platform. Picsart has collaborated with major artists and brands like BLACKPINK, Taylor Swift, the Jonas Brothers, Lizzo, Ariana Grande, Jennifer Lopez, One Direction, Sanrio: Hello Kitty, Warner Bros. Entertainment, iHeartMedia, Condé Nast, and more. Download the app or start editing on web today to enhance your photos and videos with thousands of quick and easy editing tools, trendy filters, fun stickers, and brilliant backgrounds. Unleash your creativity and upgrade to Gold for premium perks!