Clothes are powerful. They can inspire confidence, show off your personality, and make a statement. If you're someone that embraces fashion as a way to express yourself and your creativity, you've probably thought about starting your own clothing line at one point or another. However, creating a fashion brand is more than just having a sense of style and an artistic vision. You also need some business savvy and entrepreneurial spirit to make your new small business a success. In this post, we'll break down how to start a clothing line, including which skills you'll need, a step-by-step guide, and some sample ideas to get you started.
What Are the Pros and Cons of Starting a Clothing Brand?
If you've dreamt of creating your own clothing line, you may be holding yourself back because you're unsure if it's the right path for you right now. To help you decide whether it's time to invest your money and time in making your dreams a reality, let's consider the pros and cons of starting a clothing brand.
Pro (and Con) #1: Be Your Own Boss
Firstly, if you start your own clothing line, you're the boss (major pro!). You get to make all the creative, financial, and logistical decisions. You control how you spend your time each day, and you have complete freedom about where you work and who you work with. You'll get to nurture your business from the ground up, and you'll reap the rewards when profits start coming in.
However, this can be a con too. Running a successful clothing brand involves doing a lot of research and managing many moving parts. You may end up working longer hours than you did at your day job (and earning less pay, at least at first). Managing your own time can be tricky without anyone around to make sure you stick to the deadlines you set for yourself. You'll need a strong passion for your clothing brand to get the job done without burning out.
Pro #2: Be Creative and Realize Your Vision
If you're wondering how to start a clothing line, it's probably because you have a passion for fashion design. Whether you have a clear vision for your clothes or not, you have a unique sense of style that you want to share with the world. By starting your own brand instead of working for someone else, you can trust your creative instincts and sell clothing that you really believe in.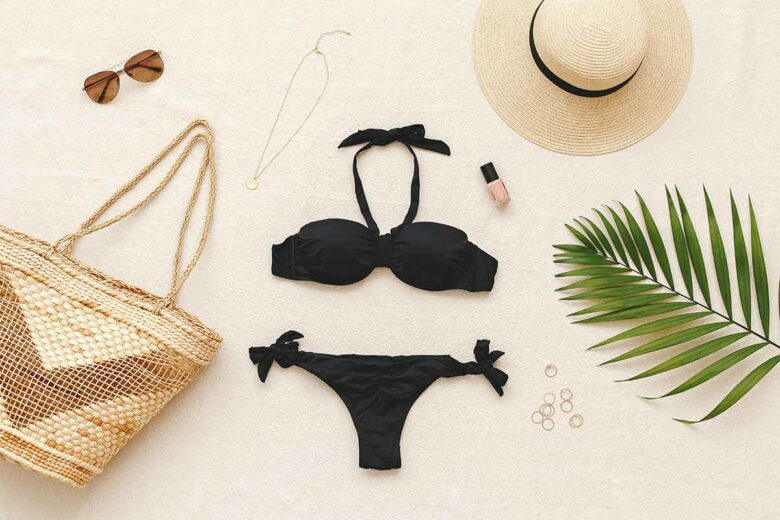 Con #2: Accept Financial Risks
No matter how you structure your clothing business, you'll be faced with startup costs. These can range from hundreds to thousands of dollars, and include materials, manufacturing, marketing, and website fees. You can use your own money to cover these upfront costs, or you can look for investors. Either way, you'll only be able to recoup (and exceed) those costs by successfully finding customers and selling your products.
Pro #3: Be an Inspiration
When you create a clothing line, you're making a statement. Everything about your brand, from your clothing designs to your website to your social media presence, sends a message. If you're the owner of the line, you have the opportunity to use your brand voice to uplift and inspire. This is your chance to create designs that will make people feel confident and empowered. Plus, as a business owner, you'll have the opportunity to be a leader, employ and mentor people, and make a difference in your community.
Con #3: Your Best Isn't Automatically Enough
One of the harsh realities of the fashion industry is that some brands just don't make it. You can have jaw-dropping designs and quality clothing, but things like price point, failing to connect with the right audience, and tough competitors may make it difficult (or impossible) to turn a profit. If this is what you really want to do, you have to be ready to face setbacks and use them to help you grow stronger as a designer and entrepreneur.
Original Clothing Line Ideas for Amateur Designers
Before you start your own brand, you'll need a clothing line idea. It'll help to think about two things: which type of clothes you're most interested in and how you can meet an unmet need. You'll need to create a product line that you're passionate about because it'll be a huge part of your life for however long you run the brand. On the other hand, it'll be hard to find success if you're not bringing something unique to the market.
Here are a few different clothing line ideas to get you started. If one of them resonates with you, take some time and brainstorm how you can make it your own.
Screen-printed t-shirts and hoodies
Activewear (leggings, crop tops, sports bras)
Accessory lines (printed canvas tote bags, hats, phone cases, etc.)
Patterned dresses and skirts for everyday wear
Lingerie, sleepwear, or swimwear
Plus-size clothing
Formal dresses or suits
Zoom-friendly business attire
Custom couture garments
Men's or women's casualwear
Which Designer Skills Are Needed to Start a Clothing Line?
Though a formal education in fashion can give you a leg up when starting a clothing brand, it's not an absolute necessity. However, it's still your job to find and devour as much information on the industry as you can. Fashion magazines, blogs, and online courses are your friends. They can help you learn the skills you need, including designing clothes, finding inspiration, creating textiles, and scaling your designs.
You should also look into some basic business courses, either online or in person. There's a lot that goes into running a clothing line beyond creating eye-catching designs. You'll need to know how to create a business plan, set price points for your products, decide on a budget, get funding, set up a business entity, and make sales. You should also look into basic principles of marketing, branding, and clothing manufacturing.
Lastly, you'll want to reach out to other people in the industry whenever possible. See a blog post that you like? Comment on it. Make friends with retail store owners and clothing manufacturers. Your connections will be invaluable in helping you get access to resources and equipment. They can also be a great source of feedback and positive word of mouth.
How to Start a Clothing Line in 10 Steps
Now that you know the basics of starting your own clothing line, it's time to talk about how to get started. While your favorite established brands may seem to effortlessly produce cohesive collections, countless hours of planning and trial-and-error go on behind the scenes. You never get to see the business plans, financial calculations, and distribution logistics that go into creating the clothes you love. For the best chances of success, give yourself time to really work through each of these steps before moving forward.
Step 1: Find Your Niche
Identify an unmet need in the market today. What's a product that doesn't exist yet but should? In this step, you should also identify your target audience. Who is going to buy your product? Think about your target market's needs and characteristics, including their budget, age range, and where they get their style cues.
Step 2: Create Your Business Plan
This is a big one. In this step, you'll need to think about your vision for the future of your brand. What does your business model look like? Do you want to sell your clothes in person or online? Wholesale or individual sales? Research any permits or licenses that you'll need to legally operate your business, as well as the costs that you can expect to incur from your operations. Your expenses may include rent, electricity, employee wages, manufacturing, fabric, embellishments, marketing, and website fees.
Step 3: Create Your Brand Identity
Your brand is the personality that people will associate with your clothing line. Your business name, logo, website design, and social media presence will all help people form an idea about your brand. Before you put yourself out there, really think about what unique voice and perspective you want your brand to have. Then, make sure that all of your clothes, your online presence, and your business interactions are in line with the values, mission, and story of your brand.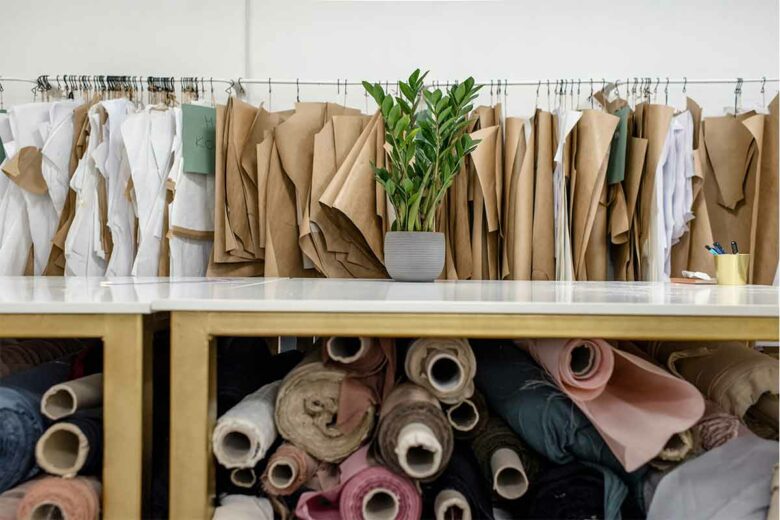 Step 4: Start Designing Your First Collection
Once you've chosen your niche, target audience, and brand, it's time to start creating. This is your chance to let your artistic vision shine. Your first collection is one of the most important statements that you'll make as a fashion designer. Don't hesitate to really let your personality and brand voice shine through. You should also think of more practical things during this step, such as the resources you'll need to make the designs and how cost-effective they'll be to produce.
Step 5: Find Suppliers and Manufacturers
After you've planned your collection, you'll need to start putting everything together. This is where you'll research different manufacturing options, such as print-on-demand or screen printing, dropshipping, and full-service clothing manufacturers. You'll need to decide which materials you want to use, create patterns and tech packs for your clothing items, and shop around to find high-quality products and services for the best price.
Step 6: Set Your Prices
You should have a pretty good idea of the production costs of your clothing line by this point. Now, you'll use that information to determine how much you should charge for each piece of clothing in your line. The goal is to set a price that will cover the manufacturing and material costs and give you a profit margin that will help offset your other costs (think: rent, marketing, electricity, etc.). When you're doing the math, don't forget to consider your customers' budgets and your competitors' price points.
Step 7: Plan for Sales and Distribution
Before your clothes are ready, you'll need to decide how and where you'll sell them. Will you create an online store (like Shopify or Etsy) or partner with an in-person retailer? Where will you store your inventory before it's purchased? How will your clothes get to your retailers or customers? Will you be in charge of shipping, or will you use a service? This is also a good time to take professional photos of your designs and research any packing materials you may need to ship your clothing to customers.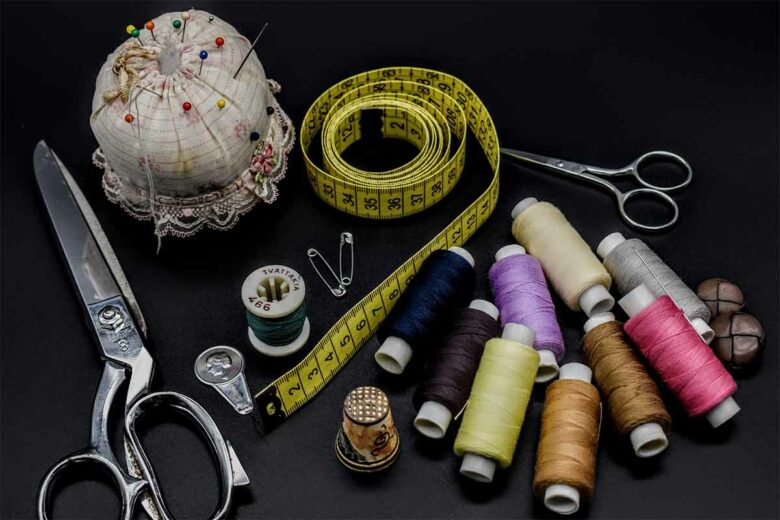 Step 8: Get the Word Out
It's time to create a marketing plan. Whether you're planning to sell your clothes online or in person, an online presence is an absolute must. In addition to a professional website for your clothing line, you should also have branded social media accounts where you can interact with potential customers. Sponsored ads on Facebook and Instagram can also help you introduce new people to your brand. You can even send press releases to local media outlets, as well as partner with influencers to help get the word out about your debut collection.
Step 9: Launch Your First Collection
This is what you've been working towards – the launch of your very first collection. For the first time, your clothes will be officially available for people to buy. Keep spreading the word, and go above and beyond to provide an exceptional experience for everyone who buys your products. This can include fun branded packaging, discount codes for future purchases, personalized customer service, and free goodies (such as branded stickers) included in people's orders.
Step 10: Look Towards the Future
You've proved that you have what it takes to take a clothing brand from concept to reality. Now, it's time to plan for the future of your new business. How do you want your clothing company to grow? If all goes well, the demand for your successful clothing line will exceed what you're able to accomplish on your own. This is the time for you to consider looking for investors or partners to help fund your business. At this step (if you haven't already), you'll also want to think about hiring helpers to handle some of the work so that you can focus on the big picture and growing your brand.
How to Make Online Designs for Clothes
One of the easiest ways to get started with your new clothing line is to get your designs printed on existing clothes, such as blank t-shirts or hoodies. You can find everything you need to create your own custom clothing designs in the Picsart photo editing tools. Read on for a step-by-step guide on how to design clothes in the app.
1) Open the Picsart app. Tap the plus sign at the bottom of the screen to start a new project.
2) Scroll until you see Backgrounds. Then, select See All. Choose a background for your design. It can either be a solid color or a pattern. While you're designing, be mindful of the number of colors you use because some design printing services may charge on a per-color basis.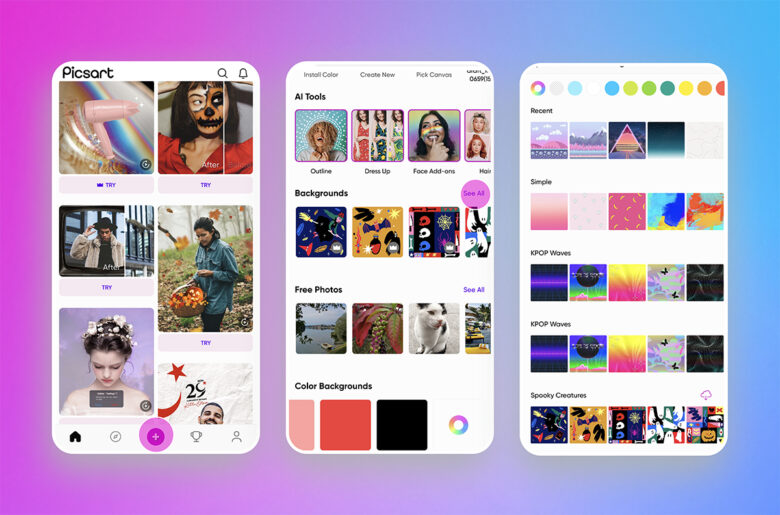 3) Tap Tools in the bottom toolbar. Then, click on Crop. Use the preset dimensions at the bottom of the screen or use the Free option to create your own custom dimensions to set your image size. A 3:4 image is longer and will cover more of a t-shirt, while a 3:2 image will be more narrow and may only cover the chest area. The size you choose will depend on your vision for your design. Once you've set your dimensions, tap Apply in the upper left of your screen.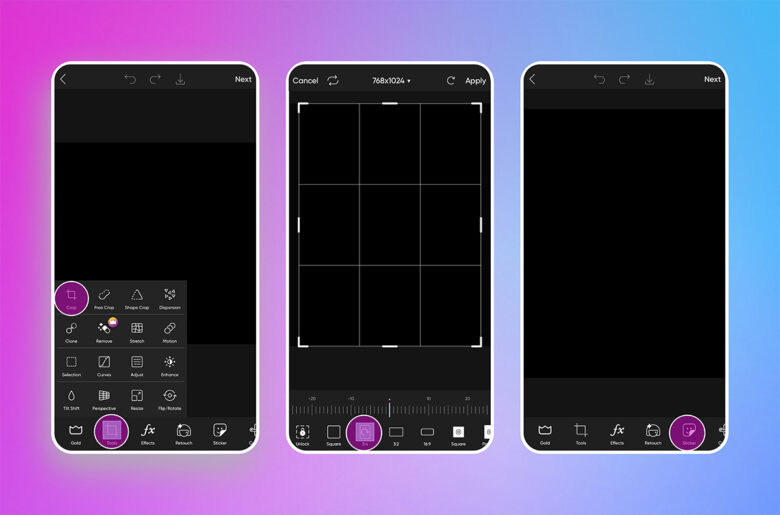 4) Select Sticker on the toolbar at the bottom of your screen. Here, you can search for different visual elements to add to your design. If you've already created an image, you can add it to your background by tapping Add Photo on the bottom toolbar. You can also click on Draw to add custom drawings, doodles, or shapes to your design.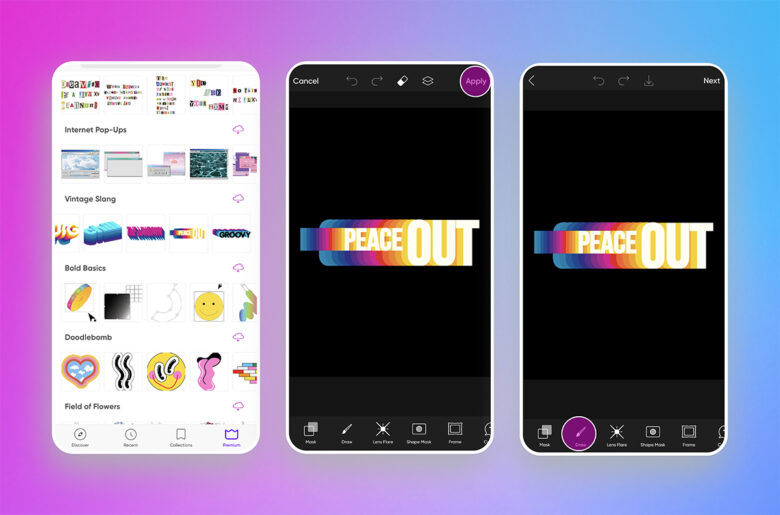 5) If you're printing your design at home using iron-on paper, you'll need to flip your image before you save it. That way, it'll be facing the right direction when it's transferred to the piece of clothing. To do this, tap Tools. Then, select Flip/Rotate and click Horizontal to flip your image. Tap Apply to save your changes.
6) Click Next at the upper right corner of your image to save it. From there, you can either send it to the printing service that will place it on your clothes, or you can print it out on iron-on transfers in the comfort of your own home. So, what are you waiting for? It's time to start designing.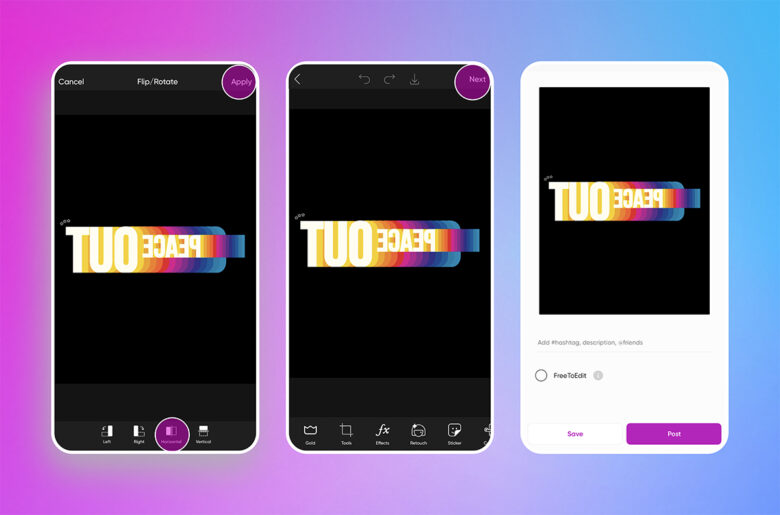 Picsart is a full ecosystem of free-to-use content, powerful tools, and creator inspiration. With a billion downloads and more than 150 million monthly active creators, Picsart is the world's largest creative platform. Picsart has collaborated with major artists and brands like BLACKPINK, the Jonas Brothers, Lizzo, Sanrio: Hello Kitty, I am a Voter, Bebe Rexha, Maroon 5, One Direction, Warner Bros. Entertainment, iHeartMedia, Condé Nast, and more. Download the app or start editing on web today to enhance your photos and videos with thousands of quick and easy editing tools, trendy filters, fun stickers, and brilliant backgrounds. Unleash your creativity and upgrade to Gold for premium perks!