What do you do with your memories? Maybe you store them on your smartphone, share stories over dinner, or write them down in a journal. Or maybe you prefer to take a visual route and add them to a scrapbook. If you're just getting into scrapbooking, then you're likely learning that there are tons of scrapbook ideas. 
Scrapbooking has been around for a while now and dates back to 15th or 16th century England. In recent years, digital scrapbooking has become just as common as physical scrapbooking. Its essence remains the same though: to capture fleeting moments in time. 
Nowadays, scrapbooking is a multi-billion dollar industry with multi-millions of people who consider themselves scrapbookers. If you're just getting into scrapbooking though, it can be daunting. With so many design styles, scrapbook ideas, and digital editing capabilities, it can be hard to know where to start. 
Read on for a list of 12 creative scrapbook ideas that'll jump-start your imagination. 
Reasons to Create a Scrapbook
If you're a newcomer to scrapbooking, you may be wondering why people do it. Is it really the best way to capture memories? Or, is scrapbooking just a fun way to unleash your creativity? Well, it depends. Consider these reasons if you're wondering if you should create a scrapbook: 
Scrapbooking is calming and invites you to reflect on a special moment in time. Some studies show that scrapbooking has a positive impact on people with anxiety. Doing something with your hands and reflecting on what the day brought you may help relax you or brighten your mood. 

Scrapbooking may help make you a better storyteller or photographer. This art form requires a diverse set of creative skills. You'll be journaling, taking photos, editing, sketching, formatting, and curating regularly. As the adage goes, practice makes perfect. 

Scrapbooking can be a way to connect to your family heritage. Historically, a scrapbook was passed down the family line. Your scrapbook could become a visual collection of family history and special milestones. If you've ever wondered about your family tree, consider that your grandchildren or great-grandchildren might like to read about your life one day.  

Scrapbooking lets you be as objective as possible with your memories. Recording them down as you go will help you remember these moments years from now.

Scrapbooking is a fun way to flex your creative muscles. We're all creative at heart. And executing on any type of scrapbook ideas that you might have, including

making collages and vision boards

, is a great way to release your inner artist. 
How to Prepare to Make a Scrapbook 
So you're ready to give scrapbooking a try, but don't know where to begin? Consider these tips to prepare to make your first scrapbook:
Visualize Your Scrapbook 
What do you want your book to be about? Is it a daily diary where everything goes or perhaps it's your love story? There are tons of creative scrapbook ideas, so don't limit yourself. 
Whether you choose to use it to record your culinary experiments or family tree, the possibilities are endless. Let your mind wander, make a list, and then select the scrapbook ideas you like best. 
Get Scrapbooking Supplies
Don't go all out with every supply right off the bat. This is because once you start designing, you might find that your book theme or design style may change. Start with the basics and see where your creativity takes you. 
Consider starting with: card stock, patterned paper, a pair of scissors, a few embellishments, a photo-safe adhesive, and pens. 
Gather Your Photos
Shakespeare once wrote, "What's past is prologue," meaning there is no future without the past. Take a look at all of the photos that you want to include and group them together in a general ordering. A scrapbook tells a story, and your photos are the chapters in it. So, see how the photos all fit together. 
Pro tip: Set some time aside for this stage. You might need to call some relatives, pull old prints from family photo albums, or print digital photos. 
Edit Your Photos
If you're printing digital photos for a physical album or you're creating a digital scrapbook, then you might want to consider editing your photos first. Use color correcting tools, add frames, stickers, colorful text styles, crop images, and more to make your photos really come together under your design style. 
Creative photo editing platforms like Picsart come with tons of templates (and tutorials) to make your scrapbooking journey even easier. Below, check out an example of how quick and easy it is to make a digital vision board (which is a future-looking form of a scrapbook). 
How to Make a Scrapbook 
The great part about scrapbooking is that once you have your topic, design style, and supplies, then making one is quite easy! It can be as detailed and ornate or as simple as you like. 
You'll probably need to make a trip to the craft store or order a scrapbook album online. Consider an album that fits your design style and topic. It can be any type you like – a strap hinge album, a D-ring album, or a hard cover album. When going to print your photos, keep in mind that the most common scrapbook size is the 12×12 inch square. If you're creating your scrapbook online, then most websites will give you a variety of size and print options to choose from. 
Don't forget to customize your scrapbook cover by adding patterns, pockets, a favorite photo, title, and embellishments as needed. 
Most scrapbook ideas can be put into action in a day if you have all of the tools. But, feel free to take your time, revisiting and building on your scrapbook over months and years. 
12 Creative Scrapbook Ideas
Don't limit yourself. There are tons of creative scrapbook ideas out there! Consider your family history, values, dreams, loved ones, pets, hobbies, travel, and more. If you're not sure where to start, consider these 12 scrapbook ideas to inspire you:
Couple Scrapbook Ideas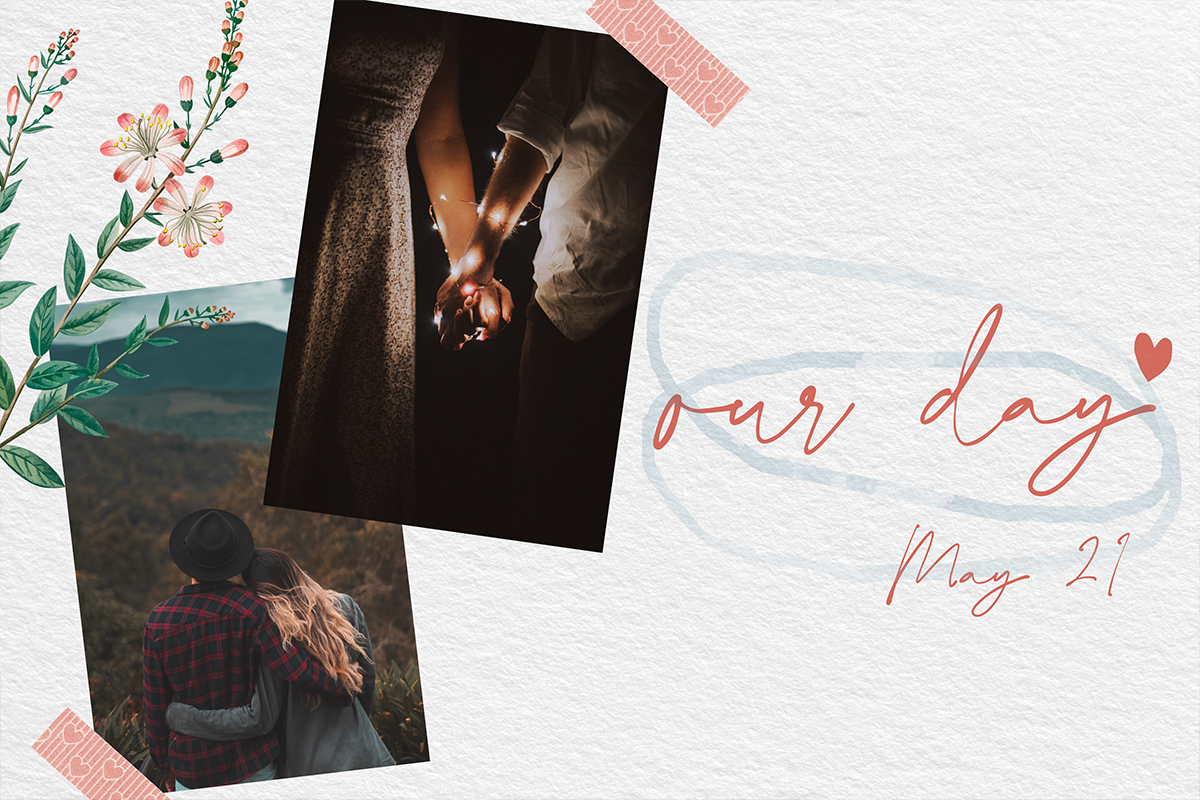 1) Inside Jokes and References
Every relationship has a story, and yours is worthy of a scrapbook. Consider including airplane or concert tickets, quotes that remind you of that person, or lyrics from the song that played on repeat on your road trip. Those silly stories are the ones you remember forever.
If you're looking for more couples scrapbook ideas, consider adding a vintage filter to your photos before printing them. Open Picsart, upload your image into the photo Editor, tap on FX to open the filters and effects, and apply the PLRD effects.
2) Digital Memorabilia
With the rise of online dating, screenshotting texts from your partner has also risen in popularity. Whether it's that first "I love you" or silly typos, these are all perfect for a scrapbook page. Use the Add Photo button in the Picsart app to add a cropped screenshot to a digitally designed page or consider making a text collage. 
3) Photo Bursts
You might not be able to add a gif or a video to your scrapbook, but you can use a series of photos taken around the same time. These burst photos can add a feeling of movement and vibrant life to your scrapbook.
Consider photo bursts from a first dance or playing with your child. Adding a ripped paper effect to these types of collage edits will give your scrapbook an extra air of nostalgia. 
Wedding Scrapbook Ideas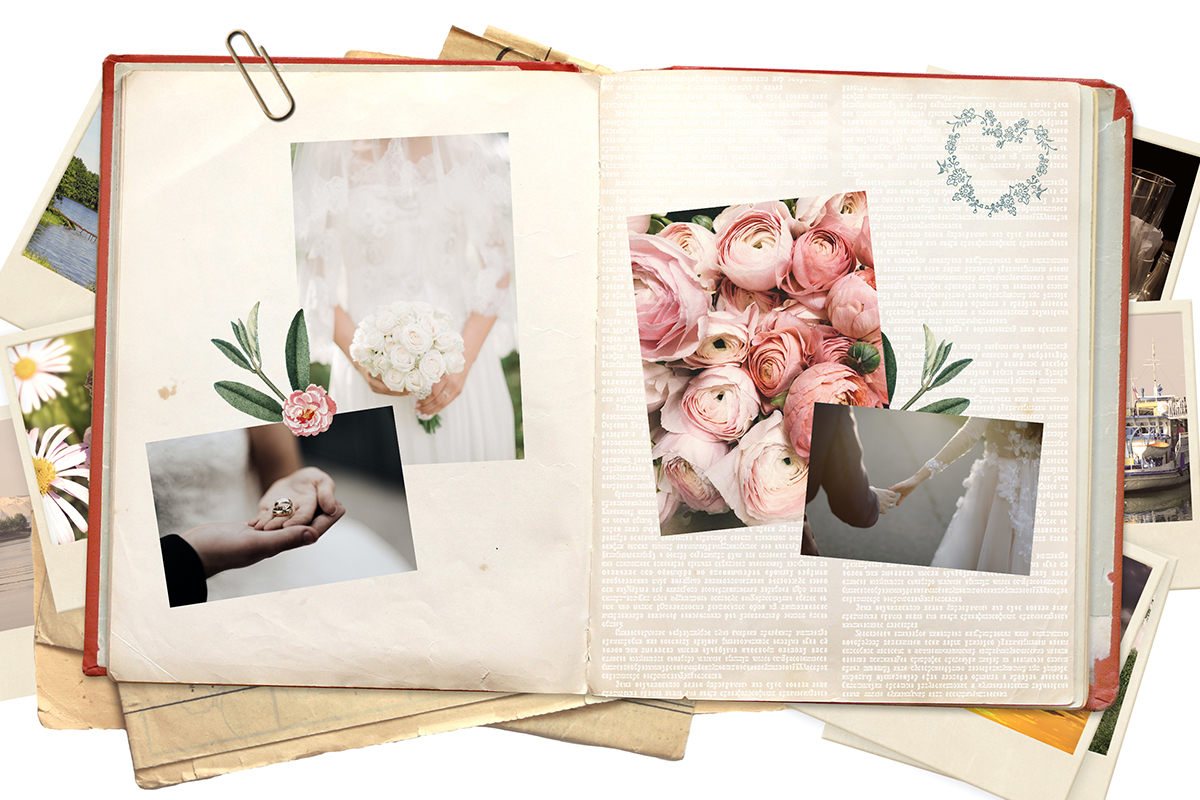 4) Candid Moments
Some of the best wedding scrapbook ideas can be derived from the unposed, candid photos. Sure, your wedding photographer probably captured all of the staged shots you asked for. But what about those candid moments, showing the joy, excitement, tears, and love of a wedding day? Those come together for a great wedding scrapbook idea. 
Search for wedding related stickers in Picsart like in the image below to kickstart your design.  
5) Vintage
Scrapbooking in and of itself is a vintage pastime, so why not apply vintage effects to your wedding scrapbook design? Use floral stickers then layer in vintage filters and effects for a unified design style. Consider also typing your vows or quotes from wedding speeches in a calligraphy text so you'll have them saved for years to come. 
6) Play Up The Location
Pull from elements of the location in which you were married. Whether it's the vines from vineyard, the glass windows of a chapel, or the staircase at City Hall, these can all add an element of nostalgic grandeur to your wedding scrapbook ideas. 
Double exposure photo edits are a great way to combine two photos in one. You can then print the photo, add it to your scrapbook page, and surround it with other wedding memorabilia. 
Easy Scrapbook Ideas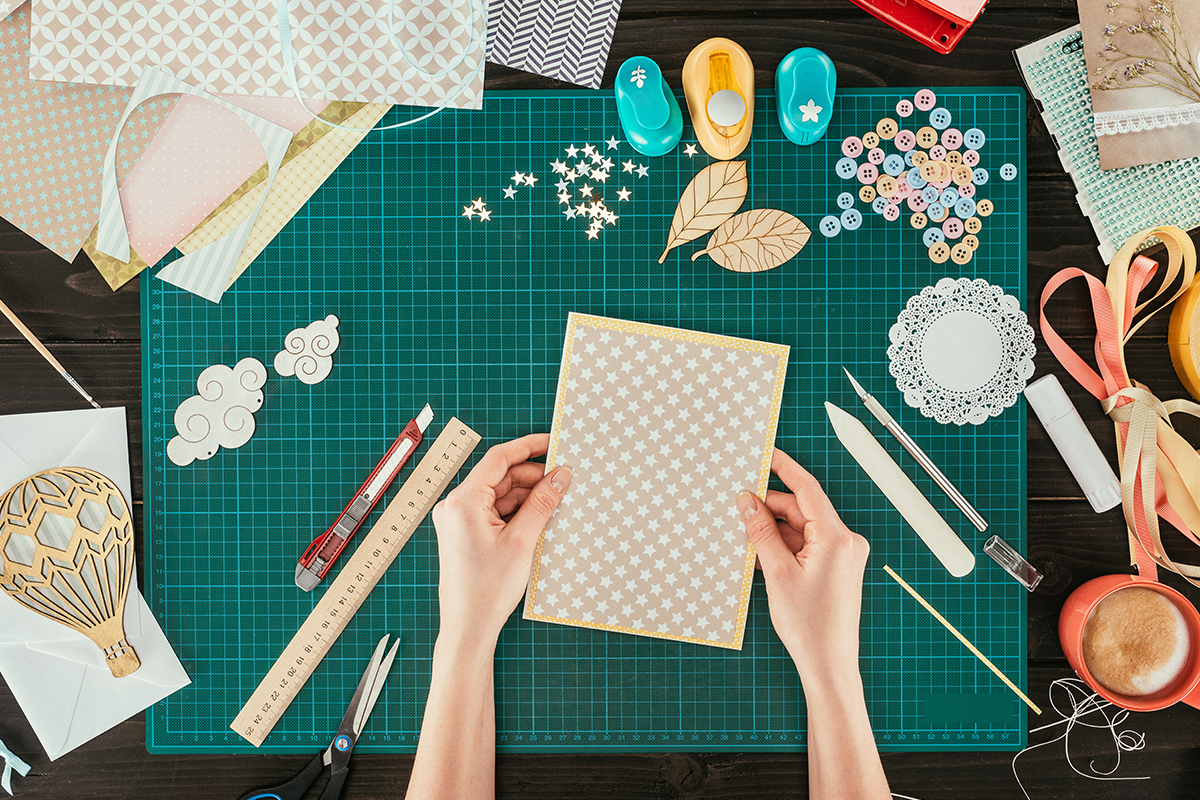 7) Lists and How-To's
Whether it's a packing list or a memory of how you got from one city to another on your epic adventure, lists and how-to's make for easy scrapbook ideas. 
You can add creativity to your scrapbook by coming up with silly lists and how-to's. And if you ever want to add a handwritten font, just click Text in Picsart's Online Editor and choose from the large library of fonts. 
8) Pop of Color
Colors can bring such rich meanings to your scrapbook. Whether you select a monochrome theme or use bright splashes of neon, carefully selected colors can help direct the eye and lend cohesion to your book. Try experimenting with rose gold or royal blue like in the edit below. 
9) Drawing and Sketching 
Drawing and sketching is a useful way to make your scrapbook look more unique. If you're drawing on your photos, use the Draw tool to hand draw on your images. You can also easily apply outline effects like Sketch to add dynamism to your photos. 
Travel Scrapbook Ideas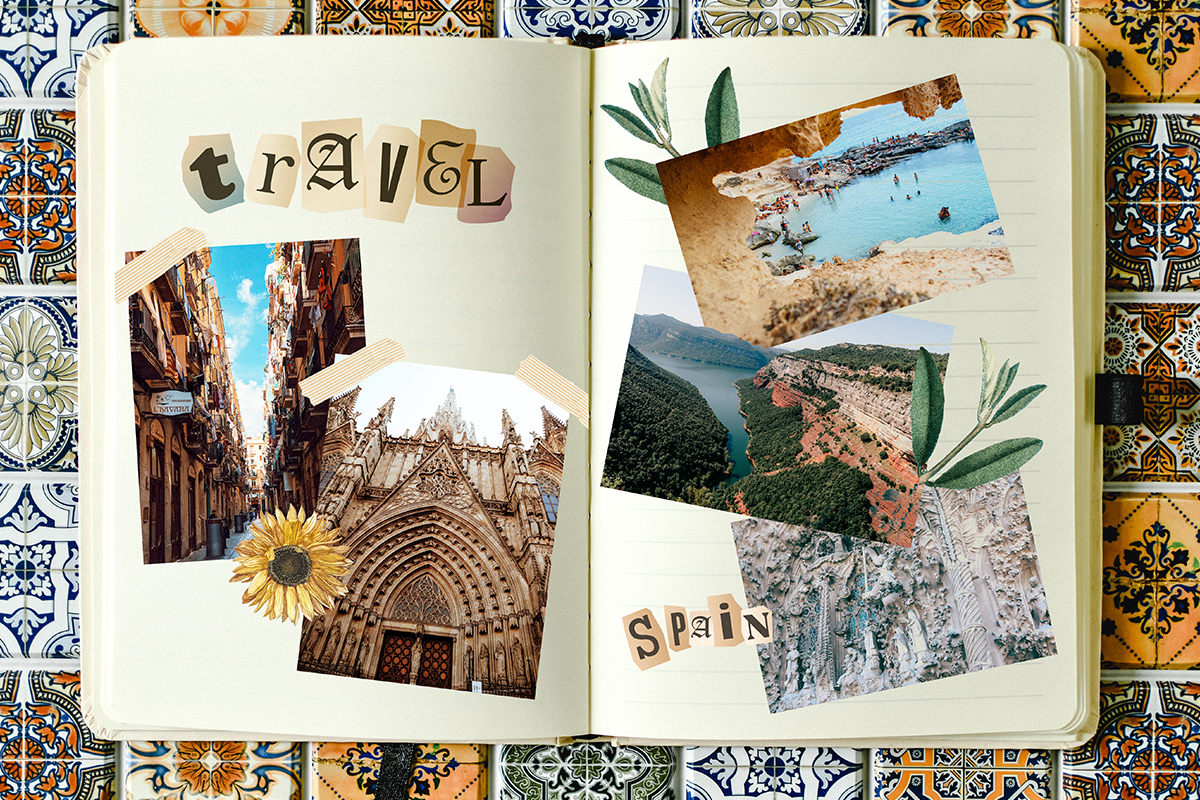 10) Natural Momentos
Dried flowers and sketches of bees and butterflies are the things that travel scrapbook ideas are made of. Next time you find yourself camping or on a big hike, take a photo of an interesting plant or insect and then sketch it into your scrapbook.
11) Focus on Details 
Sometimes it's the small details that remind you of a big trip, so try focusing on a single detail in your scrapbook. After all, memory needs just one scent or one scene to connect it to other related scents and scenes. In the example below, the creator has picked doors and windows for their travel scene.
12) Maps and Itineraries
Maps inspire a sense of awe and wonder. Include the old folded map you used from your trip, full of creases and coffee stains, in your scrapbook. If you don't have it anymore, take a map photo and use Picsart to mark your itinerary. You can either draw your route on the map photo or type out your adventures in text overlay.
Now that you're feeling inspired, it's time to start scrapbooking! 
Picsart is a full ecosystem of free-to-use content, powerful tools, and creator inspiration. With a billion downloads and more than 150 million monthly active creators, Picsart is the world's largest creative platform. Picsart has collaborated with major artists and brands like BLACKPINK, the Jonas Brothers, Lizzo, Sanrio: Hello Kitty, I am a Voter, Bebe Rexha, Maroon 5, One Direction, Warner Bros. Entertainment, iHeartMedia, Condé Nast, and more. Download the app or start editing on web today to enhance your photos and videos with thousands of quick and easy editing tools, trendy filters, fun stickers, and brilliant backgrounds. Unleash your creativity and upgrade to Gold for premium perks!