Gold, sometimes also called golden, is a rich color. Rich not only because it is immediately associated with money, but also because its uses and meanings, shades, and color combinations are so numerous and diverse. That being said, it is gold color's obvious link to opulence, success, and nobility, that's responsible for the lion's share of its applications in design. 
Let's explore gold color in its multiplicity of meanings, shades, and color combinations. We'll also go over tips on using this color in web design and take a look at some stellar examples of user-created gold designs.   
What Color Is Gold?
The gold color is a deep, rich shade of yellow. In technical terms, gold, like all colors, is just code. So, what is gold's color number? Easy, gold's hex code is #ffd700 and gold's RGB decimal is (255, 215, 0). In the four-color space (CMYK), it is made up of 0% cyan, 16% magenta, 100% yellow and 0% black.   
Gold color derives meaning from the many idioms and proverbs about gold: We speak of the golden youth, the wild and bright children of the affluent, of the gold standard, the golden age, the golden child, the golden ratio, and in all these cases, gold means something at its best, something to strive for. 
"All that glitters is not gold," says the famous aphorism. Tolkien inverts it: "All that is gold does not glitter." And here, too, gold is good, gold symbolizes something valuable, something to be treasured. It's the color of prestige, influence, and generosity. It can often be found on the coats of arms of universities and on art nouveau pieces. Online, it is often linked to premium subscription services, promising the best features and care for the client.
How Do You Work with Gold Color?
If you're wondering how to make the color really shine in your designs, you've come to the right place. Here are some ideas: 
Use gold as a background color. In

Picsart's Online Photo Editor

, you can just open a blank page, click Color, input the hex code, and start creating. 

Add a golden frame or sticker. Click Stickers in the left-side menu in Picsart Editor,  search "gold," and browse the extensive collection of golden stars, frames, crowns, and other ornaments. 

Use gold as an accent for a landing page design. It is especially relevant if you're trying to communicate a company's legacy and reliability. 

Add text in gold. This works especially well if you're designing flyers and invitations to festive events. In Picsart, try the fonts Good Vibes or Dancing Script, they look magnificent in the color gold.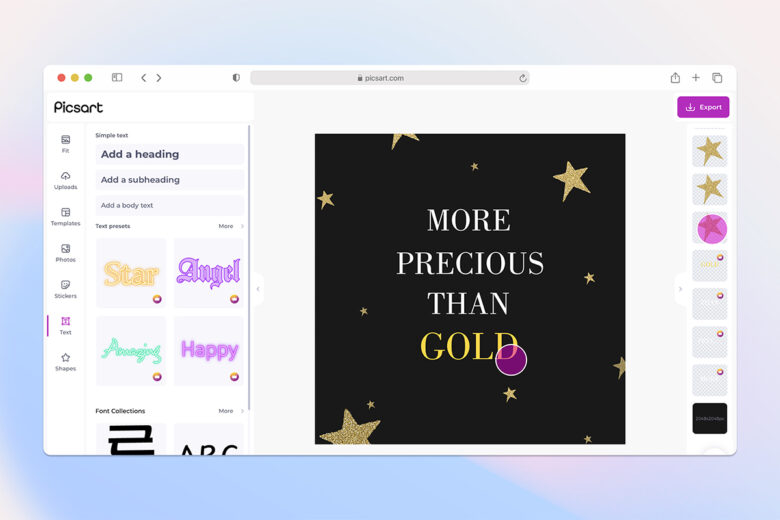 What Colors Go with Gold?

To find out everything there is to know about combining colors well, consult the color wheel theory. When it comes to gold, these are the colors that go with it: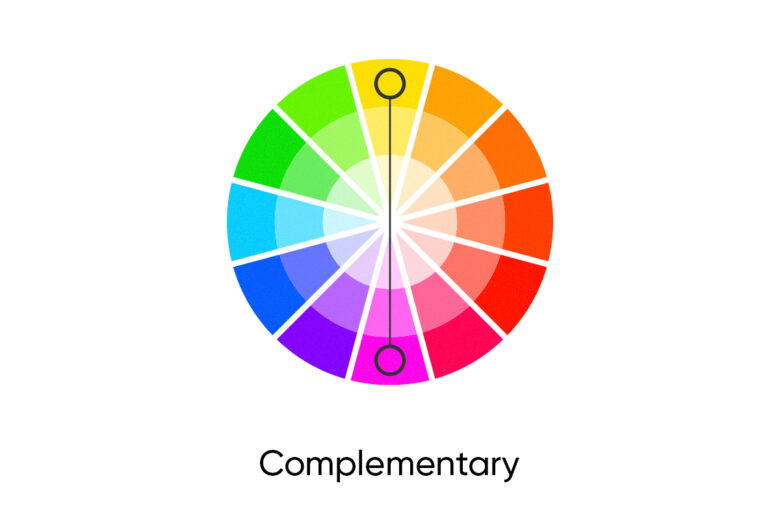 Across the gold color on the color wheel is blue (hex color #0028ff), which comes as no surprise to most art lovers and designers: Blue "cools down" the yellows, creating a beautiful contrast reminiscent of that between the sun and the sky or the sand and the sea.  Rothko, Kandinsky, and van Gogh have all extensively used the gold-blue combination in their art.
The analogous colors of gold color are International Orange (#ff5700) and Spring Bud green (#a8ff00). This means that these three colors sit next to each other on the color wheel and create a serene harmonious look. This particular combination – orange/gold/green – gives off the careless tropical vibe of a summer festival invitation.
Psychedelic Purple (#d700ff) and Bright Turquoise (#00ffd6), together with gold, create a bold and vibrant triadic color scheme. As it often is the case with triadic schemes, you're better off using two of the colors as mere accents. If you want to keep it festive but don't wanna go all out, try muting the colors.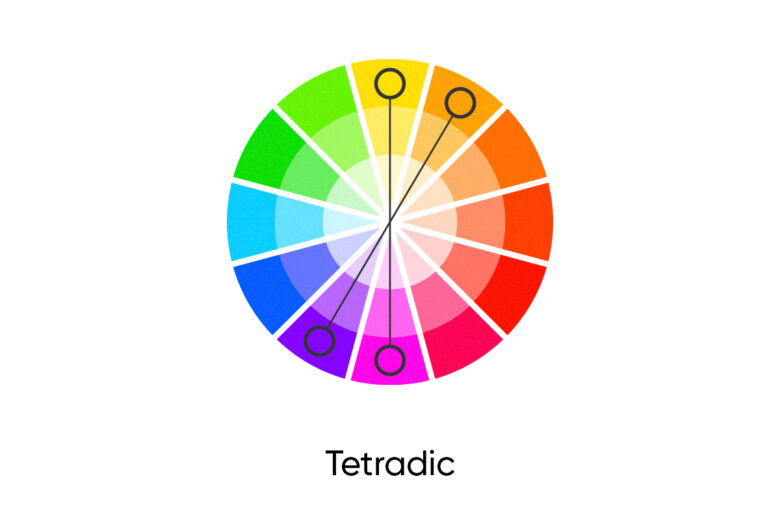 Gold, Malachite (#00ff57), Blue (#0028ff), and Hollywood Cerise (#ff00a7) make up a tetradic color scheme, which is a rectangle inside the color wheel made up of two sets of complementary colors. In the overwhelming majority of cases, it's better if you use just one of the four as a dominant color.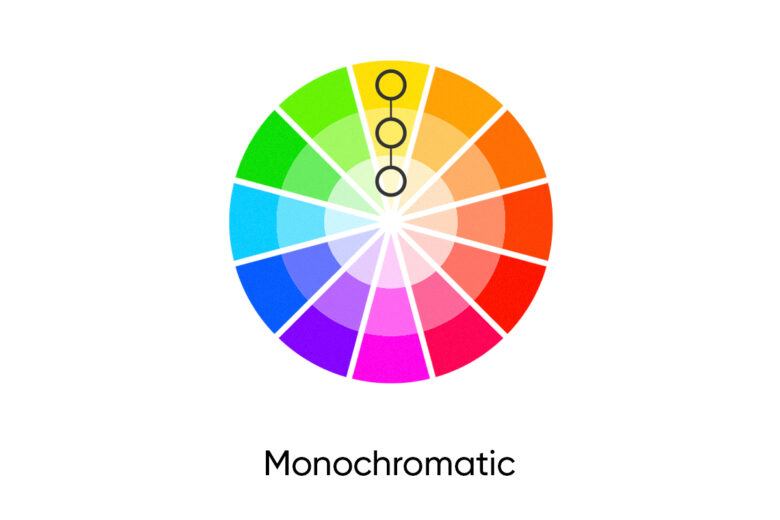 A monochromatic color scheme is less precise: It can consist of any number of shades and tints of a single hue. For example, you can combine Olive (#7f6b00), Gold, and Sweet Corn (#ffeb7f) to achieve a smooth transition that'll show the hue in all its nuanced complexity.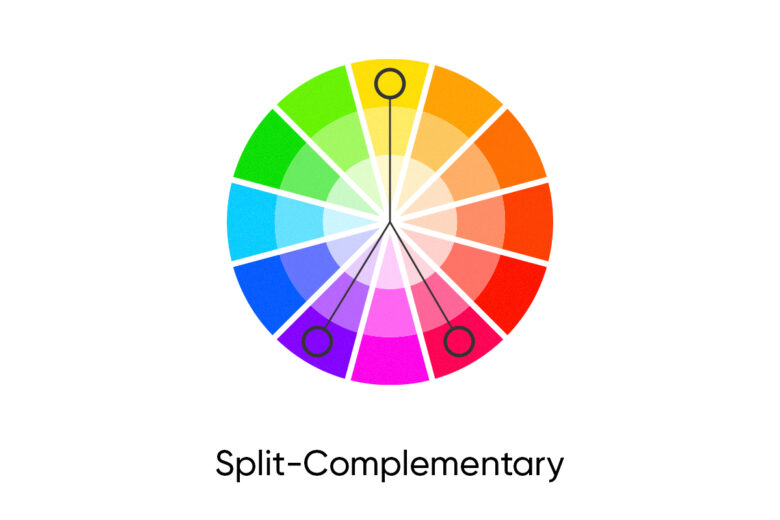 Electric Indigo (#5700ff) and Deep Sky Blue (#00a7ff) combined with gold form a split complementary color scheme. This scheme is somewhat similar to the complementary color scheme, but there is definitely less tension between the colors. It's difficult to go wrong with split complements, so if you're just figuring out the ropes of color combinations, give it a try. 
What Are Similar Colors to Gold?
Looking for something similar but also different enough? Try one of these options: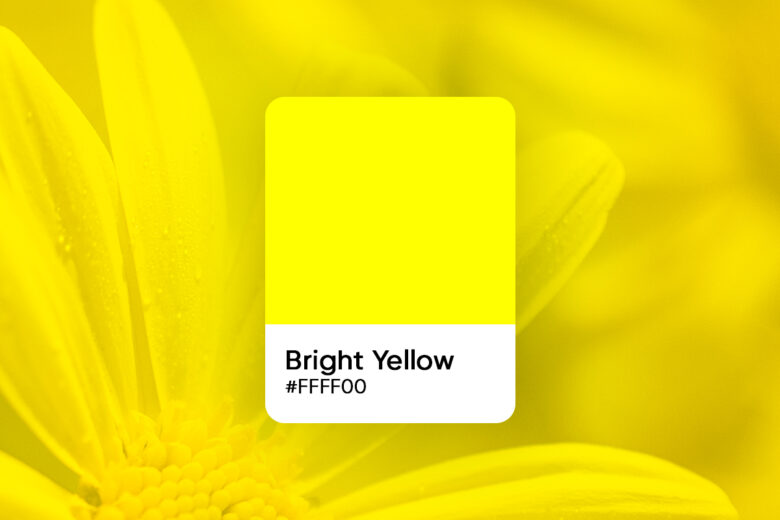 Vivid and optimistic, bright yellow (hex code: #FFFF00, RGB code: (255,255,0), CMYK: 0% cyan, 0% magenta, 1% yellow, and 0% black) is a great alternative if you're looking for something louder and more attention-grabbing than gold color. It works really well when paired with navy blue and creates an interesting triadic palette with Aqua and Magenta.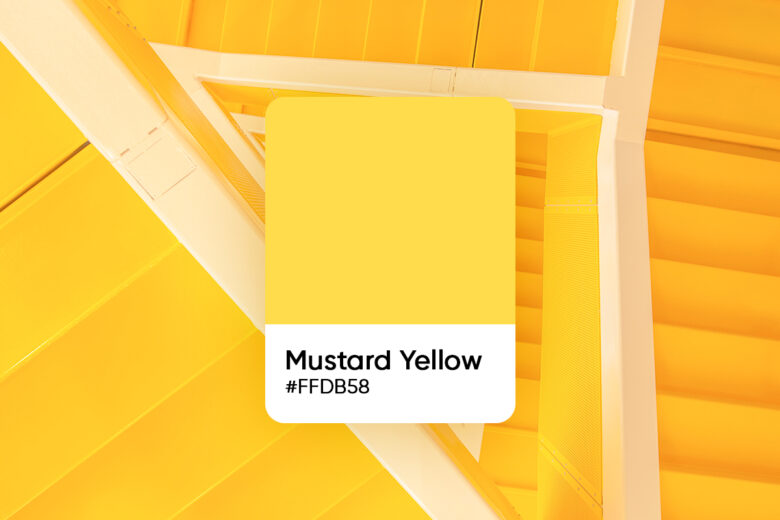 Borrowing its name from the famous condiment, this color is a lighter "dirtier" yellow. It's considered more mature and reserved than gold. Mustard has a hex code #ffdb58 and a RGB decimal of (255,219,88). In the CMYK space, this color is made up of 0% cyan, 14.1% magenta, 65.5% yellow, and 0% black. The color's use in fashion and interior design is ubiquitous.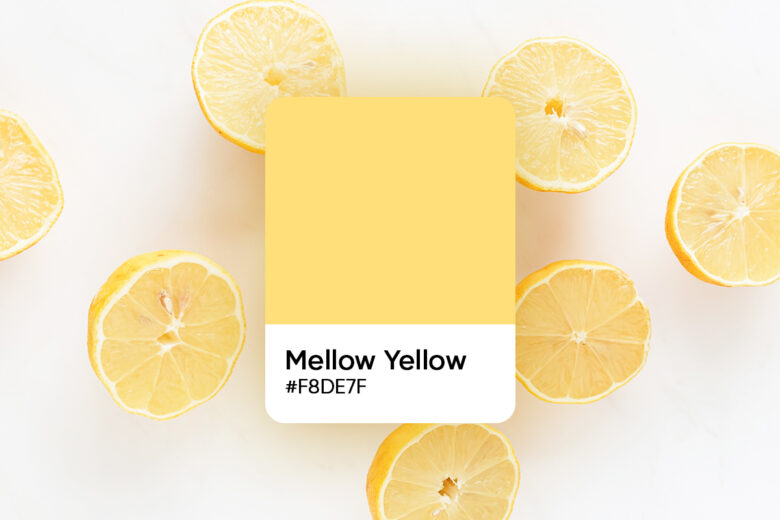 Mellow yellow (hex code: #f8de7f; rgb(248,222,127); CMYK: (0, 10, 49, 3)) is a pale amber color, a very light yellow. It looks fantastic when combined with Cornflower Blue (#7e98f8) or with its split complements Maya Blue (#7fd5f8) and Blue Magenta (#a17ff8). Super light shades like this one are popular in typography and are often used as a background color.  
What Are the Different Shades of Gold?
And if gold color is almost there, but not quite, check out some of its shades: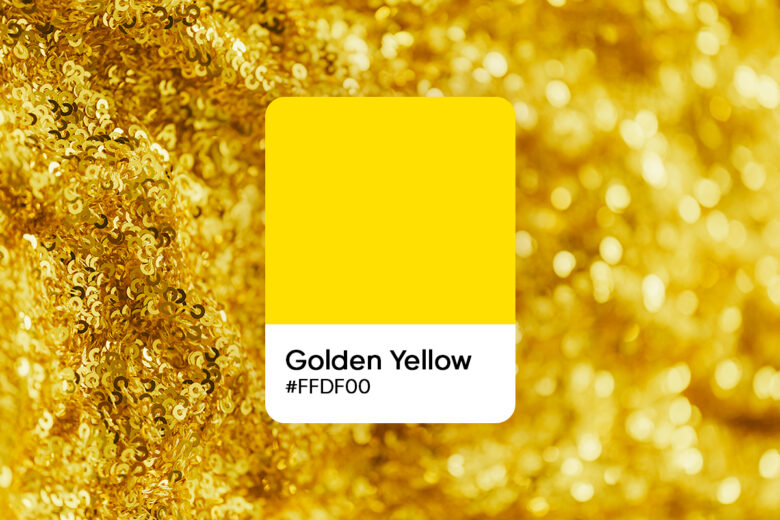 This shade has a hex code #FFDF00 and an RGB decimal (255, 223, 0). In the CMYK system, it is made up of 0% cyan, 12.5% magenta, 100% yellow, and 0% black. One of the official colors of the US Air Force, golden yellow is a fifty-fifty mix of amber and yellow. The difference between gold and golden yellow is slight but noticeable in designs, so if you want to move toward yellow, this is the right choice.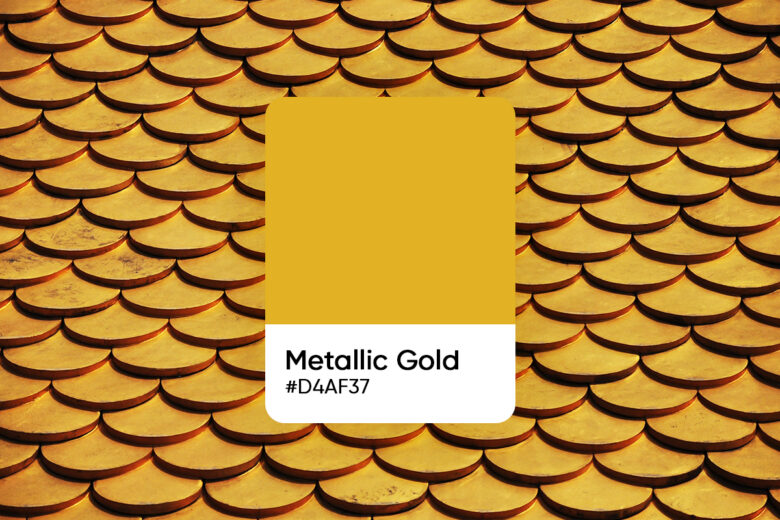 With a decimal code of RGB (212,175,55) and a hex code of #D4AF37, metallic gold is a shade that resembles the actual noble metal of gold. In the four-color system, it consists of 0% cyan, 17.45% magenta, 74.06% yellow, and 16.86% black. As the addition of black indicates, this shade is more muted. It's perfect for communicating reserved sophistication. 
Old gold (hex code: #cfb53b, RGB (207,181,59)) is a shade that's very close to the color of olives.  Coined back in the 19th century, it is now closely associated with American football and college university programs. Try creating an earthy analogous combination with Beaver (#9fcf3b) and Sky Magenta (#cf6b3b). 
Create Fantastic Photos Using This Color
Picsart, an awesome all-in-one photo and video editor, offers you all the tools and features you could possibly need to seamlessly incorporate gold in your designs. No matter if you're editing on your PC or on the go on your smartphone, you'll come up with a fantastic design in no time.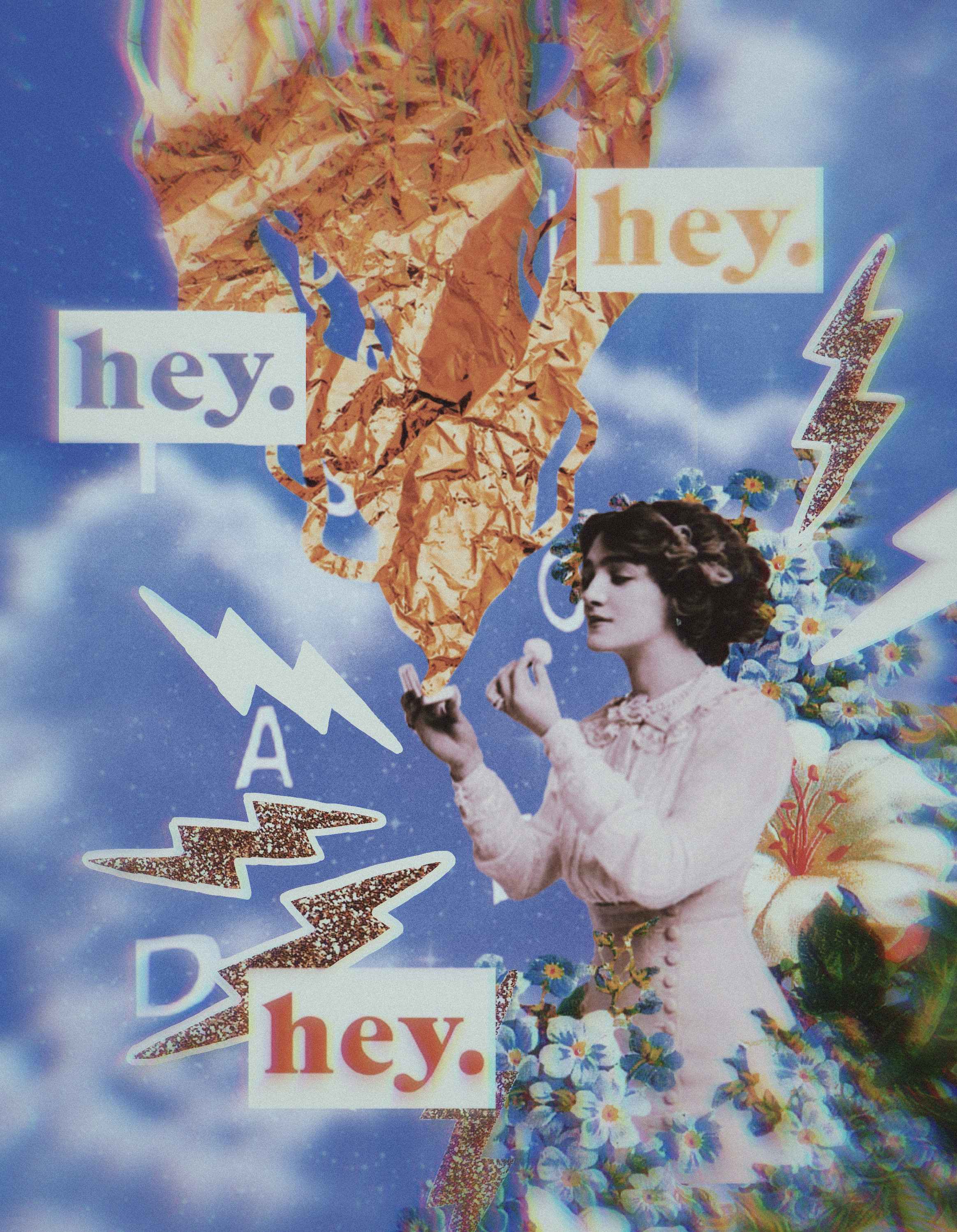 via Picsart
Notice how the collage uses the complementary colors blue and gold and creates a dreamy vibe using flowers the blur effect. Here gold is "spilling out" of the girl's vintage powder box and painting the sky.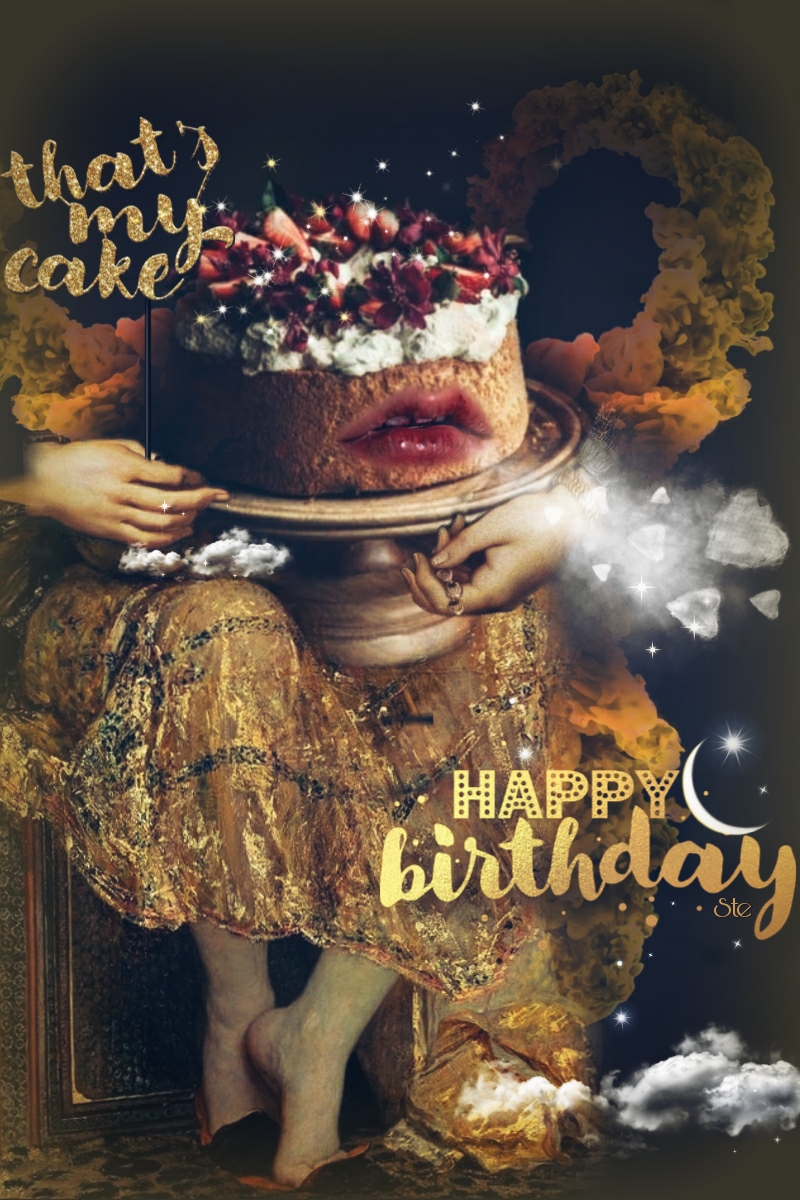 via Picsart
See how this strange birthday card makes extensive use of gold and sets it against a dark blue background? It seems like the reference here is old-time aristocracy and luxury: the many details in this card are as if from Renaissance paintings.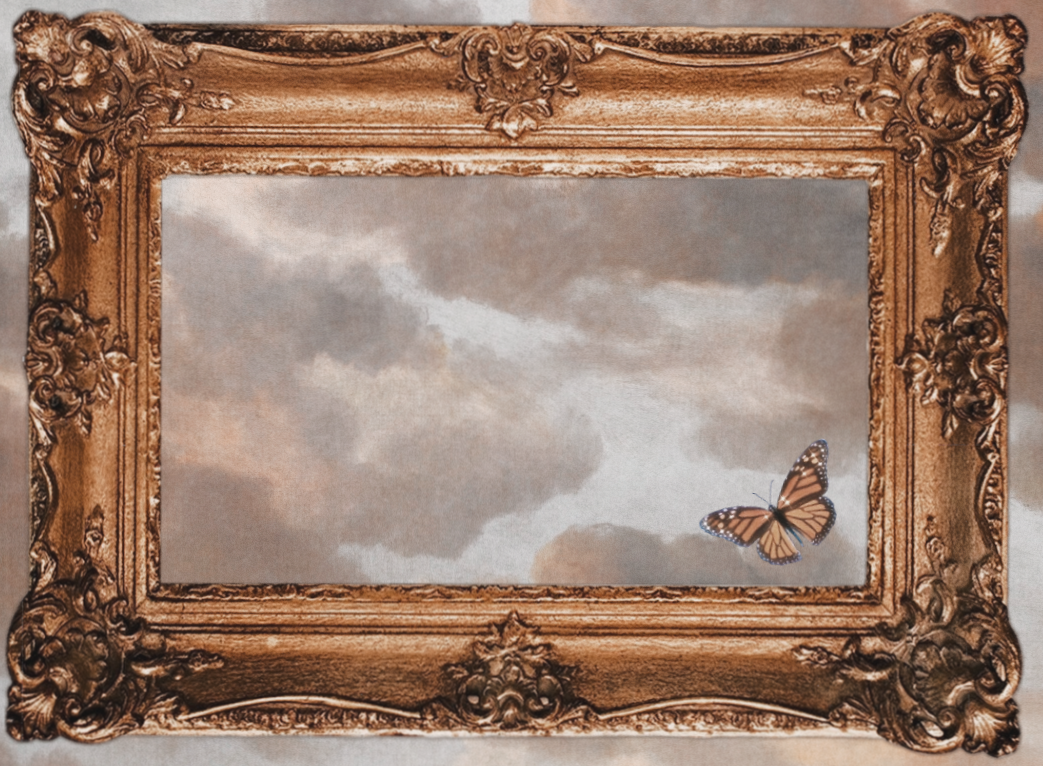 via Picsart
And this Picsart Creator, another original thinker, asks the viewer: "Could we put the cloudy sky in a frame? Could we put a butterfly mid-flight?" There seems to be a conflict between the heavy golden frame and the omnipresence and flexibility of nature. That contrast between the manmade frame and the effortless nature is precisely what makes this design so interesting.
Picsart is a full ecosystem of free-to-use content, powerful tools, and creator inspiration. With a billion downloads and more than 150 million monthly active creators, Picsart is the world's largest creative platform. Picsart has collaborated with major artists and brands like BLACKPINK, the Jonas Brothers, Lizzo, Sanrio: Hello Kitty, I am a Voter, Bebe Rexha, Maroon 5, One Direction, Warner Bros. Entertainment, iHeartMedia, Condé Nast, and more. Download the app or start editing on web today to enhance your photos and videos with thousands of quick and easy editing tools, trendy filters, fun stickers, and brilliant backgrounds. Unleash your creativity and upgrade to Gold for premium perks!