Enigmatic, radiant, and optimistic – the amber color suggests feelings of warmth and happiness. Amber is a vibrant yellowish-orange color with gold undertones, often seen in nature in honey, fall foliage, and rich tree resin. 
But what is the color amber and how can you incorporate it in your graphic design work? Read on to discover all the magic that surrounds the amber color.
Amber Color Code  
Amber is situated midway between yellow and orange on the color wheel. The amber color code is #ffbf00. In an RGB color space, it is composed of 100% red, 74.9% green, and 0% blue. Whereas in a CMYK color space, it is composed of 0% cyan, 25.1% magenta, 100% yellow, and 0% black. It has a hue angle of 44.9 degrees, a saturation of 100%, and a lightness of 50%.  Amber has RGB values of R:255, G:191, B:0, and CMYK values of C:0, M:0.25, Y:1, K:0. Its decimal value is 16760576.
What Does the Amber Color Represent?
The enigma of this rich color is associated with amber itself, a fossilized tree resin and one of the oldest gemstones people know of, dating back to the Paleolithic era. This is where it gets its color name from. Amber comes in around 300 shades and is often used in jewelry and luxury items. In ancient times, amber was used in amulets purported to have healing powers, with ancient historians describing amber as a "liquid produced by the rays of the sun." 
So if you're wondering what is the meaning of the amber color, it's used to evoke feelings of warmth, creativity, intuition, and increased physical and mental energy. Given its ancient reputation, it's associated with possessing healing energy that will dispel negative feelings. 
In design, the amber color represents happiness, confidence, radiance, energy, and optimism. It gives off a mysterious and charismatic feel and is associated with sunshine, beauty, and even traffic lights. If your favorite color is amber, you love nature and are fun, bold, creative, spontaneous, and friendly. 
What Colors Go with Amber?
Now that we've covered amber color meaning, it's time to think about how to use it in design and what colors it pairs well with. 
Complementary Colors
:
The complementary color scheme is a vibrant combination made up of two colors opposite one another in the color spectrum. Here, the amber color is called the base, and Blue (#003fff) is its complementary color, called the compliment.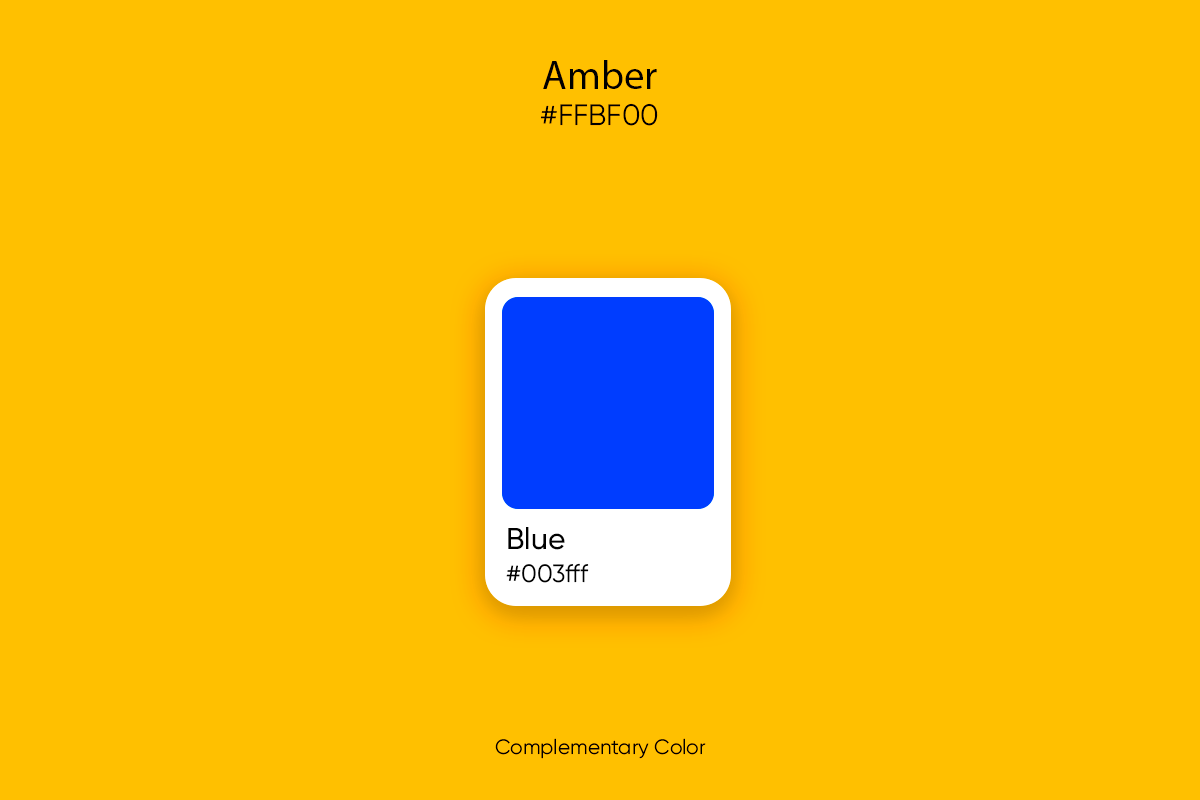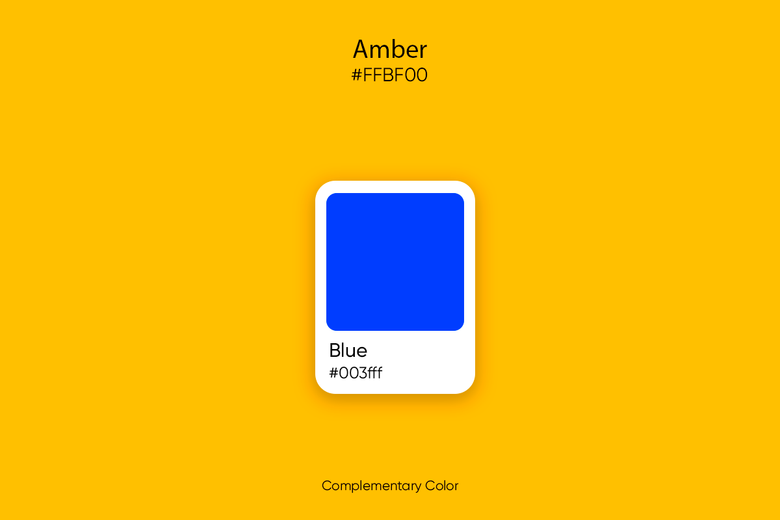 Split Complementary Colors
:
The split complementary color scheme is made up of three colors. Here the base is paired with the two colors on either side of the complement color (#003fff): Capri (#00bfff) and Electric Ultramarine (#3f00ff).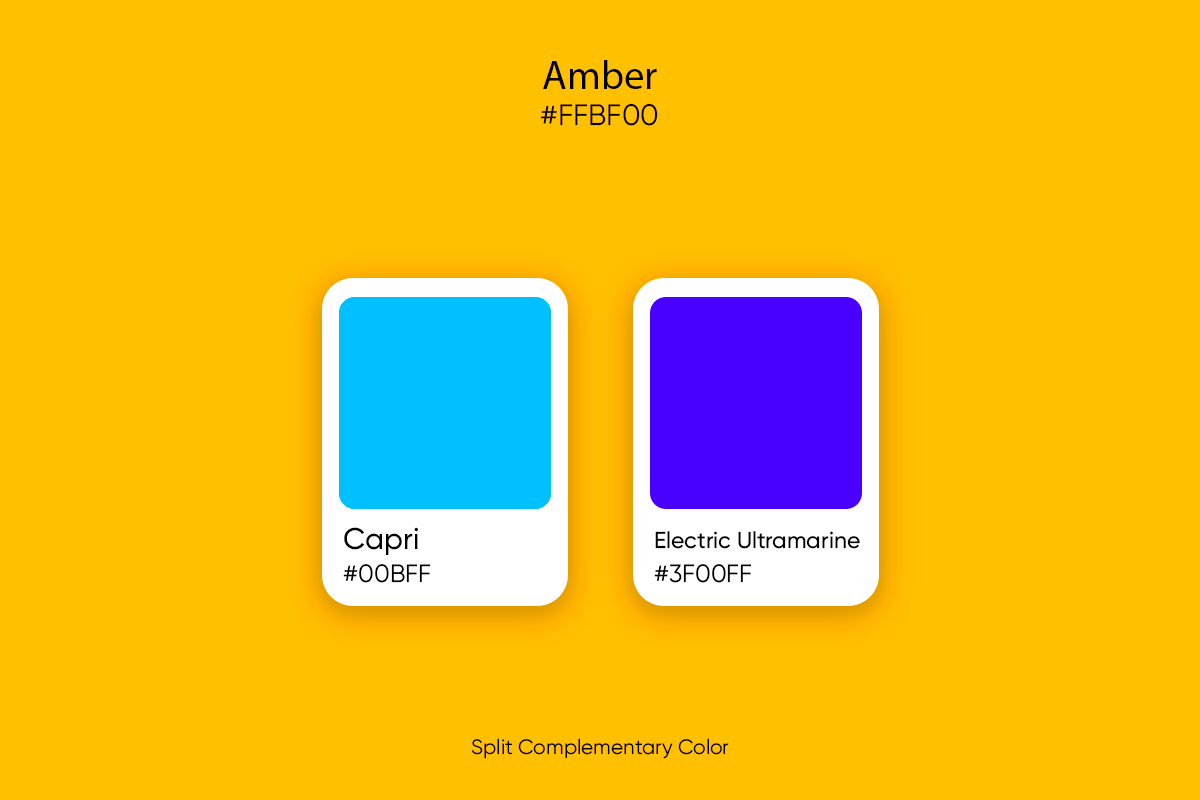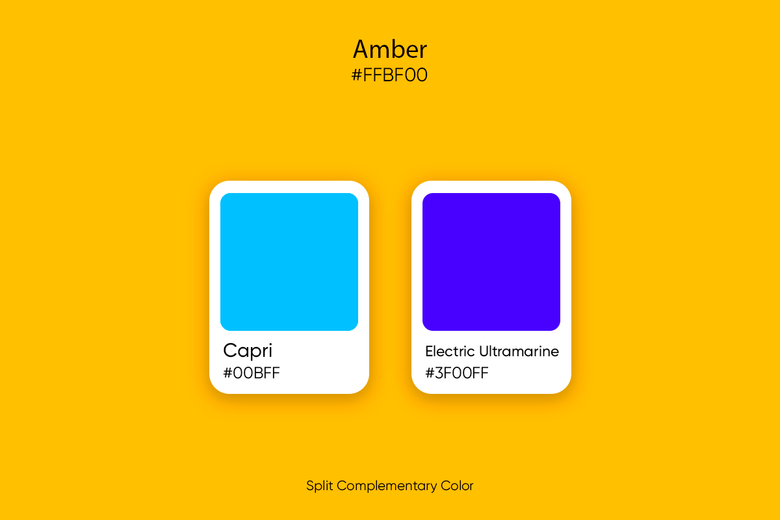 Analogous Colors
:
The analogous color scheme is generally very visually pleasing, as it is made up of three colors that are next to one another on the color wheel. The palette is made with the two secondary colors adjacent to the base, and are: Bitter Lime (#bfff00) and Red-Orange (#ff3f00).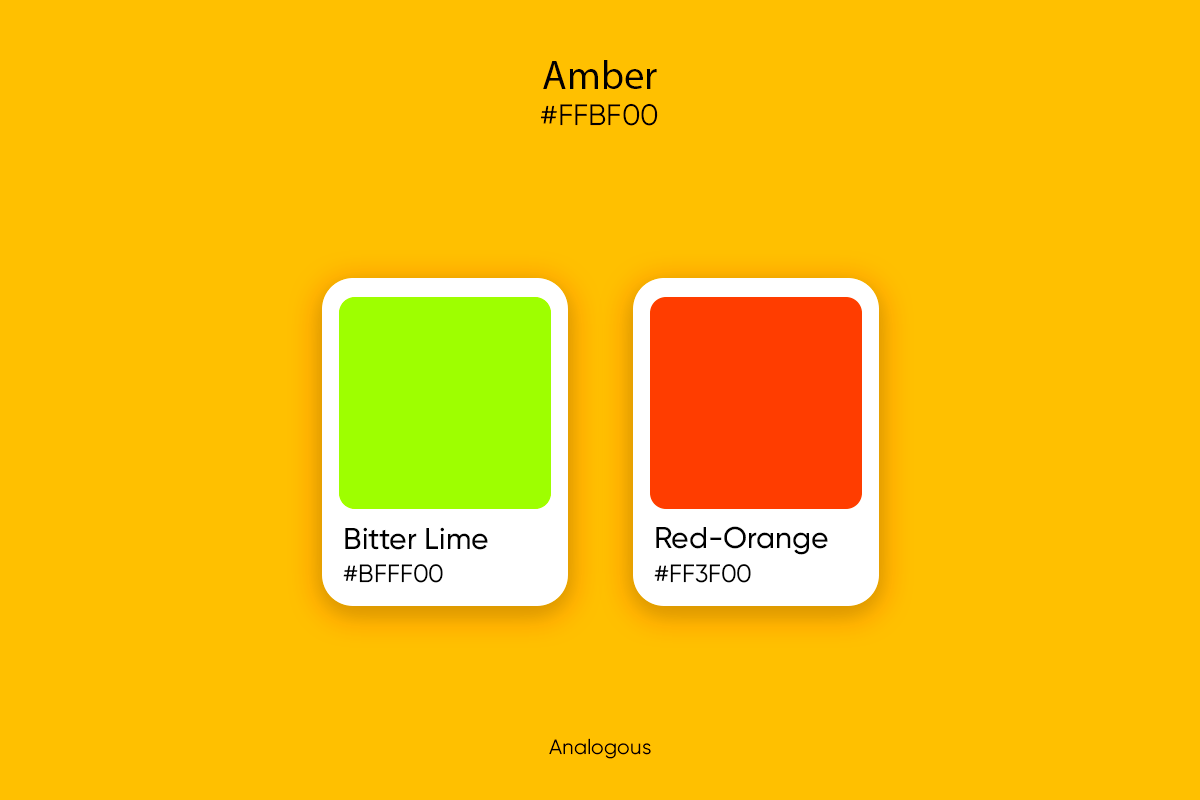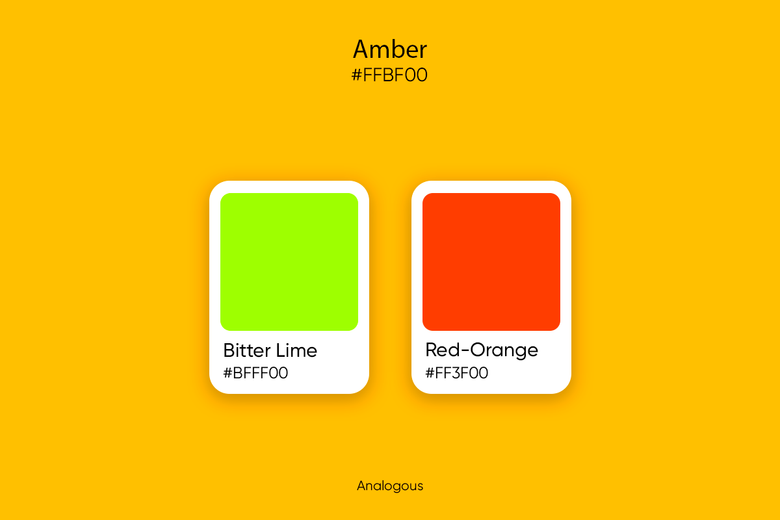 Triadic Colors
:
The triadic color harmony combines three colors that are spaced evenly (120°) apart and form a triangle on the color wheel. These colors will look amazing as accents and highlights of amber. The two colors paired with the amber color are Sea-green (#00ffbf) and Electric purple (#bf00ff).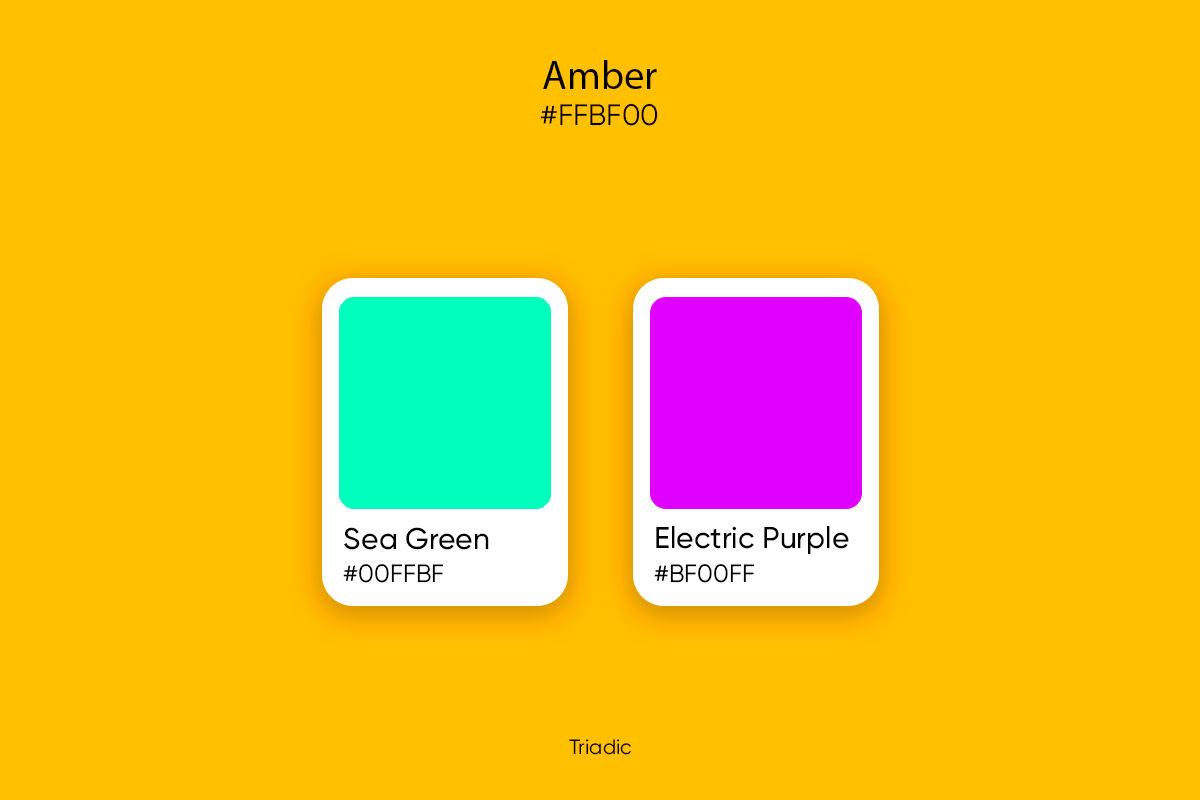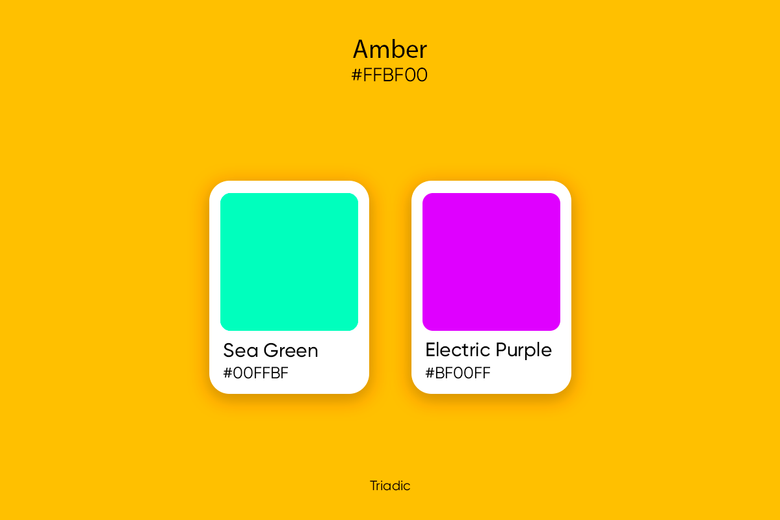 Tetradic Colors
:
The Tetradic color scheme is made up of four colors spaced evenly (90°) apart on the color wheel. It is a vibrant and versatile scheme that works best with one dominant color.  The colors paired with amber are: Sea-Green (#00ffbf), Blue (#003fff), and Electric Crimson (#ff003f).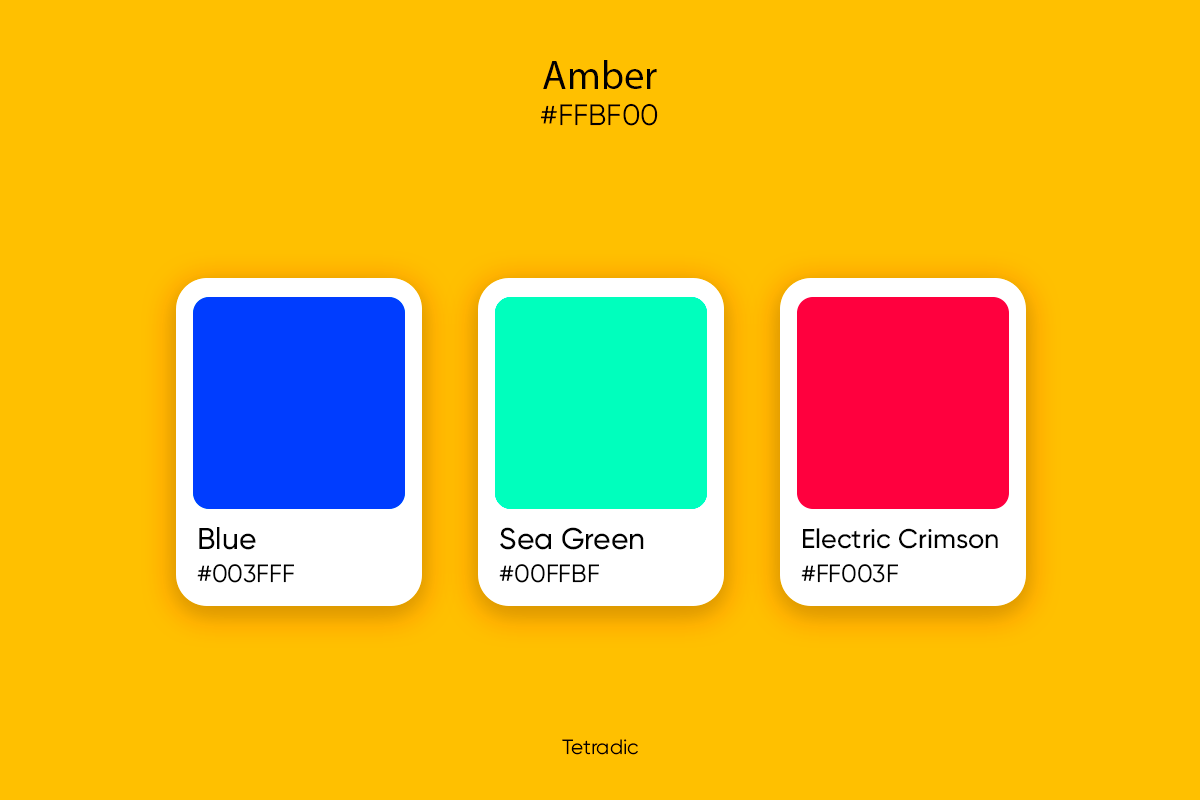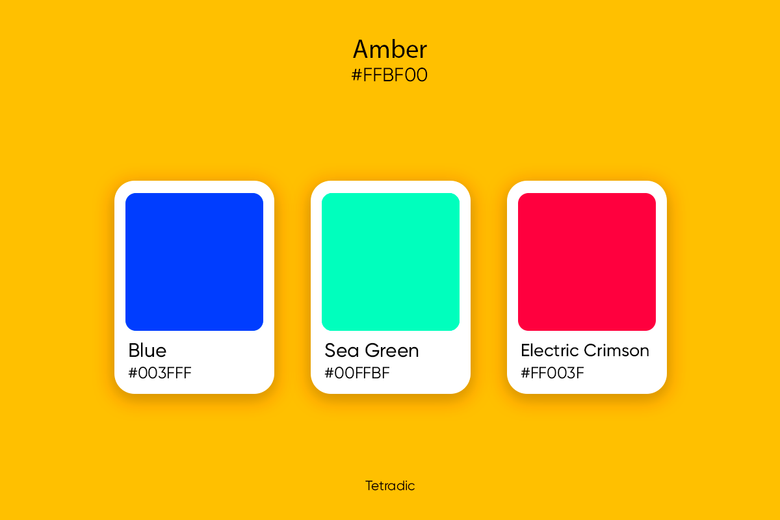 Monochromatic Colors
:
Monochromatic schemes are derived from a single base hue and extended using its shades, tones, and tints. To create an amber monochromatic color palette, pair together the following: Supernova (#ffc708), Candlelight (#ffcf10), Banana (#ffe829), and Daffodil (#fff031).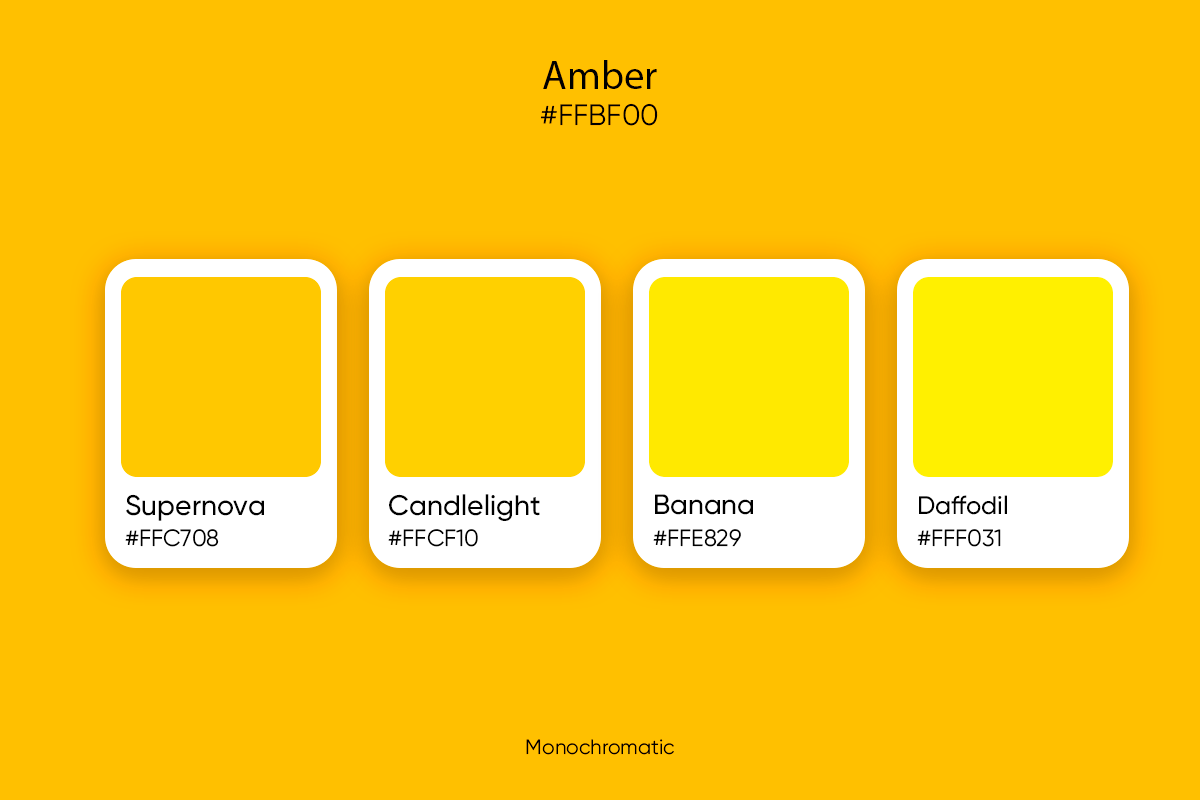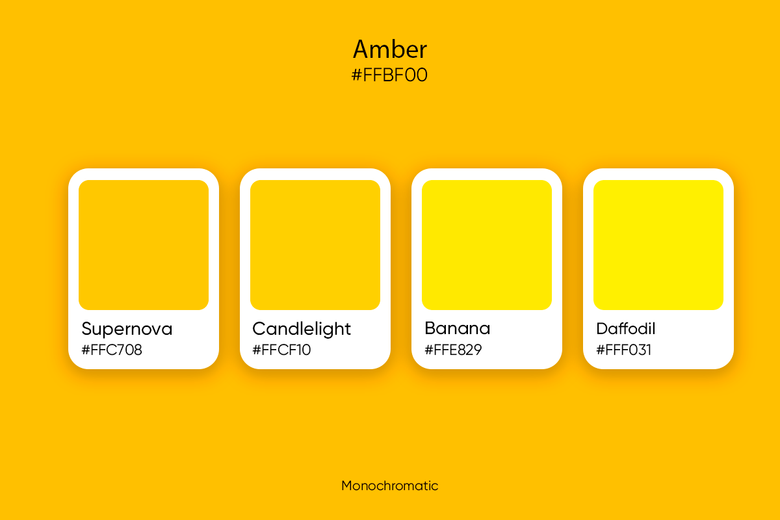 Amber Compared to Other Colors
Other colors closely related to amber include: Selective Yellow (#fcbc00), Web Orange (#fcbc00), Paris Daisy (#ffff78), Lemon (#fffb3c). Generally speaking, you'll find that shades of orange are also visually similar to amber.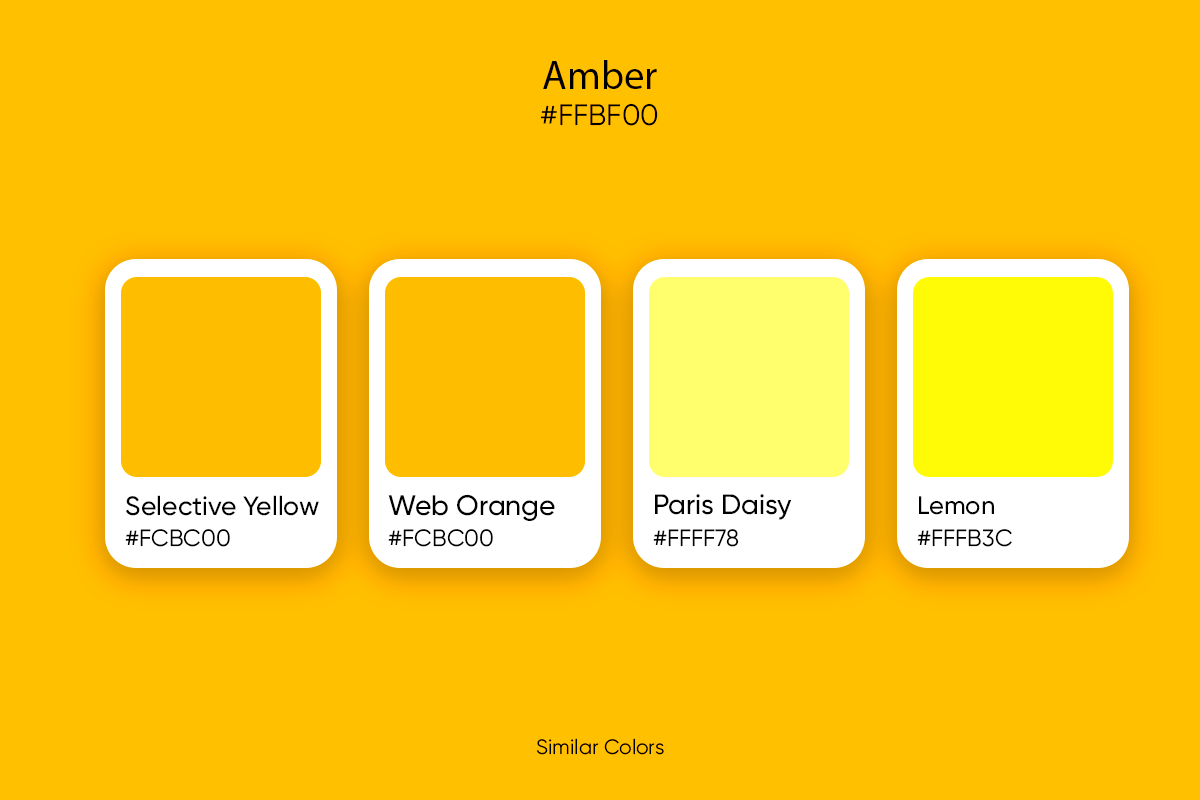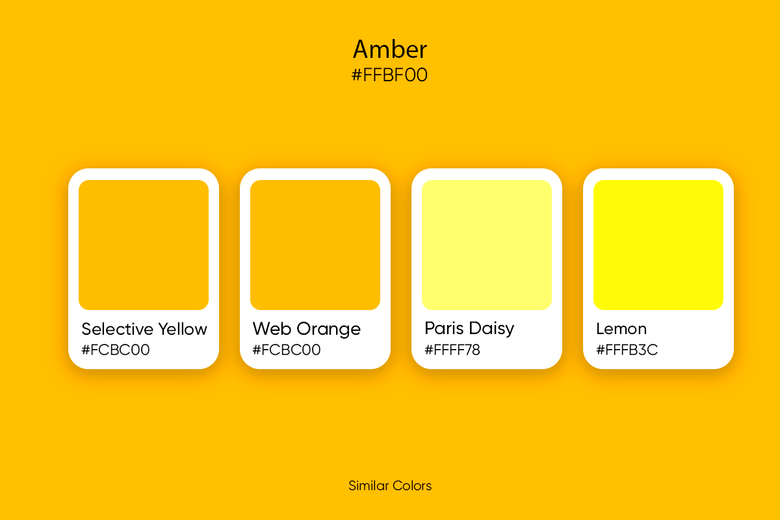 If you're trying to figure out how to make amber by mixing paints together, you'll need to grab yellow and orange. Because amber is a tertiary color, it's made by mixing together a primary (yellow) and a secondary color (orange). You'll see below how bright yellow differs from the amber shade when mixed with orange, giving it it's yellow-orange hue.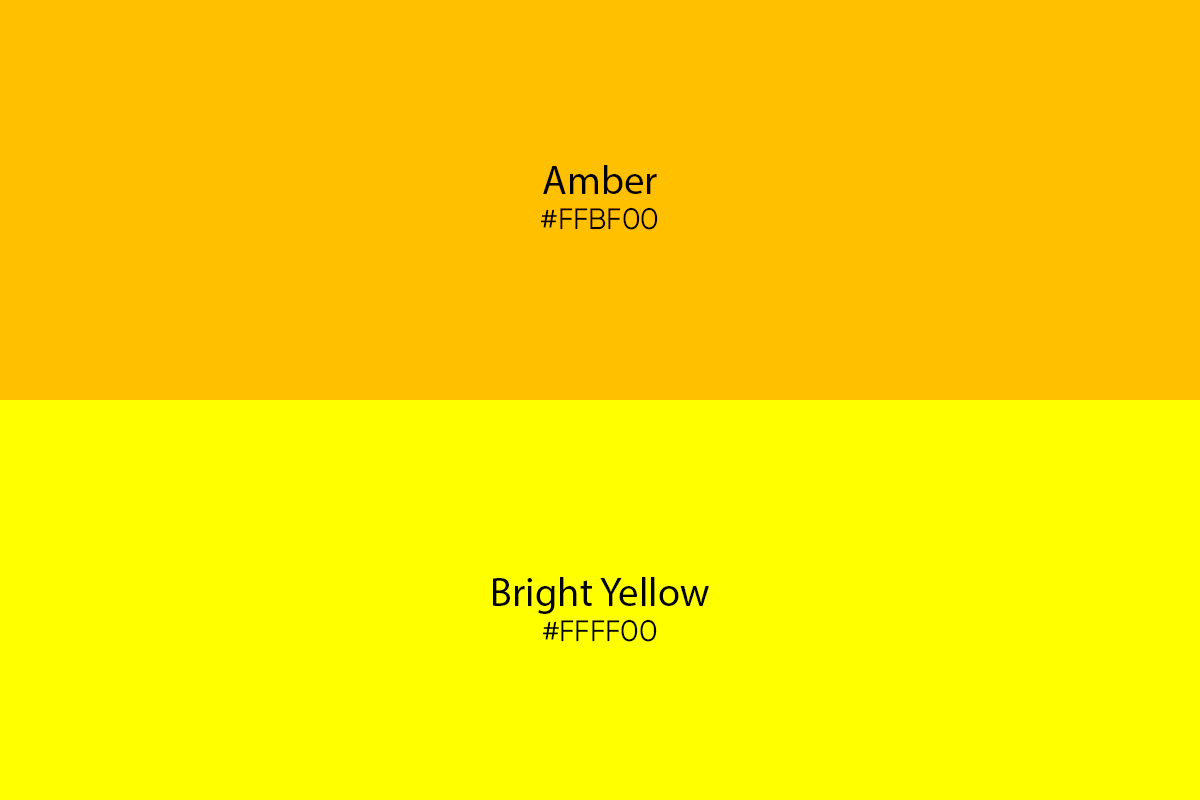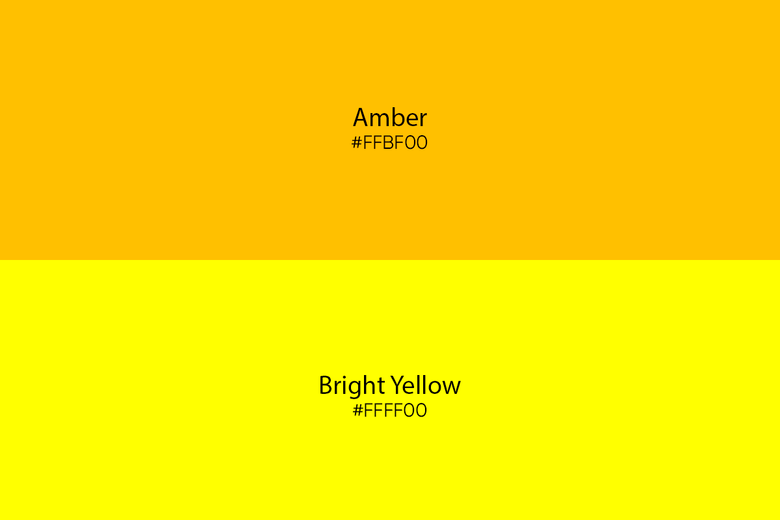 Amber Color Palette Ideas 
Whether you're trying to create a mellow amber color palette or just add amber color accents to your interior design projects, this vibrant hue is sure to enliven your creative work.
Tenderness color palette: Pair the amber color with Gardenia (#ffb95a), Flavescent (#FFE68F), Peach-Orange (#FEC98F), Caramel (#FEDD9E), and Deep Saffron (#FF922B) for a gentle feel.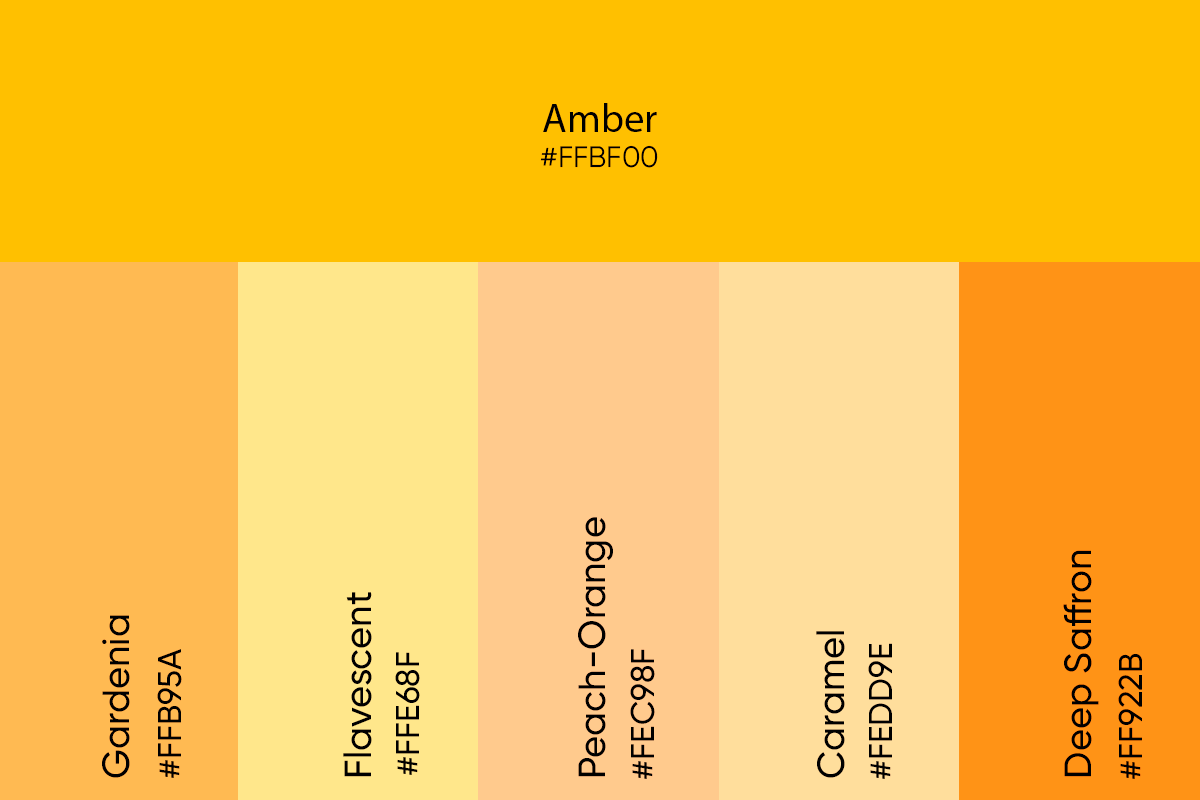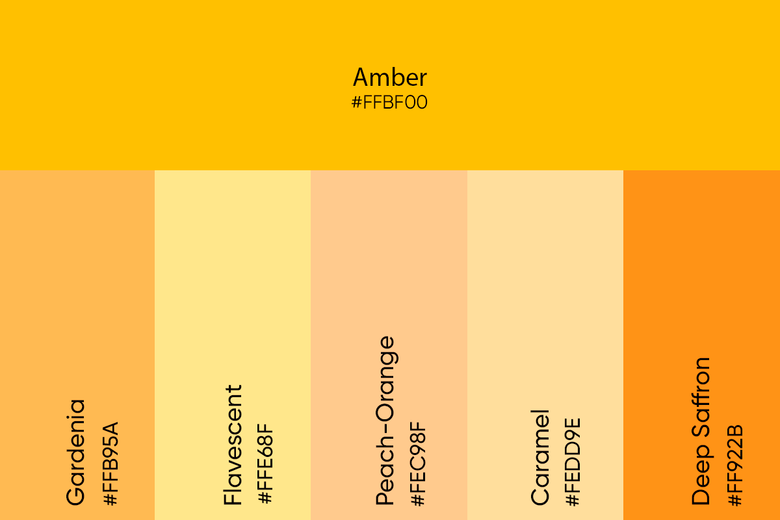 In Perpetuum color palette: For an energetic palette, combine amber with Royal Blue (#3950DD), Han Blue (#3676D1), Dark Pastel Green (#03C03C), Mango Tango (#FF8439), Philippine Gold (#B36C00), and Dark Gunmetal (#1F2528).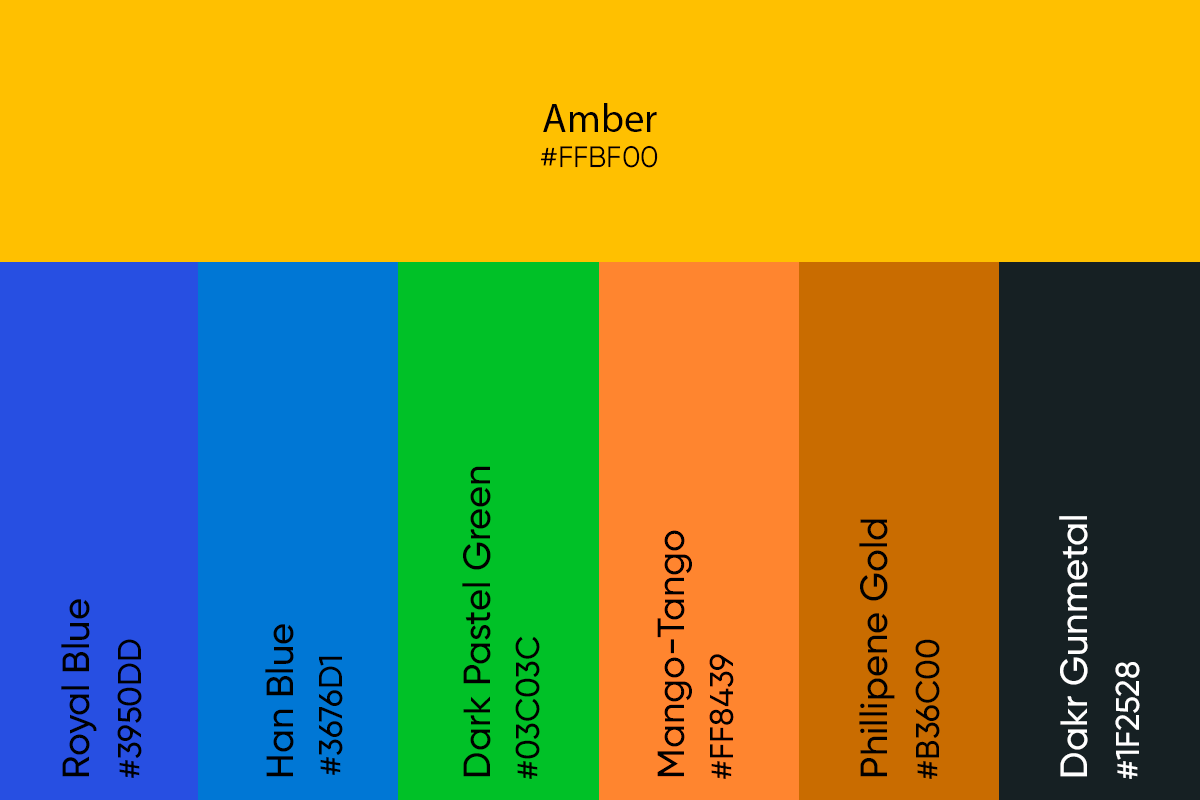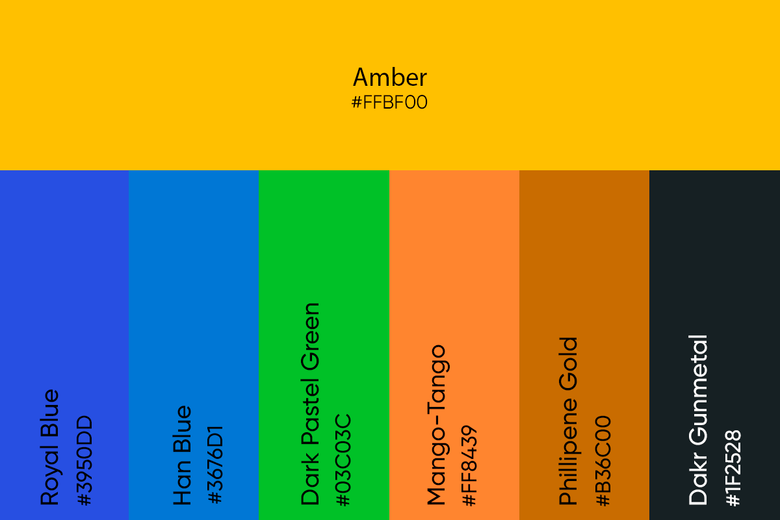 Thanksgiving Celebration color palette: To design a sophisticated Thanksgiving palette, combine the amber color with Dark Pastel Red (#C1311C), Burgundy (#8000200), Dark Gold (#A26B35), Seal Brown (#623004), and Olive green (#bab86c).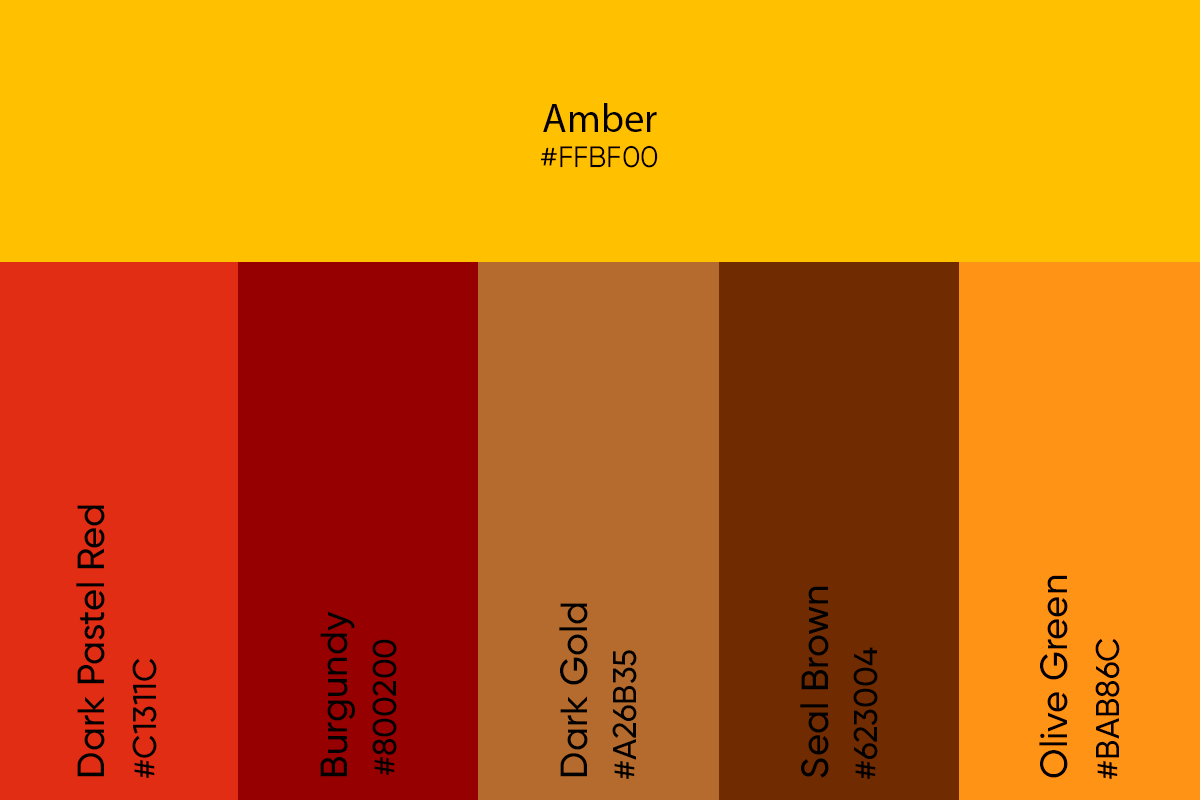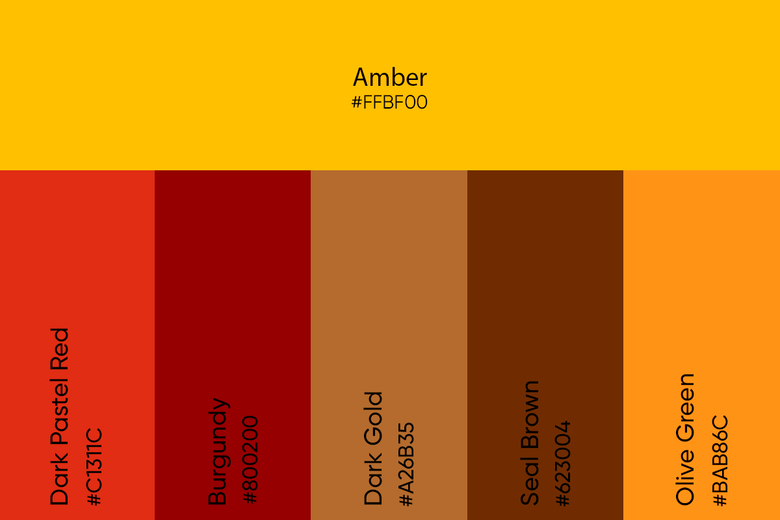 Create Fantastic Photos Using this Color 
Now that you know all about this fun color, it's time to start designing. 
If designing on web:
1) Open the Picsart Web Editor and start a new project.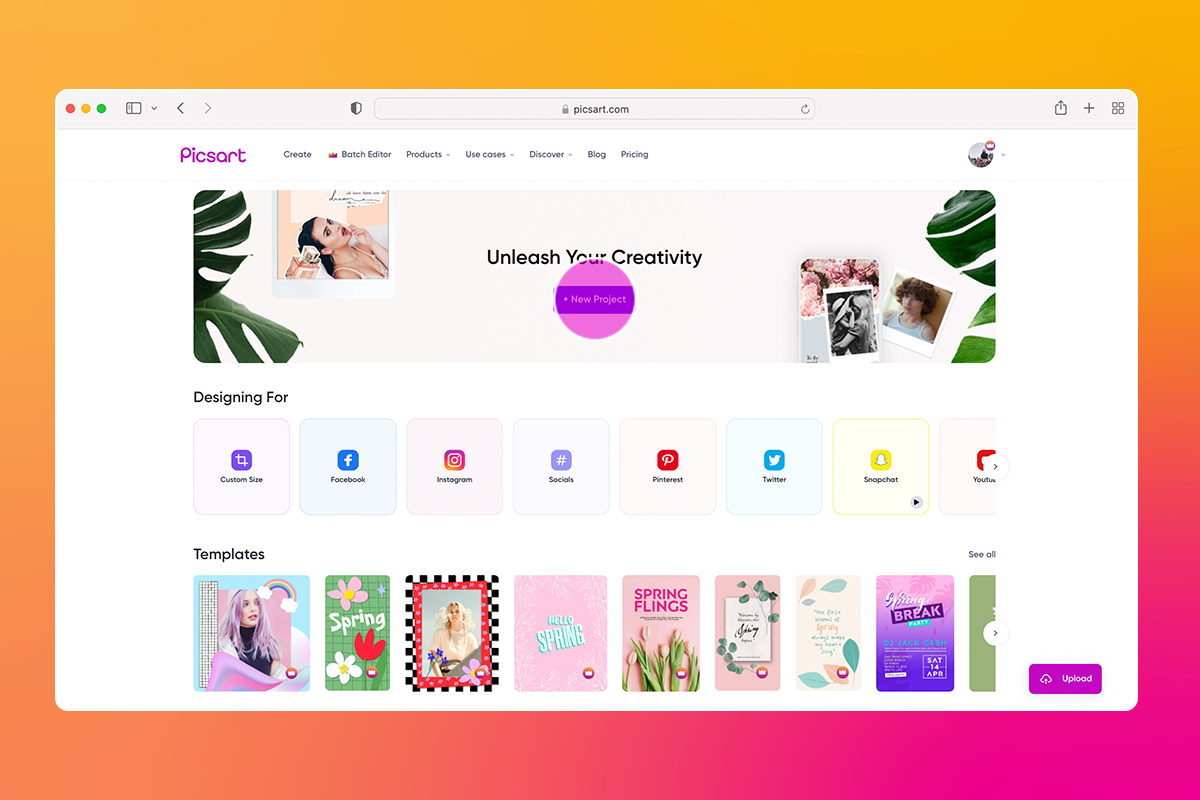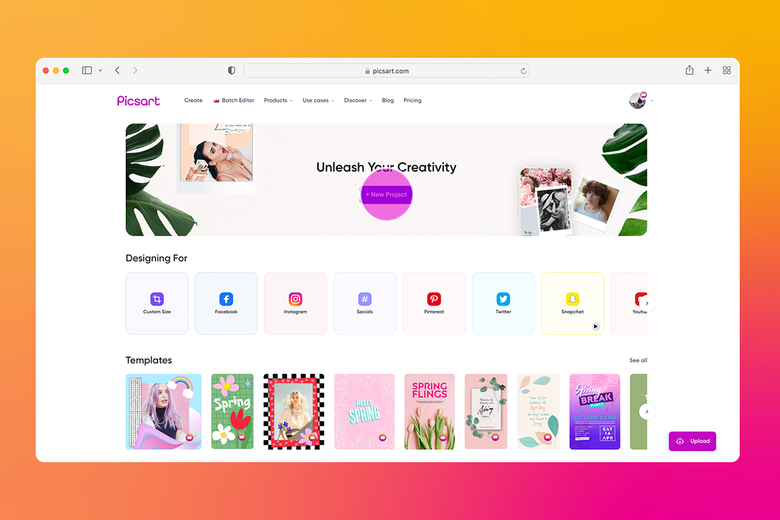 2) Select a canvas size by clicking on Layout in the left Editor toolbar. Here, we went with an Instagram Story.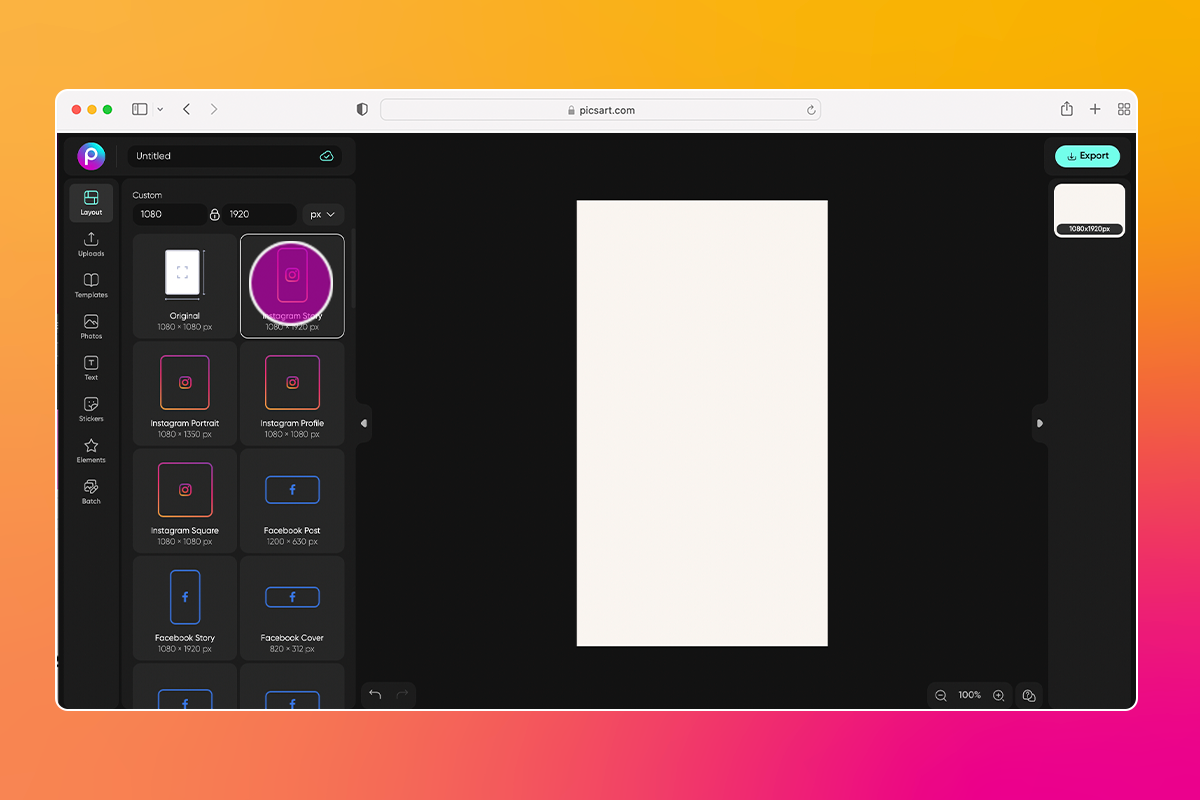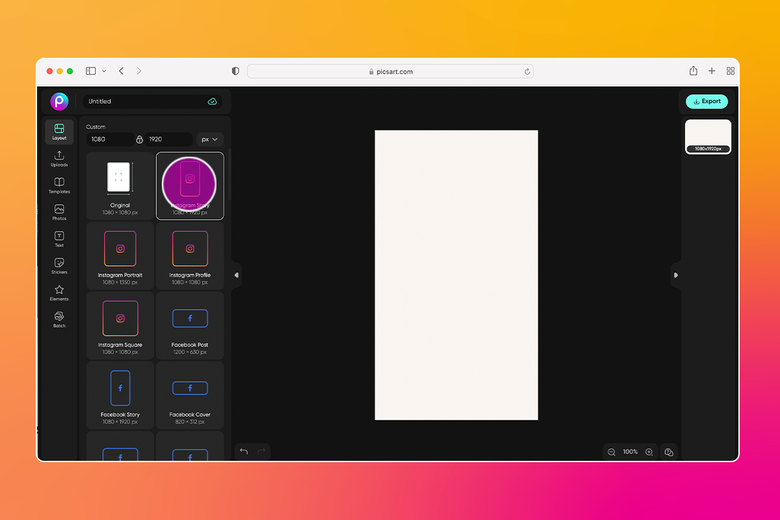 3) Click on Background in the left toolbar and select Color, then type in the hex color code for amber (#ffbf00). Now you have an amber colored background for an Instagram Story. Let's design it further.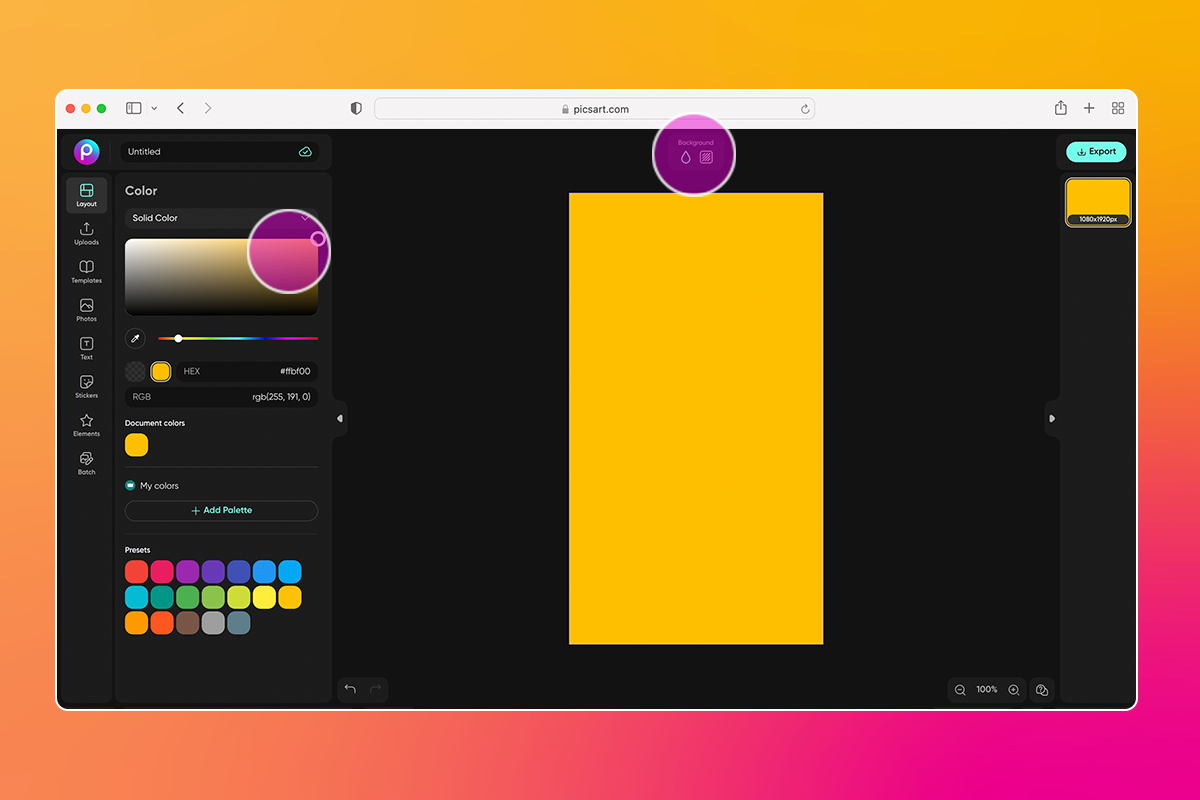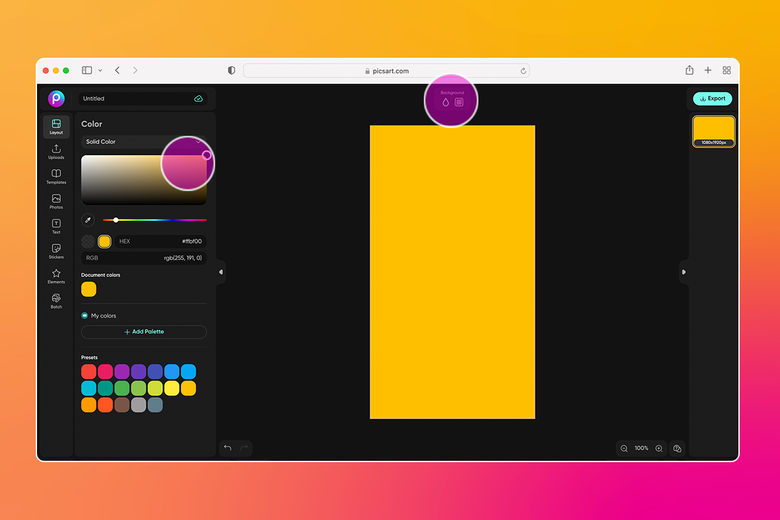 4) You can customize your edit by adding Stickers, Text, and more. Here, we added a sticker overlay, blended it, and added a subtitle Sticker.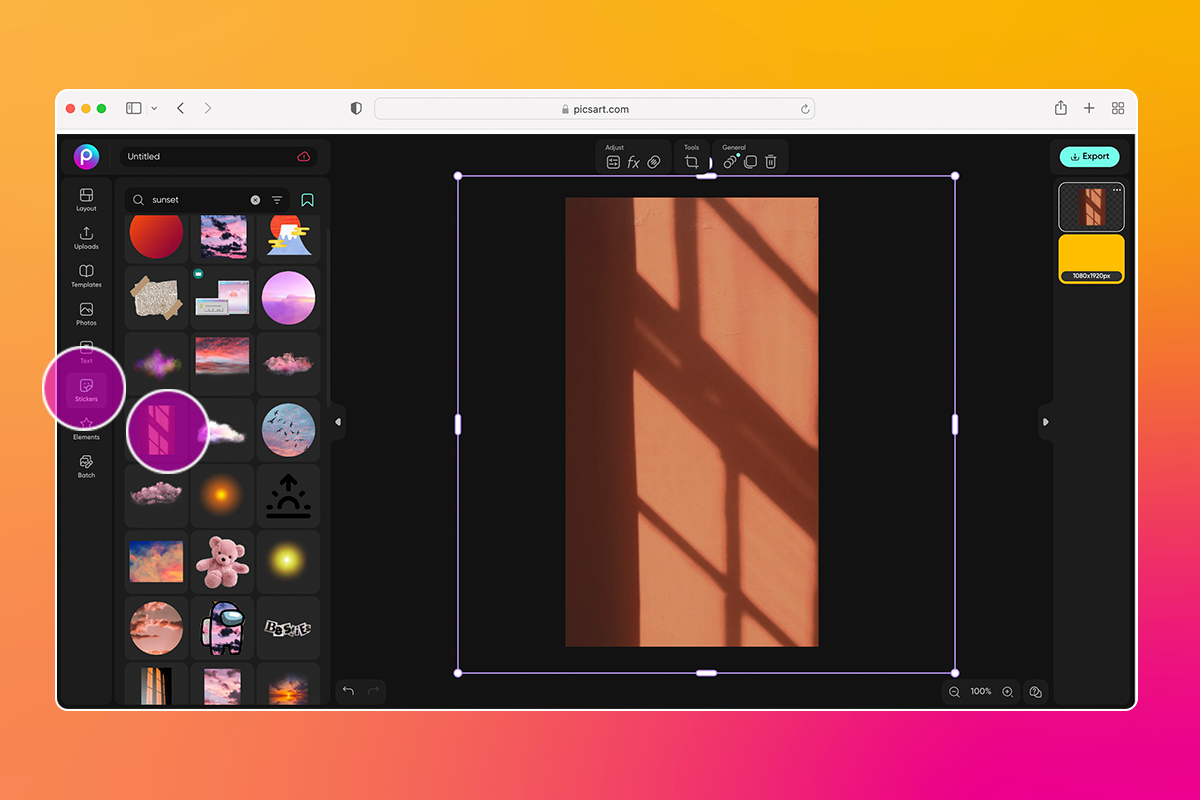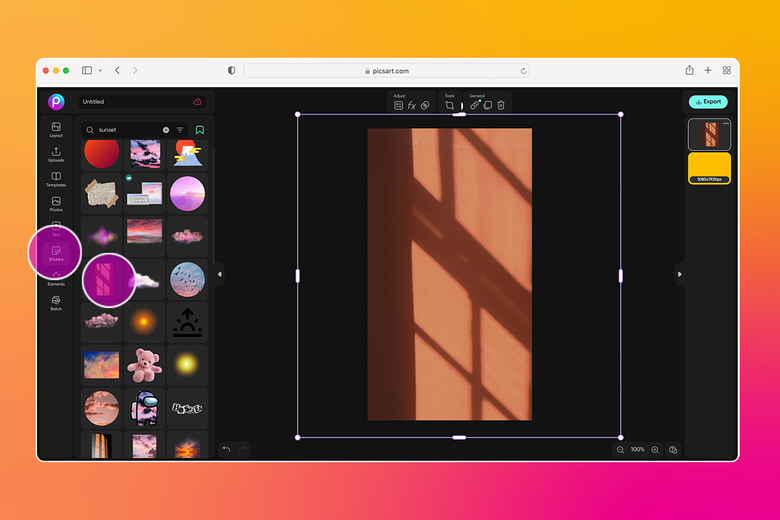 We blended the sticker a bit to make it feel more seamless with the amber background.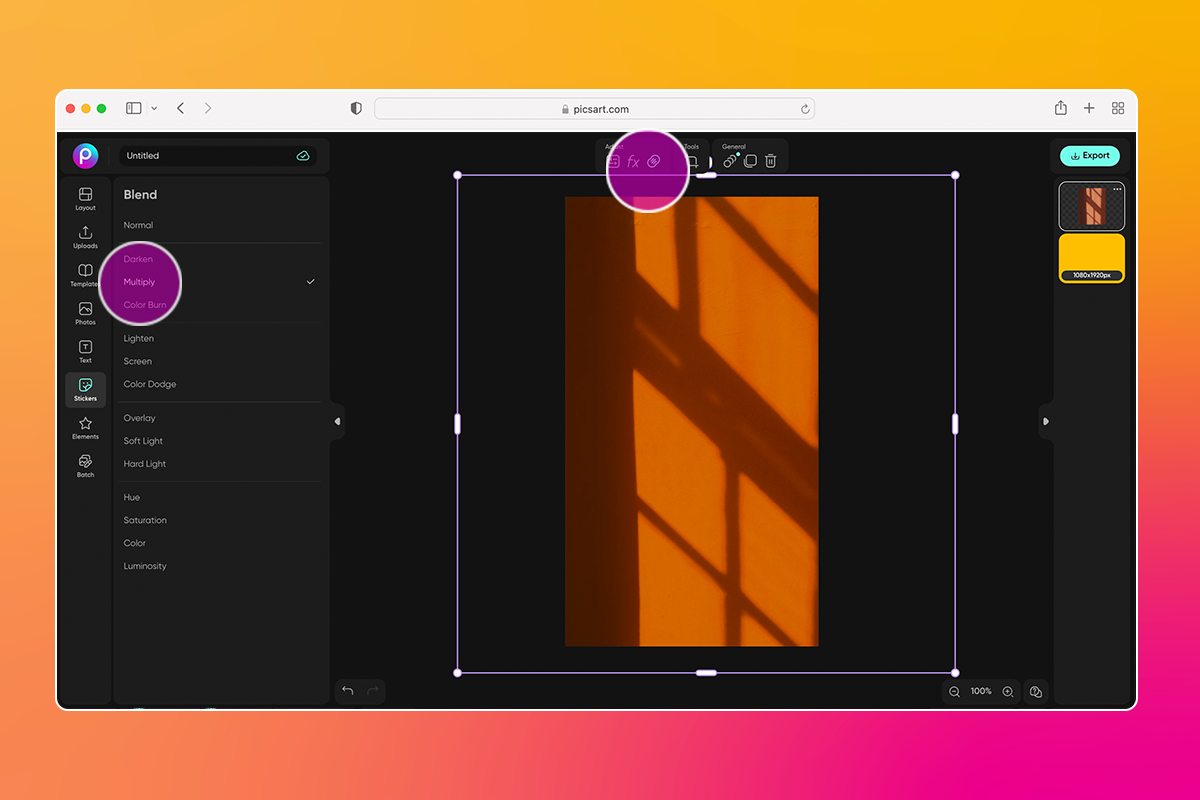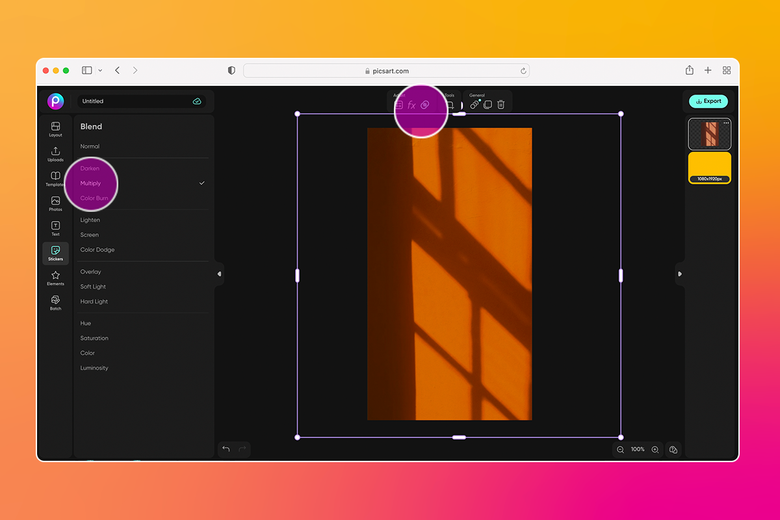 Then add a subtitle Sticker or use the Text tool to write your own text in a similar shade to amber.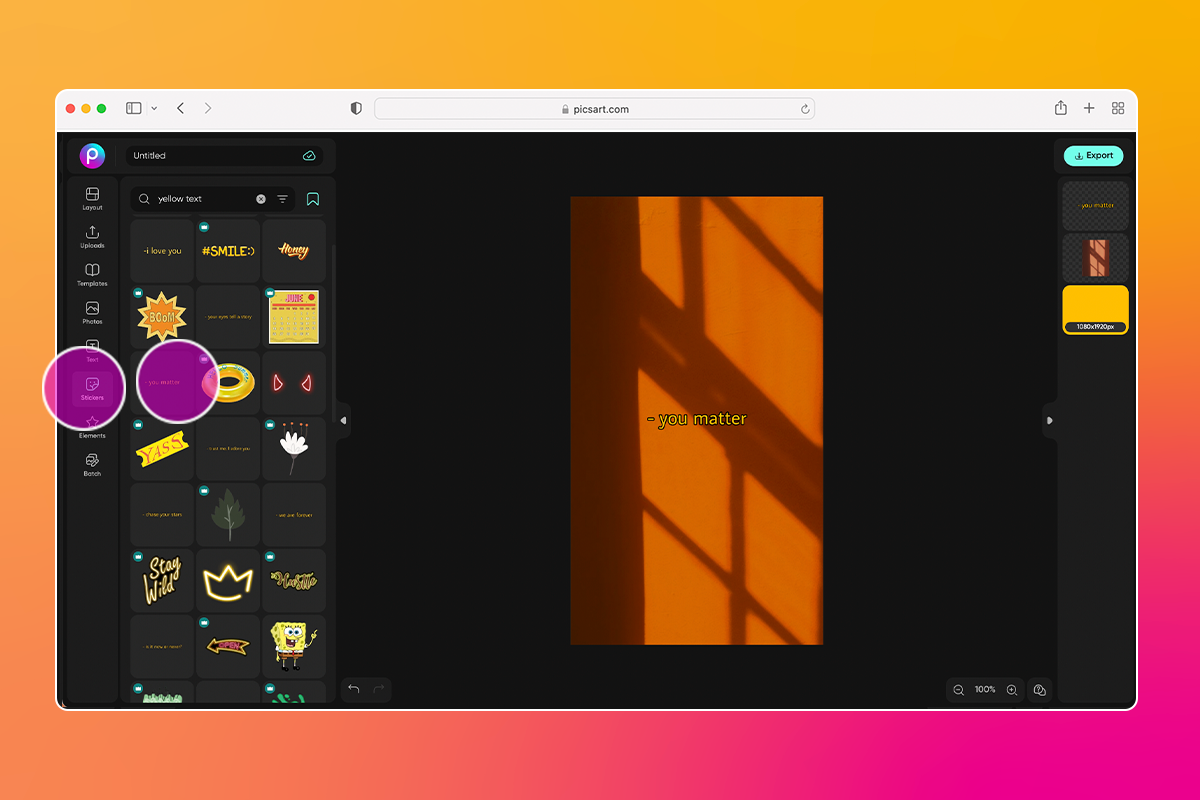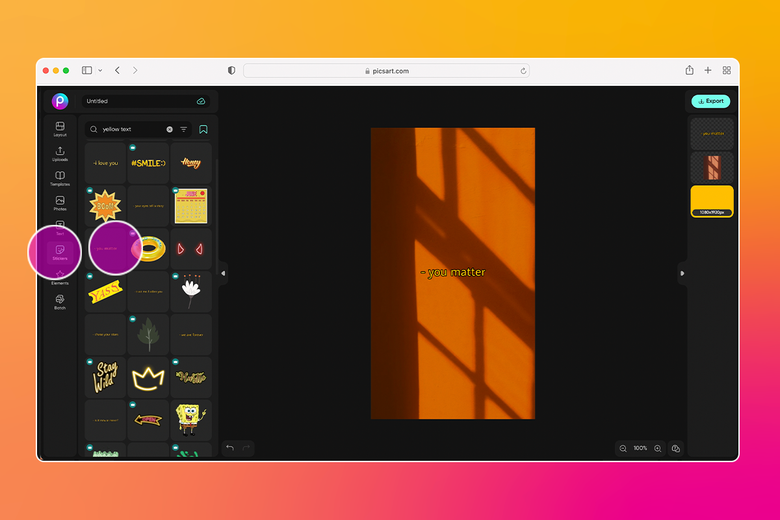 5) When done, click on Export to download your final edit. In this step, you can also select the file format, upscale the image, and more.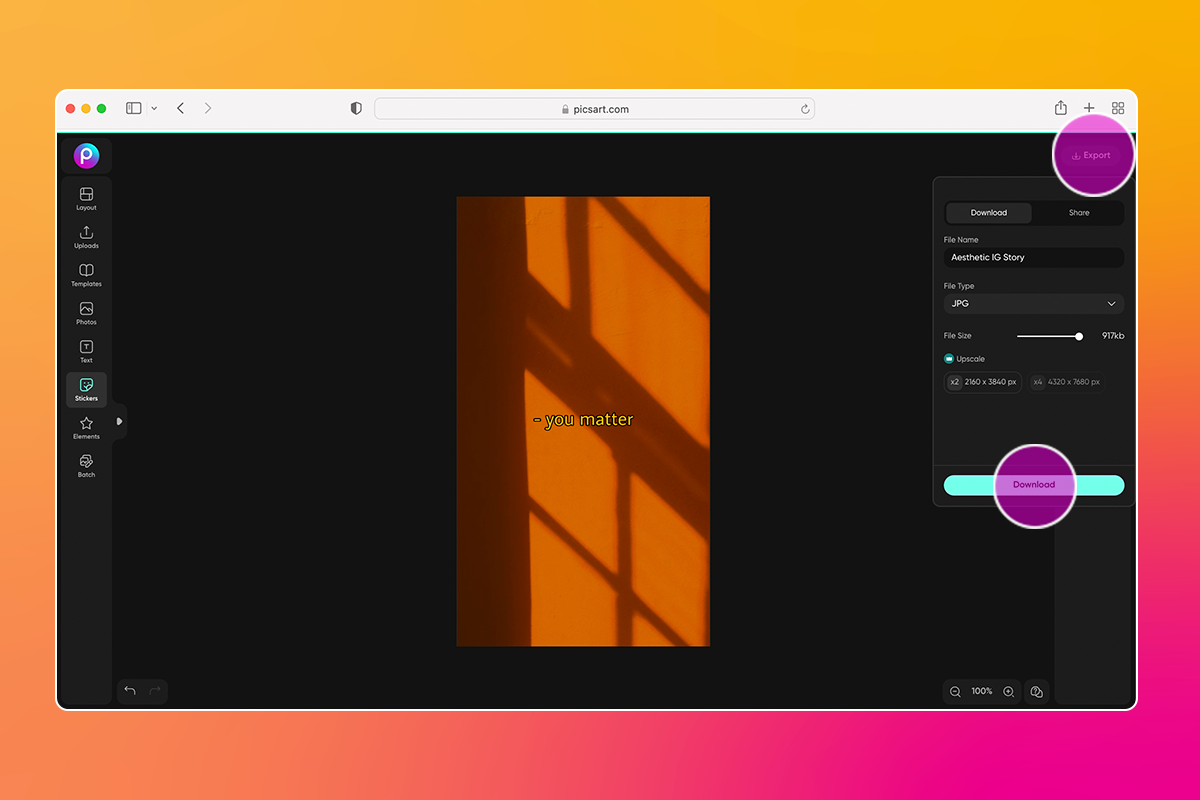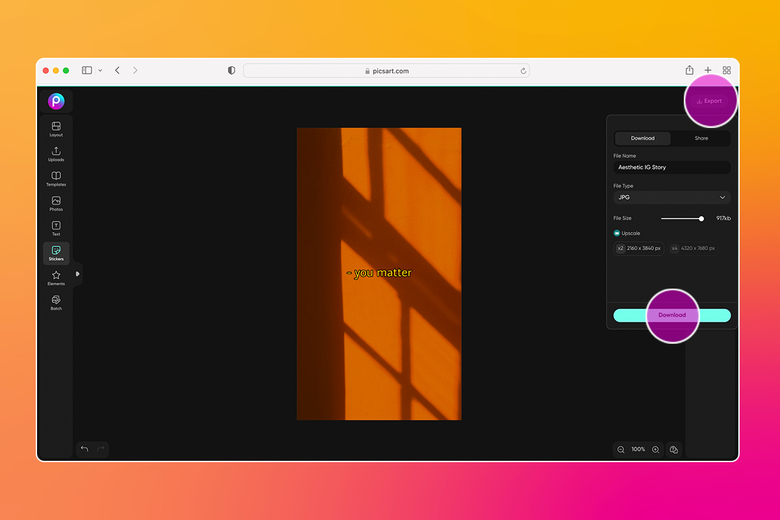 If designing on mobile:
1.  Open the Picsart app and tap on the plus sign (+) at the bottom of the screen to start your design. Scroll down to Drawings and select Create New.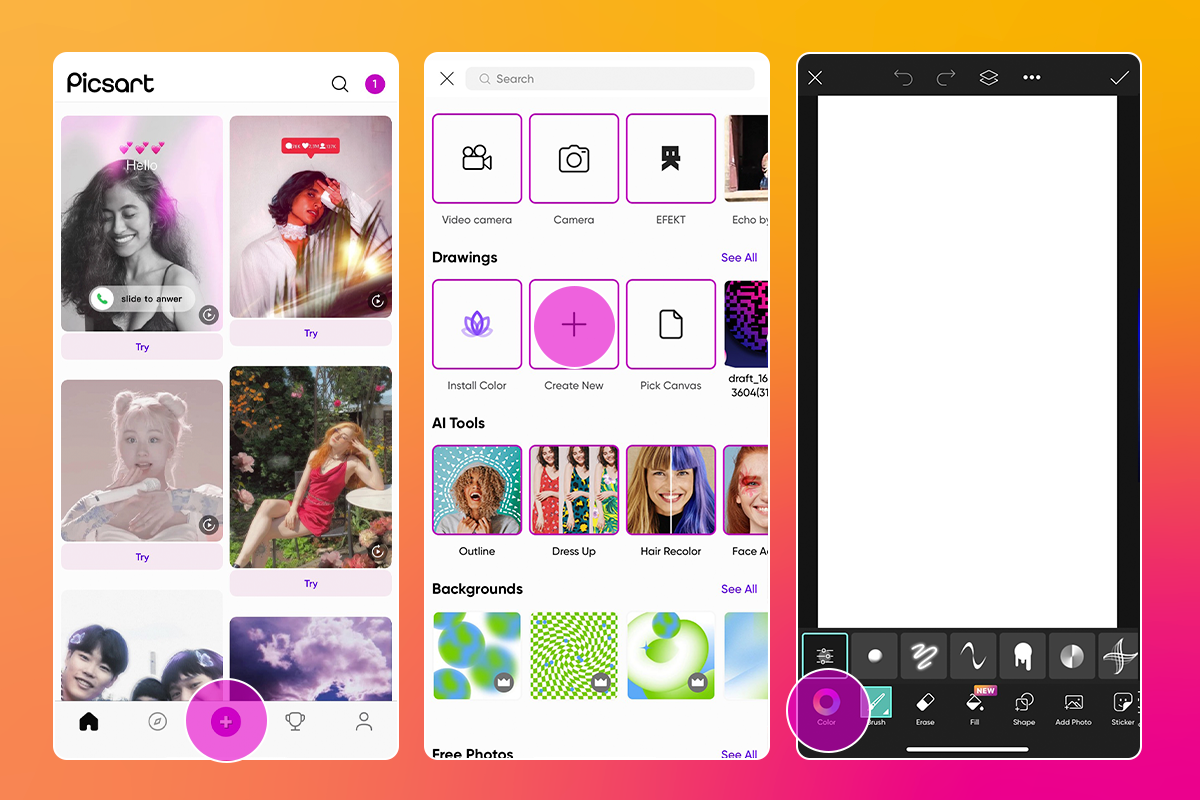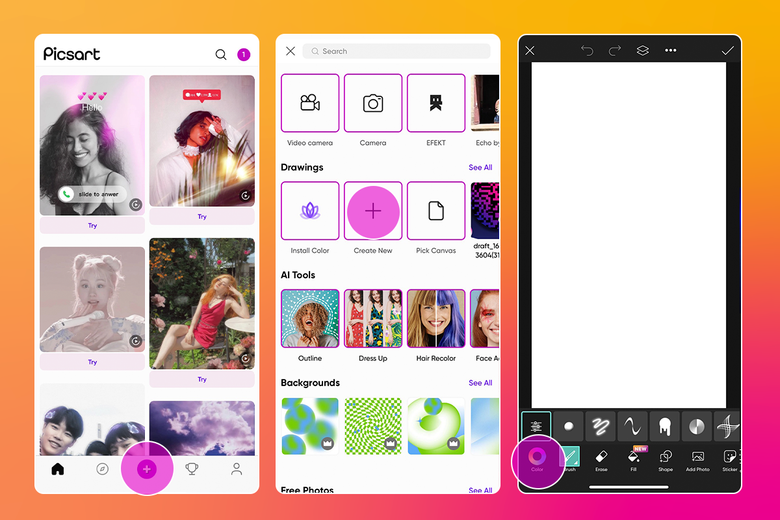 2) Select the amber color using the color wheel or simply type in the above-mentioned amber color code (#ffbf00) to create your warm amber background. Tap the check mark at the top to save. 
3) Now it's time to add some fun design elements. Tap on the Sticker tool on the bottom Editor toolbar and search for stickers for your design.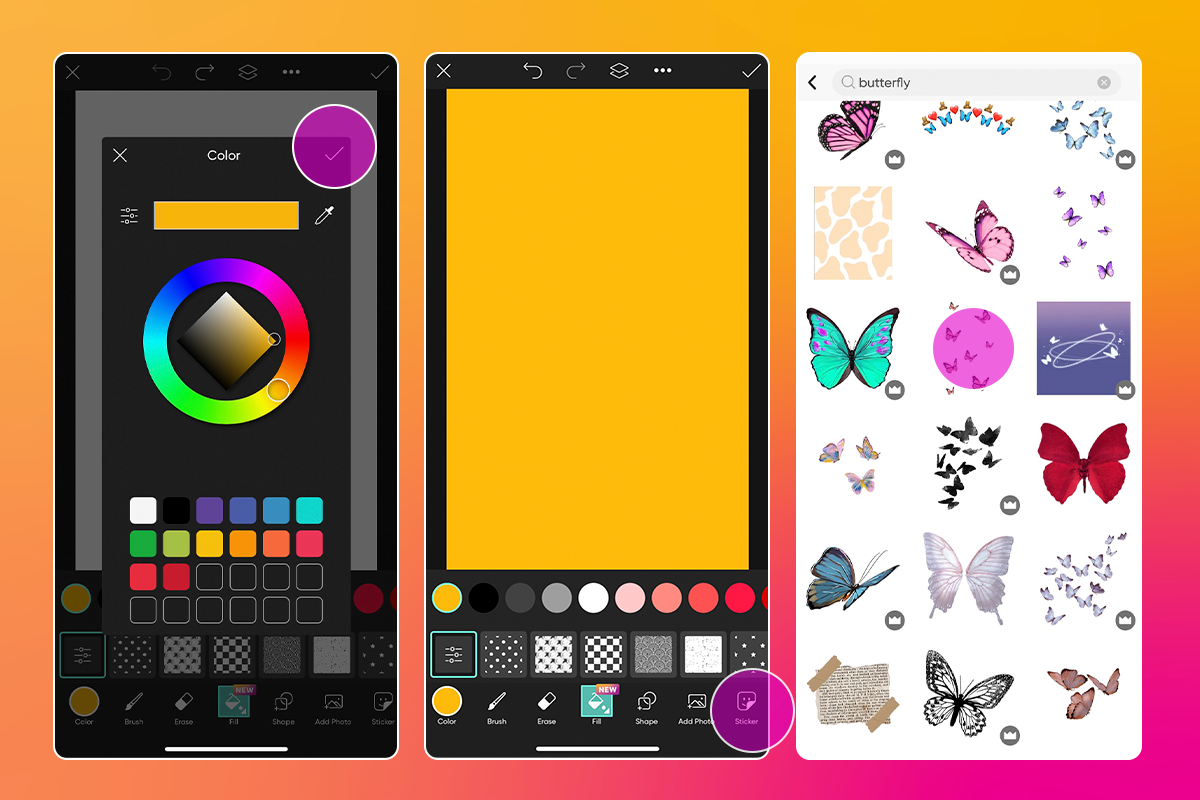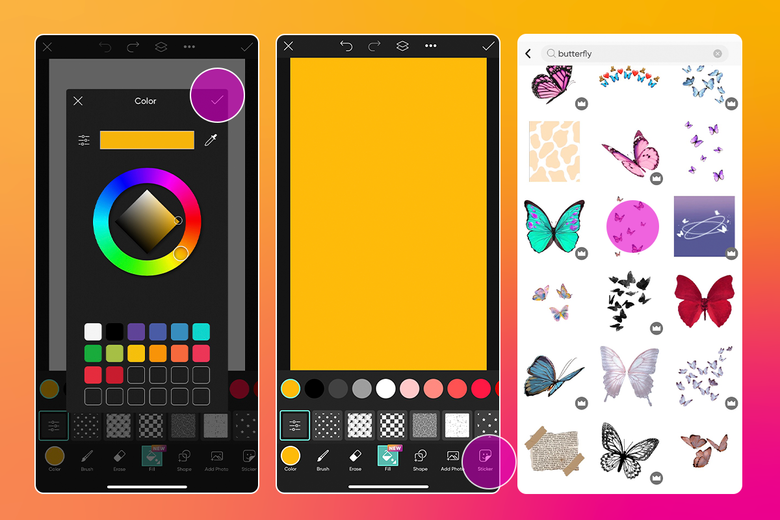 4) Further customize your design by adding Text and Filters (fx) to your edit.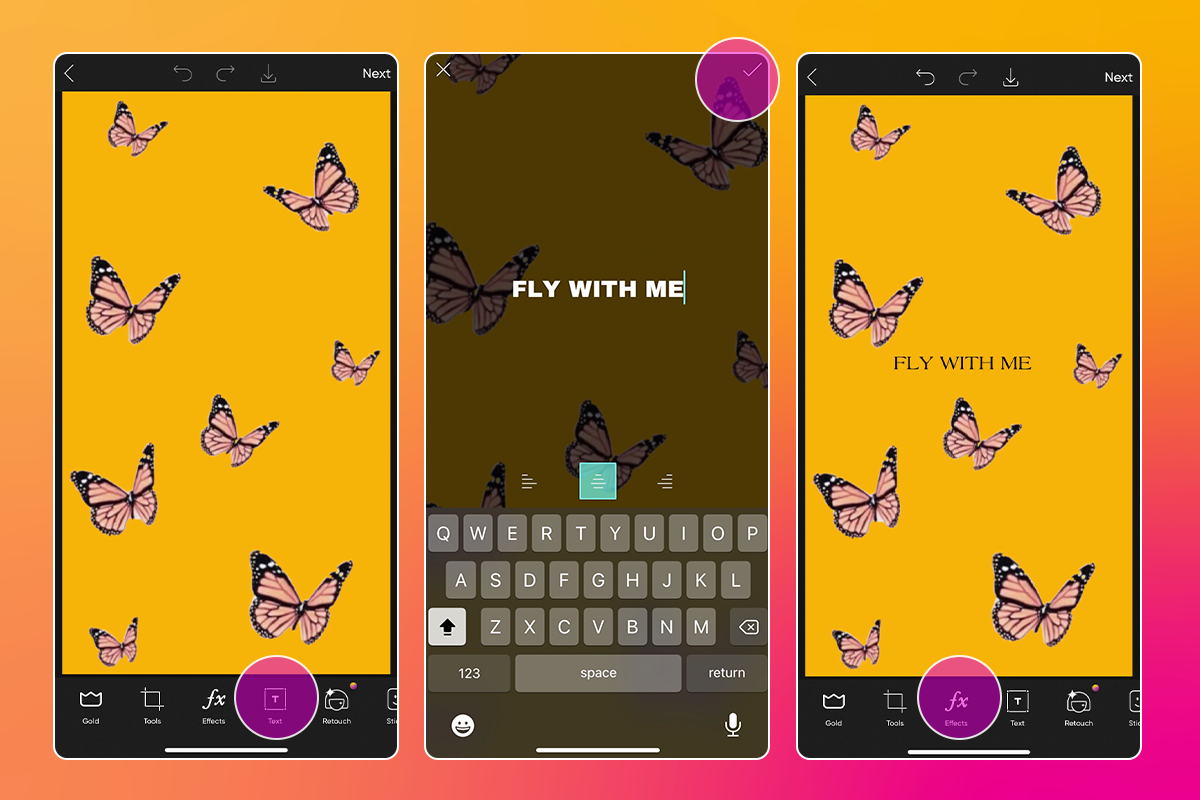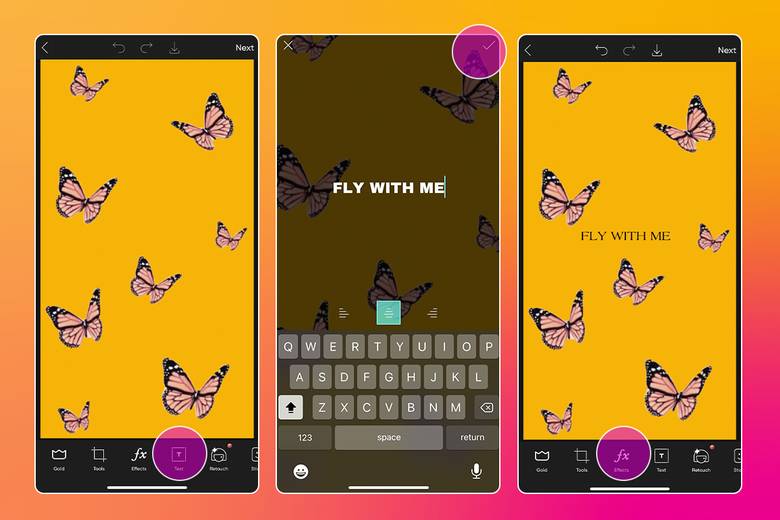 5) And when you're done with your edit, don't forget to download and / or share your edit with the Picsart community.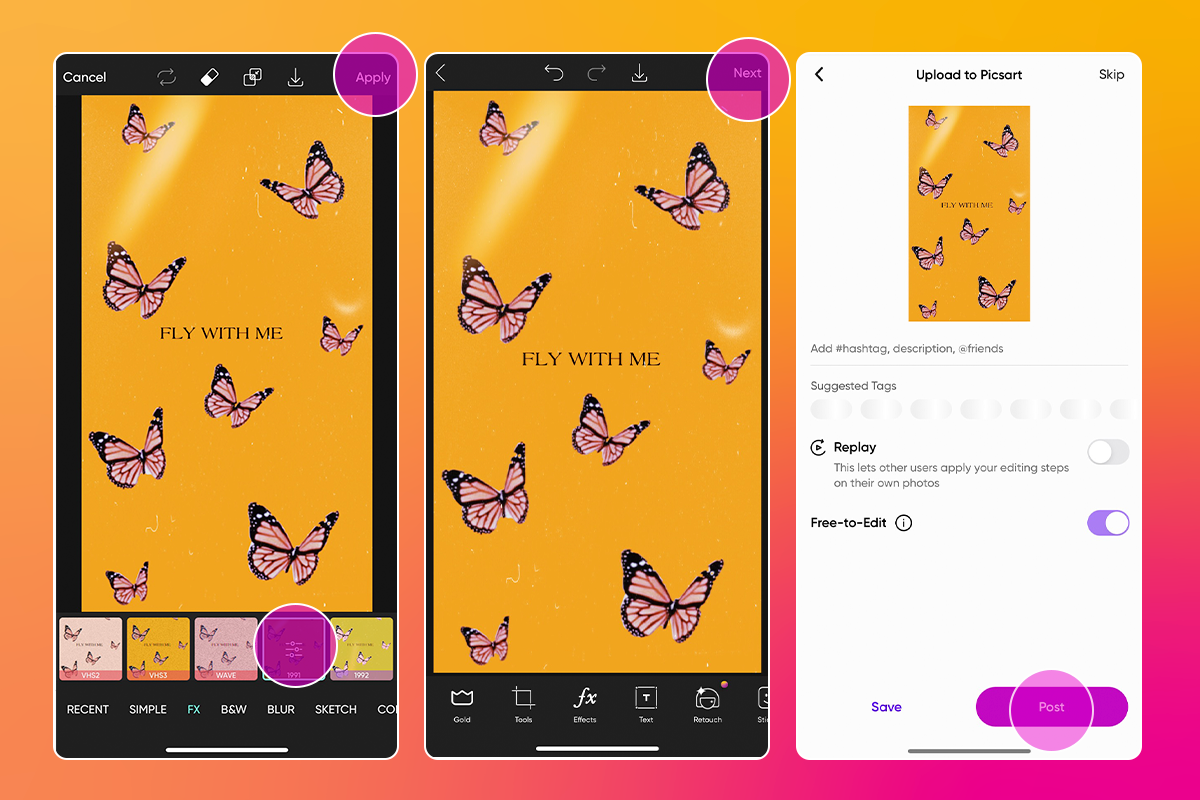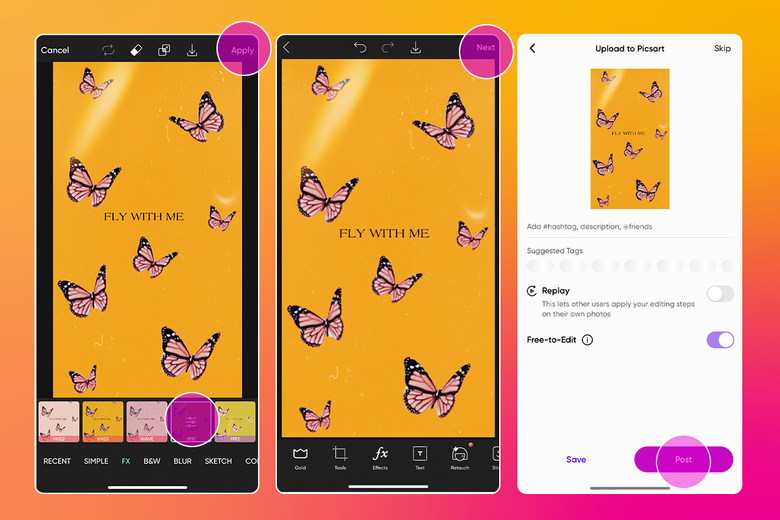 Picsart is a full ecosystem of free-to-use content, powerful tools, and creator inspiration. With a billion downloads and more than 150 million monthly active creators, Picsart is the world's largest creative platform. Picsart has collaborated with major artists and brands like BLACKPINK, Taylor Swift, the Jonas Brothers, Lizzo, Ariana Grande, Jennifer Lopez, One Direction, Sanrio: Hello Kitty, Warner Bros. Entertainment, iHeartMedia, Condé Nast, and more. Download the app or start editing on web today to enhance your photos and videos with thousands of quick and easy editing tools, trendy filters, fun stickers, and brilliant backgrounds. Unleash your creativity and upgrade to Gold for premium perks!