The word brand gets thrown around a lot in the business world, especially in the fashion, design, and beauty industries. Oftentimes, brand is used interchangeably with words like company, business, and logo, when in reality it's more complicated than that. Today, we'll do a deep dive on what branding is exactly, elements of brand design, discuss how to build a brand identity, and much more.
What Is Branding?
A brand is more than just a color palette and a logo. A strategically designed brand tells the visual story of who you are and distinguishes you from others in a consumer's mind. A brand identity consists of a logo, color scheme, website design, and other elements that cohesively come together to accurately reflect your brand. While aesthetics of a brand are crucial, emotional appeal also plays a big part in brand design. Good brand design will effectively evoke the visual and emotional fundamentals that represent your company goals, while differentiating you from the competition. Your brand identity is a holistic assemblage of how your brand looks, feels, and is perceived by the public through various design elements.
Importance Of Branding
So why is any of this important? The role of branding is directly related to your bottom line. Branding makes a memorable impression on consumers while allowing you to stand out in a market of competitors. Furthermore, branding gives your company its characteristics and persona, allowing consumers to know exactly what to expect, and helping you to build trust with prospective consumers.
Establishing a brand also allows you to stay aesthetically organized across all mediums. Whether it's website design, social media, or product labels, your brand identity should stay consistent across all of your marketing materials. This reinforces your brand while giving your company a polished, aesthetically pleasing presence.
Elements Of Brand Design
Depending on your company's needs, you may have a wide range of design elements for your brand. Some elements include:
Brand Name
Logo
Theme Line
Website Design
Photography
Video and Motion
Sound
Typography
Graphics
Smell
Taste
Shape
A well-thought-out brand identity will look harmonious throughout all designs across, all mediums and platforms. Here are some key characteristics your brand identity should have:
Unique: It should stand out among other brands. Think of your brand as the unique identifier your consumers will use to find you, single you out, and select you among all others.
Memorable: It should be eye-catching and make a lasting impression on your customers. This is where a strategic design comes into play.
Versatile: As your company grows and evolves, your brand should be scalable and flexible enough to evolve with it.
Cohesive: Cohesion of all collective branding elements allows for a consistent and seamless identity.
Intuitive: Your designers and marketers should be able to easily apply it for use on branded content.
Branding Inspiration Ideas 
There are a variety of design approaches you can take to create the perfect brand. Whether you're using a brand designer or taking on the complex task of brand design yourself, you'll need to consider how the design you choose will shape your company and represent your brand accurately. Take a look at these examples to give you some insight into the different design approaches you can take.
Color Branding
This approach places emphasis on the colors of your brand. If you have an existing logo, you can extract your logo colors and apply them to other brand elements to create a cohesive look. The color palette generator is a great place to start if you don't have established brand colors yet.
Typographic Branding 
This approach uses the established typography in the logotype across other branding elements. A logotype is a logo centered around a company name or initials. Coca-Cola, Google, NASA, and Disney are all examples of famous logotypes. By expanding the typography to other elements, you are creating a connection between the text, name, and logo.

Shape Branding
This approach uses characteristic shapes from your logo across other brand elements. For example, if your logo contains an arrow, you would find ways to seamlessly incorporate that arrow throughout other components of your brand.

Illustrative Branding
Illustration branding can be a powerful design approach that makes your branding really stand out. Whether you have a simple illustration or an intricately designed one, it should clearly reveal what the company stands for. You can choose to incorporate your logo into an illustrated image, or vice versa. Or you can simply use a standalone illustration along with your brand name. 
How to Build a Brand Identity
The thought of building a brand identity from scratch can seem daunting. To help make the process as smooth as possible, we've put together a step-by-step guide on how to build a strong brand identity. Follow this guide to set your brand up for success.
Establish a Strategy
Your brand strategy should consist of three components. 1. The brand heart, which includes a purpose, mission, values, and vision. 2. The brand messaging, which concludes the voice, personality, slogan, value prop, and brand messaging pillars. 3. The brand identity, which includes the logo, typography, color palette, etc.
Define a Persona
Once you establish your business goals and brand personality, you'll be able to better formulate a brand persona. Through market and user research as well as having a solid understanding of who your target audience is, your goal is to formulate a design that appeals to potential buyers. You'll also want to consider groups beyond your primary customers and get a sense of how your design will be perceived among wider audiences.
Identify the Competition
Before jumping into the visual designs, it's important to have a sense of who your competition is and how your brand measures in comparison. Take note of your competitors' visual elements, themes, trends, and overall brand characteristics.
Create a Style Guide
Once you establish all the visual components of your brand aesthetic, it's time to put it all into a style guide. A brand style guide ensures that all graphics are created the correct way to avoid improper or incorrect usage of any elements that would go against your brand aesthetic. It can include explanations of the logo and color palette and include examples of incorrect usage.
What Brand Elements Do You Need?
Logo
While a logo is just one component of a brand, it does play an integral part of your overall identity. Your logo acts as the identifying mark of your brand identity that distinguishes you from other companies. Experiment with various styles, shapes, and colors and see what is most compatible with your brand. Check out these Cool Logo Designs for some inspiration. Don't forget to test your logo in different situations and placements to ensure it is scalable and suitable.
Color Palette

Develop a color scheme that compliments your logo and accurately reflects the right emotions of your brand. If you're not sure where to begin, select one main color, two primary colors, a few complementary colors, and two accent colors. Read What Do Colors Mean? for an in-depth approach on how to select your colors.
Typography
Selecting the right typography can make all the difference in your brand aesthetic. When done correctly, using two or three complementary fonts can really bring a level of sophistication to your brand. We suggest sticking with two or three font families to avoid looking cluttered and unorganized. Here is a Complete Guide To Font Pairing to help you get started.
Photography
Photography is another critical component of your brand identity. It allows you to showcase your products and other content vital to your company. Stay consistent with the type of photography and editing used throughout all types of images.
Illustration
If you do use illustrations as a part of your brand, make sure they are compatible with the rest of your elements. For example, you wouldn't want an overly animated, playful illustration for a contemporary, chic brand.
Data Visualization
Data visualization elements such as infographics and videos should all use a similar aesthetic across the board. Most importantly, your data visualization should be easily read and understood.
Other Visual Elements 
While your logo is the showstopper, you can incorporate other visual elements that complement your logo and make your brand more memorable. For example, many companies create custom design characters like mascots to represent their brand, products, or services. Geico's gecko is one famous example. Typography is another great visual element that can amplify a brand's personality. You can use an existing font or create a custom one unique to your brand.
Create The Best Brand Design
You now have tons of new tools in your toolkit to successfully build a brand identity from scratch. Let's put those tools to work and create a brand design using Picsart. Follow this step-by-step guide on how to create a unique brand design guaranteed to make you stand out.
1) Open the Picsart Template Editor.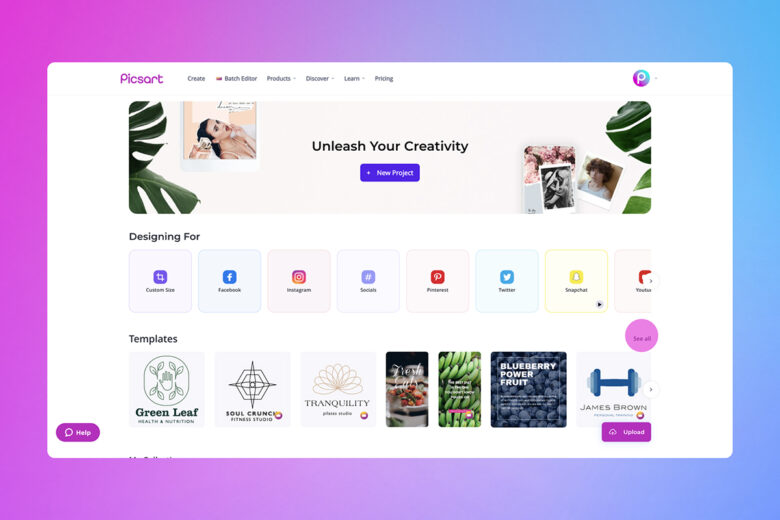 2) Select from Templates, any Free to Edit image, or upload your own using the top left Upload button. If you're not sure where to begin, circle back to the color palette and theme of your brand's identity. You can search for specific images using the search bar.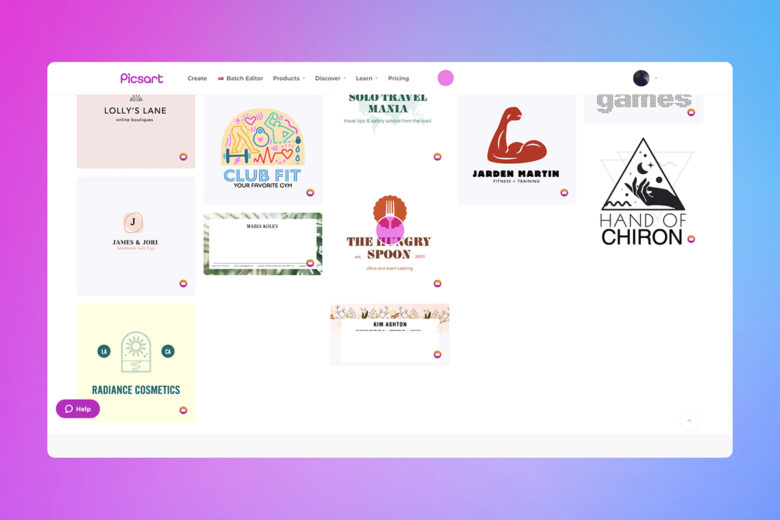 3) Next, select Shapes to create a unique outline for your brand logo. You can adjust the opacity or overlay it using the control panels.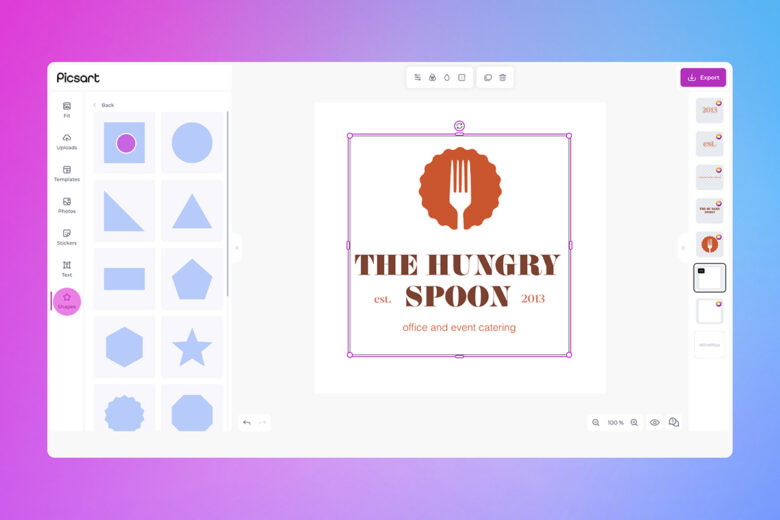 4) Click Text to add your company name and/or slogan to your brand design. Then type in your text and move the text box to the desired area on your image.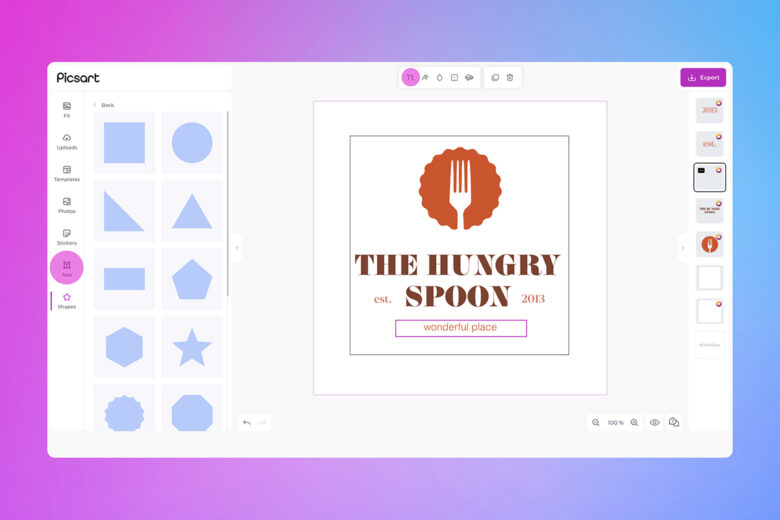 5) Click on Font above the image and you'll see a dropdown of typefaces you can choose from. You can also adjust for size, letter spacing, line height, alignment, caps, and the options to make your text bold, italic, or underlined.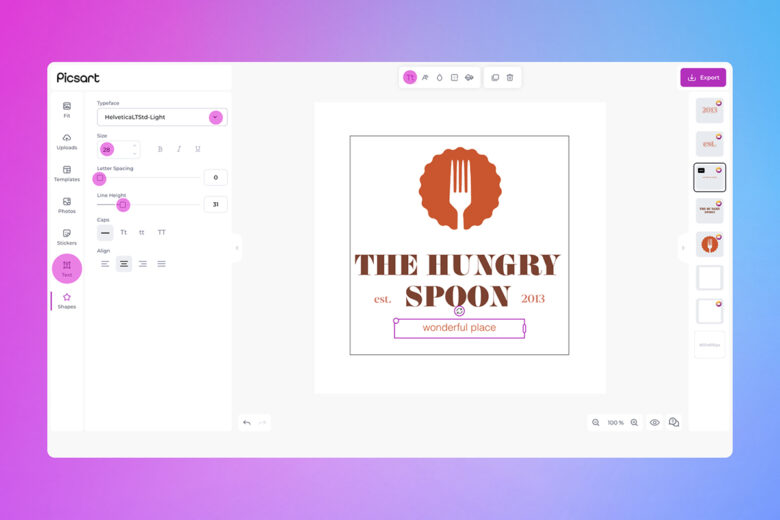 6) Next to the Font option, you'll find Color, Outline, and Shadow. Click into each of these editing tools and adjust your font accordingly. To add additional text, repeat the steps above.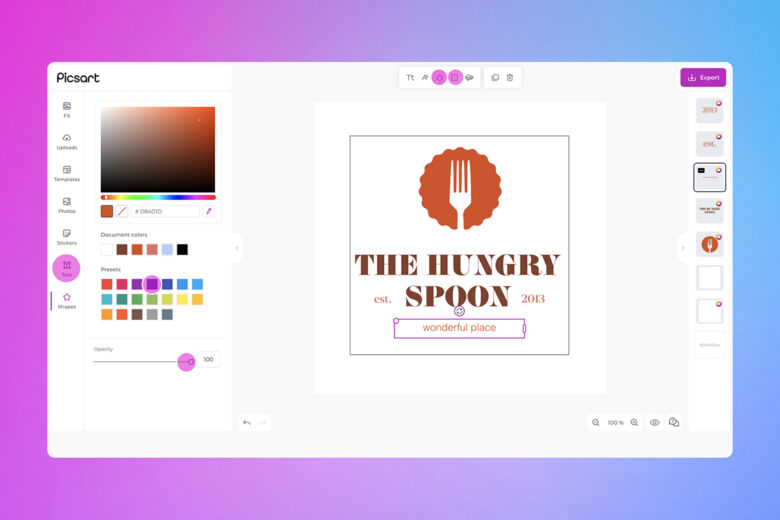 7) To add additional graphics to your brand design, click on Stickers and search for your desired sticker. We suggest avoiding using too many stickers as it may clutter your brand design.
8) Done with your beautiful brand design? Hit the Download button or Share to your Picsart profile.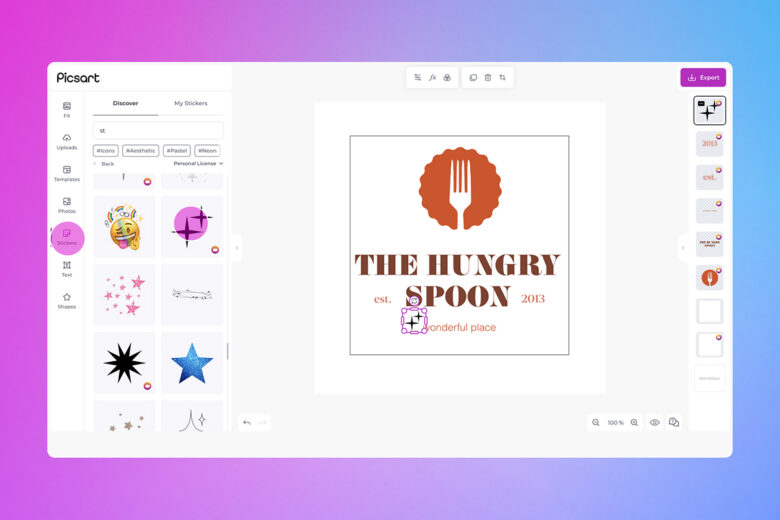 Picsart is a full ecosystem of free-to-use content, powerful tools, and creator inspiration. With a billion downloads and more than 150 million monthly active creators, Picsart is the world's largest creative platform. Picsart has collaborated with major artists and brands like BLACKPINK, Taylor Swift, the Jonas Brothers, Lizzo, Ariana Grande, Jennifer Lopez, One Direction, Sanrio: Hello Kitty, Warner Bros. Entertainment, iHeartMedia, Condé Nast, and more. Download the app or start editing on web today to enhance your photos and videos with thousands of quick and easy editing tools, trendy filters, fun stickers, and brilliant backgrounds. Unleash your creativity and upgrade to Gold for premium perks!