Have you been shopping around for wedding invites for your big day and just not feeling inspired by the designs or price tags? Consider designing your own DIY wedding invitation! Before you get intimidated, read more. In this article, we'll share everything you need to know about DIY wedding invitations including the top eight benefits of choosing to design your own wedding invitations, six unique DIY wedding invite ideas to play with when designing your invitations, and a step-by-step tutorial on how to make one. Ready?
Benefits of DIY Wedding Invitations
You may be asking yourself: Why do people choose the DIY wedding invitation route? We're glad you asked. Before we dive deeper, here are the top eight benefits of making your own wedding invites.
1: Happy Wallet, Happy Life
When you pay for any product or service, it's usually because you either can't do something yourself or you don't want to do it. In exchange for taking care of the task for you, businesses often charge significantly more than it would cost to just go the DIY route. Luckily, we are living in a digital era that has birthed tons of free or affordable photo editing tools and easy-to-use templates that put the power back into your hands and leave you and your wallet happy.
2: You Become the CEO of Creativity
One of the top benefits of designing your own wedding invites is that you can mix and match absolutely anything you like so that you never have to compromise. To save money and time, most industries have streamlined their processes and operate more like factories that pump out the same exact product over and over again. With DIY, you can override those factory settings and rest assured knowing that if you can dream it, you can create it! After all, you're not a cookie-cutter couple, so why settle for basic wedding invitations? This is your chance to design something that officially introduces the world to who you are as a couple.
3: You're Only a Couple Clicks Away From Awesome
With fun, easy, and affordable photo-editing apps like Picsart always at your fingertips, it's truly incredible what you can create with just a couple clicks of a mouse. Editing an existing wedding invitation template or trying user-friendly tools to build up a blank canvas from zero to masterpiece is the fastest way to create a unique and professional look on a friendly budget in no time. In fact, you might fall so in love with the process of making a DIY wedding invitation that you'll probably feel compelled to also DIY your "save the date" cards, RSVP cards, envelope liners, bridal shower invitations, and personalized cards for your bridesmaid gifts.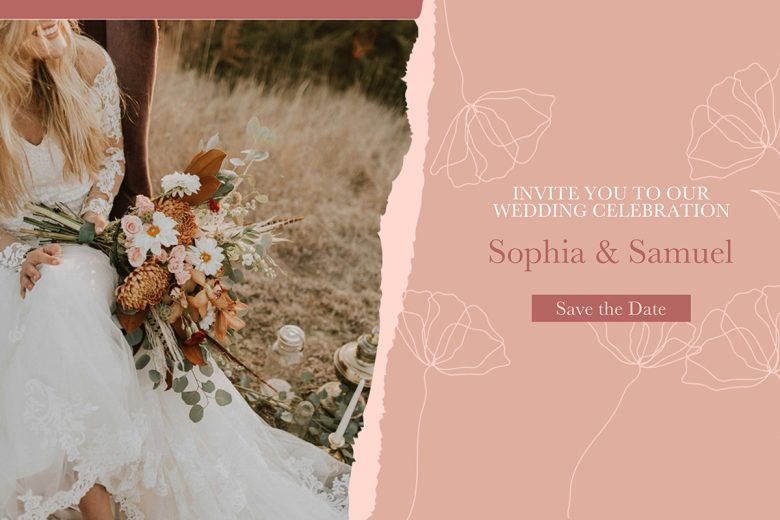 4: A More Personalized Invitation Card Creates a Deeper Connection
When you design your own wedding invitations, you can personalize your cards as much as you want. You may prefer to tweak each invitation card to include a personal greeting for each guest, digitize your handwriting that your friends or grandparents recognize and love, and pick cardstock or other types of paper that are meaningful to you and your loved ones. For example, couples and families who value sustainability practices or who plan to invite lots of eco-conscious guests might choose to print their invitations on biodegradable or plantable seed paper. After printing, you can also add a handmade embellishment you know your guests would adore.
5: Those Who Go Together Grow Together
Did you always envision your wedding planning journey being a fun and exciting time where you'd be sipping mimosas with your bridesmaids while browsing wedding ideas on Etsy and getting the 4-1-1 on the proposal story? Did you dream of sitting around the kitchen table with your sister, mother, grandmother or other loved ones, listening to their enchanting love stories while making invitations or wedding favors by hand? Now is your chance to create deeper connections with your loved ones and precious memories to last a lifetime. When you enlist the help of your family and friends, you can deepen your relationships and soak in just how supported and loved you are before your special day arrives.
6: Who Said Wedding Planning Can't Be Fun And Easy?
We totally get it — wedding planning can be stressful. Being bombarded with competing options and drowned in price tags isn't exactly what most people dream of when they fantasize about their dream wedding. Choosing to go the DIY route is a great way to step away from all the industry noise and reconnect to your personal vision for your special day. Luckily with user-friendly photo-editing tools, you can have your wedding cake — and eat it too! Designing your own invitations is a chance to relax and play with colors, textures, photos, and designs that light you up.
7: Bring Flexibility Back
With so much that can go wrong in planning a wedding, leaving some room for flexibility can give you a much needed sense of relief. Need to add a new piece to your wedding stationery that requires you to resize your design to keep the theme consistent? No worries, just set your new dimensions, adjust the design where necessary, and you're good to go. Short by a dozen cards last minute? No problem, just print some more. DIY puts the control back in your hands so you can focus on enjoying the process.
8: Powerful Presence Creates Precious Memories
Building a lifelong relationship takes a lot of tender love and care, starting with all the little details. When you design your own wedding invitations, it's a way of saying I care, and is a thoughtful gesture to start your marriage off with tender love and care. The more hands-on you can be throughout your wedding planning process, the more experiences you will create to lock in the memories of this life-changing chapter of your life. Someday you can look back on this time and recall the memories of the wonderful time you had dreaming about your big day. And you'll remember making your own invitations to share your exciting news with the ones you love.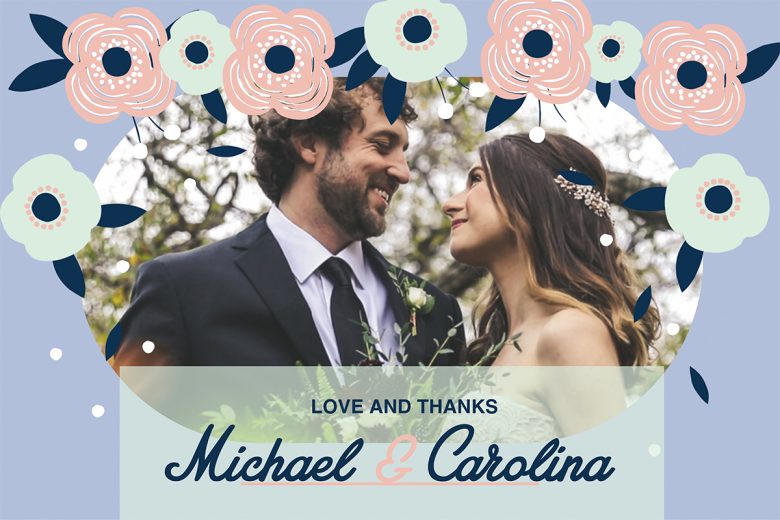 Unique Ideas to Include When Designing Your Own Wedding Invitations
Ready to go DIY? Here are some favorite picks for unique DIY wedding invite ideas.
Personalized wedding logos add an elegant touch to invitations and are a great way to say a lot with very little, often providing both logistical information about the wedding and a sneak peak into the couple's personality and vision. Wedding logos often include the couple's first names or a monogram (the couple's first initials only), the date of the wedding, and the wedding location. Some couples prefer to incorporate an image or symbol, while others prefer a text-only logo.
So where do you start? Get inspired by some of our favorite calligraphy fonts like Cherolina, Some Weatz Swashes, and Lambresia. For a more rustic or kraft look, try fonts such as Latin XCN BT, Aviano Sans Regular, Victoria Titling MT STD CN, and Monticello SC Regular. As for color palettes, wedding color trends lean towards neutral tones such as Terracotta, Dusty Rose, Cinnamon Rose, or Light Gray paired with Sage Green and Greenery, and topped with Gold Foil. Once you have some of these elements nailed down, you can easily design your own custom wedding logo in minutes!
Thicker paper choices, such as 120 lb. uncoated cardstock, are very popular and often considered more appropriate for formal events such as weddings. Wedding invitations also look fabulous on textured paper such as linen, felt, biodegradable and plantable seed paper (which, once grown, also doubles as a souvenir), or kraft paper (a popular choice for a rustic wedding).
Who doesn't love a good old fashioned embellishment? Wax seals are one of the ultimate ways to level up the luxuriousness of your look and give your beloved invitation suite a final stamp of approval. You can find wax seal kits on Etsy or at other craft stores. Practice a couple seals and then go for it.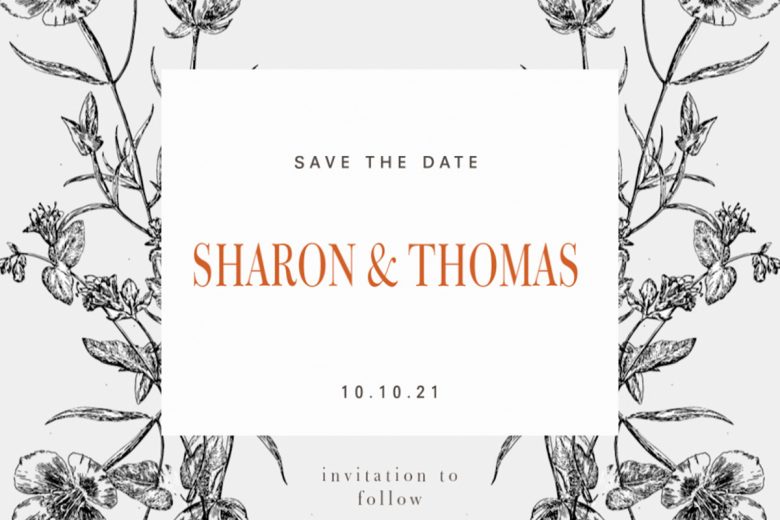 Want the secret to making something look a lot more expensive than it really is? Try adding some embossing to your wedding stationery! Think of embossing as a 3-D stamp. You can have a personalized stamp created for you at shops like Etsy or Paper Source, or you can simply glue pre-embossed cardstock to your invitation. 
Adding a ribbon is not only functional in helping keep all the pieces of the invitation suite together, it's also a tiny detail that gives your guests a special experience while opening your invitation and sets the style and tone for your wedding ahead of time. For the most comprehensive look, pick a style of ribbon that matches your wedding theme — satin ribbons go well with more formal, luxurious weddings while twine works great paired with kraft paper for an elegant rustic wedding theme. 
Imagine having your very own custom couple's stamp to add to your invites! You're only one quick internet search away from having your own monogram stamp created with your first initial and your significant other's first initial.
Invitation suites can include a lot of pieces including the invitation, an RSVP or response card, a mailing envelope, postage, reception card, directions, a weekend events and accommodations card — phew! If you have three or more of these elements, you may want to consider adding a pocketfold to the inside of your invitations. They are incredibly functional, not to mention super cute.
How to Make Your Own Wedding Invitation
Feeling inspired and ready to design a couple of DIY wedding invite ideas that you and your partner can choose from? Here's a step-by-step tutorial to get you started.
Create Your DIY Wedding Invitation Using the Picsart Web Editor or App
Ready to create your own wedding invitations? You can do that with Picsart, no problem. Consider starting with an invitation template you can customize. Or if you're feeling adventurous you can also design one from scratch.
On the Web
1. Start by opening up Picsart.
2. Start your project using one of the following methods:
a) A blank canvas, a pre-sized canvas or specify a Custom Size under the Start A New Design section.
If using the Picsart app, click Resize under the Tools menu to specify your canvas dimensions.
b) To edit an existing project, select Template under the Create page or Hashtags under the Discover page to search keywords such as "wedding" or type #WeddingInvitations in the search bar to pull up relevant elements and #FreeToEdit projects you can tweak.
If using the app, scroll down to Templates, select All Templates, and type keywords into the search bar to pull up relevant templates.
3. Edit or add a background in one of the following ways:
a) Select a background from the Color Backgrounds section.
b) Use Free Photos or Add Photo to import a specific background photo.
c) Use free Templates or Backgrounds to start with a default image.
Tap the background to customize color, gradient, and texture options. Try the Blur or Bokeh effects to bring more attention to the foreground and use the Remove Objects or Background Remover tools to edit images to your liking.
4. To add a photo, click Photos – My Photos – Upload.  Make sure the photo is high quality. Pro tip: Many couples enjoy sharing a photo from their engagement photoshoot on the wedding invite.
If using the app, tap Add Photo from the main menu bar to access your camera and import a specific photo.
5. To add more visual elements, tap Stickers on the main menu bar to search keywords such as "wedding", "wedding invitation," "embellishments," or "watercolor" if you want to go with a watercolor look, for example.
After selecting a sticker, tap the sticker to see its menu bar to make edits using features such as the Opacity, Shadow, and Border tools. Use the Effects tool to choose from dozens of custom filters that instantly transform your image. Tap Apply to save your selections.
6. To add text, tap Text in the main menu bar of the web editor, scroll down to Font Collections and tap More. Browse the collections or use the search bar to type keywords such as "calligraphy" to see all relevant fonts.
On Mobile
If using the app, tap Text on the menu bar, type the words you want to add, and tap the Apply checkmark to save changes. Now tap your text, tap Font, then tap the pink circle with the upward arrow to pull up the font menu where you can type in "calligraphy" or any other font style you're looking for.
If you're not sure what font is best for you, check out the tutorials and get inspired by different types of fonts, cursive fonts, and learn how to choose a font.
After adding your text, use the Text Editor menu to adjust custom effects. If you started with a template, you can click the pre-existing text to edit on the spot. Tap Apply to save changes.
7. Use the Brushes tool to decorate your invitation with elegant patterns, such as a garland of flowers or glowing firefly lights. Just pick a brush and swipe your finger across the canvas.
8. You can apply unique filters to your elements at any time from the Effects menu such as Fx, Artistic, Magic, or Paper effects. Try the Blur or Bokeh effects to bring more attention to the foreground and use the Remove Objects or Background Remover tools to edit images to your liking.
9. Once you're happy with your design, tap Apply to save all changes if applicable, then save the image to your device or share it with the Picsart community.
All that's left now is to go forth and make impress everyone with your DIY wedding invitation skills!
Picsart is a full ecosystem of free-to-use content, powerful tools, and creator inspiration. With a billion downloads and more than 150 million monthly active creators, Picsart is the world's largest creative platform. Picsart has collaborated with major artists and brands like BLACKPINK, Taylor Swift, the Jonas Brothers, Lizzo, Ariana Grande, Jennifer Lopez, One Direction, Sanrio: Hello Kitty, Warner Bros. Entertainment, iHeartMedia, Condé Nast, and more. Download the app or start editing on web today to enhance your photos and videos with thousands of quick and easy editing tools, trendy filters, fun stickers, and brilliant backgrounds. Unleash your creativity and upgrade to Gold for premium perks!