All that glitters is gold… or is it? The emerald green color is historically a symbol of wealth and royalty. It often reminds us of the richness of nature in the Emerald Isle and St. Patrick's Day celebrations. Emerald green is the color of the Emerald City, the Imperial capital of Oz, a glowing fluorescent green sign, and glittering emeralds. It is the color of Monet, Cézanne, and Van Gogh. 
Simply put, the emerald green color is everywhere! So how do you make emerald green and what colors go well with it? We're diving into all things emerald green below.
What Color is Emerald Green?
Did you know that emerald green was the Pantone Color of the Year in 2013? Green is the most abundant color found in nature and is both optimistic and comforting. Shades of emerald green suggest creative ideas, abundance, wealth, and emotional wellbeing.
Remember, colors carry meaning. And the emerald green color typically is energizing, positive, luxurious, radiant, harmonious, luminous, and sophisticated. From a color psychology perspective, the color green relates to balance and harmony, creating equilibrium between the head and the heart. A natural peacemaker, green is also the color of growth, spring, renewal, and rebirth.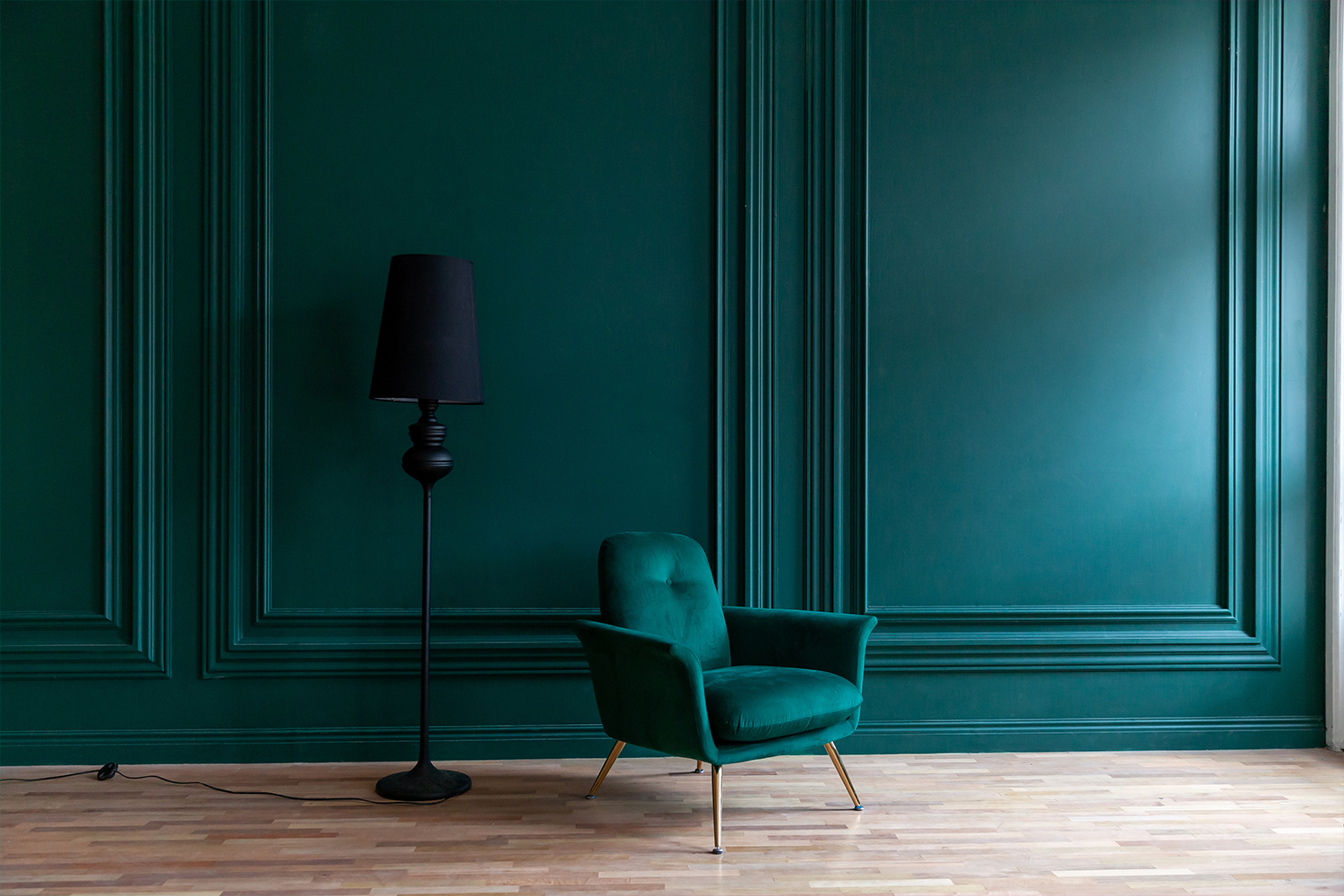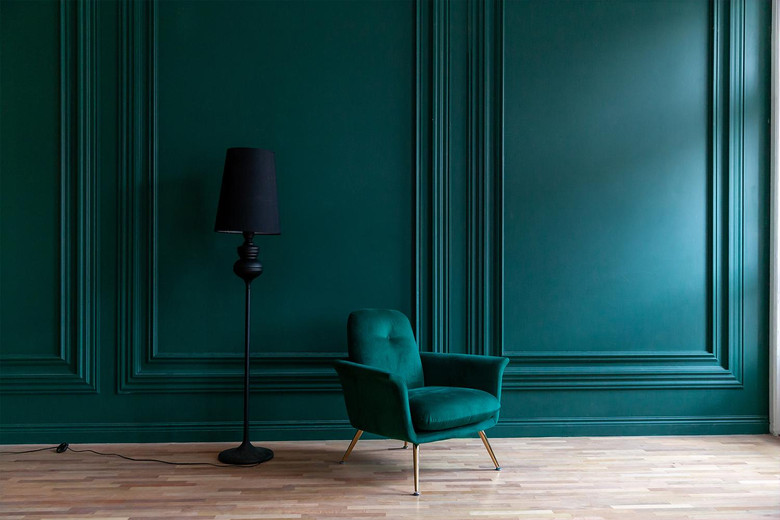 Emerald Green Color Codes
The emerald green color code is #50c878. In a RGB color space, the emerald green color is composed of 31.4% red, 78.4% green and 47.1% blue. Whereas in a CMYK color space, it is composed of 60% cyan, 0% magenta, 40% yellow, and 21.6% black. It has a hue angle of 140 degrees, a saturation of 52.2% and a lightness of 54.9%. Closest web-safe color is: #66cc66. 
The emerald green color has RGB values of R:80, G:200, B:120 and CMYK values of C:0.6, M:0, Y:0.4, K:0.22. Its decimal value is 5294200.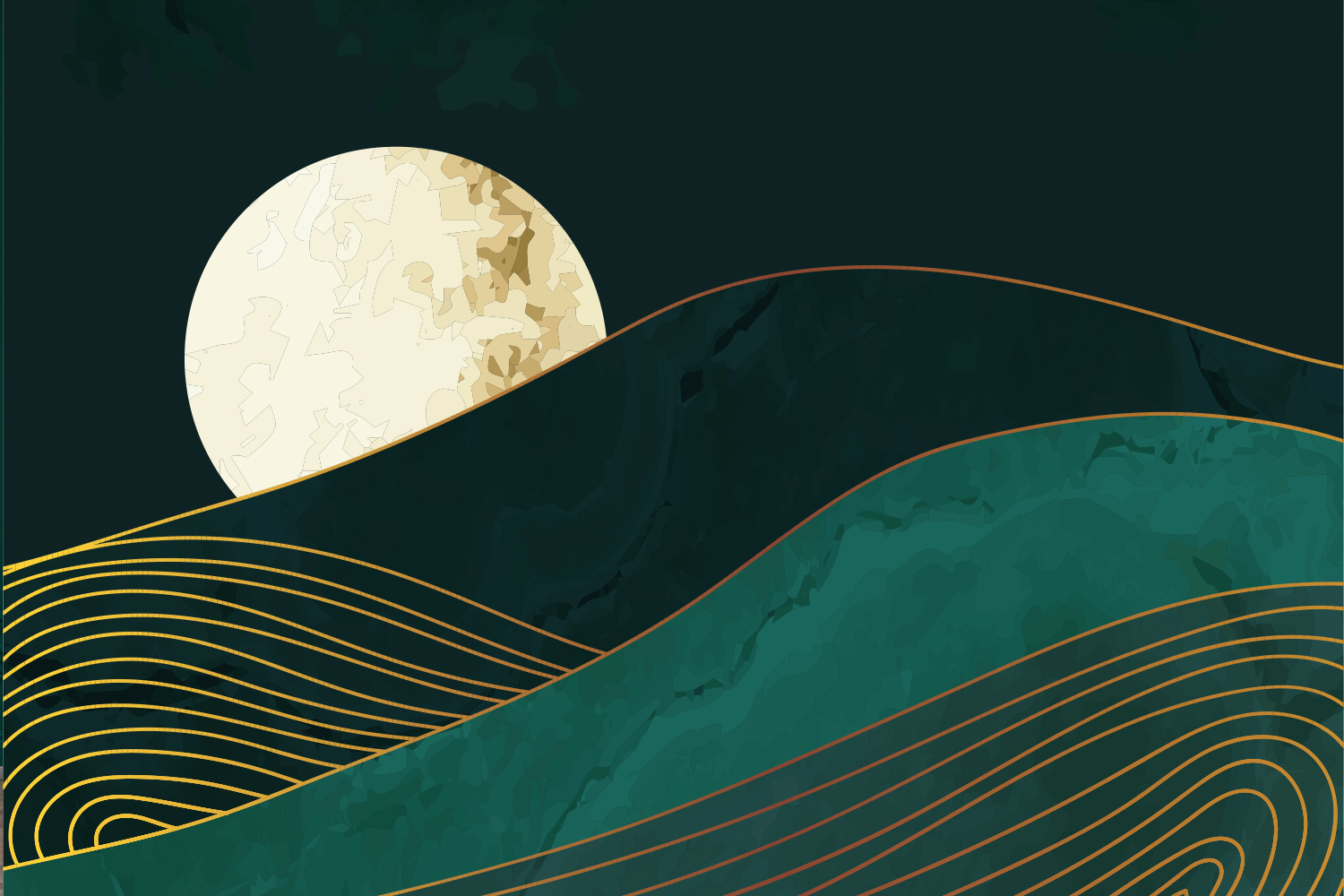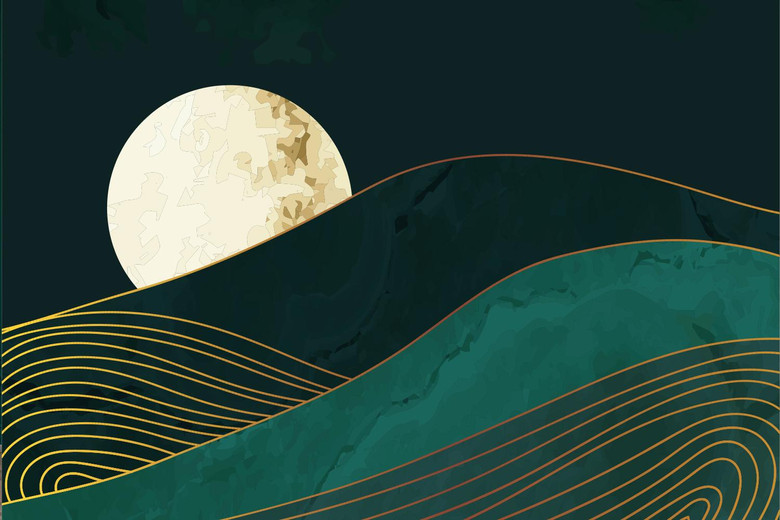 How to Make Emerald Green Color?
According to basic color theory, if you mix yellow with blue, you will get the color between them on the color wheel, which is green.  
The type of green you make depends on which shades of blue and yellow you use and their color bias (the color they lean towards). For example, ultramarine blue leans towards red, while manganese blue leans towards yellow. In theory, cooler yellows have more blue and lean towards green, while warmer yellows have more red and lean towards orange. On the other hand, cooler blues have more yellow and lean towards green, while warmer blues have more red and lean towards violet. An important rule is to avoid mixing three primary colors, i.e. blues and yellows with red bias.
If we're considering how to make emerald green, which has a bluish bias, you need to mix cadmium yellow light and manganese blue. Both of these mixing colors have high saturation and lean towards green. Alternatively, you can mix cadmium yellow and cerulean blue with a bit of white to achieve the brightness of emerald green.
What Colors Go with Emerald Green?
The many subtle tones of emerald green make it a versatile shade that can add a fresh feel or a glamorous vibe to your designs. Add accents of emerald green to a neutral palette for a dramatic feel. Combine emerald green with cerise, bumblebee, aegean sea, and crepe for a chic palette. Or pair it with oranges, yellows, and blues for a nature-inspired, citrus-chic emerald green color scheme. Read on to learn about color pairing and see what colors go with emerald green.
Complementary Colors
:
The complementary color scheme is made up of two colors opposite one another in the color spectrum. Using emerald green color as the base, we see that Mulberry (#c64f9e) is its complementary color (also called the compliment).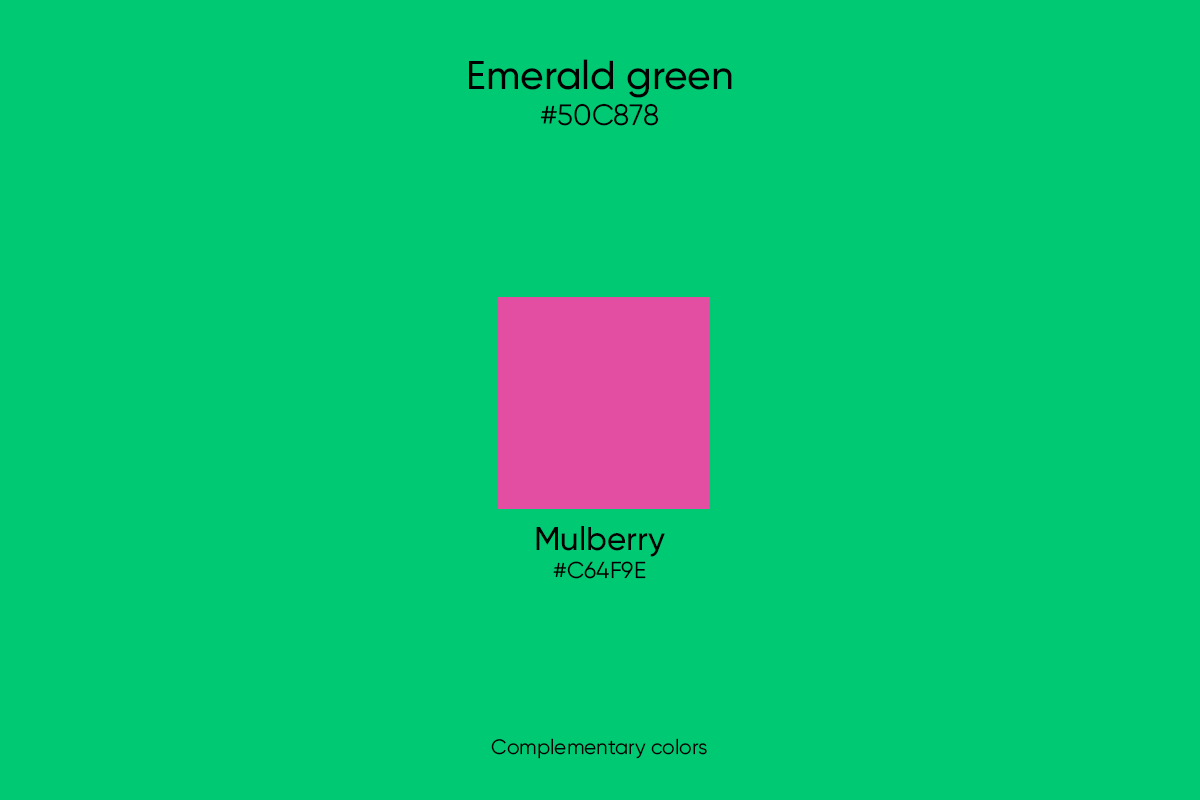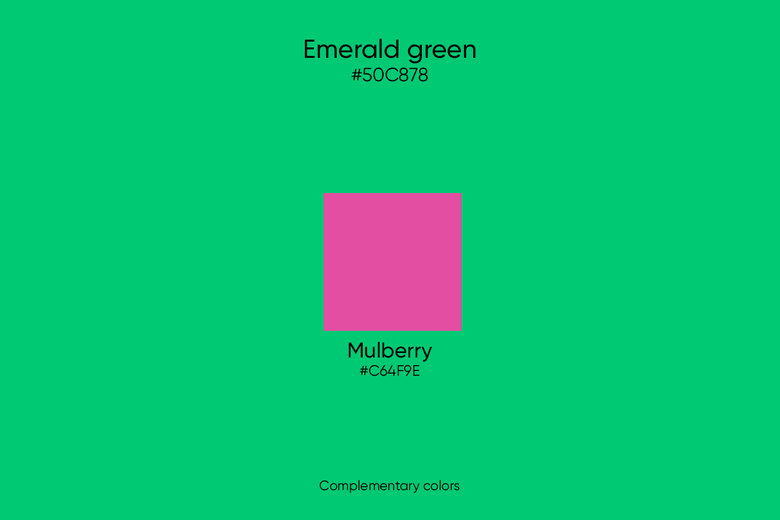 Split Complementary Colors
:
The split complementary color scheme is made up of three colors. Here the base emerald green color is paired with the two colors to the left and the right of the complement color. It offers most of the contrast of the complementary color scheme but without being as intense.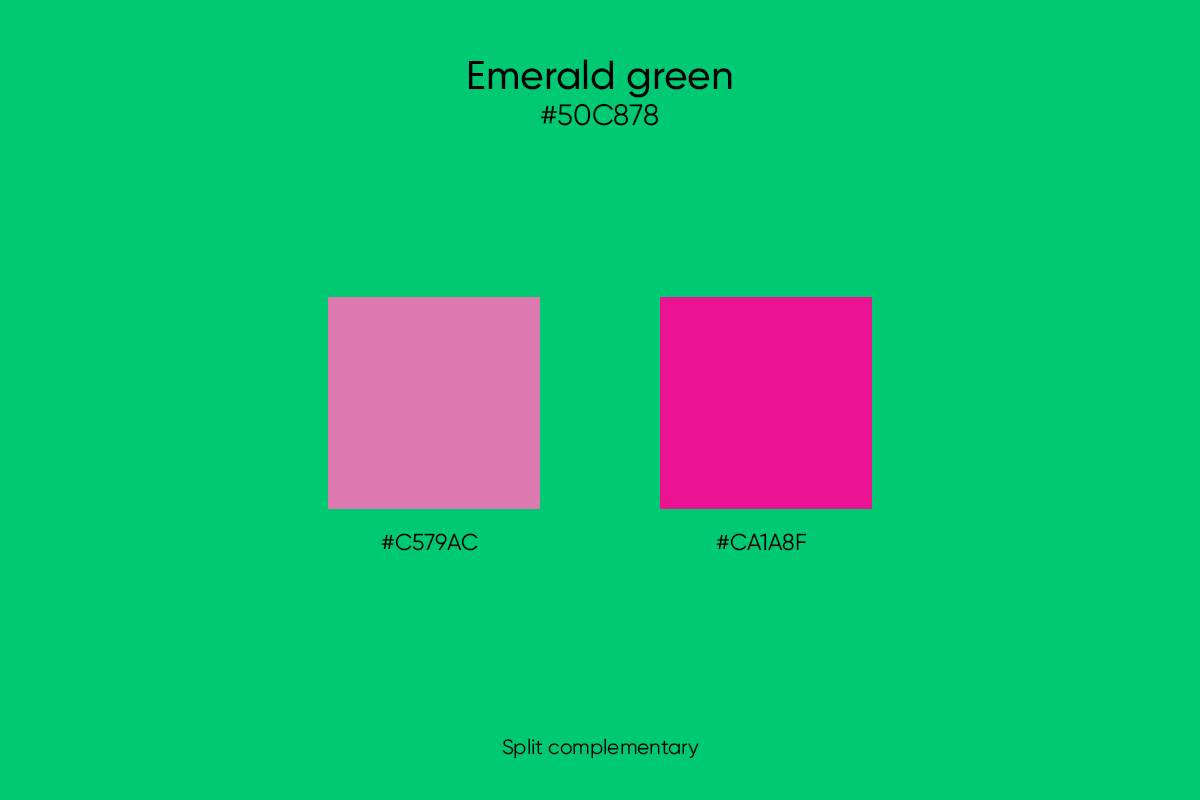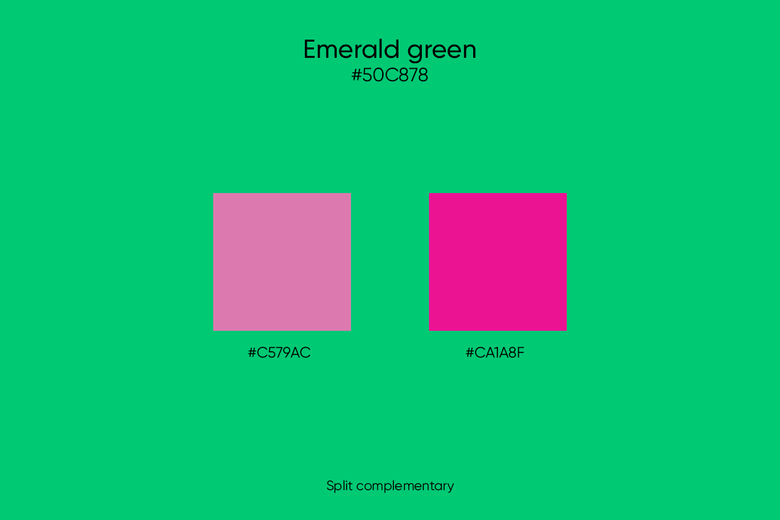 Analogous Colors
:
The analogous color scheme is made up of three colors which are next to one another on the color wheel. Here, the two secondary colors adjacent to the emerald green color are Bayside (#4fc6b2) and Apple (#63c64f).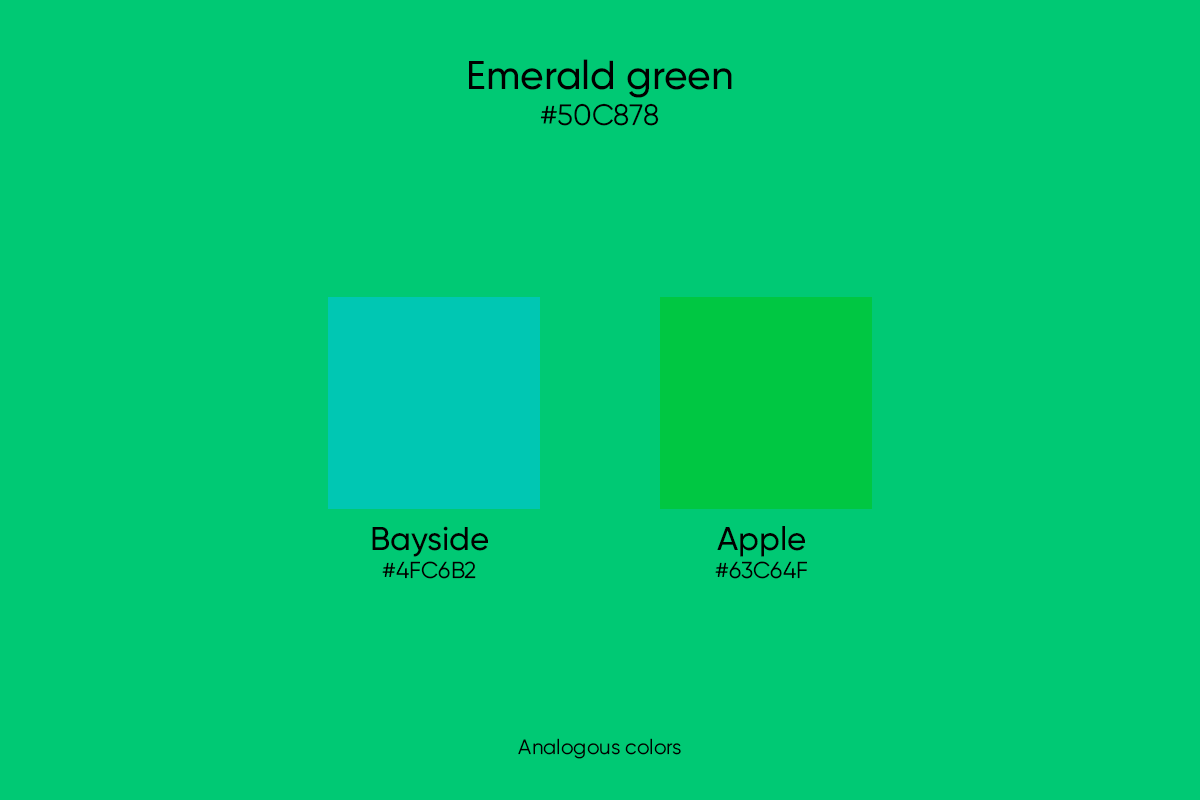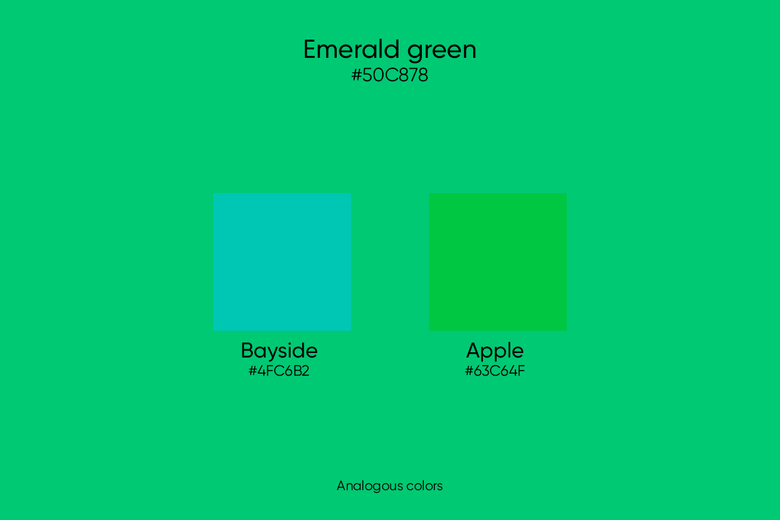 Triadic Colors
:
The triadic color scheme is made up of three colors spaced evenly (120°) apart on the color wheel. The two colors paired with emerald green color are Slate Blue (#774fc6) and Copper Red (#c6774f).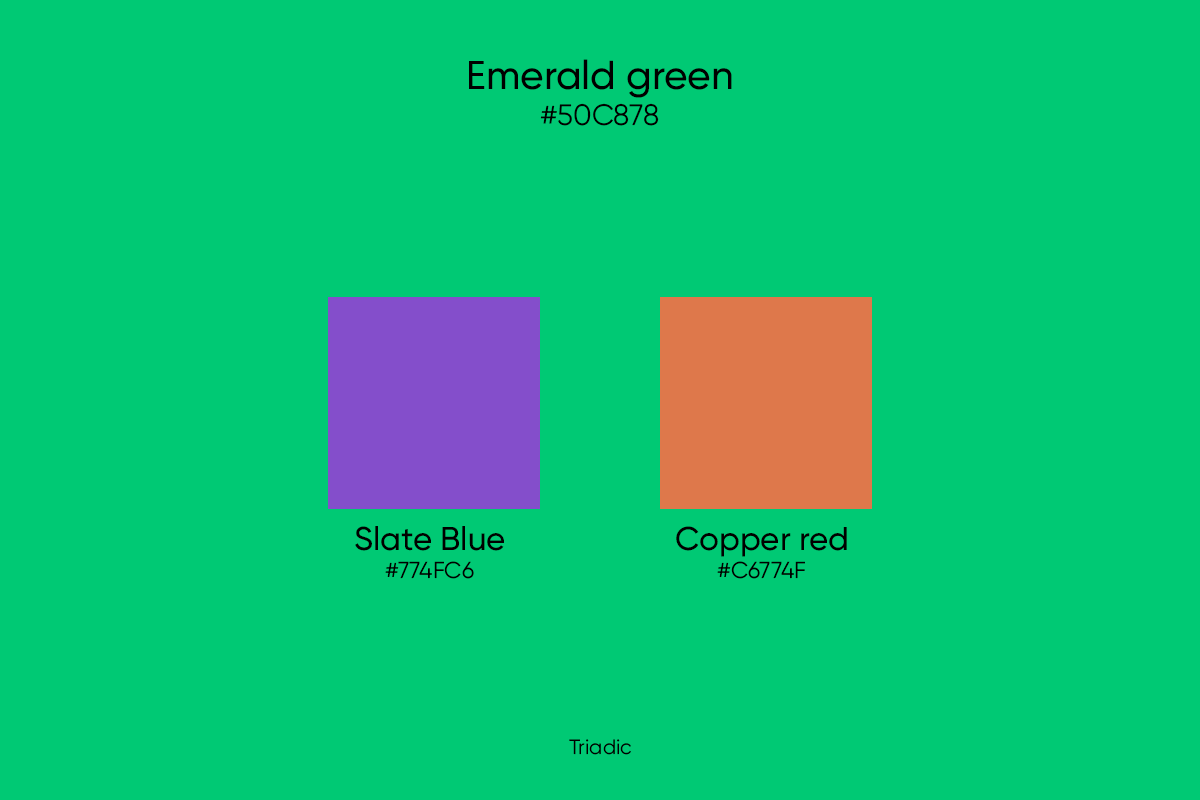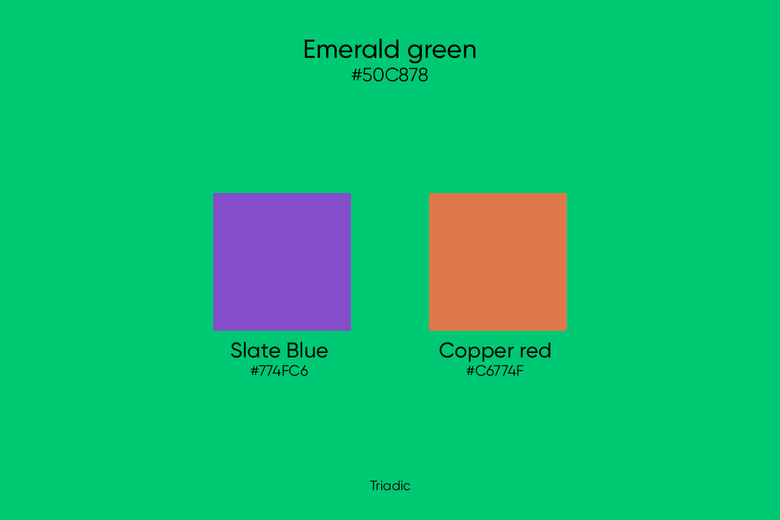 Tetradic Colors:
The tetradic color scheme is made up of four colors spaced evenly (90°) apart on the color wheel. In this scheme, the colors paired with an emerald green color are: Slate Blue (#774fc6); Mulberry (#c64f9e), and Android Green (#9ec64f).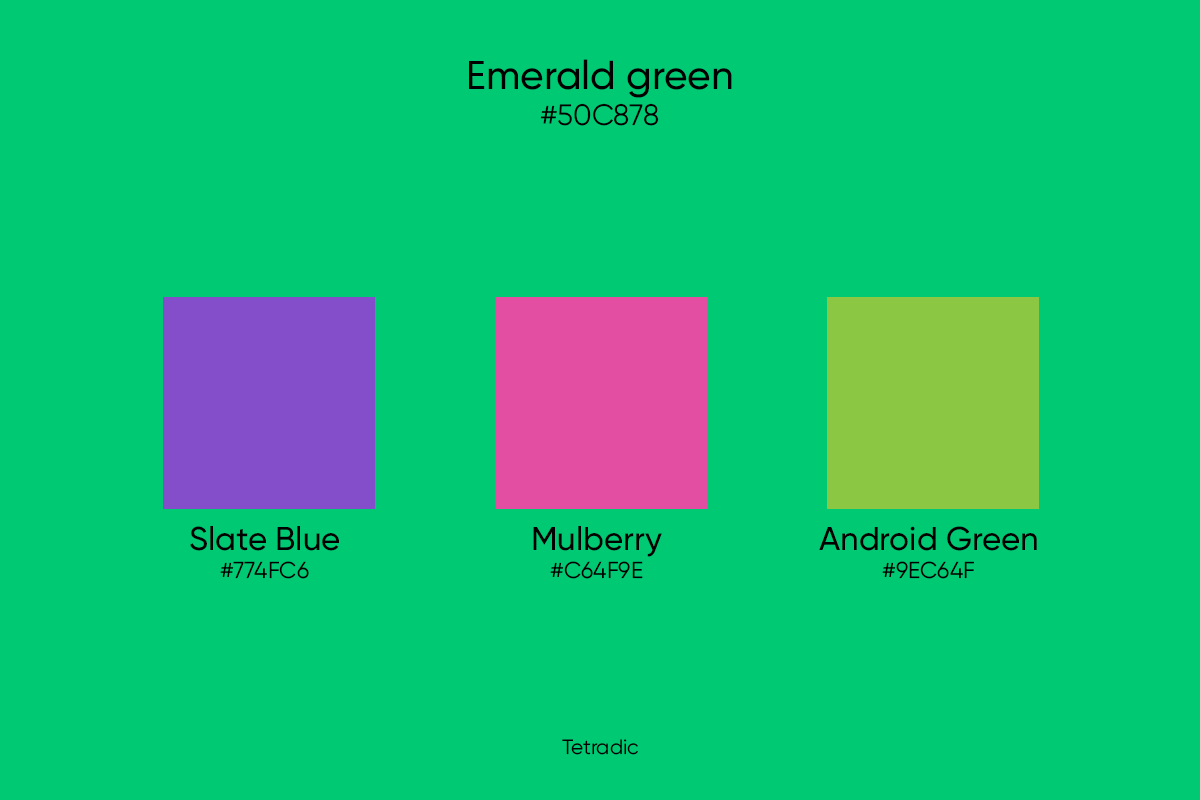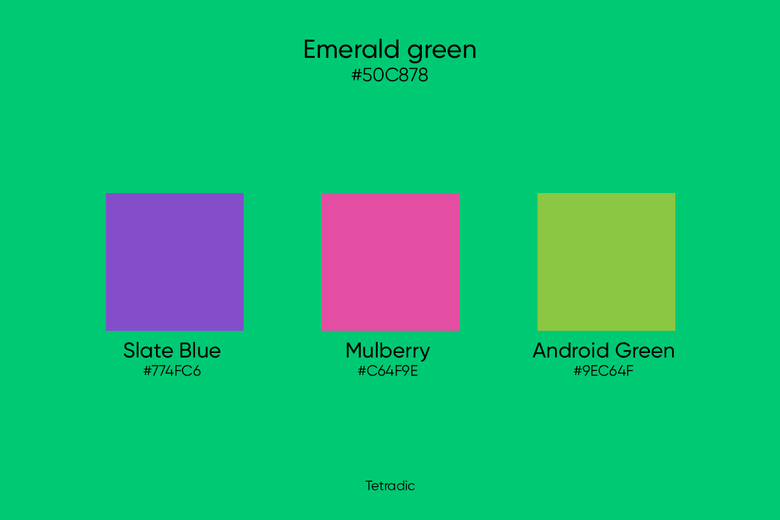 Monochromatic Colors
:
To create a monochromatic color palette, pair an emerald green color with: Sea Green (#319b54); various shades of Medium Sea Green (#37ae5f); tones of Emerald (#50c878); Medium Aquamarine (#77d496); and Eton Blue (#8adaa5).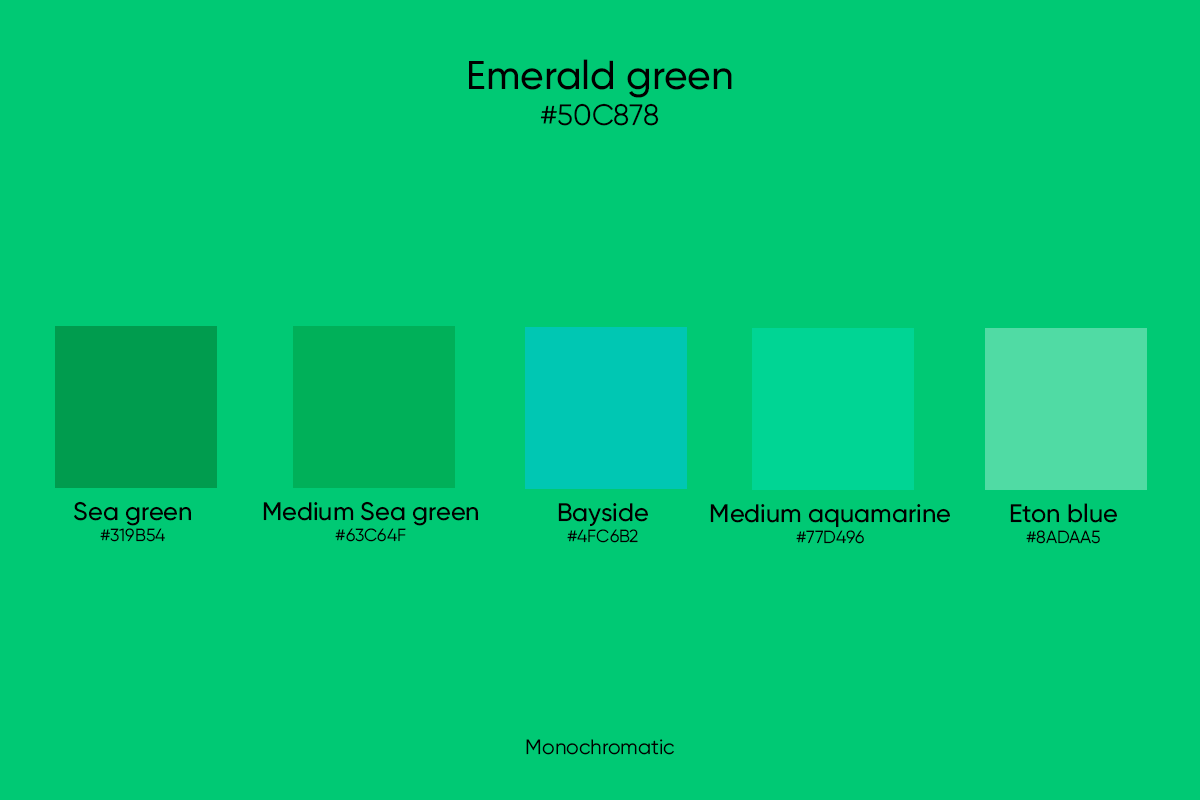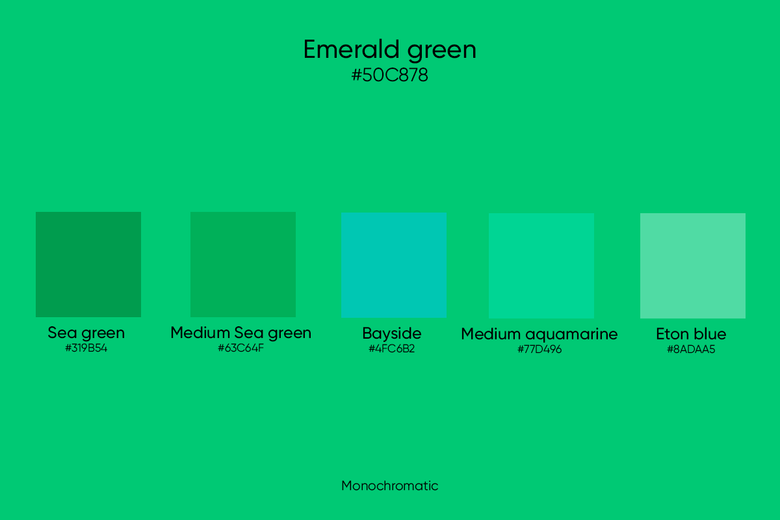 Similar Colors and Shades of Emerald Green
If you don't want to use the exact hue for emerald green, there are plenty of other similar colors to work with. Check out these inspirational alternatives to emerald green color:  
Variations of Emerald (#50c85a), (#50c864), (#50c86e), (#50c878), (#50c882); Ocean Green (#50c88c), (#50c896); Web Forest Green (#1B842C); and Medium Sea Green (#3AAB58). We also like Teal Green as an alternative shade.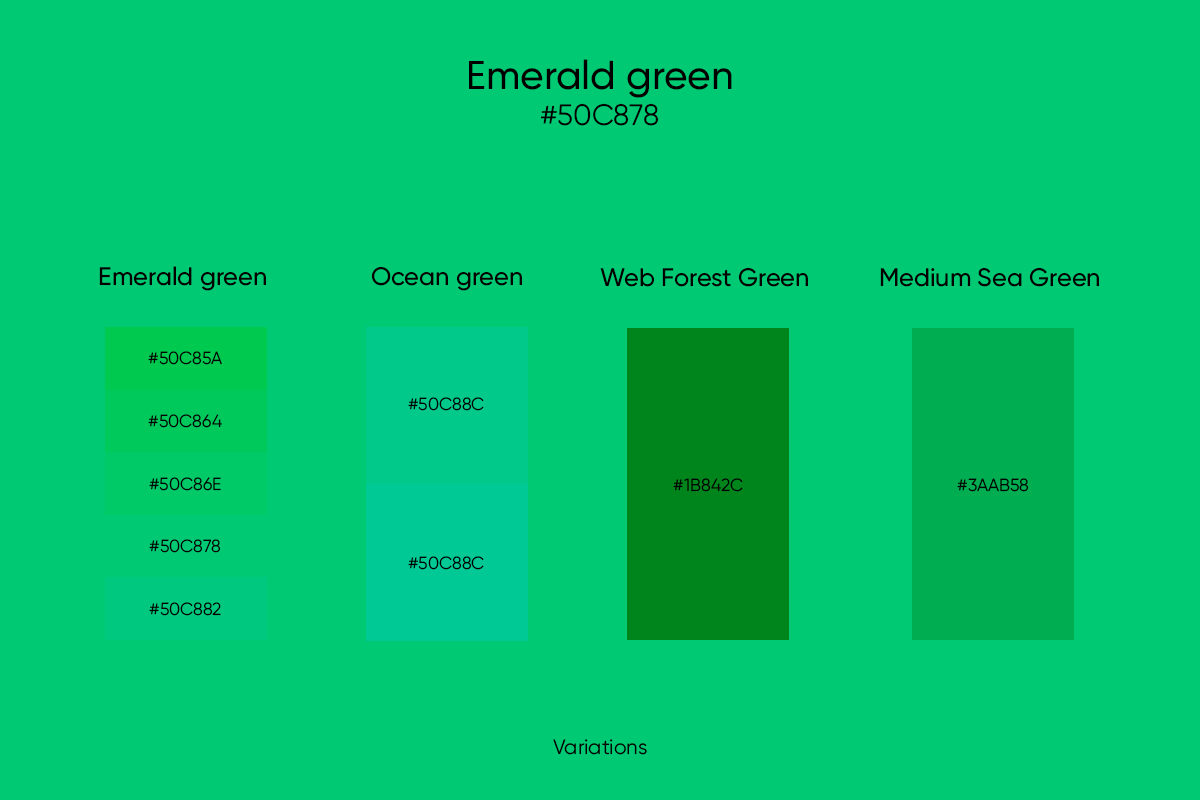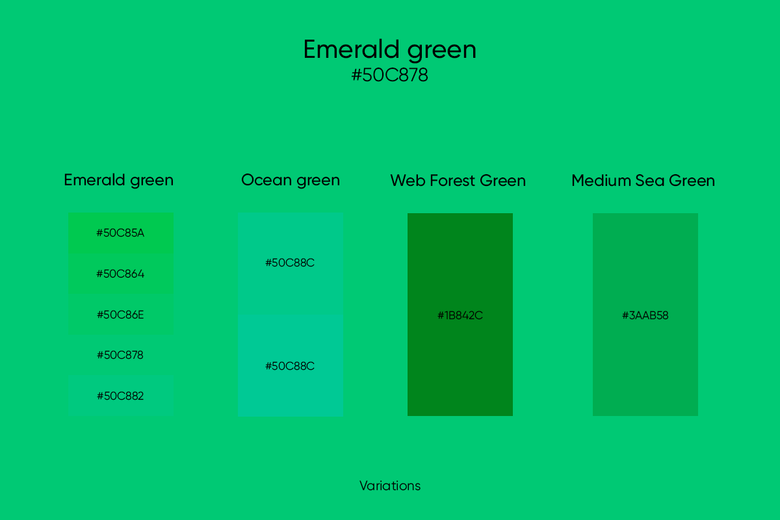 Did you know that a shade is achieved by adding black to any pure hue? Consider using Medium Sea Green (#3ab763) as a shade of Emerald Green. If you go too far in one direction though, you'll end up with a hue that's more black than green.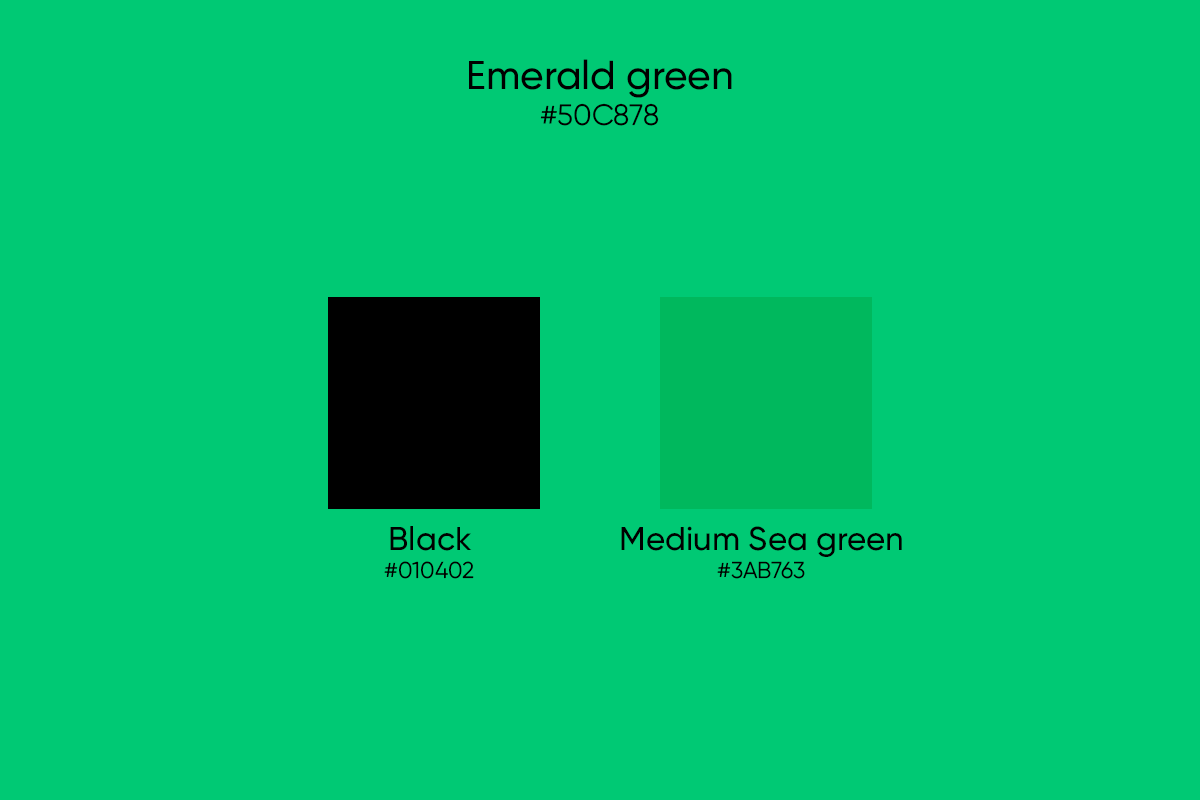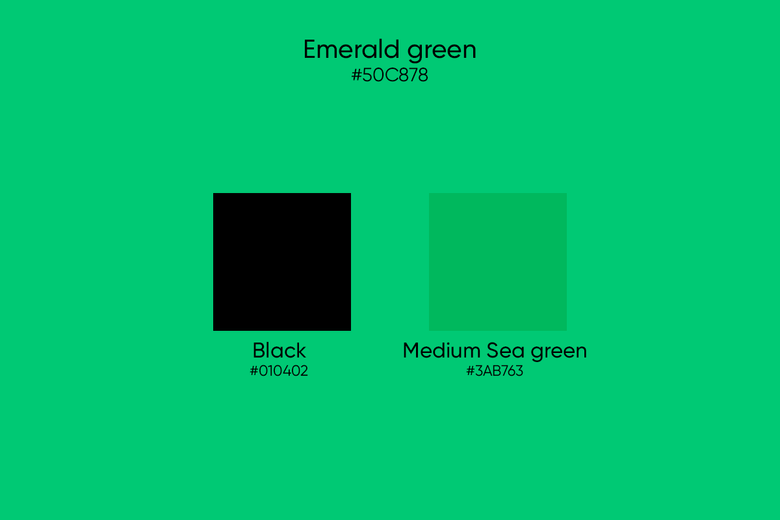 If you're making a monochromatic color scheme, these similar colors might work well: Ocean Green, Medium Sea Green, Slate Blue, and Eton Blue.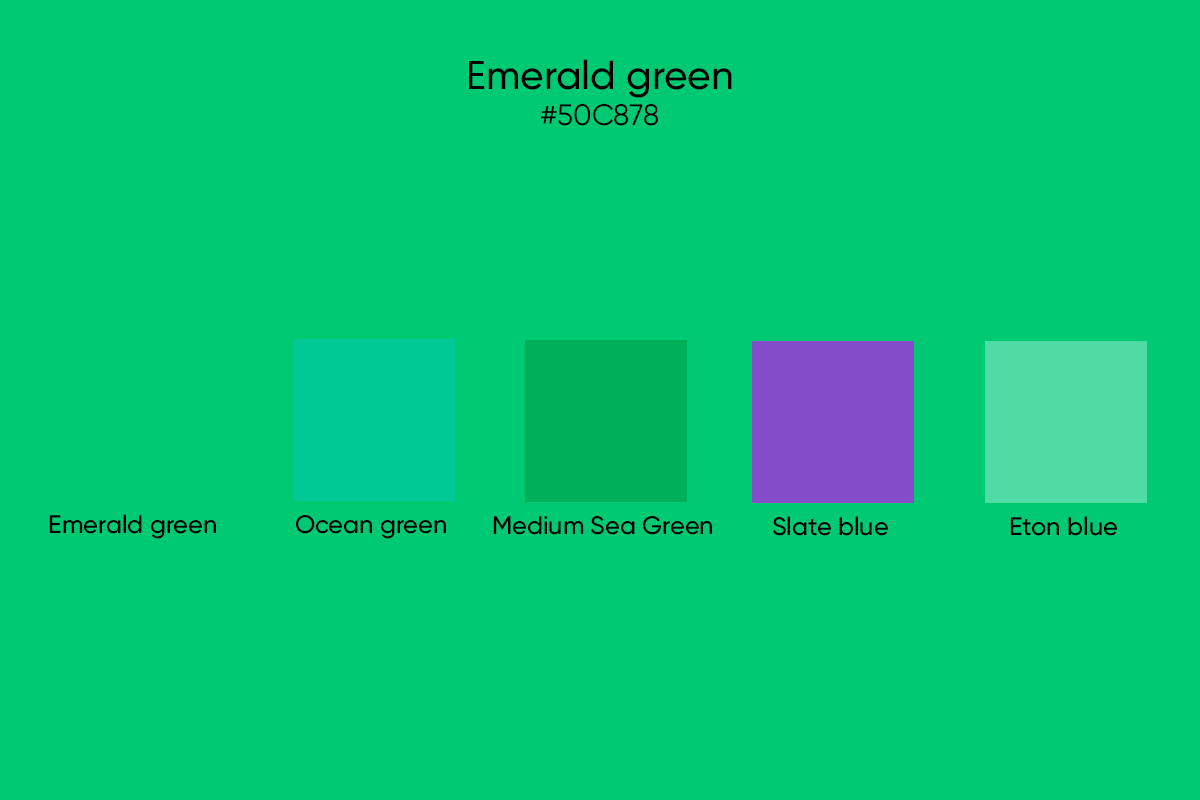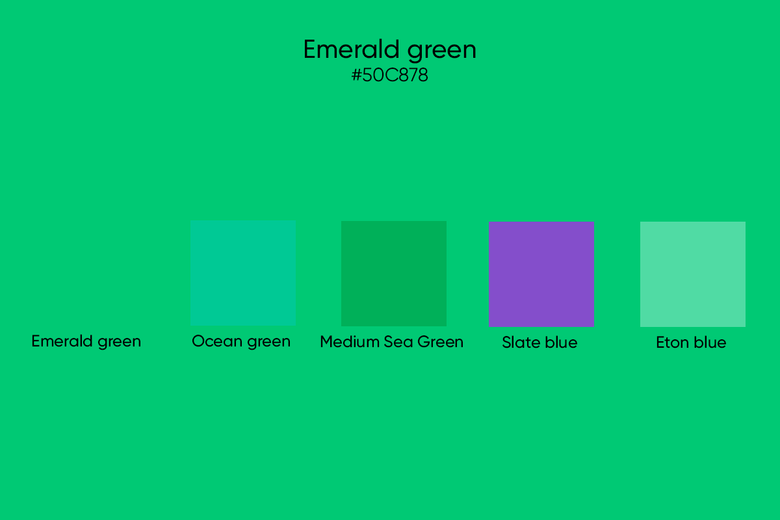 Pro tip: most of these shades of green are great options when considering color pairings for Mardi Gras designs. 
Create Fantastic Photos Using this Color
Now that you know all about the emerald green color, it's time to start designing with it in Picsart.
On the Web
1) Open the web editor and click to start a new project. Today, we're going to show you how to make a green poster, so click on Layout in the left Editor toolbar and select Poster to get a preset poster canvas size.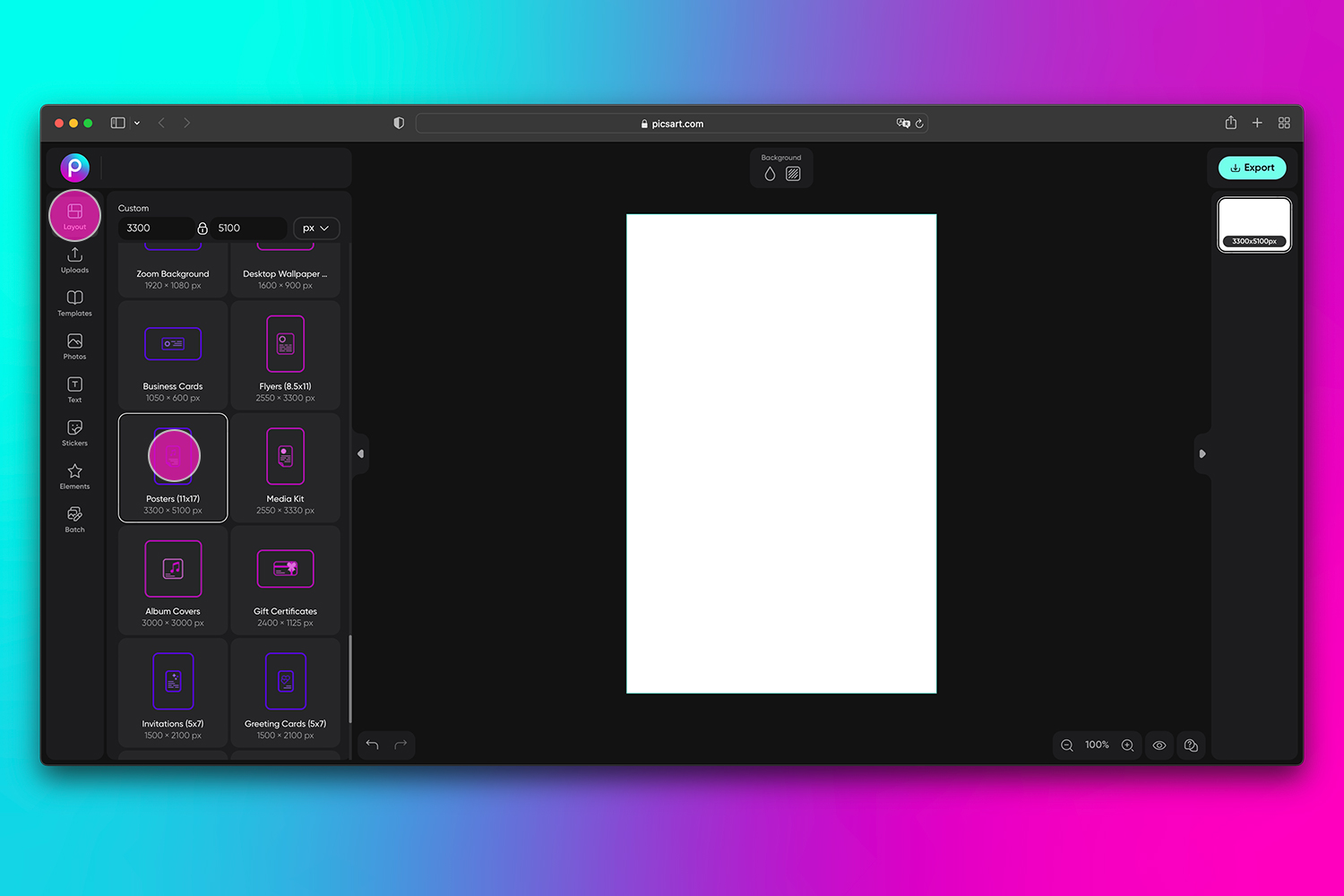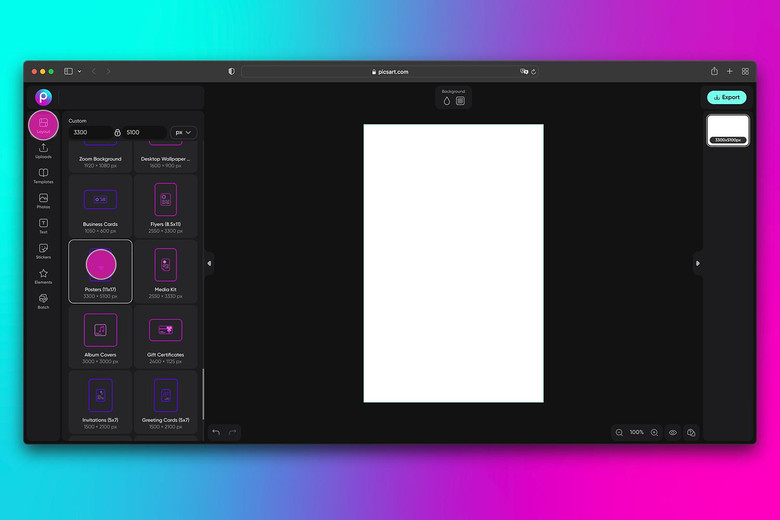 2) Let's set the background color for your poster. Select Elements, then use the color dropper in the top toolbar to pick an emerald green shade. You can either eyeball the shade you want or type in the exact hex code.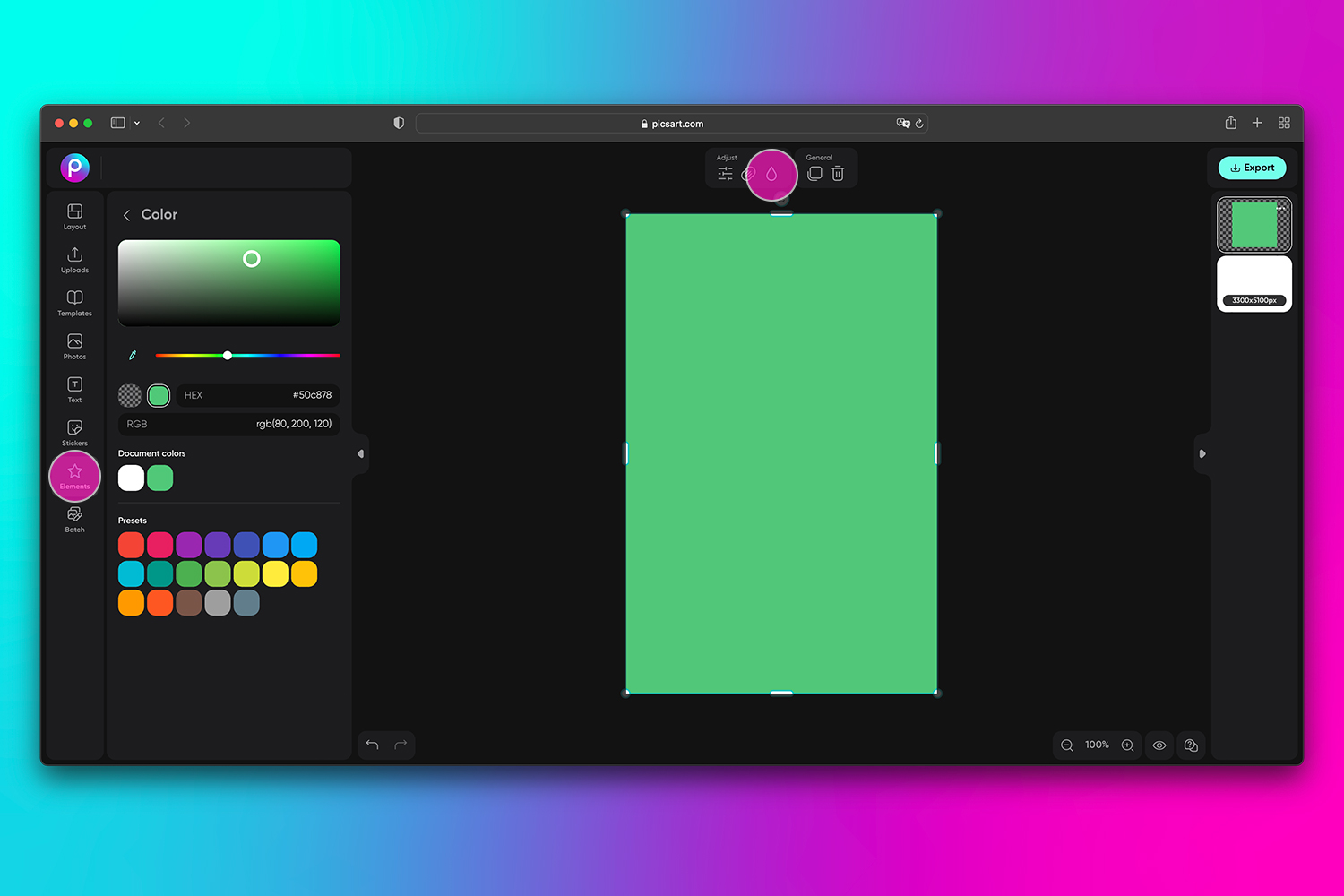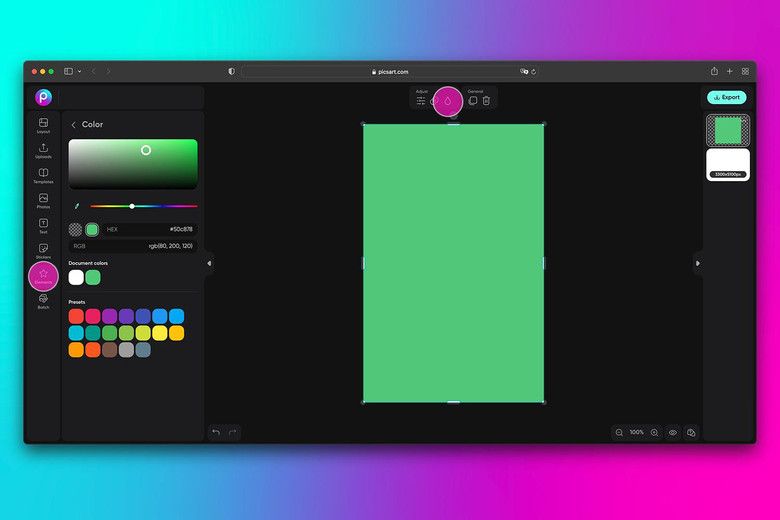 3) Click on the Text icon to open up the text tools. Select a heading size (you can always change it later), then type in your copy. You can select different fonts, change the color to complimentary color for emerald green, adjust opacity and more.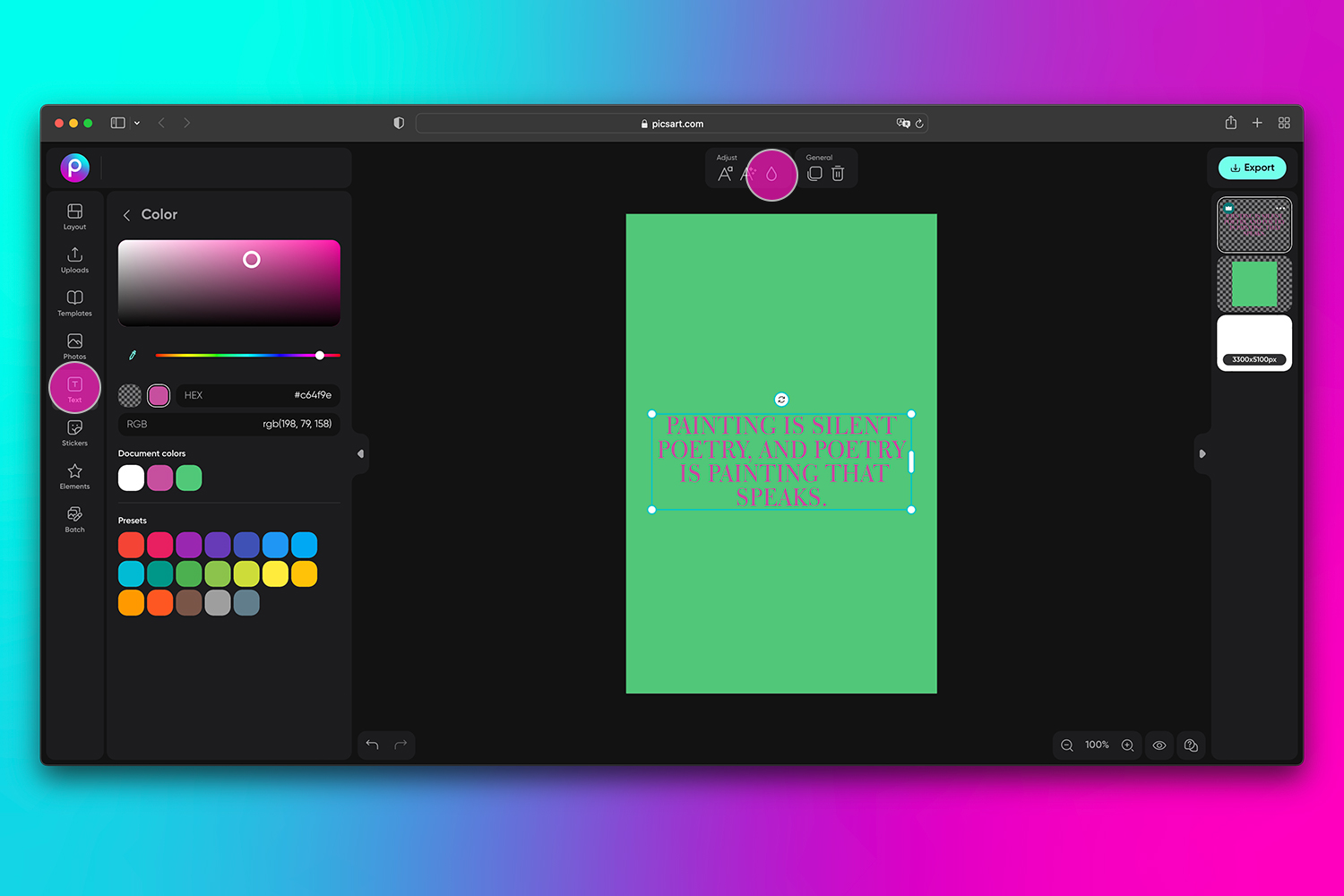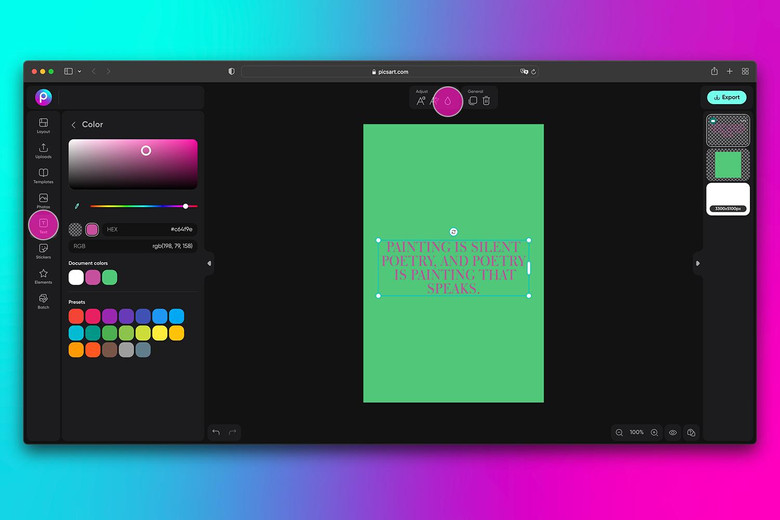 4) Add any additional design elements you like, such as Stickers, Shapes, filters, and more. Here we added some white floral elements, which compliment the nature feel of the emerald green background.
When you're done with you edit, select Export, name your file, select the file size, and download to your device.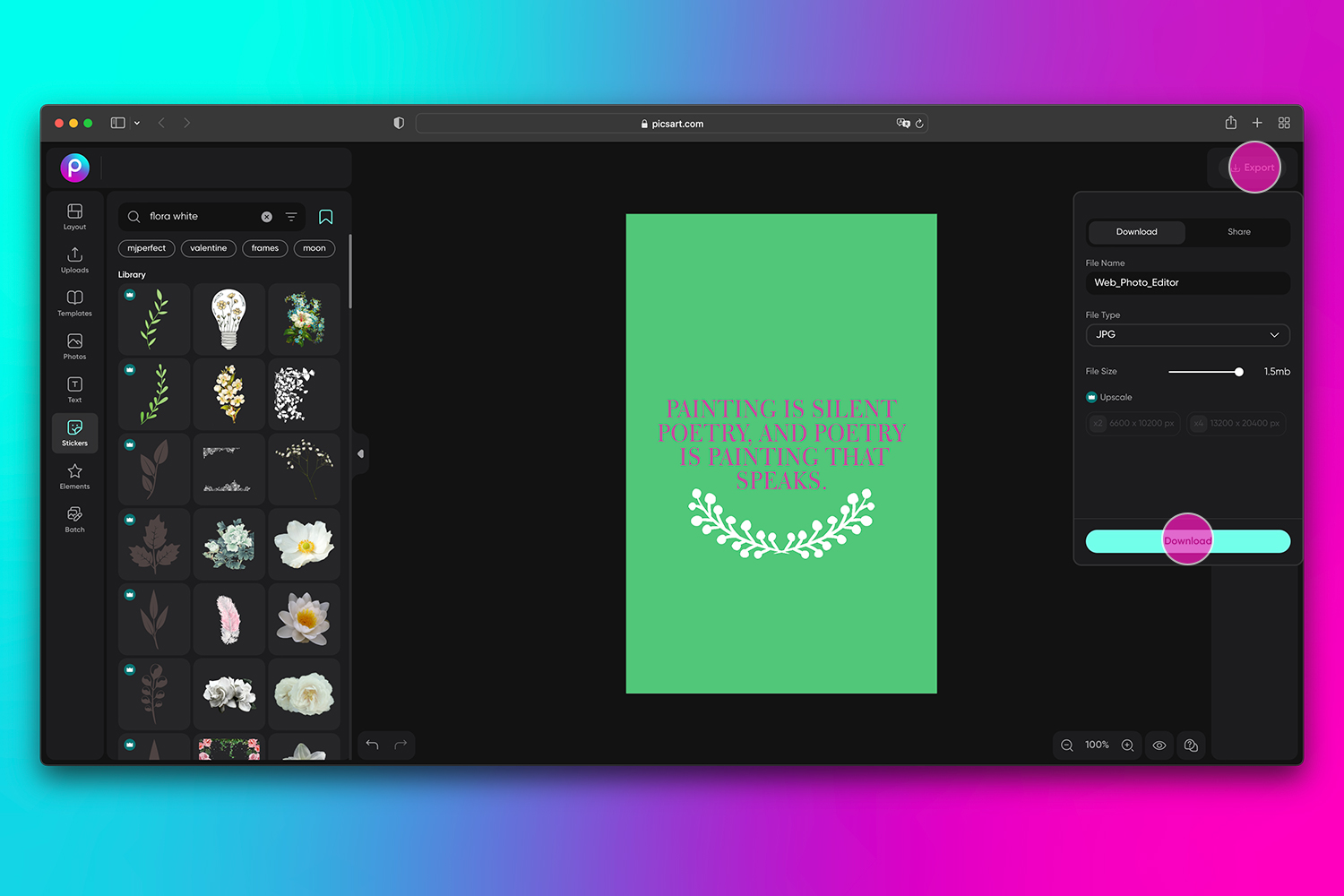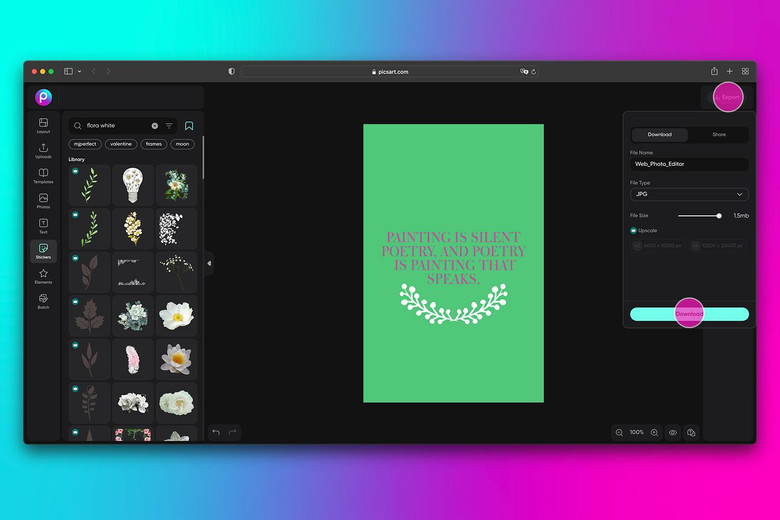 On the App
If you prefer to edit on mobile, here's how to make an emerald green design in the Picsart app:
1) Open the Picsart app and tap on the plus sign (+) at the bottom of the screen to start a new project. 
2) Tap on Color Backgrounds, then More in the Backgrounds section and then select an emerald green color using the color wheel. You can also type in the above-mentioned emerald green color code (#50c878) to create an exact emerald green background.
Pro tip: If you're designing for a specific platform, tap on Ratio in the Editor Toolbar to select the right canvas size.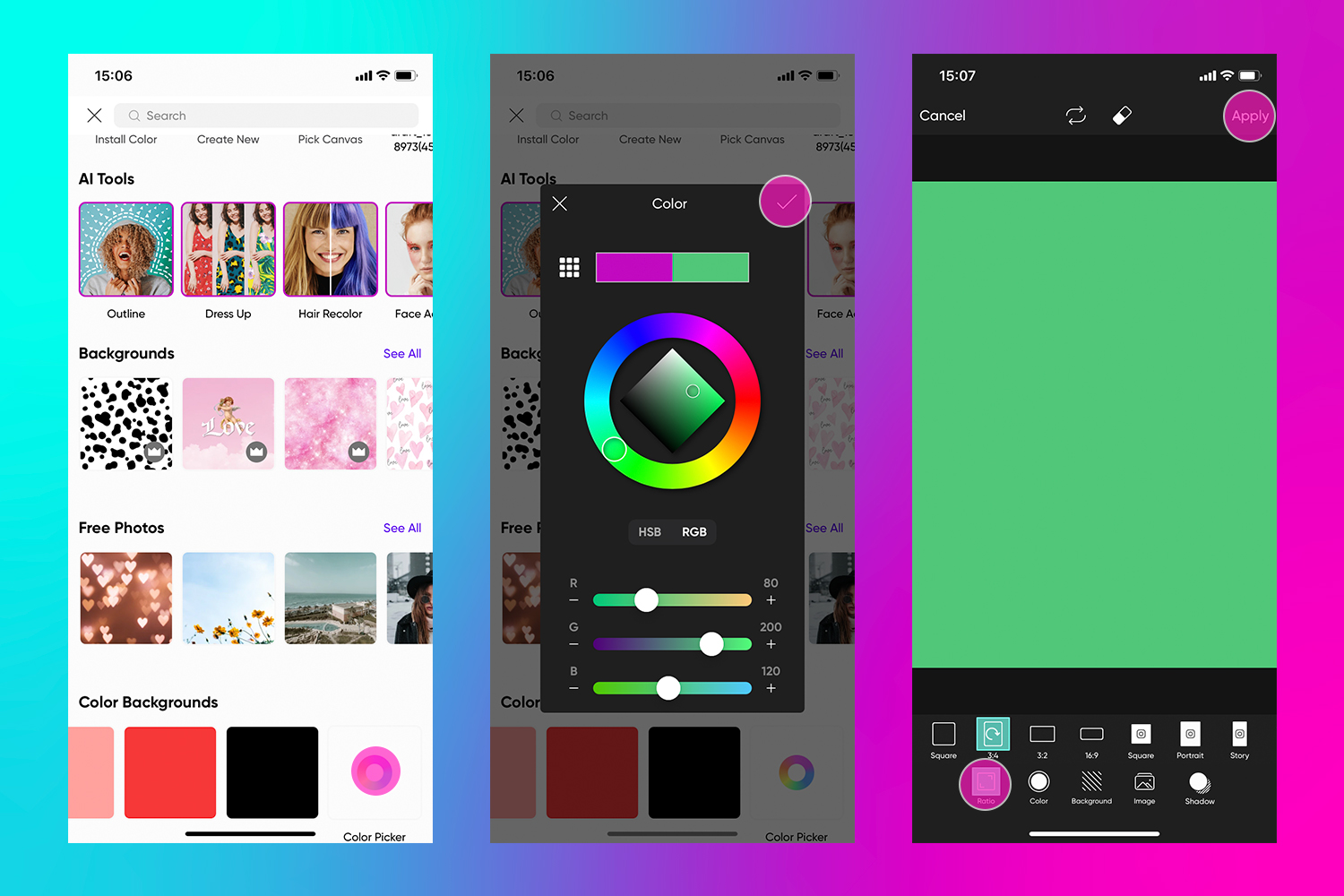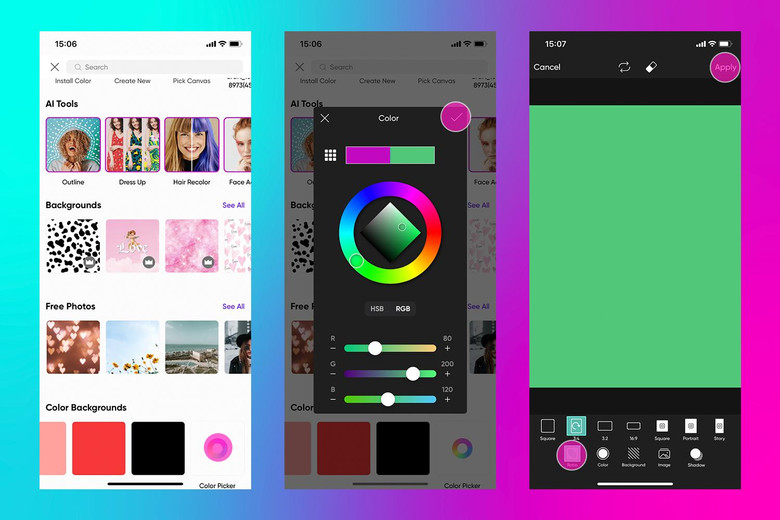 3) Scroll across the Editor toolbar on the bottom of your screen and tap on Text. Type your text, select a font, change the font color or text styles, and more. 
4) Continue to design your flyer by adding in Stickers, Brushes, Masks, and more. When you're done, tap on Next, then save and share your final edit.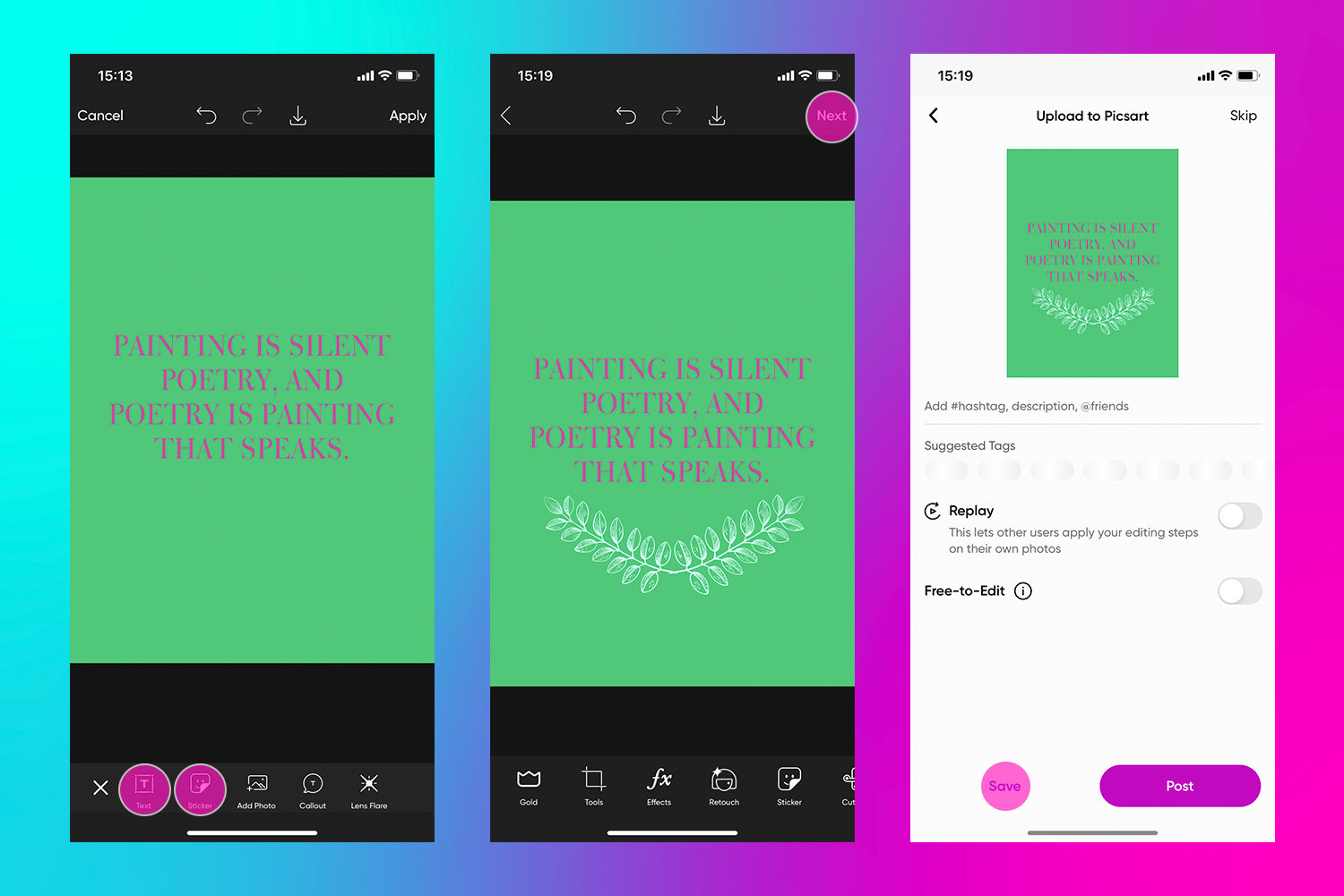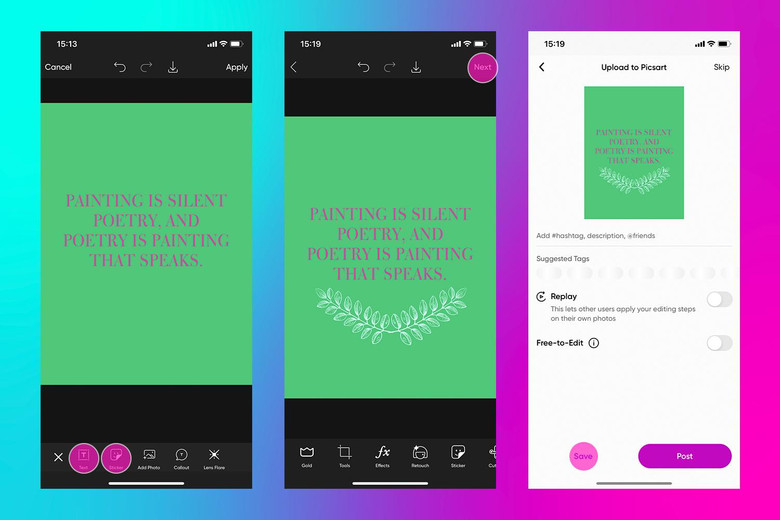 Picsart is a full ecosystem of free-to-use content, powerful tools, and creator inspiration. With a billion downloads and more than 150 million monthly active creators, Picsart is the world's largest creative platform. Picsart has collaborated with major artists and brands like BLACKPINK, Taylor Swift, the Jonas Brothers, Lizzo, Ariana Grande, Jennifer Lopez, One Direction, Sanrio: Hello Kitty, Warner Bros. Entertainment, iHeartMedia, Condé Nast, and more. Download the app or start editing on web today to enhance your photos and videos with thousands of quick and easy editing tools, trendy filters, fun stickers, and brilliant backgrounds. Unleash your creativity and upgrade to Gold for premium perks!