You may think of Instagram as a place to post vacation photos and keep an eye on what your favorite celebrities are up to, but it's also a great tool for businesses. It's an especially strong tool if you have a product you want to market. In this article, we'll look at how to promote a product on Instagram and convert leads into sales. As a business owner, you have a solid sense of your brand and products and how you wish to present them. But, we can all benefit from learning the best practices of platforms that are relatively new. So, read on to learn more about the best way to promote products on Instagram.
Why Promote a Product on Instagram?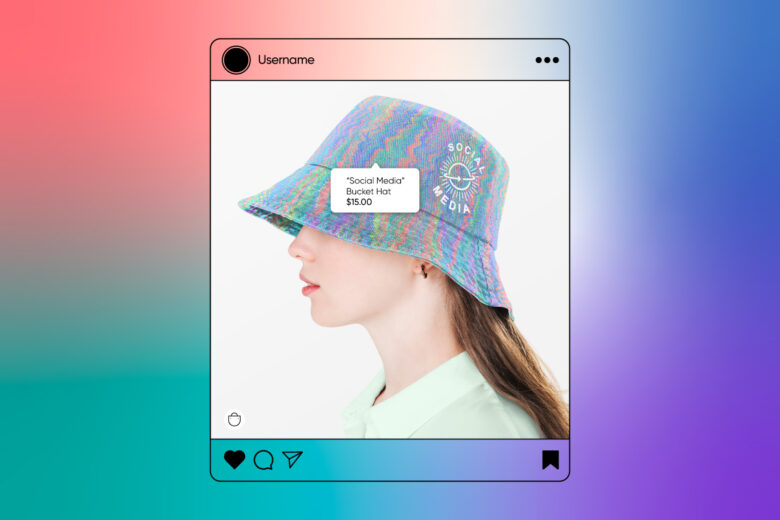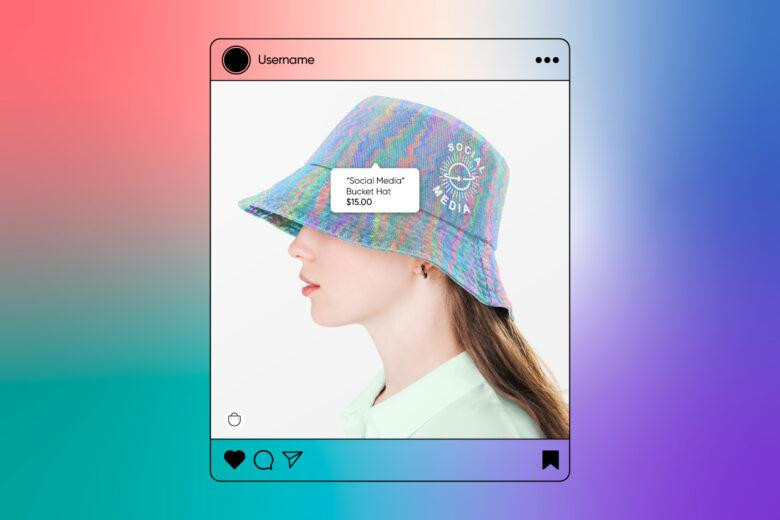 People don't just go to Instagram for the pictures. Nowadays, they go for videos, stories, reels, and lives, too. This means that, on Instagram, you have a variety of visually-appealing ways of promoting your products. So why not get creative and show off your product in innovative ways?
Instagram is also a powerful tool for expanding your reach. By using the right hashtags, for example, you can get information on your product to new audiences. You can benefit from organic mentions (people talking about your brand naturally in their posts helps a lot) and more strategic moves like running an influencer campaign to show your products off.
What Benefits Can Promoting Products on IG Have for Small Businesses?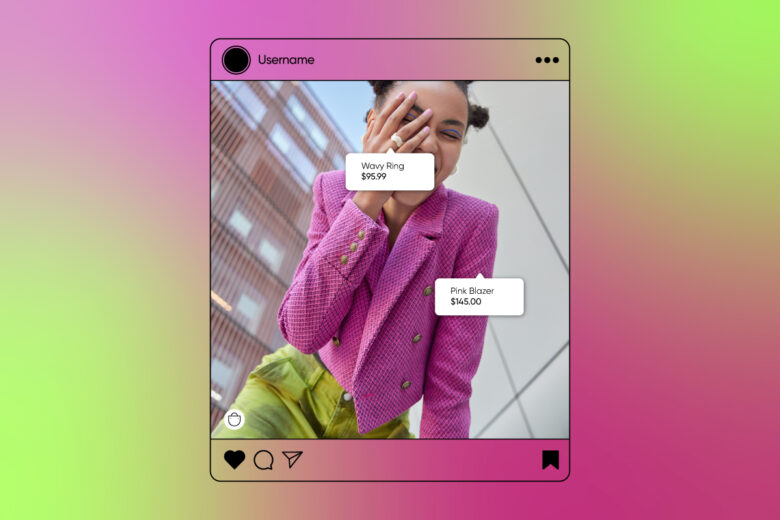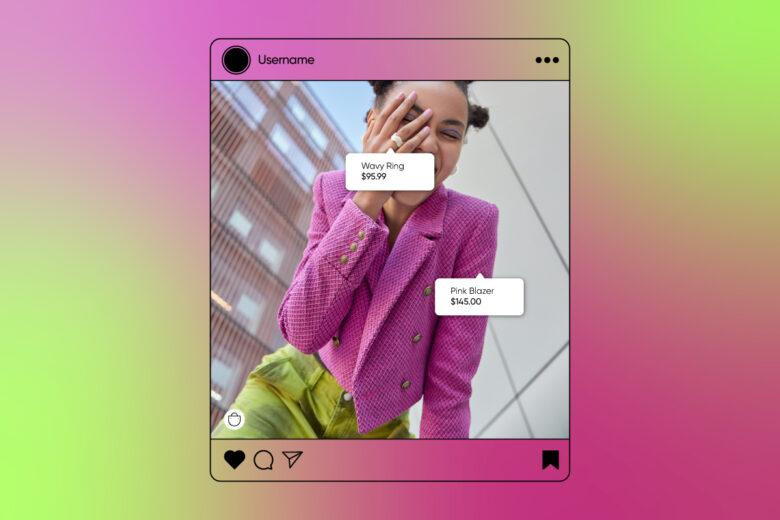 It's not just huge corporations with hefty advertising budgets that are successful on Instagram. Let's look at a few benefits of using this social media application to propel your small business. These should help you spur sales on Instagram.
Increase your brand awareness: Brand awareness refers to an audience's intangible familiarity with your brand. It's a kind of know-it-when-they-see-it interaction with your company's products and services. Instagram can help you build this presence as you reach more and more followers over time.
Drive traffic to your website: Instagram provides opportunities for users to click through to your content. You can add shop links in IG stories that will take viewers straight to your e-commerce site. You can put your URL in your Instagram bio, too. If you're just starting out and don't yet have a web presence, you can learn how to sell on Instagram without a website, but as long as you have products to sell, prioritize getting that e-comm site up and running.
Take advantage of visuals: Remember above when we said that people don't just come to the app for pictures? Let's qualify that statement: people come for the visuals, whether photos, videos, or reels. This can work to your advantage as a small business with a product to sell, as you can create attractive posts and video content with the help of an app like Picsart. You don't even need to hire a graphic designer.
How to Promote a Product on Instagram Without Paying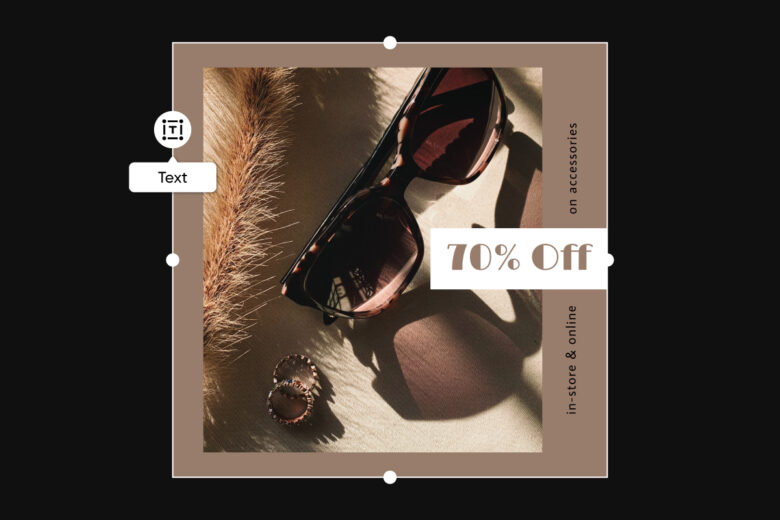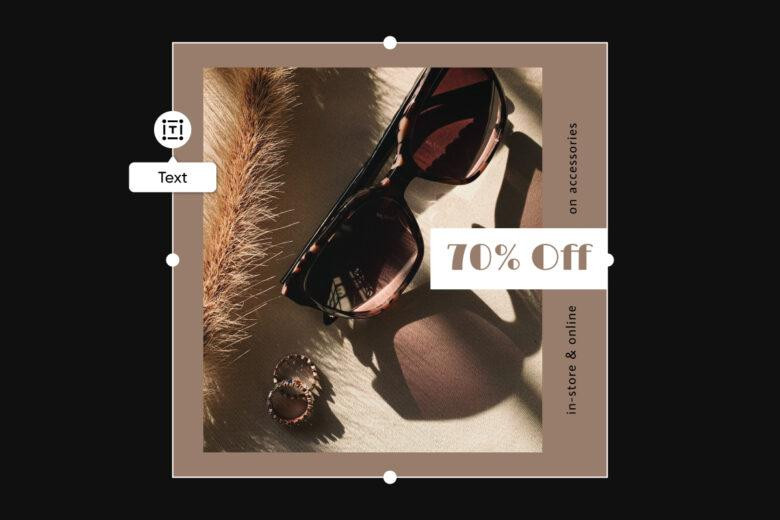 While there are paid marketing options on social media, you can use your Instagram account to promote new products without spending anything at all. Here are some tips for doing it well:
Use hashtags: They'll help you reach your target audience.
Be consistent: Stick to your brand's color scheme and aesthetic in all posts.
Use all the tools available: Don't just post pictures. Use video, story, and even livestream tools, such as IGTV.
Highlight what people are saying: Take advantage of those reposts and organic mentions from your audience. You can highlight user content about your products in stories, for example, to show other Instagram followers that there's interest in your brand.
Put in some work: One trick for getting organic leads is to follow users who may be interested in your content. You'll want to read up on how to do this delicately and non-invasively, but for certain small brands, this tactic actually works because users feel a connection (which they might not with a big brand).
8 Tips for Selling on Instagram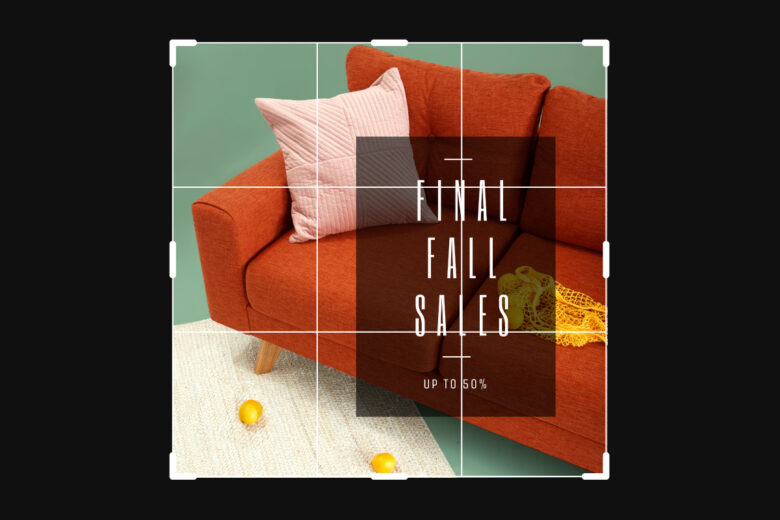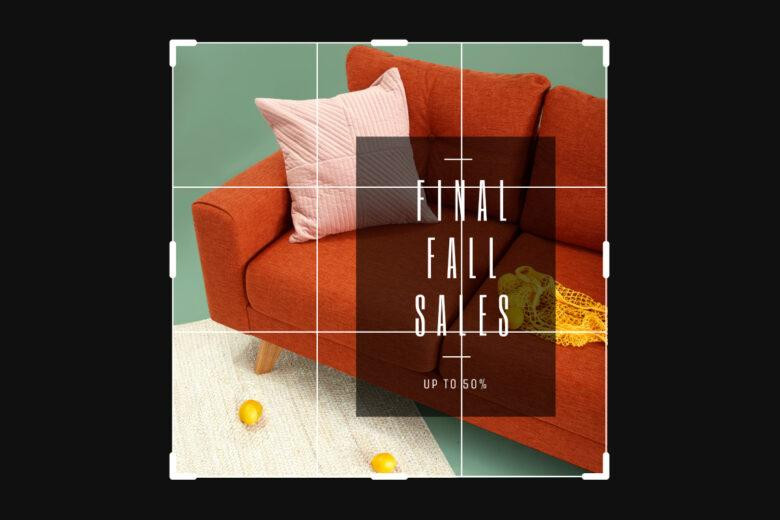 By now, you're likely getting an idea of how to market products on Instagram and forming a strategy in your mind. But, here are some last-minute tips.
Post content often.
Post high-quality content.
Make sure your Instagram feed doesn't look sparse.
Stay consistent with your branding.
Make a bio that represents you well.
Don't be afraid to show off the same product several times (maybe change the angle though).
Get users to interact with giveaways and other calls to action (CTA).
Check analytics (even if you don't have a special tool, you can gauge engagement rates by looking at likes and interactions).
Do some influencer marketing (if you don't have much cash, offer to pay the Instagram influencer in product).
If you have marketing funds, consider investing in an Instagram ad for an initial boost.
How to Improve your Product Photos with Picsart
Now you know how to promote a product on Instagram, but there's a few more tips to share before you go. You can use Picsart photo editing tools to perfect your posts and create an Instagram marketing strategy that sells itself. If you need a helping hand, use Picsart Instagram templates for inspiration and customize them however you want. To design from scratch, let the following simple steps be your guide:
On the Web
1. Open the Picsart web editor, and from Designing For, choose Instagram. Then, from the pop-up menu, choose the type of shape post you'd like to make (i.e. feed post or story, etc.)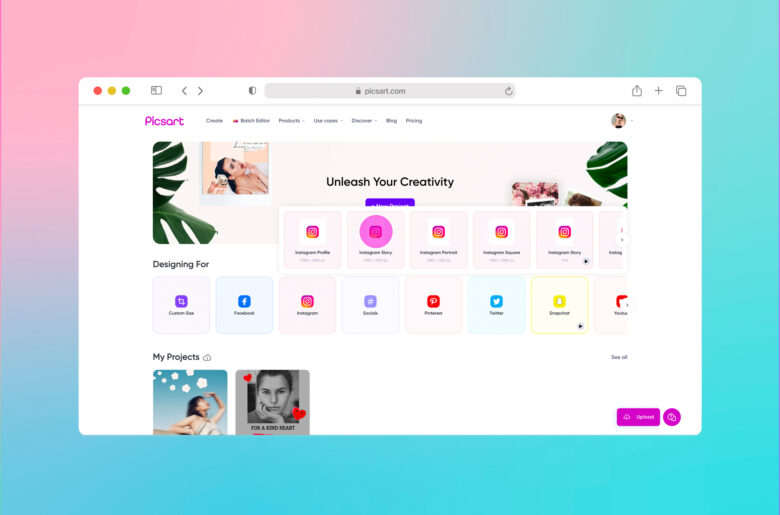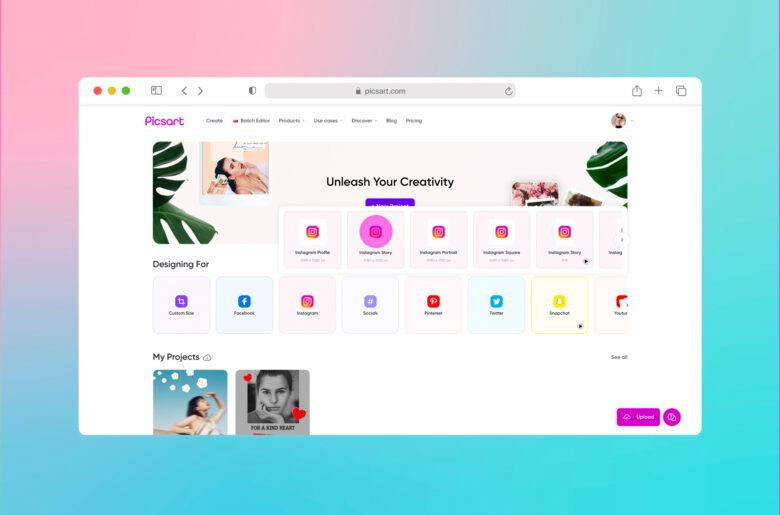 2. For this tutorial, we've used the Templates tool. Use the search bar to find one that works for your needs and personalize it to your specification.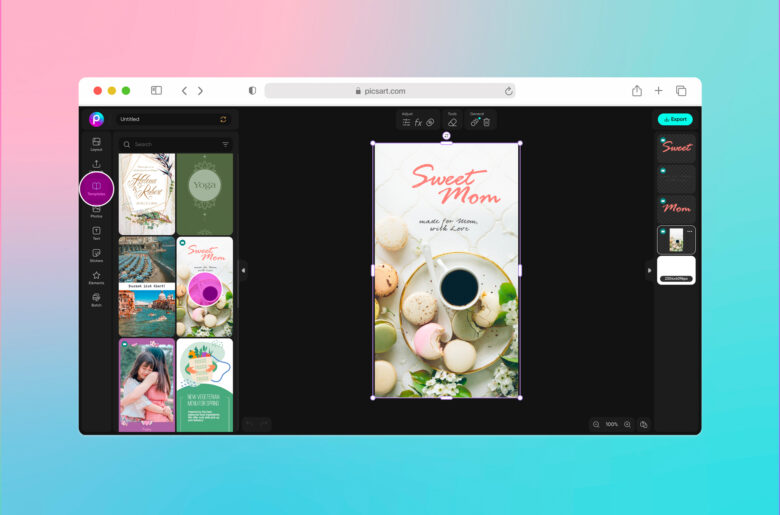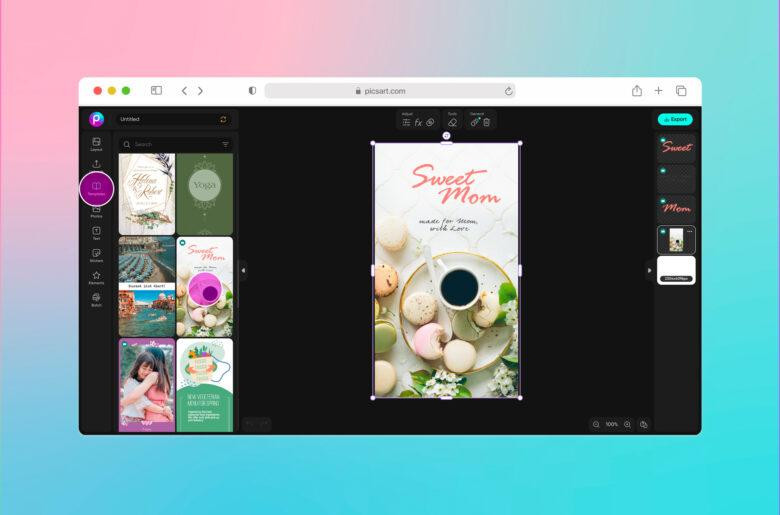 3. Whether you're using a template, or designing from scratch, you can customize your ad with elements like photos, stickers, and text. If you simply want to post a photo, just add it to your canvas by using the Upload tool, and then use the sliders in the toolbar above the image to adjust elements like brightness, contrast, and shadows.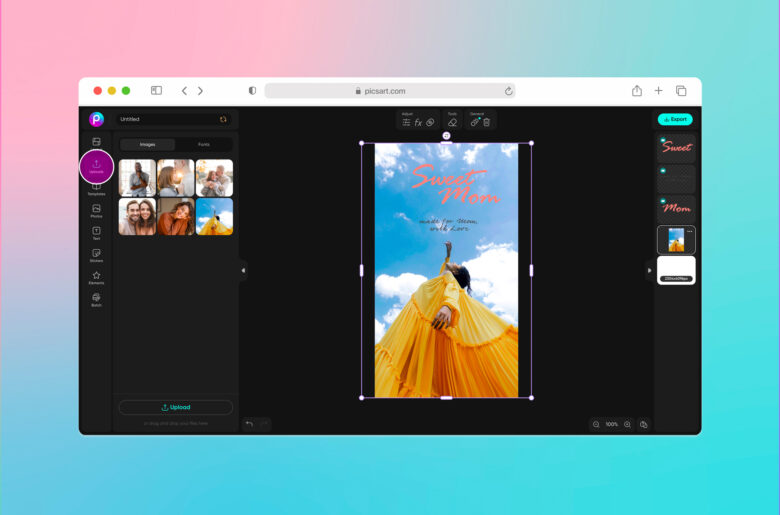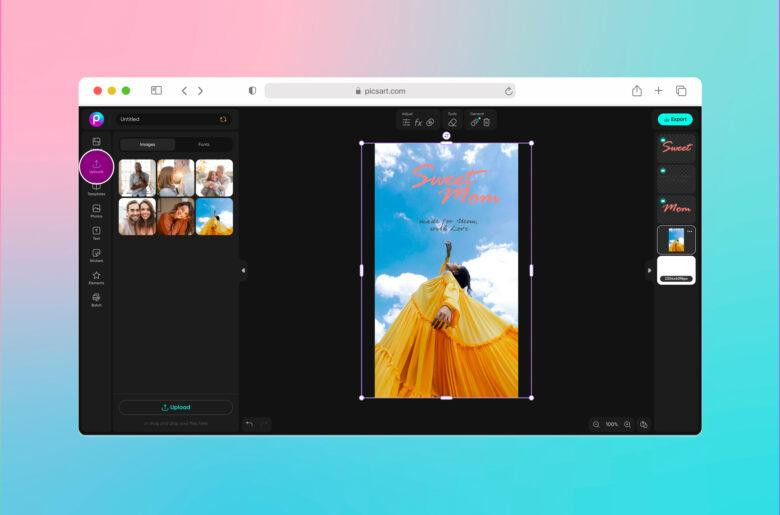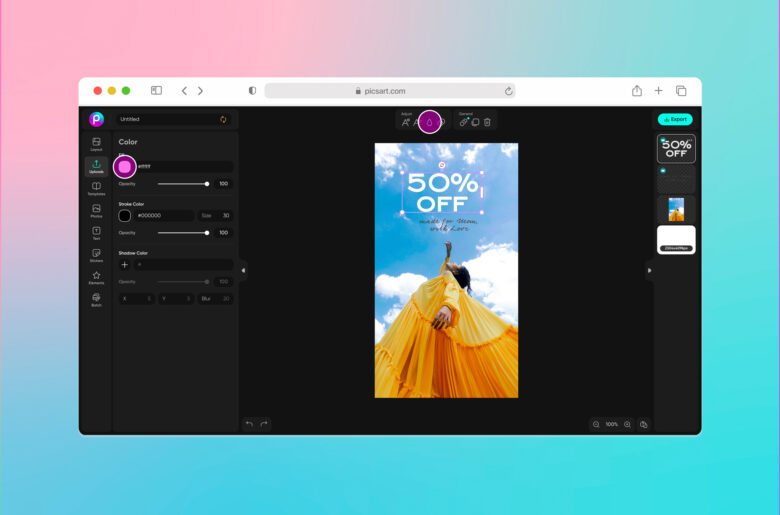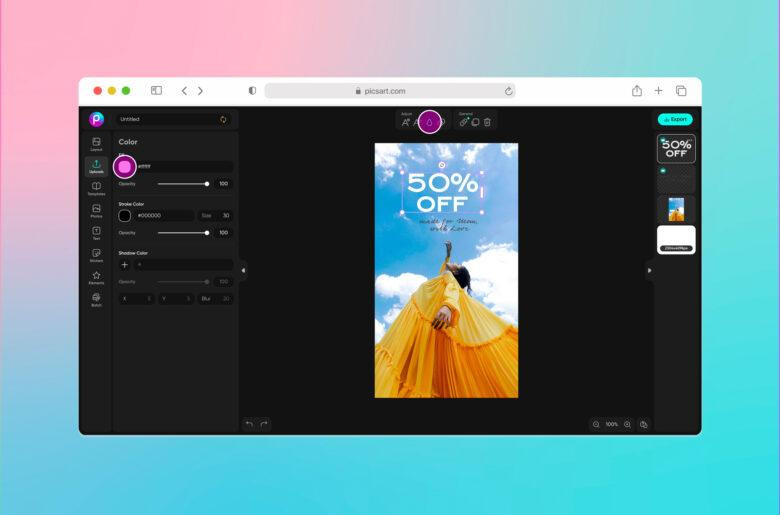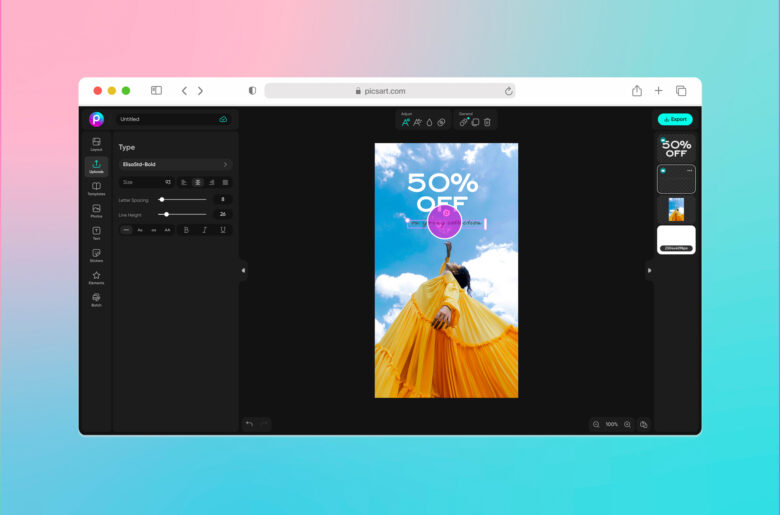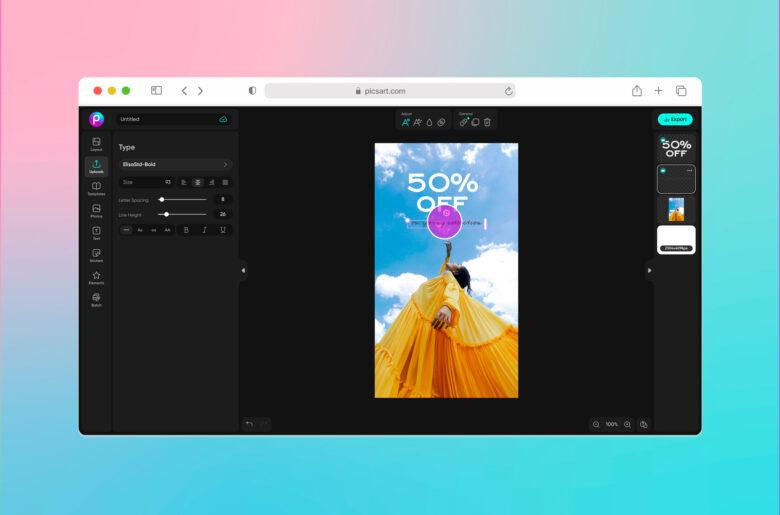 4. When you're satisfied with your edits, download your photo using the Export button in the upper right-hand corner of the screen.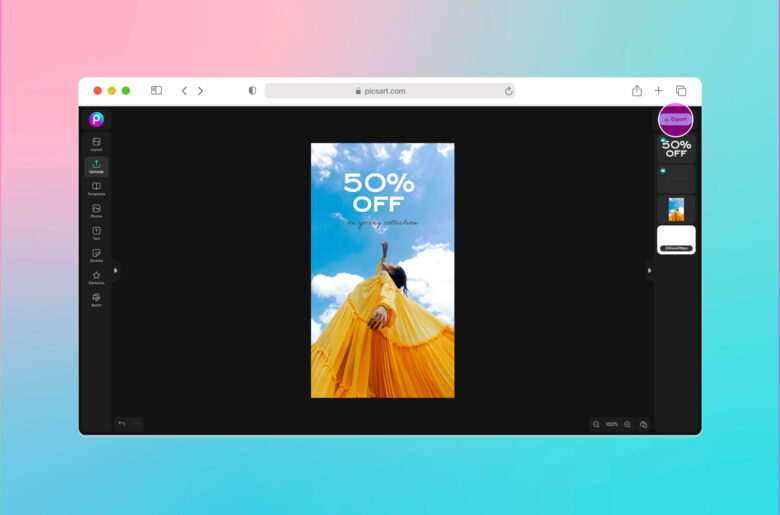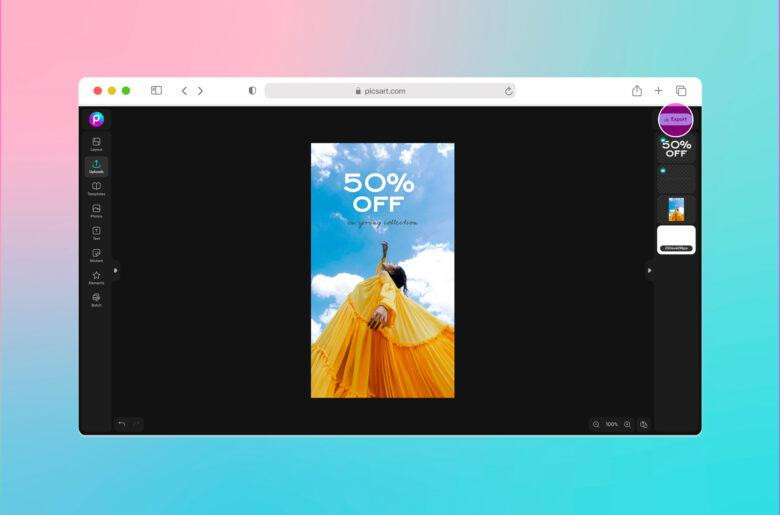 On the App
1. Open the Picsart mobile application, and click on the purple plus sign at the bottom of the screen to start a new project.
2. Scroll down to Templates and tap on All Templates.
3. Choose the size of post you'd like to create.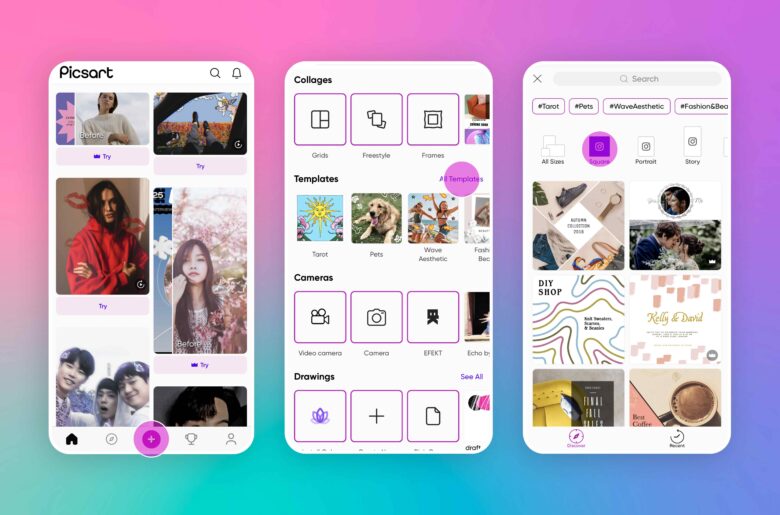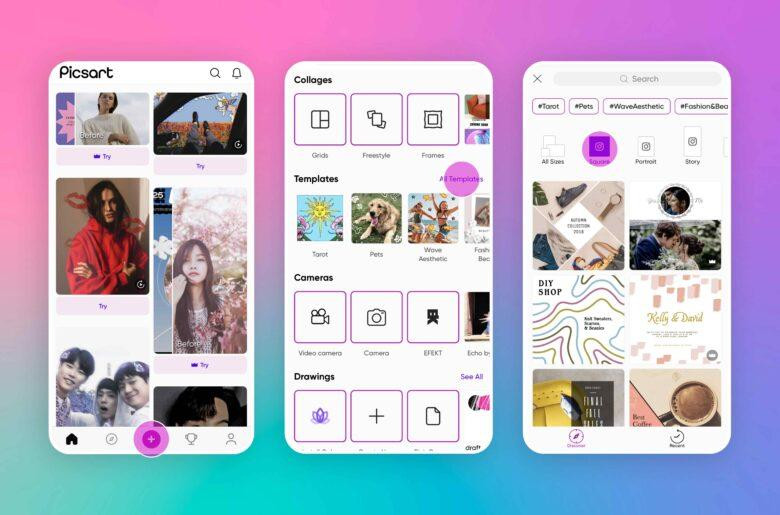 4. Once you've chosen a template, you can customize any element, such as the image, copy, colors, and more.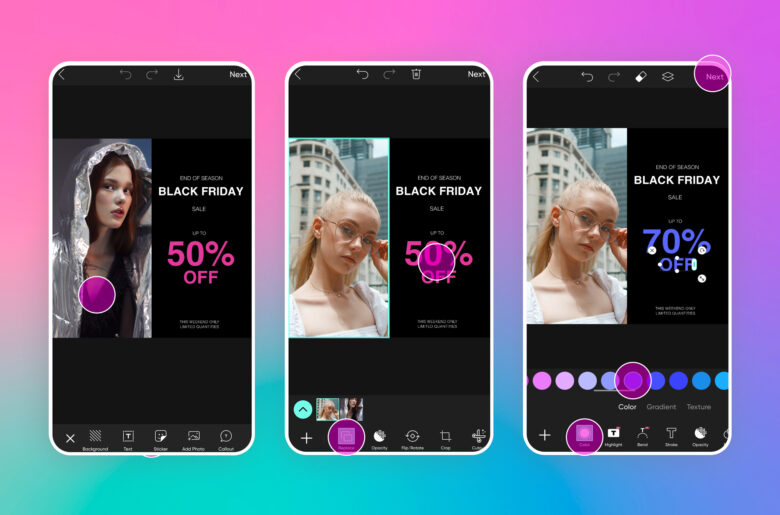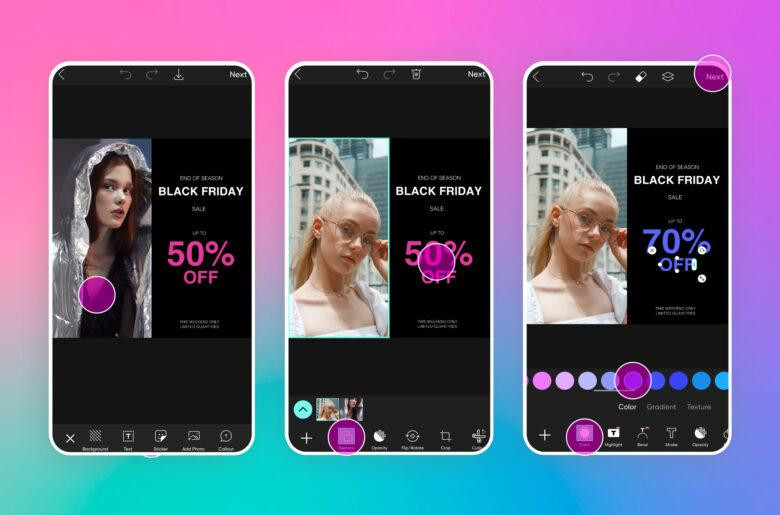 5. When you are satisfied with your edits, click on Next in the upper right-hand corner of the screen to save or post your image. From there, you will be able to make further edits to your Instagram post in the app as needed.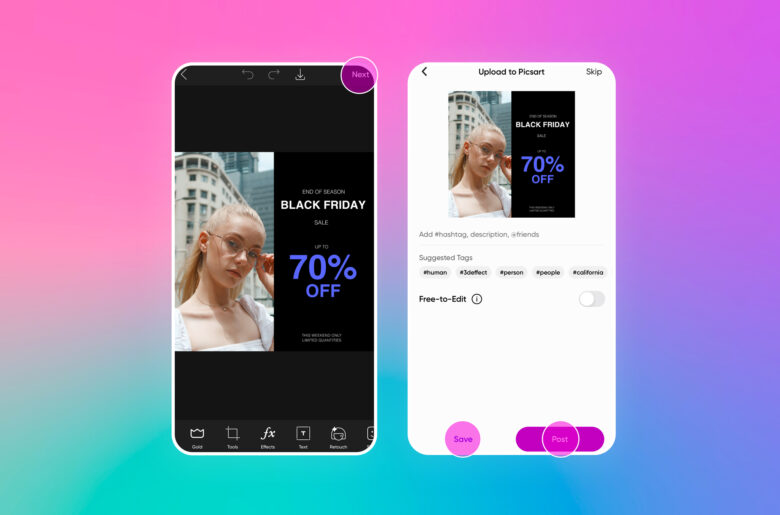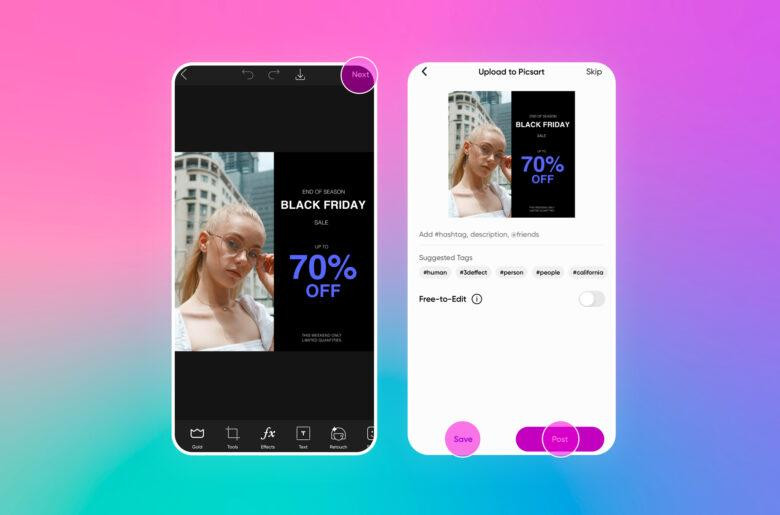 Picsart is a full ecosystem of free-to-use content, powerful tools, and creator inspiration. With a billion downloads and more than 150 million monthly active creators, Picsart is the world's largest creative platform. Picsart has collaborated with major artists and brands like BLACKPINK, Taylor Swift, the Jonas Brothers, Lizzo, Ariana Grande, Jennifer Lopez, One Direction, Sanrio: Hello Kitty, Warner Bros. Entertainment, iHeartMedia, Condé Nast, and more. Download the app or start editing on web today to enhance your photos and videos with thousands of quick and easy editing tools, trendy filters, fun stickers, and brilliant backgrounds. Unleash your creativity and upgrade to Gold for premium perks!