Whether you're managing social media for a local company or you're a small business owner doing it all, stick around for today's invaluable lesson on how to use social media for small business promotion. 
Small business owners often have to wear multiple hats and don't necessarily prioritize social media marketing as a part of their overall business strategy. But, no matter what your company size, you'll typically find that using social media for business is an essential tactic to effectively increase brand awareness, help you engage with your customers, and directly impact your sales. 
Benefits of using social media for business
The first step in any entrepreneurial journey is creating a product or identifying an unfulfilled need in the market. But once you've launched your business, you need to spread the word about it. That's where social media marketing comes in. Think about how many hours a day you spend online or on social media sites on your phone. It's safe to bet that your customers are also likely actively scrolling social media throughout the day, interacting with friends and brands alike. 
Digital marketing is essential to the success of any small business. And there's no better place to start than on social media. This is because social media channels allow you to connect and engage directly with your customers while offering them value-added content to further strengthen your brand identity and cultivate potential sales. So, whether you're using influencers to help drive brand awareness, or just looking to make your LinkedIn page look more polished, we're here to help you get started.  
That's why we're proud to announce the launch of our first eBook, Social Media For Small Business. We've pulled together everything small business owners need to set up social media accounts to promote their brand and compiled it into this handy guide. By applying the social media design principles outlined in this eBook, you can start to grow your business online.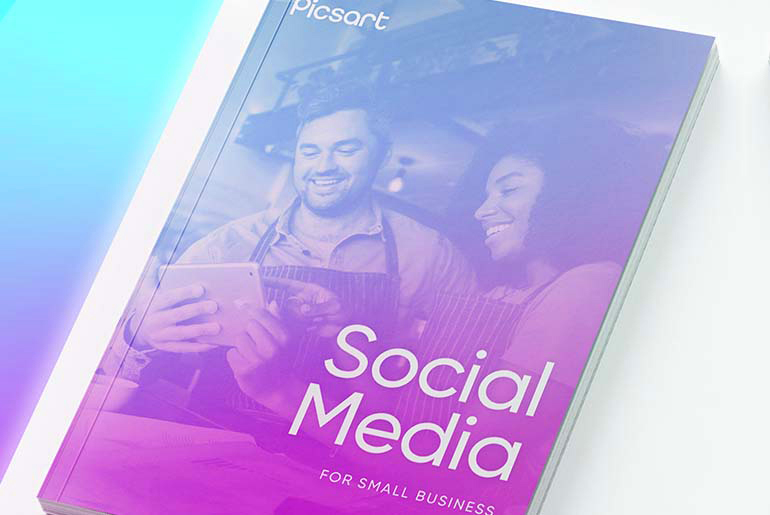 How to market your small business online
In this eBook you'll find practical social media tips that will help you get set up on all major platforms, and promote your business in style. You'll learn how to do everything from creating watermarks and logos to cropping and adding text to images. If you work with social video content, we'll show you how to prepare it for professional cross-platform use. Even if you just need help creating the perfect profile picture for your accounts, you'll find everything you need to know here. 
Take the next step in your entrepreneurial journey by learning how to promote your business on social media. By offering simple and actionable advice on brand building, including how to market yourself online and publicize sales, this eBook will be invaluable for social marketing newbies. 
11 tips to create a social marketing strategy for small businesses
Let's look at some essential social media tips to consider when creating a social media marketing strategy for your small business. 
1) Come up with a plan
Creating a social media plan involves coming up with specific goals and objectives that are measurable, attainable, and relevant to your business goals. Once you develop a solid content plan, create a social media calendar to help you organize. Most social media management tools have these in their scheduler as a default option. (Bonus: most scheduling tools come with analytics tools, so you can see what content is performing best for you. You can also see content performance if you set your social channels up business accounts – it's free!) 
Aim for the 70-30 rule, where 70% of your content should educate or entertain your fans, while the other 30% should promote products or services.
2) Check out your competition

Take a look at how your competitors are using social media and take note of what's working and what's not working. You shouldn't copy others, but you can certainly learn from them to improve your strategy. Don't forget to look at ephemeral posts too on Instagram Stories and Snapchat. 
3) Look at successful businesses outside of your industry
While it's important to look at what your competitors are doing, you should also look at established businesses outside of your industry. Think about what makes these brands likable and use that as inspiration for your own small business marketing strategy.
4) Select the appropriate social media platforms for your business
Dive deep into your target audience. Ask yourself who your audience is and where they spend most of their time. This will help you decide whether you need a Facebook page or a TikTok account.
5) Expand your customer base
Now that you've defined who your target audience is, it's time to revisit your social media plan to see how you can reach more people just like them. Whether it's a limited-time promotion or Facebook ads, you can reach new potential customers who fit your audience profile and ultimately increase your chance of sales.
6) Build relationships with your customers
Engaging with social media fans allows you to build trust and develop a loyal following. As more fans engage with your content by liking, commenting, or sharing, your brand exposure increases as you make your way up the social algorithms. More engagement on your content leads to more exposure and potentially new customers. 
7) Partner with other small business owners and influencers
Micro-influencers can have a macro impact on your small business. Consider partnering with local influencers in your niche to promote new products or services. With the right influencer, you can reach a wider audience and ultimately increase your conversion rate. Not ready for influencer marketing? Consider partnering with another local business that has a similar target audience as you to co-host a giveaway or pop up event. It's a win-win for both of you. 
8) Promote user-generated content
Contests and branded hashtags are another great way to engage with your audience and get some free content! Tag and mention your followers while promoting their content to establish a deeper relationship with your biggest fans. 
9) Keep an eye out for trends
Pay attention to social media trends to help you create appropriate content that's relevant and entertaining to your audience. Don't chase after every single trend, but pick the ones that will resonate with your customers and boost your engagement rates. 
10) Vary your content format
Posting still images can get boring. Mix it up with GIFs, boomerangs, behind the scenes content, how-to videos, customer tutorials, user generated content, live videos, etc. Experiment with all the content styles that each social media platform provides and post different types of content to find what works best for you.
11) Track your data and refine your performance
All your social media efforts will go to waste if you're not keeping track of what works and what doesn't. Use the social media analytics tools at your disposal to track the most important social metrics for your small business. Just don't forget to tweak your strategy based on your results. 
Best social media platforms for small business promotion
Now that you have some social media marketing tips, let's talk about the platforms themselves. There are several social media platforms to evaluate when considering how to promote your business on social media. And, it can be hard to choose which one is right for you. Let's dissect the top five commonly used social media platforms for small businesses to help you determine which one(s) might be best for you. 
Facebook
Facebook is one of the veteran social media platforms with a massive base of over one billion daily users. That means there is a very good chance your customers are on Facebook. It's also very easy to open a business account. This is why a lot of local businesses start with a Facebook page instead of a website. So, keep your content casual and informative. We suggest posting no more than once a day and no less than twice a week to keep your audience interested and engaged. 
Twitter
There is a conversational, thinking-out-loud component to Twitter that draws people in every day. Small businesses can tweet about product promotions, polls, and share retweets that will get their audience to engage. While Twitter can be just text-based, content that performs well often includes photos or videos. In contrast to Facebook, you'll want to tweet at least once if not multiple times per day, if possible. Otherwise, you'll get lost in a sea of 5,787 tweets sent per second. The platform has an overall playful, witty tone, so don't be afraid to have a little fun with your tweets and let your brand personality shine.
LinkedIn
LinkedIn has been around longer than Facebook but has a completely different vibe and purpose. This platform is mainly used for entrepreneurs and business professionals to connect with one another for networking purposes. Don't let that hinder you from joining – it's great to announce new products, too! Provide helpful resources, expertise, insights, infographics, and share your founder story in everything from long-form text to photos and videos. Try to vary your content and post about once a week. 
Instagram
When using social media for small business, Instagram and LinkedIn are night and day. Instagram is a visual app, enabling you to use photos and videos to tell a visually-driven story about your small business. Instagram has a variety of content types, including posting photos, short videos, Stories, live videos, Reels, and IGTV. Consistency is key, so choose the right posting schedule that works for your business, whether that's multiple times a day, once a day, or a few times a week. 
Pro tip: If you're not sure where to start, use these 10 ideas for engaging Instagram content.
YouTube
If you have to create a lot of product explainers, then YouTube might be the platform for you. How-to videos are very popular on YouTube, as social media users are searching for informational videos on how to use a product or service. If possible, keep your video length longer than you would on other platforms and aim for about two minutes. Because YouTube is owned by Google, it's helpful to consider it as a video-based search engine. So, don't forget to optimize your videos for SEO through catchy titles, keywords, and metadata tagging. 
Create and edit the best designs for your business 
Starting a business is hard, but we've got you covered on the marketing and creative design side with a variety of quick editing tools for your content marketing. That's also why Social Media For Small Business is available free of charge. Just fill out the form and we'll deliver the eBook to your email inbox. 
If you've already taken the brave leap to start a business, you can easily master social media marketing. Promise. You're only a few clicks away from equipping yourself with the tools to show that your business means business. And whether you're designing a logo or adding a watermark to your content, Picsart has all the tools, templates, and more that you need to create the best designs to promote your brand online. 
Picsart is a full ecosystem of free-to-use content, powerful tools, and creator inspiration. With a billion downloads and more than 150 million monthly active creators, Picsart is the world's largest creative platform. Picsart has collaborated with major artists and brands like BLACKPINK, Taylor Swift, the Jonas Brothers, Lizzo, Ariana Grande, Jennifer Lopez, One Direction, Sanrio: Hello Kitty, Warner Bros. Entertainment, iHeartMedia, Condé Nast, and more. Download the app or start editing on web today to enhance your photos and videos with thousands of quick and easy editing tools, trendy filters, fun stickers, and brilliant backgrounds. Unleash your creativity and upgrade to Gold for premium perks!