Nail art has been popular for years as a way to express yourself. After all, it's an easy way to celebrate changing seasons or holidays, show your support for a cause, or just have a little fun. But what do you do if you have the perfect photo, but your nails are chipped or you just wish you had a freshly manicured nail? You add manicure stickers to your photos. 
With Picsart, there's an easy way to fake a manicure, and you don't have to spend hours at the salon to get the perfect mani. So whether you're testing out a new manicure design before you go to the salon or looking for a quick way to cover up chipped nails, this easy photo editing tutorial will help. Here's how to fake a salon manicure and try out different nail tips designs with manicure stickers.
What are some different types of manicures?
Before we dive into how to fake a manicure, lets consider the different manicure types. There's something for everyone. So if you're not sure where to start, we've outlined some of the most popular manicure ideas to inspire your next trip to the salon or manicure sticker search when editing photos. 
Basic manicure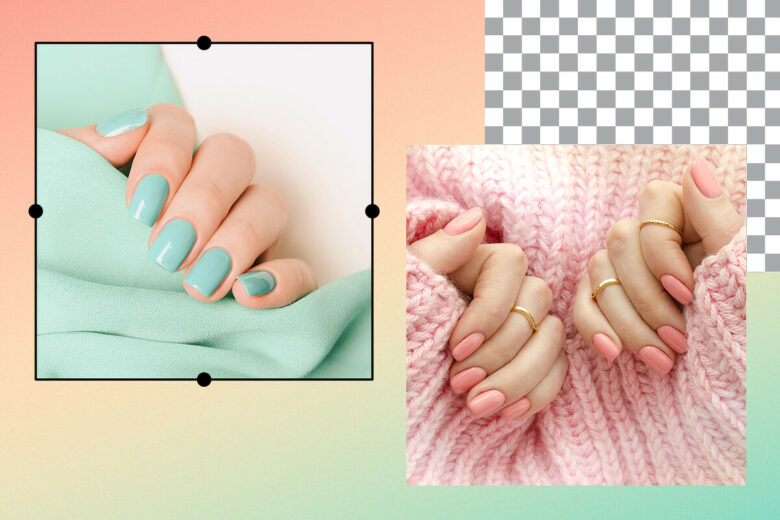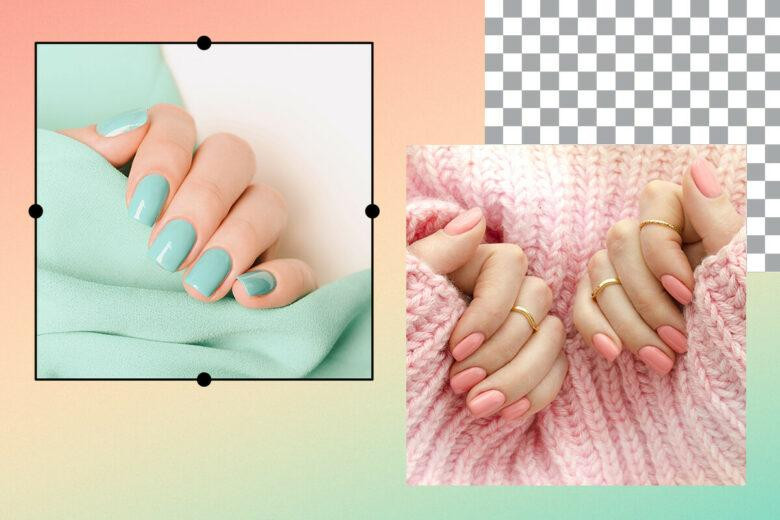 A standard manicure typically includes trimming, shaping, filing, and buffing your nails. When you're done with the pampering session, your nail artist will paint your nails with traditional polish.
Why choose a basic manicure? It's one of the most affordable and speedy types of manicures, and it'll leave you with glossy nails every time. Plus, the polish is easy to remove at home if you change your mind and want a different nail color.
French manicure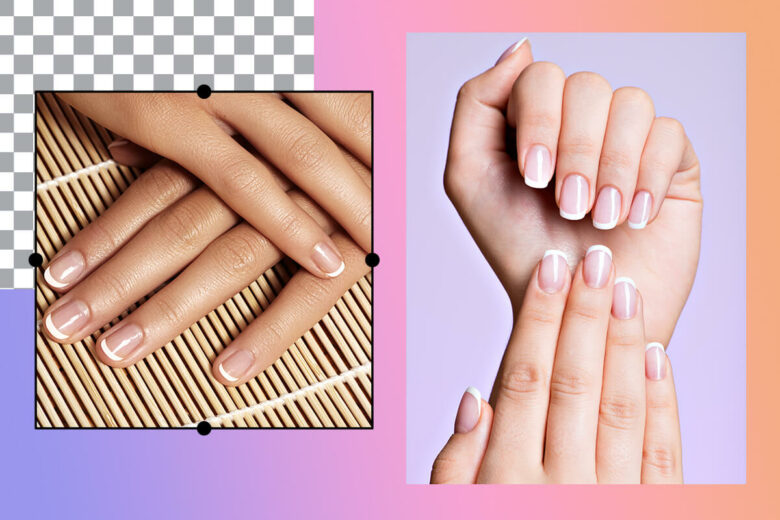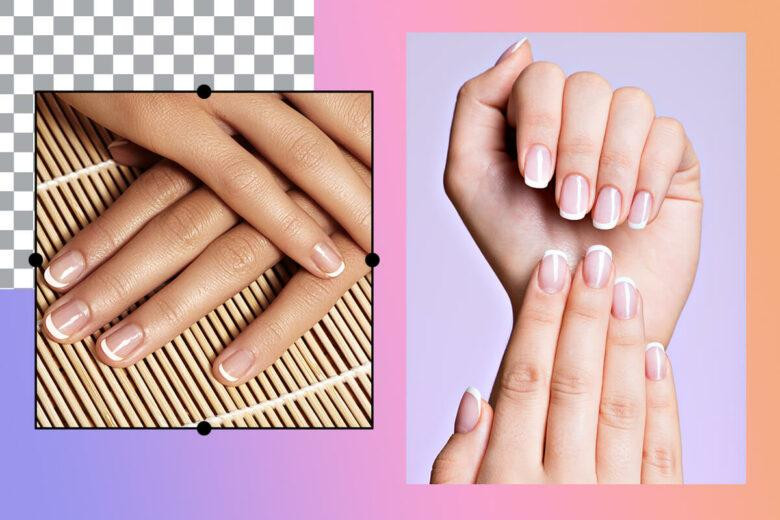 The French manicure is making a comeback thanks to its beautiful simplicity. It's a classic look from the early 2000s that leaves you with sheer-toned nails and vibrant white nail tips.
To achieve this look, your nail artist will apply gel or traditional polish. A French manicure is an amazing option if you want to create the illusion of longer fingers. Due to its simplicity, it's also the perfect choice for any outfit and occasion and commonly used for weddings. 
Press-on manicure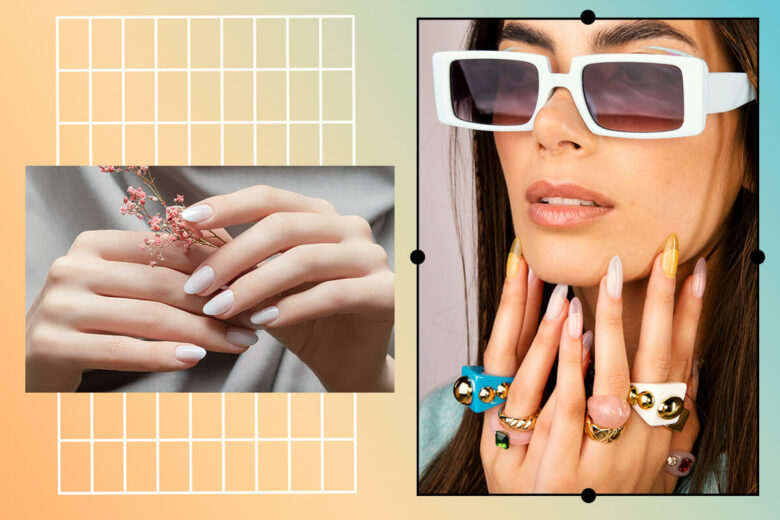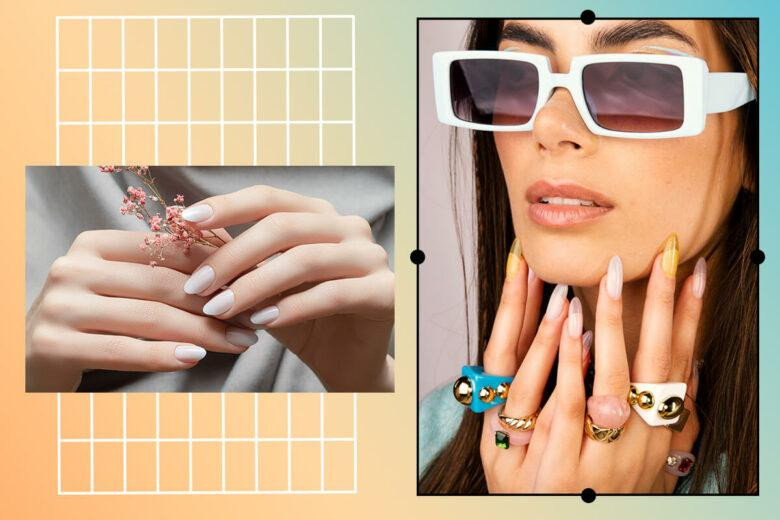 Want to go the at-home manicure route? These days, you can find unique press-on nail sets in a variety of lengths and shapes, from short oval nails to long stiletto nails.
Press-ons can last as long (or as little) as you want – as long as you choose the right adhesive. The best part? Unlike other types of manicures, you can change press-ons as often as you want to switch up your look in the comfort of your own home.
Gel manicure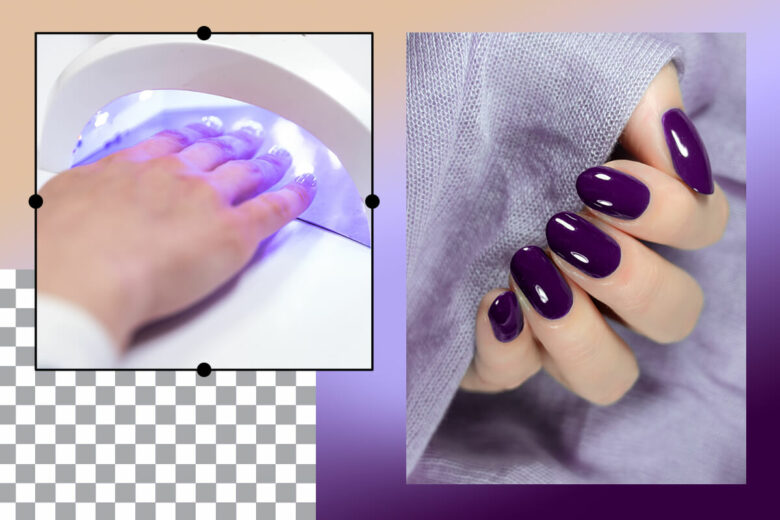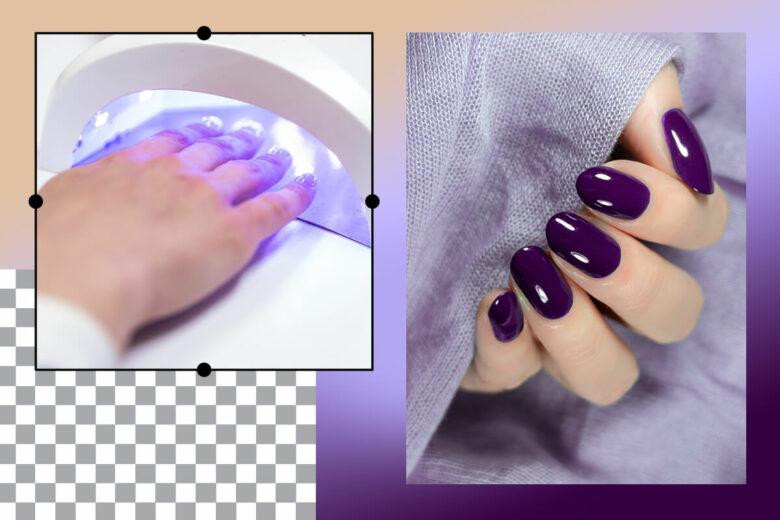 Gel polish is tougher and more flexible than regular nail polish, making it a solid choice if you want a manicure that lasts around 2-3 weeks without chipping. When you book a gel manicure, you'll still enjoy all the pampering essentials of a basic manicure. But instead of traditional polish, your nail artist will use shellac gel.
After applying each layer of nail polish, you'll need to spend a few seconds curing the gel under a special lamp. Gel manicures are a bit more expensive than basic manicures, but gel nails won't chip or lose their shine as quickly.
Top 5 trendy nail colors for 2022
If you want to keep up with the latest styles, you'll need a collection of trendy nail polishes and nail art images. Ready to dive in? Here are five must-have nail colors for 2022.
1) Fiery coral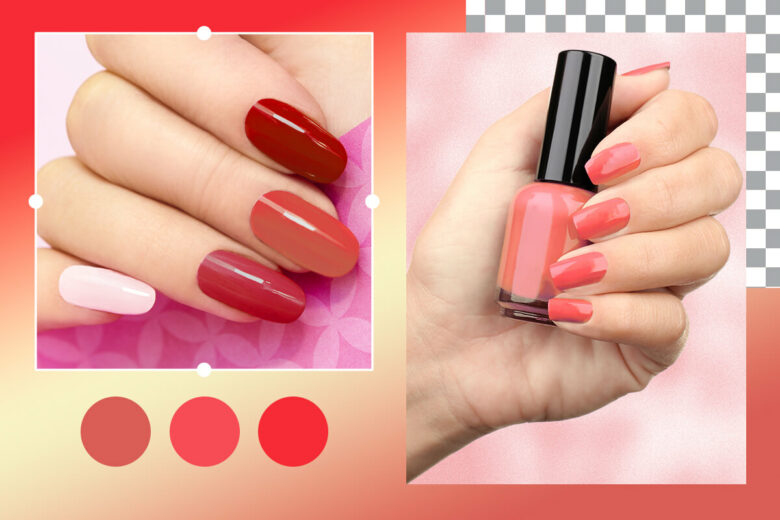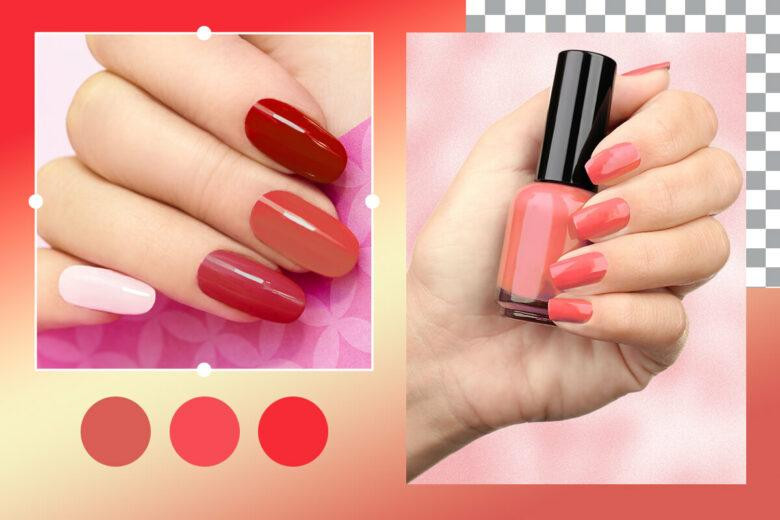 As the temperatures heat up, fiery shades are all the rage. During the summer, opt for warm undertones and uplifting colors to wear on the beach or at your desk. Want to step up your nail game? Dive into different shades of coral on your fingers and toes for a cool two-tone look.
2) Periwinkle blue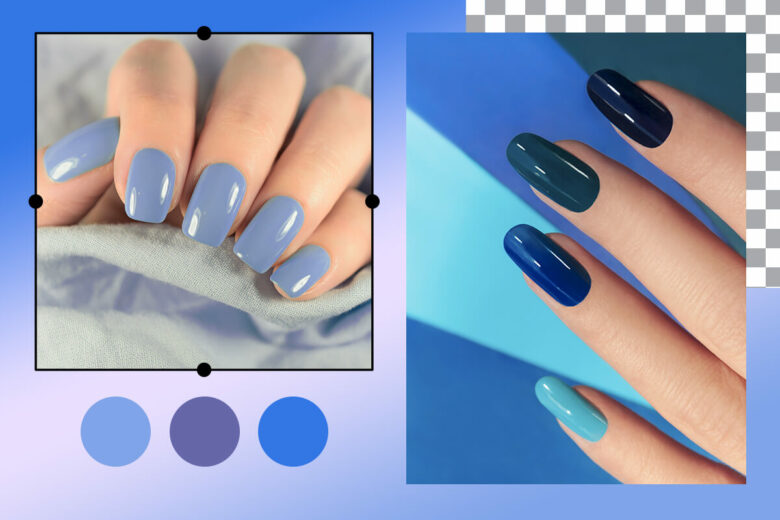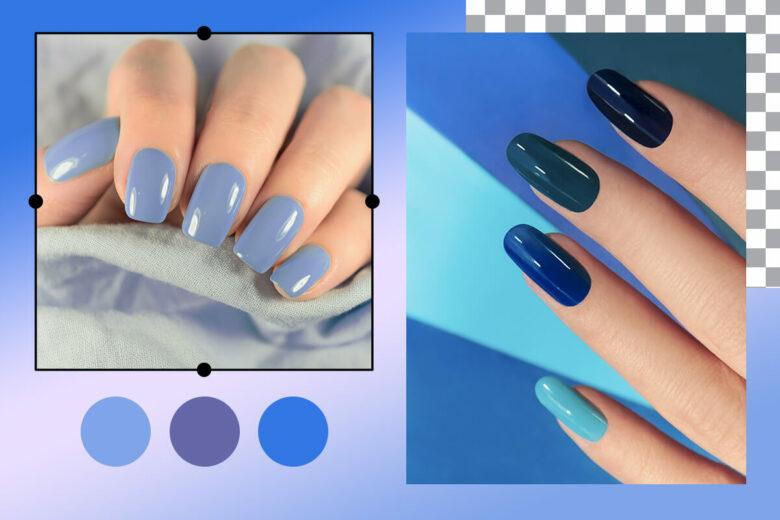 Paying homage to one of the top trending colors of 2022, periwinkle blue nail polish is the perfect way to add a pop of color to any look. It's perfect year round, but if you want to warm it for hotter temperatures, try switching it up with different shades of lavender and poolside blues. 
3) Classic red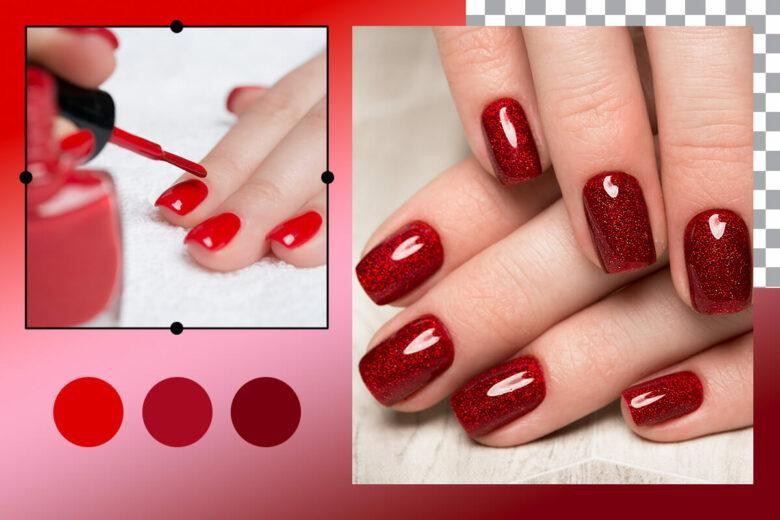 No matter what your style looks like, you can never go wrong with classic rouge. Find whatever shade of red strikes your fancy—whether it's an elegant blue-based red, classic cherry, or red orange. If you want a playful take on this popular nail polish color, choose a glossy shade for a candy apple-inspired look.
4) Playful pink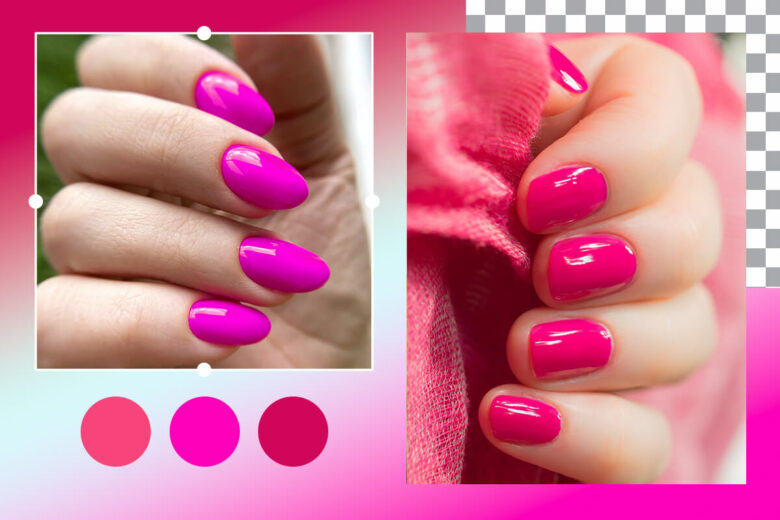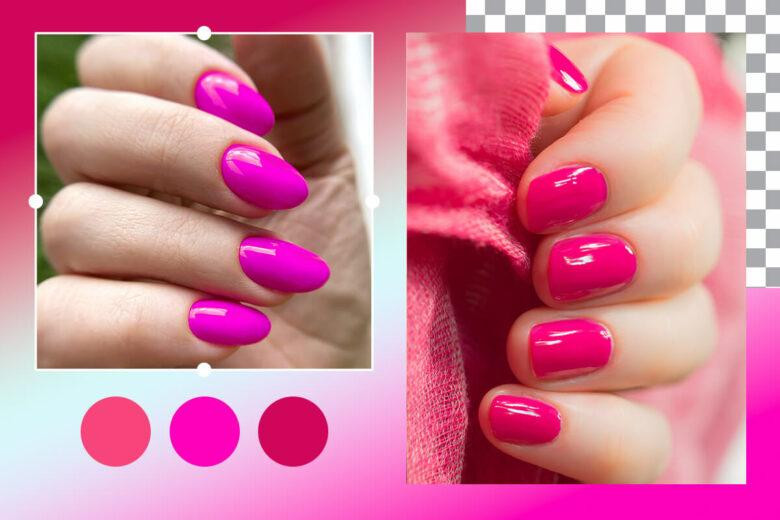 Pinks are making a major comeback this year alongside the trendy Barbiecore look. They're one of the most vibrant colors on the nail polish spectrum, and playful pink polishes are endlessly easy to pair with any outfit. If vibrant pink isn't for you, try mixing it up with pastels and darker magenta tones.
5) Muted beige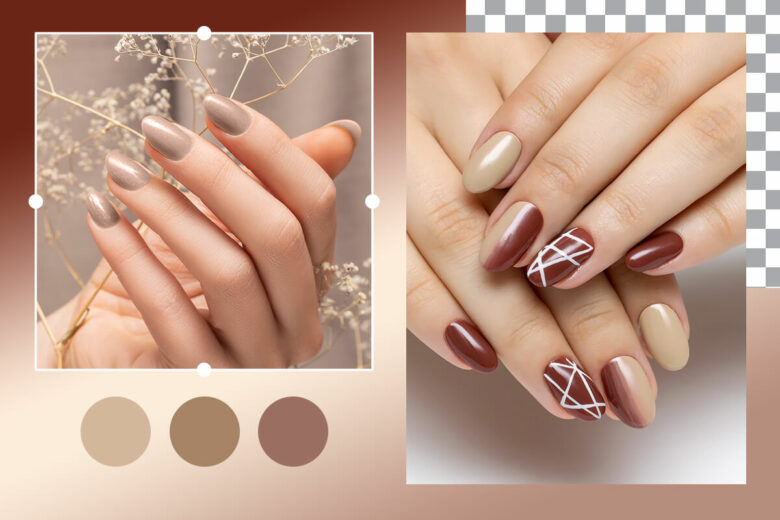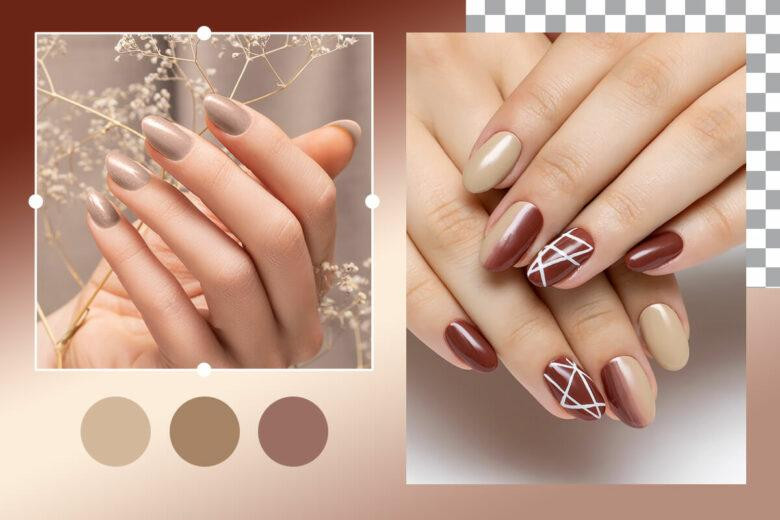 Looking for a more minimalist vibe? Earthy tones like beige, clay, tan, and sand never go out of style, so don't hold back. If you want to use a few different nail colors, step outside the box with an ombre earthy tone manicure.
4 nail color ideas
Searching for nail art images to inspire your next manicure? Don't worry, we've got you covered. Whether you're looking for #nailinspo for your next trip or just want to rock some Instagram-worthy nails, here are the best manicure ideas to spark your creativity.
1) Matte nails with a twist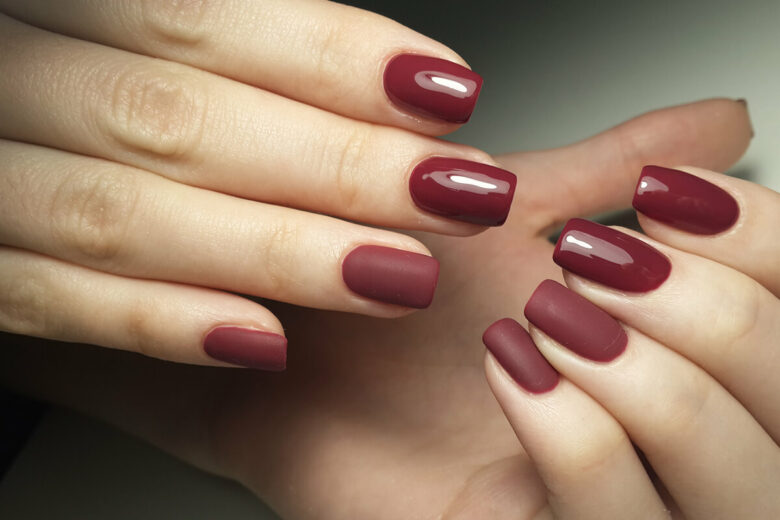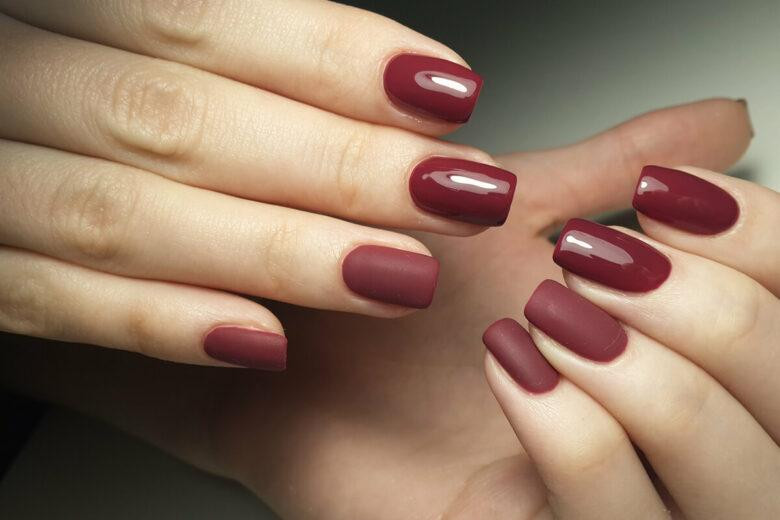 Matte nails have exploded in popularity over the last few years – and they're not going away anytime soon. Adding a matte gloss over your manicure is a great way to shake things up from your usual look. If you're not ready to go full matte, consider adding just an accent nail in a muted shade to get playful with your color scheme.
2) Complimentary color gradient nails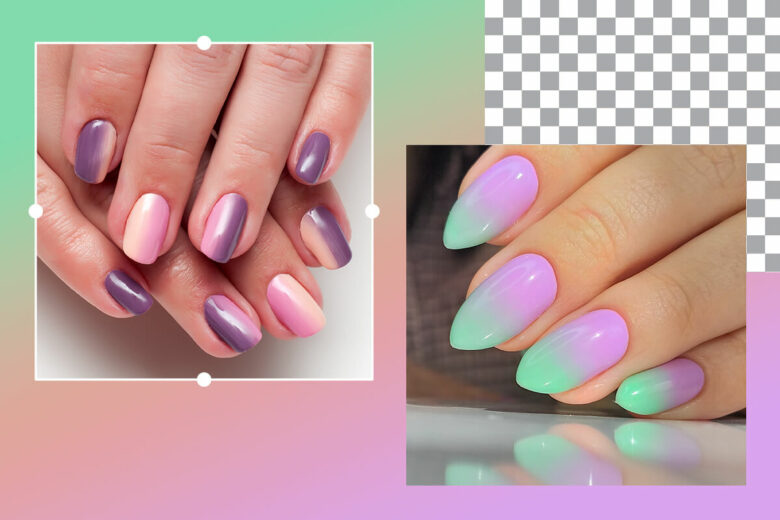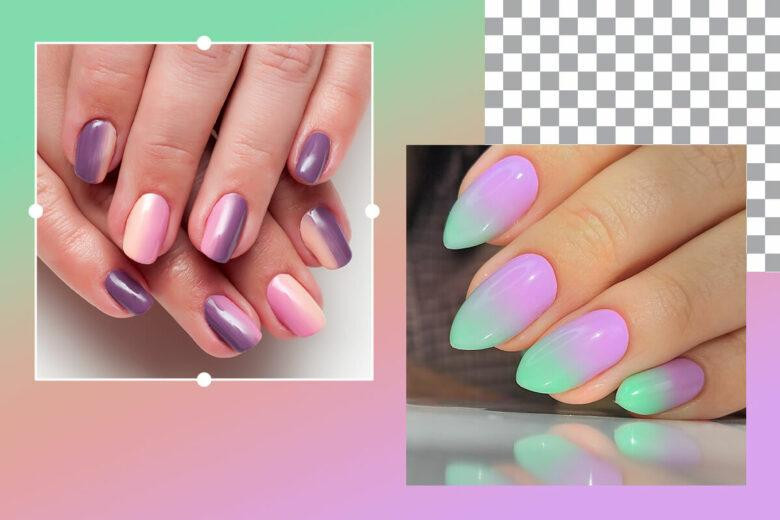 Tap into your inner artist with a one-of-a-kind gradient look. Just choose two colors that are opposite each other on the color wheel (i.e. yellow and purple, orange and blue, etc) and blend them into each other for the ultimate gradient manicure idea.
3) Earth-toned glitter nails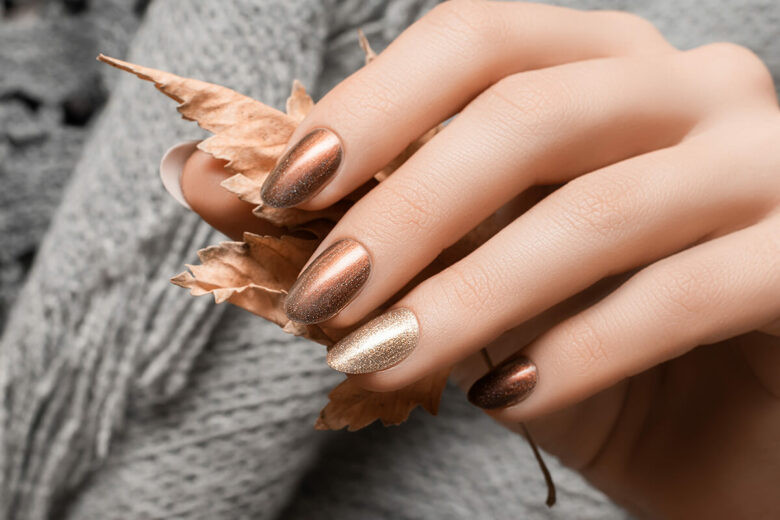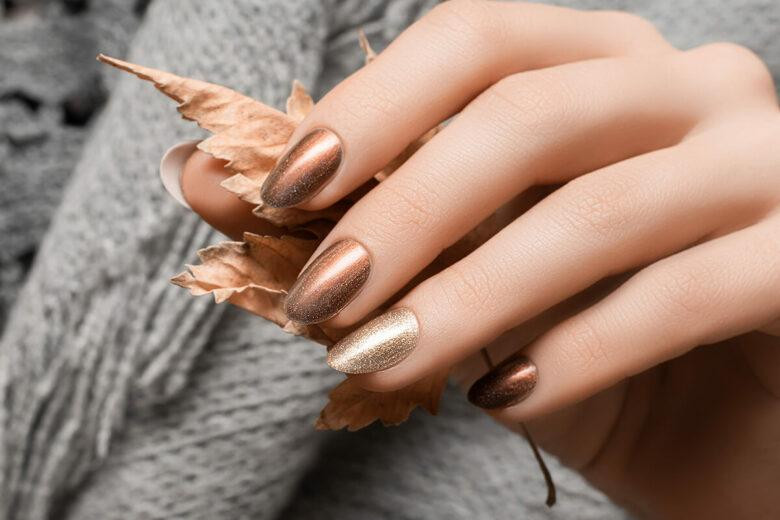 Who said that neutral tones have to be boring? Choose a few different rich earth-toned hues to incorporate into your manicure. Then, give your nails a finishing touch with a few accent nails. Glitter is the perfect way to brighten up a minimalist mani and add some extra flair to your nail design.
4) Out of this world
This one's a bit different from your typical manicure ideas, but fun to try out. Use a darker polish and constellation-inspired nail art stickers. We tested this style out in Picsart for you and it turned out so well!
How to add manicure stickers to photos using Picsart
Now that you're aware of the different types of manicures and have some nail polish ideas, it's time to get to work. Getting the perfect manicure requires more than just picking a color and nail shape. You also need to consider the occasion, how much time you're willing to spend, and your budget. But what if you don't have time or aren't sure of the design and aren't ready to commit to gel nail stickers? Or, what if you have a great photo that you'd like to share online, but have chipped nails? 
Luckily, it's easy to hack a manicure with Picsart manicure stickers. You can even make your own stickers if you're looking for a unique DIY manicure design! Here's how to get started.
On the web:
1) Open the Picsart Web Editor and start a new project.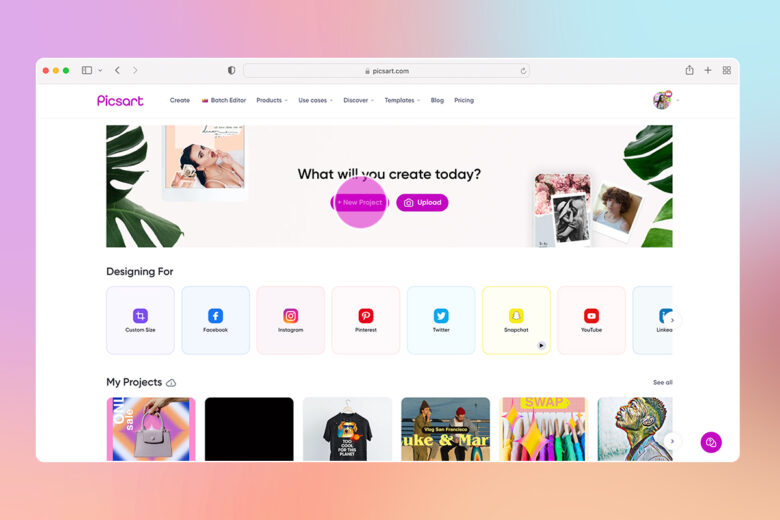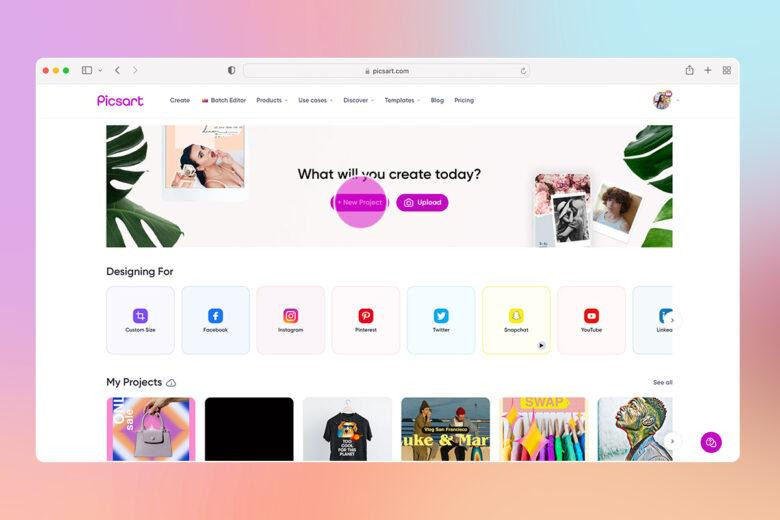 2) Next, click Upload and select a picture of your hand to start editing.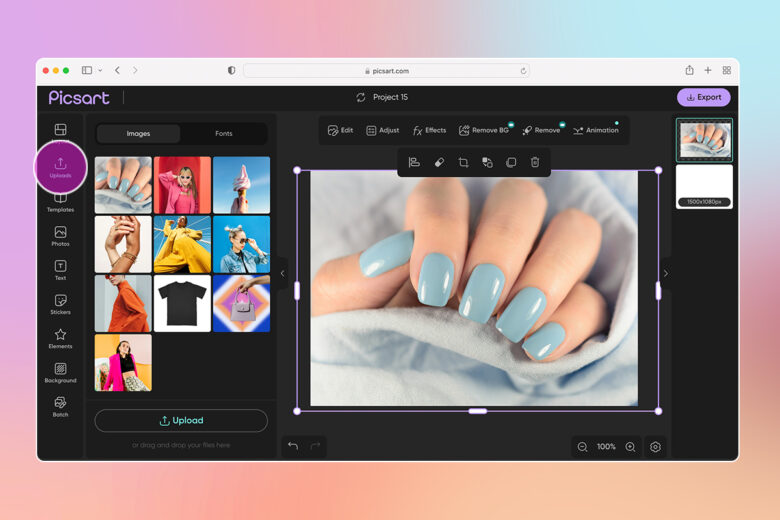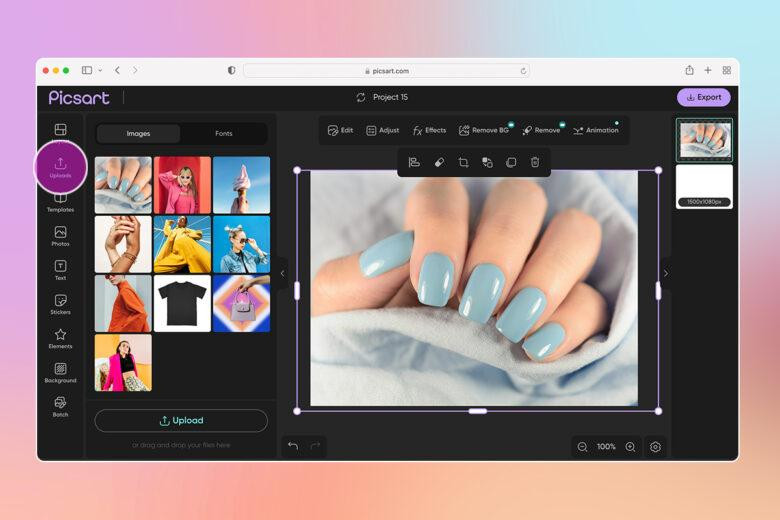 3) Click Stickers on the left panel toolbar and type "nail art" or "manicure" into the search bar. If you're looking for a specific design, like hearts or snowmen, type that in the search bar. You can always crop and reposition the sticker to fit your nails for a perfect manicure sticker.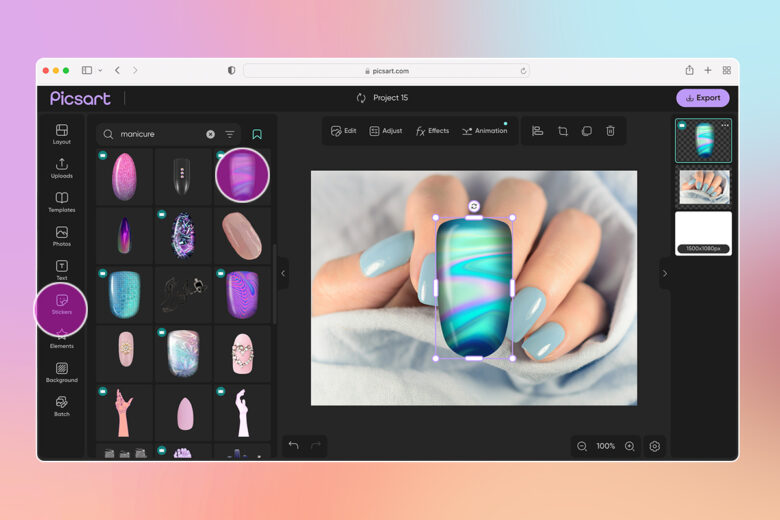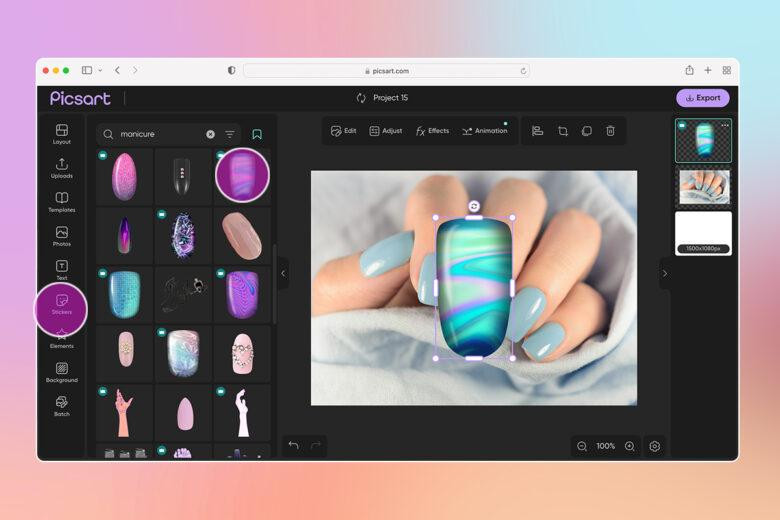 4) Once you've picked the perfect nail art images, adjust the size and place the clipart over your nails. Repeat the same process for each nail, or mix it up with different nail designs. 
5) When you're finished, click Export to download your image and share your unique manicure with the world.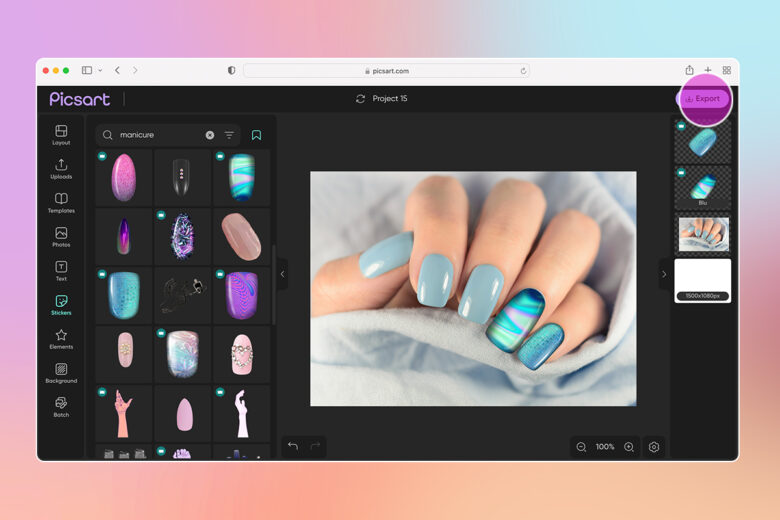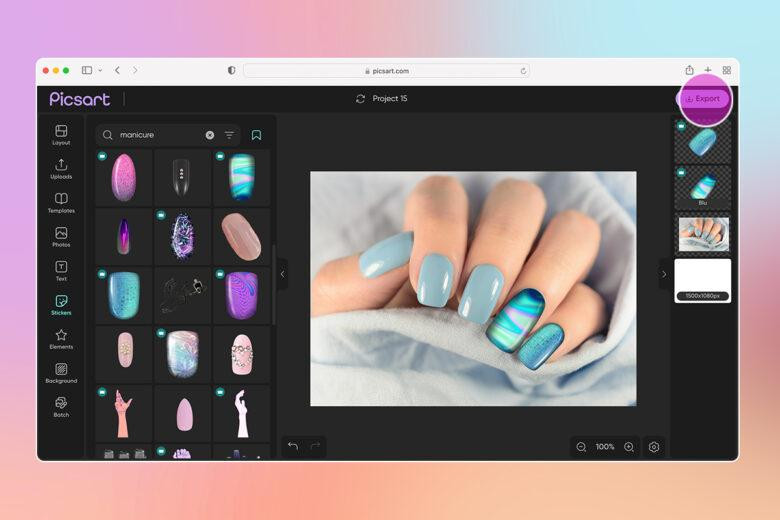 On mobile:
1) Open the Picsart app and tap on the plus sign (+) to start a new project.
2) Next, tap Photos and choose a picture of your hand or images of nails to start editing. If you don't have one, you can search for images of nails or manicures in Picsart to work off of. Bonus: this will give you tons of manicure ideas.
3) Tap on Stickers on the Editor toolbar and type "nail art" into the search bar.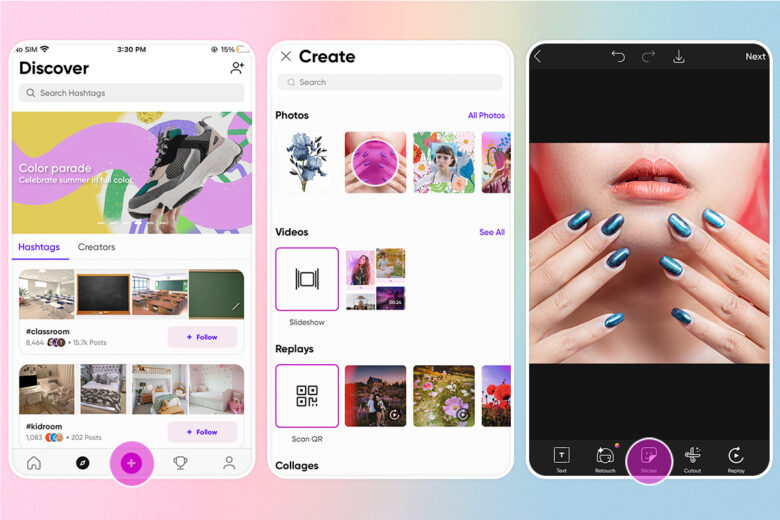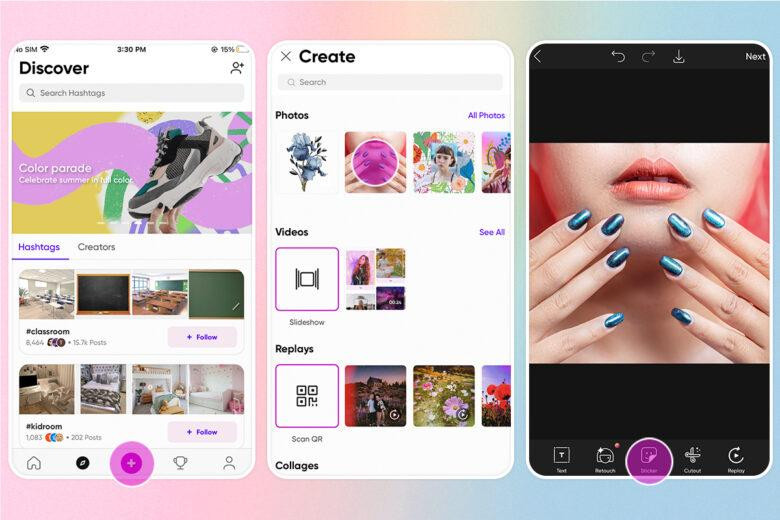 4) Once you've found the perfect nail art design, adjust the size and place the manicure sticker over your nail. When you're done, tap Apply to save your changes. Repeat the same process for each nail. Don't be afraid to switch things up with unique nail designs.
5) When you're finished editing, tap Next. Then, choose Save and Share your mani with the world.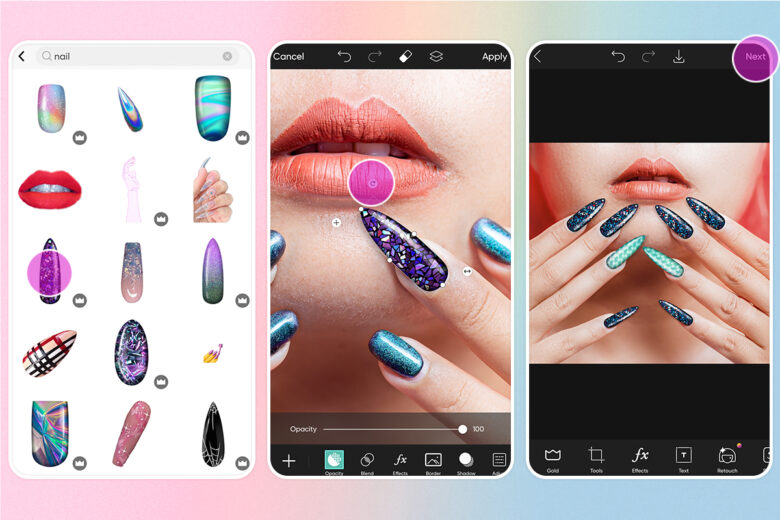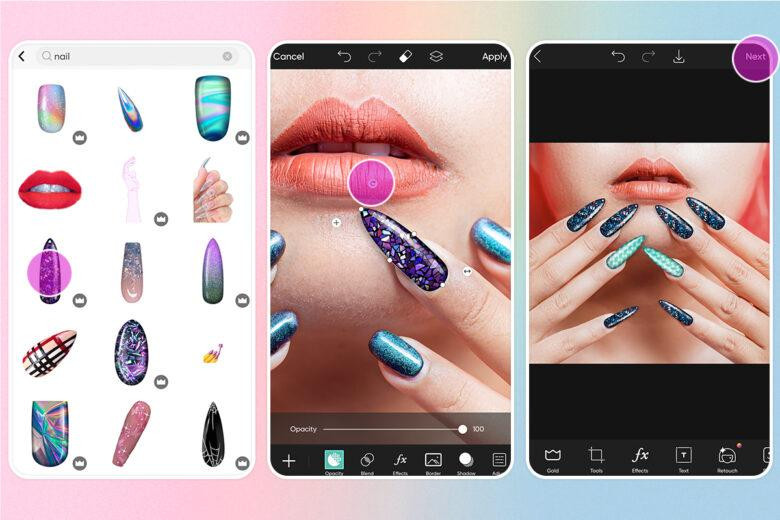 Picsart is a full ecosystem of free-to-use content, powerful tools, and creator inspiration. With a billion downloads and more than 150 million monthly active creators, Picsart is the world's largest creative platform. Picsart has collaborated with major artists and brands like BLACKPINK, Taylor Swift, the Jonas Brothers, Lizzo, Ariana Grande, Jennifer Lopez, One Direction, Sanrio: Hello Kitty, Warner Bros. Entertainment, iHeartMedia, Condé Nast, and more. Download the app or start editing on web today to enhance your photos and videos with thousands of quick and easy editing tools, trendy filters, fun stickers, and brilliant backgrounds. Unleash your creativity and upgrade to Gold for premium perks!