A wonderful and versatile neutral, the tan color is suitable for just about any design style. Tan is a brownish-yellow color, also known as the pale tone of a brown or a green tinge of orange. But what does it mean and how can you use it in graphic design? In this article, we'll dive in to all things tan. 
But first, a fun fact. Did you know the first official English language use of the word "tan" was recorded in 1590? The name originated from tannum, which was an oak bar used for leather tanning.
Tan Color Codes 
The tan color code is #d2b48c. In a RGB color space, this color is composed of 82.4% red, 70.6% green, and 54.9% blue. Whereas in a CMYK color space, it is composed of 0% cyan, 14.3% magenta, 33.3% yellow, and 17.6% black. It has a hue angle of 34.3 degrees, a saturation of 43.8%, and a lightness of 68.6%.
The tan color has RGB values of R:210, G:180, B:140, and CMYK values of C:0, M:0.14, Y:0.33, K:0.18. Its decimal value is 13808780.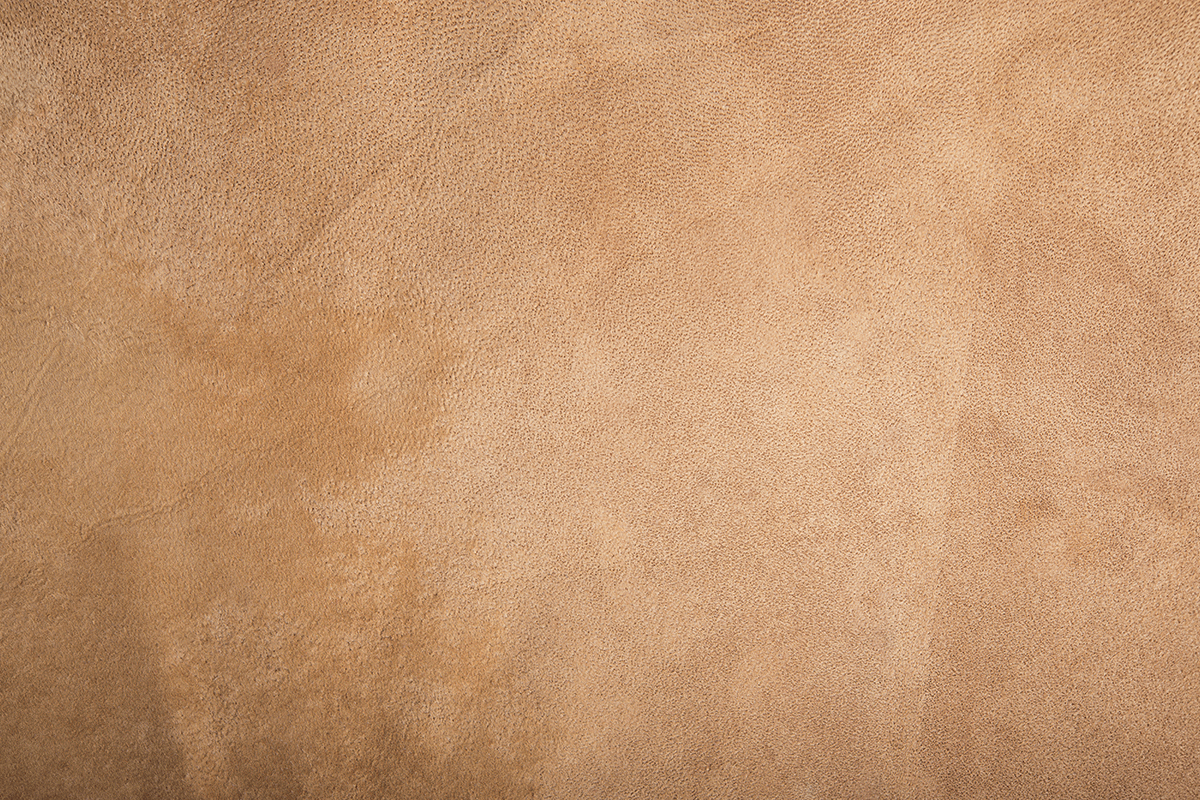 How to Make Tan Color?
While you can find pre-mixed paint, it's also possible to mix your own to get the exact shade of the tan needed for a project. If you're wondering how to make tan color, grab these paints and start mixing: white, brown, yellow, and red.
Mix a large amount of white paint with a small amount of brown thoroughly and compare it to the shade you're aiming for. You can add a touch of red paint, just a small brush-worth, for a darker, earthier tone; or a touch of yellow for a paler shade. Remember to add more of white if your tan color is too dark, or more brown for a darker shade. Experiment with adding touches of red and yellow paint until you get the shade of tan you're looking for. 
Tan Color Meaning
Colors carry meanings and invoke feelings in their viewers. So when considering using tan in your designs, you need to think about what the color represent. The tan color meaning is similar to that of brown – the color of the Earth, wood, wholesomeness, home, hearth, grounding, and foundations. And just like brown, tan invokes a feeling of consistency, trustworthiness, and sanctuary. 
Tan symbolizes stability, growth, fertility, warmth, reliability, security, healing, honesty, and home due to its association with earth and the ground. The tan color provides feelings of history and connection, as well as coziness, calm, peace, relaxation, and warmth. It is associated with recycled paper and also with the concepts of "all natural" or "organic".
Tan is a natural, neutral color which is comforting, nurturing and sets a relaxed tone.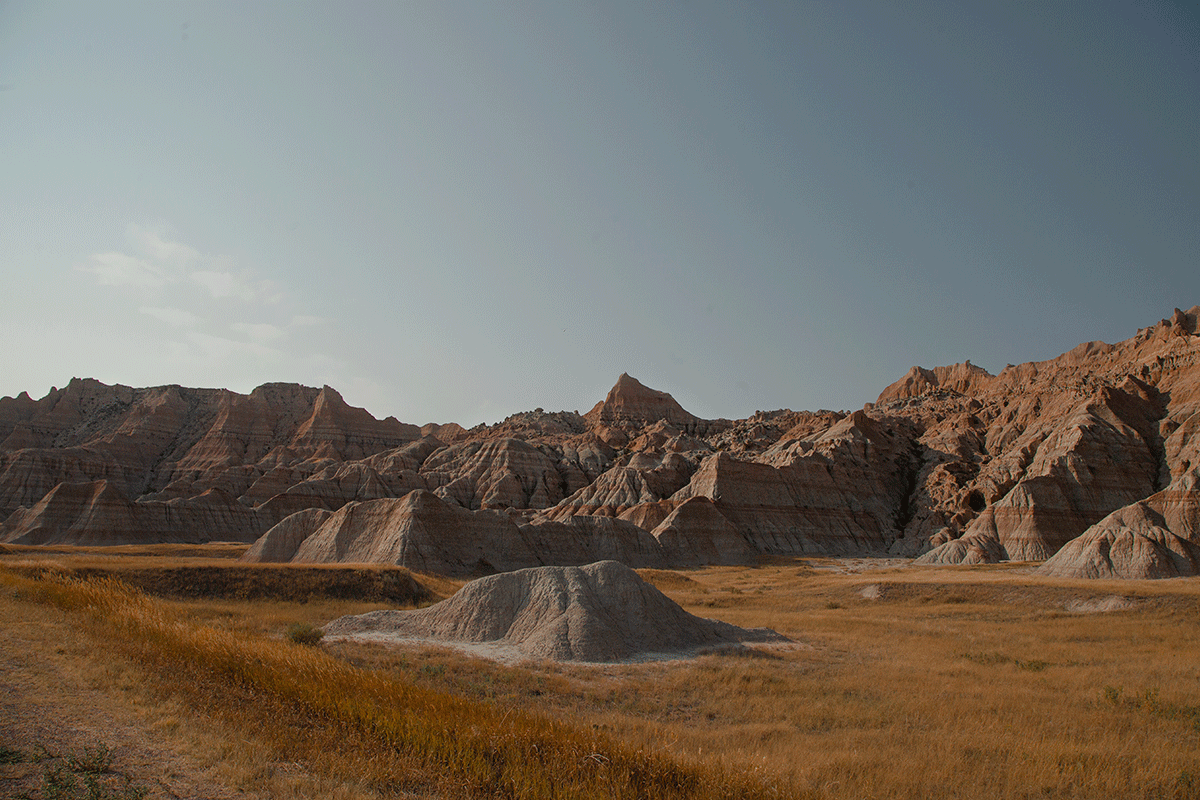 Tan Color Palette Ideas
One of the best ways to get comfortable working with a new color is to see how it comes together in a variety of color palettes. Check out these tan color palettes to get your design ideas flowing:
Autumn: Combine the tan color with Vivid Burgundy (#A21E39), Antique Ruby (#880D2A), Firebrick (#B02C1A), Tangerine (#F08602), Yellow Orange (#FF9609), and June Bud (#B5CF60) for an earthy autumnal tan color palette.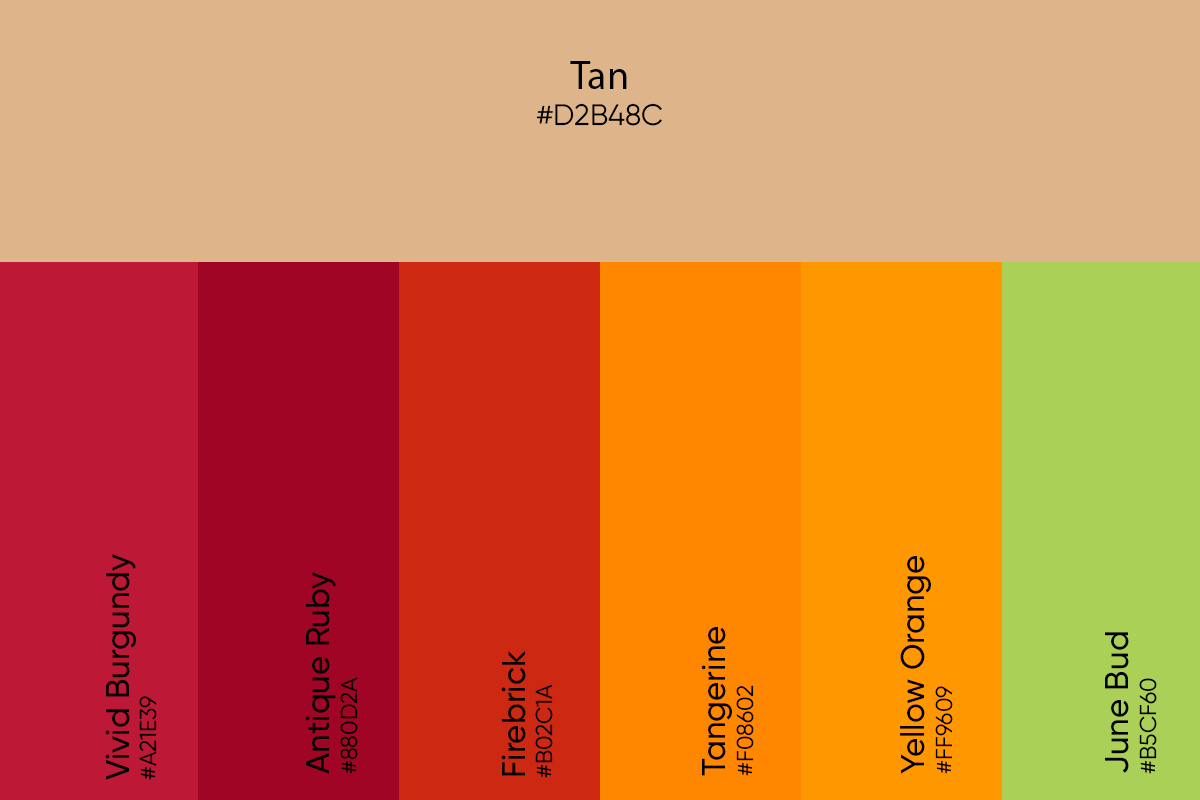 Cherry Mocha-Swirl Cupcake: Cozy up with this sweet holiday inspired palette. Pair tan with Cologne Earth Brown (#6C3F31), Espresso color (#4e312d), Milk Chocolate (#86563C), White Chocolate (#EEE6D8), Duron Hot Cocoa (#8A6258), and Cherry Red (#D2042D).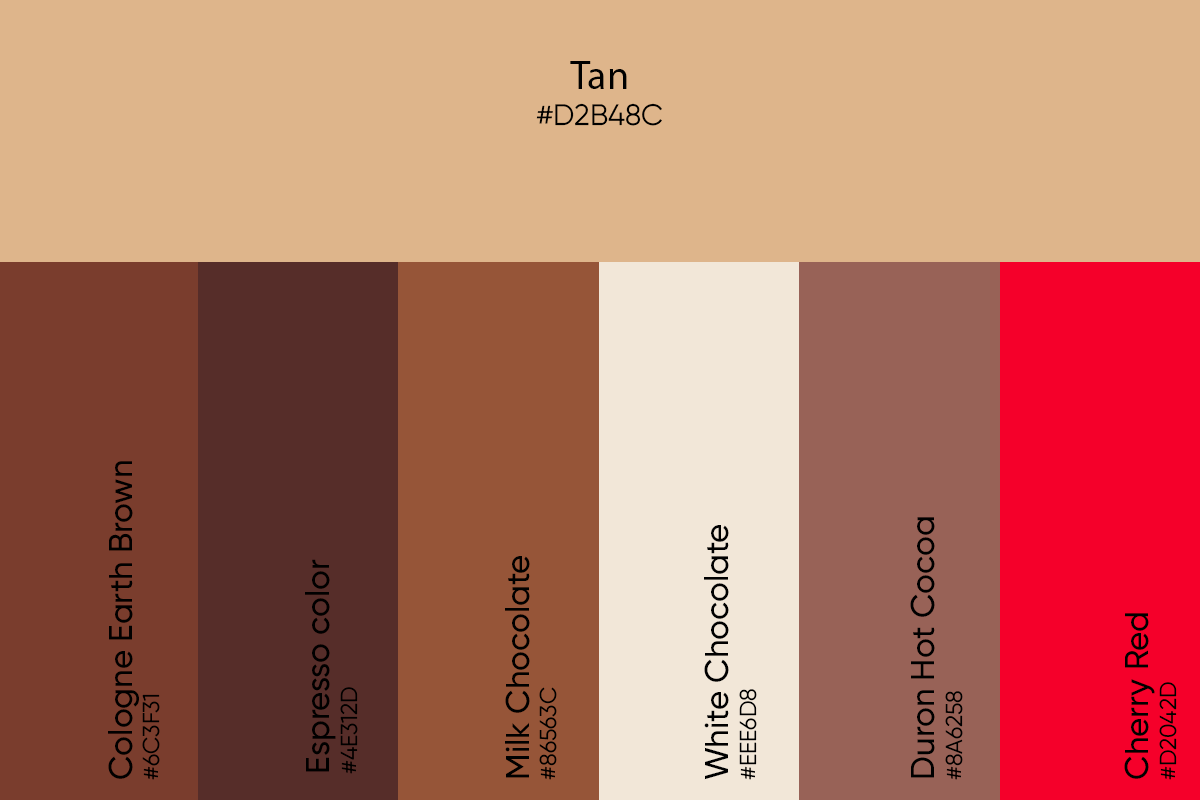 Coastal Seaside: Combine tan with Cyan Cobalt Blue (#1B55A3), Ball Blue (#32B3D0), Sea Blue (#006994), Seafoam Green (#93E9BE), Teal Blue (#256B85), Blue Sapphire (#175D77), and Dark Cerulean (#0E4E6A) for a romantic seaside palette with beach vibes. In this palette, a tan color adds a grounded hint of sand to the seascape.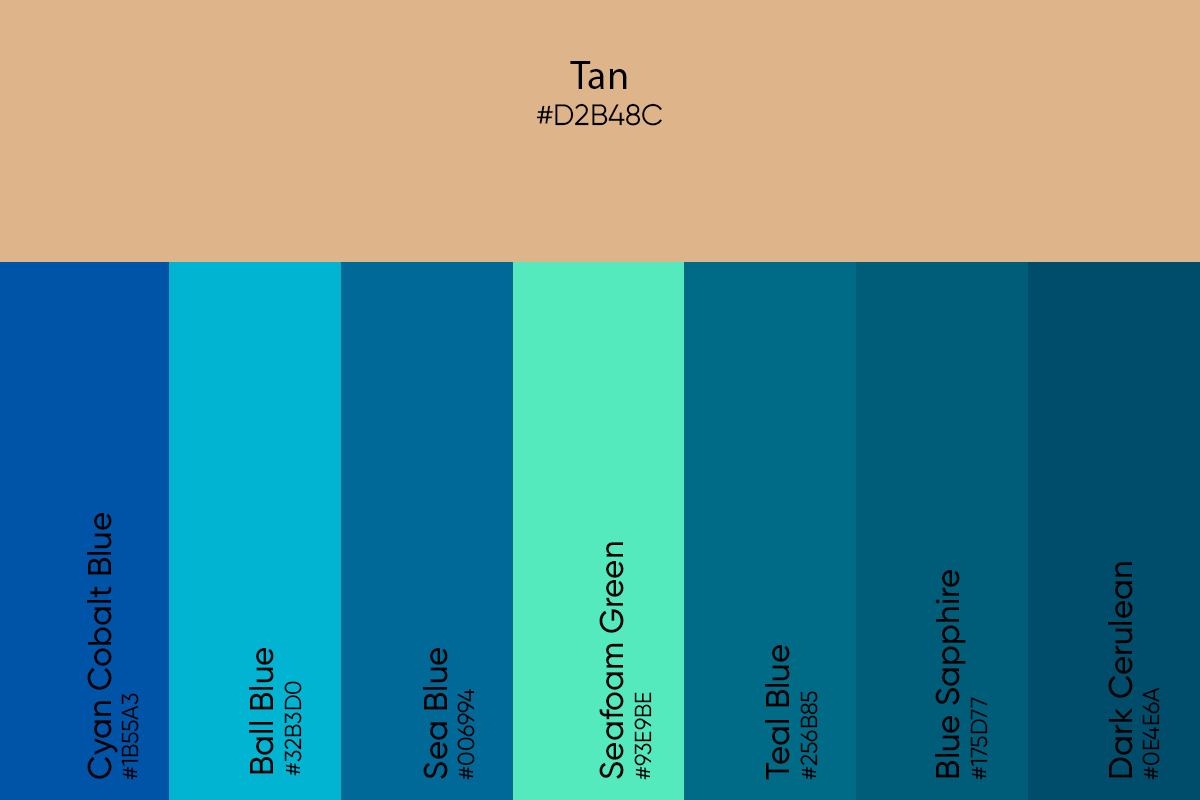 Jewel-Toned Moroccan: Pair this sandy shade with Maximum Purple (#743282), Pearly Purple (#B668A1), Kobi (#E2A4C6), Golden Yellow (#FFDF00), Harvest Gold (#DC9200), and Gold (#D4AF37) for a luxurious and timeless jewel-toned color palette with Moroccan vibes.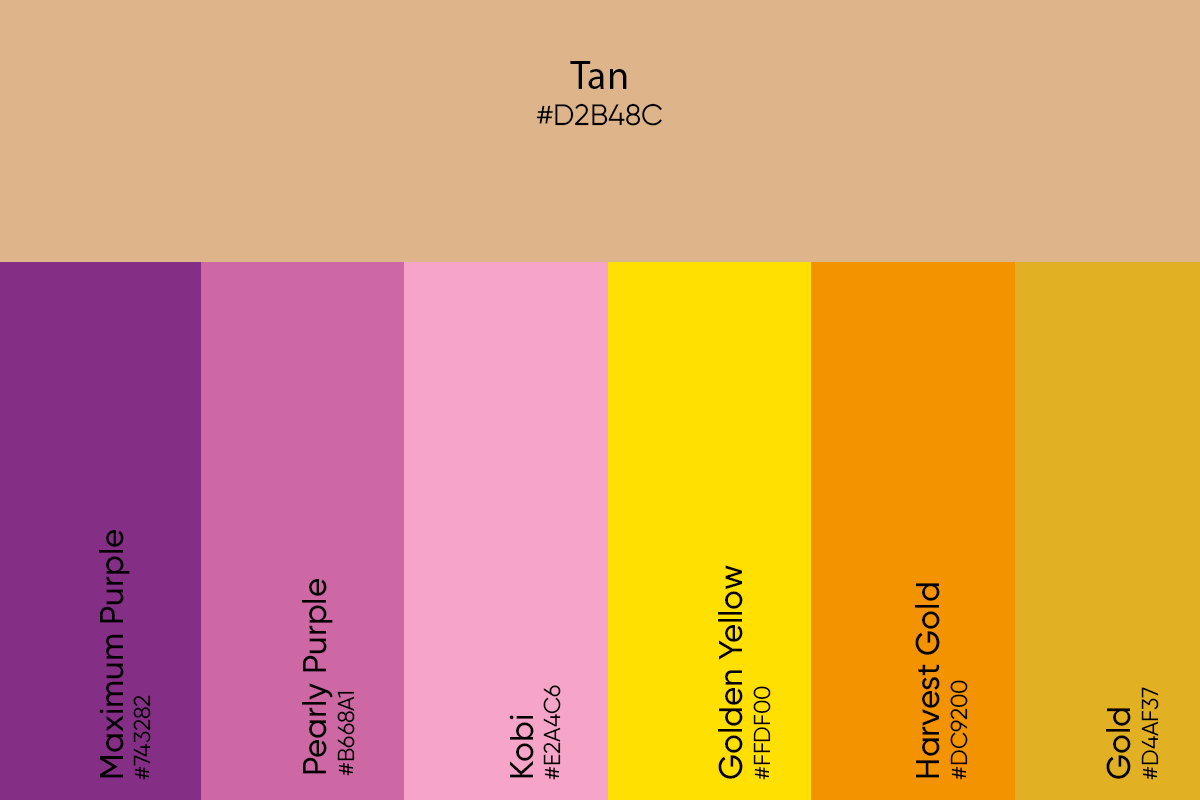 Spring: Use tan alongside with Lavender Blush (#FFECF0), Millennial Pink (#F3CFC6), Pastel Pink (#DEA5A4), Alice Blue (#EFF9FD), Water (#C8E8FC), Pastel Blue (#AEC6CF), Peach (#FFE5B4), Beige (#E2E5CB), and a vibrant accent of Bumblebee (#FCE205). This makes for a delicate, spring-forward tan color palette with a spring feel.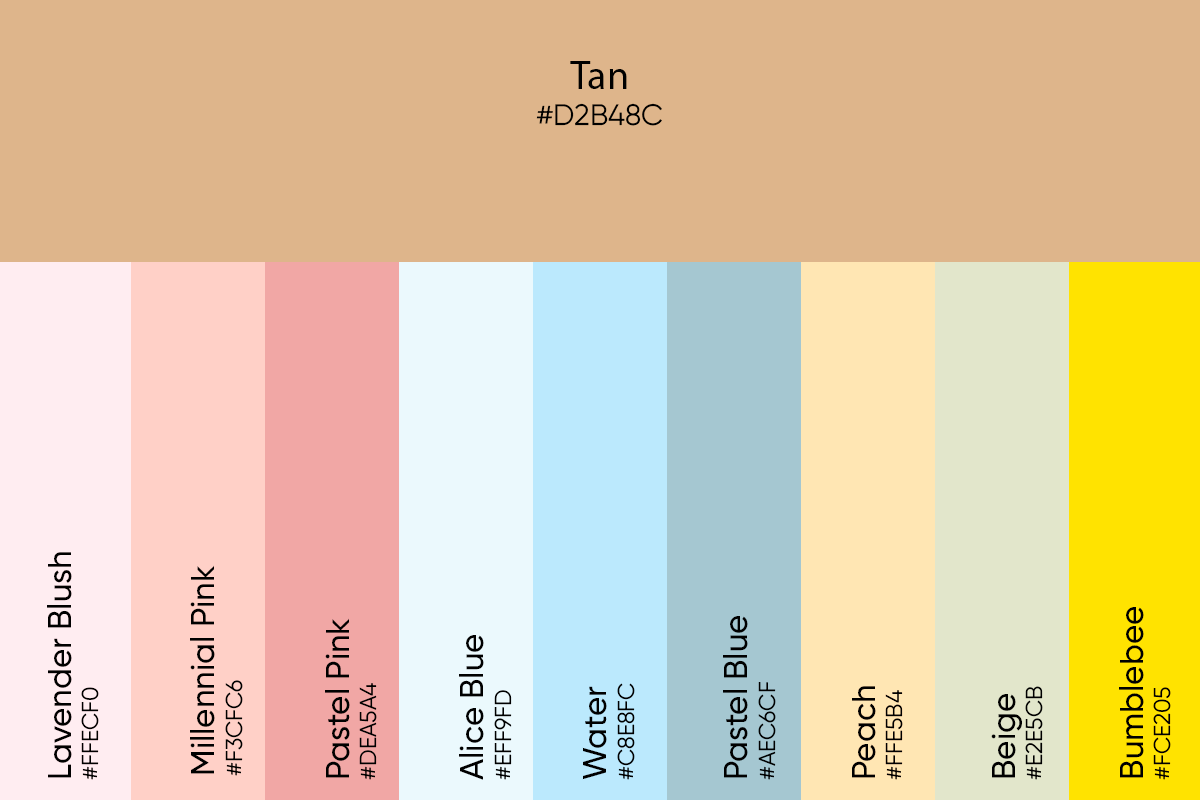 Colors That Go Well with Tan
Color theory is a great way to find colors that pair well with tan. Use the below tools to identify what pairs well when coming up with your own unique color palette.  
Complementary Colors: The complementary color scheme is made up of two colors opposite one another on the color spectrum. In this case, the tan color is called the base, and Ceil (#8ca8d1) is its complementary color, called the compliment.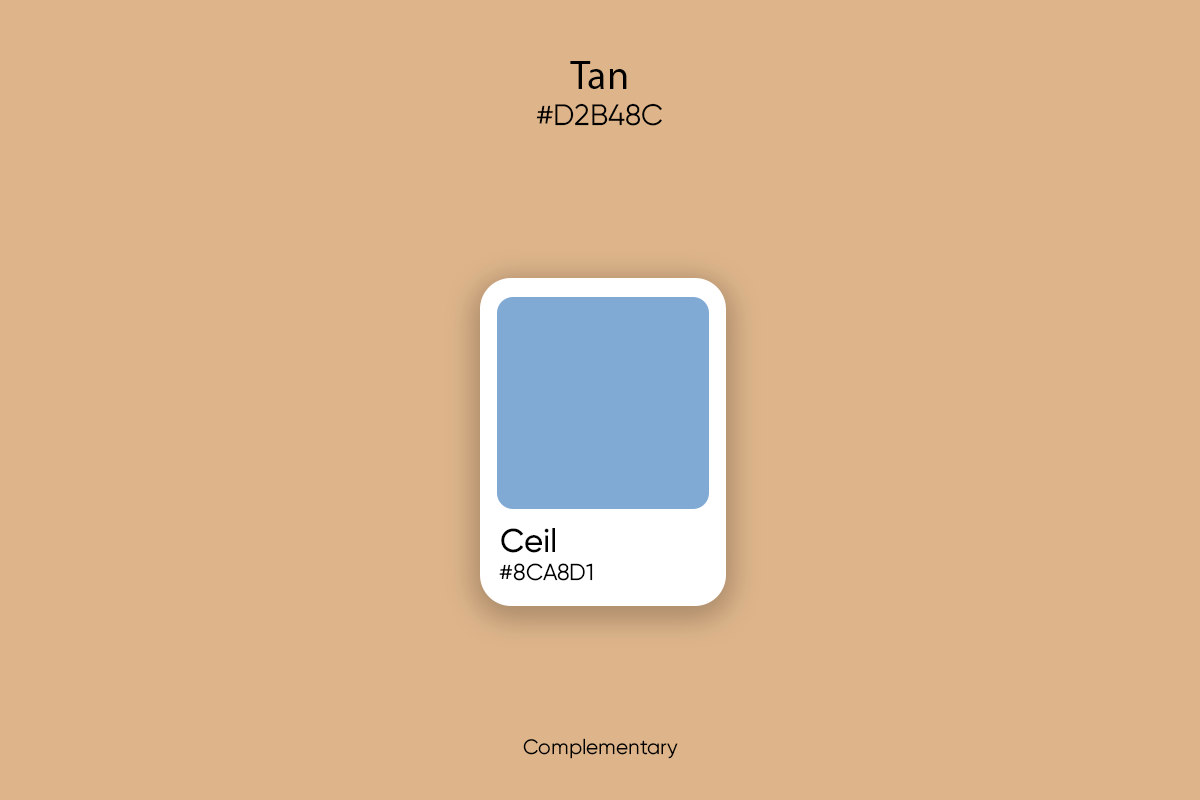 Split Complementary Colors: The split complementary color scheme is made up of three colors. Here the base is paired with the two colors on either side of the complement color (#8ca8d1) which are: Sherwin Williams After the Rain (#8ccbd1) and Dahlia (#918cd1).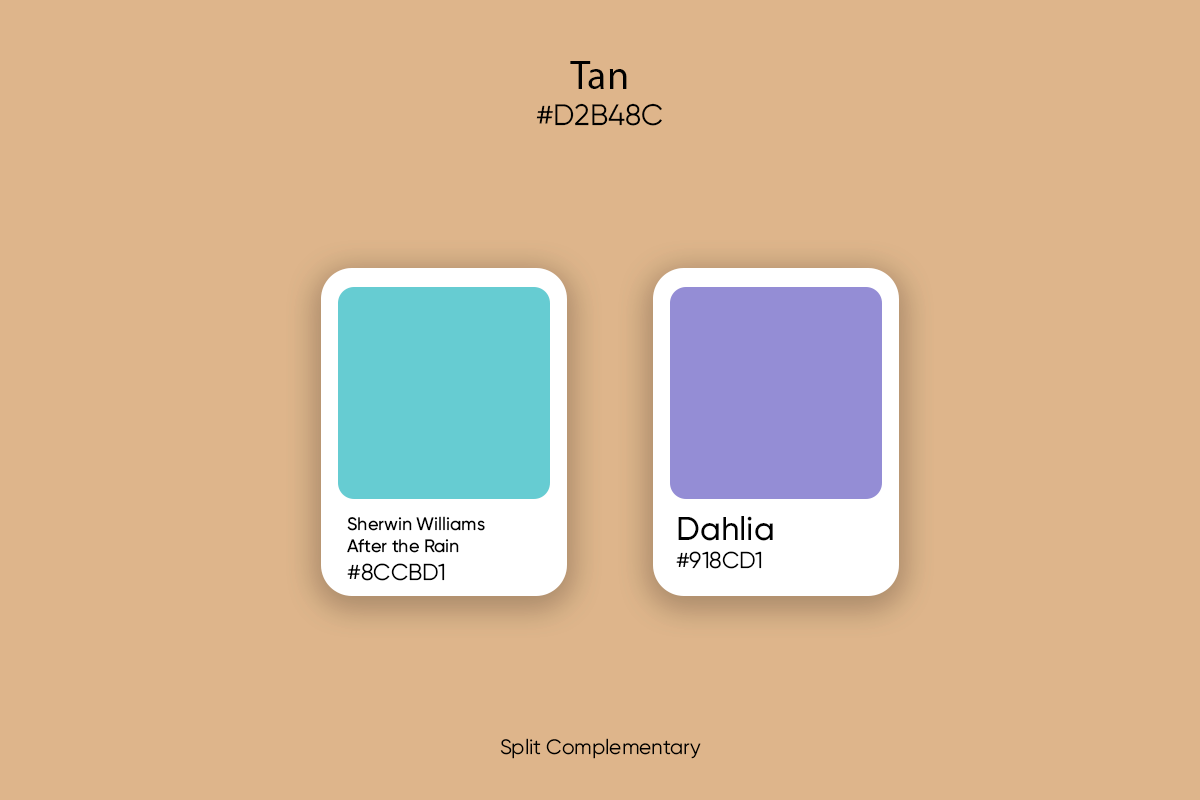 Analogous Colors: The analogous color scheme is made up of three colors that are next to one another on the color wheel. The palette is made in similar fashion to how the Split Complementary palette is made. However, the two secondary colors are adjacent to the base color, not the compliment, and are: Sherwin Williams Dancing Green (#cbd18c) and Resounding Rose (#d1918c).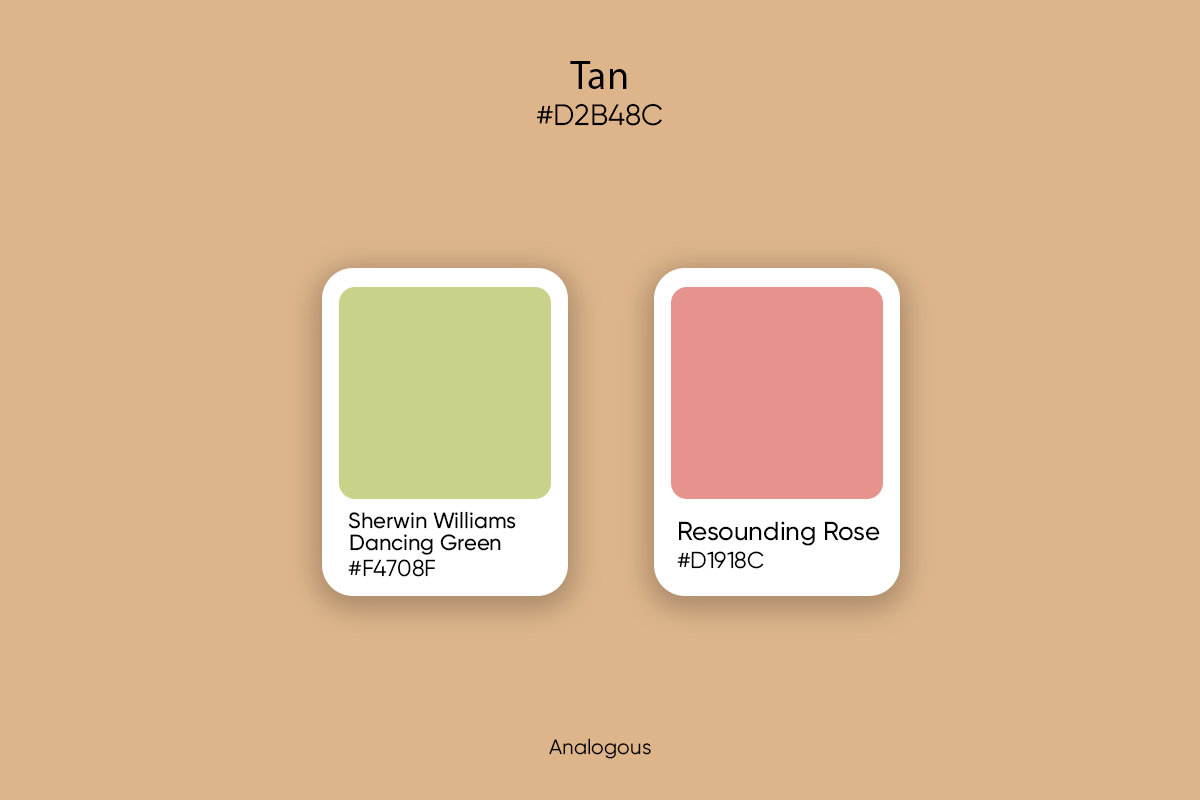 Triadic Colors: The triadic color scheme is made up of three colors spaced evenly (120°) apart on the color wheel. In this case, the two colors are: Aquastone (#8cd1b4) and Lenurple (#b48cd1).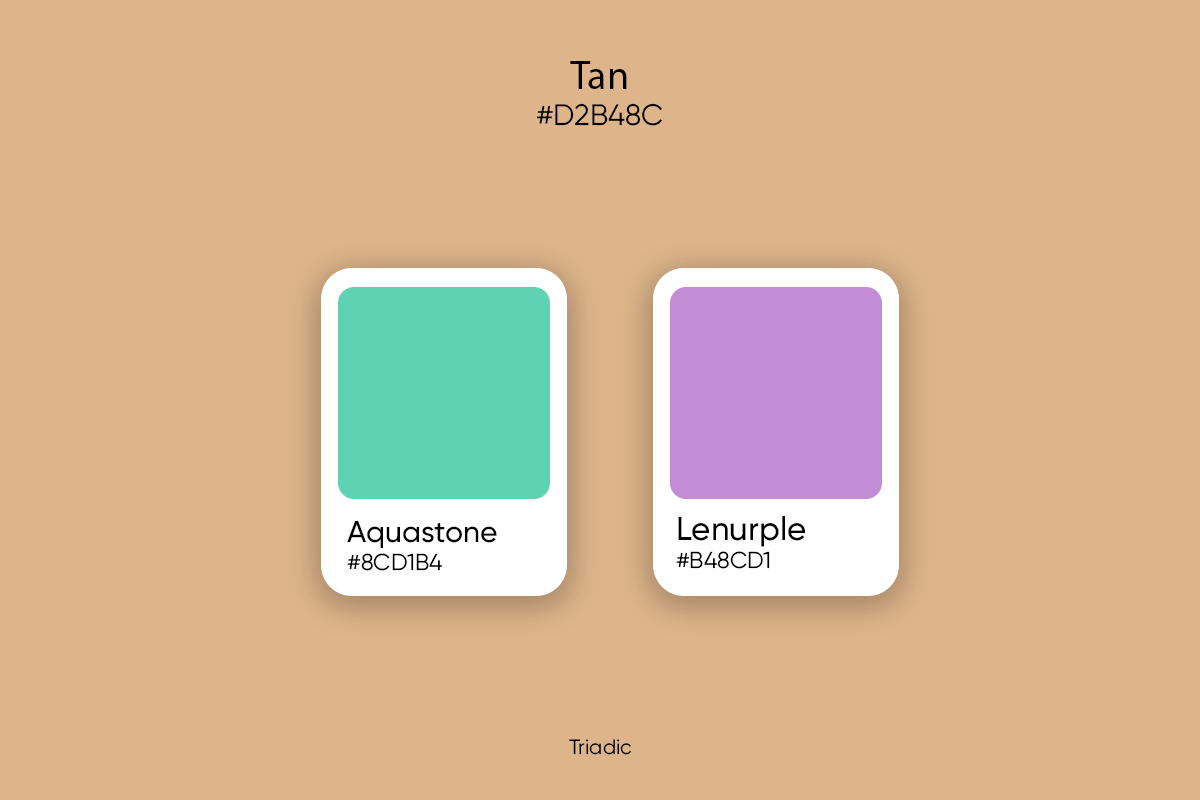 Tetradic Colors: The tetradic color scheme is made up of four colors spaced evenly (90°) apart on the color wheel. In this scheme, the colors that pair well with tan are: Aquastone (#8cd1b4), Ceil (#8ca8d1), and Rosebay (#d18ca8).
Monochromatic Colors: To create a Monochromatic color palette, consider pairing the tan color with: Brandy (#dabc94), Calico (#e2c49c), Gold (#e8caa2), Maize (#f1d3ab), Peach Yellow (#fbddb5), and Negroni (#ffe5bd).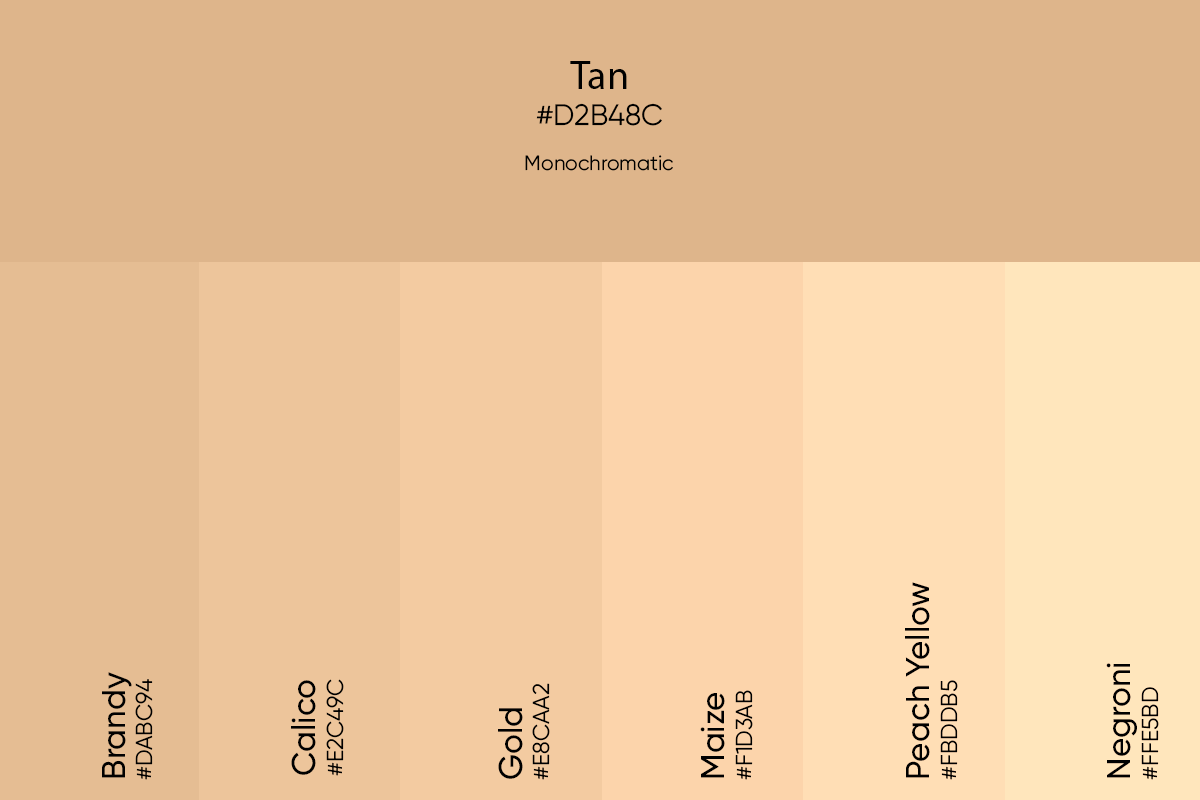 Similar Colors and Shades of Tan
Looking for some inspirational alternatives to the tan color? Famous variations of the tan color include: Tuscan Tan (#a67b5b) and Windsor Tan (#a75502).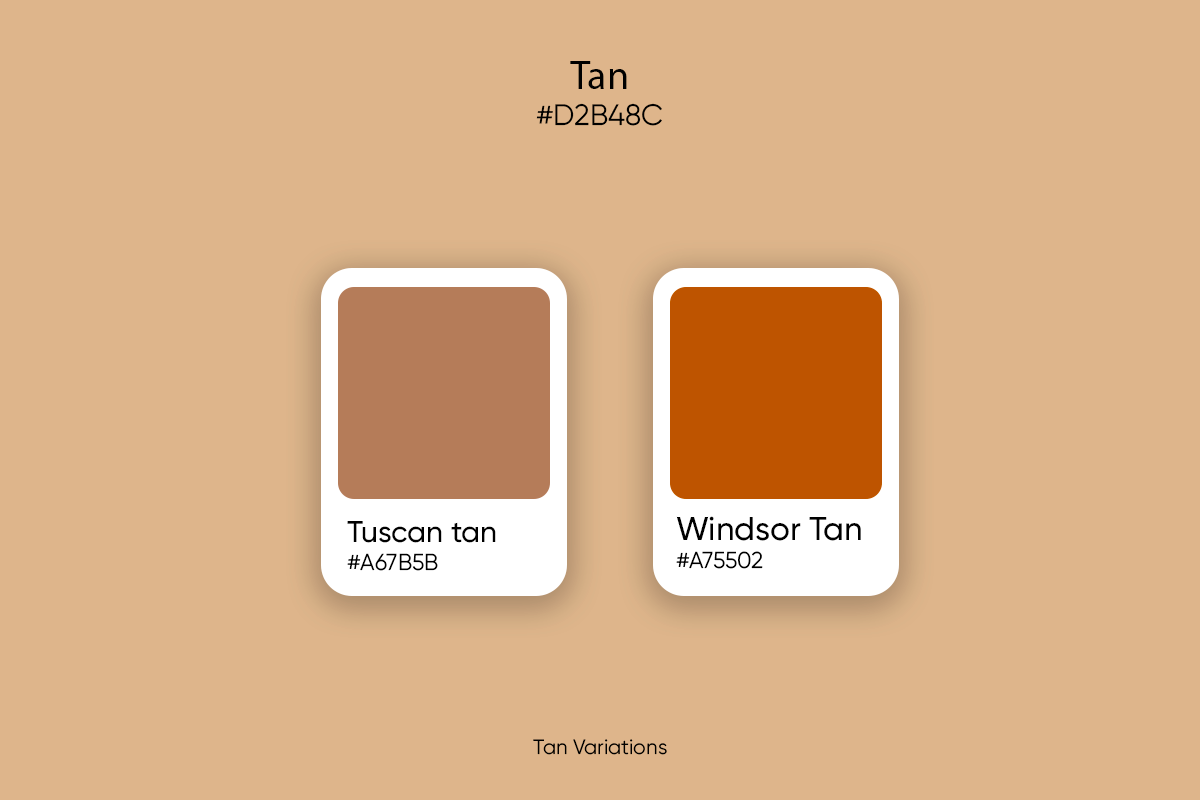 You can also consider Straw (#d8ba92), Sorrel Brown (#c9ab83), and Brandy (#dabc94). Then, play around with darker and lighter shades of tan with hexadecimal codes #d5b78f, #cfb189, and #ccae86.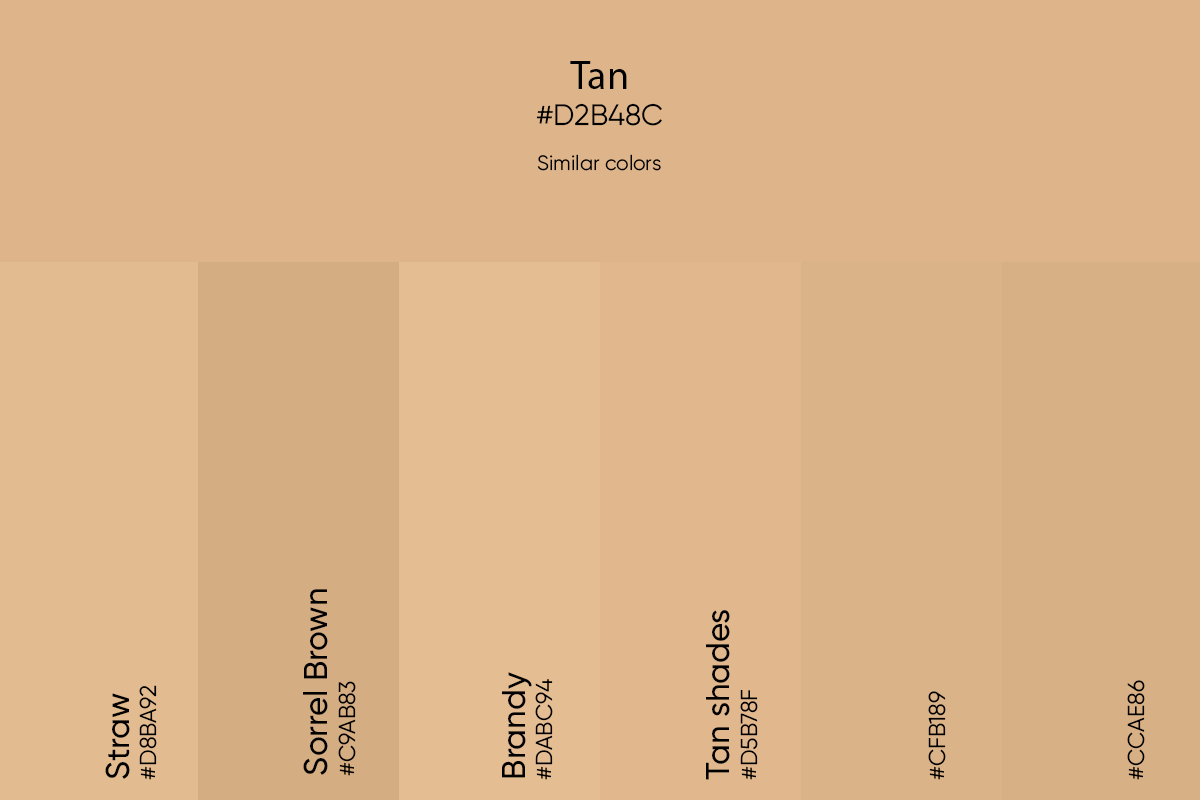 To create shades of tan, just add some black color to it. Here are some of them: from the darkest Raw Umber (#64461e), to Dallas (#6e5028), Yellow Metal (#82643c), Barley Corn (#a0825a), Teak (#b4966e), and the lightest tan (#cdaf87).
Tints of tan can be created by blending the color with different amounts of white: Cashmere (#e6c8a0), Peach Yellow (#fadcb4), Baja White (#fffad2), Sandy Beach (#fff0c8), and Ivory (#fffff0).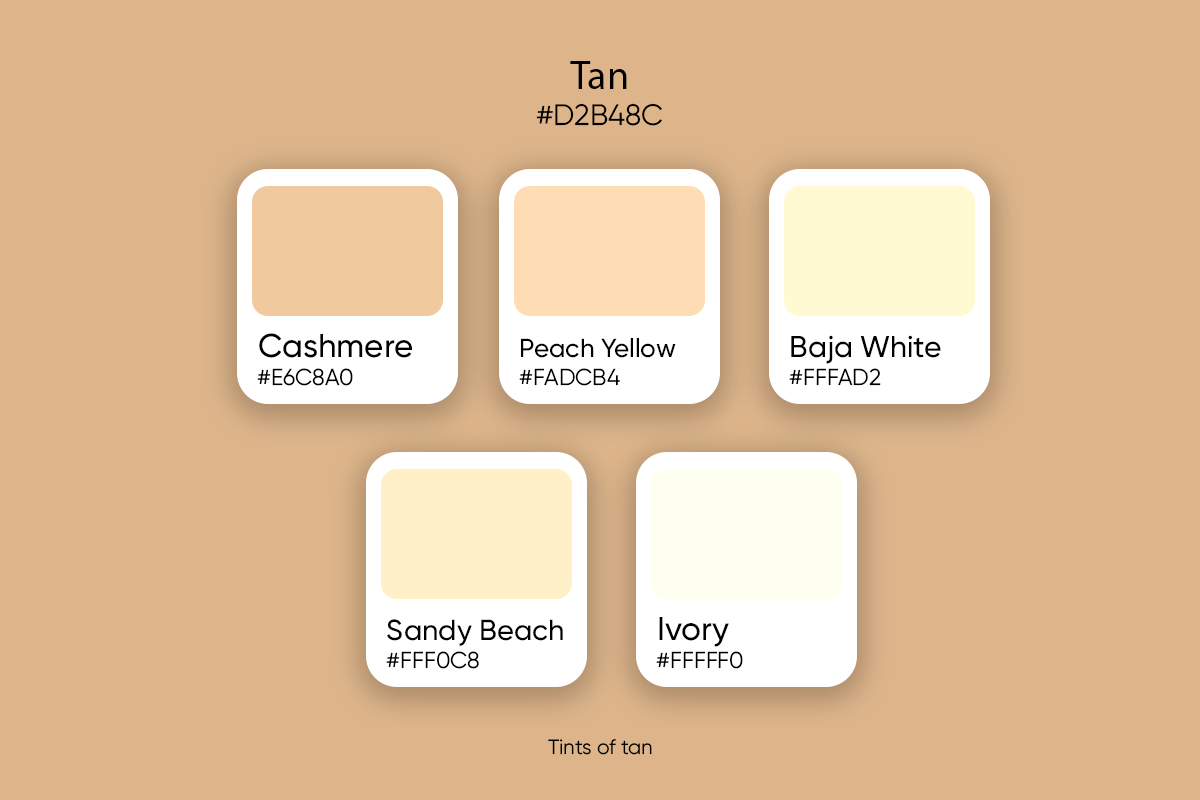 Tan vs Beige
You've probably heard them used interchangeably, but what's actually the difference between tan and beige? Beige is a grayish tan, typically with a slightly yellowish gray color, as that of unbleached wool. However, tan is a pale brown color, as that of tannum (oak bark) used in the tanning of leather.
Create Fantastic Photos Using this Color 
Ready to give the tan color a try? Here are some creative ways to incorporate this versatile hue into your design scheme with Picsart:
If designing on the mobile app:
1) Open the Picsart app and tap on the plus sign (+) at the bottom of the screen to start a design.
2) Tap on Color Backgrounds, then More and select the tan color using the color wheel. You can also simply type in the above-mentioned tan color code (#d2b48c) and your earthy background is ready.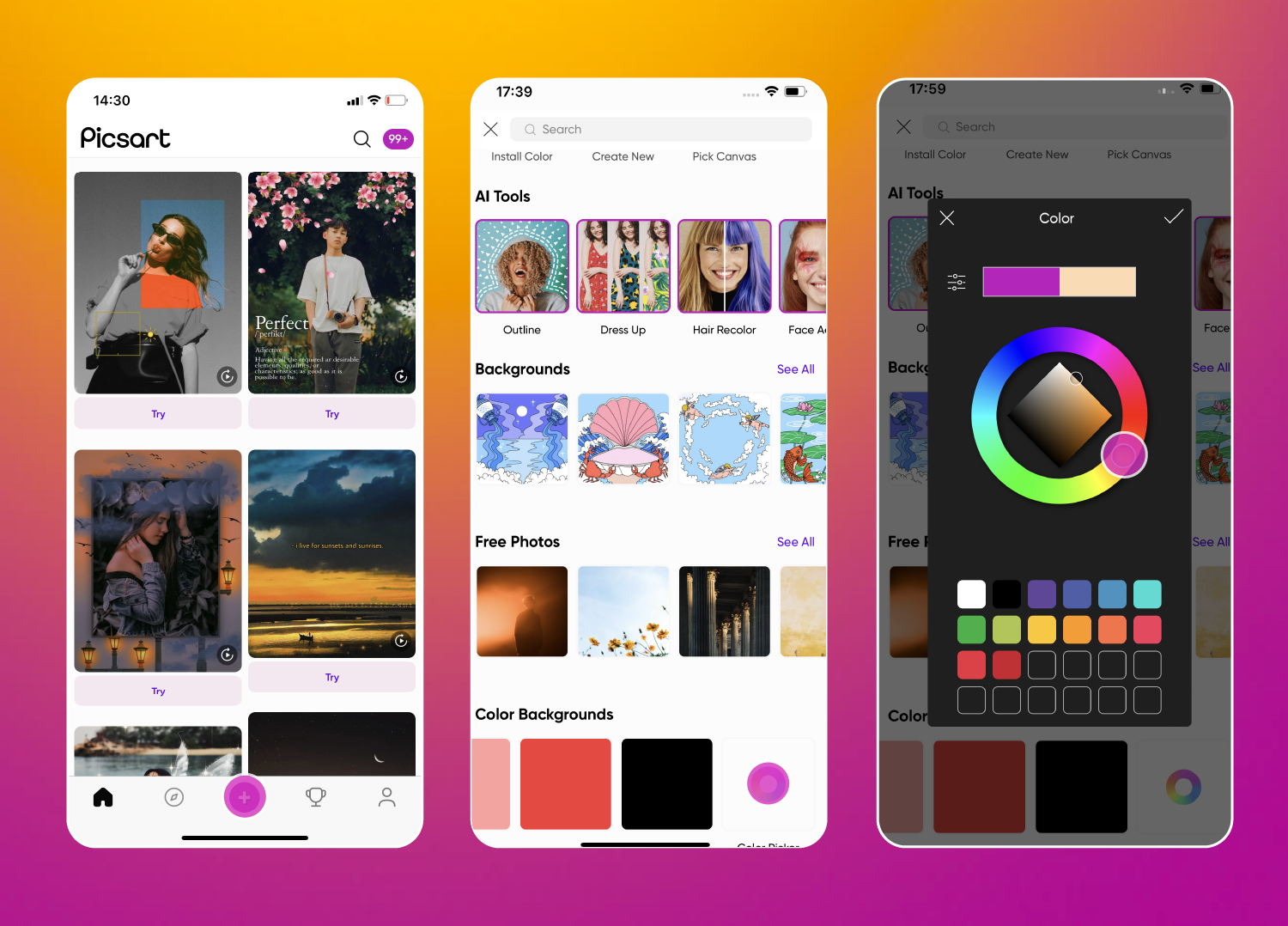 3) Speaking of earth, let's make an out-of-this-world edit. Scroll across the Editor toolbar on the bottom of your screen and tap on Sticker and select a sticker that compliments your tan background.
4) When you are happy with your design, tap Next, then save and share it with your fans and friends.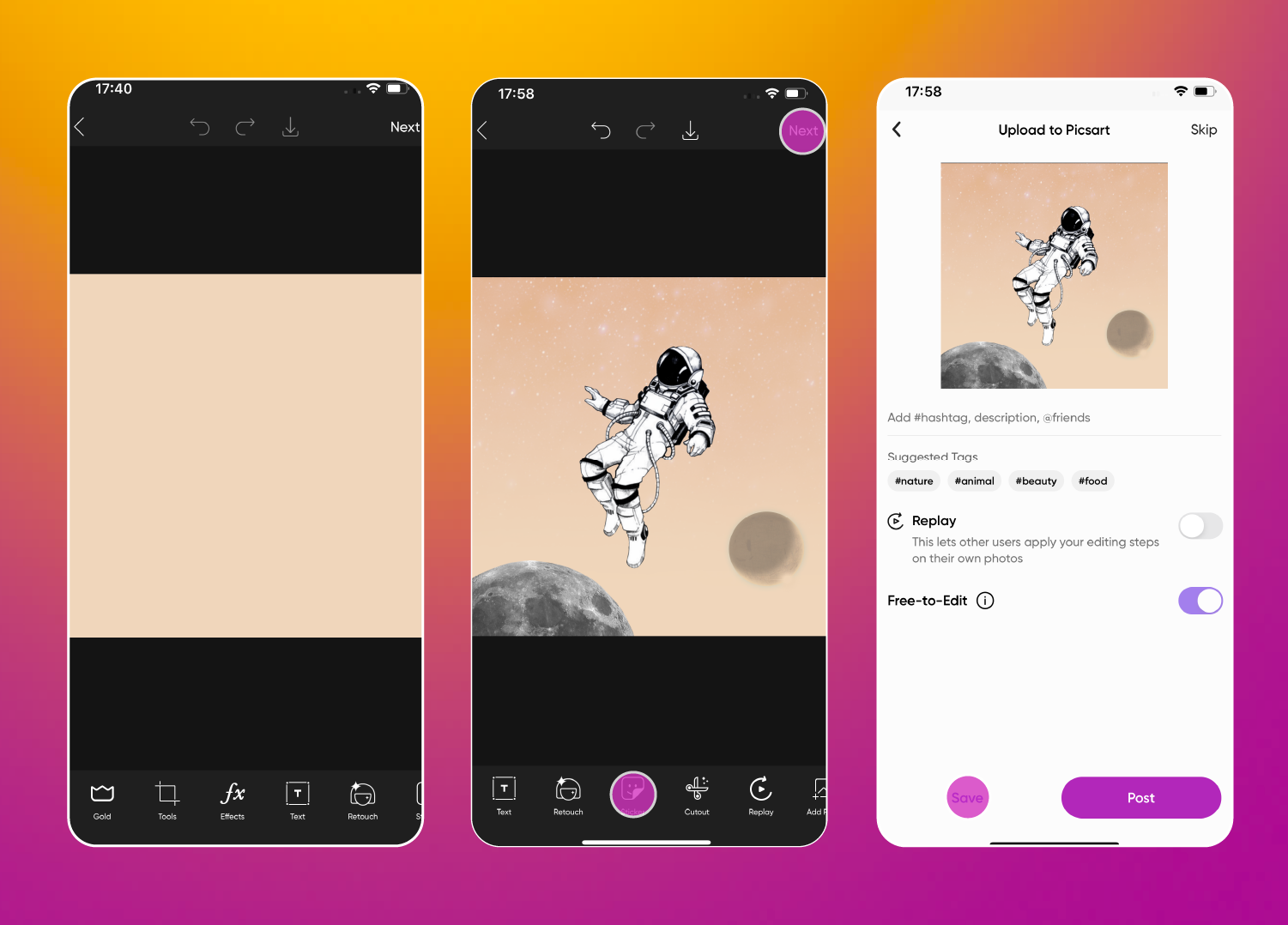 Want to add text to your design? Scroll across the Editor toolbar and tap on Text. Write your text, then tap on the upper right checkmark to keep the copy. Then, scroll right to pick a font and tap on Color to choose a tan shade for your text. Click Apply when you're done.
Do you need just a splash of the tan color in your photo? Tap on Effects and then Colors. Click Color Splash and move the wheel to the tan colored part of the photo. You can then move the two sliders to adjust the hues.
If designing on the web:
1) Open the Picsart Editor and start a new project.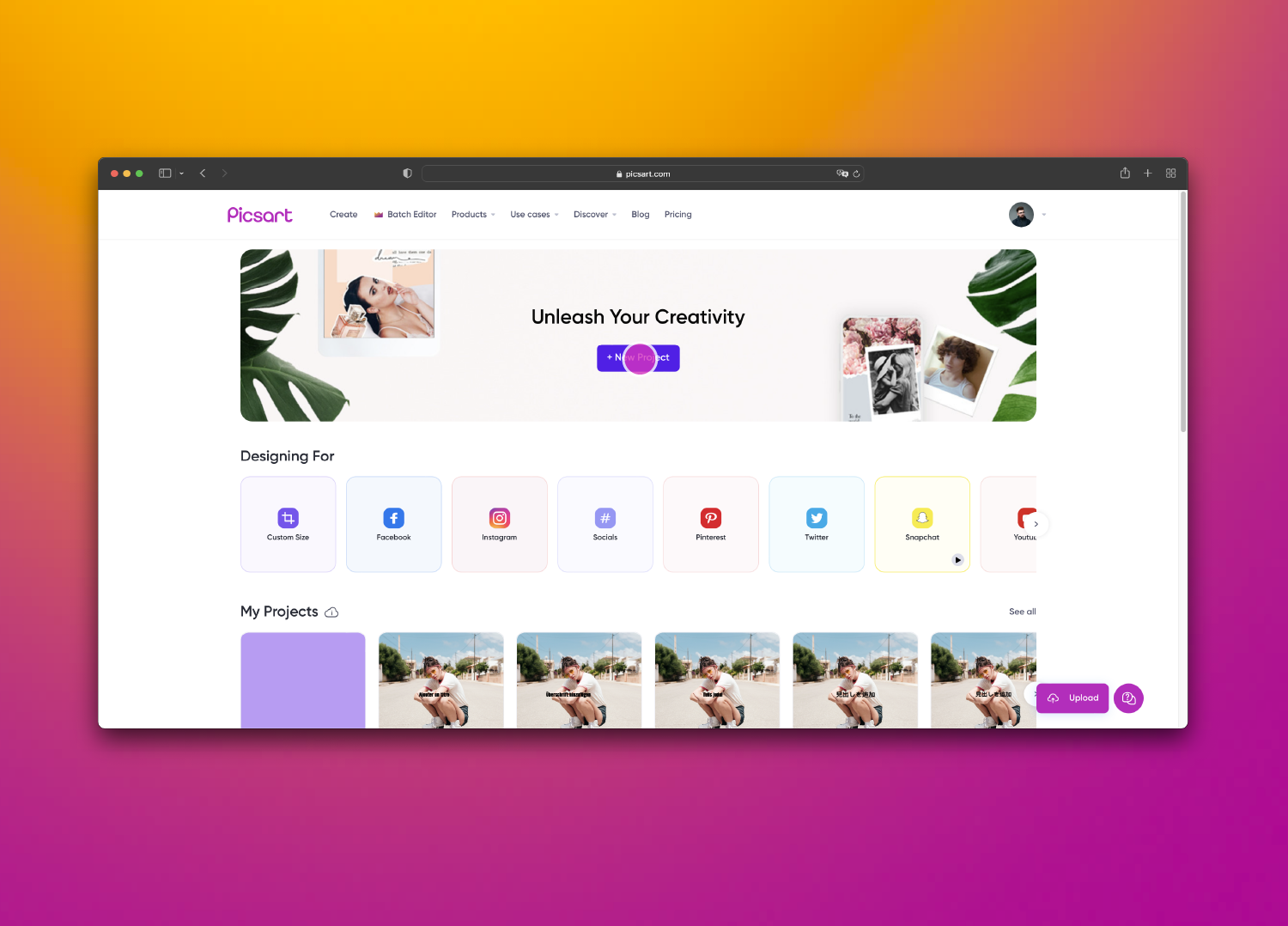 2) Now, let's change the background color. Select Elements and select a square, then drag to cover the whole canvas size.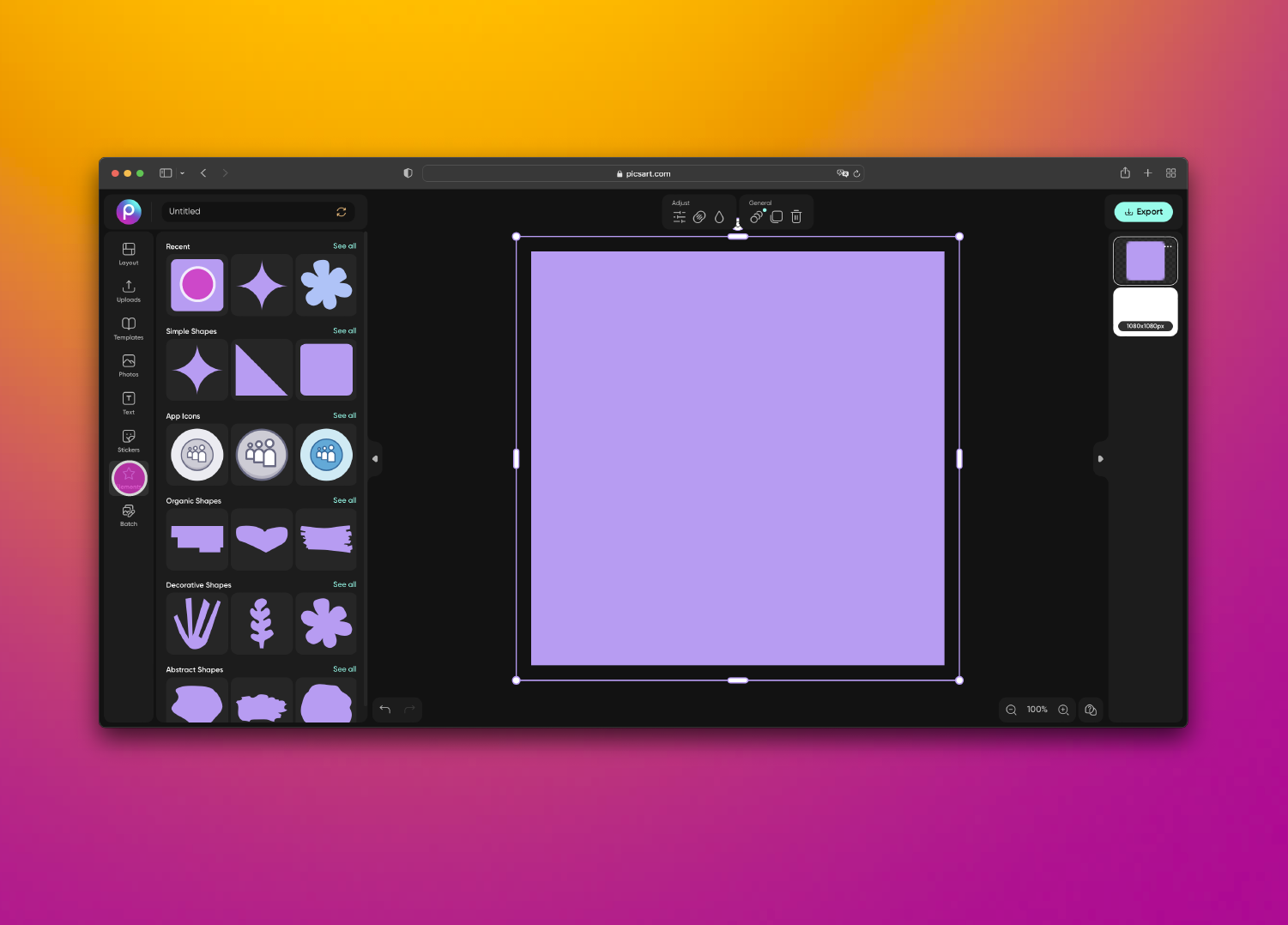 3) Click on the Color Dropper above your canvas and type in the color code. Now you have a tan canvas.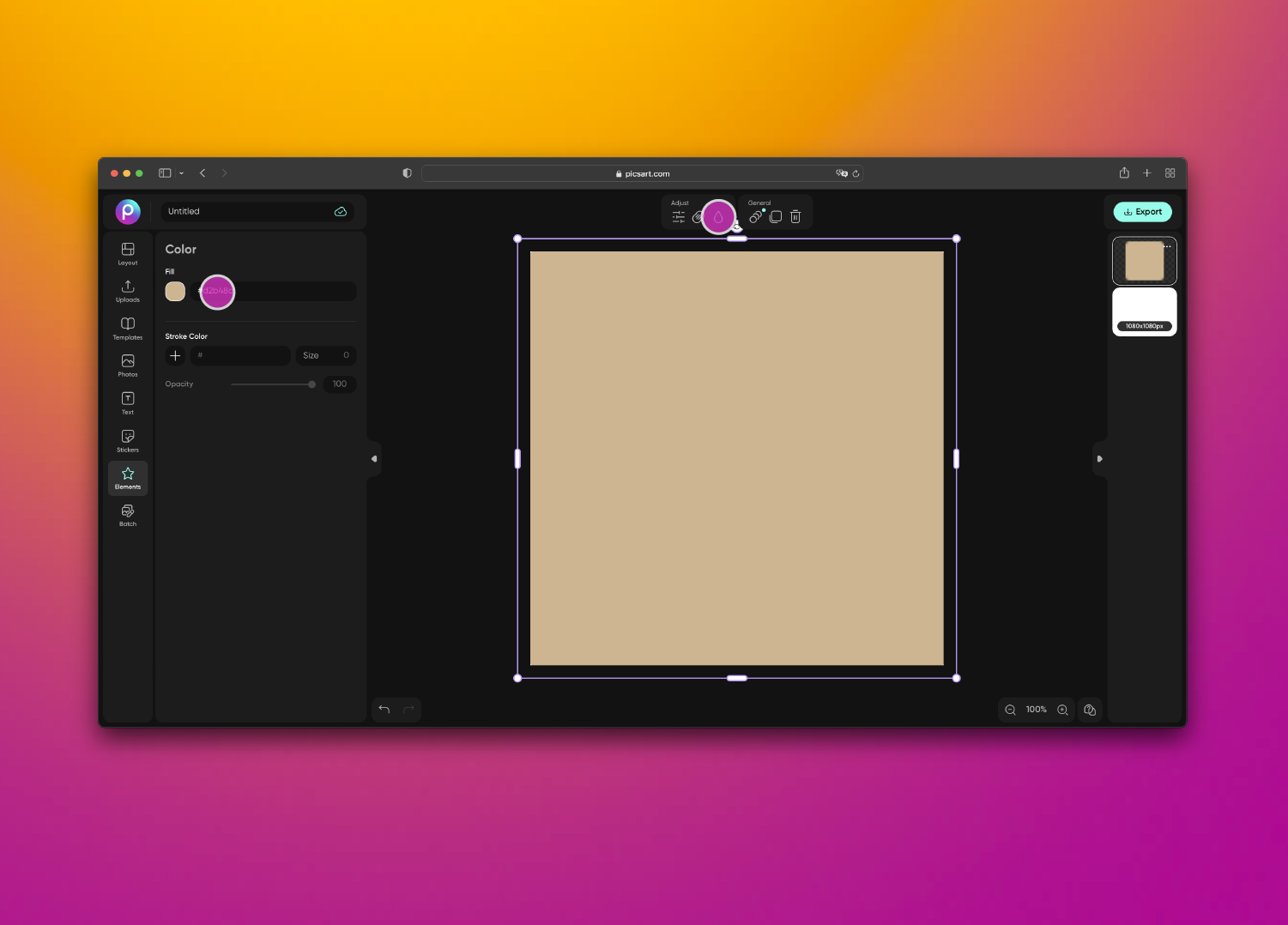 4) Let's start designing. Similar to how we did in the app tutorial above, select the Stickers icon in the toolbar and search for whatever stickers you like. Consider adding filters, text, and more to complete your edit.
5) When done, click on Export to download and save your edit to your desktop. Here you can also select the file size, type, and name.
Picsart is a full ecosystem of free-to-use content, powerful tools, and creator inspiration. With a billion downloads and more than 150 million monthly active creators, Picsart is the world's largest creative platform. Picsart has collaborated with major artists and brands like BLACKPINK, Taylor Swift, the Jonas Brothers, Lizzo, Ariana Grande, Jennifer Lopez, One Direction, Sanrio: Hello Kitty, Warner Bros. Entertainment, iHeartMedia, Condé Nast, and more. Download the app or start editing on web today to enhance your photos and videos with thousands of quick and easy editing tools, trendy filters, fun stickers, and brilliant backgrounds. Unleash your creativity and upgrade to Gold for premium perks!