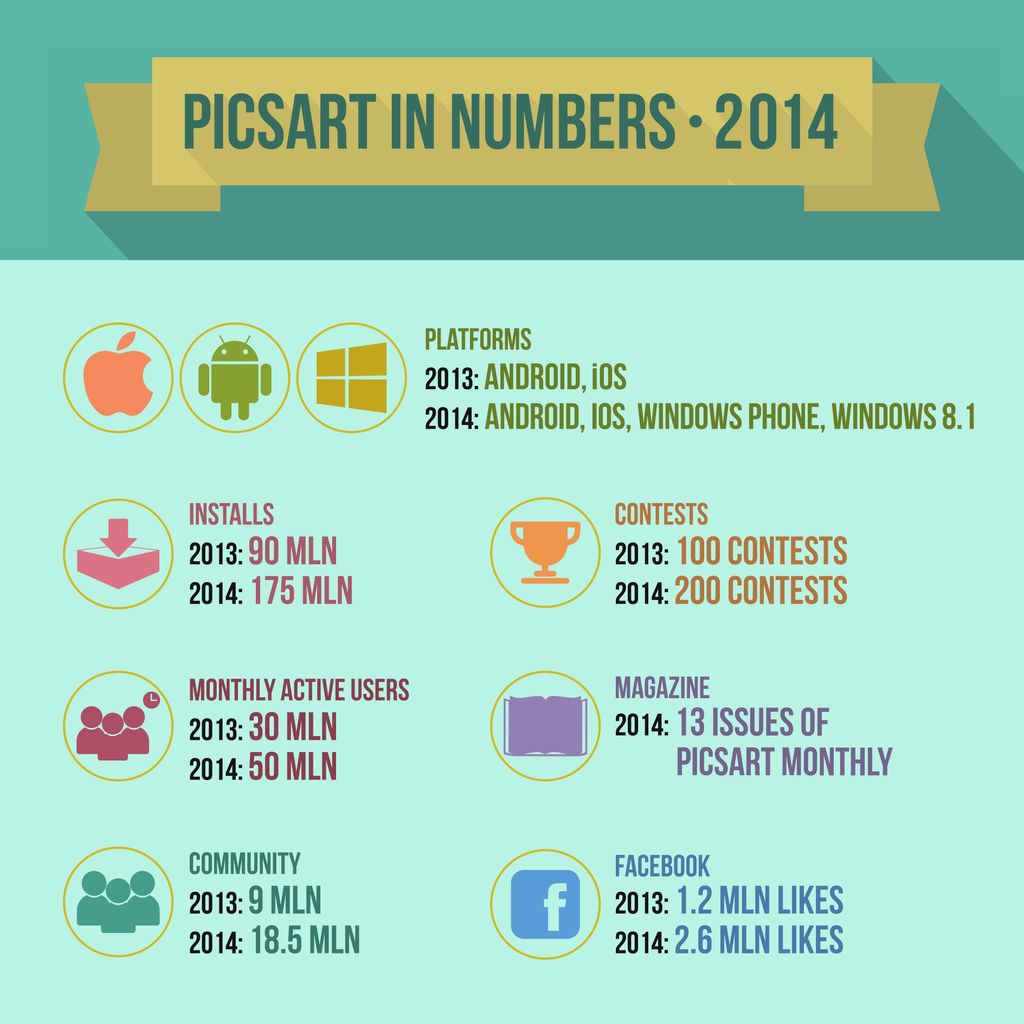 November 7th marks the third anniversary of PicsArt Photo Studio (PicsArt), as well as the third straight year of multiplying its user base. With a social network of nearly 20 million registered users, PicsArt's mission for 2015 is to build the largest network for creatives.
In 2014, PicsArt focused on maximizing accessibility across platforms. Over the last year, PicsArt expanded from Android and iOS devices to Windows Phone devices and Windows 8.1 computers. Today, the app stands at 175 million installs across all of its platforms, doubling last year's mark. The app continues to grow by 7 million installs every month.
The key to PicsArt's growing success is its community-driven approach. PicsArt involves users and their input in the app's development, using both feedback and direct collaboration. Through beta testing, PicsArt allows users to try features that are still in development, helping the company refine them before they are released. PicsArt, within the framework of its localization process, also crowdsources the translation of PicsArt into 42 languages.
Over the entire year, PicsArt was updated 17 times across all platforms. The updates regularly expanded and streamlined the editor and social network. A recent milestone was the arrival of the time-lapse video feature on Android. Driven by community requests, PicsArt also expanded the Photo Studio to include a myriad of effects and masks, while introducing entirely new tools like the Stretch tool and Curves tool.
The social network, meanwhile, was enhanced with more intuitive menu options, the integration of other networks like Instagram, increased photo security, and a revamped contest section, with the latter leading to a 20% increase in contest participation.
This November also marks a year since PicsArt released its first issue of PicsArt Monthly, the app's online magazine. The magazine is released at the beginning of every month on PicsArt's Daily Journal and features the art of users and professionals, as well as tutorials, interviews, articles, and news.
PicsArt is an all-in-one photo editing and drawing app and a social network. It empowers you to transform photos into works of art, express yourself, inspire others and get inspired by others in turn.
To learn more about PicsArt, visit PicsArt.com.