Unless you're a millennial or a hardened gamer, you might be wondering what Twitch is. If you're part of Generation X, you're probably laughing at anyone asking the question. Twitch is a 10-year-old application that features video game live streaming, e-sports, and music. Like most other social media platforms, you can personalize your account and how you appear to others. And, Twitch has a few ways of doing this: through panels, online and offline screen banners, and a cover image. But you're here to learn how, right? Luckily, everything you need to know can be found right here, from info on the correct Twitch panel size and how to make the perfect elements for your account.
Whether you're new to the app or a long-time user, it's important to show off your personality and stand out. Below, we'll run through the sizing parameters for all aspects of your Twitch profile. We'll show you how to make a cover image and other custom elements (such as panels) that will give your followers a great introduction to who you are and what you do. You can only ever make one first impression, after all.
Twitch Size Guide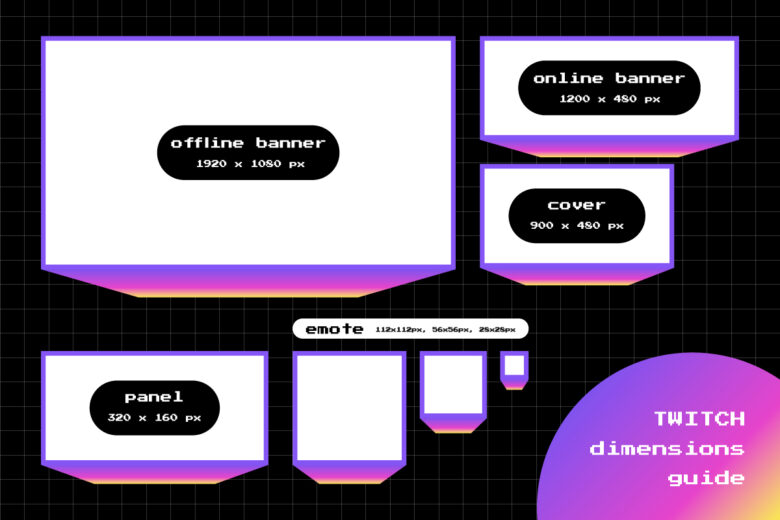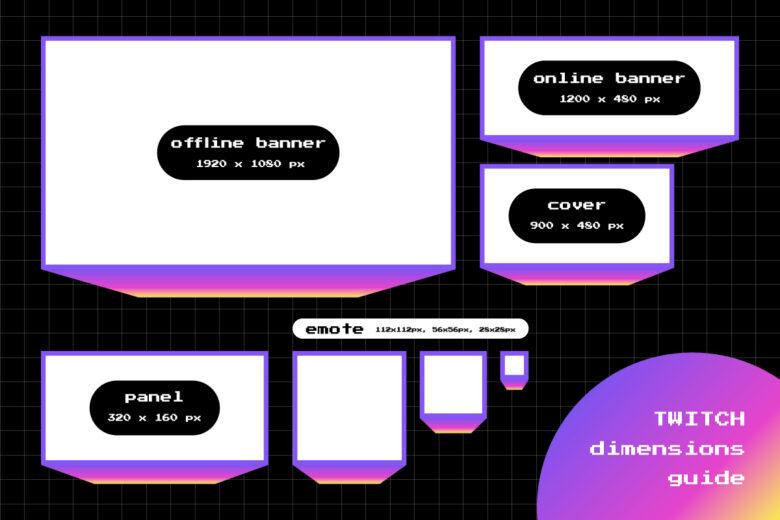 It's vital to use the correct sizes when creating custom graphics. Otherwise, some of your hard work may get cut off. The secret is starting with the right canvas size. You can always consult the Picsart resize tool if you're stuck.
Twitch Panel Size
Let's talk Twitch panels. If we had to define them in simple terms, we'd name them call-to-action buttons. Many users post links to other social media platforms, an option to donate, personal information, and streaming schedules. There are many free templates you can download online, but if you want to make your own, the below dimensions will result in the right Twitch About Me panel size (and will work for other panels, too). What's the best file type for custom Twitch panels? Stick to JPEG or PNG formats.
Panel dimensions: 320 x 160 pixels
Twitch Emoji Size
Twitch emojis, also known as Emotes, are proprietary emoticons that encapsulate the spirit of the platform, and make it feel like a community unlike any other. The app allows some users to add custom Emotes. So, if you plan to make graphics that represent you better than any ready-made emoji ever could, you'll need to know the recommended size. Check out more at the Picsart emojis tool.
Emote dimensions: 28 x 28 pixels, 56 x 56 pixels, and 112 x 112 pixels (you'll need to upload all three file sizes so keep this in mind when creating).
Twitch Banner Size
Twitch profile banners are the perfect place to highlight the personality of your page. This graphic is front and center, and provides a fun background for your cover graphic, so use these pixels wisely.
Online banner dimensions: 1200 x 480 pixels
Offline banner dimensions: 1920 x 1080 pixels
Twitch Cover Size
If you follow the tutorial below, you won't even need to measure, since Picsart already has an easy-to-use template for Twitch cover images, but if you do decide to make your own from scratch, heed the following measurements.
Cover dimensions: 900 x 480 pixels
How to Add Custom Elements to Your Twitch Profile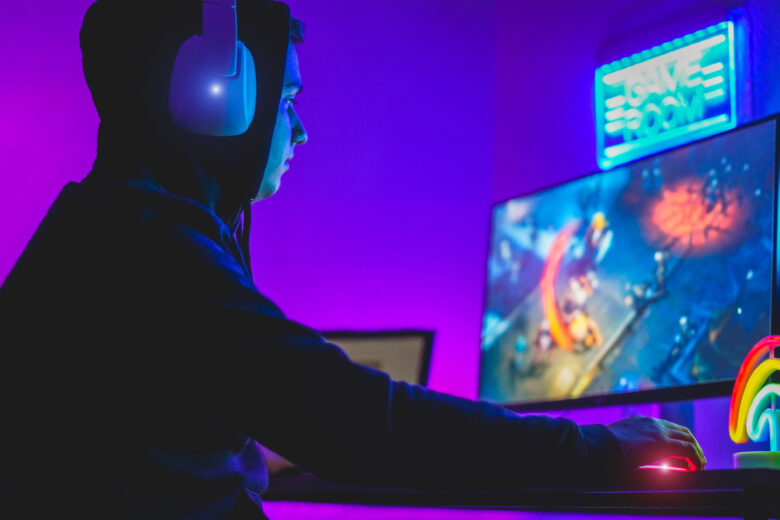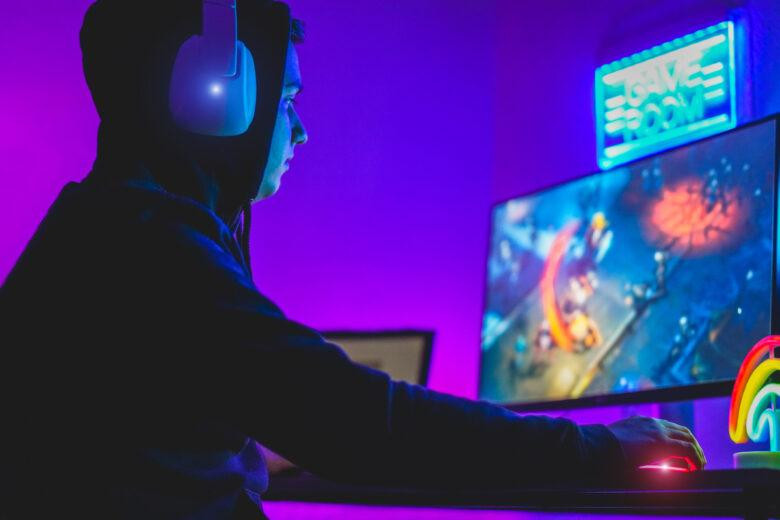 Some elements are easy to add because the app allows users to customize them. A cover photo, for example, is something that all users should be able to easily upload. Custom Emotes, however, can only be added by affiliate and partner streamers.
How to Make a Twitch Cover
On Desktop
Open the Picsart web editor and scroll down to the Templates section. Then, click on See All on the right-hand side of the screen.

Click on the All Templates drop-down menu on the left-hand side of the screen and select Twitch Cover from the list.
Select the template with which you'd like to work. Keep in mind that you change almost every detail in the next steps, so your choice will not necessarily lock you into a certain feel.
In the right-hand panel of your screen, you can scroll through all of the graphic elements currently on your canvas. Here you can change editable aspects of any of these elements by clicking on the miniature of the element. You can also click directly on the element on the canvas. If you need to remove elements, you can do so by clicking on the three dots in the corner of the miniature and selecting Delete from the menu that pops up.
Most graphic elements will need to be deleted and replaced unless they are editable Shapes or Text. If you do wish to change the style of the text, simply click on the text box that you wish to work on and then select the font icon from the toolbox over your canvas. You will then be able to see all of the options for different typography styles and font sizes. Want to change the color of a font or other element? Click on the droplet icon from the same toolbox, and use the color picker or ready-made colors we have available to get the perfect hue. For more on typography, check out the Picsart font generator.
If you do end up deleting photos or stickers, you can easily replace them with ones that feel more like you. Highlight the Photos icon in the left-hand panel of the screen to search our image library. You can also import your own images by highlighting the My Photos option and uploading a picture from your personal library.
If you're looking for a graphic, like a sticker or social media icon, do the same, just by searching the Picsart Stickers library. Don't like a change you made? Simply hit the back button on the bottom of the screen to undo your last move.
7. When you're satisfied with your design, download it so that you can share it with the world on your Twitch profile. Click the Export button and choose your dimensions and file type. Remember to always use the best possible quality settings.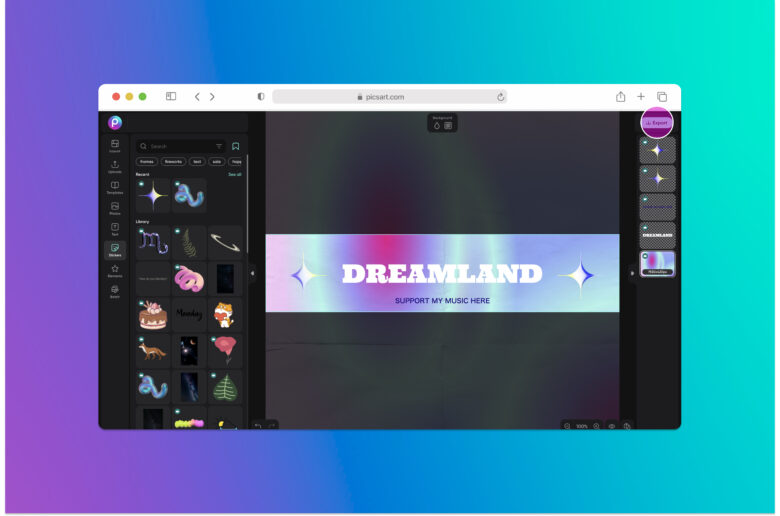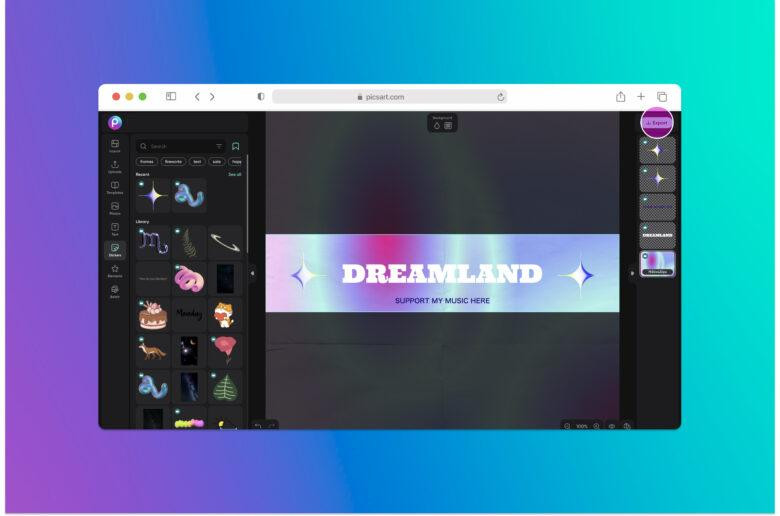 On the App
Open the Picsart app and tap on the purple plus sign to get started.
Scroll down to Templates and select All Templates.
Search for Twitch specific templates and browse the options until you find something you love.

Personalize any elements of the template that you require, tapping on things like Text, Shapes, etc, and editing it to reflect your preference.
When you've completed the editing steps and you're happy with the look and feel of everything, tap on the Next button in the top right-hand corner.
Tap on either Save or Post to complete your work.

Pro tip: If you want to try your hand at making other elements for your Twitch account, like panels, you know enough now to work from scratch.
Instead of using a template, as demonstrated in this tutorial, simply create your own canvas using the right dimensions for the element that you want to create. Go back to Step 1, and opt for Custom Size under the Designing For section and plug in the right measurements. You can use our handy guide above for help. For example, if you want to make a Twitch panel, type in 320 and 160 pixels in the respective fields. Then, get designing. You already know how to add elements like Text, Photos, and Stickers, so the sky – or rather, the virtual universe – is the limit.
Picsart is a full ecosystem of free-to-use content, powerful tools, and creator inspiration. With a billion downloads and more than 150 million monthly active creators, Picsart is the world's largest creative platform. Picsart has collaborated with major artists and brands like BLACKPINK, Taylor Swift, the Jonas Brothers, Lizzo, Ariana Grande, Jennifer Lopez, One Direction, Sanrio: Hello Kitty, Warner Bros. Entertainment, iHeartMedia, Condé Nast, and more. Download the app or start editing on web today to enhance your photos and videos with thousands of quick and easy editing tools, trendy filters, fun stickers, and brilliant backgrounds. Unleash your creativity and upgrade to Gold for premium perks!