Video marketing can be an incredible resource for growing your brand. It's engaging and educational, and it's one of the best ways to craft a unique brand identity. And the real magic happens when you combine the power of video with the unrivaled reach of social media. You might feel like creating video content is too expensive or takes too much time, but it's possible to create high-quality content without pinching pennies or spending hours in post-production. Here's everything you need to know about video marketing to create a standout strategy, including different types of videos and helpful video editing tips.
Why Is Video Marketing Important?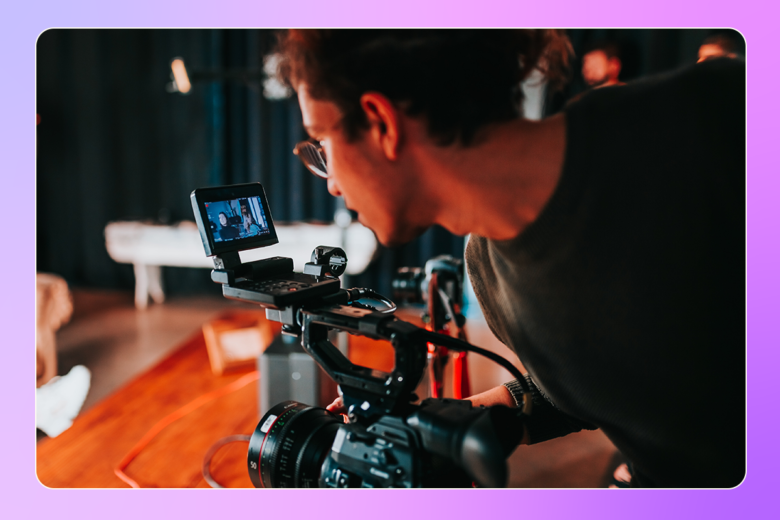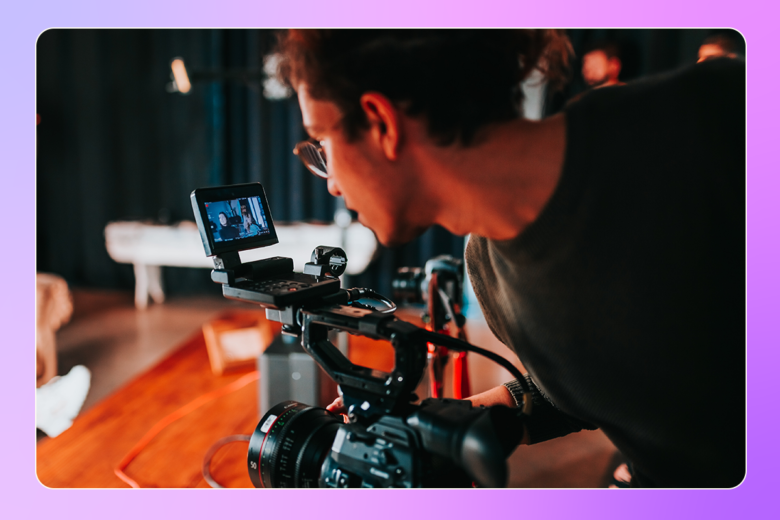 Let's assume that you have a professionally designed website and a strong social media following already. Combined with glowing reviews, that should be enough to land new business, right?
In most cases, the answer is yes. So why use video marketing? Sometimes, consumers need an extra push. They want to learn more about your business, and they need information delivered in an easily digestible way that won't require too much effort to research.
That's where different types of videos can help your business shine. Here's how.
It highlights your expertise
Video content offers an inside glimpse into your skills, which helps consumers feel more confident in their decision. And the numbers back this up: 66 percent of consumers prefer watching videos to reading about products.
It resonates with consumers
Video turns you into an industry expert and shows consumers why you're worth choosing over the competition. It also helps you form a stronger connection with consumers than static pictures or blog posts, helping you differentiate your brand.
It's effective
Sure, creating different types of video content might take longer than your average Instagram post, but it's worth the effort. According to 2018 statistics, 93 percent of marketers say they've landed a customer thanks to social media video marketing.
Pro tip: If you're just getting started marketing your brand online, check out our free ebook on all things Social Media for Small Business.
What Types of Videos Exist?
Experimenting with different types of video styles might seem intimidating, but that doesn't mean you should stick to classic tutorials or explainers. When you step outside of your comfort zone, you'll craft a standout video marketing strategy that sets your brand apart.
So, what types of video styles exist, and when should you use them? Here's a quick guide to help you hit the ground running.
1. Ask Me Anything (AMA) Videos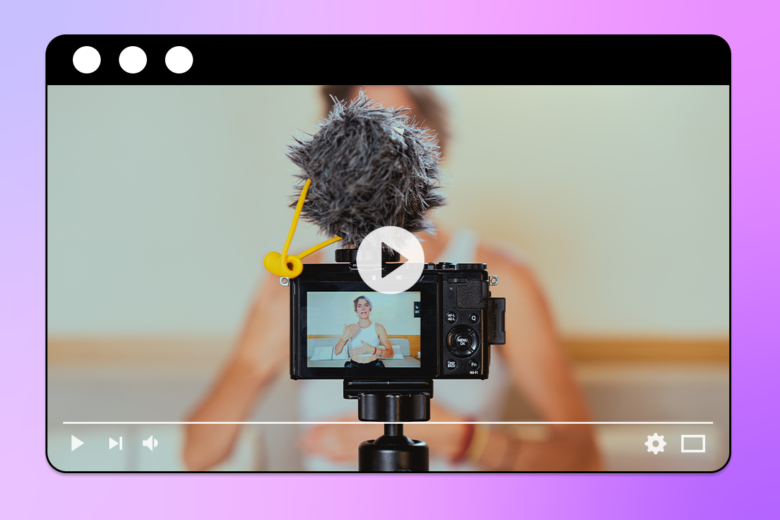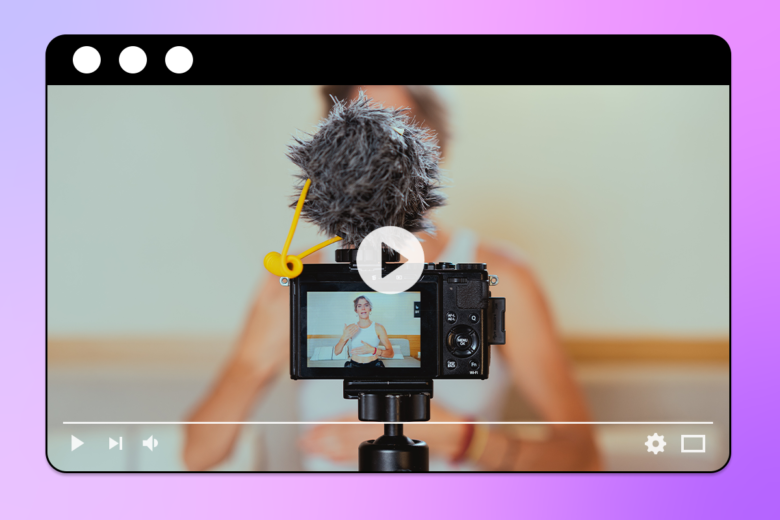 AMA videos are interactive videos where someone answers questions. They're an amazing tool for engaging with your community, helping you reveal the face behind the brand.
Try asking for questions on Instagram Stories and creating a short video answering your most popular questions. Alternatively, Facebook live can help you connect with your audience in real time, and you can even record the sessions for users to view later.
2. Employee Spotlight Videos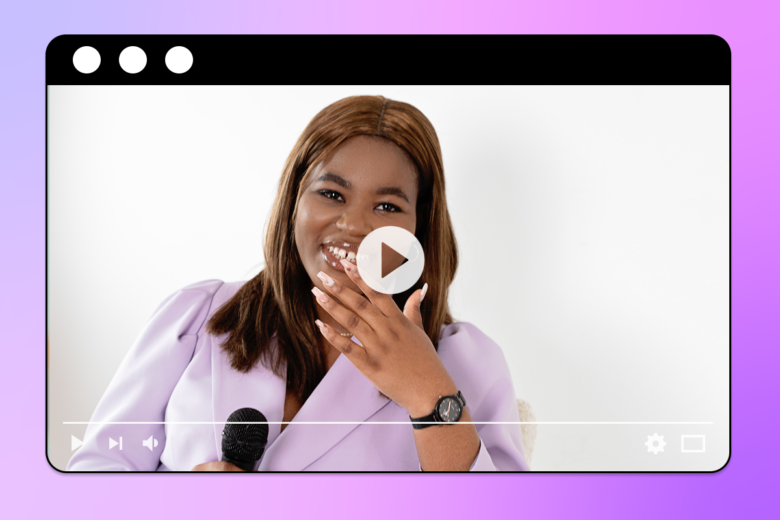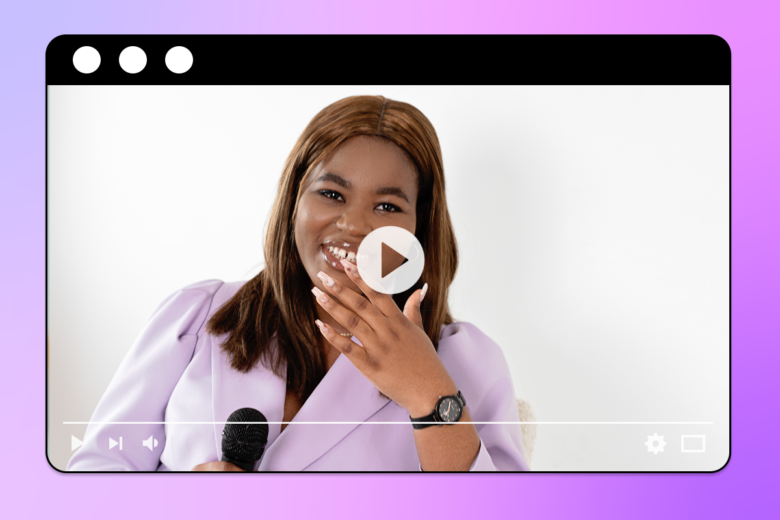 Internal storytelling is one of the best ways to showcase your company culture. When you provide opportunities for employees to tell their stories, it shows that your brand genuinely cares about its team members.
Employee spotlight videos are ideal for YouTube and LinkedIn. You can even give them a home on your website under the Careers tab.
3. Company Values Videos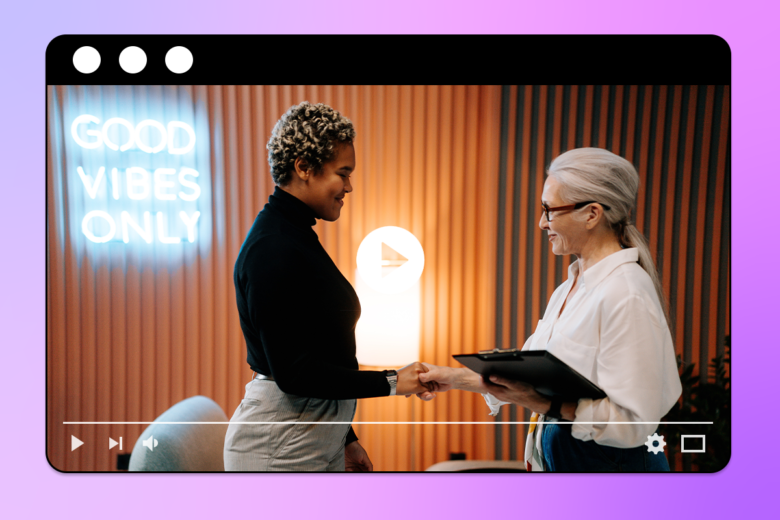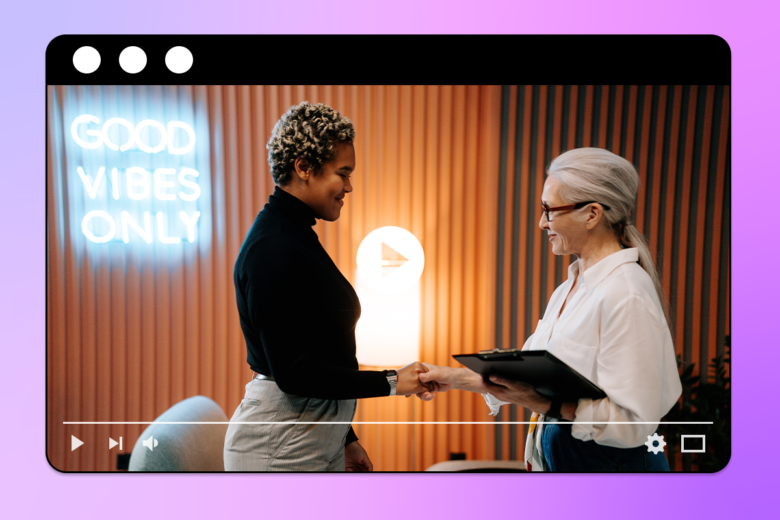 Just like employee stories, company values videos offer a valuable opportunity to tell your audience more about your company. And with changing views on the workplace, it's more important than ever to highlight your company's commitment to its core values.
When prospects learn that your company aligns with their values, they'll take one step closer to choosing your business. These types of videos are ideal for Instagram and Facebook. If you're running a recruitment campaign, don't forget to share the video on LinkedIn, too.
4. Product Launch Videos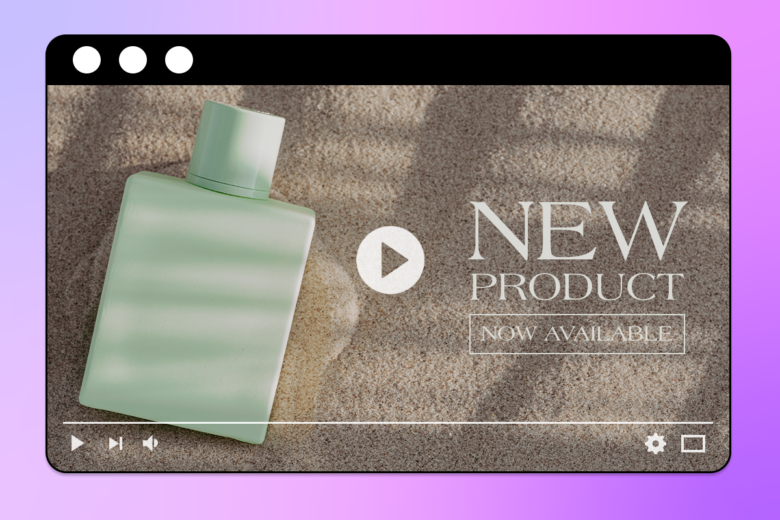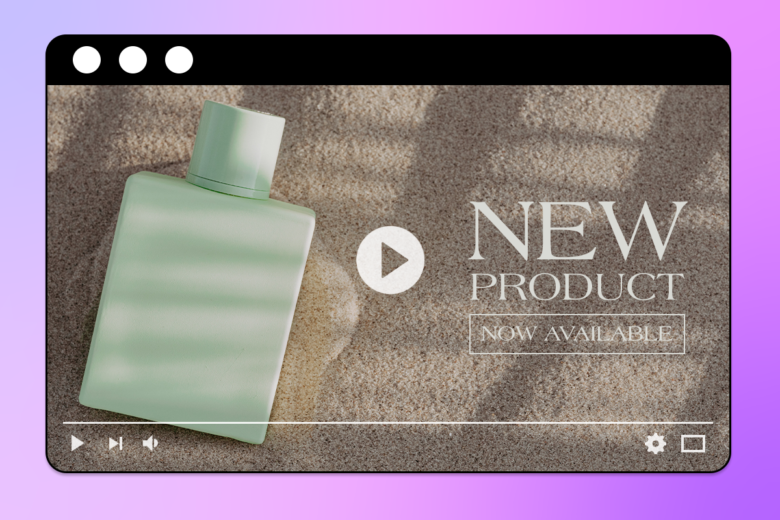 Product launches are the perfect tool to highlight your newest product. A short, simple Facebook video or Instagram story will make more viewers stop scrolling than an ad. Plus, it might just give your prospects the extra push they need to click "buy."
5. Listicle Videos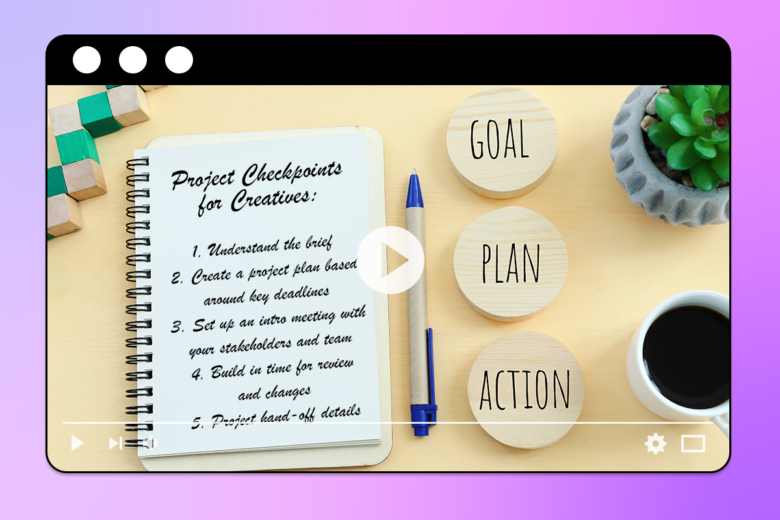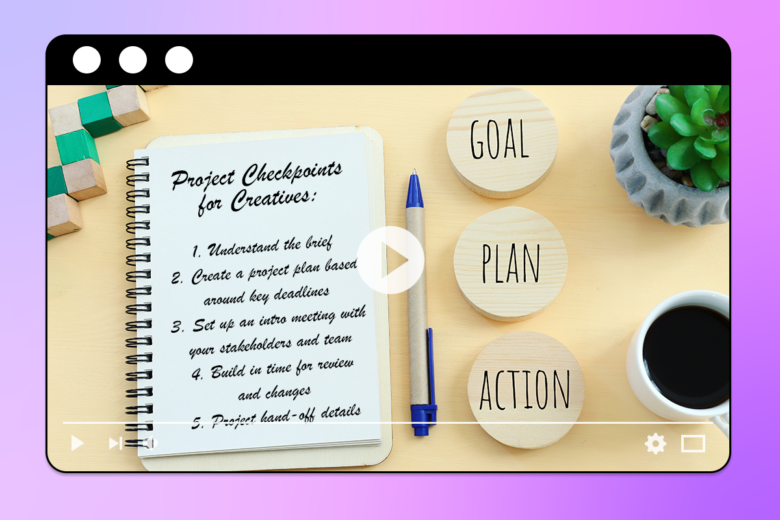 Of all types of videos, listicles are one of the most popular because they're packed with useful, easily digestible information.
If you don't feel like recording yourself, create a captivating slideshow with fun music playing in the background. Listicle videos perform best on YouTube, but they also make impactful short videos for Facebook, Instagram, and Twitter.
6. Typography Videos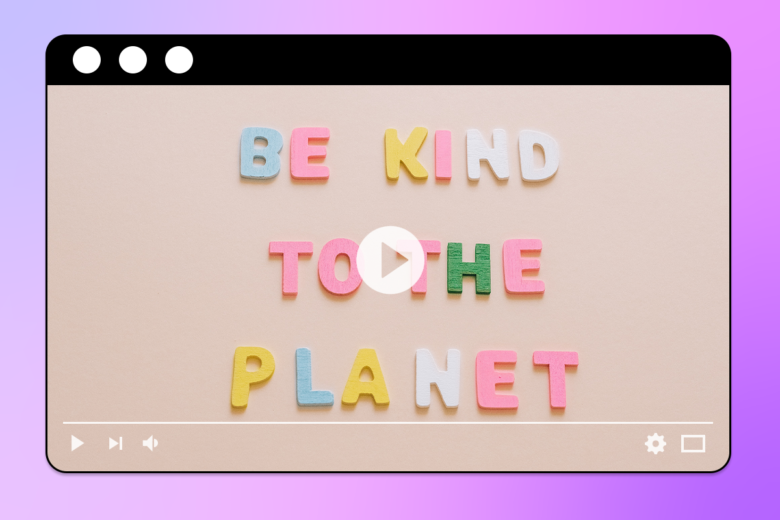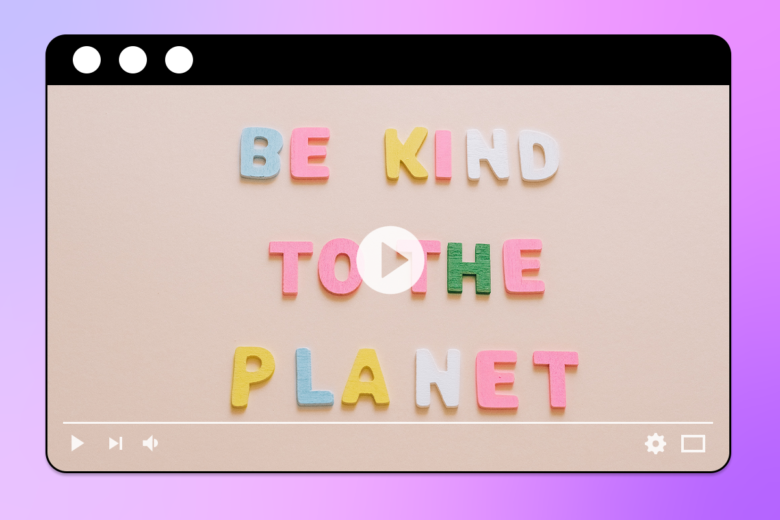 Playing around with different animation techniques, like moving text, is a great way to extend your reach. Beautifully designed typography videos can help you unleash your creativity and entice your viewers with stunning visuals.
When you want to cram information into a short video, typography can be the best tool in your video marketing toolbox. This type of video is great for Instagram, Facebook, and Twitter. Even if your viewers don't catch every word, they'll get the gist.
7. Product Reviews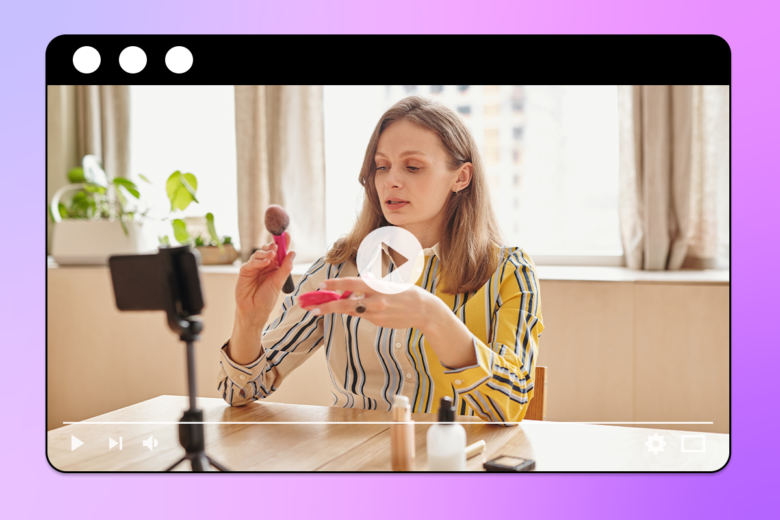 Partnering with influencers to market your product? Consider asking them to create a product review for your brand's YouTube channel or Instagram account.
When it comes to video marketing, nothing beats social proof. Product reviews help you build trust among consumers, showing them that other people (or influencers they trust) believe in your product.
8. Behind-the-Scenes (BTS) Videos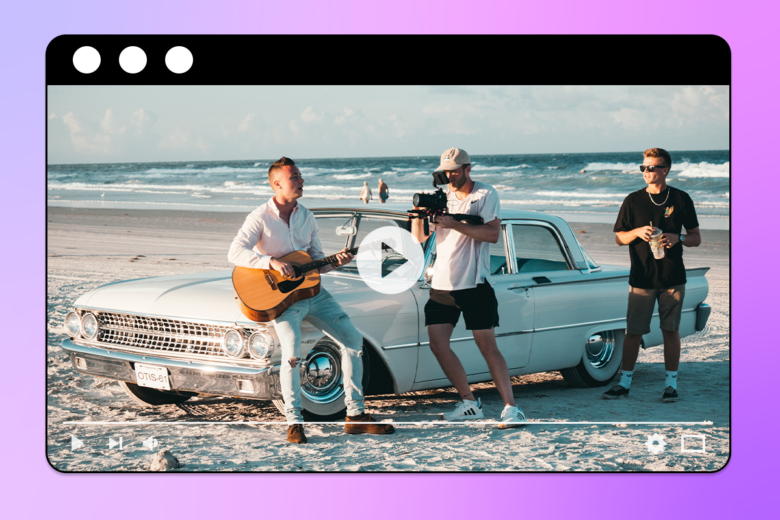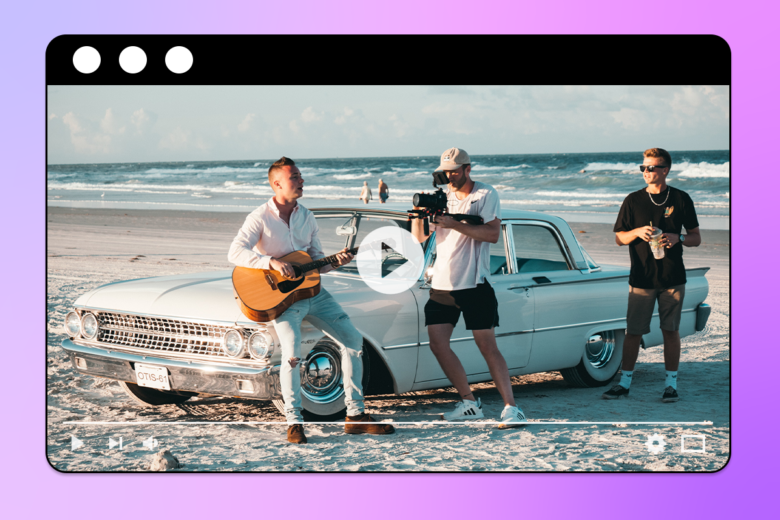 Behind-the-scenes videos help you connect with your audience. They can even benefit your recruitment efforts by painting a clear picture of your company culture.
The next time you're having a slow day at the office, hosting an event, or starting a project, why not film a quick BTS video? You can post them on YouTube, create a quick Instagram video, or livestream on Facebook to add a personal touch to your brand.
9. Sale and Promos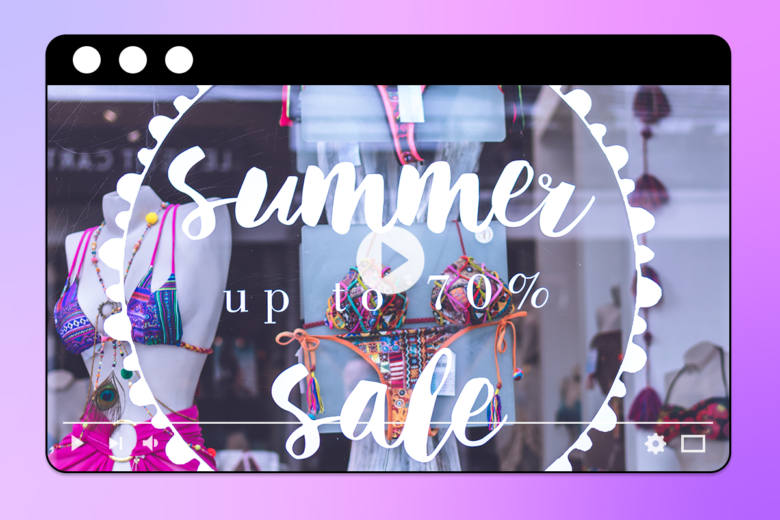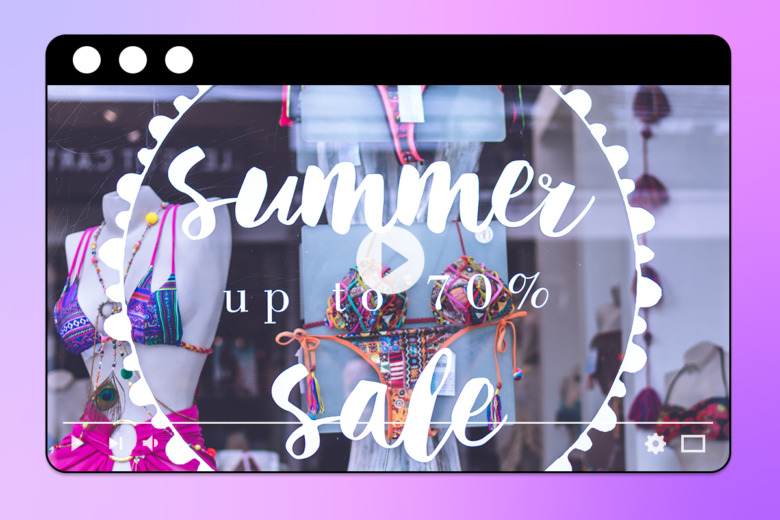 Everyone loves a great deal. Try offering your Facebook followers an exclusive deal with an attention-grabbing video to promote a sale on a specific product.
10. Educational Videos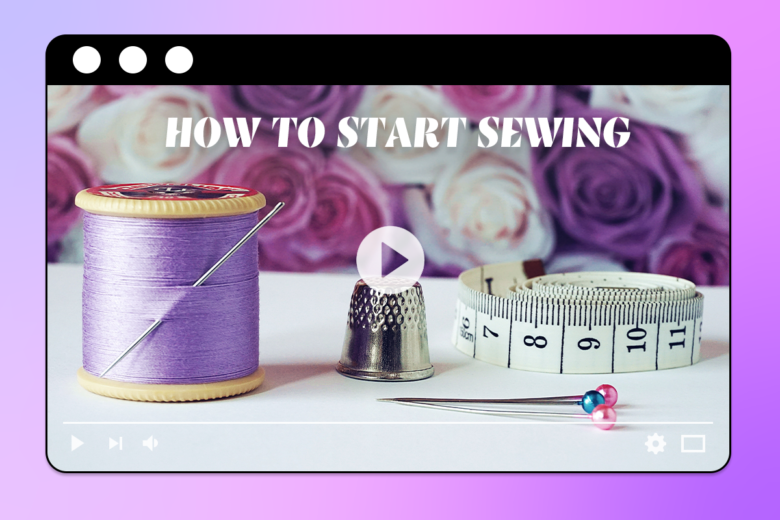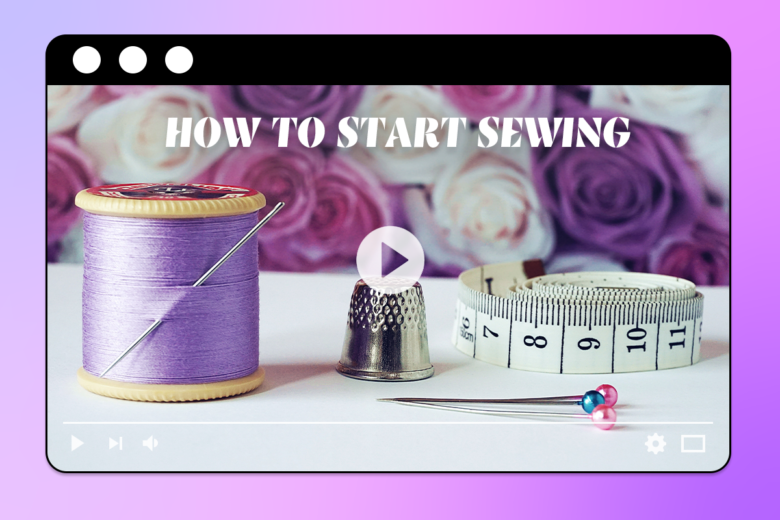 When it comes to learning about new products or services, 73 percent of consumers prefer videos over text. And with so many consumers on the lookout for easy and convenient solutions, educational content can help you stand out from the crowd.
These videos address any "how to" questions your target audience might have. For example, if you're a web developer, you might share an educational video on YouTube to show prospects how to install your newest template on WordPress.
Tips for Creating Engaging Videos
Now that you're aware of the types of video your brand could leverage, it's time to start creating. Here are some video editing tips to give your content an edge:
Give value to your audience. Your video content should be valuable to your target audience, whether it's educational, inspirational, or entertaining.
Keep it short and sweet. Ideally, Facebook videos should last around one minute, while Instagram videos should last around 10-20 seconds
Make it attention-grabbing. What's the best way to stand out in a sea of status updates? Captivating content. If your video doesn't grab your audience's attention within a few seconds, they're going to keep scrolling. Websites offering free stock videos could help you create content.
Don't forget to add captions. If you're creating an AMA or any other conversation-heavy video, make sure to add captions so viewers can follow along without sound.
Make it loop-worthy. TikTok video – along with short videos on other social platforms – loop automatically. Keep this in mind when you're editing video content. Whenever possible, try creating a seamless loop that viewers won't notice.
Use end cards to drive to other relevant videos. If you're posting videos on YouTube, utilize end cards to direct viewers to other relevant videos on your channel. This will keep them engaged with your content and brand.
How To Create and Edit Videos With Picsart
Videos offer an invaluable opportunity to channel your inner artist. With Picsart, creating and editing videos is easy, and you can tap into your creative side to differentiate your brand from the rest using all types of videos.
Your video content should reflect your brand's unique identity and personality, so don't be afraid to experiment with different types of video styles. Here's how to get started.
On the Web:
1. Open the Picsart Online Video Editor and choose Create a Video to start your project.  Check out the guide to social media video specs to choose the right size for every social media platform.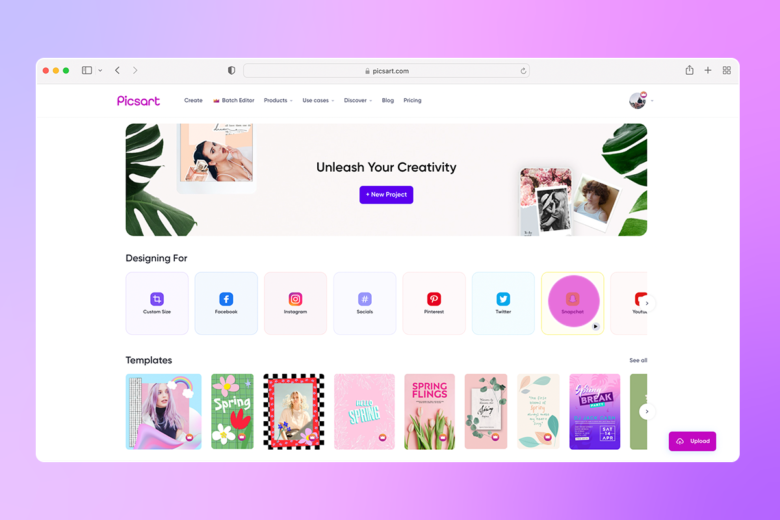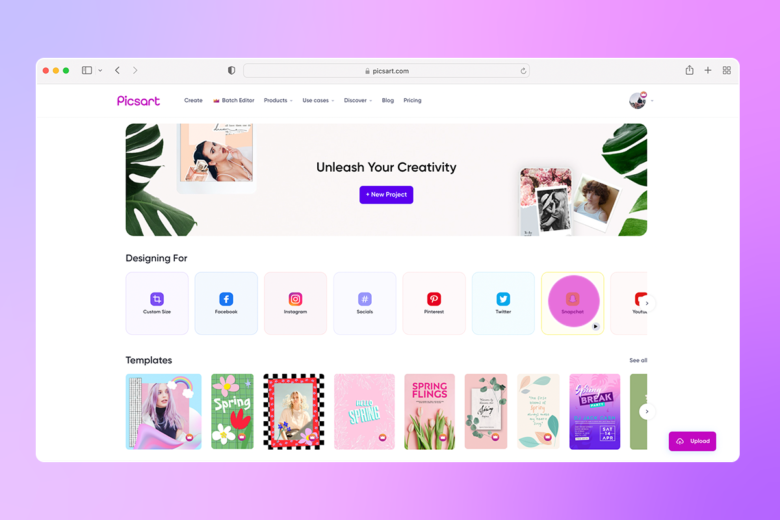 2. Choose from the selection of #FreeToEdit templates, or click Upload to use one of your own videos.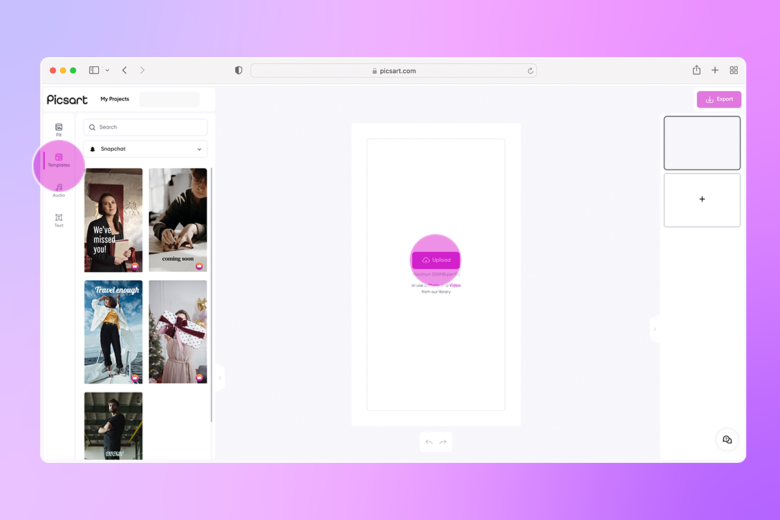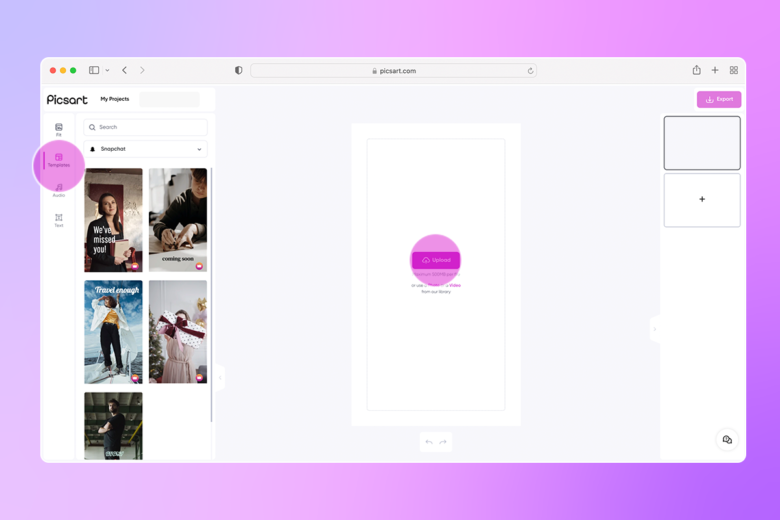 3. Experiment with different AI music, blending modes, Stickers, Text, and other video editing features to bring your video to life.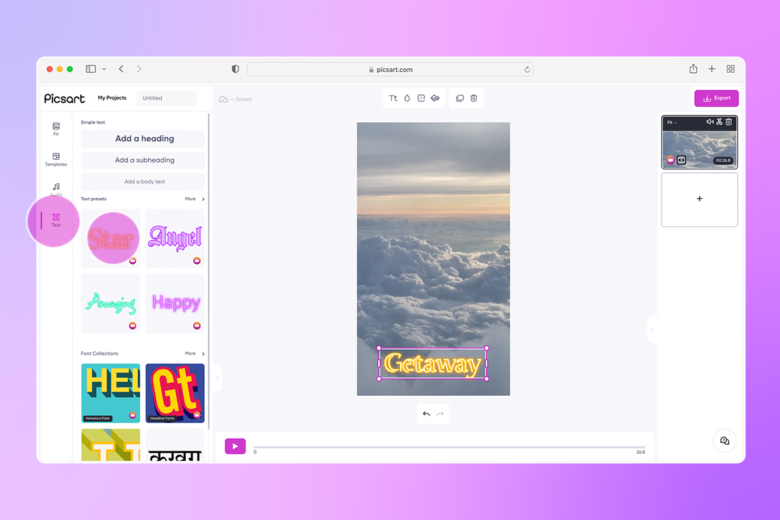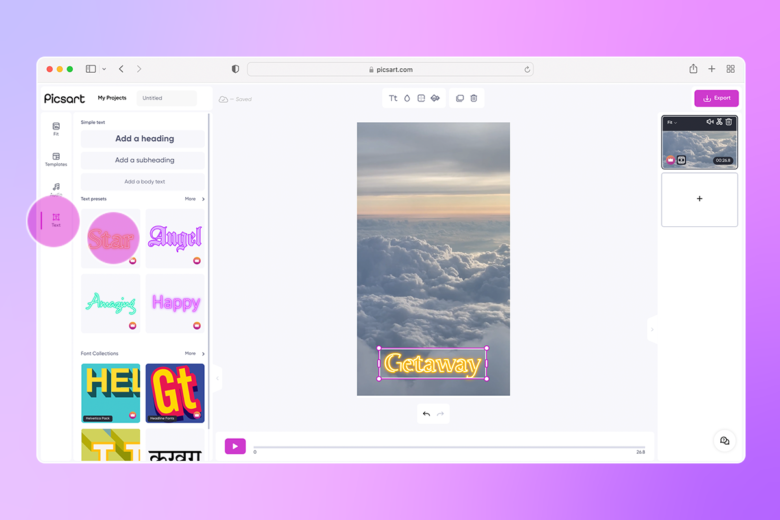 4. Click Export to download your final edit and share it on social media.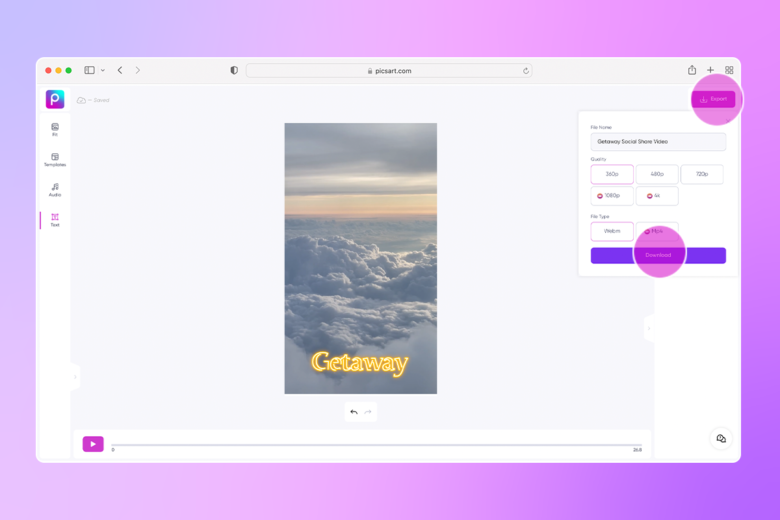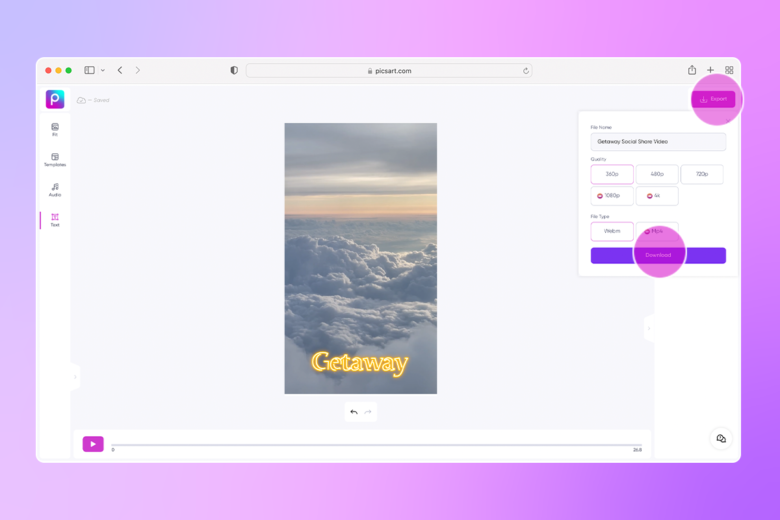 On mobile:
1. Open the Picsart app and tap on the plus sign (+).
2. To record a new video, scroll down to Cameras and choose Video Camera. This way, you can start shooting in the app, and then apply video filters in real time.
3. Choose your filter and press the record button to begin.

4. Choose from AI music, record a voiceover, and experiment with Stickers and special effects to create an amazing video.

5. Be sure to tap Apply to lock in any edits you make and then tap on the forward arrow to confirm.
6. Decide which Export Settings you need and hit save or share when you're finished.
7. You can then share the video to social media or via messaging apps.

Picsart is a full ecosystem of free-to-use content, powerful tools, and creator inspiration. With a billion downloads and more than 150 million monthly active creators, Picsart is the world's largest creative platform. Picsart has collaborated with major artists and brands like BLACKPINK, Taylor Swift, the Jonas Brothers, Lizzo, Ariana Grande, Jennifer Lopez, One Direction, Sanrio: Hello Kitty, Warner Bros. Entertainment, iHeartMedia, Condé Nast, and more. Download the app or start editing on web today to enhance your photos and videos with thousands of quick and easy editing tools, trendy filters, fun stickers, and brilliant backgrounds. Unleash your creativity and upgrade to Gold for premium perks!