When you are interested in a new brand and want to learn more, what do you do? Maybe you head over to a search engine and look the company up, but we'd venture to guess that most of you hop on social media and check out the business's presence on these platforms. This is why B2B marketing on social media is so important. People interested in your brand will use these spaces to learn more about you, so all companies need a solid social media strategy. Engagement is everything, so capitalize on these virtual spaces to stay connected and present with your audience. One of the most important aspects of B2B social media marketing is staying "top-of-mind."
What is B2B Social Media Marketing?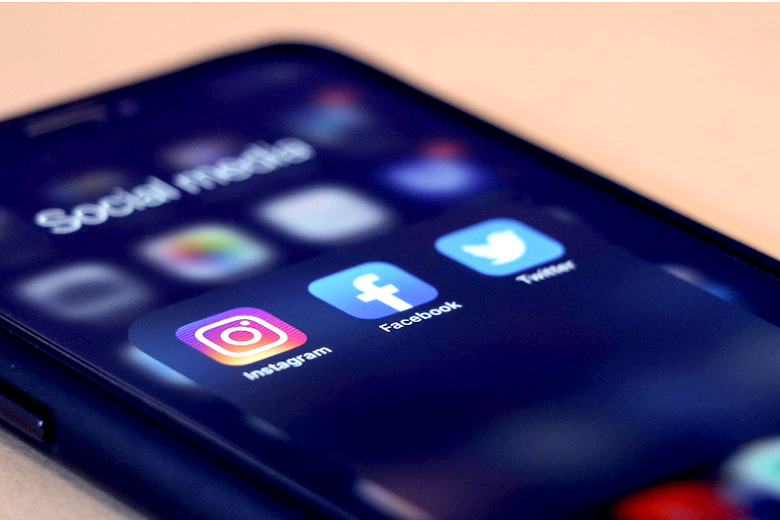 B2B social media marketing is a robust online approach to marketing, in which companies use platforms like Instagram, Facebook, and LinkedIn to post relevant content and increase engagement with their audience.
With social media, companies can generate a conversation around their services and products. Users can share, comment, and like your content, and they learn about your offering while doing so.
B2B companies (business to business) and B2C companies (business to consumer) are both taking advantage of social media marketing. So, whether your company is focused on reaching consumers or other businesses, you should consider following some of the pointers for social media marketing for B2B businesses.
Think of it this way: No matter what your company does, social media marketing helps you reach the right audience in a way that fosters engagement.
Why is it Essential to Have a B2B Social Media Strategy?
It's essential to have a strategy for social media marketing because you want your content to stand out in a sea of, well, more content. When you have a strategy for what to post and when, you ensure that your audience gets varied, fresh, and on-brand content across your social media platforms.
When you have marketing B2B strategies, you plan your approach with plenty of foresight. This means that you can leverage tools like Picsart to make visually-appealing graphics and posts ahead of time.
What Benefits can B2B Marketing Bring to your Business?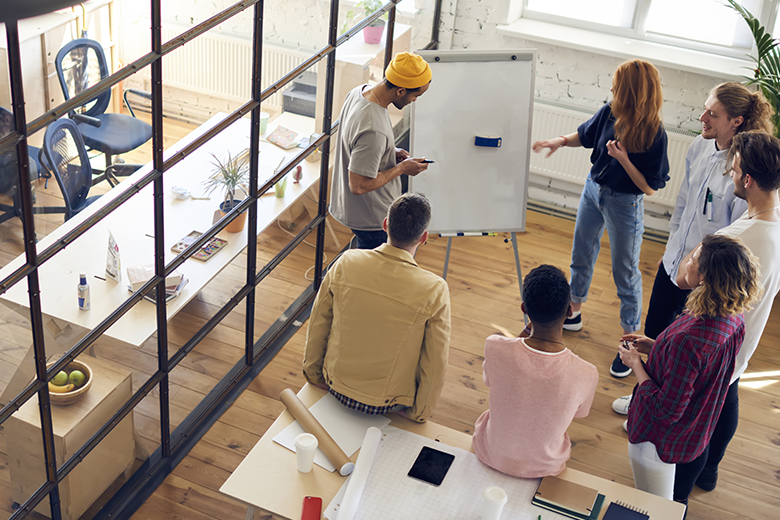 The following are some of the key benefits that B2B marketing can bring to your business, according to the experts.
Greater engagement
Better sales
Increased brand awareness
Economical (or free) marketing
What are the Best Platforms and Tools for Implementing your B2B Strategy?
LinkedIn
Google Analytics
Facebook
Instagram
Twitter
YouTube
TikTok
What Brands have Great B2B Strategies?
If you're seeking social media strategies examples, look no further than some of the world's biggest brands, especially those with a focus on tech. Here are 10 companies using a comprehensive social media strategy that provide a great B2B example for entrepreneurs getting started.
Mailchimp
DropBox
Trello
Google
Salesforce
Boeing
Zendesk
Microsoft
HubSpot
Slack
5 Tips for a Great B2B Digital Marketing Strategy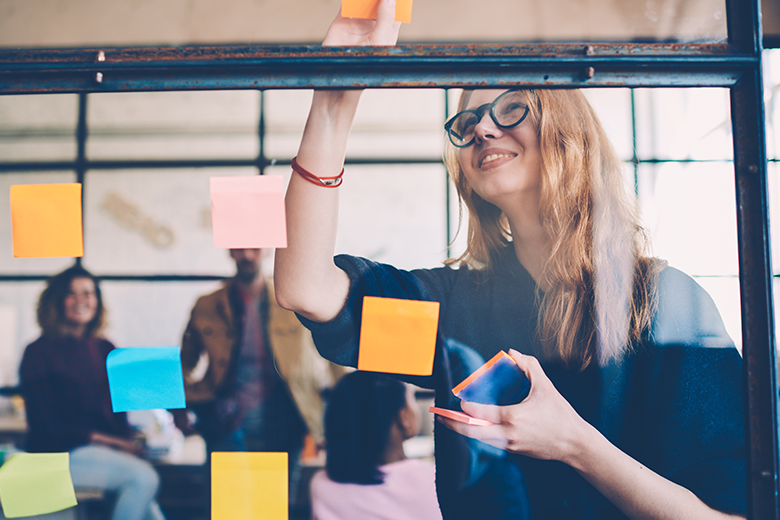 Tell a story: Create content that tells viewers about your company in a simple, straightforward way that reflects the brand voice. There are many creative ways you can tell your story. You can create a podcast, start a blog, or even a vlog on your YouTube channel and promote it through social media.
Be present: Stay top-of-mind with consistent posting. Read up on the best times to post for each platform, and check out point 5 in this list about monitoring your metrics.
Be available: Respond to users' messages and offer chatbot assistance where possible. This will help with lead generation and maintaining a high level of customer service.
Expand your audience: Encourage shares and referrals through giveaways and other social media campaigns. And, always post with relevant hashtags so that users can find your content. If you need an extra boost, consider teaming up with influencers, especially ones that reach your target audience with their own content.
Check your metrics: Many social platforms and third-party apps can help you monitor engagement. See what kind of material your audience interacts with most and then leverage this data to give your viewers  more of a good thing.
How to Create a B2B Strategy with Picsart
Visual consistency is central to a coherent brand message and feel. With Picsart, you can make a suite of graphics that you can use across different platforms for a professional brand image.
Social Media Banners
Make banners for all of your social media accounts using handy Picsart templates. On the web editor, and scroll down to the Templates section or choose a target social media app under Designing For. Choose from range of pre-made Picsart banners and customize to your aesthetic.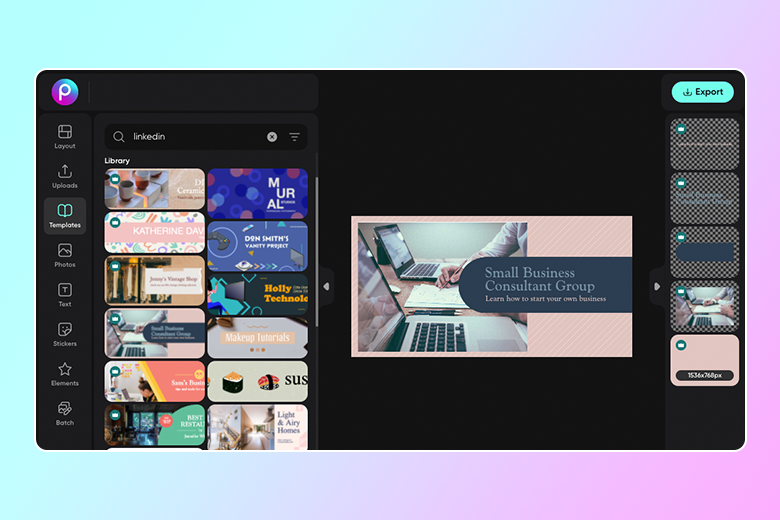 Design Quality Social Media Posts
Make professional posts for all of your social media outlets, especially Instagram. On the Picsart web application, scroll down to the Templates section or choose a social media platform under Designing For. You will be given perfectly-sized options for stories and other styles of posts. No matter what style of canvas or template you choose, you can add in proprietary brand elements like your logo or other graphics by selecting Photos from the left-hand menu on the editing page and, then, selecting your company's images from My Photos. Use our Stickers tool to add graphics to your post and our Text option to drop in important messages in eye-catching fonts about promotions or products.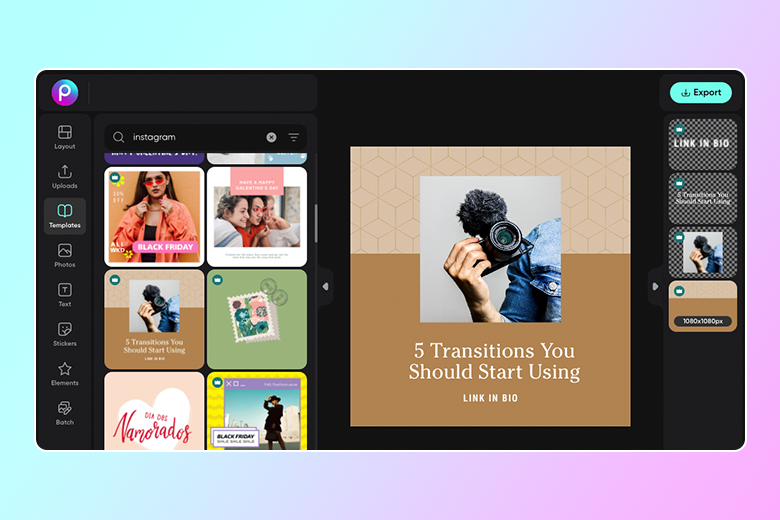 Prep Photos Professionally
Edit your photos to perfection. Even if you don't plan to add text, stickers, or other graphics to a social media post, you should spend some time making the picture itself look its best. Our mobile app is the perfect place to do this. Open the app and click on the purple plus sign at the bottom of the screen to start a new project. Then, choose the photo with which you'd like to work from your personal library. Once on the editing screen, use the FX and Retouch tools to do basic photo editing like applying filters, tweaking colors, and smoothing out imperfections.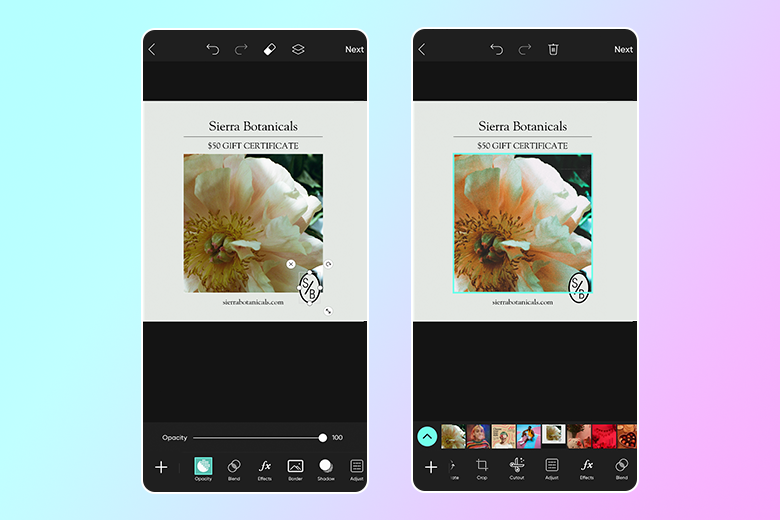 Create Logos and Graphics
Make new graphics as you need them using our web application. Choose a blank canvas of whatever size works best for the project you have in mind, and get to work  adding elements to your design using our Shape, Stickers, and Text tools. You can change the color of shapes and fonts by clicking on the droplet icon in the toolbox above your canvas and using the color picker or our ready-made hues to fill letters or objects. If you don't have a logo yet, you can easily make one using these simple tools. Check out some more detailed tips on creating a great brand logo here.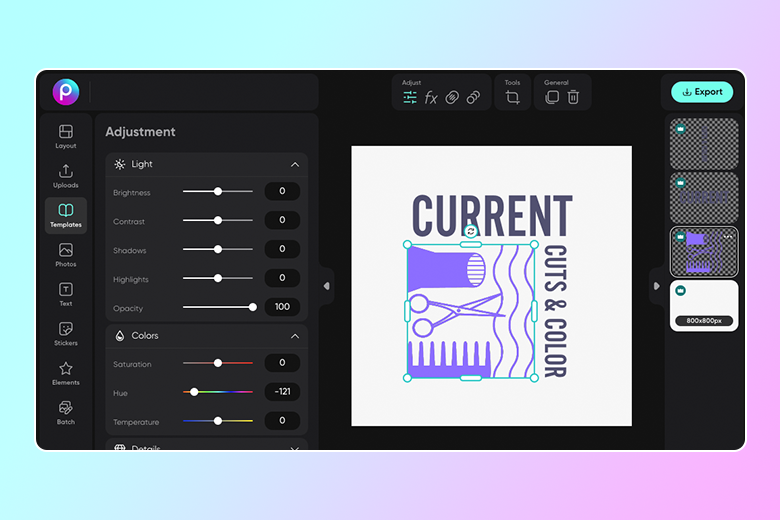 Picsart is a full ecosystem of free-to-use content, powerful tools, and creator inspiration. With a billion downloads and more than 150 million monthly active creators, Picsart is the world's largest creative platform. Picsart has collaborated with major artists and brands like BLACKPINK, Taylor Swift, the Jonas Brothers, Lizzo, Ariana Grande, Jennifer Lopez, One Direction, Sanrio: Hello Kitty, Warner Bros. Entertainment, iHeartMedia, Condé Nast, and more. Download the app or start editing on web today to enhance your photos and videos with thousands of quick and easy editing tools, trendy filters, fun stickers, and brilliant backgrounds. Unleash your creativity and upgrade to Gold for premium perks!