Consider the cornflower blue color, a wondrous shade of medium-to-light blue with a touch of green. As you might guess, this color's name is derived from the cornflower, called Cyanus (blue). The symbol of life, fertility, and reanimation, the magical cornflower is believed to have healed the poisonous wounds of Achilles according to Ancient Greek mythology.
But what exactly is cornflower blue and how do you use this mysterious shade in graphic design? We're diving into everything you need to know about this cool color. 
What is Cornflower Blue?
The cornflower blue color is a recurring feature in the works of famous artists. The turban in the famous Girl with a Pearl Earring painting by Johannes Vermeer? That's cornflower blue. It was also used often in works by van Gogh. The true beauty of cornflower blue lies in its versatility. It can stretch from relaxing to regal, artistic to dreamy – all depending on what it's paired with.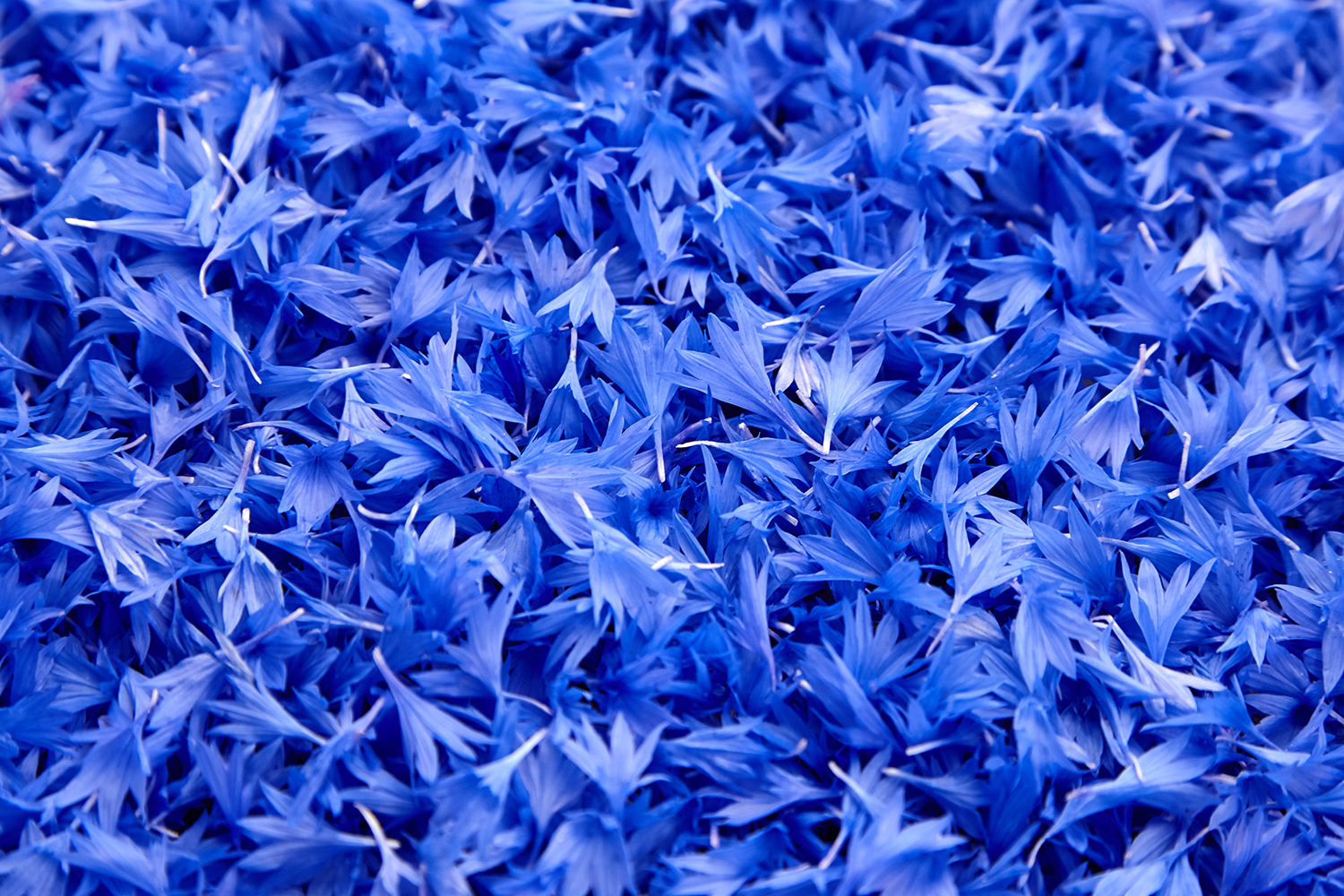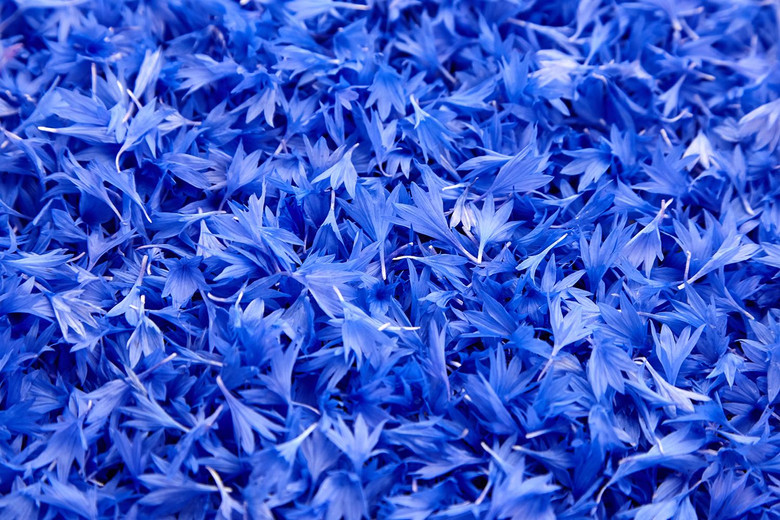 Cornflower Blue Color Code
The cornflower blue color code is #6f90f4. In RGB color space, the cornflower blue color is composed of 43.5% red, 56.5% green, and 95.7% blue. Whereas in a CMYK color space, which is often used in the printing process, the color is composed of 55% Cyan, 41% Magenta, 0% Yellow, and 4% key (black). The cornflower blue color has RGB values of 111, 144, 244. In the HSL color space #6f90f4 has a hue of 225° (degrees), 86% saturation and 70% lightness. Its decimal value is 7311604, and the closest web-safe color code to it is #6699ff.
Fun fact: Cornflower is also a Crayola color, with hexadecimal code #93CCEA.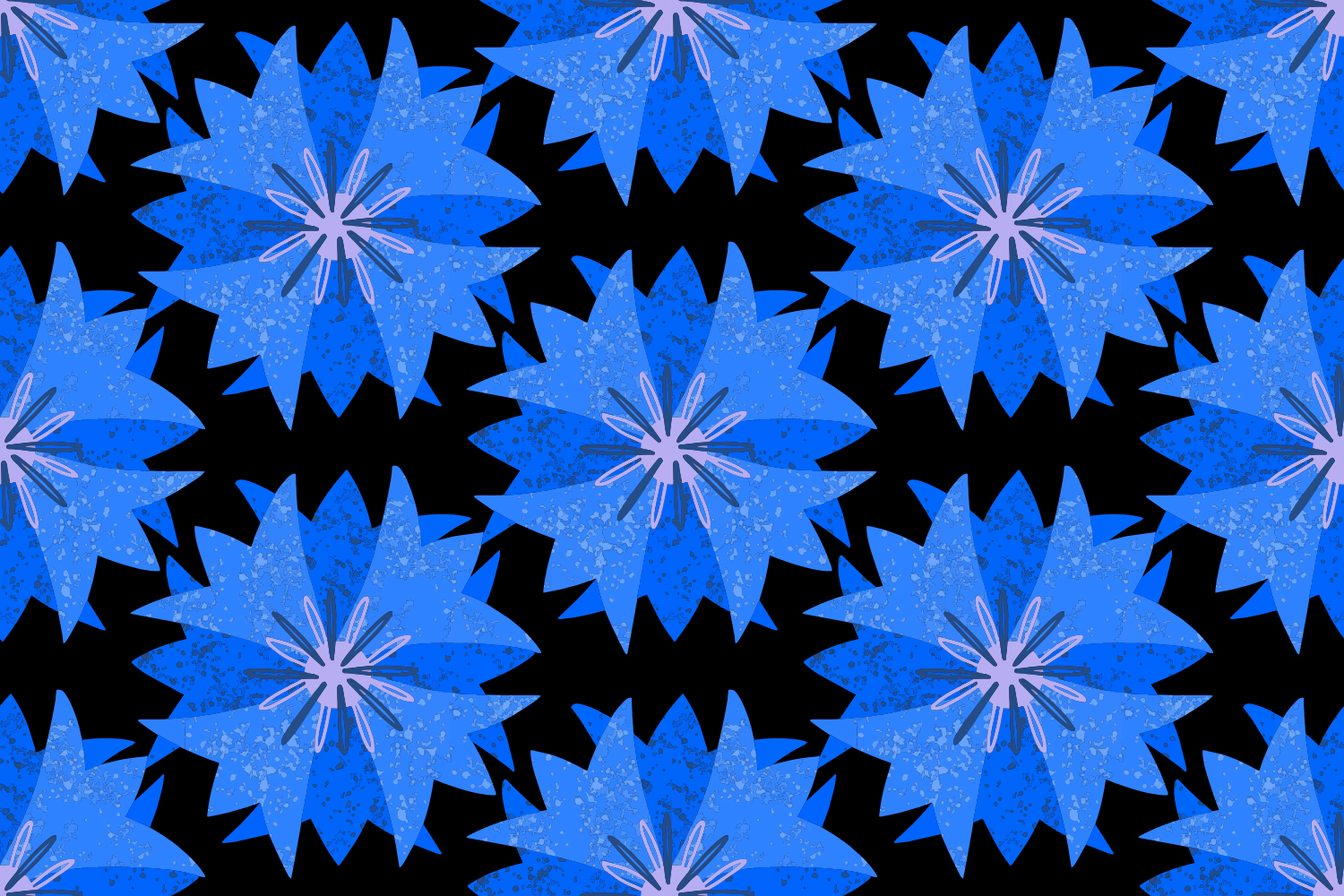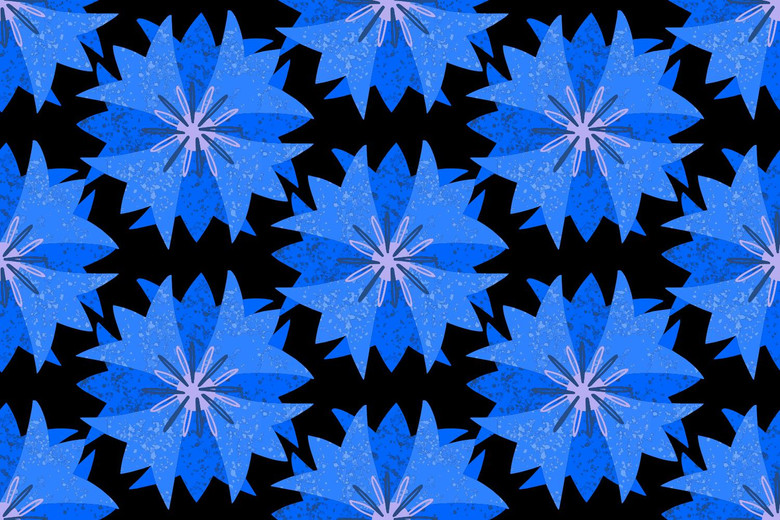 What is the Meaning of Cornflower Blue Color?
Colors carry meaning and have a rich symbolism. Generally speaking, blue invokes calmness and is associated with open spaces, freedom, intuition, imagination, and inspiration. As a softer, brighter shade on the spectrum of blues, the cornflower blue color represents depth, tranquility, contemplation, and peace. It can also be used to convey a sense of idealism, trust, loyalty, sincerity, wisdom, confidence, and stability.
When looking at gemstones, the cornflower blue Sapphire, also called Kashmir or bleu de roi, is an emblem of positive energy, wisdom, and royalty. It is a symbol of power and strength, but also of kindness and wise judgment. The pure blue ray of the gemstone is believed to bring protection, good fortune, spiritual insight and aid in bringing peace to chaotic situations. A cornflower blue gemstone is thought to reduce negative thoughts, fears, insecurities and open the flow of communication between loved ones. 
Cornflower Blue Complementary Colors
Given the many meanings of cornflower blue, you need to consider what colors pair well with it to create a cohesive design. Do you gravitate toward a bold, high contrast look or a subtle and sophisticated cornflower blue color palette? Take a look at several color schemes below, brush up on your color theory, and get ready to embrace these color combinations in your design.
Complementary Colors
:
A complementary color scheme is a vibrant color combination made up of two colors opposite one another in the color wheel called the base and the compliment. The cornflower blue complimentary color is Funky Yellow (#f4d570).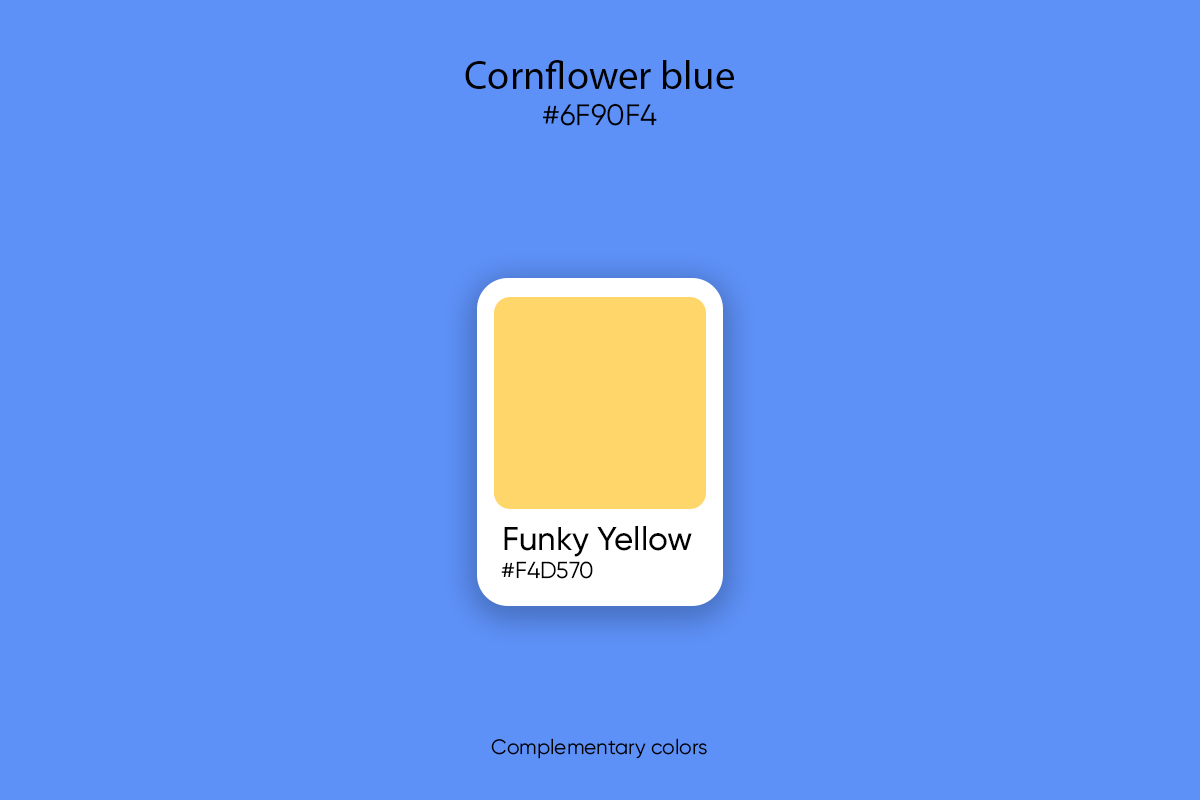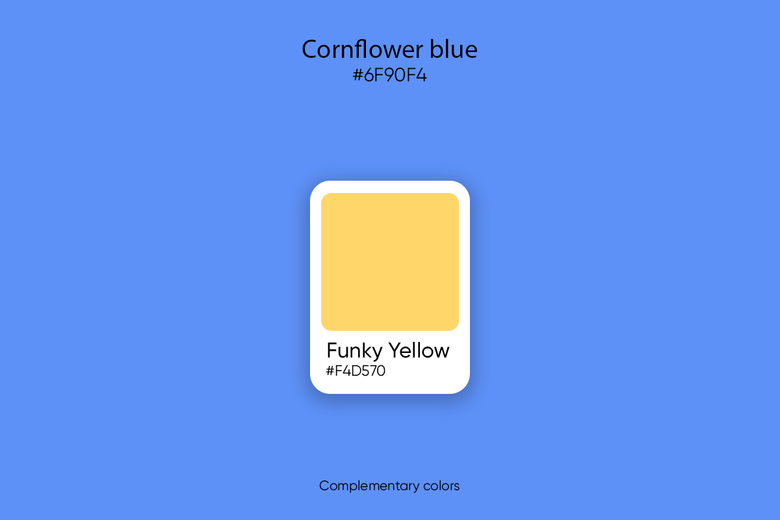 Split Complementary Colors
:
The split complementary color scheme opts for a more serene look. For a split complementary palette, combine the base color with the two colors on either side of the complement color (#f4d570). In this case, it's Dark Salmon (#f49370) and Booger Buster (#d1f470).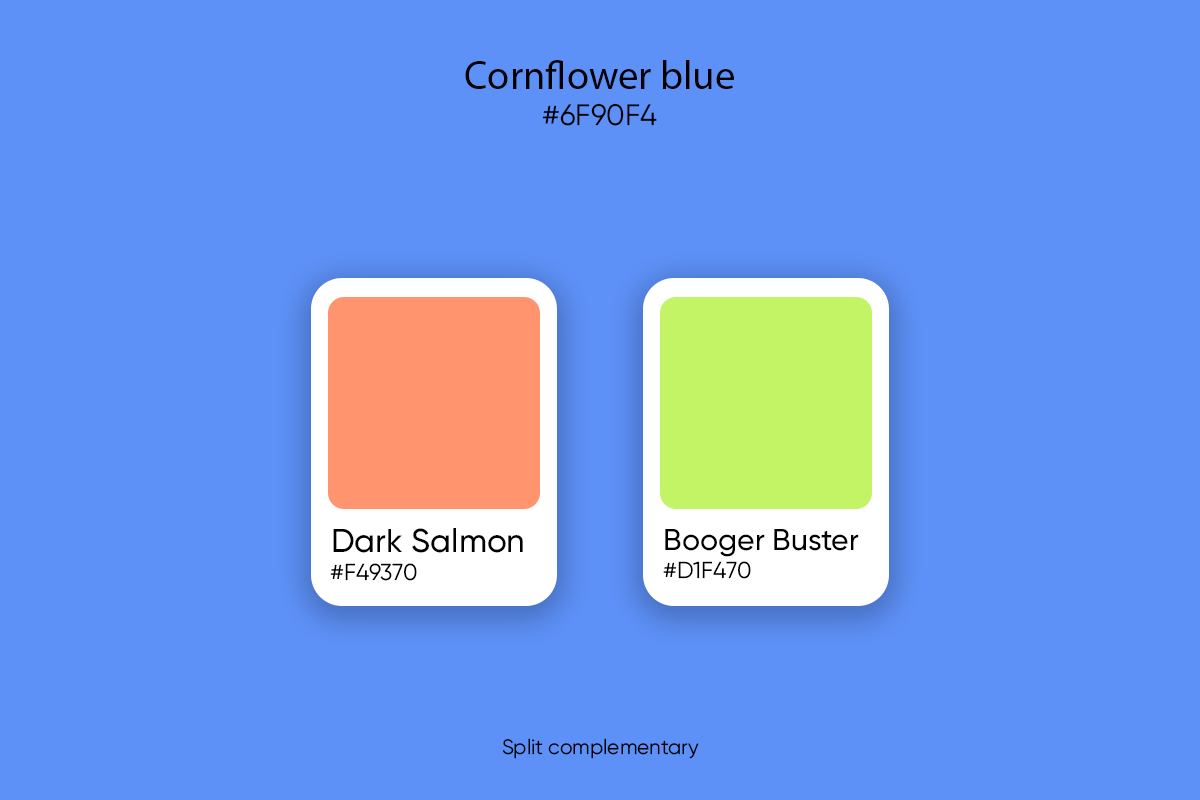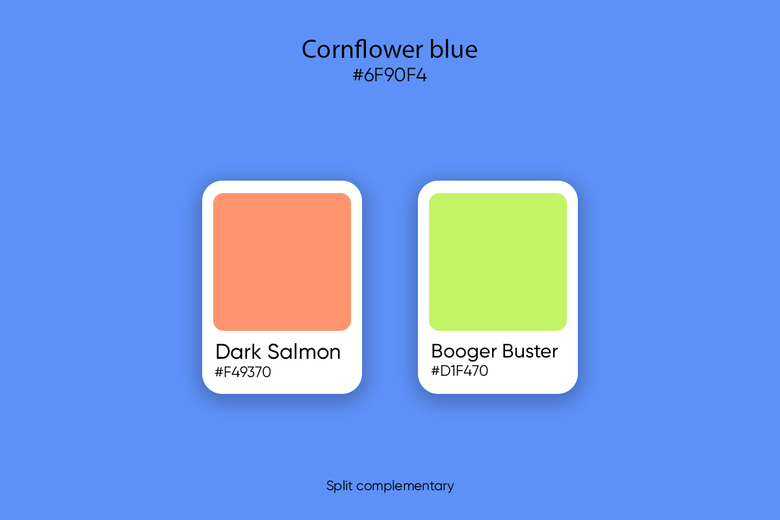 Analogous Colors
:
The analogous color scheme comprises three colors that are next to one another on the color wheel. This harmonious palette is made with the two secondary colors adjacent to the base. These are Medium Purple (#9370f4) and Sky Blue (#70d1f4).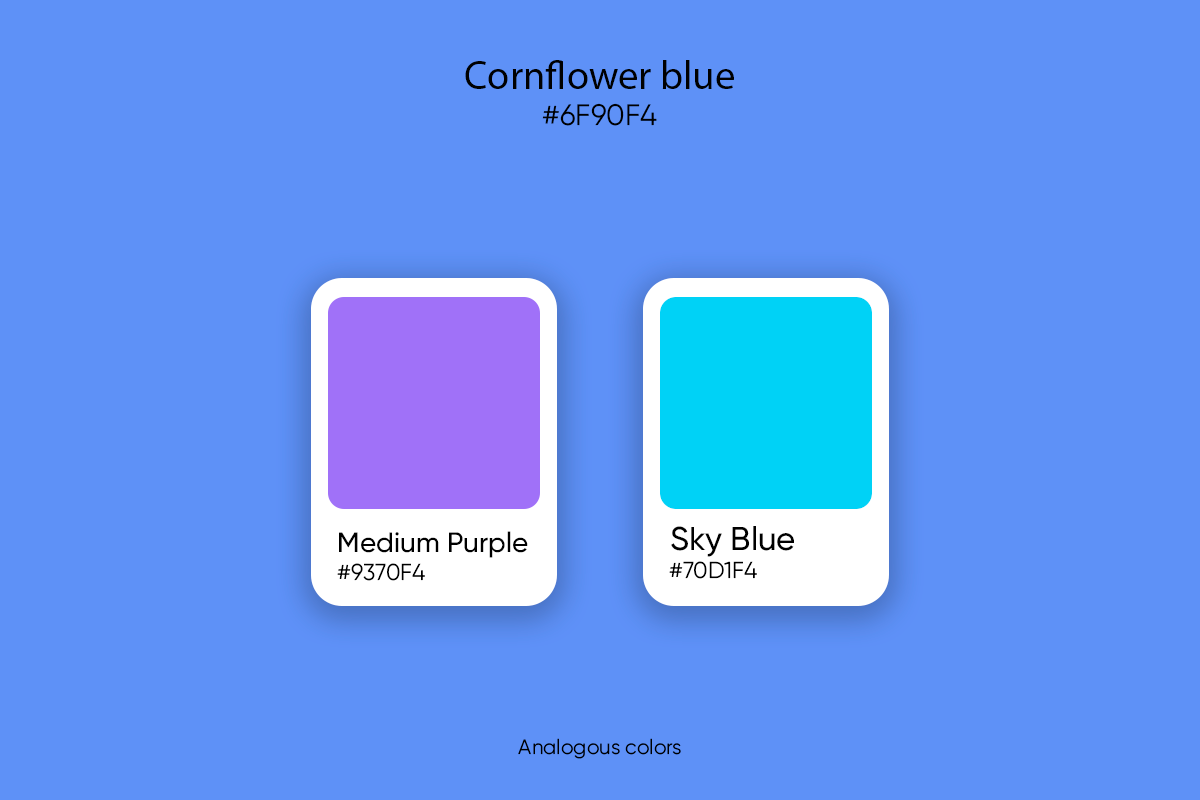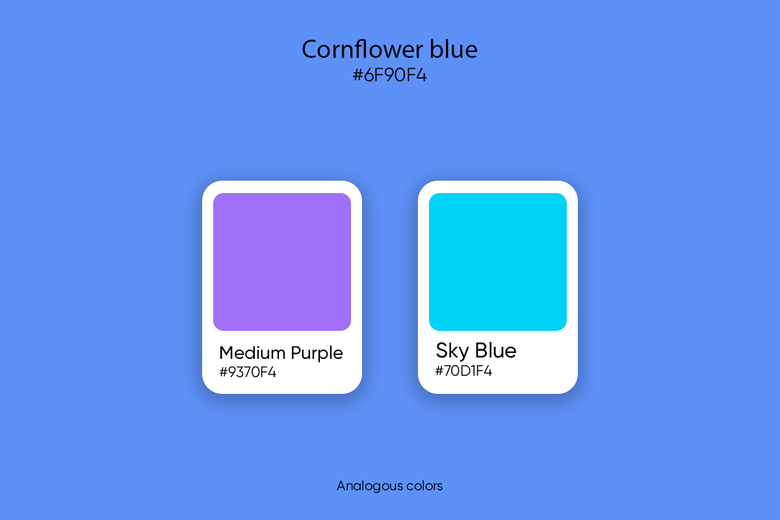 Triadic Colors
:
The triadic color harmony combines three colors that are spaced evenly (120°) apart and form a triangle when visualized on the color wheel. These colors look wonderful as accents and highlights to your base color. You'll form a vibrant triadic color palette using light crimson (#f4708f) and light green (#8ff470).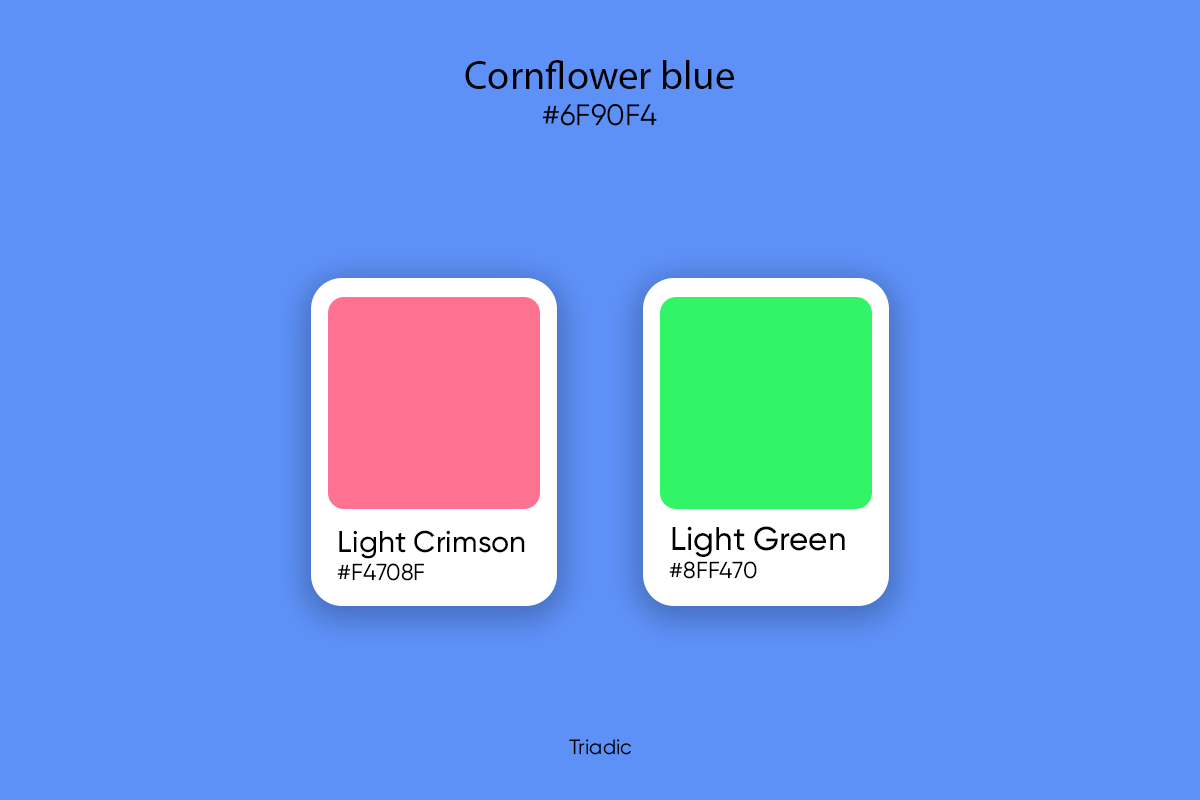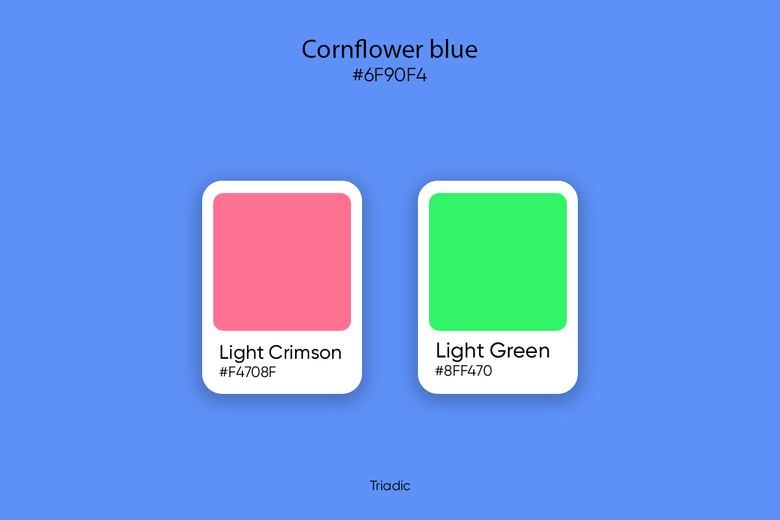 Tetradic Colors
:
The tetradic color scheme is made up of two complementary pairs or four colors spaced evenly (90°) apart on the color wheel. This vibrant and versatile scheme works best with one dominant color.  Here, the colors paired with a cornflower blue color are: Light Crimson (#f4708f), Aquamarine (#70f4d5), and Funky Yellow (#f4d570).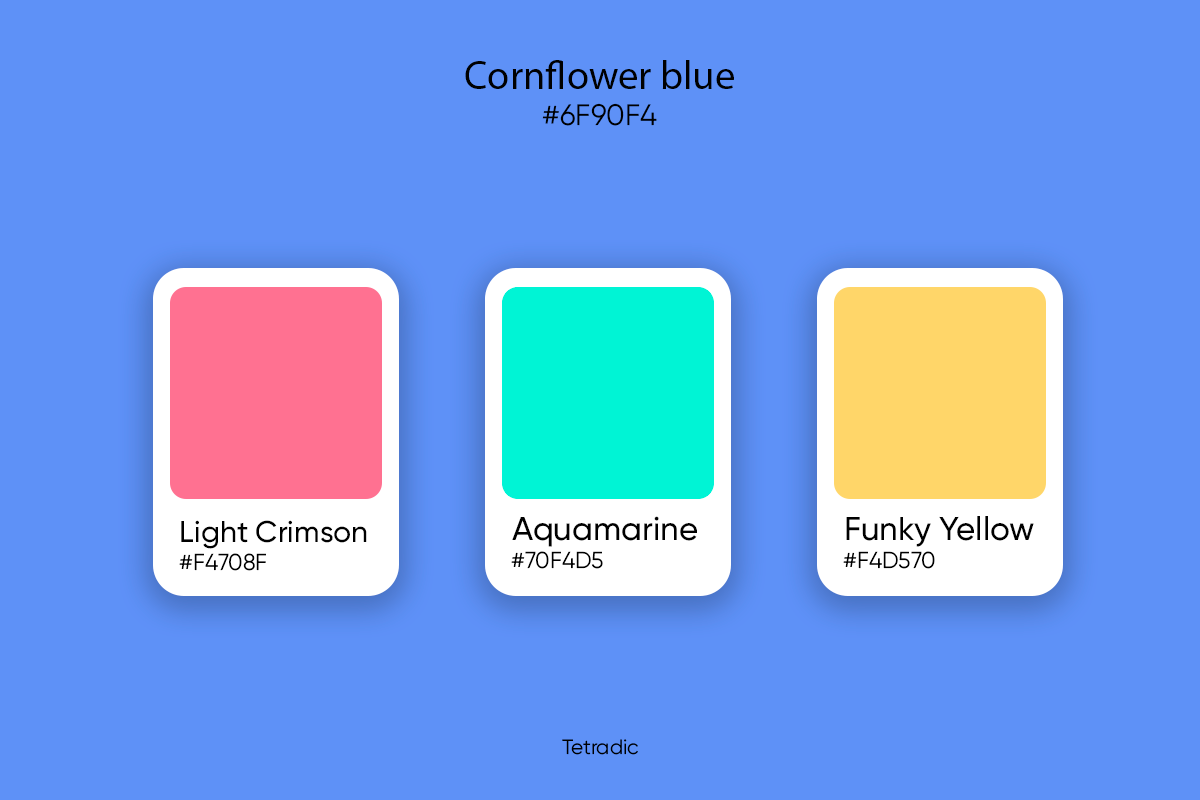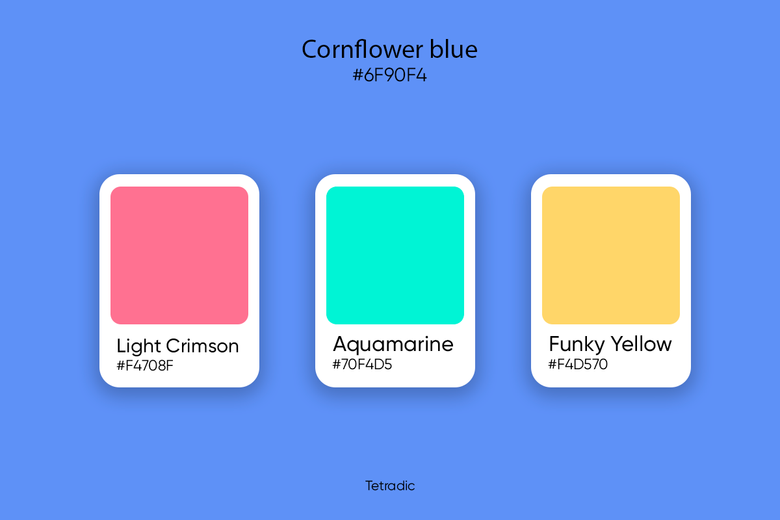 Monochromatic Colors
:
A monochromatic color scheme is derived from a single base hue and extended using its shades, tones, and tints. To create a trendy monochromatic color palette, pair the cornflower blue color with: Blueberry (#7798fc), Malibu (#7fa0ff), and Anakiwa (#98b9ff).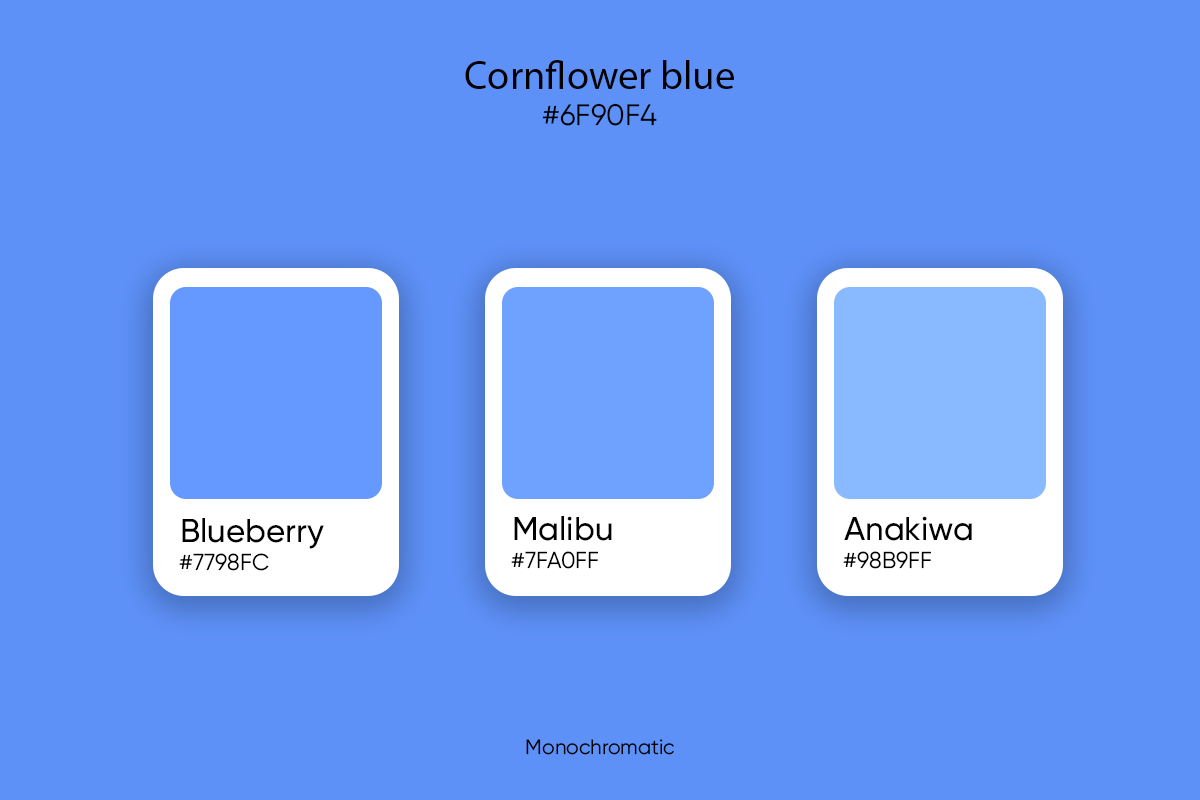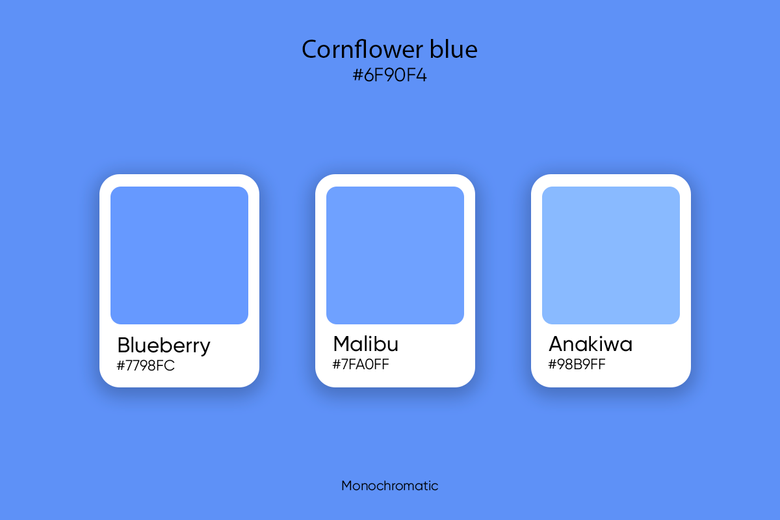 Similar colors
:
Are you looking for an inspirational alternative to the cornflower blue color? Consider Light Blue (#add8e6), Blueberry (#7798fc), and Royal Blue (#4169e1). Here are some other colors that are very close in nature to cornflower blue.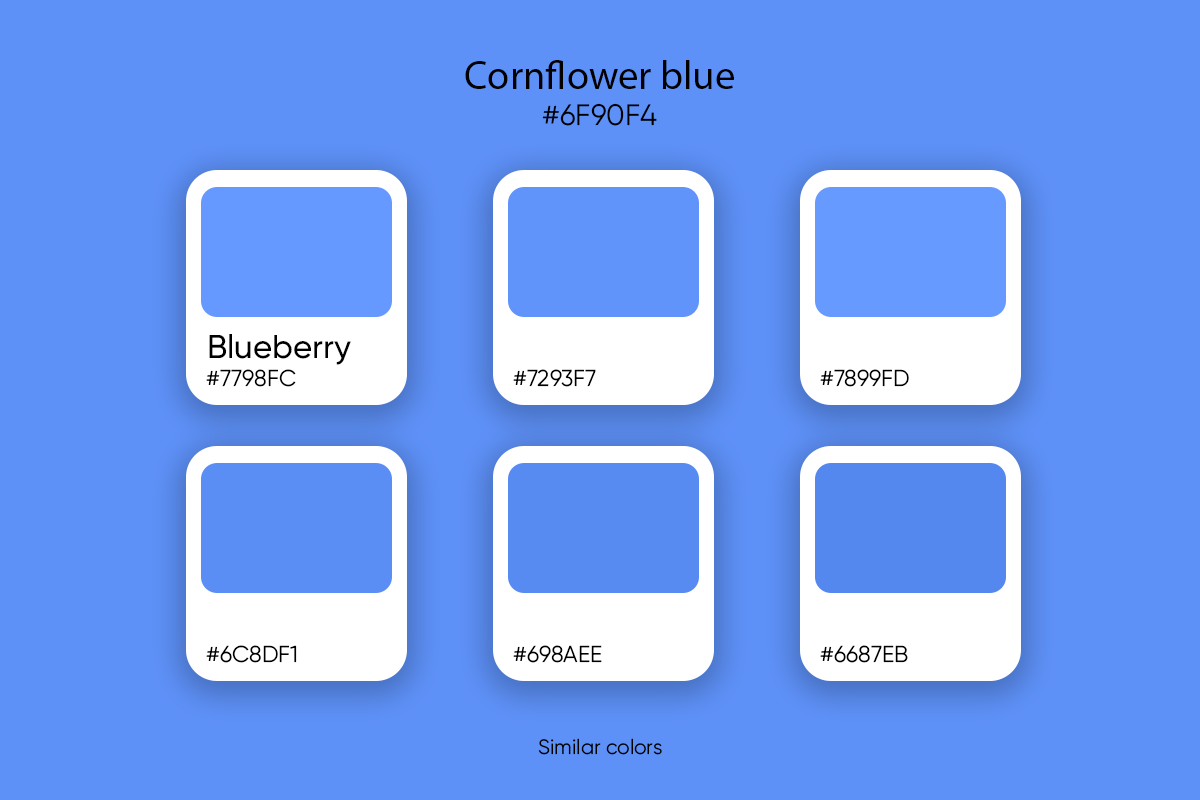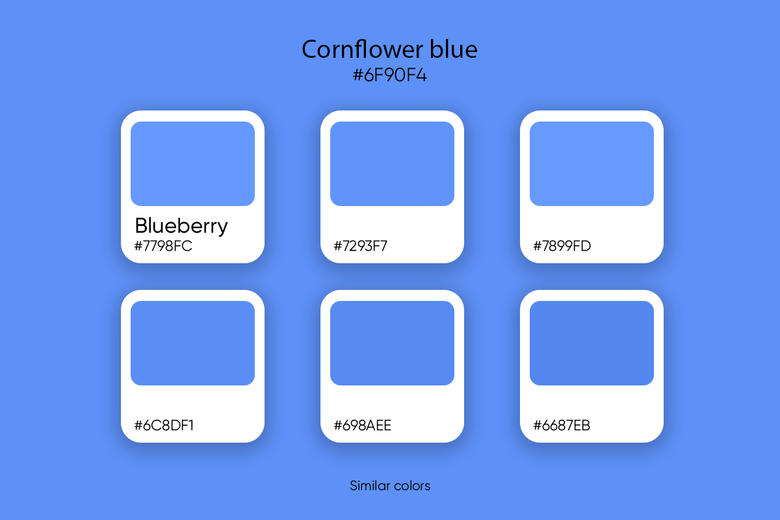 Cornflower Blue Color Palette Ideas
Color palettes are among the most striking aspects of your brand's visual identity. There are countless possibilities for designing with the cornflower blue color, so consider the below color palette ideas as design thought starters. 
Inspired by the Rain: Pair the cornflower blue color with Baby Blue (#82D1F1), Fresh Air (#ACE7F8), Water (#CBF3F9), Cream (#FFFED1), White (#FEFEFE), Floral White (#FFFAF2), Antique White (#FAEBD8), and Lumber (#FBE1CB).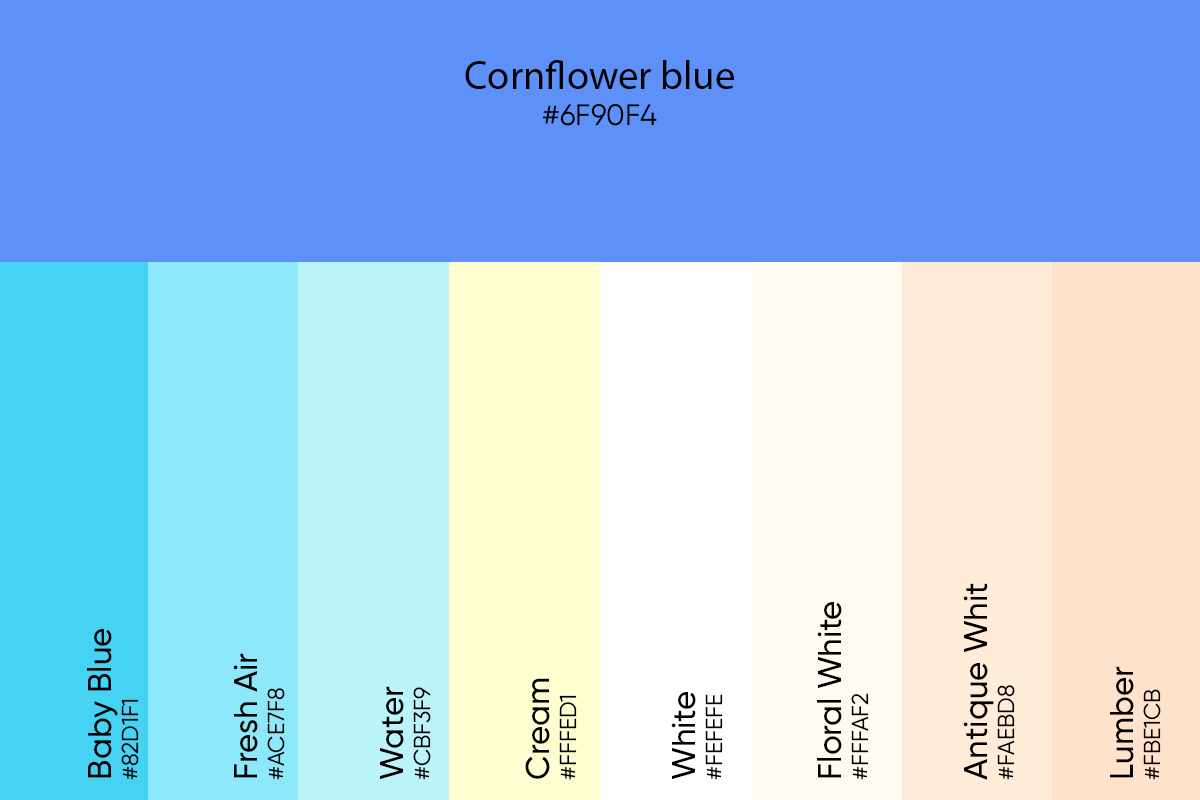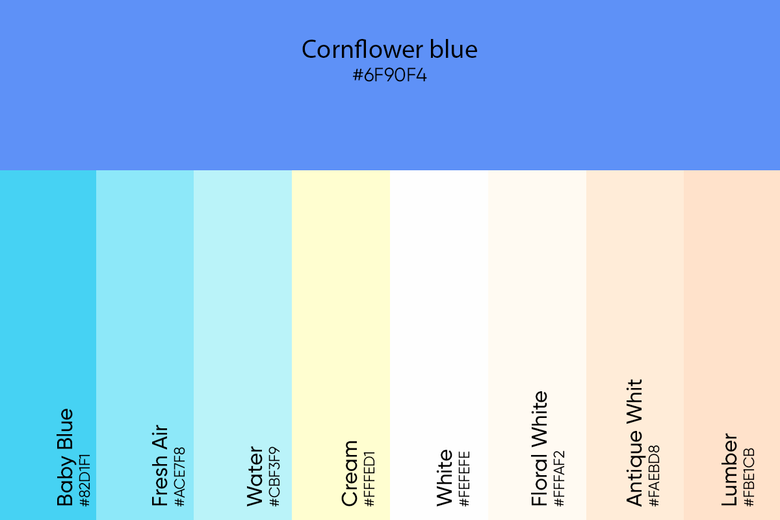 Peering Out the Window: Create this color palette with the cornflower blue color, YInMn Blue (#295095), Blue-Green (#198BA9), Picton Blue (#50B2F1), White (#FFFFFF), Cream (#FDFCCE), Alizarin Crimson (#E52736), Iguana Green (#6DCC8C), and Granny Smith Apple (#AEE7A6).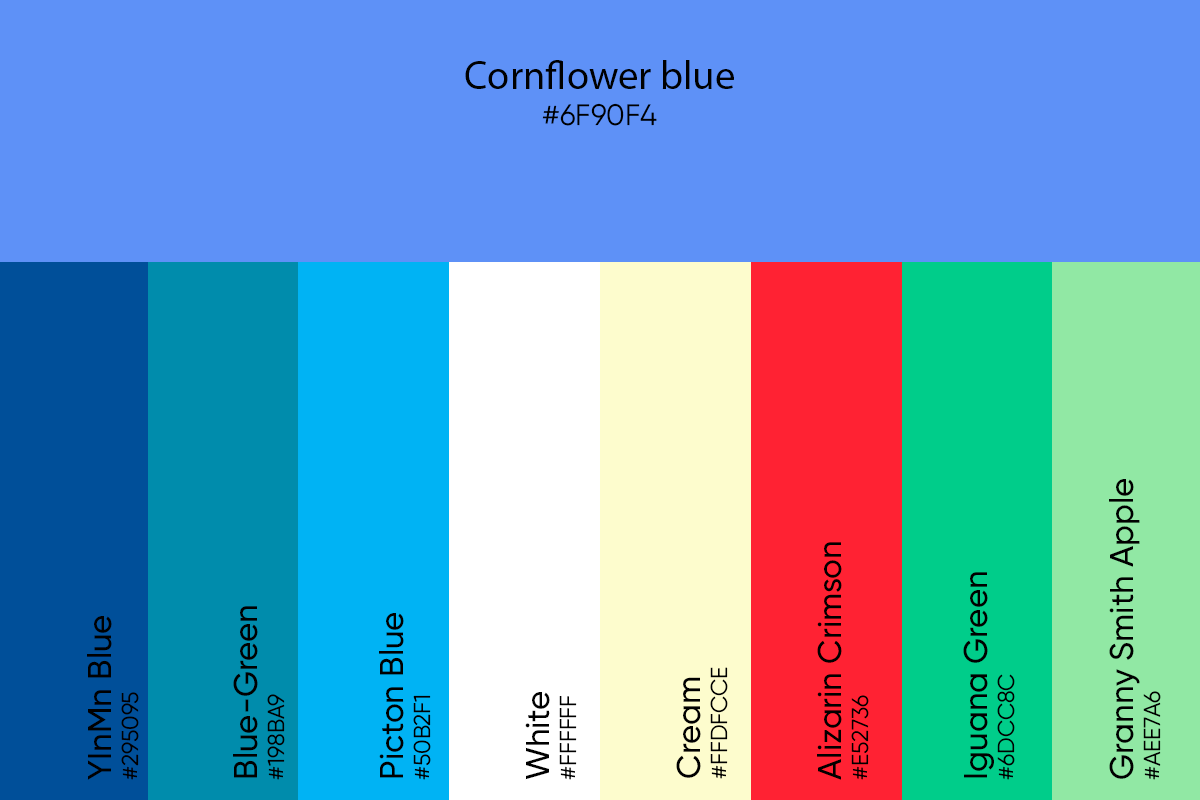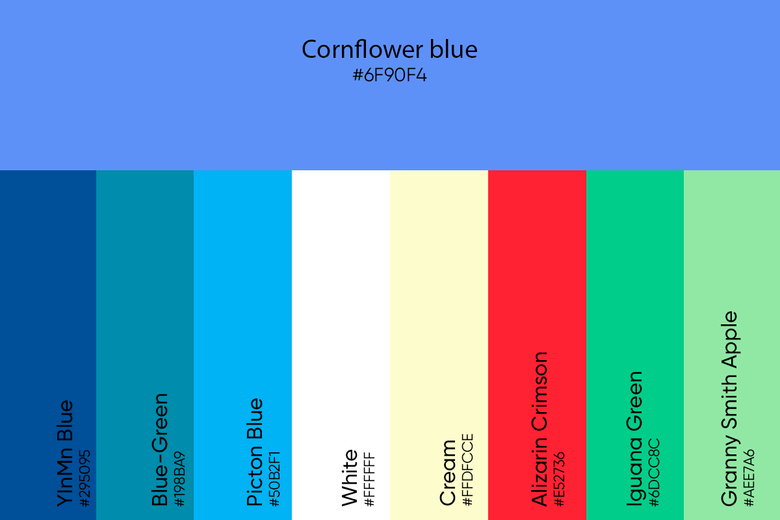 Flower Fields: To design this refreshing cornflower blue color palette combine Orange (#F1A300), Golden Poppy (#FCC100), Golden Yellow (#FFDF01), Vivid Sky Blue (#00DBFF), Sunny (#F0F17C), Kiwi (#70E03B), Harlequin Green (#3CC71E). Don't forget the cornflower blue.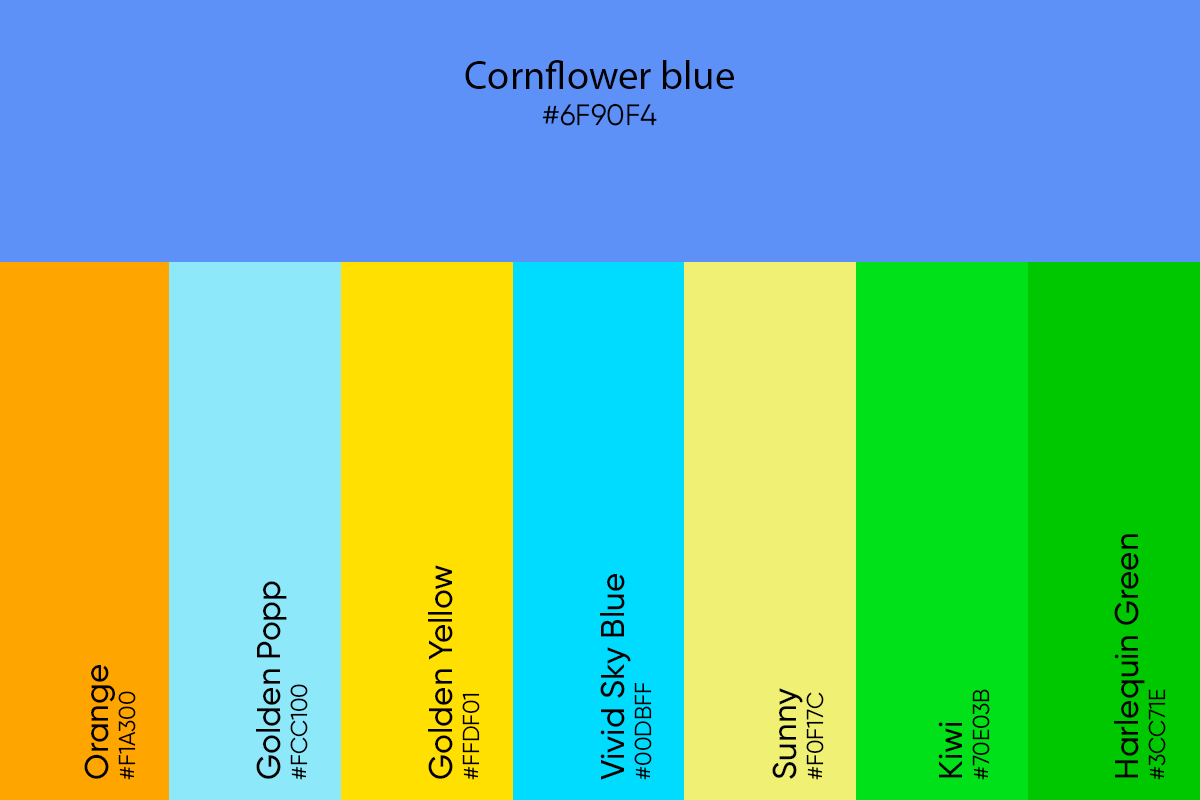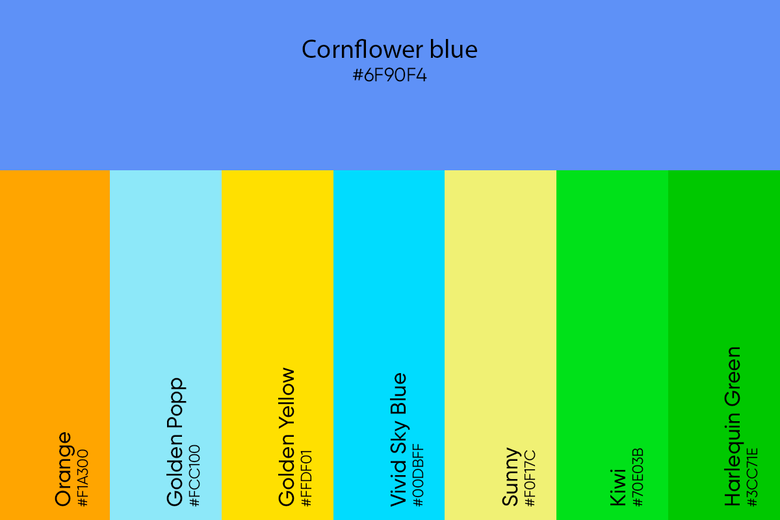 Design tip: Don't limit yourself when creating a custom color palette. If you don't see something you like, you can always create your own. 
Create Fantastic Photos Using this Color
Now that you know all about this fun color, it's time to start designing with it. Here's how to make a cornflower blue inspired design in Picsart.
On the App
1) Open the Picsart app and tap on the plus sign (+) at the bottom of the screen to start a new design. 
2) We're going to start with a cornflower blue background color. So scroll down to Color Backgrounds, then Color Picker and select the cornflower blue color as your background color using the color wheel. Or simply type in the above-mentioned cornflower blue color code (#6F90F4) to select a cornflower blue background.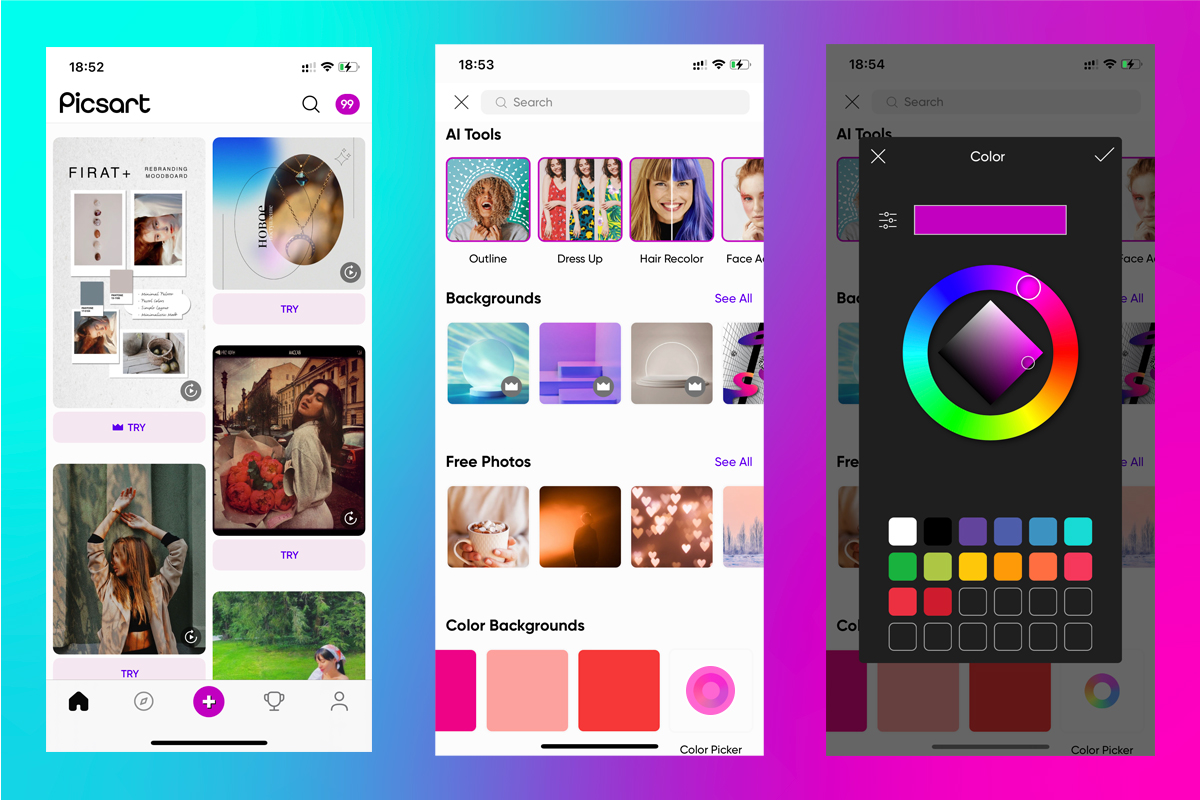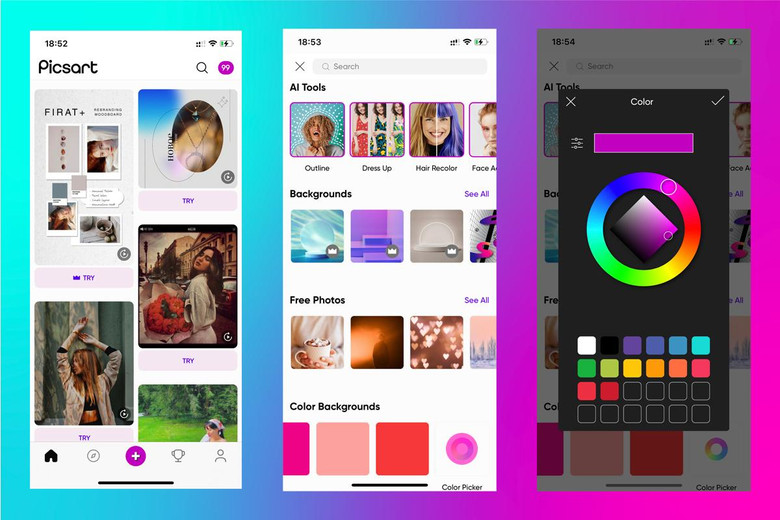 3) Now that you have a blue background, let's design a bit more. Scroll across the Editor toolbar on the bottom of your screen and tap on Sticker, then search for "cornflower blue" and add your favorite one.
4) Now, select Draw in the Editor, then tap on the rainbow Color Chooser in the bottom left corner of the toolbar and use the Color Wheel. Consider using one of the color combinations we shared above to produce a modern, vibrant feel.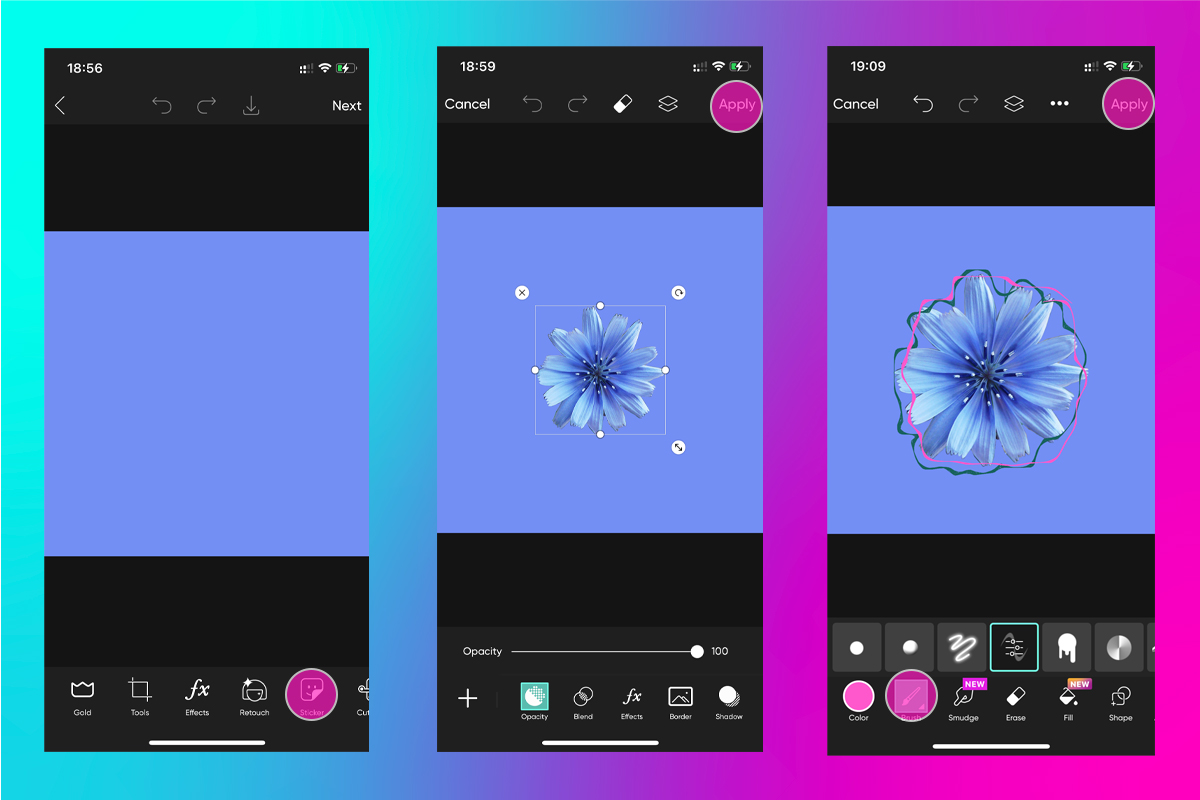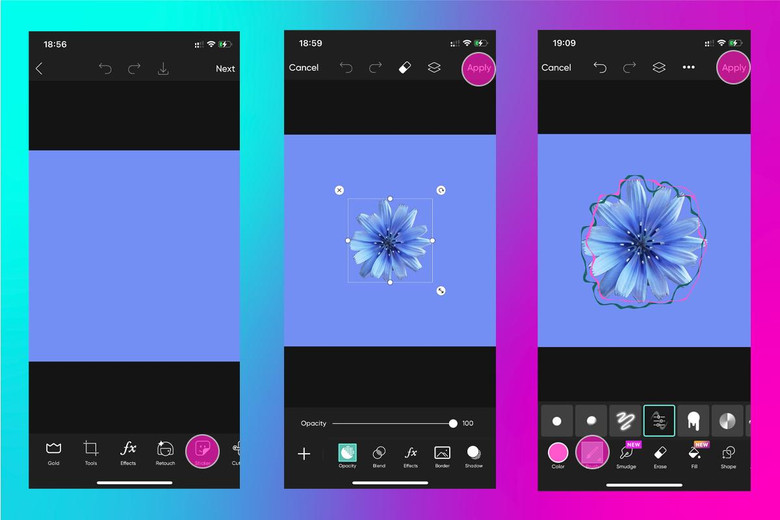 5) Add some text to your design by scrolling across the Editor toolbar and tapping on Text. Write your text, then tap on the upper right checkmark, scroll right to pick a font, and then tap on Color, write in the cornflower blue hex color code (#6F90F4), and click Enter.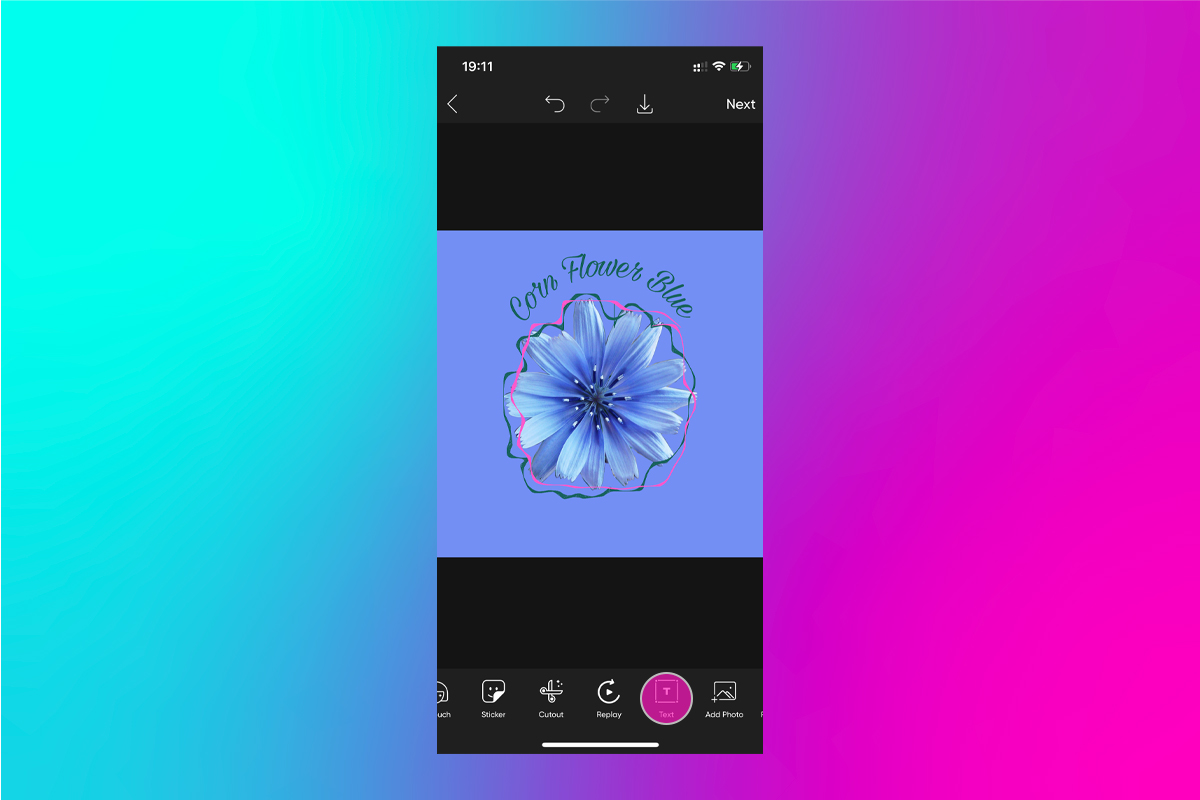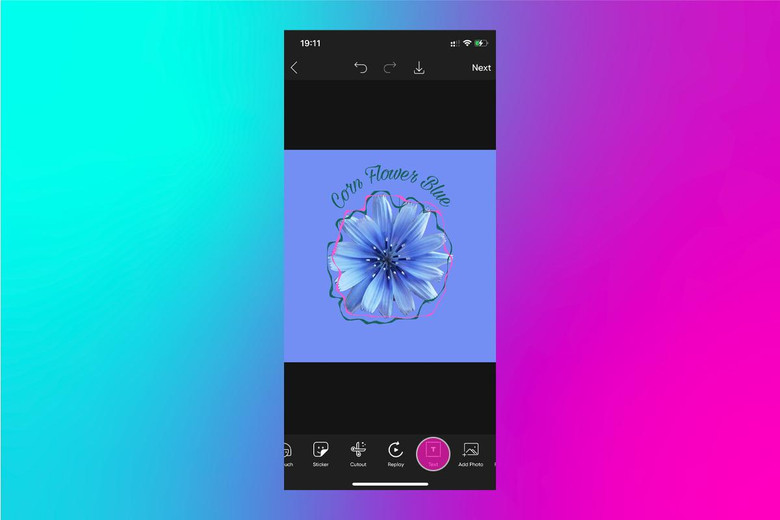 6) Tap Next, then Save and Share your find edit.
Pro tip: if you just want to add a splash of the cornflower blue color in your photo, then the Color Splash tool is perfect for you. Simply tap on Effects and then Colors. Click Color Splash and move the wheel to the cornflower blue shades of your photo. You can then move the two sliders to adjust the hues.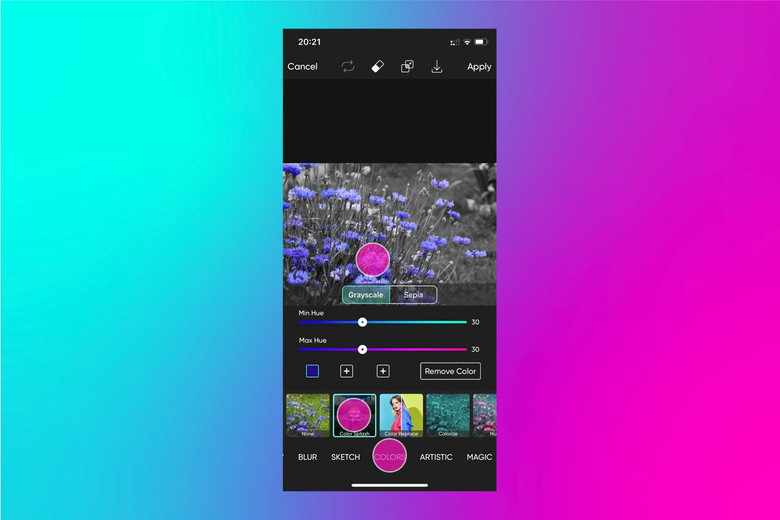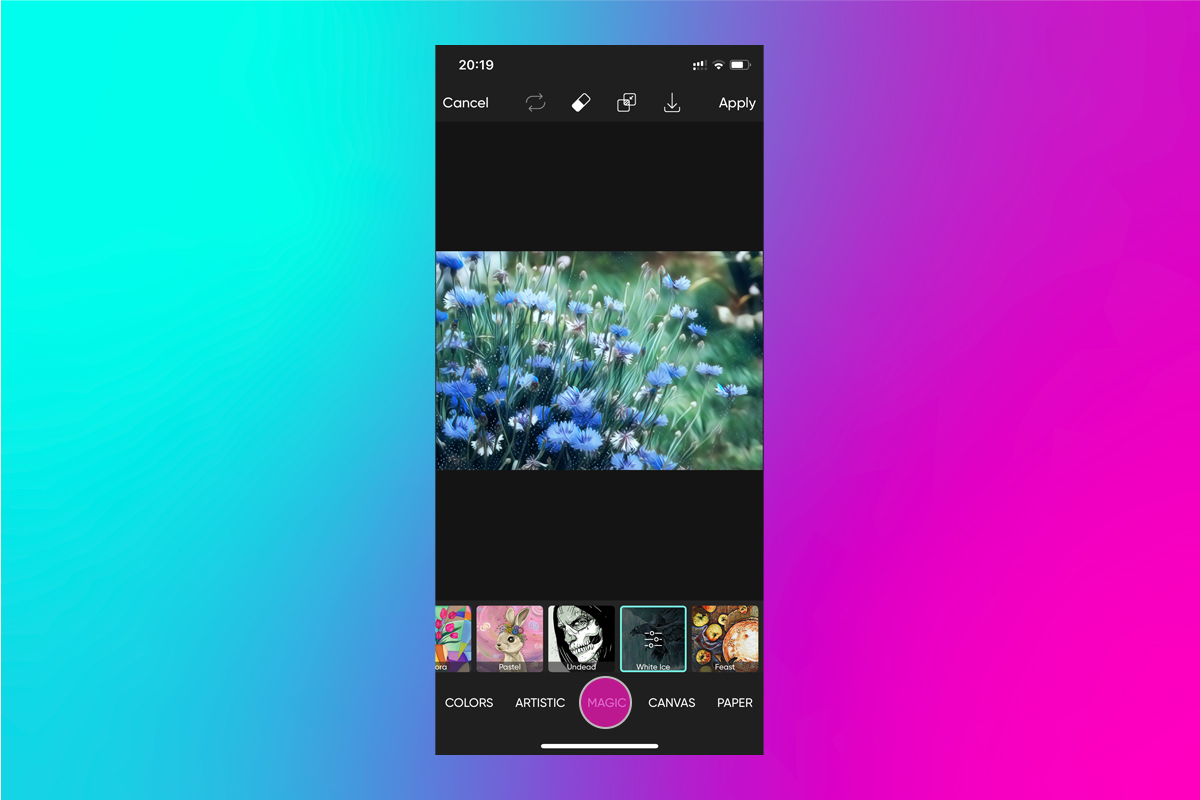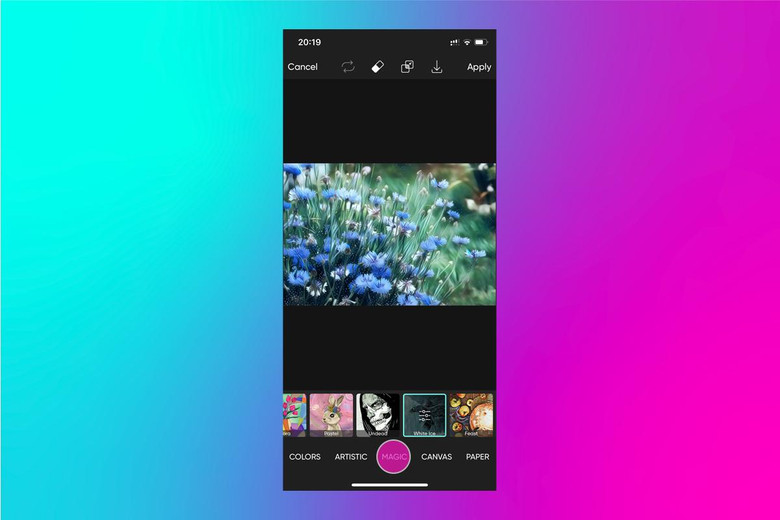 On the Web
Prefer to design on desktop? Here's how to use Picsart Web Tools to create with this cool shade:
1) Open the Picsart Web Editor and start a new project.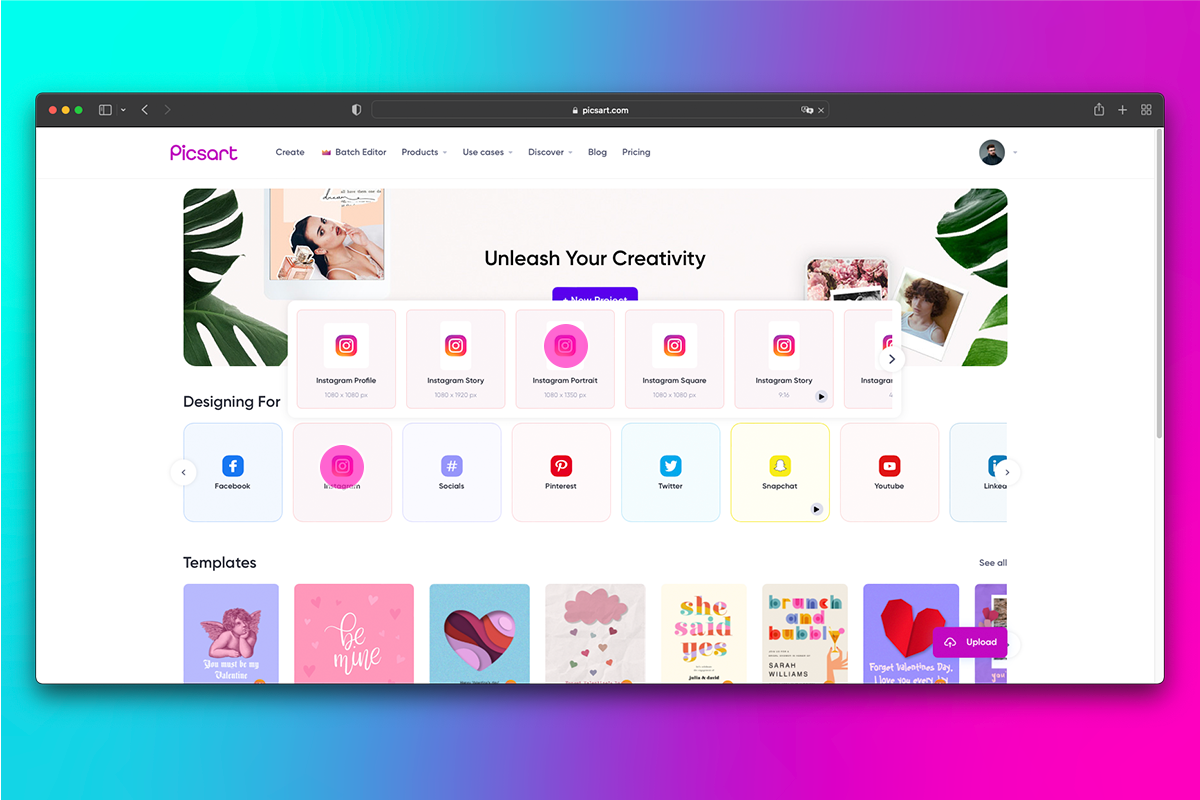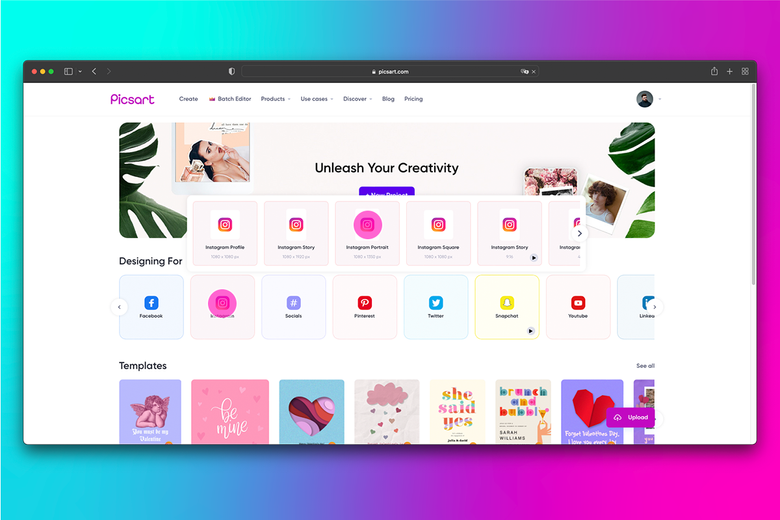 2) Click templates and search for "cornflower blue" or search for "blue" and pick the ones that feature hues from your color palette.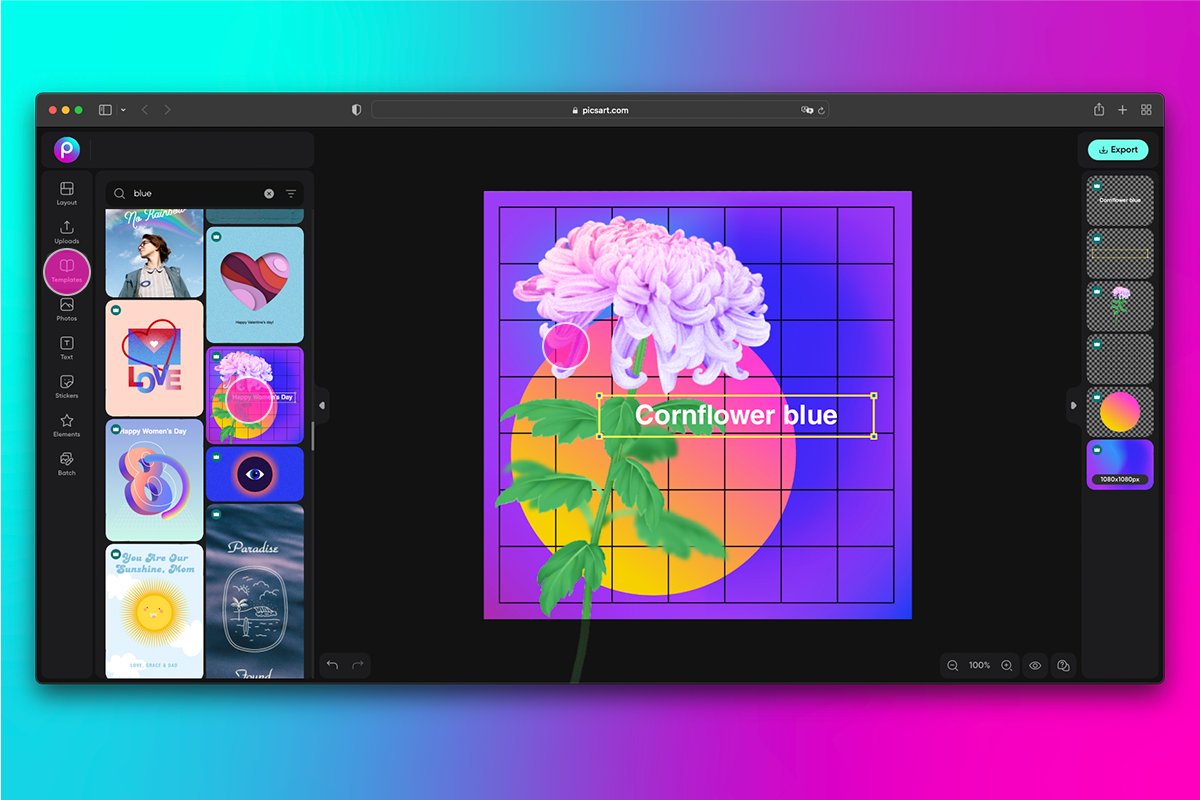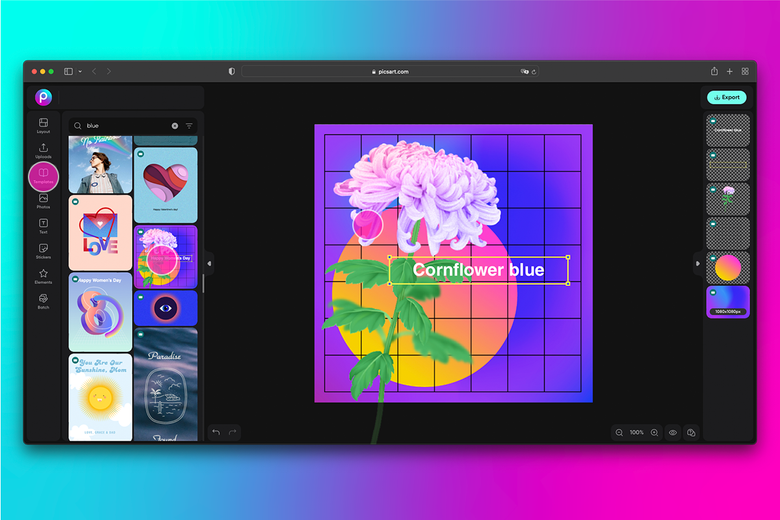 3) Now it's time to start customizing your template. Experiment with Text, Masks, Effects, Shapes, and Stickers to add a touch of cornflower blue color to your design. You'll find all of these options in the editing toolbar on the left.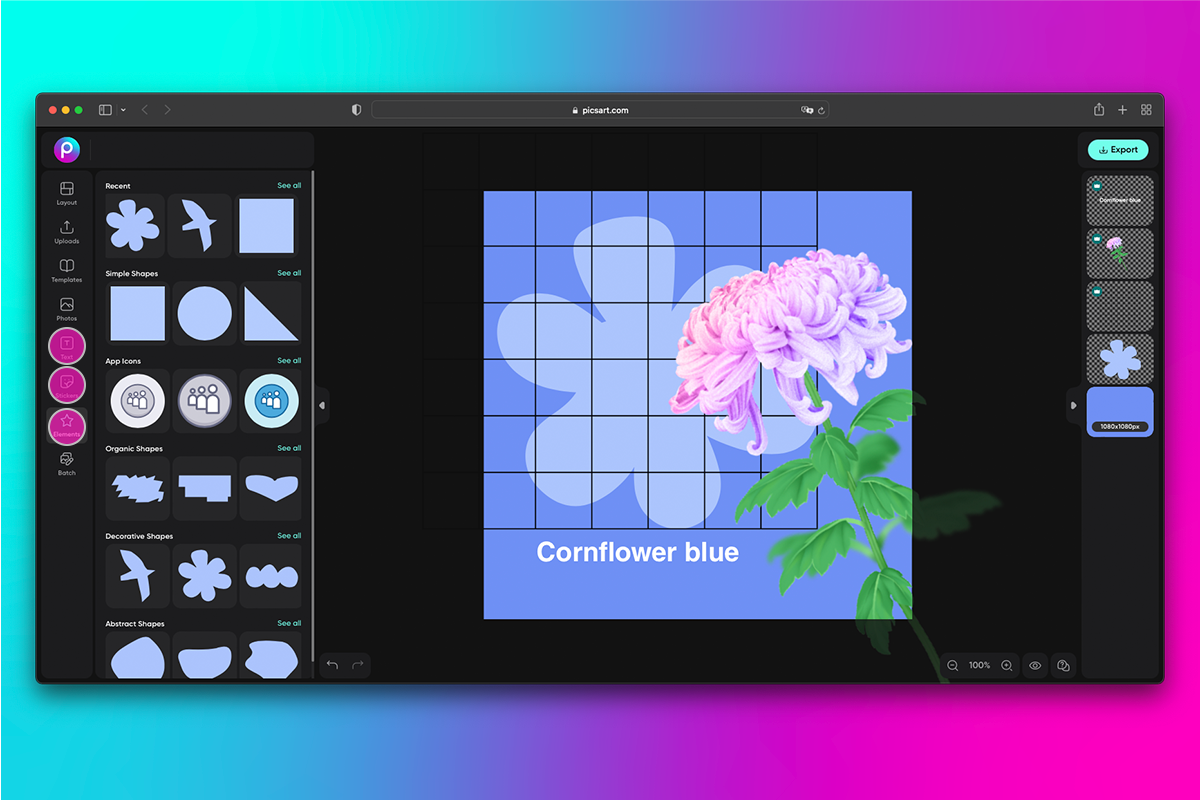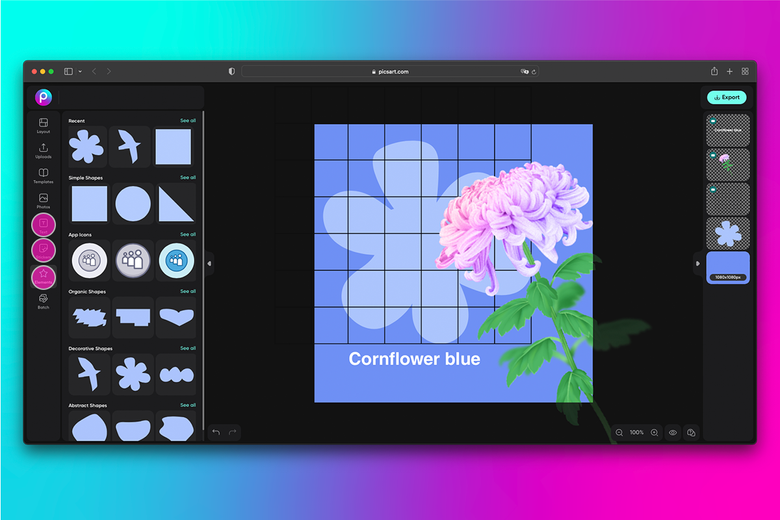 4) One you have your final edit, click Export to download and save your design. Here you can also name your file, select the file size and format, and upscale the image if needed.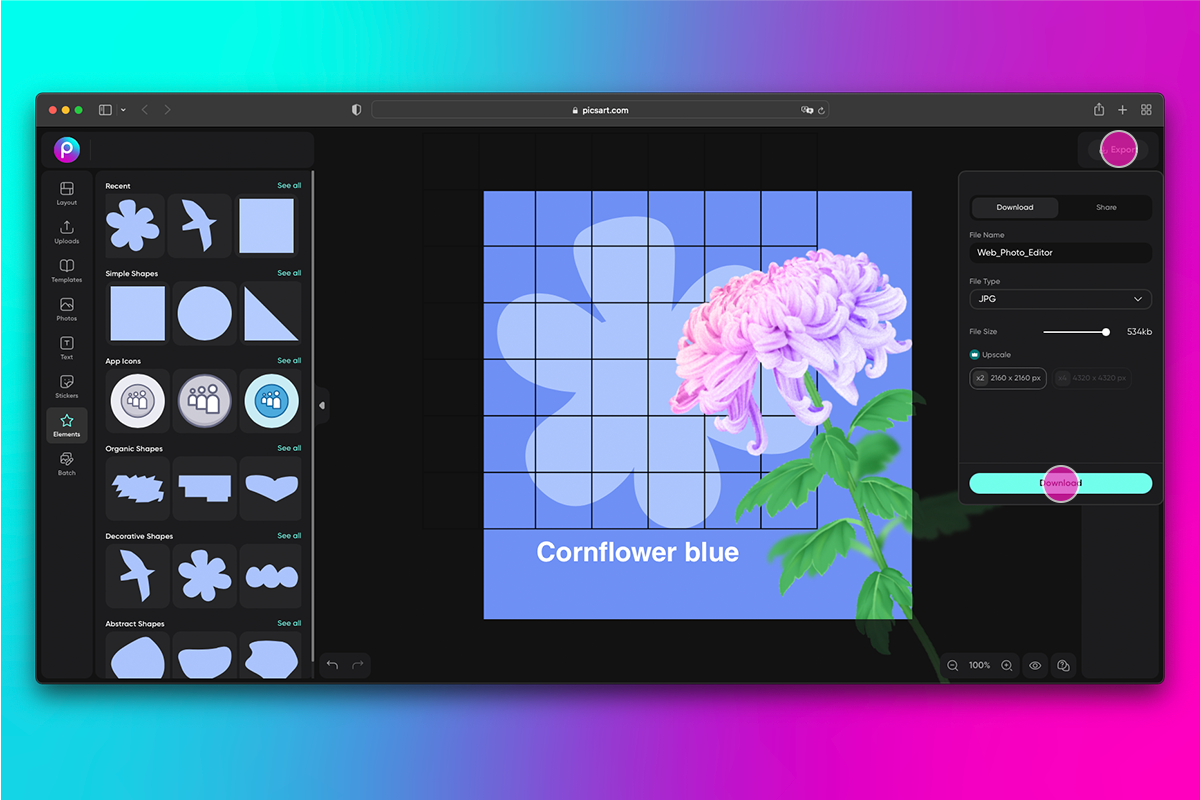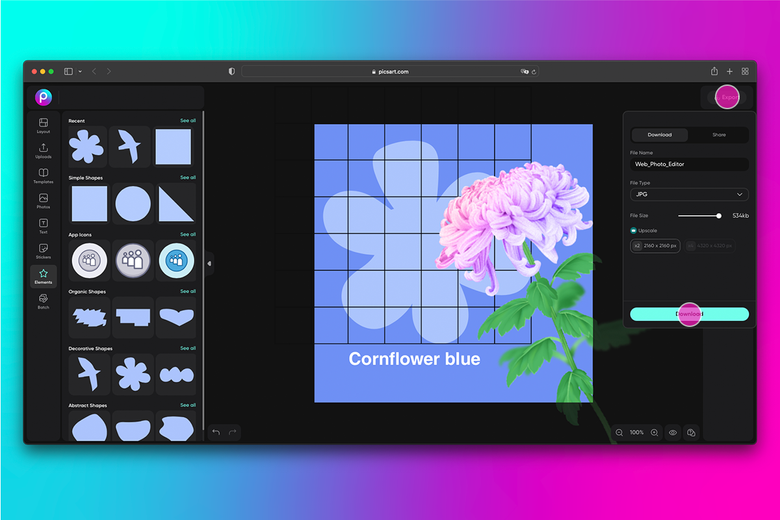 Picsart is a full ecosystem of free-to-use content, powerful tools, and creator inspiration. With a billion downloads and more than 150 million monthly active creators, Picsart is the world's largest creative platform. Picsart has collaborated with major artists and brands like BLACKPINK, Taylor Swift, the Jonas Brothers, Lizzo, Ariana Grande, Jennifer Lopez, One Direction, Sanrio: Hello Kitty, Warner Bros. Entertainment, iHeartMedia, Condé Nast, and more. Download the app or start editing on web today to enhance your photos and videos with thousands of quick and easy editing tools, trendy filters, fun stickers, and brilliant backgrounds. Unleash your creativity and upgrade to Gold for premium perks!