Thinking about doing a maternity photoshoot, but not quite sure where to start? We've got you, mama! In this article, we'll go over the often overlooked details of how to prepare for a maternity photoshoot. We'll then lay out a step-by-step guide to how to do a maternity photoshoot, sharing some of our favorite maternity photoshoot ideas. 
By the time you're done reading this article, you'll have all the tools you need to capture beautiful maternity photos. 
Reasons To Do A Maternity Photoshoot
There are so many reasons to do a maternity photoshoot. Here are a few of our favorites:
Pregnancy is a special time when major shifts are happening in a woman's life. Maternity shots are a timeless way to help mothers and families celebrate this journey. They also are a perfect way to lock in the feelings of excitement and joy that come with carrying and waiting to meet your precious baby.
Every mother or family has a story — and every baby does, too. Many couples choose to take weekly or monthly photos documenting the growth of their baby bump. Someday you will be able to tell your child the story of their birth and share a photo of them in their very first home — your belly. This is one of the easiest DIY maternity photoshoot ideas. 
Many couples use maternity shots as a creative way to reveal their baby's name or gender to the world for the first time. Especially if you live far away from your family and friends, capturing these special moments to share with loved ones is a wonderful way to stay connected and spread joy.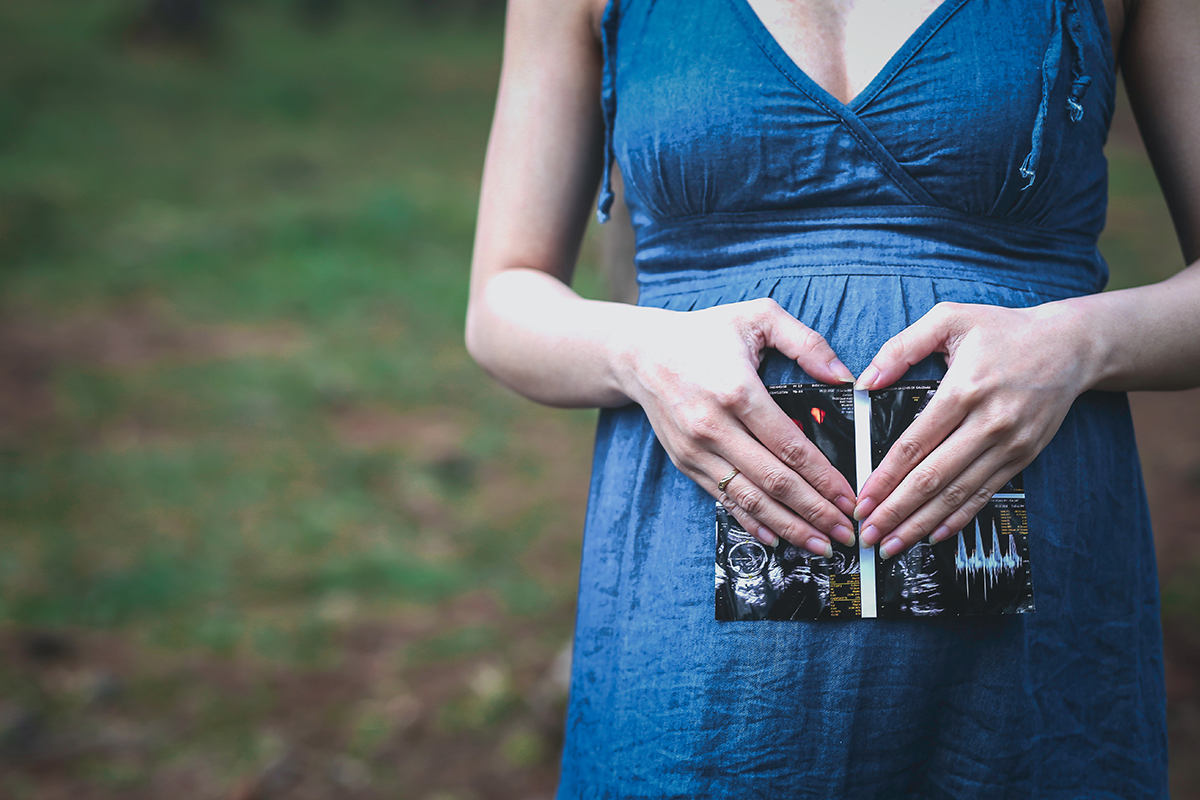 Build The Bond With Your Best Friend
You and your partner have come a long way and will have many more adventures to share with the arrival of your little one. A maternity shoot can help you and your partner bond through a family photo session as you transition into parenthood or grow your family together. 
Feel Like The Queen That You Are
Every mama deserves to feel beautiful from head to toe. Maternity shoots offer expecting moms a much needed break from the maternity sweatpants and grandma sneakers with arch support that you swore you'd never wear. This is your day to pamper yourself and feel like the queen that you are.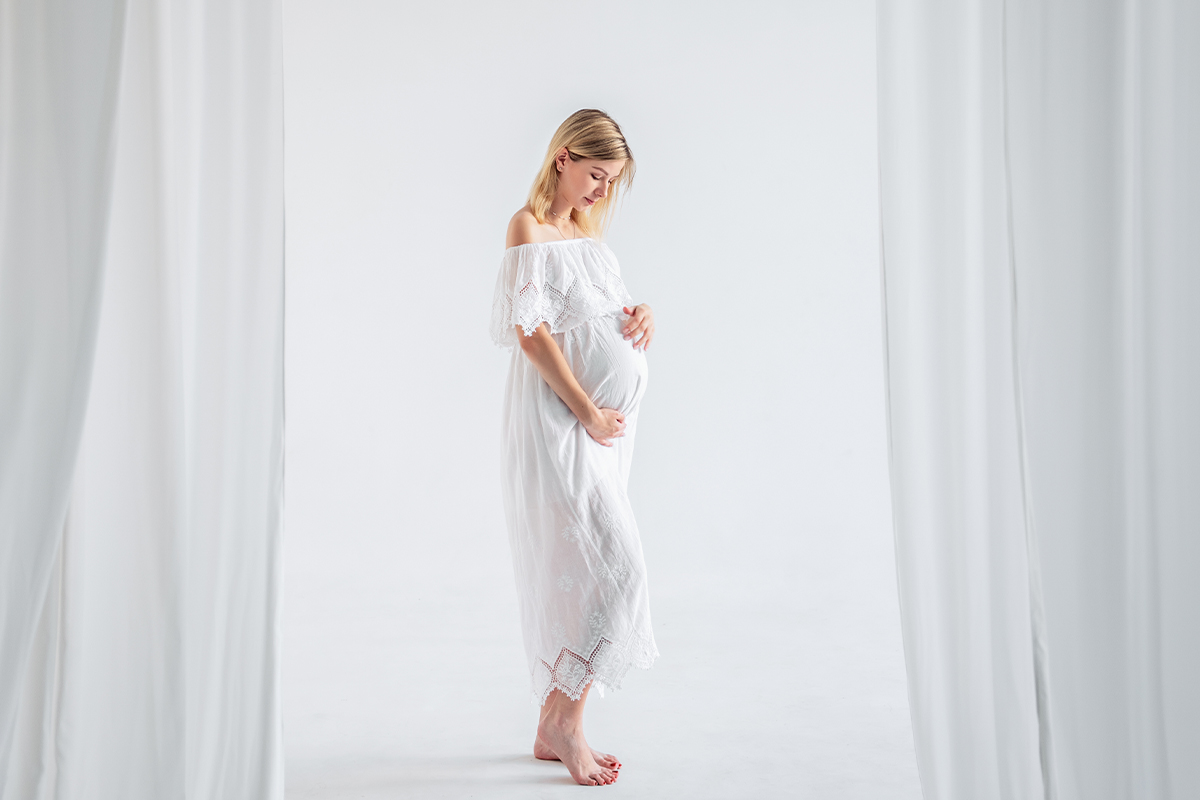 How To Prepare For A Maternity Photoshoot
Ready for your close-up? Let's go over what you will need for a maternity photoshoot.  
Story
First, decide on the story you'd like to tell. This will help you come up with a vision for a theme, props, location, outfits, and editing ideas. For example, if you got engaged at Disneyland, perhaps you'd enjoy a Disney-themed maternity photoshoot to document your continued fairytale. If you and your partner bonded over a love of nature or animals, perhaps a beautiful field at golden hour or even a safari-themed photoshoot is a great fit. 
Once you determine the story you want these photos to tell, coming up with maternity photoshoot ideas will be easy.
Props And Scenery
Now that you have a vision, think of ideas, locations, and props that will help you tell your story. Pro tip: Head to your location before the actual date of your photoshoot to get a head start brainstorming. Most locations have natural backdrops and props you can work with, such as rocks, leaves, benches, skylines, bridges, or monuments.  
Here are some other maternity-themed prop ideas to consider bringing along:
Baby clothes (baby shoes, hat, mittens, onesie, blanket, etc.)

Props to show your baby bump size and personality (pumpkin, soccer ball, stuffed animal, balloons)

Props to express your passions (baby jersey of your favorite sports team, baby-sized ballet or running shoes, etc.)

Ultrasound photo with a felt board showing your due date and the baby's name

Floral crown, flowing dress, and anything else that helps you feel like the queen you are!

Nursery room and baby crib (ideal for

maternity photo ideas at home

), or other baby care products that melt your heart

Pun-based toys or props, such as a stuffed animal bee for a "mom-to-be" (mom-to-

bee

) theme, or a pumpkin and a sign saying "welcome little pumpkin" (popular for a

fall family photoshoot

)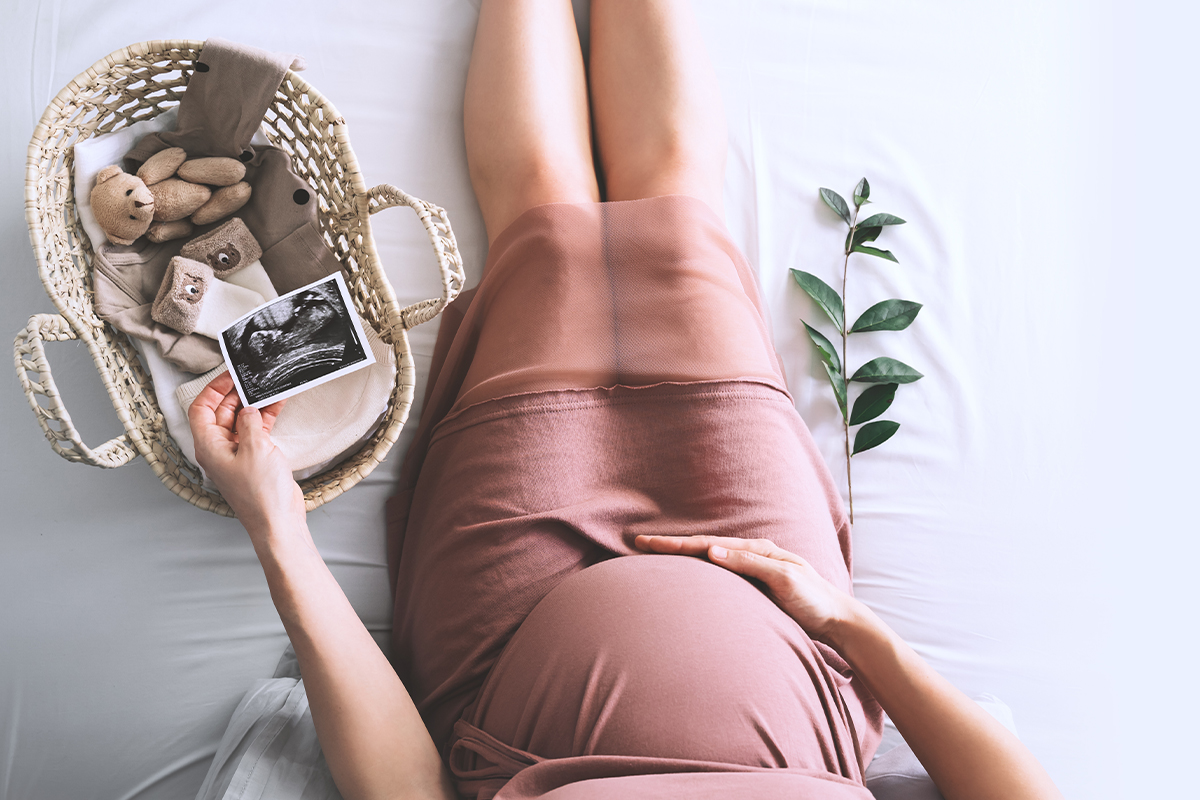 Equipment
Decide whether you're going to hire a professional photographer or take photos yourself. If you're going the DIY route, then check out your camera settings, tripod, and remote clicker. For the best lighting, you may also want to buy or make a reflector or photography umbrella. 
Don't worry if you don't have a fancy camera – you can still create professional-looking shots using just your smartphone and photo-editing tools, like Picsart. 
Crew
It's always nice to have more hands on deck. Make it a fun day by asking family or friends to help out by holding equipment and helping you find the best angles and poses. Most importantly, having a crew of your loved ones onsite will help ensure that you're having fun and feeling beautiful. 
Pro tip: start reaching out to your crew now to set up a time and location that works for everyone.
Have A Plan
Once you have most of your details figured out, create a photoshoot timeline for your day. 
If you'll be outdoors, make sure to do a quick weather and lighting check to catch the perfect window of time to do your maternity shoot. Make sure to leave enough time to travel to your location and set up equipment. Arrive about 30-60 minutes before the sun is at the position you want it to be. 
If you're doing an indoor maternity photo session with natural lighting sources (instead of a studio), make sure to time your shoot based on when the most natural sunlight streams into that particular room. The easiest way to plan this is to watch how the lighting changes over the course of a day and take notes.
Regardless of where you do your photoshoot, you should develop a shot list. This will list out all of the photos and poses you'd like to capture. If you're nervous in front of the camera, consider doing a practice session, especially if you are going the DIY route.
How To Do A Maternity Photoshoot 
Now that you have the basics figured out, it's time for lights, camera, action! Use this easy step-by-step guide to help walk you through how to do a maternity photoshoot.
Step 1: Get To Your Location
Today is the day! Get dolled up, pack your equipment and props (ideally, you've set these out the night before), assemble your crew, and head over to your destination early to set up.
Step 2: Review Your Vision, Direct The Scene
Gather your crew together to go over your vision and shot list. Decide on the emotions you want to express and how to best make that come across in your photos. Don't forget to share with your crew what props you need for which images on your shot list. 
Step 3: Set Up Your Equipment and Props
Set up the camera, tripod, umbrellas, and props. Before you begin taking photos, take a minute to step back and savor the moment.
Step 4: Hit Your Timing 
Stay mindful of the time — it can definitely slip away when you're having fun. Keep in mind you may need to reposition yourselves as the sun moves.
Step 5: Lights, Camera, Action!
Don't be shy and don't worry about getting it right — remember, you can take hundreds of photos in one session and pick your favorites later. This is your time to play with different angles, poses, and compositions that inspire you. 
Pro tip: although you're following a shot list, don't forget to act natural and capture candid moments. These unposed, unstaged moments might become your favorite shots.
Step 6: Get Creative With Editing
Editing can often be the most exciting part of a photoshoot. After all, this is when you get to sit back and enjoy flipping through all the great photos you took. Once you're ready, head over to Picsart to do any post-production editing like color corrections.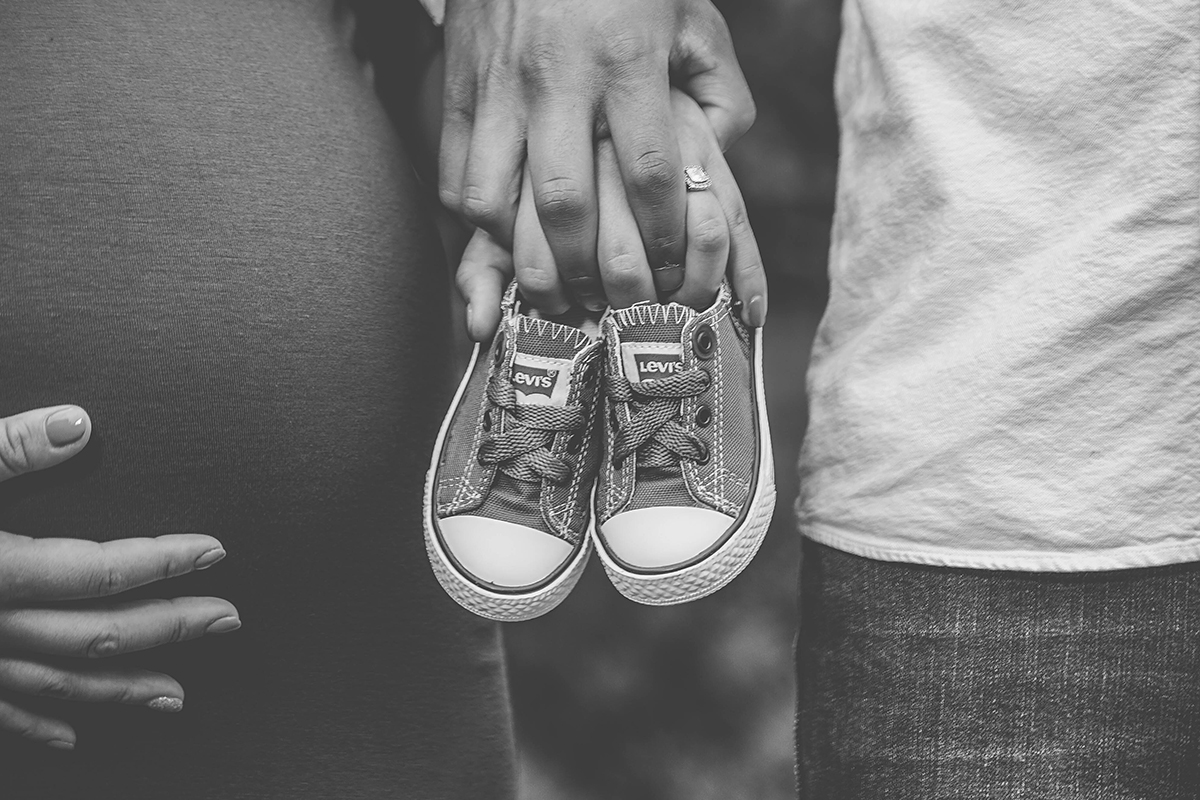 If you're new to photography and need a little more guidance, these photography tips for beginners are sure to get your creative juices flowing. 
14 Maternity Photoshoot Ideas
1) Feel Like The Goddess You Are
Every mother should feel like a goddess — and nothing says goddess more than a satin dress with some fan or wind action billowing through it. 
Use photo-editing apps like Picsart to brush in some mystical special effects like autumn leaves and butterflies.
2) Tell Your Love Story
If your love story feels like a romance novel or straight out of a painting, then this couple's maternity photoshoot idea is for you. Every maternity photoshoot needs a photo that brings to life the magic people have created together. Use Magic Effects in post-production editing to make a natural setting look more magical.
3) Out-Of-Body Collage Fantasy 
Creating another human being can seem surreal at times. It's funny how growing another life inside your body can both help you feel more in tune with and out-of-body at the same time. Tell the unique story of your inner and outer journey with a double exposure collage. 
This type of editing is also a great way to honor all the things that have been important in your journey to motherhood, such as your connection to nature or a specific place you call home.
4) Floral Milk Bath
Floral milk bath maternity photos are trendy for a reason. They give expectant mothers a well-deserved moment to relax and focus on self-care. Soak in the precious journey of pregnancy, reconnect with nature, and honor your ever-changing body as it creates life right before your very eyes. 
If you don't feel like taking a bath, having floral elements as props can be relaxing, colorful, and leave your home smelling great after the photoshoot is over.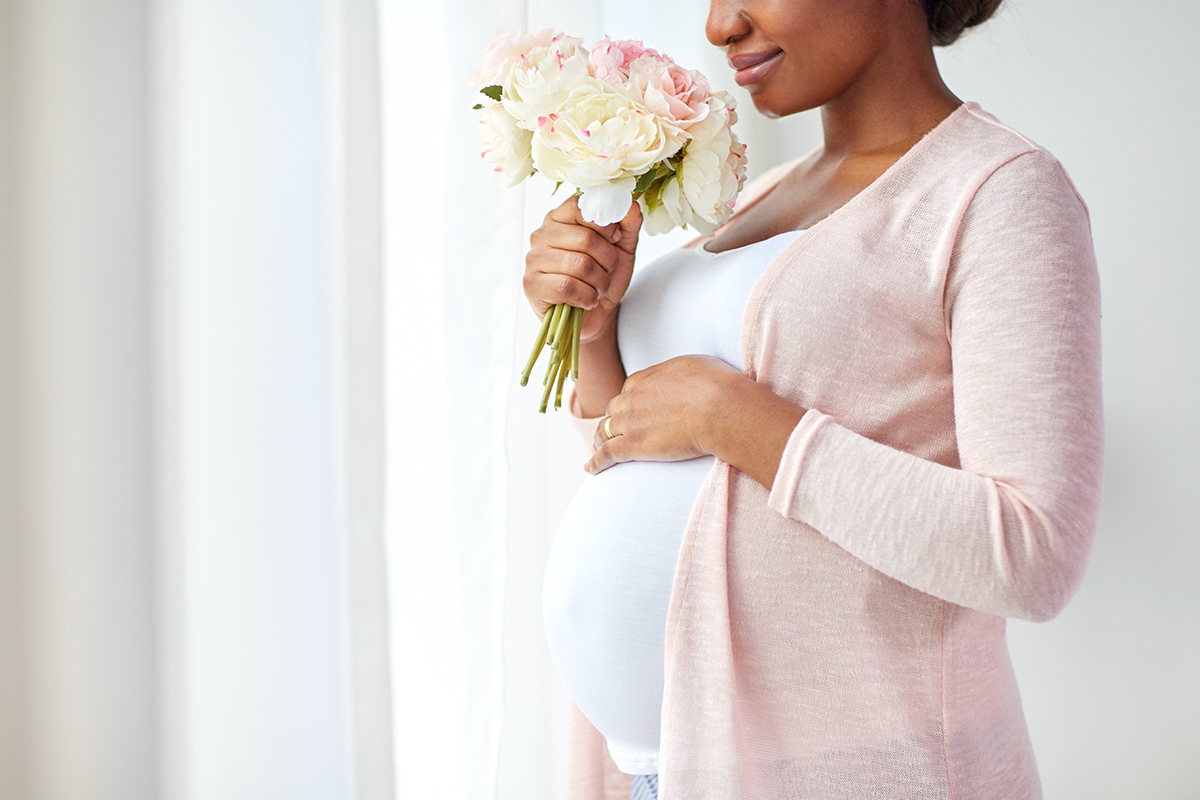 5) Magical Gender Reveal
Looking for more couple maternity photoshoot ideas? Gender reveal photoshoots are one of the most exciting and creative parts about maternity photography. Gender reveal photos are a great way to announce to loved ones through traditional mail or social media that your family is growing.
In this example, this woman announces the arrival of her baby and teases the gender with a matching pink background and dress.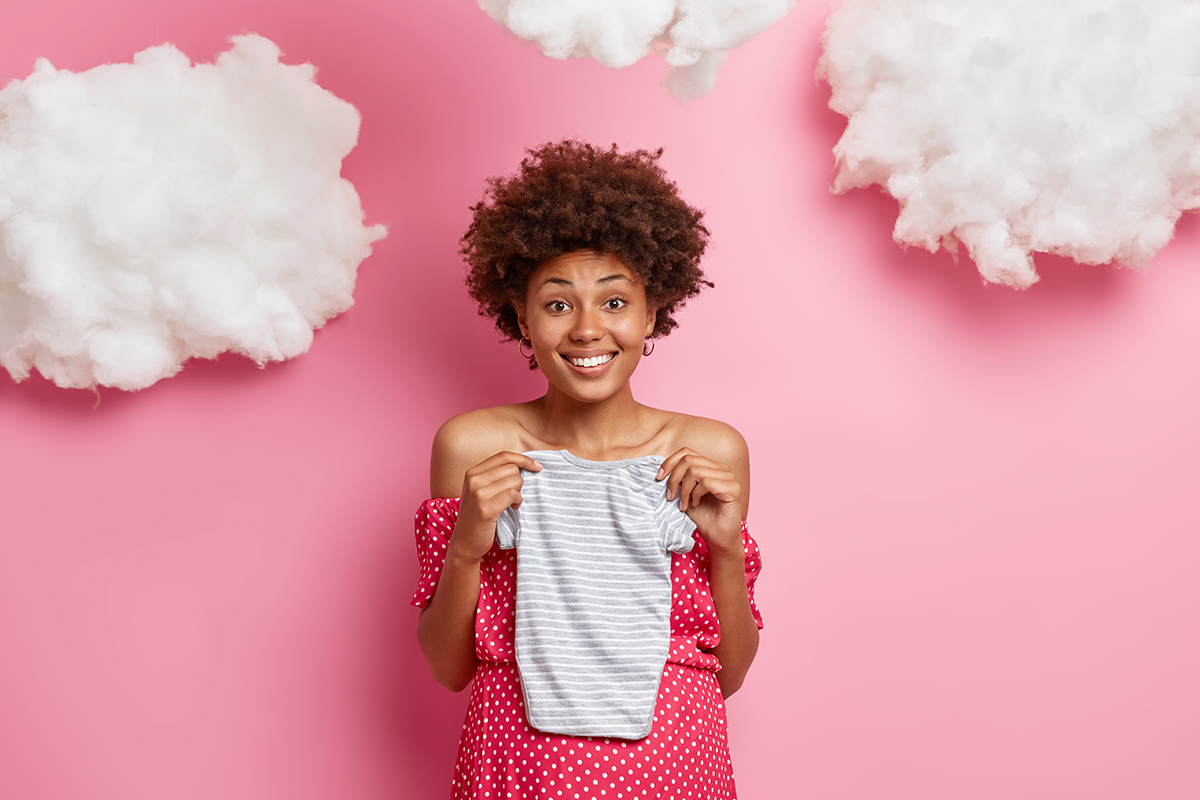 Pro tip: Have a maternity photo session on the same day as your gender reveal party so that you can capture the surprised look on your face in real-time.
6) Mixed Genre Collage
Express your creative side with a unique collage that mixes artistic styles. We love the combination of a black and white modern photo with gold swatches of a classical painting. Photo-editing platforms like Picsart have built-in special effects and tutorials like this #BabyInBelly edit makes it easy to achieve this creative edit. 
7) #TreeOfLife Brelfie Or Umbilical Photo Illustration
Take your photoshoot to the next level with a vibrant and illustrated look like this #TreeOfLife umbilical cord image. You can also create a similar Brelfie edit with images from your newborn baby photoshoot.
8) Multi-Media Polaroid Collage
A pregnancy photoshoot is a perfect excuse to enjoy some creative DIY scrapbooking. Upload your maternity photos into Picsart, then add pressed flower stickers, polaroid film edits, and use drawing tools to outline your belly. And once your little one arrives, you can continue adding to the scrapbook to document your parenthood journey.
9) Oh, The Places We'll Go
Every parent has hopes and dreams for their little one. Maybe you can't wait to introduce your baby to your favorite arts and crafts? If so, paint your pregnant belly with little baby feet or a heart and your due date. 
Do you love traveling and can't wait to show your little one the world? Take inspiration from this creative photo edit showing an airplane on an adventure around the globe, showering the world with a rainbow of joy.
10) Tickle Your Funny Bone
If you're a couple known for your sense of humor or you just love making your friends and family laugh, we say be yourself and go all out. Couple maternity photoshoot ideas should be fun, so show off your personality and passions. 
11) A Sibling's Love
Family maternity photos showing your other children touching or hugging your pregnant belly are a powerful way to illustrate the special bond between siblings. Including your family members and fur babies in maternity portraits is a lovely way to create memories as your family expands. 
Pro tip: A great maternity photographer can direct a photoshoot of your whole family and help bring out your kids' natural curiosity about who their sibling will be.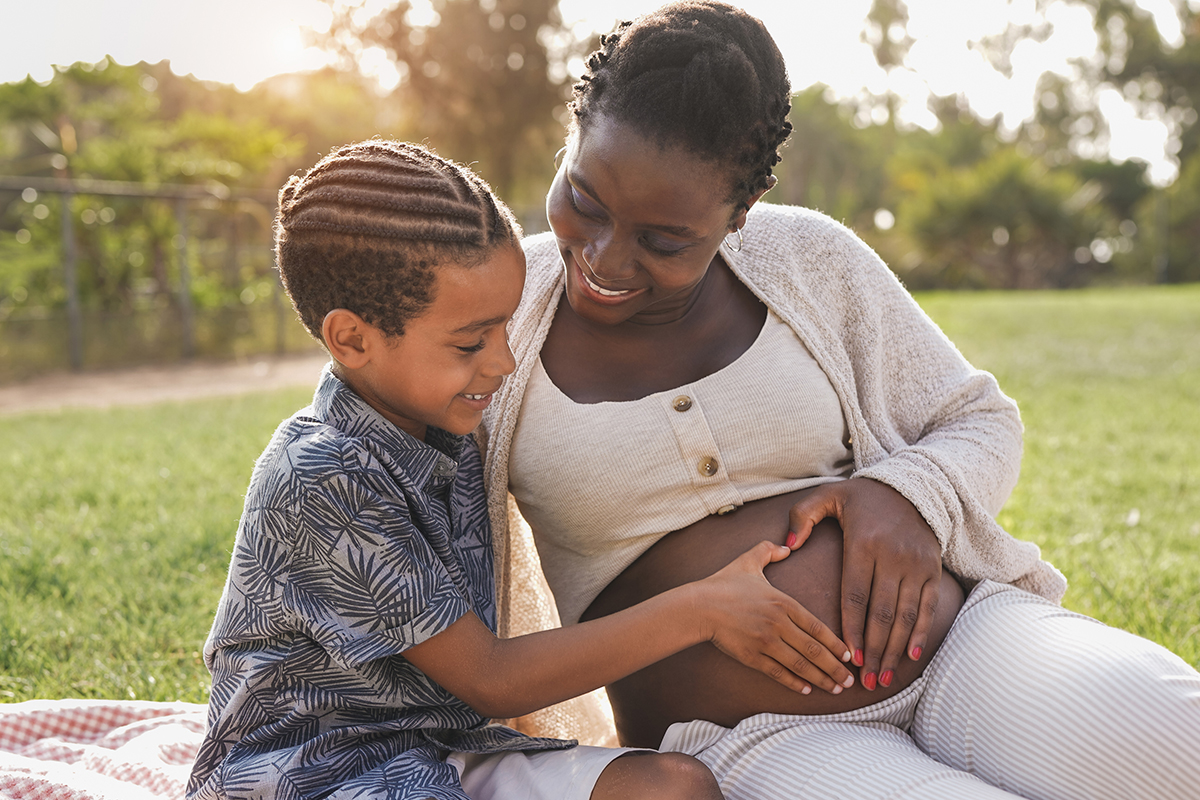 12) A Caption That Captivates
A picture may be worth a thousand words, but we say there's always room for a great caption. Picsart makes it easy to add text and choose your favorite font to capture a specific feeling. Add special effects, like a firefly sky, to make an evening image even more magical. If you prefer outdoor settings, golden hour (right after sunrise or right before sunset) is the perfect time to create this soft glowing look.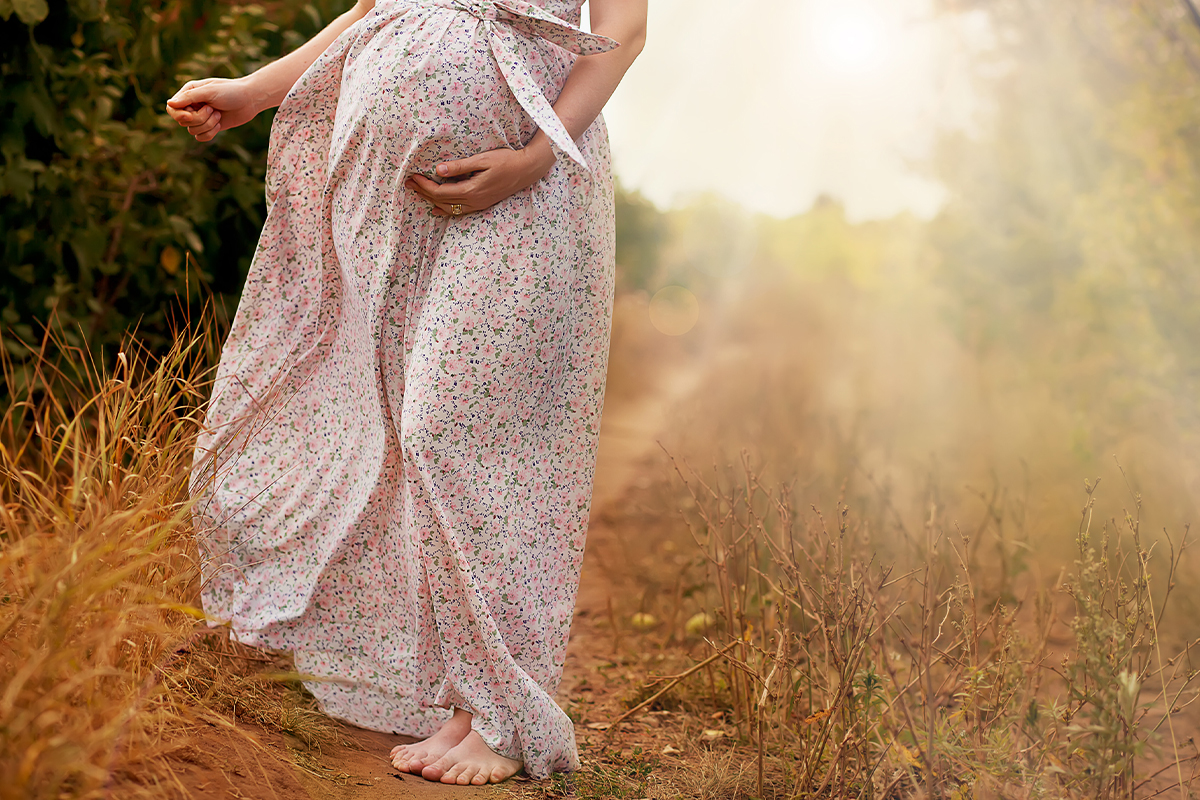 Pro tip: a flowing maternity dress can create an extra feeling of movement. It may also help create a natural glowing effect as light passes through the layers.
13) Enhance A Traditional Photo
If traditional maternity pictures are more your thing, your images can still benefit from subtle photo edits, like adjusting brightness, adding natural light sources, or sprinkling in a couple of subtle lens flares to make you, your best friend, and your little one sparkle.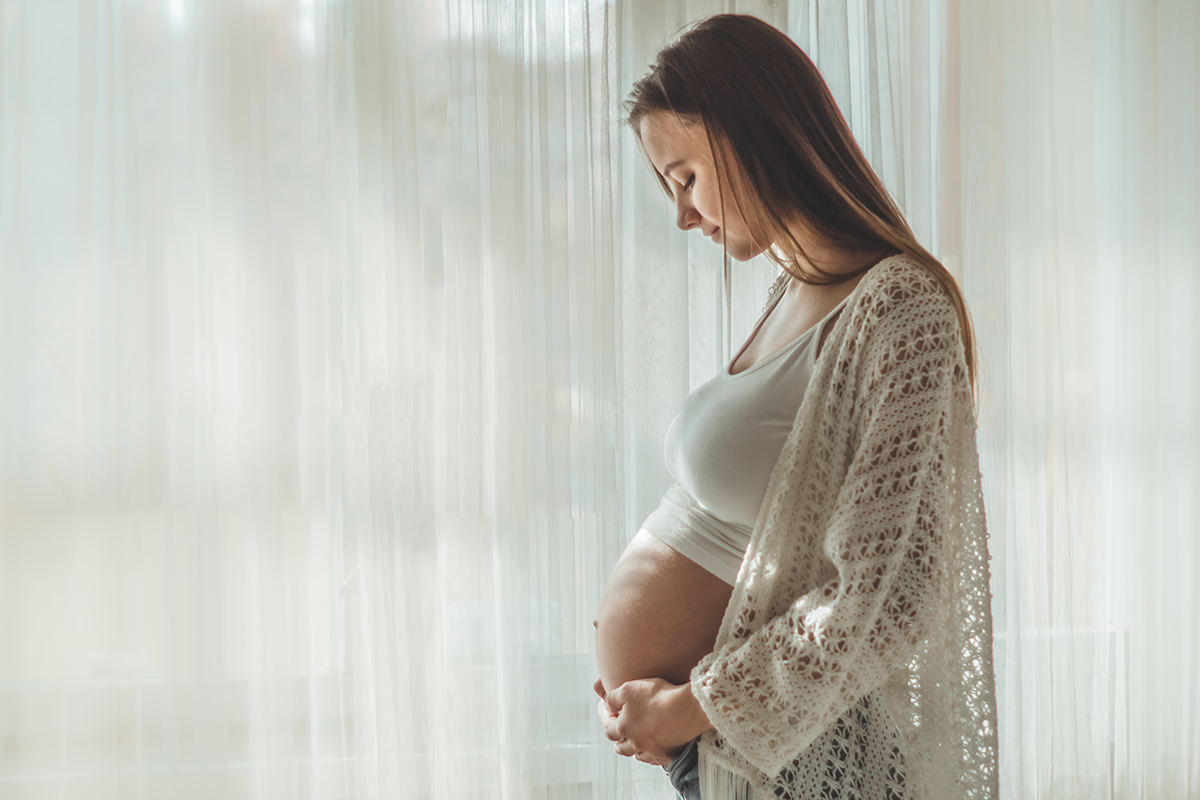 14) Bump Collage
If you have a phone flooded with baby bump selfies, then this maternity photo edit idea is for you. This collage may look a little challenging to make, but it's actually super easy to achieve using Picsart's collage tools. Simply upload your photos into Picsart, open the Collage Maker, and edit away!
Create Beautiful Edits Of Your Maternity Photos Using Picsart
We've come a long way, mama! Now that you know how to prepare for a maternity photoshoot, how to do a maternity photoshoot, and you've been showered with maternity photoshoot ideas, it's time to start editing. 
So what's next? Here's how to edit maternity photos in the Picsart mobile app:
Step 1) Open Picsart, upload your favorite photo, and start editing your journey into parenthood by tapping on fX to open the photo filters.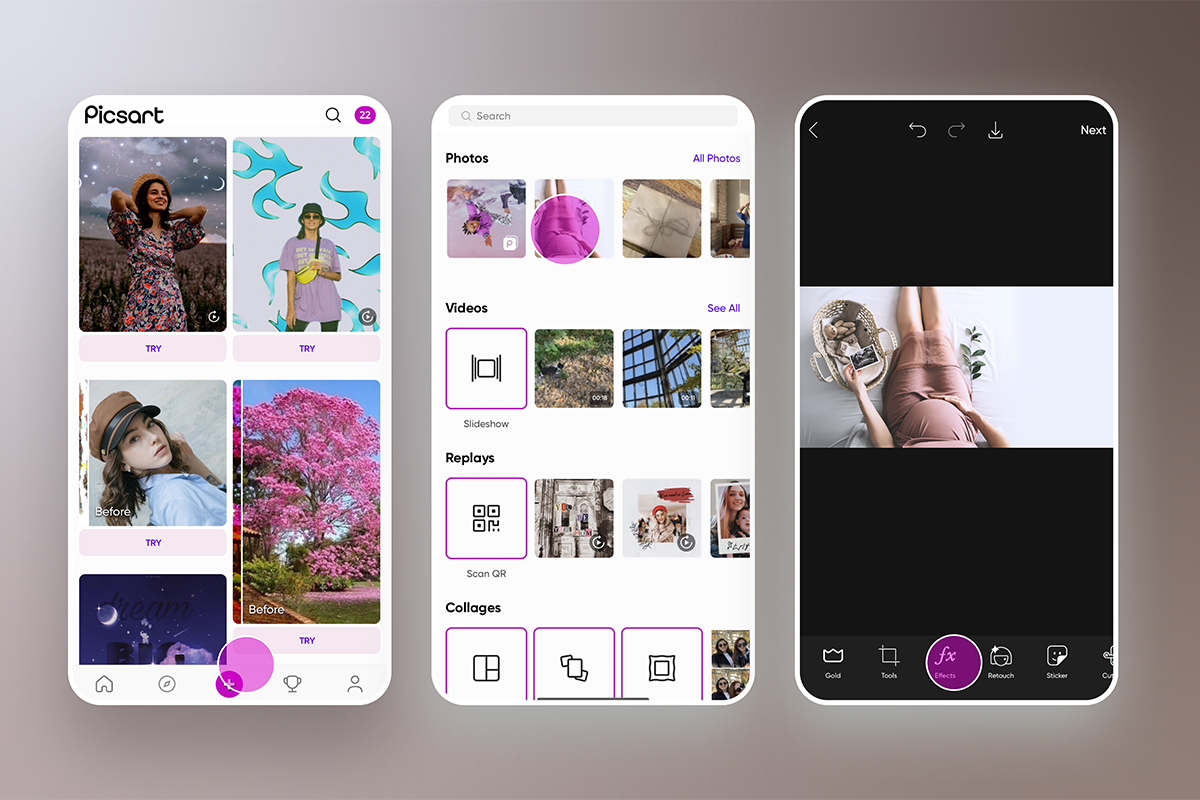 Step 2) Select your favorite filter, in this case we went with a cool, natural effect, and tap Apply to save.
Step 3) Tap on the Text tool, type in the copy, select a font and color, reposition the text, and tap Next to save.
Step 4) Select Next again to finish your edit, then save and share it to spread the big news with your loved ones.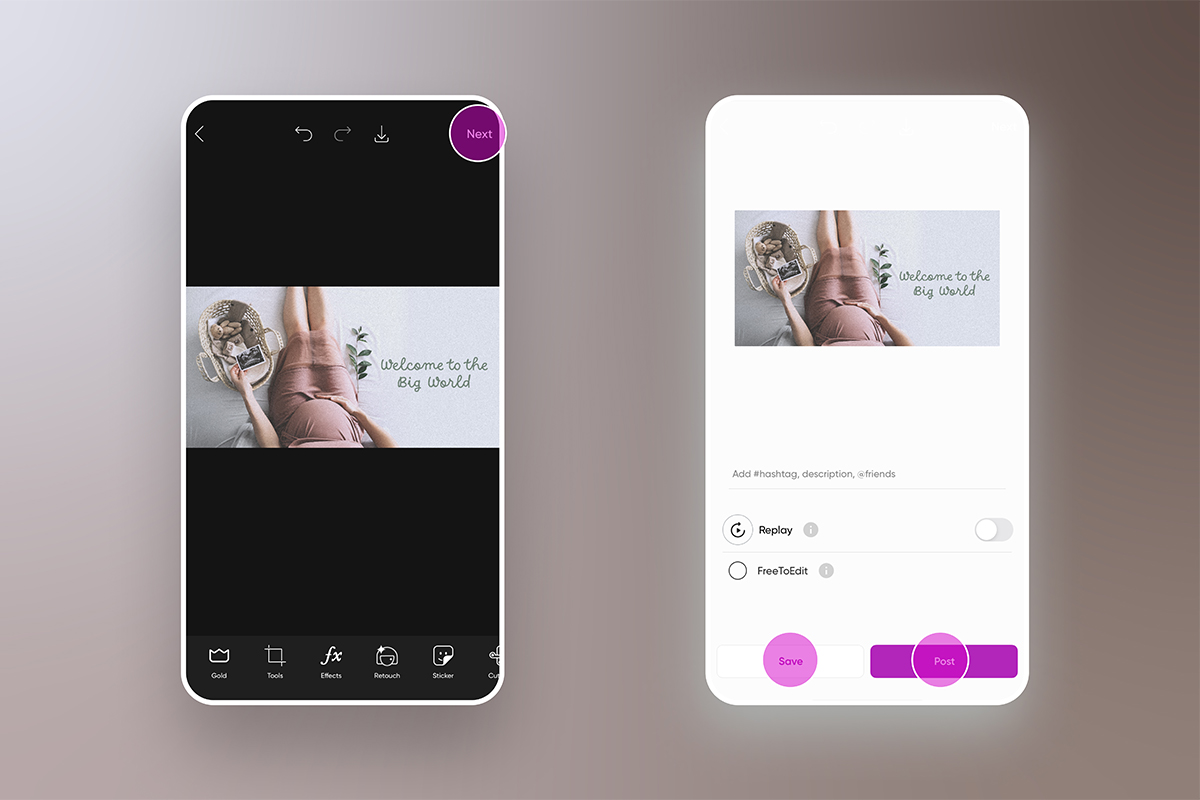 Prefer to edit on the web? We've got you covered with this maternity photoshoot editing tutorial for Picsart Web:
Step 1) Open the Picsart Web Editor and click on New Project to upload your image.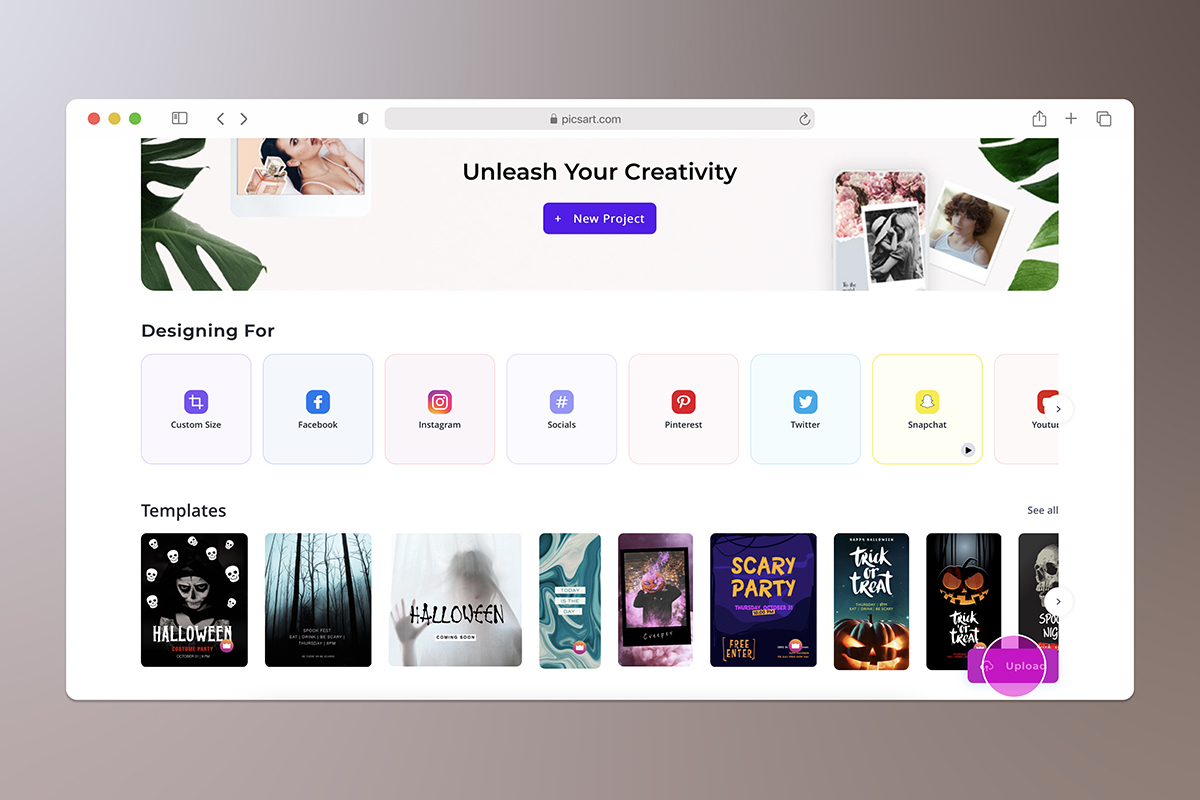 Step 2) Select fX to browse through the filters and select your favorite.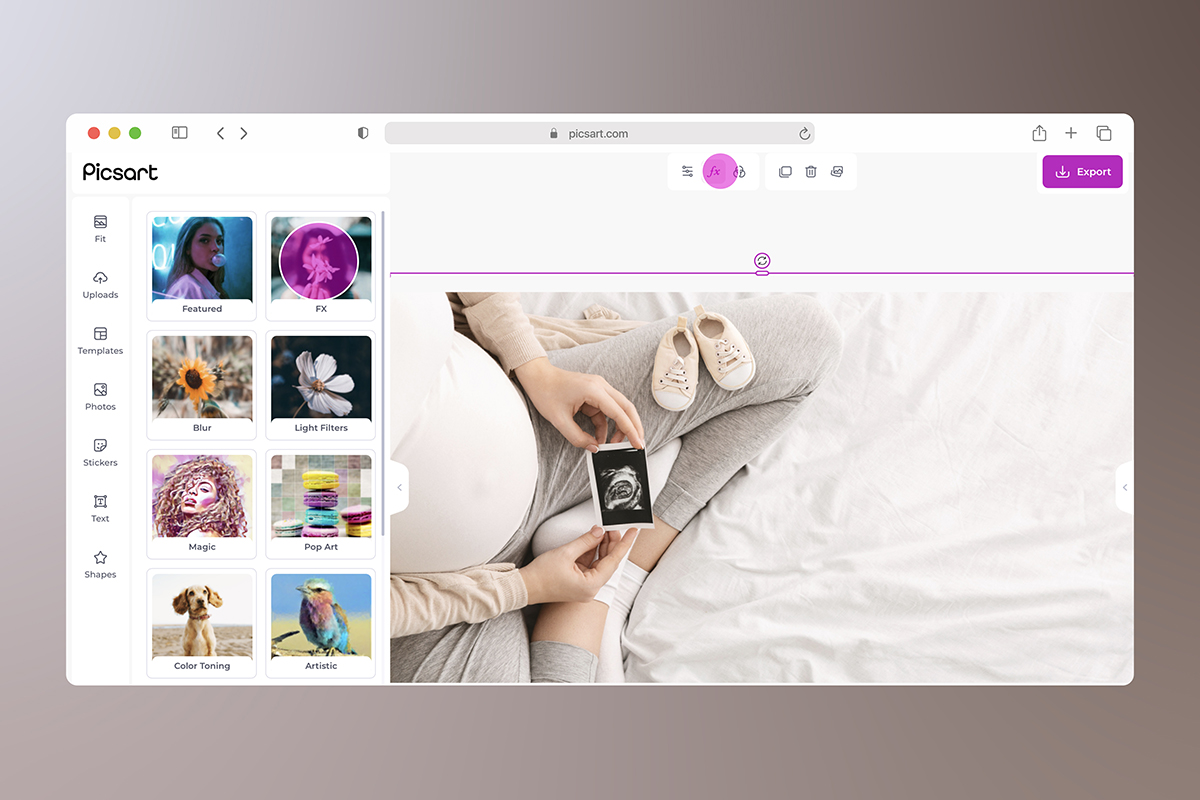 Step 3) Next, access the text tools by clicking on Text. Type in your heading, select the font, color, and text styles, and reposition it on your photo.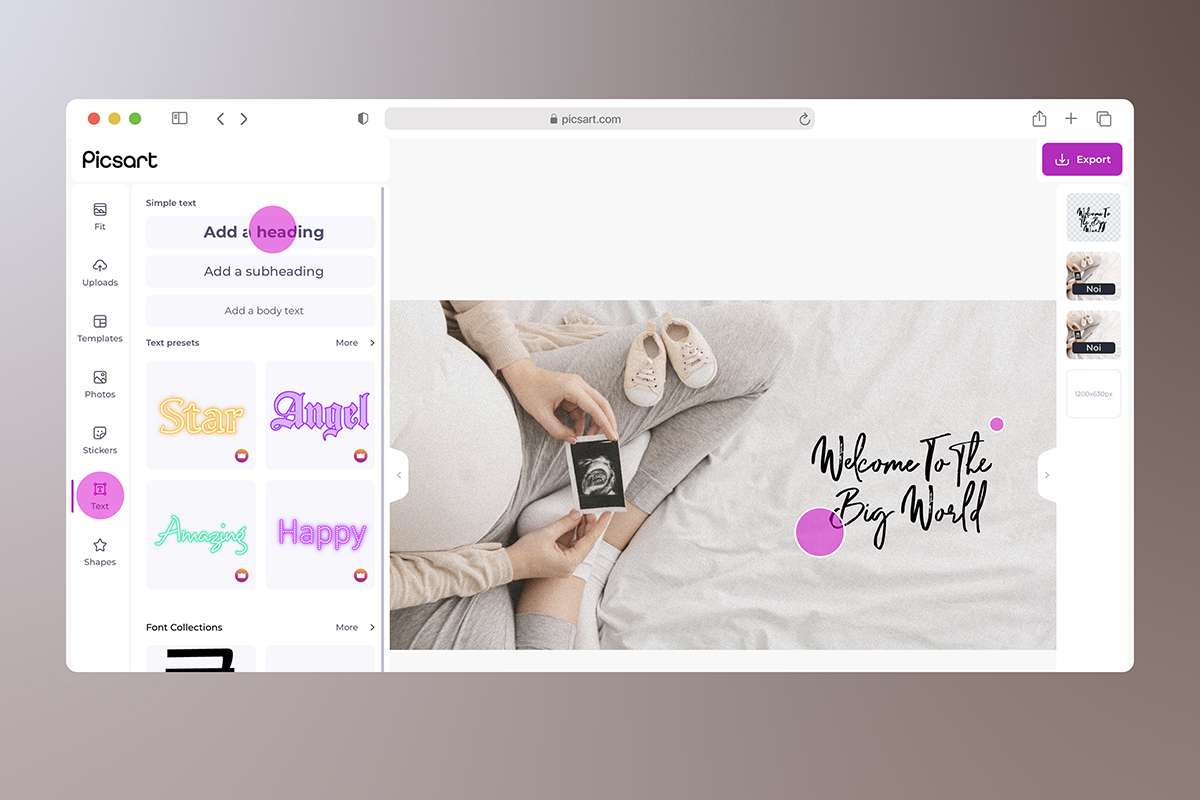 Step 4) When you're done with your maternity announcement, click on Export to download and save your photo. Here you can select your file type, size, and name your image. You can also quickly upscale your image at this step before downloading.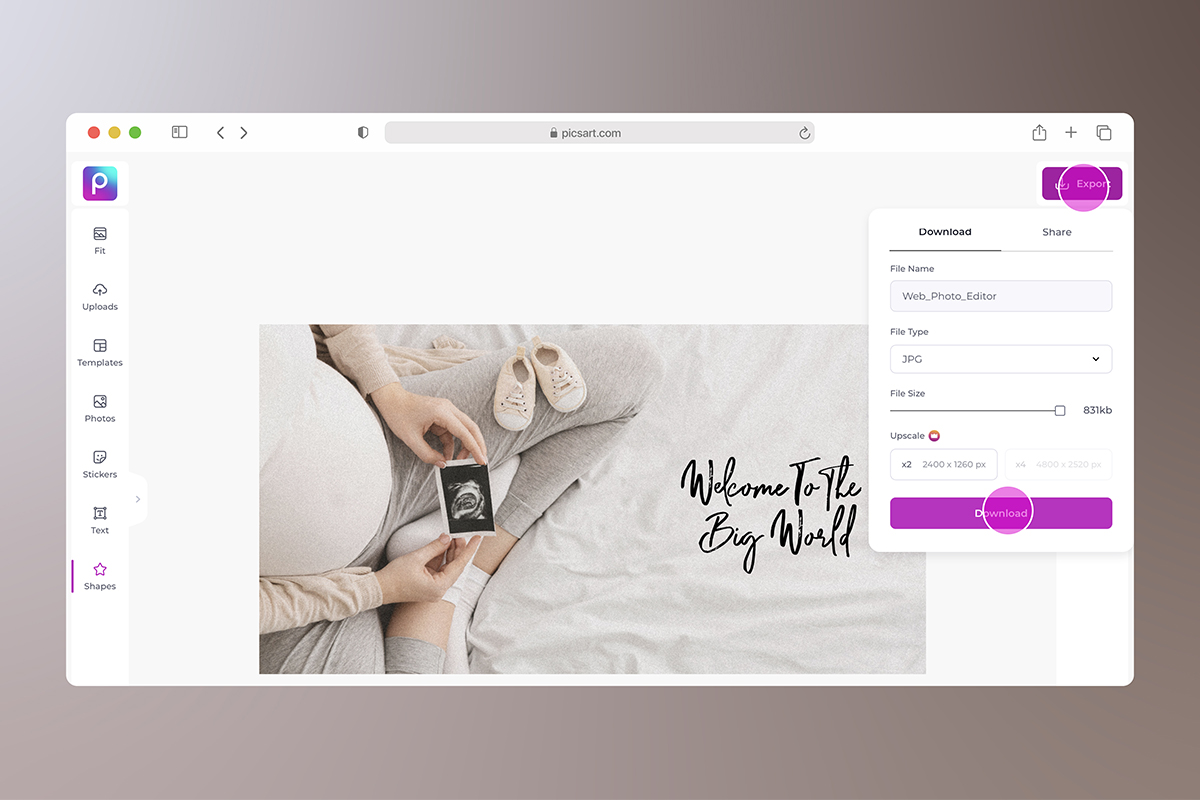 Now, it's time to make write down your own list of maternity photoshoot ideas, gather your crew, and start taking photos to last a lifetime!
Picsart is a full ecosystem of free-to-use content, powerful tools, and creator inspiration. With a billion downloads and more than 150 million monthly active creators, Picsart is the world's largest creative platform. Picsart has collaborated with major artists and brands like BLACKPINK, the Jonas Brothers, Lizzo, Sanrio: Hello Kitty, I am a Voter, Bebe Rexha, Maroon 5, One Direction, Warner Bros. Entertainment, iHeartMedia, Condé Nast, and more. Download the app or start editing on web today to enhance your photos and videos with thousands of quick and easy editing tools, trendy filters, fun stickers, and brilliant backgrounds. Unleash your creativity and upgrade to Gold for premium perks!