Looking for tips on how to make a profile picture? In the world of social media, nothing is quite as important. After all, it's the first thing potential followers see and shows up alongside your posts on most platforms. 
But what makes for the best profile picture? And how can you transform an average selfie into an eye-catching, job-landing, fan-building masterpiece? In this article, we'll share some quick tips and tricks on how to make a profile picture in seconds. 
No matter what your photo editing skills look like, Quicktools by Picsart can help you bring your social profile to life with free, easy-to-use creative editing tools. Read on for tips on how to make a profile picture to put your best face forward online.
Top tips to create a profile picture
Whether you're making a new Discord profile or creating an Instagram account for your small business, your social avatar matters. It's a glimpse into your personal or professional brand, helping potential followers form a first impression before they even click on your profile.
The good news? It's easy to stand out in a sea of status updates, news stories, marketing promos, and millions of other users, with a few simple profile picture tips. Here's how to make a profile picture that highlights your aesthetic and shows potential followers what you're all about.
Plan a headshot photoshoot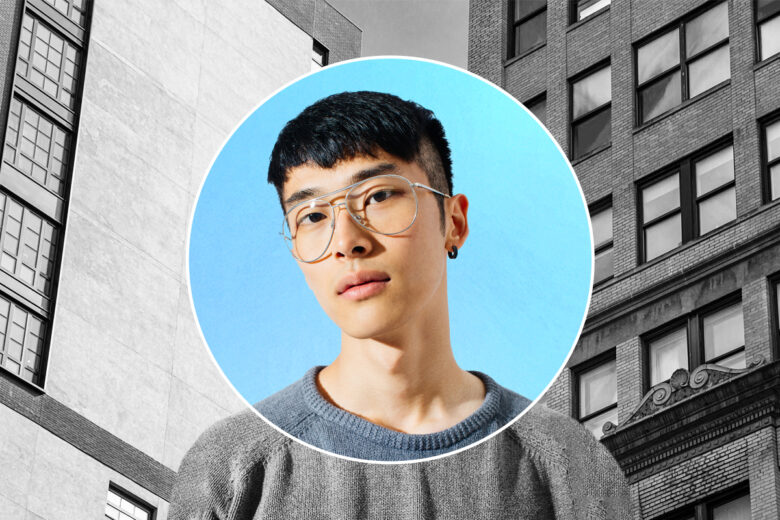 It doesn't matter whether you're making a holiday themed YouTube avatar for your brand or updating your personal Facebook avatar, the best headshots start with a well-planned photoshoot. To take selfies like the pros, plan your photoshoot during the day in natural light and avoid harsh flashes. This way, you'll look your best without casting harsh shadows across your face. It also makes it much easier to edit your photos afterwards.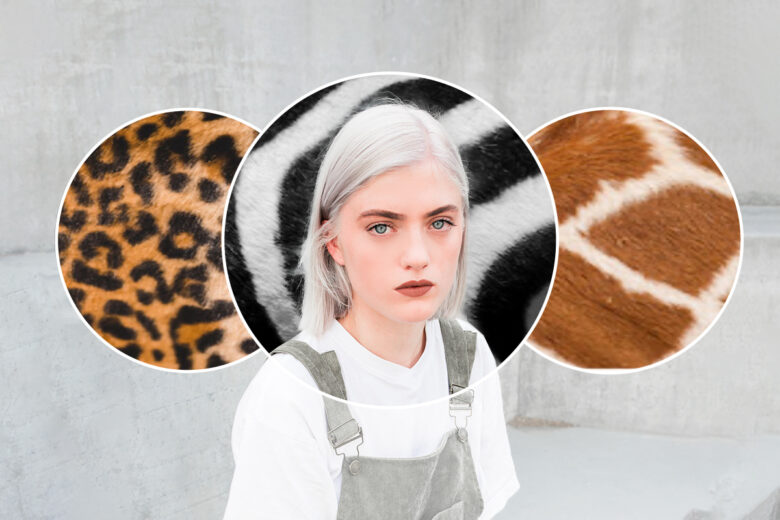 Selfies come naturally for some, but there's no shame in experimenting with different angles to learn your best side. Some people say that shooting from above works best, but everyone has a good side. Don't be afraid to play around with different angles and poses to make your profile picture shine! Having the flexibility to do this is the best part of an at-home photoshoot. 
Pro tip: use a tripod to avoid selfies where you can see that your arm is holding the camera. 
Show off your pearly whites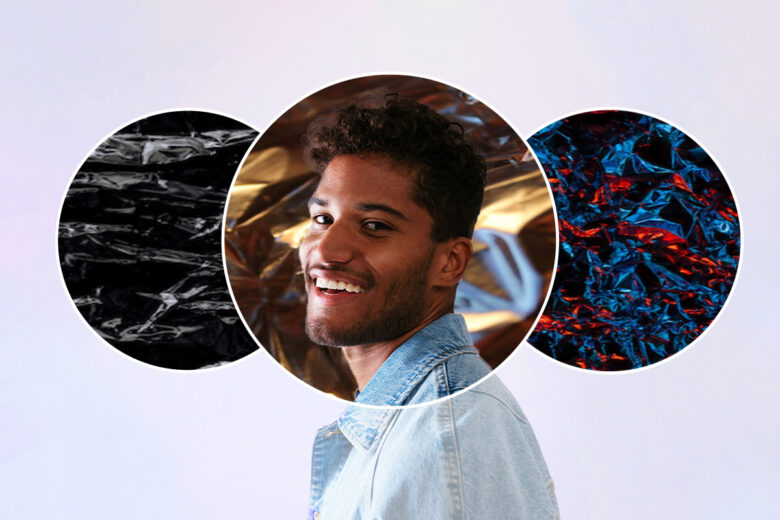 There are no concrete rules for smiling or not smiling in your profile picture, but showing off your pearly whites usually helps your profile come across as more friendly and approachable. So, if you're looking to network on LinkedIn or make new friends on Twitter, smiling is usually the way to go. And if you're feeling less than 100% about your smile, you can always whiten your teeth with photo retouching tools.
Choose a neutral background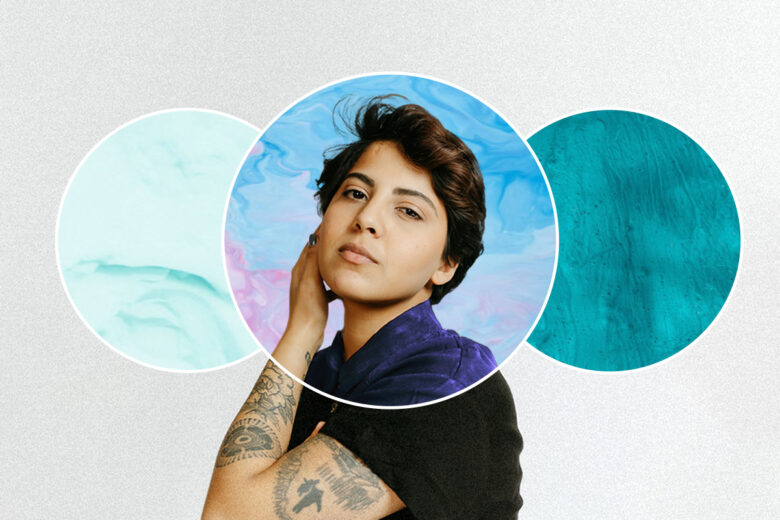 Want to make a professional profile picture at home? Choose a neutral or muted background. And remember: Neutral doesn't have to mean boring! Say you're looking for a new job. Consider using a profile picture background editor to add stickers and other design elements that highlight your skills. And if you're new to a company, you can change your LinkedIn avatar's background to be in your brand colors.
With Quicktools, you can edit your profile picture to have a fun background in just a few clicks. The profile picture background editor features everything from water flows and timeless textures to dreamy bokeh glitter so you can choose the perfect background for a unique aesthetic profile pic.
Import your own background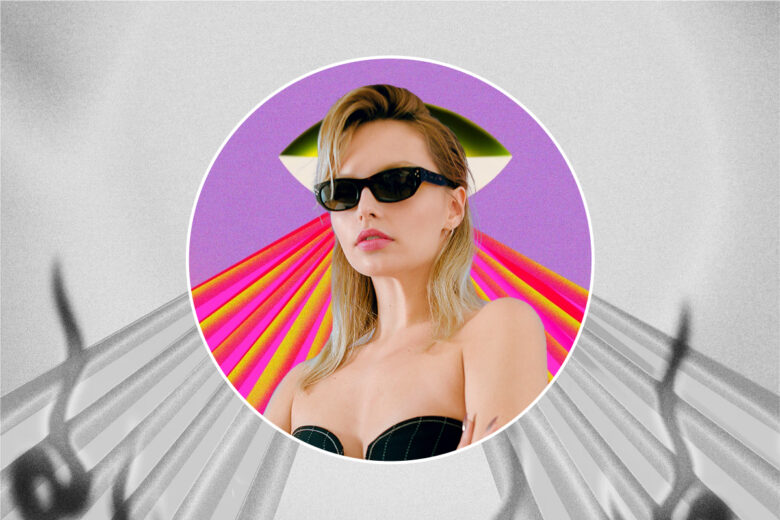 If you want to create a one-of-a-kind profile picture, you can always import your own background. Even if you're not an editing pro, the Picsart Background Change makes it easy to upload a custom background. This way, you can create a clickable profile picture that's uniquely yours, reflecting your creative vision and presenting you in the best light.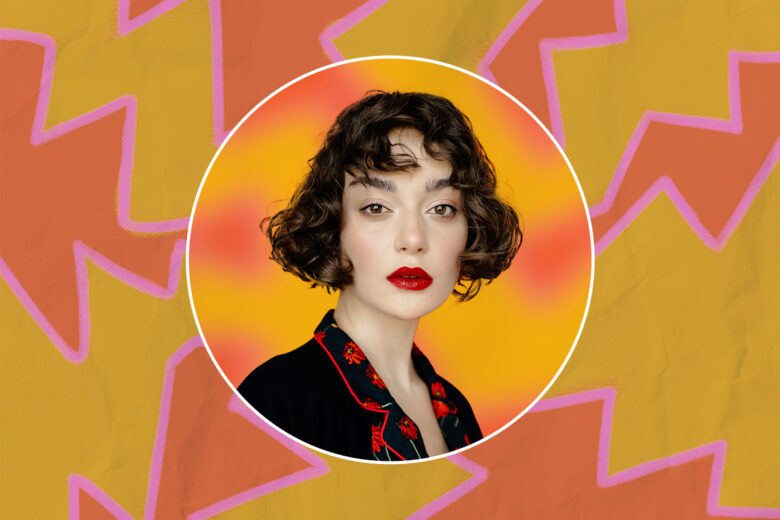 When you're creating your profile picture, the focus should always be on you. So, why not help the viewer focus on the foreground with trendy blur effects? Picsart's online photo editor offers tons of professional blur effects that you can apply in seconds, whether you're going for a subtle background blur or an eye-catching artistic bokeh effect.
Don't forget about your logo
From freelancers to small business owners, most profile pictures for business accounts use their brand logo. It's a great way to help build brand recognition online and highlight your brand's unique identity. If you're just starting out and don't have a logo design yet, use these customizable logo templates.
How to choose the best format for your profile picture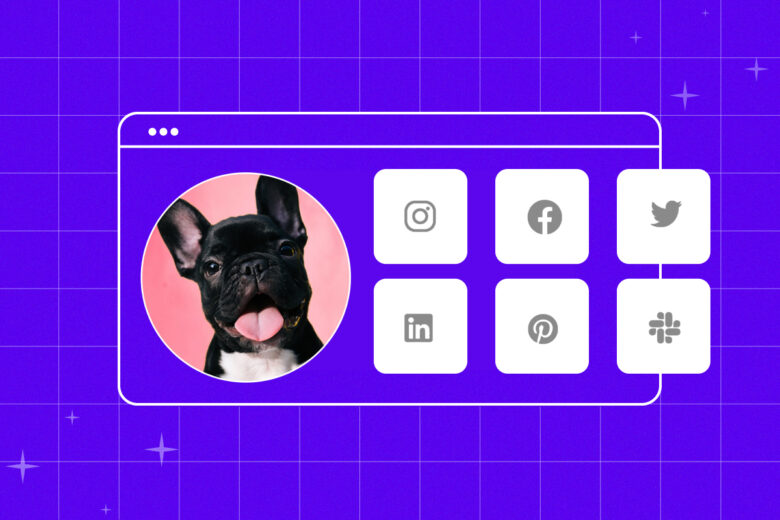 Now that you know all the best tips for profile picture design, it's time to choose the right dimensions to make sure your profile shows up correctly. Here's a quick guide to social media picture sizes so you can optimize your profile picture for every platform.
When it comes to Instagram, your profile picture is what people recognize instantly in Stories. For the best results, you'll want to keep your profile picture around 320 x 320 pixels. Since Instagram profile pictures are circular, it's best to use images with an aspect ratio of 1:1 to make sure your photo is centered.
The best dimensions for your Facebook profile picture are 170 x 170 pixels. Similar to Instagram, Facebook features circular profile pictures, so you'll want to choose an aspect ratio of 1:1. To keep your design intact after circular cropping, make sure your face (or brand logo) isn't touching the corners of your profile picture. 
Looking for ways to grow your personal or professional brand? Make sure everything you share on Twitter – from your bio and header image to your profile picture – showcases your brand identity. The best size for Twitter profile pictures is 400 x 400 pixels. Like other platforms, you'll want to keep any key design elements out of the corners to prepare for circular cropping.
The best dimensions for your LinkedIn profile picture are 400 x 400 pixels. Just like Twitter, you'll want to create a profile picture that matches the banner to highlight your professional brand and stand out from the crowd. Whether you're in IT or searching for your next freelance writing gig, try incorporating your industry or skill set into your profile picture to show current and potential colleagues what you're all about.
When it comes to Pinterest, the best profile picture size is 165 x 165 pixels. Personalizing your account with an amazing aesthetic profile picture is one of the best ways to grow your following and make a positive first impression.
When you're messaging coworkers on Slack, a high-quality profile picture is a must-have. The best dimensions for your Slack profile picture are 512 x 512 pixels. Unlike other platforms, Slack doesn't have a circular crop, so you won't have to worry about losing design elements or logos in the corners of your photo. Like LinkedIn, be sure to keep this photo looking professional. 
How to make a profile picture using Quicktools by Picsart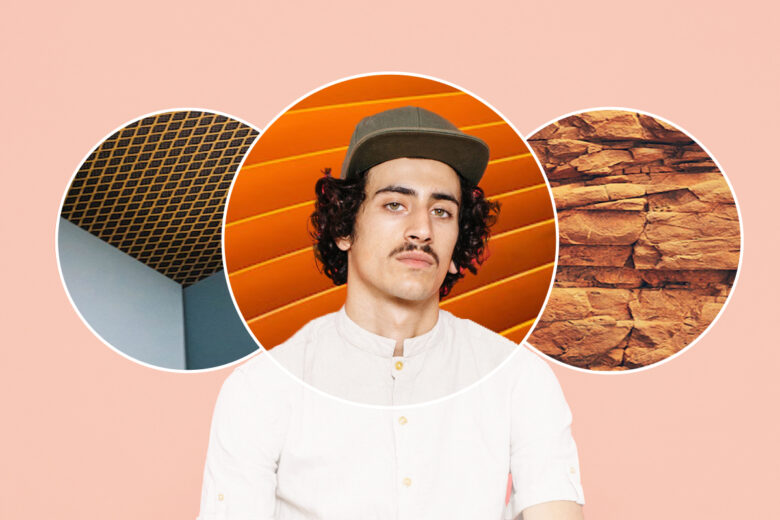 You're busy running your business, curating your aesthetic, and building your brand – and you don't have hours to spend behind a desk creating the perfect profile picture. Don't worry, we've got you covered. With Quicktools, it only takes a few minutes to create an amazing profile picture for free. Here's how to make a profile picture for free with Quicktools.
1) Open the Picsart Profile Picture Maker. Then, drag and drop your selfie to the dotted box or choose Select an Image to upload your picture.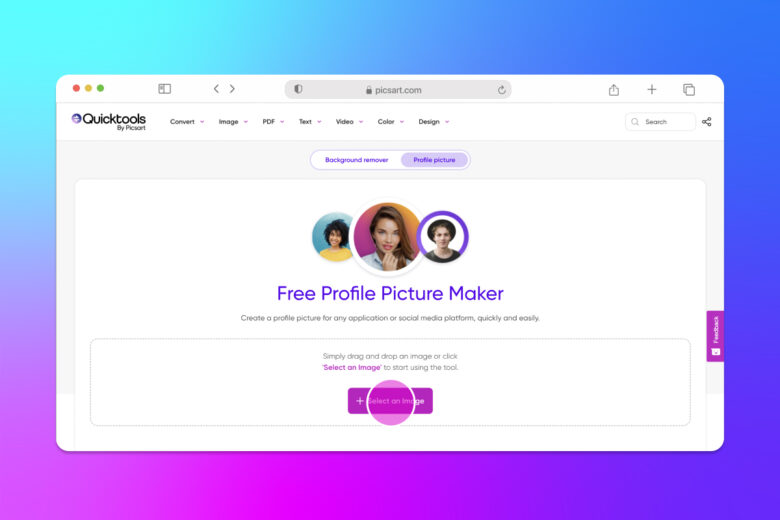 2) Next, choose the right size for your profile picture in the right panel toolbar. Here, you can apply default size formatting for different social media platforms or enter your own custom dimensions.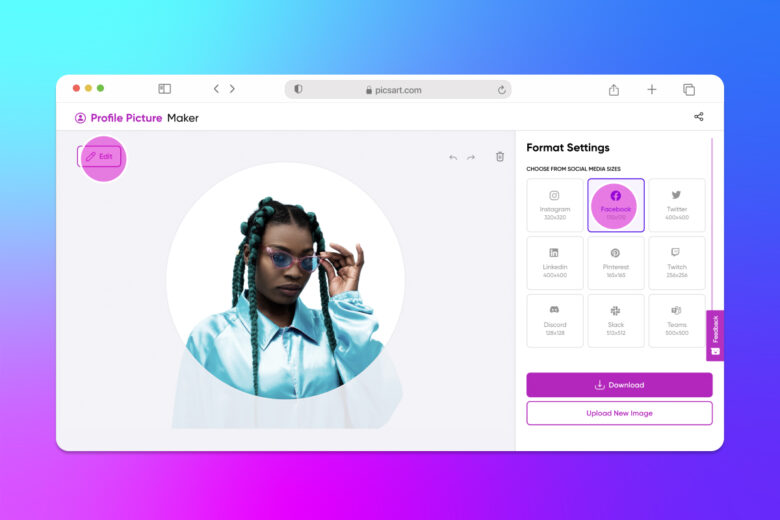 3) Click Edit. Then, play around with the Rotate and Scale sliders to fit your selfie into the frame.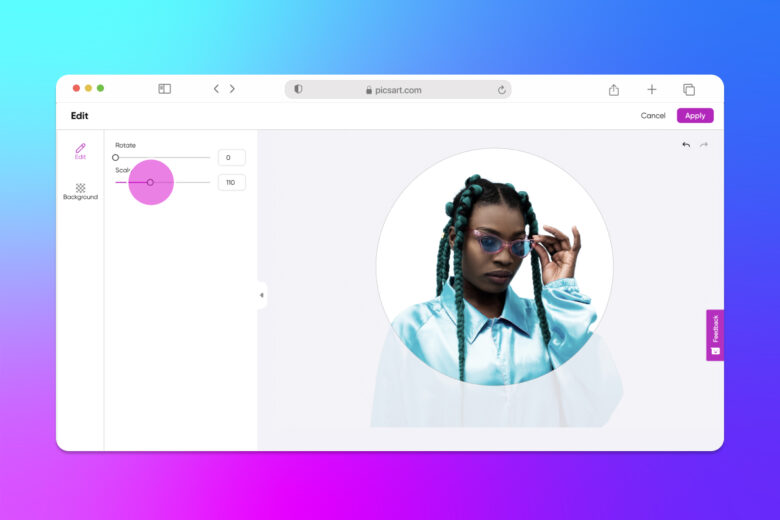 4) Then, click Background to use the profile picture background editor. Here, you can upgrade your profile picture with neutral backgrounds, from nature-inspired backgrounds to metallic wraps. To blur your background, click the Blur toggle. When you're finished editing your background, click Apply to save your changes.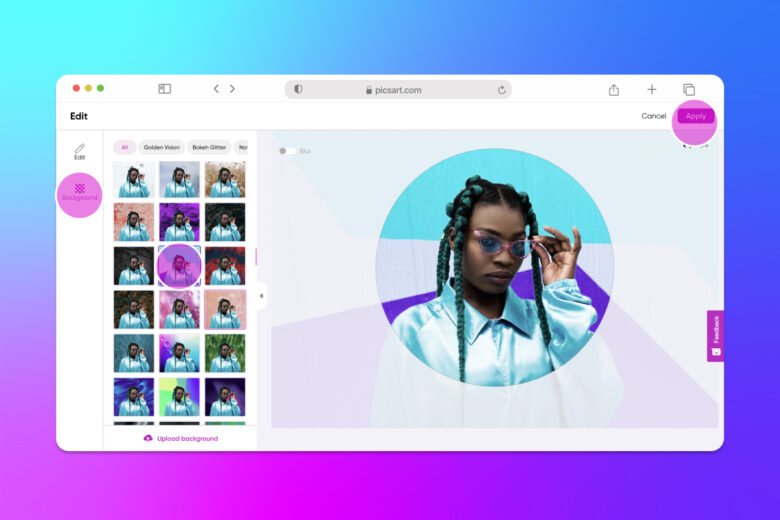 5) When you're satisfied with your new profile picture, click Download to save the final product.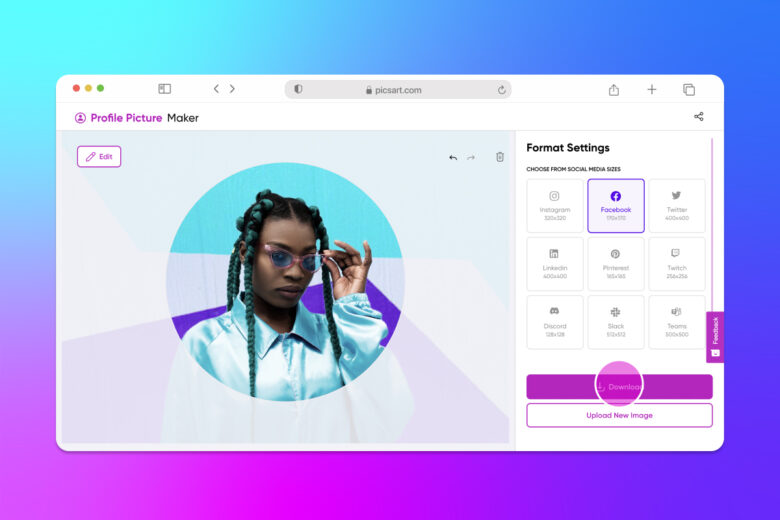 Recommended articles:
Picsart is a full ecosystem of free-to-use content, powerful tools, and creator inspiration. With a billion downloads and more than 150 million monthly active creators, Picsart is the world's largest creative platform. Picsart has collaborated with major artists and brands like BLACKPINK, Taylor Swift, the Jonas Brothers, Lizzo, Ariana Grande, Jennifer Lopez, One Direction, Sanrio: Hello Kitty, Warner Bros. Entertainment, iHeartMedia, Condé Nast, and more. Download the app or start editing on web today to enhance your photos and videos with thousands of quick and easy editing tools, trendy filters, fun stickers, and brilliant backgrounds. Unleash your creativity and upgrade to Gold for premium perks!