Starting a photography business takes a lot more than some skill with the camera (although that is a significant part of it). To be successful, you'll also need to tap into your entrepreneurial spirit and embrace the business side of the industry. If you're thinking of turning your passion for photography into a side hustle or full-time gig, you're in the right place. Read on for a complete breakdown of how to start your own photography business, including the pros and cons of being a small business owner, what you'll need to get started, and how to create your photography business plan.
Pros and cons of starting a photography business
Turning your love of photography into a full-time (or even part-time) business is a big decision. There's a pretty significant difference between doing something because you love it and relying on your passion to pay the bills and put food on the table. So, you may want to consider the pros and cons of going from hobby photographer to professional photographer before you make the leap.
Pros of starting your own photography business
Turn your passion into your dream job. When you start doing professional photography, you get the chance to escape a day job that may not be fulfilling and actually make money doing what you love.
Be your own boss. Part of being a business photographer means that you get to call all the shots. This gives you the freedom that you may be missing in your nine-to-five job.
Meet new people and gain new experiences. As a photographer, you'll get the chance to meet all sorts of people and photograph different events and locations. If you like variety, you can set up your business so that no two days are ever the same.
Be a part of the magic. Depending on which type of photography you do, you may get the opportunity to capture some of the most special memories in a person's life, such as weddings and a parent's first moments with their newborn.
Get paid to work on your photography skills. When you're taking and editing pictures every day, you'll notice your skills will likely start to quickly improve.
Cons of starting your own photography business
It's more than just photography. When you run a small business, you're also responsible for marketing, administration, accounting, and other tasks. You'll need to spend a lot of time researching how to start your own photography business, including your target market's pricing, packaging, and branding practices.
There's less stability. When you're working for yourself, you won't have as stable an income as you'd have in a regular full-time job. You may even need to work two jobs while you build up your photography business. Plus, you'll be in charge of finding your own health insurance and retirement savings accounts.
You may need to work unconventional hours. If you're an event photographer, you'll probably have to work a lot of nights and weekends. This can make it difficult to spend time with friends and family that go to school or work more traditional nine-to-five jobs.
Impostor syndrome is real. When you're first starting out, it can take a while to build up confidence in your skills as a photographer and business owner. While you're getting used to things, you may find it difficult or awkward to market yourself and charge professional rates.
You turn your passion into work. As a professional photographer, you have to take photos whether you feel inspired or not. When you're photographing and editing all day for your clients, you may find you have less time and motivation to work on personal photography projects. What's more, if you're not sure how to market "you as a brand" online, it can be intimidating to know where to start.
If running a successful photography business was simple and easy, every amateur photographer would do it. However, if this is what you really want to do, you shouldn't be scared off by a little hard work. You can go far in making your dreams a reality if you're willing to put in the time and effort.
What do you need to start?

To start your own professional photography business, you'll need more than just a good camera. Your exact needs will depend on the type of photography that you specialize in, but some general photography must-haves include:
A camera, back-up camera, and lenses that can capture high-quality photos. Before you buy, make sure that you research which photography equipment is best for the types of pictures you'll be taking.
Memory cards and an external hard drive to store your photos.
A tripod, flashes, and lighting equipment.
A bag to carry your photography equipment in while you're on the job.
Photo editing software, such as Lightroom, Adobe Photoshop, or Picsart.
A computer or laptop to edit your photos on.
Backdrops and props. Depending on which type of photography you do, you may also need a studio space or home photography studio.
A photo printer and quality photo paper (if you're planning on selling prints of your pictures).
In addition to photography equipment, you'll also need some general business supplies. These can include:
A photography website and online portfolio. To increase website traffic, you should look into buying a unique domain name and research best practices for search engine optimization (SEO) for your site.
Business cards and brochures.
Professional social media accounts, such as LinkedIn, Instagram, and Pinterest.
Any business licenses and insurance policies you need to operate a photography business in your state.
Accounting software and payment systems.
A business bank account and possibly a business credit card.
Client contracts (you should be able to find templates online).
Elements of a good photography business plan
If you're really serious about being a business owner, you'll want to do everything you can to ensure the success of your new venture. This includes researching your industry and target market to create a plan for your business. Elements that you should have in your photography business plan are:
Your business name and business type (you'll probably be a sole proprietor or limited liability corporation when you're first starting out).
An executive summary that includes a description of your photography services, business idea, and mission statement.
A detailed description of your company, including your business goals, the products and services that you intend to sell, and your potential clients.
An analysis of your market and your competitors. This should include industry demand trends, pricing practices, a summary of local businesses you'll be competing with, and a description of how your business will stand out from the rest of the pack.
A description of your costs, including startup costs, marketing materials, and operational costs that you'll incur while running your business.
A marketing plan that describes your business branding, how you'll find new clients, and how you'll market your products and services to your target audience.
A financial projection of your expected expenses and revenue during the first year of business.
Doing the research you need to create your business plan can give you valuable insight into how to start your own photography business. Even if you never end up showing this document to someone else, it will still give you the direction you need to operate a successful photography business.
8 ideas for your photography business
A key part of starting your own photography business is putting together ideas for photographs and deciding which type of photography you want to go into. Most successful photographers specialize in one area because it makes it easier to find clients and book jobs (think about it – you're not going to hire a real estate photographer to take pictures at your wedding.)
This is a big decision because different types of photography will have different startup costs, business hours, and target audiences. To help you brainstorm, here are a few ideas for specialized photography businesses:
Portrait photography: If you enjoy taking photos of families and individuals, you may want to be a portrait photographer. You can either spend your time in the studio or on location and take portraits that people will carry in their wallets and hang over their fireplaces for years to come.
Wedding photography: A wedding is one of the most special days in a person's life. Being a wedding photographer and running a wedding photography business means working evenings and weekends and dealing with stressful situations. However, it can also be incredibly rewarding to capture memories of a couple's big day.
Product photography: If you prefer photographing sets and objects, you may look into being a product photographer. This type of commercial photography will have you taking professional pictures of a company's products that they can use on their website, social media, and marketing materials.
Stock photography: The world of stock photography can be extra competitive because you're often competing with photographers from around the globe instead of just in your area. However, if you like working with models and creating your own photoshoots (and you have the patience to wait for your stock photos to get noticed), this may be a good route for you.

Food photography: At almost every restaurant you visit, you'll see photos of food items on menus or screens by the register. Even high-end restaurants feature photographs of their food on their websites. If you're the type of person that can't resist taking artsy photos of your coffee and breakfast each morning, you may enjoy being a food photographer.

Real Estate photography: When someone is selling a house or renting it out for Airbnb, they need professional-quality photos that will make their space appeal to their target audience. As a real estate photographer, you'll be in charge of getting attractive and accurate shots of the interior and exterior of a property.
Travel photography: The idea of being a travel photographer may seem too good to be true, but it's a viable career option if you know how to market your services. One way to do this is to connect with hotels and tourist attractions in a given area and offer to provide them with eye-catching photos that entice people to visit.
Event photography: Weddings aren't the only events that need to be photographed. As an event photographer, you may be hired to document family reunions, corporate retreats, grand openings, and more.

Edit your professional photography with Picsart
Now that you're familiar with the basics of how to start your own photography business, let's get into how you can edit professional-quality photos using Picsart:
In the app:
1) Open the Picsart app and tap the purple plus sign (+) at the bottom of the screen to upload one of your photos.
2) Tap Tools and Crop in the bottom toolbar to crop any non-essential parts from the image. You can also click Resize to edit the size of your photo. When you're finished, tap Apply in the top right corner.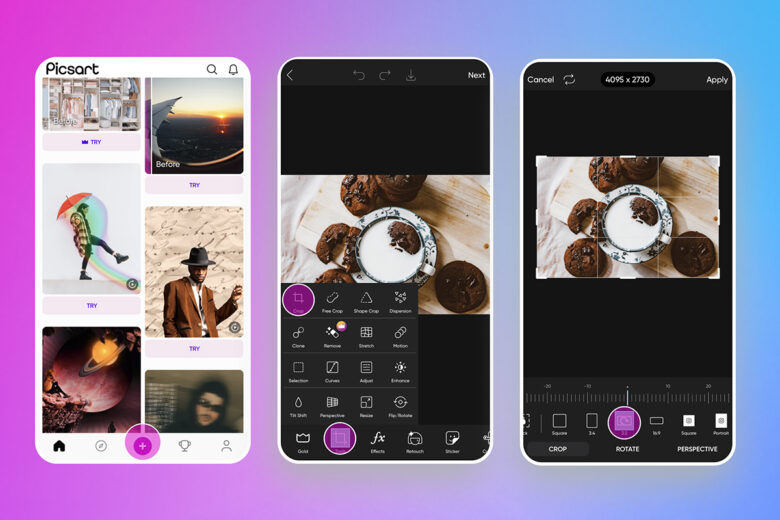 3) Tap Adjust in the Tools menu to adjust the brightness, contrast, saturation, hue, highlights, shadows, and temperature of the image. Then, click Apply.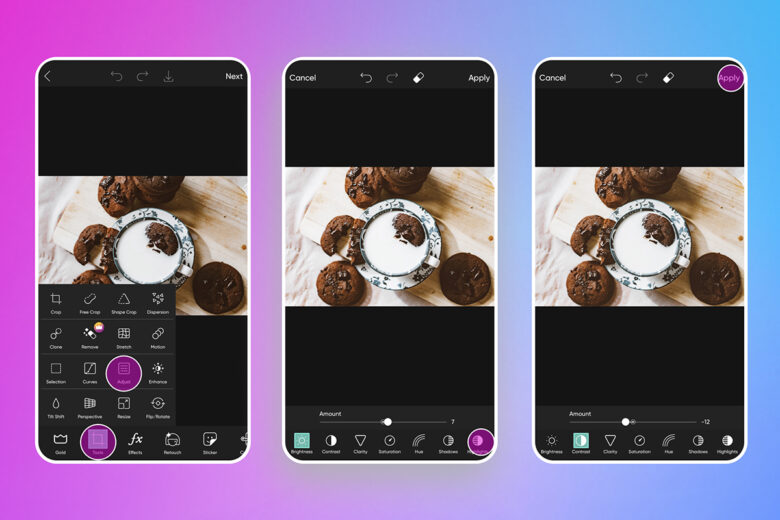 4) Select Effects to add a filter to your photo. Tap on your filter a second time to edit how it's applied to the image. (Pro Tip: Create your own custom presets and save them as a Picsart replay to easily apply the same edits to every photo in a series.)
5) After you're finished editing your photo, tap Next on the top right of your screen to save and share your creation.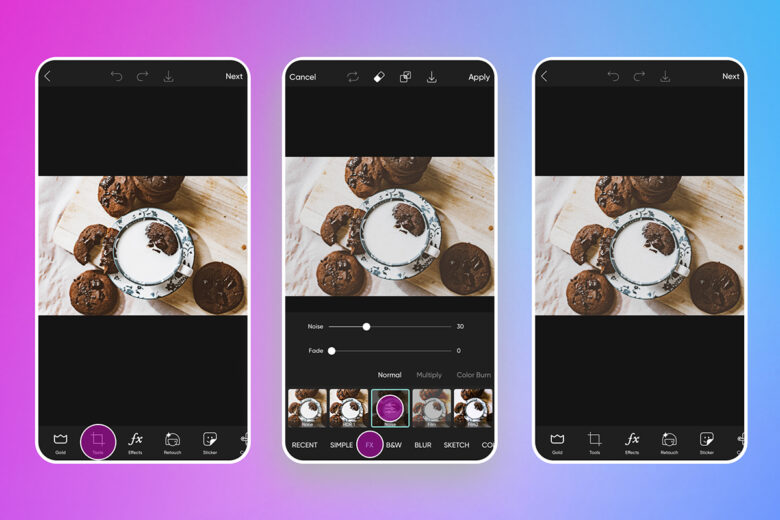 In the web browser:

1) Open the Picsart photo editor and select a size for your image.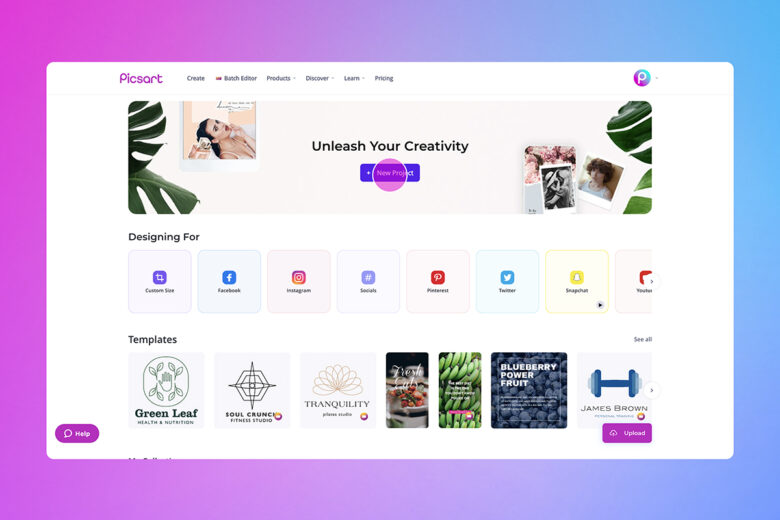 2) In the left-hand toolbar, select Uploads to select the image you want to edit. If you need to, click Fit in the toolbar to adjust the size of your image.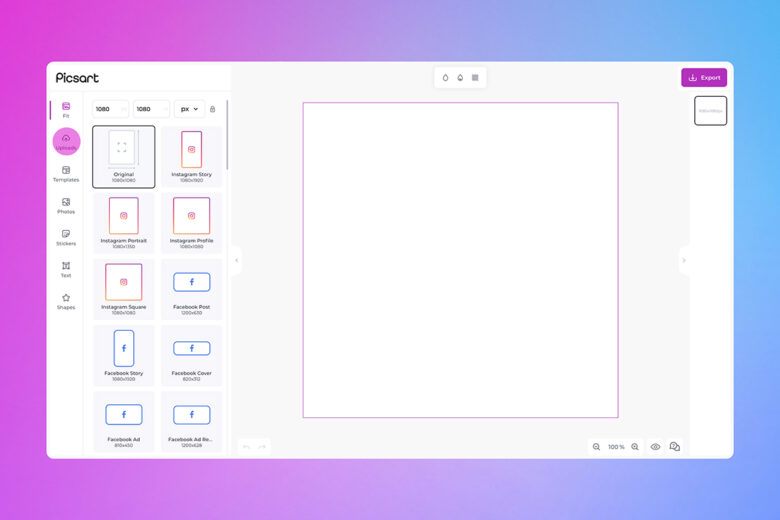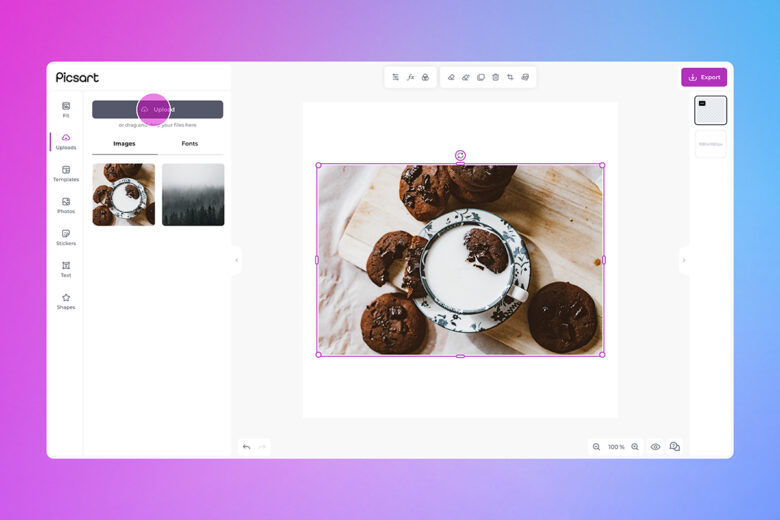 3) A toolbar will pop up above the photo. Click Adjust to alter the brightness, contrast, saturation, hue, highlights, shadows, and temperature of the image.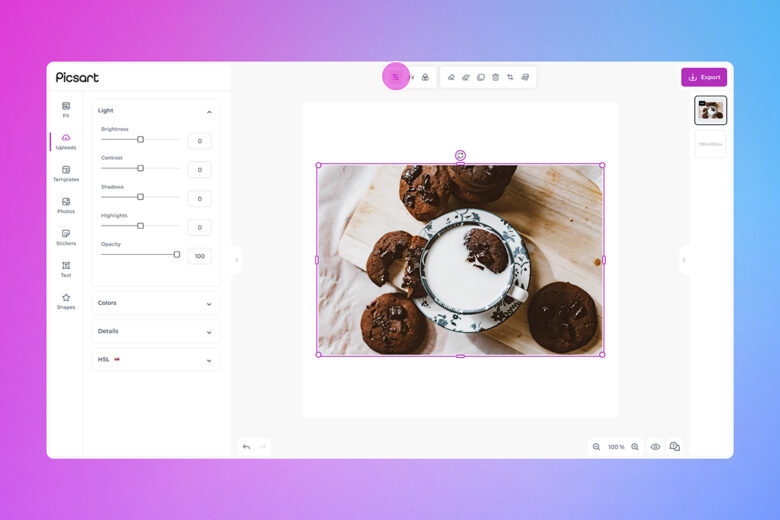 4) Click on Effects in the left-hand toolbar to add a filter to your photo.
5) After you're finished editing your photo, tap Export on the top right of your screen to save and share your image.
Picsart is a photo and video editing platform and creative community. A top 20 most downloaded app worldwide with over 150 million monthly active users, its AI-powered tools enable creators of all levels to design, edit, draw, and share content anywhere. The platform has amassed one of the largest open-source content collections in the world, including photos, stickers, backgrounds, templates, and more. Used by consumers, marketers, content creators and businesses, Picsart tools fulfill both personal and professional design needs. Picsart has collaborated with major artists and brands like BLACKPINK, Taylor Swift, Lizzo, Ariana Grande, Warner Bros. Entertainment, iHeartMedia, Condé Nast, and more. Download the app or start editing on web today, and upgrade to Gold for premium perks!