From platform to platform, it feels like social media image sizes are constantly changing. To set you up for social media success, we've compiled the most up-to-date guide on social media image sizes for major social media platforms. We're sharing the why, what, and how for social media image sizes, so you can spend less time resizing and more time building your online brand. 
Ready to become an expert on social media image sizes?
How Do I Know the Size of an Image?
If you have a browser open and want to find out what the image size of a photo is, simply right click on that image and select "open image in new tab." This will open a new browser tab displaying just your image. In this new tab, right click on the image again, but this time, click Inspect. Make sure that in the inspector, elements, img, and style are all selected. From there, you will see a diagram of sizing with the dimensions for your image outlined in the center. Keep in mind that the exact steps can vary by browser and operating system. 
From Macs to Windows, the process of finding an image size from a file saved on your desktop is generally similar. Pull up the image file, then click on it while holding the Control key. A menu will appear where you can select Get Info. Expand the General section and then expand the menu once more to show More Info. From there, you will be able to see your image's dimensions and size. 
If your image is too large to post on social media, you can easily compress it for free.
Benefits of Sizing Photos Correctly for Social Media
It's important to make sure you are sizing photos correctly for social media so that your images don't become distorted once they are uploaded. Having the correctly sized image is an easy way to put your best foot forward on social. But there are other benefits to sizing photos correctly on social media. 
For one, having a correctly sized image will help you avoid stretching, awkward cropping or unnecessary pixelation. This will keep your profile pages and posts looking polished. Moreover, using correctly sized images for each social media platform may help with your post impressions, as social platforms may favor posts that adhere to their posting guidelines.
Using the right social media image sizes not only benefits your account, but it helps your fans. They'll see the full image as it was intended if you take the time to size it correctly. Incorrect sizing could cause them to see only a portion of the picture, potentially affecting the story you are trying to tell. 
Social Media Image Types and Sizes
Image sizes vary depending on the platform. That's why we've broken down the below social media image types and sizes by platform. Be sure to bookmark this page so that you can easily reference it in the future.
Twitter Image Sizes
Profile Photo 400 x 400 (Displays 200 x 200)
First thing's first, it is important to get your profile photo sized correctly since it will be the first thing people see from your account. It will also be seen in multiple places across the site. Your profile photo will appear not only on your page, but also in the Twitter feed and under Who To Follow.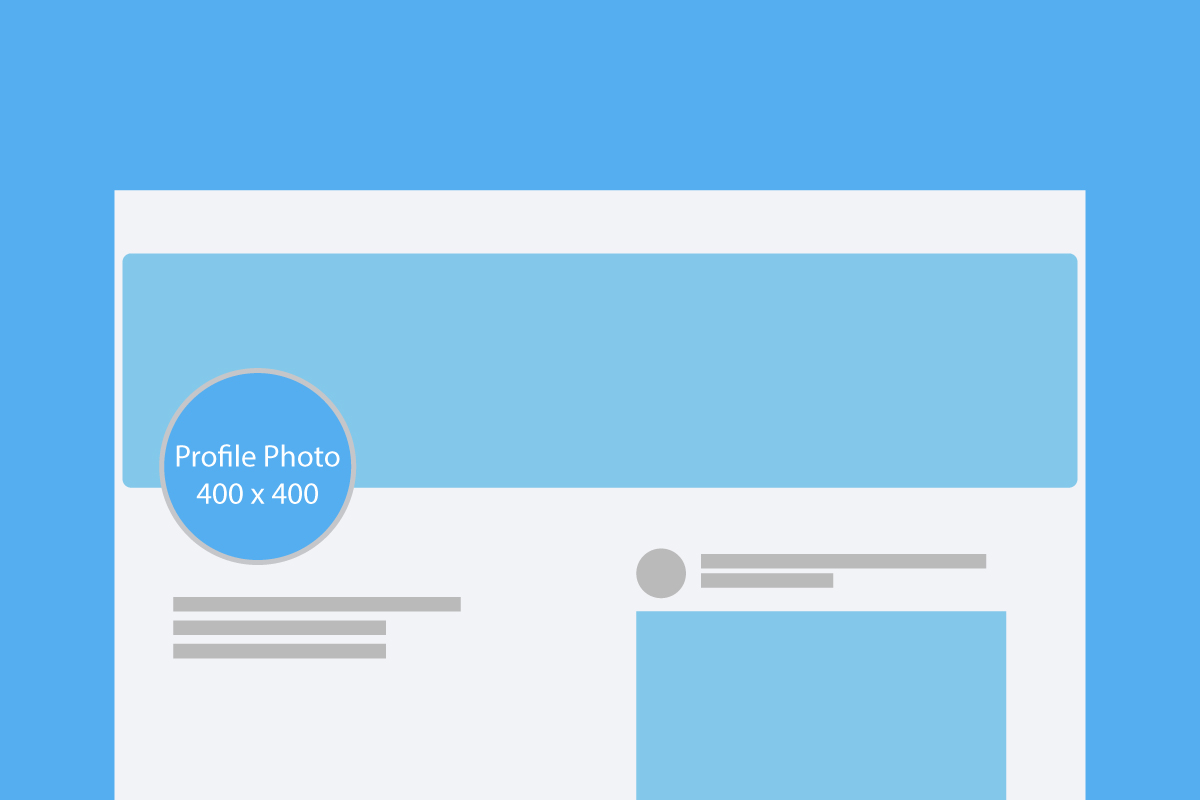 Header Photos 1500 x 500
Your header image on Twitter acts as a personalized, eye-catching banner at the top of your profile page. It appears alongside your profile photo giving you an added chance to personalize your page. Header images display differently depending on the monitor and browser being used, so be sure to use the suggested dimensions and sizes. Picsart Twitter templates can help too.

Tips:
Image size specifications change often, so use the maximum size where possible to prevent future distortion issues.

Header images are cropped to an aspect ratio of 3:1. Consider starting with a Picsart template, if in doubt.


Use a JPG, GIF, or PNG image file type.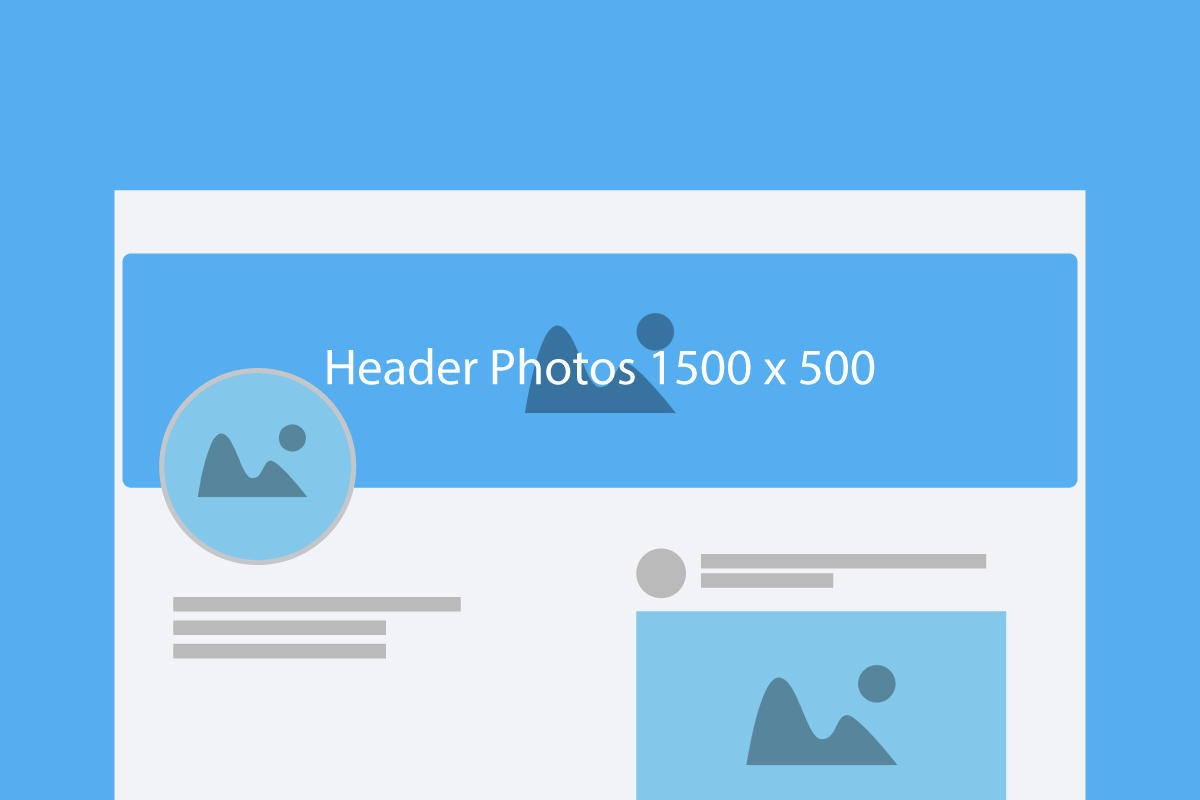 In-Feed Photos and Shared Links
You can attach photos to tweets, but there are a variety of ways to do this, so the best practices for sizing vary. Sharing multiple images in a single tweet can affect the sizing as well, since sharing multiple photos in one tweet form a type of collage in the feed. This is important to note since you have to consider where the images will crop and how they will look together when they appear in the feed. 
Here is a breakdown of the different use cases and corresponding image sizes. In general, try to always post tweet images with a 2:1 ratio.
Image from a Tweet with shared link: 1200 x 628 pixels

Single image tweet: 1200 x 675 pixels

Two image tweet: 700 x 800 pixels 

Three image tweet:

Left image is 700 x 800 pixels.

Right images are 1200 x 686 pixels

Four image tweet: 1200 x 600 pixels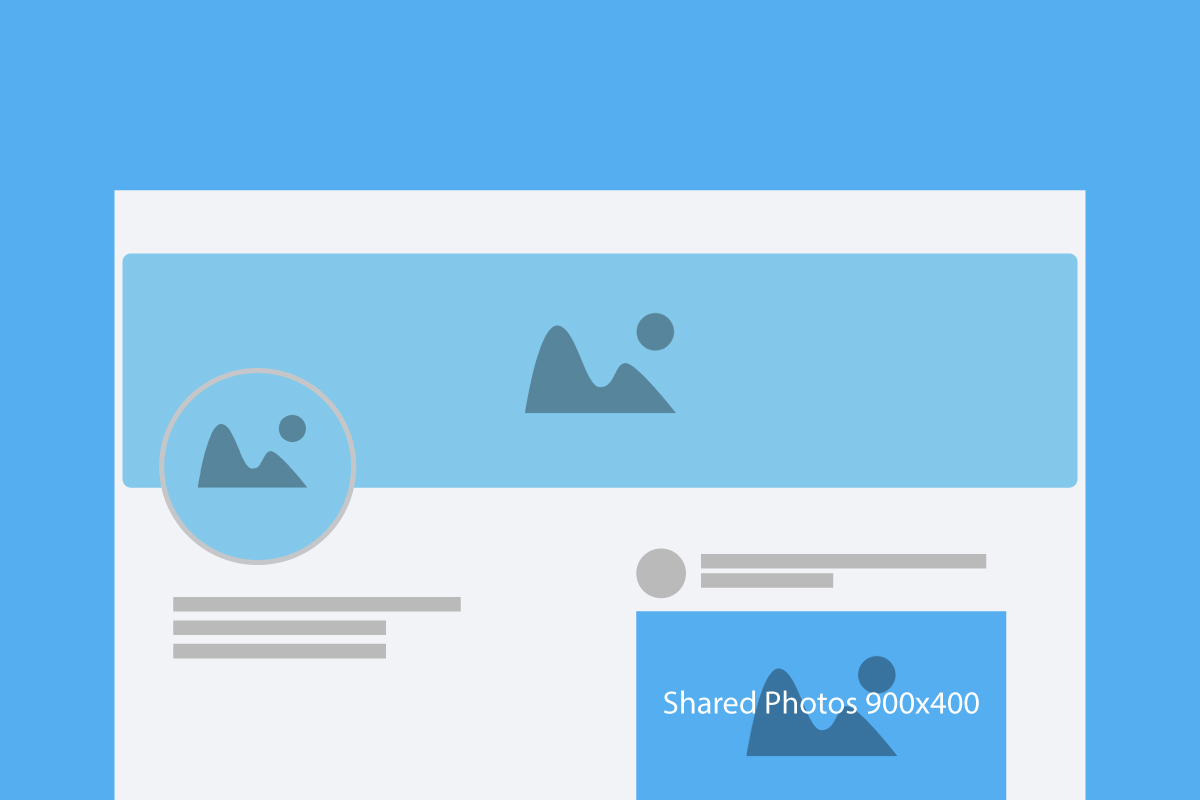 Facebook Image Sizes
Make sure that your Facebook content gets the attention it deserves by sharing high-quality, correctly sized images. Since there are multiple formats in which your content can be seen on Facebook, you should optimize for the place that you think your content may get seen the most (i.e. mobile feed vs desktop business page). 
Profile Picture 180 x 180 (Displays 170 x 170 on Desktop)
Your profile photo is important to get right. Not only will it be displayed on your profile, but it will also be seen alongside all of your posts, in the newsfeed, in search feeds, in direct messages, and more. 
Recently, Facebook made updates to how the profile image on business pages appear as well. Luckily, they are now in line with the requirement for personal pages, making the dimensions easy to remember.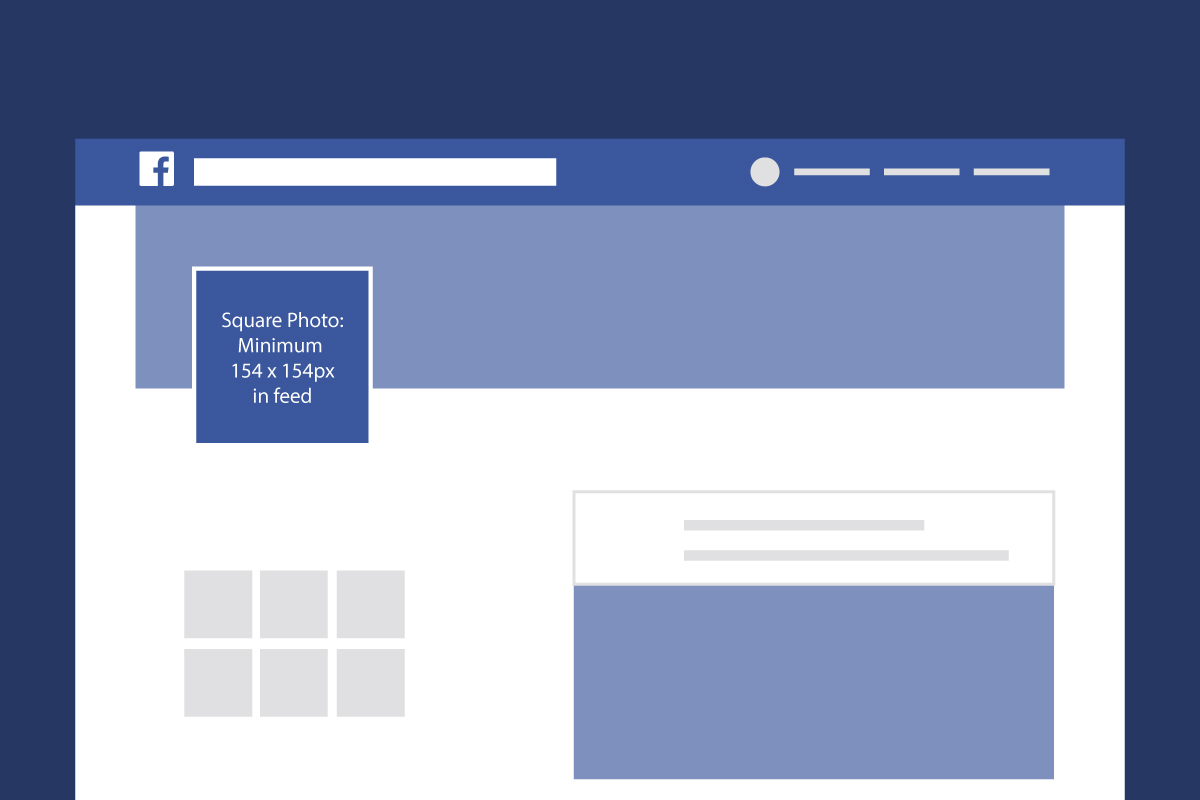 Cover Photo 820 x 312
Cover photos are another spot on your profile to show off your personality. They're a particularly great place for brands to creatively display their values, celebrate milestones, and showcase new campaigns. 
Tips:
Upload your image as a JPG or PNG to avoid distortion.

Profile and cover photos with text overlay look best as PNG files.

Use the recommended pixel sizes for the fastest load times.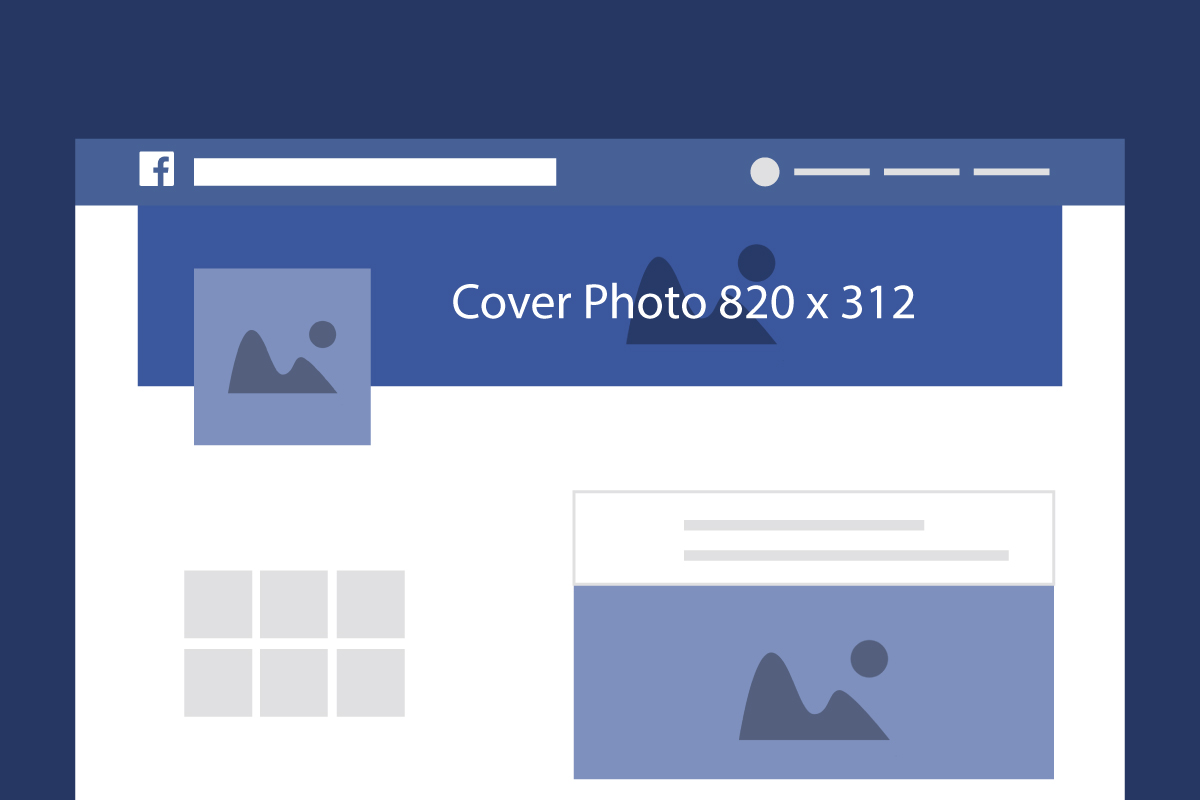 Shared Image 1200 x 630
Many users add an image to their Facebook posts to help increase the post's discoverability and engagements. In fact, sharing images is one of the most common forms of posting on Facebook. As such, using the right Facebook image sizes can help get your content discovered.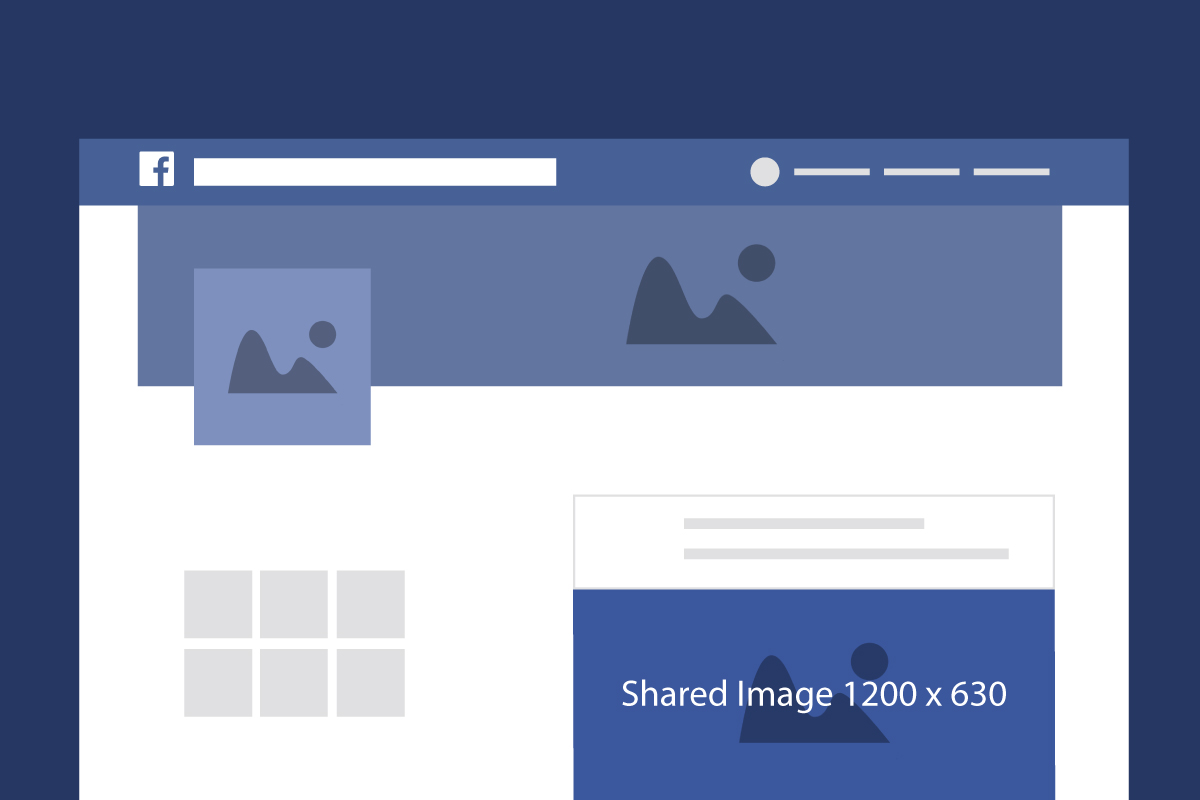 Shared Link 1200 x 628
The images that are shared alongside links on Facebook are sized slightly differently than if you were just sharing an image. Facebook will automatically scale photos pulled from links that are under the minimum dimensions. To make sure you have the best results, increase the image resolution at the same scale as the minimum size.
Tips:
If you're sharing multiple images on a Facebook post (2-10 images) it will show as a carousel display. For best results, try to keep your Facebook image sizes at 1200 x 1200.

Is your image a square or a rectangle? It'll affect the size you choose.

Square Photo: Minimum 154 x 154 in feed.

Square Photo: Minimum 116 x 116 on page.

Rectangular Photo: Minimum 470 x 246 in feed.

Rectangular Photo: Minimum 484 x 252 on page.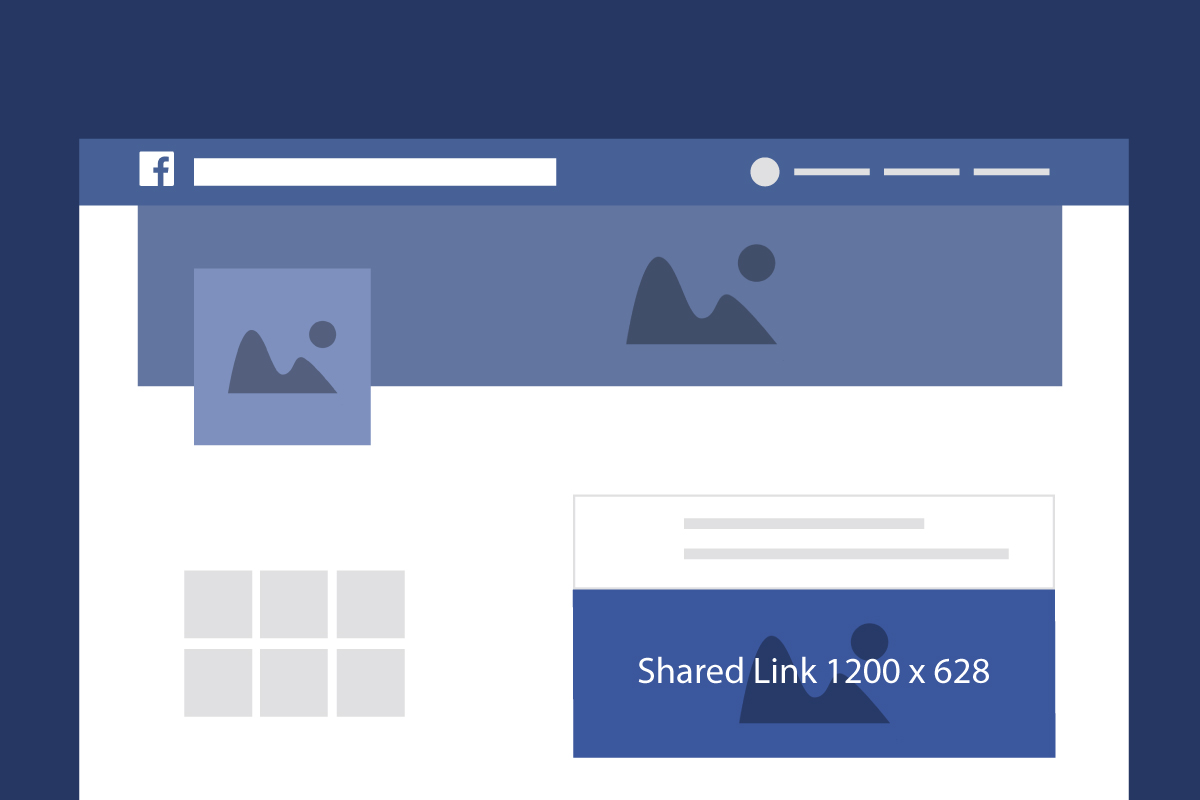 Highlighted Image 1200 x 717
Highlighted images on Facebook are a great way to showcase milestones for you or your brand. This image will appear on your personal timeline, but it takes up more space than a shared image or link preview image. While the recommended size for this use case is 1200 x 717 pixels, keep in mind that it will appear on your page at 843 x 504 pixels. 
Event Image 1920 x 1080
Having a correctly sized event image is an important step in the invitation design process. While the event image is similar to a profile cover photo, the dimensions are slightly larger, giving you more design space to work with.
Tips:
Avoid compression or distortion by uploading your image as a JPG or PNG file.

Use the recommended pixel sizes for a faster load time.

Remember that profile pictures and cover photos with logos or text work best when uploaded as a PNG file.

Don't drag to reposition once you've uploaded your cover photo.
Instagram Image Sizes
Instagram is one of the most visual-forward social media platforms. On it, users share and engage with photos and videos from other users worldwide, so having the right Instagram post size is key to success on the platform. If in doubt, Picsart templates will ensure you're always adhering to Instagram dimensions.

Profile Picture 110 x 110
Tips:
Post a square photo that maintains a 1:1 ratio.

Although the profile image is uploaded as a square, it will display as a cropped circle on your profile. Make sure any elements you want to focus on in the photo are centered, that way they won't get cropped out in the circular display.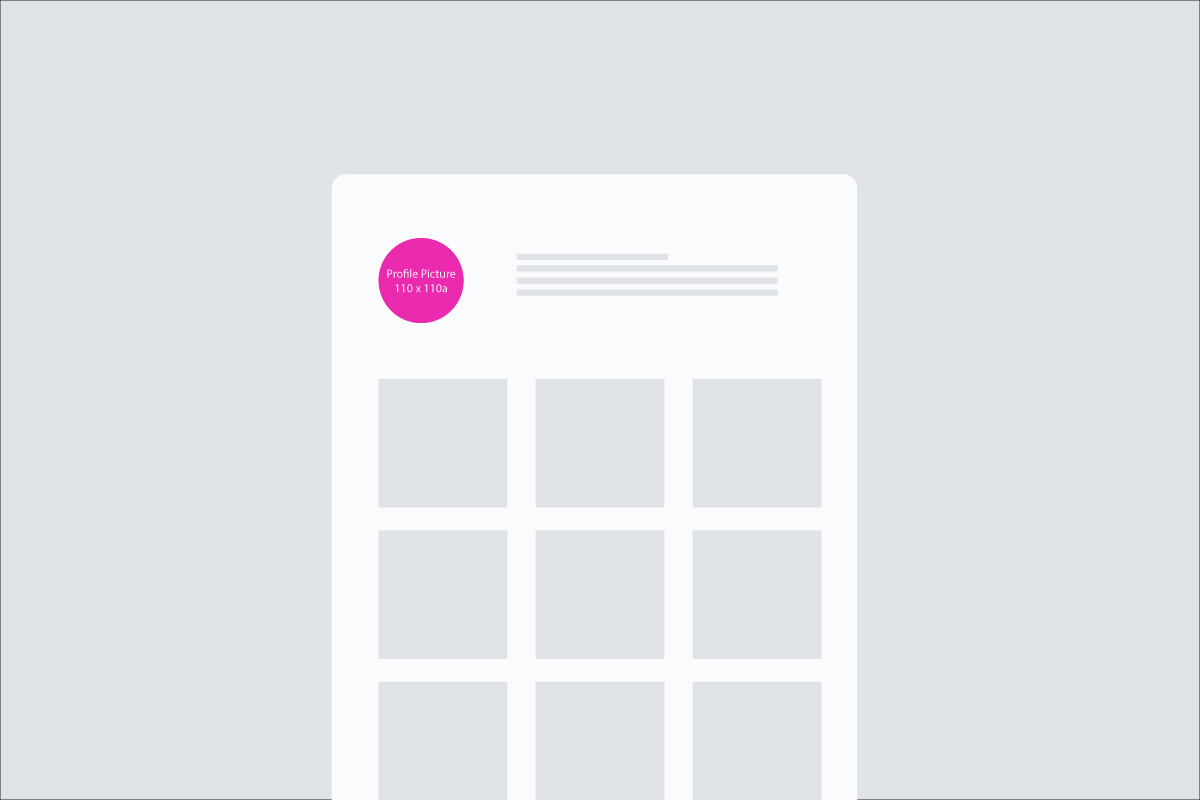 Instagram Feed Post Size 1080 x 1080
Instagram favors photos that are high resolution and posted in square format. 
Tips:
If you share a photo that has a resolution below 320 pixels, Instagram will size it up to 320 pixels.

If your uploaded Instagram image is a different ratio, the platform will crop your photo to fit a supported ratio. You'll see this option in the native photo editor. This is important to keep in mind if you don't want certain parts of your image to be cropped.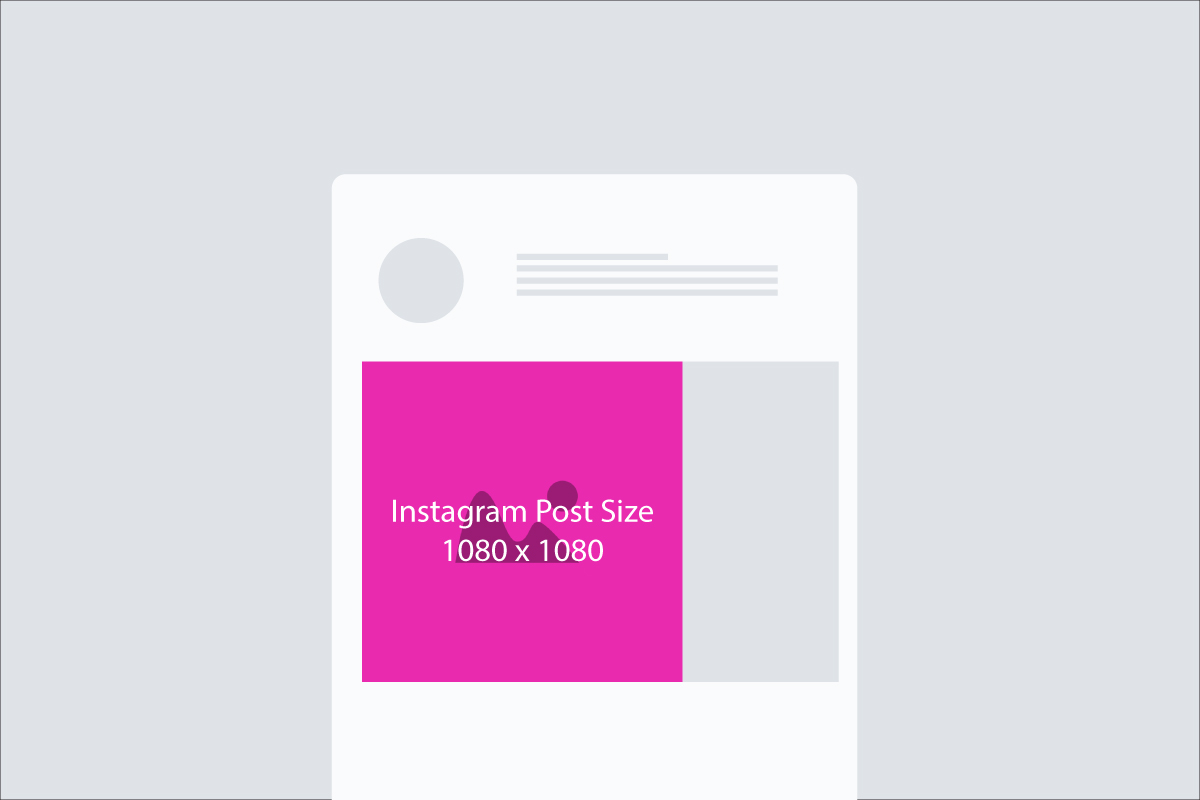 Instagram Stories 1080 x 1920
Stories are one of Instagram's most popular and widely seen features. You can add videos, photos, text, gifs, interactive stickers, and more to your Stories. If you're creating your content directly in the app then you'll automatically resize to the correct dimensions. Customizable Picsart templates come in the correct sizes too. If you're creating Stories content outside of Instagram, always follow the following Instagram Story size best practices:
Tips:
Instagram Stories use an aspect ratio of 9:16.

Uploading an image in a lower pixel size (but the same aspect ratio) will help your Story load faster.

If you don't use the recommended sizing, the Story might show up with strange cropping, or a grainy zoomed in look. It could also leave a large section of the screen blank. This is often seen when users share a horizontal image in the vertical Stories format. 

Instagram Reels

use this same sizing as Instagram Stories.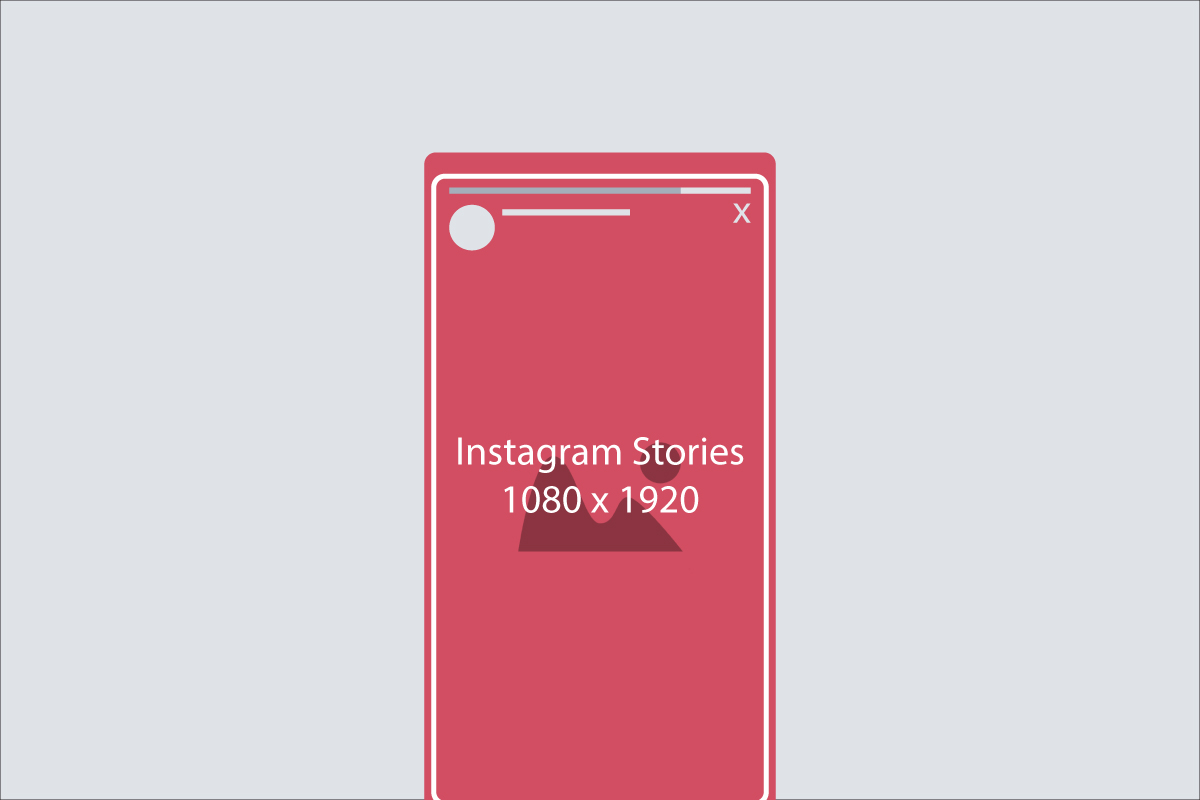 LinkedIn Image Sizes
Given its nature as a professional social media network, you need to make sure that your LinkedIn post image sizes are correct. This helps your content stand out and, ultimately, it will make your brand look more polished.  
Personal Profile Image and Company Logo Image 300 x 300
It's important to get your personal profile image size right, as this shows alongside all of your posts. The same goes for your company avatar, which is usually an image of your logo. Luckily, both personal and brand account avatars require the same image dimensions.
Tips:
LinkedIn can accommodate photos up to 7680 x 4320 pixels and file sizes up to 8MB. As a best practice, upload your image as large as possible.

Upload your images as a JPG, GIF, or PNG file.

Save design time by using LinkedIn templates.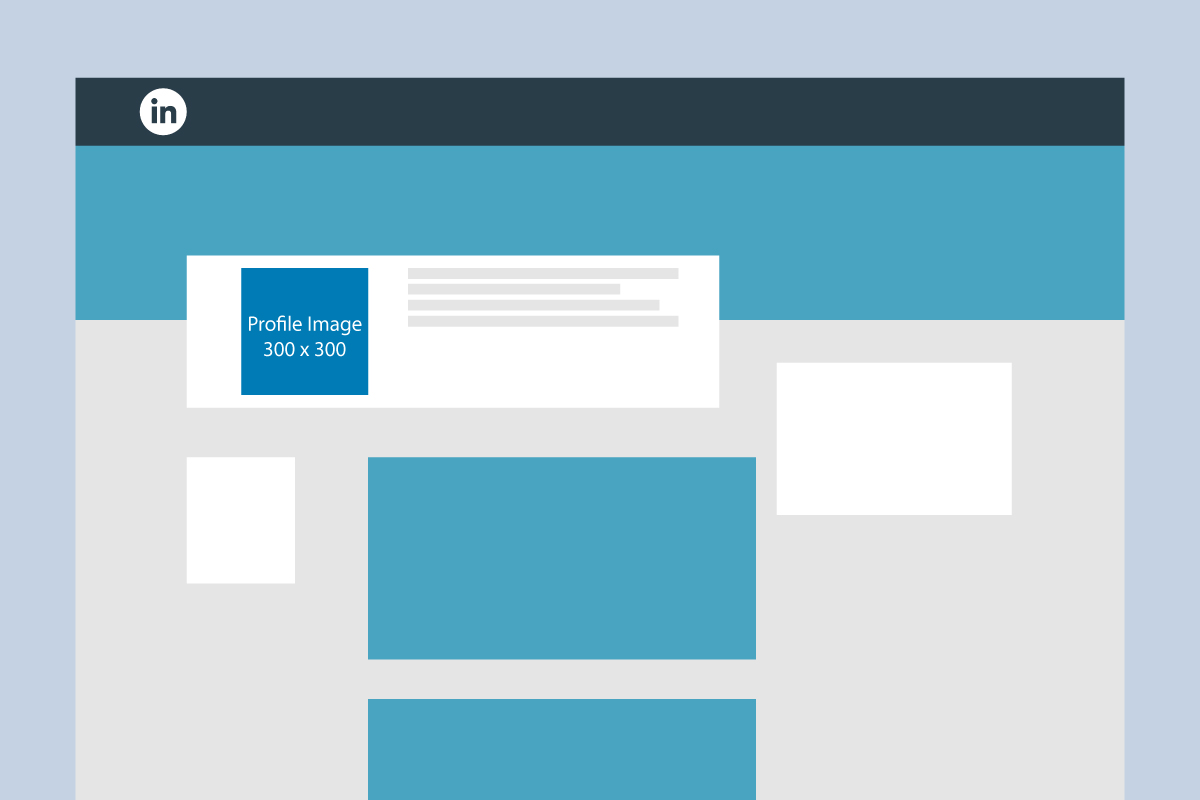 Personal Background Image 1584 x 396
This is an additional space on your profile to be creative, so put your best foot forward here. Make sure that your image is creative, polished, and expresses how you would like to be seen by potential recruiters, clients, peers, and hiring managers.
Company Cover Image 1192 x 220
The company cover image is slightly different from the personal background image in that it spans the entire top of the page. 
Tips:
Make sure the file for your company cover image is smaller than 8MB.

Cover photos are cropped differently on mobile and desktop, so make sure to view your profile on both types of displays before finalizing.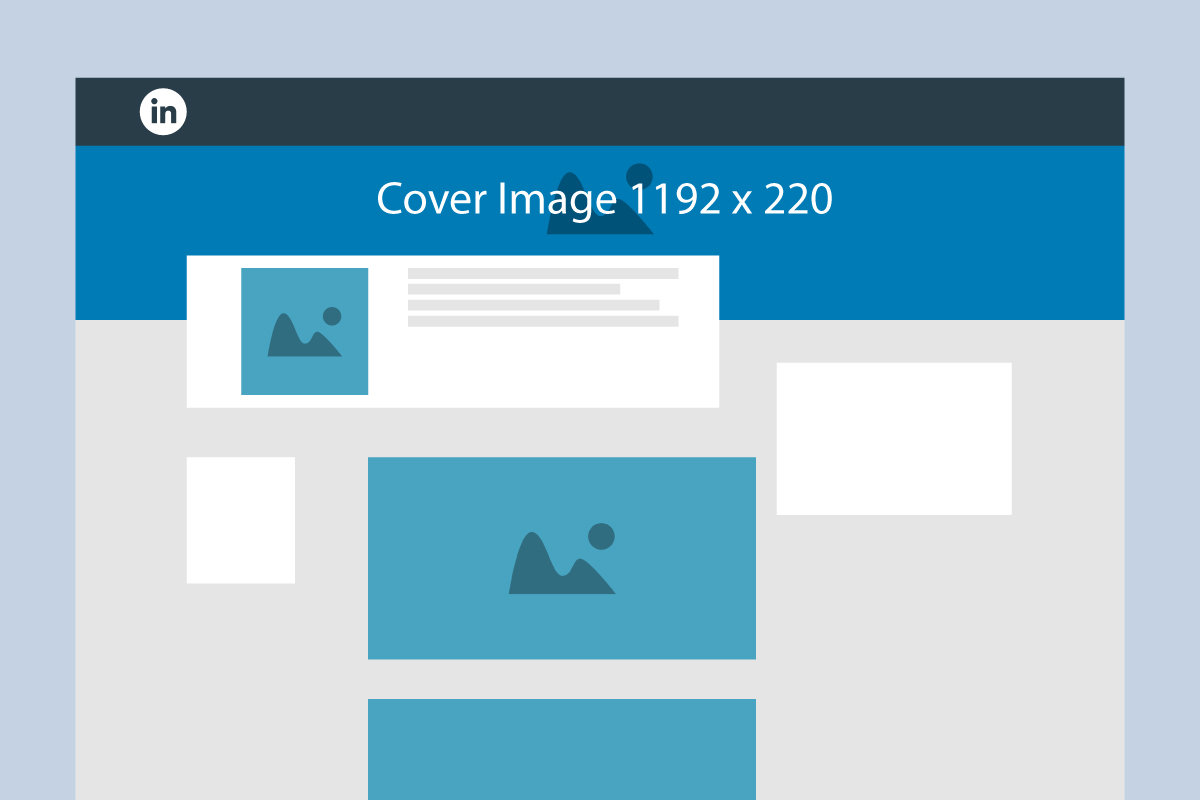 Shared Image or Link Preview 1200 x 627
Posts that include an image are more likely to be engaged with because they catch a viewer's eye when scrolling through the feed.
Tips:
LinkedIn post image sizes can be shares as a PNG or JPG file.

Use an aspect ratio of 1.9:1.

While other sizes can be supported, 1200 x 627 pixel images are ideal.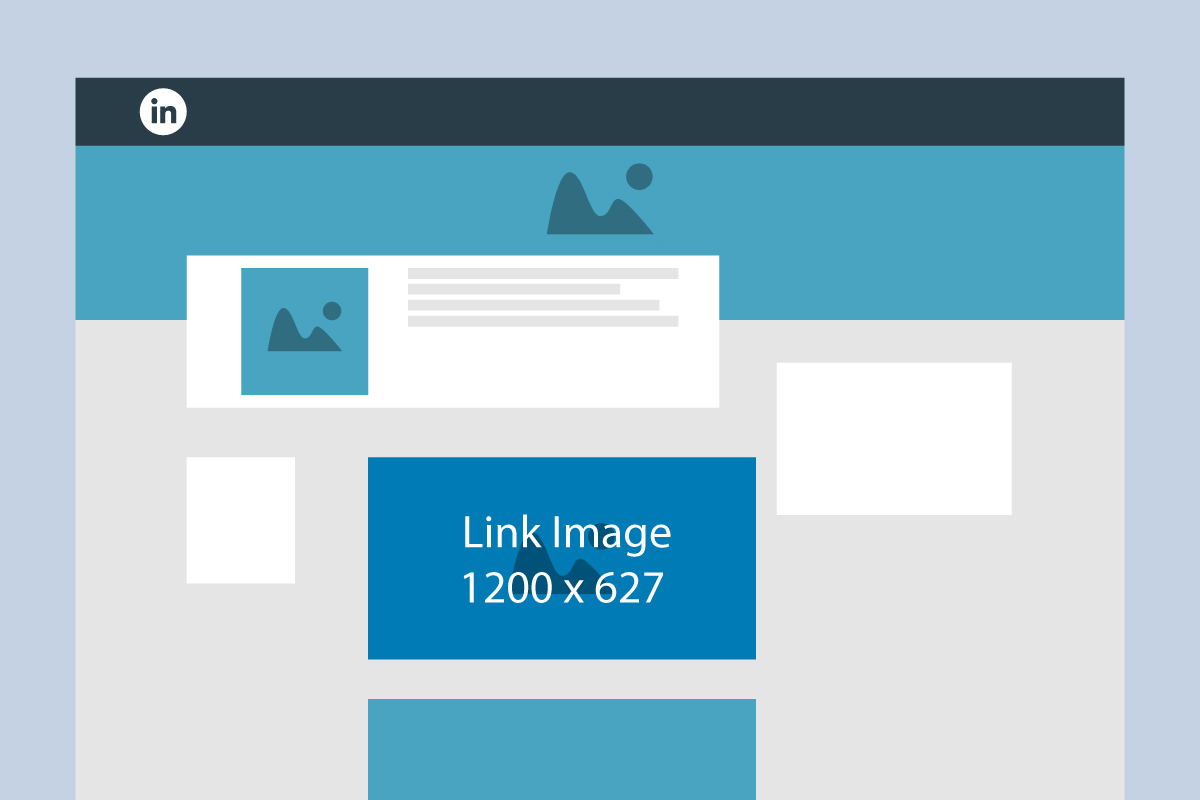 Tumblr Image Sizes
On Tumblr, posts and images are meant to be re-shared. To make sure that the highest quality images are being circulated, follow the suggested image sizes below.
Profile Image 120 x 120
Your profile photo will appear on your page and alongside your posts, but other than that, it won't appear often across the platform.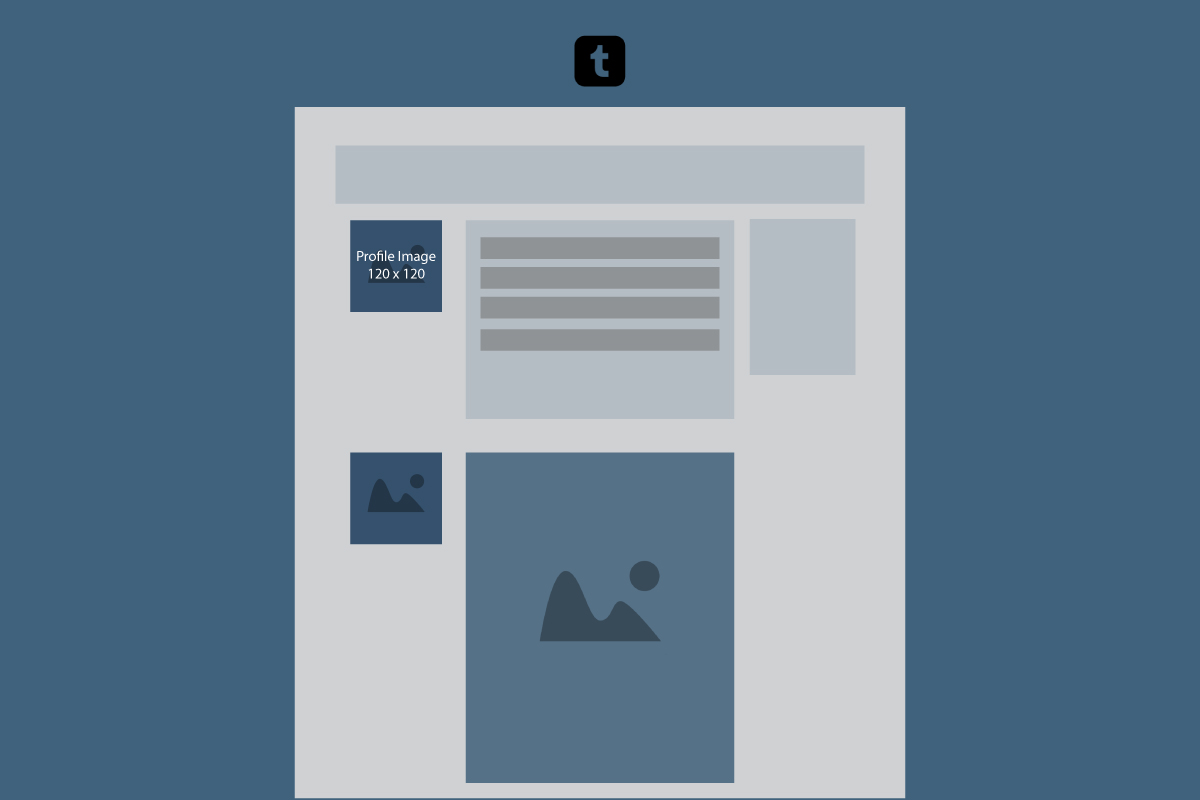 Image Posts 500 x 750
Tumblr is highly customizable, which means not all post image sizes will be the same. As a best practice, try to keep the size of your image to the recommended pixels.
Tips:
The maximum image size is 1280 x 1920, and it will appear in feeds at 500 x 750.

Images can not exceed 10MB.

Animated GIFS must be under 3MB and 540 pixels maximum.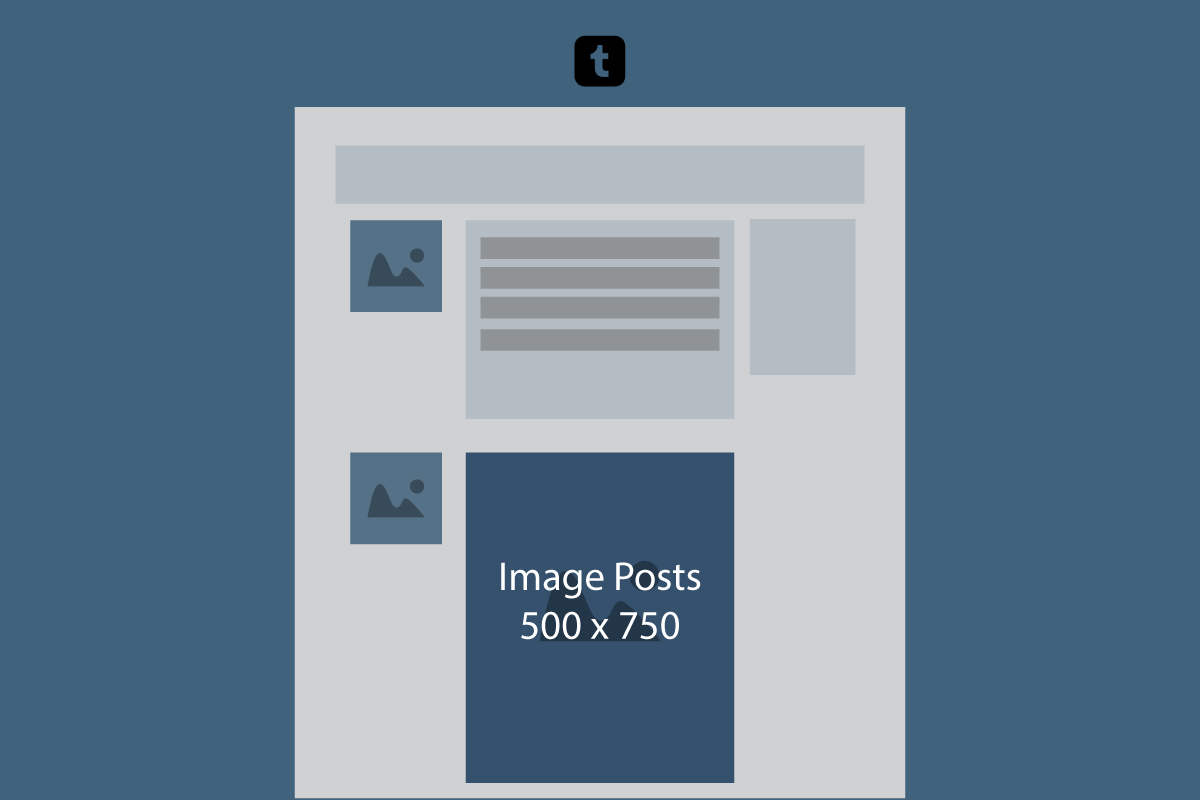 YouTube Image Sizes
YouTube is a video platform; however, there are many still images on the site that need your attention. Youtube icon sizes are important to get right if you want to increase your followers and views.
Channel Profile Image 800 x 800
You can choose different borders on your profile image on Youtube, but the dimensions for the image will always stay the same.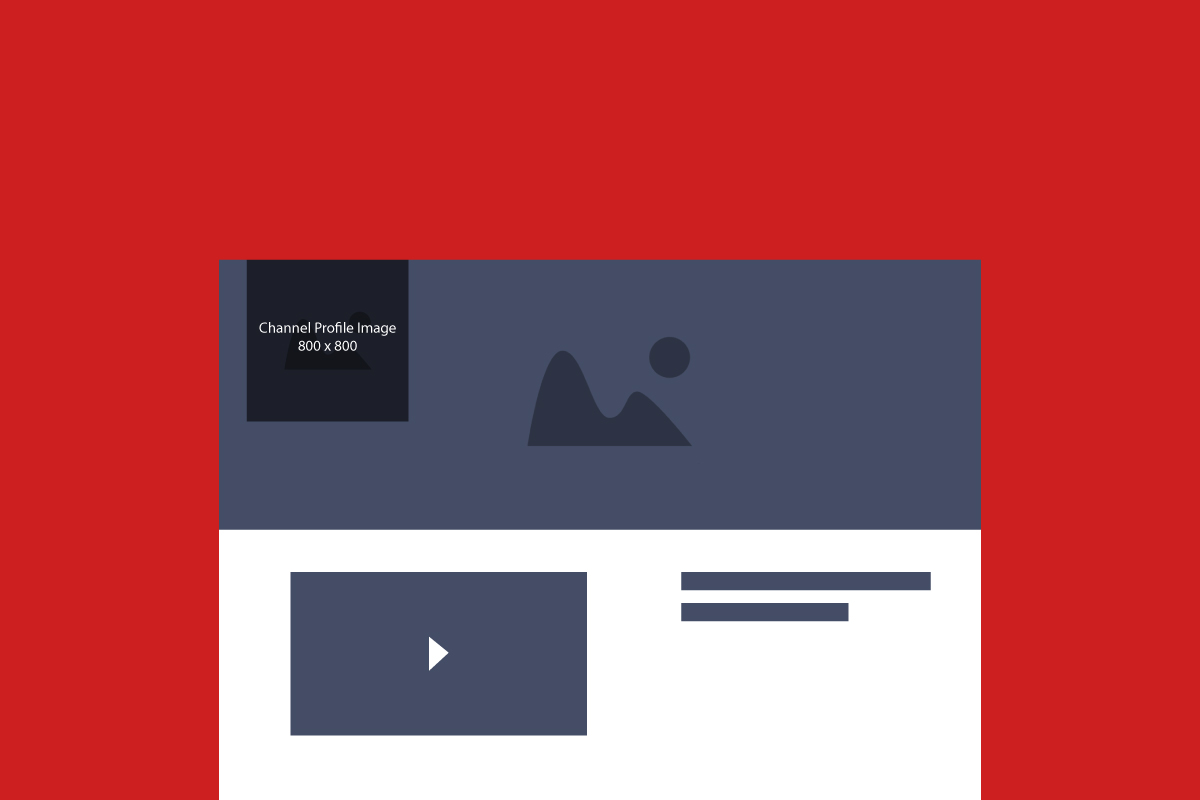 YouTube Banner 2048 x 1152
YouTube banners are a crucial way to entice YouTubers to stay on your page and check out your other videos. If you want to get creative, you can make your own custom YouTube banner. 
Tips:
Make sure the focus of your photo is centered for

best results

.

Files should be JPEG, GIF, BMP, or PNG. Animated GIFs aren't allowed for profile photos.

Photos will render at 98 x 98 pixels.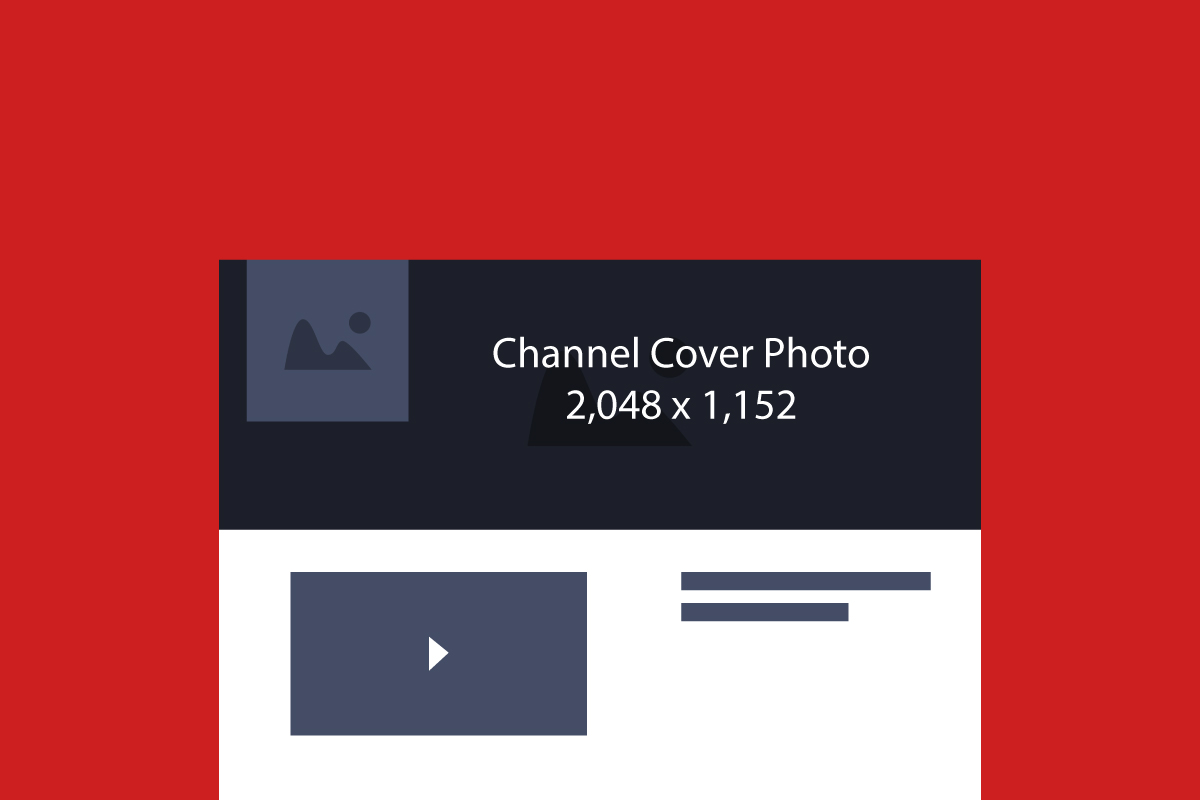 YouTube Video Size 1280 x 720
YouTube is a video platform, so one of the most important keys to success on YouTube is having the correct video dimensions. 
Tips:
Videos intended for sale or rental should have a higher pixel count of 1920 x 1080 pixels.

YouTube requires videos to be 1280 x 720 pixels in order to meet its HD standards.

The aspect ratio of videos should be 16:9.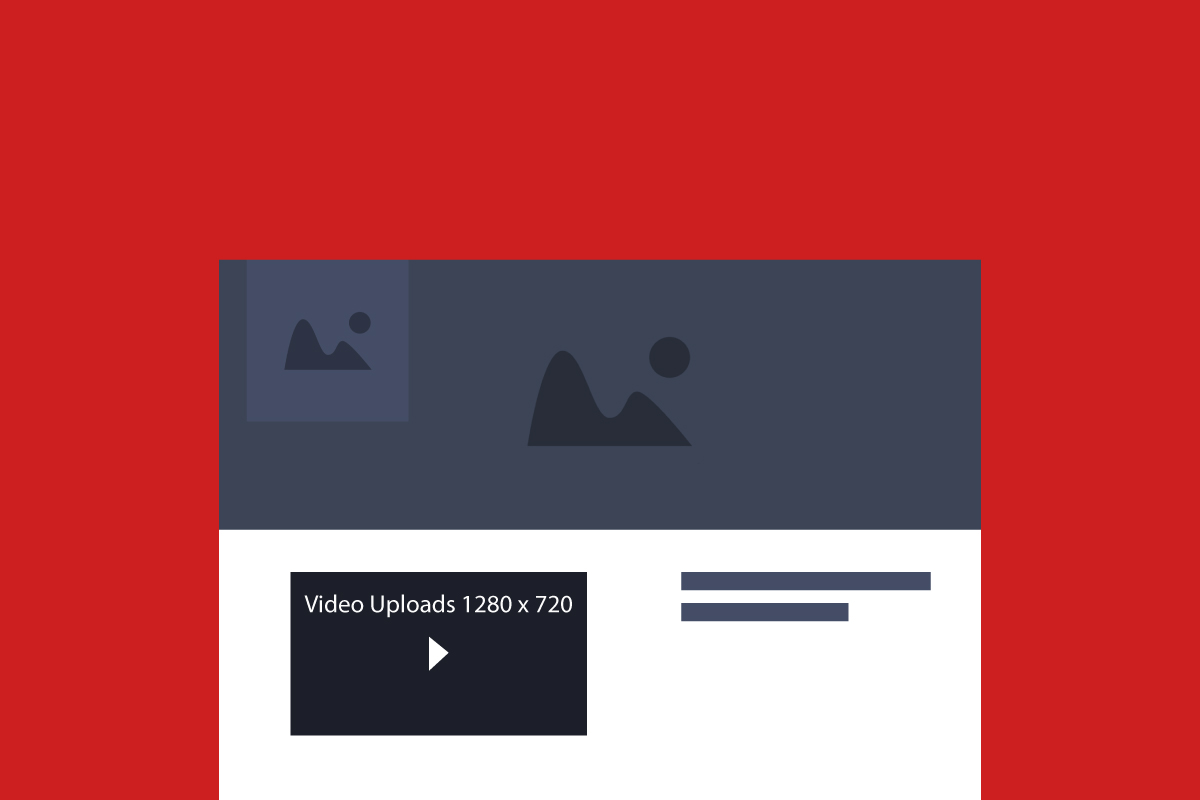 How to Resize a Photo for Social Media
Now that you have the exact social media image sizes you need, it's time to learn how to resize your images for social media. If you are creating an image or graphic from scratch, Picsart has a ton of easy to use social media templates.
If you already have an image and just need to do some resizing, you can quickly and efficiently resize your images using the image resize tool in Quicktools. But if you're already in the Picsart Editor, you can also do it in just a few clicks. Here's how:
On the Web
1) Open the Picsart Web Editor and select the Upscale Tool.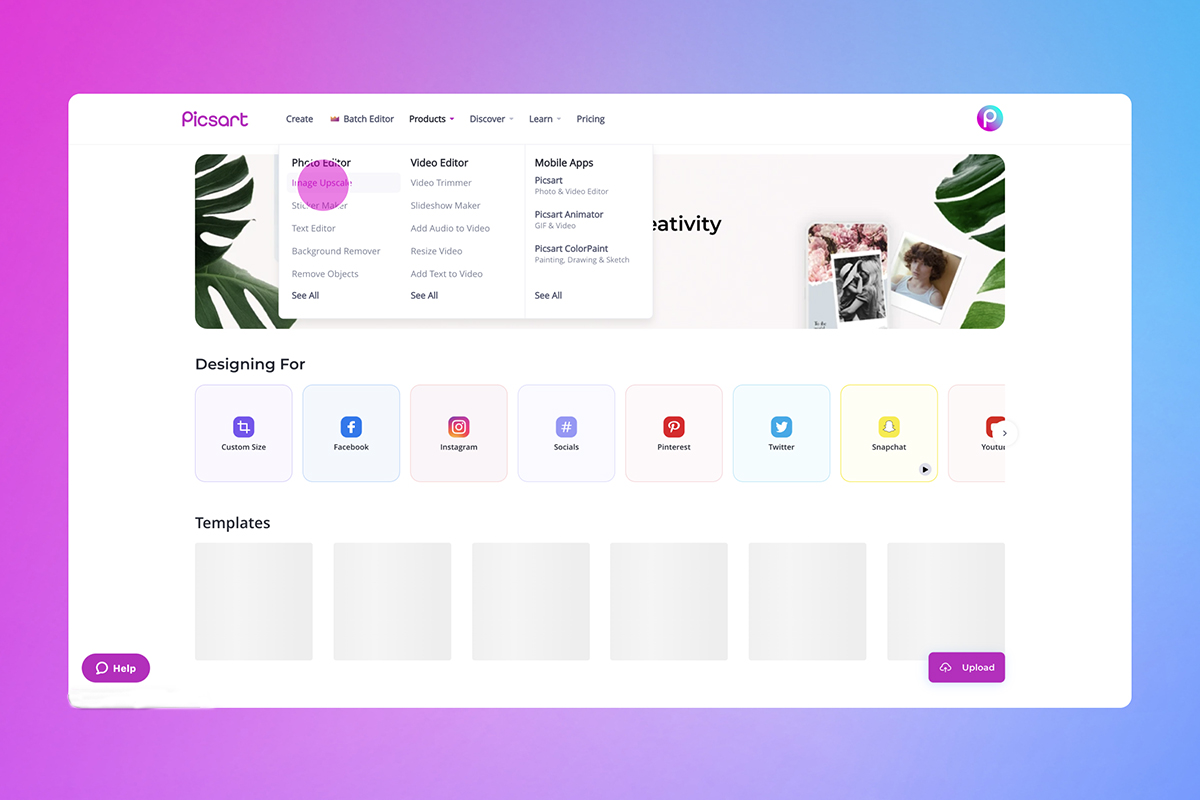 2) Upload your image and select the desired dimensions from the drop-down (height and / or width).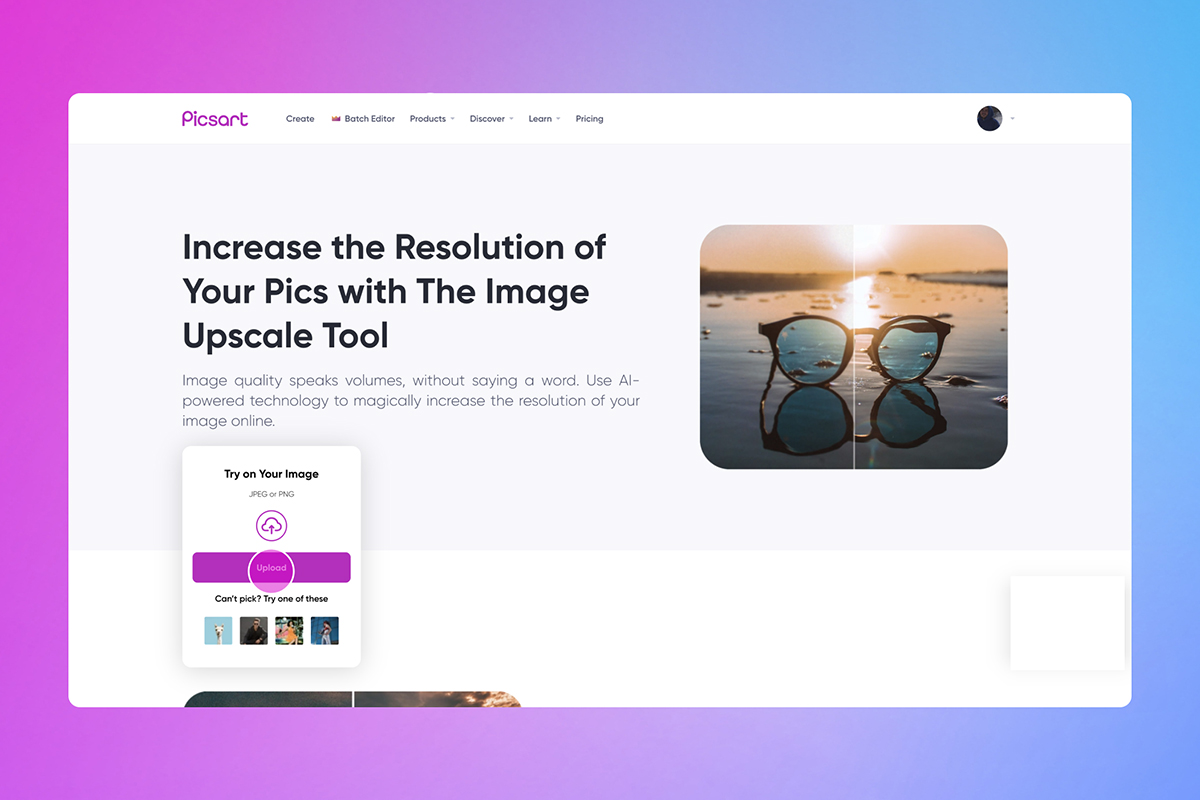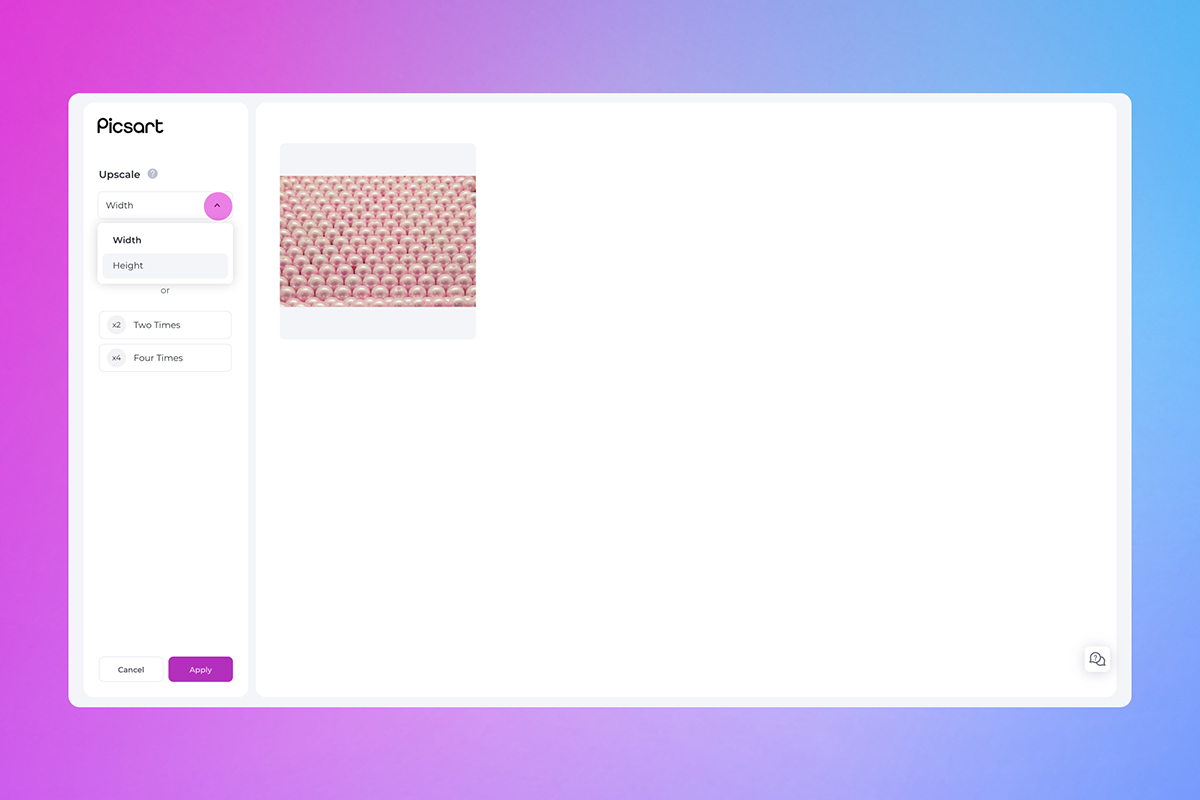 3) Select custom and enter the dimensions of the social media image size you need.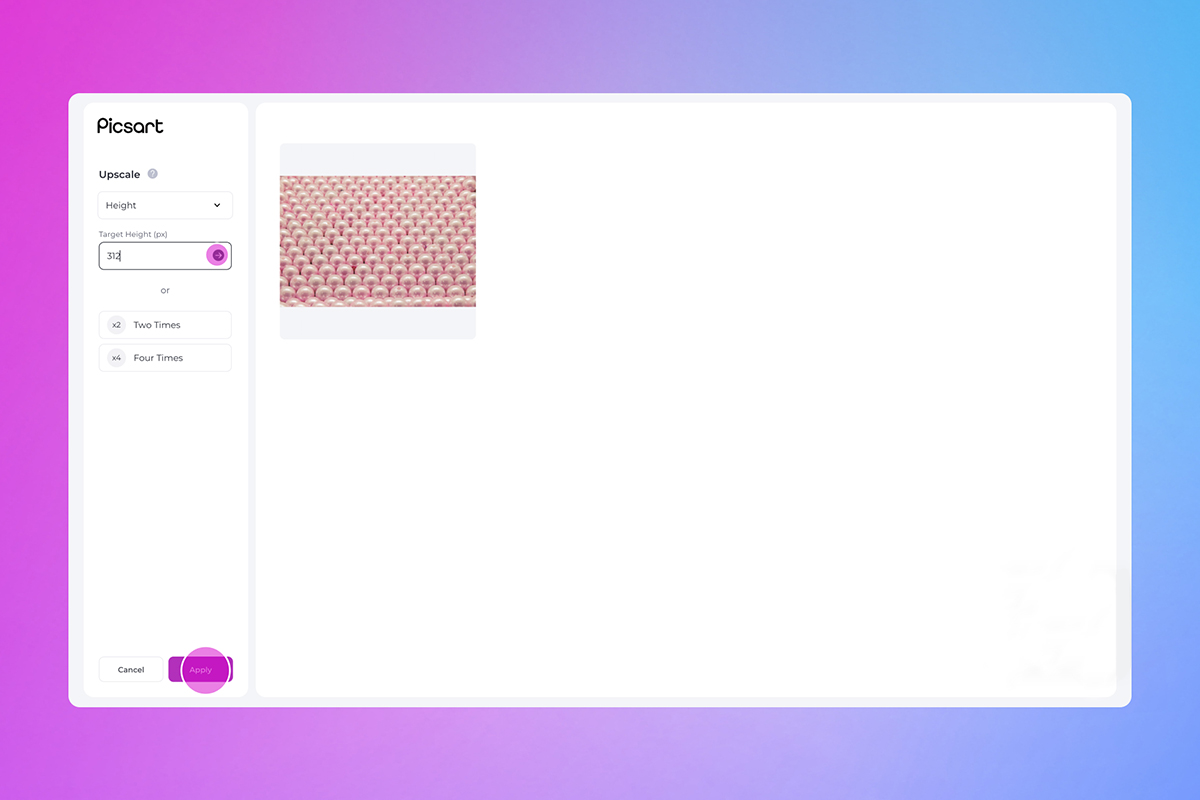 4) Click Edit in the upper right-hand corner if there are further edits or adjustments you want to make to your design. If not, simply click Download to save your image to your computer. From there, you'll be ready to share your image to your desired social media platform.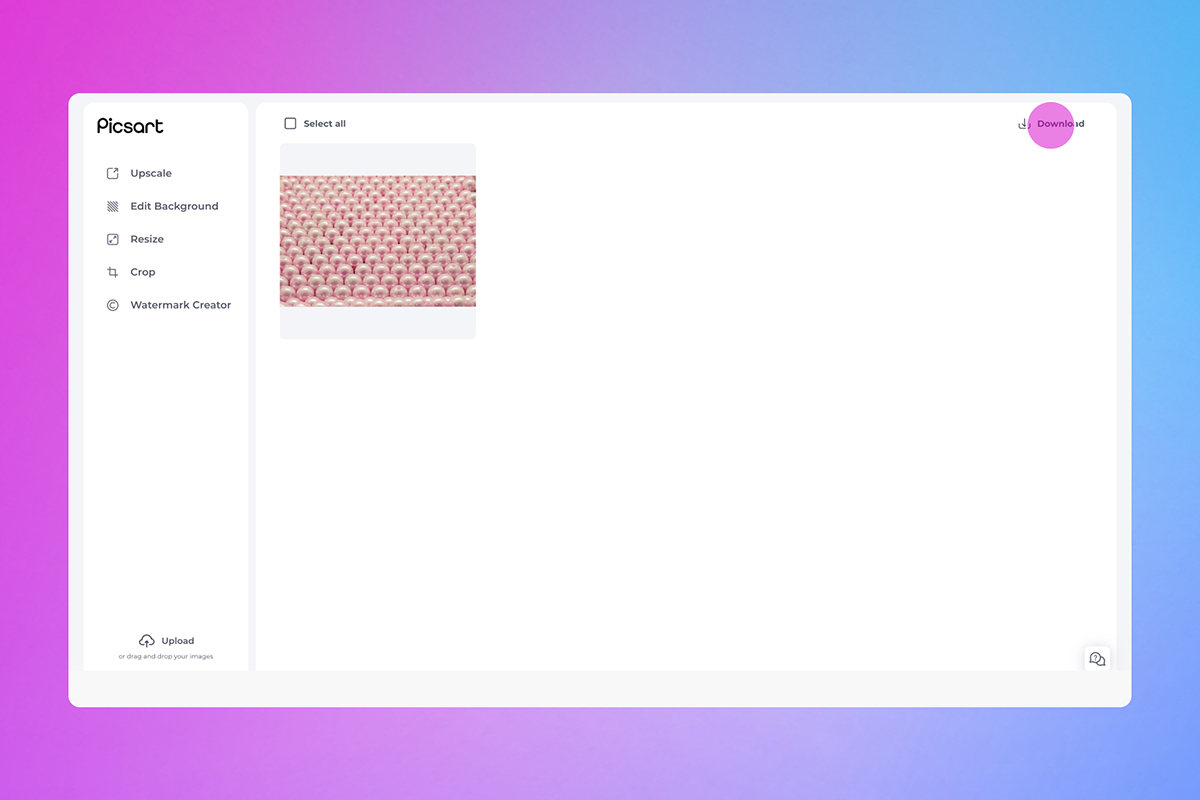 Picsart is a full ecosystem of free-to-use content, powerful tools, and creator inspiration. With a billion downloads and more than 150 million monthly active creators, Picsart is the world's largest creative platform. Picsart has collaborated with major artists and brands like BLACKPINK, Taylor Swift, the Jonas Brothers, Lizzo, Ariana Grande, Jennifer Lopez, One Direction, Sanrio: Hello Kitty, Warner Bros. Entertainment, iHeartMedia, Condé Nast, and more. Download the app or start editing on web today to enhance your photos and videos with thousands of quick and easy editing tools, trendy filters, fun stickers, and brilliant backgrounds. Unleash your creativity and upgrade to Gold for premium perks!